* Check out the downward slide of Mayor Emanuel's approval rating in the latest Chicago Tribune poll…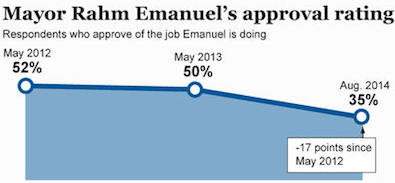 * He's in trouble across the demographic board…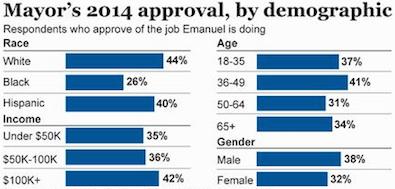 * He's aloof and not in touch, say voters…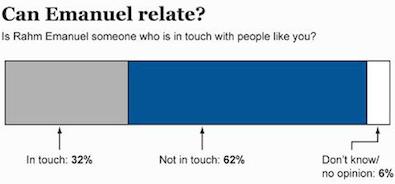 Oof.
* A majority blames Daley for the city's current financial problems, but Chicagoans don't think they're better off now…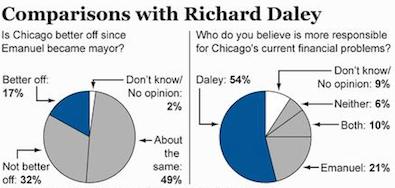 * And all that explains why a plurality of Chicagoans are current choosing CTU President Karen Lewis over Rahm…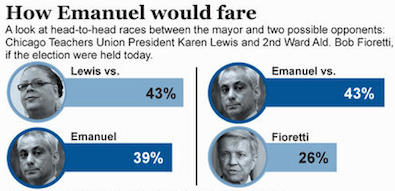 * From the Tribune…
Among CPS parents, 57 percent backed Lewis, who led an eight-day teacher strike during Emanuel's first year in office, while 27 percent supported Emanuel. Similarly, 56 percent of union household members backed Lewis, who has headed the CTU for four years, while 31 percent backed Emanuel's re-election.

Younger voters tended to back Lewis over Emanuel, with 51 percent of those ages 18-35 favoring the potential challenger compared with 36 percent for the mayor. Those numbers were nearly flipped among voters ages 36-49.

Lewis, a controversial and outspoken union leader, was viewed favorably by 38 percent of the voters, compared with 24 percent who viewed her unfavorably. Another 38 percent had no impression of her, leaving Emanuel room to try to help voters make up their minds if she runs against him.

White voters were divided in their impression of Lewis: 36 percent unfavorable, 31 percent favorable and 33 percent with no opinion. Black voters, meanwhile, considered the African-American union leader favorably — 46 percent, to only 13 percent unfavorably. Parents of CPS students who took part in the survey viewed her favorably by 49 percent to 19 percent who viewed her unfavorably.
There's a lot of room to move those numbers against Lewis. Go read the whole article.
Emanuel probably knew that this poll was coming, which could explain why some unfavorable stories appeared this week about Lewis and Ald. Fioretti, who is almost completely unknown to voters but is still getting a quarter of the vote.
* Lewis…
Lewis isn't as wealthy as Emanuel, a multimillionaire who made his fortune during a short stint as an investment banker. But she makes more than $200,000 a year and has an ownership interest in three homes, records show.

That includes vacation homes in Hawaii and in the upscale "Harbor Country" area of southwestern Michigan, where Emanuel has a second home, property records show. […]

When she first ran for CTU president four years ago, Lewis promised not to make more than the highest-paid teacher. […]

Chicago Public Schools' payroll records show no teacher makes as much as Lewis' $136,890 CTU base salary.
* Fioretti…
Ald. Bob Fioretti says he's thinking so seriously about challenging Mayor Rahm Emanuel in the February election that he plans on hiring campaign staff now. Want ads were posted online last week.

If you're looking to apply, though, you might want to know this: Two staffers who worked on Fioretti's first campaign didn't get paid in full until he was halfway through his first term as the 2nd Ward's alderman.

Former Fioretti staffers Emily Miller and Jane Deronne didn't receive all they were owed until appealing to the state agency that helps workers who've been shortchanged.

Miller said Fioretti's campaign stiffed her out of $3,000. An administrative law judge for the state sided with Miller and ordered Fioretti For Alderman to pay up, according to records obtained by Early & Often, the Chicago Sun-Times political portal.
* Fioretti, by the way, has hired Michael Kolenc as his political advisor. You might recognize that name…
Kolenc most recently served as campaign manager for Yes For Independent Maps, an organization that ran a failed bid to launch a statewide constitutional amendment referendum on state legislative redistricting. First, opponents challenged whether enough of the group's petition signatures were valid, then a Cook County judge tossed it from the ballot.
62 Comments

























































































































































































Sorry, comments for this post are now closed.