* As somebody else tweeted yesterday, she's 72? I never woulda guessed that one. Robert Feder…
Elizabeth Brackett, a respected veteran of four Chicago TV news operations, retired Tuesday after 20 years as a full-time staff correspondent for "Chicago Tonight," the nightly news program on public television WTTW-Channel 11.

But she won't be leaving the show altogether. In her new role as "special correspondent," Brackett will contribute 10 long-form stories in the coming year. […]

Brackett, 72, said her decision was determined in part by the retirement last May of her husband, Peter Martinez, as co-director of the Center for Urban Education Leadership at the University of Illinois at Chicago. A world champion triathlete in her age group, she also said she needed more time to train for the World Triathlon Championships in Chicago next year. Before that, she plans to compete next month in the International Triathlon Union World Championships in Edmonton, Canada. […]

For her work she has been honored with a Peabody Award, five Emmy Awards (including a national Emmy), a Lifetime Achievement Award from the Chicago Headline Club and induction in the Silver Circle of the National Academy of Television Arts and Sciences Chicago/Midwest chapter.
* She won her age group's World Triathlon Championship three years in a row…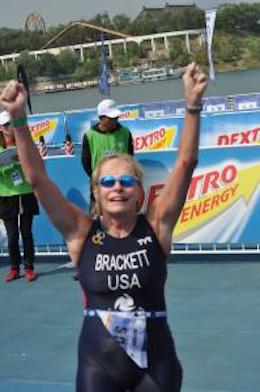 * The Question: Caption?
22 Comments

































































Sorry, comments for this post are now closed.