* I asked Lewis Lazare last night about Channel 2's ratings, and he ended up doing the legwork today to find out how many people watched the gubernatorial debate…
The hour-long debate notched an average 4.6 Nielsen overnight rating for the hour time slot at 6 p.m. That was good enough for second-place in the time period behind the ABC-owned WLS-Channel 7's winning combo of its 6 p.m. local newscast., which averaged a 6.8 rating and the syndicated "Wheel of Fortune" game show that averaged an 8.5 overnight rating. One rating point equals 35,000 households in the Chicago market.
* 4.6 times 35,000 equals 161,000 households. Whether everybody in those households watched the debate is another question.
And, in context, there are about 4.8 million households in Illinois. In other words, a mere 3.3 percent of Illinois households had the debate on the tube last night.
* By contrast, 49.1 million households watched the first presidential debate of the 2012 fall campaign, or 42.6 percent of all American households.
This is why I keep telling y'all that you cannot judge a gubernatorial debate like it's a presidential debate. Few people actually watch gubernatorial debates. The vast majority get all of their info about the debates via news sources, workplace conversations or candidate TV ads.
- Posted by Rich Miller 35 Comments


* The Illinois Republican Party's latest mailer is a cartoon. To see it, click here and here.
"Tax Man!" is the premise and the main character is, of course, the governor…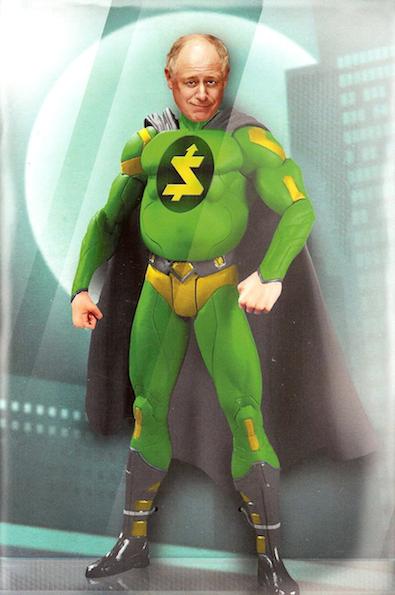 Repurpose this image to your heart's desire.
- Posted by Rich Miller 118 Comments


A controversy that erupted in early September over Cook County GOP Chairman Aaron Del Mar appointing a 7th Ward former Democrat as the Ward's new GOP Committeeman heated up more this week, when Del Mar abruptly stripped Charon Bryson of her new position - a move Bryson is resisting.

Bryson said she was ousted Monday because of dispute between Cook County GOP co-chairman Darnell Macklin and a family member. The family member is Dorian Myrickes, who is the father of Bryson's children, she said.

Macklin then allegedly threatened Bryson, saying "I will ruin your family," she claims. Bryson said that when she made that known to the ILGOP and the Cook County GOP, they did nothing.

"I thought I was appointed to change the mindset of African-American voters in the ward because of my community involvement and dedication to my ward," Bryson told Ilinois Review. "In turn, they removed Dorian Myrickes and Nicholas Myrickes from early voting judges and removed me from the 7th ward committeeman."
* Chairman Del Mar explained to IR that Bryson was removed because she attempted to appoint Democrats to Republican election judge slots. "That is simply unacceptable," Del Mar said.
But, wait, there were just 196 Republican ballots requested in the entire 7th Ward this past primary. That's not exactly a huge pool to choose from, compared to the 5,536 Democratic ballots. There are 46 precincts in the 7th Ward and many of them saw just 1, 2 or 3 GOP ballots cast.
So, it would seem to me that if the county GOP was interested in expanding the party, they'd naturally have to accept local converts from the Democratic side, including very recent converts.
* Either they're complete goofballs or something else happened. I'm not gonna speculate, but a black woman claiming that a party official threatened to "ruin" her family just days after the big blowup over Rauner's alleged threat to "hurt you and your family" if a former employee filed a lawsuit, the unruly mob at the debate last night and the story about the armed private detective allegedly intimidating Libertarian petition passers all add up to a possible real problem here.
…Adding… And speaking of LeapSource…
Quinn for Illinois Statement Regarding Bruce Rauner's Deception About Threatening a Woman

No More Hiding: Release Your Deposition, Mr. Rauner

CHICAGO - Republican billionaire Bruce Rauner made a stunning and false statement last night in explaining the threats he made - according to sworn testimony by witnesses under oath - against a woman executive at one of his companies who he fired after she wouldn't lay off enough workers at his company. Communications Director Brooke Anderson responded with the below statement and a fact-check on Rauner's false claims:

"Bruce Rauner deceived voters last night - period.

"Mr. Rauner said this was a frivolous lawsuit, when in fact he settled the lawsuit for more than $500,000. He implied the allegations of his threatening this woman were dismissed when in fact the judge did not address those threats and rather confirmed that Rauner played hardball every step of the way. He called the accusations false - yet he ordered his own deposition in the case to be sealed in court and hidden away from public view.

"Mr. Rauner's deception last night about this serious case of alleged wrongdoing makes it even more urgent that his deposition be immediately released to the people of Illinois.

"The issue of how Bruce Rauner treated a female executive is too important to be swept under the rug. Release the deposition, Mr. Rauner."

Rauner's False Claims - and the Facts He Hid

Last night, Bruce Rauner said, "Let me be clear, you are running an ad about a false accusation, a frivolous lawsuit that was thrown out in court by a judge who dismissed it on summary judgment." Let's take it one by one.

Rauner Claim: "False accusation"

Fact: Witnesses testified under sworn oath in a court of law that Rauner made these threats. Is Mr. Rauner saying that these witnesses perjured themselves?

Rauner Claim: "Frivolous lawsuit"

Fact: Bruce Rauner settled this lawsuit for half a million dollars and went to great lengths to put his own deposition under seal. If the claims are so frivolous why did he pay half a million dollars to make them go away, and why did he seal the deposition?

Rauner Claim: "Dismissed it on summary judgment"

Fact: The judge never ruled on the threats made to the woman executive by Rauner. Indeed, the judge said that Rauner played "hardball" with the woman executive every step of the way. Parts of the lawsuit that were dismissed were done so based on legal technicalities.
- Posted by Rich Miller 65 Comments


* Some commenters mentioned a new Bruce Rauner radio ad, so I asked the campaign for a copy. Here's "Throw Me Out"..
* Script…
NARRATOR: What is Pat Quinn promising Illinois the day after the election? Another massive tax hike, this year. Here's what Quinn said when the media asked him about his plan to raise income taxes on every Illinois family.

QUINN: It's gonna happen in 2014, in November and December.

NARRATOR: Pat Quinn broke his promise and raised taxes before. This time he's not even bothering to lie about it.

QUINN: It's gonna happen in 2014, in November and December.

NARRATOR: Quinn's tax hike would raise income taxes on every working man and women in Illinois. Every single one.

QUINN: It's gonna happen in 2014, in November and December.

NARRATOR: After 100 years of failure, Pat Quinn wants four more years? And even more tax hikes this year.

RAUNER: Here's the deal. Give me a shot to deliver more jobs and lower taxes, and if we don't get it done, throw me out in four years.

NARRATOR 2: Bruce Rauner, shake up Springfield, bring back Illinois. Paid for by Citizens for Rauner, Inc.
…Adding… My own thought is that if you're upset about the income tax hike, you're not voting for Quinn anyway. I'm not sure how many new voters this brings to the fold, but, hey, I could be wrong. Your own take?
- Posted by Rich Miller 31 Comments


* ABC 7…
In a debate at the DuSable Museum of African American history, candidates for governor vied for the black vote that Republicans are not conceding this year.

"Governor Quinn, in my opinion, is taking the African American vote for granted," said Rauner.

Rauner told the majority African American audience and panel that blacks had not fared well under incumbent Pat Quinn's leadership.

"Brutally high unemployment, deteriorating schools, lack of a proper social services," said Rauner.
I'm not sure how you can accuse Quinn of using an anti-violence program to buy black votes four years ago and still say he takes the black vote for granted. Should he do another NRI or something?
* Tribune…
[Rauner said] the Democratic governor "could have and should have" made Stephanie Neely, the black city treasurer of Chicago, his running mate but threw her "off his ticket" in favor of former Chicago Public Schools chief Paul Vallas.

"African-American families are suffering in Illinois — brutally high unemployment, deteriorating schools, lack of proper social services and rampant cronyism and corruption that's taking away job opportunities from African Americans," Rauner said.
The Neely snub definitely upset some members of Chicago's African-American elite, so that was a good line for Rauner that'll play well with a small group of folks. I wonder how Neely feels about Quinn and/or Rauner today?
* AP…
Quinn was asked how he'd help build trust among minorities with law enforcement.

He noted his record of trying to clear the clemency backlog of more than 2,500 cases that built up under his predecessor, saying he's considered cases "based on justice and mercy."

"That is part of helping ex-offenders who have made mistakes, who have served their time, get a fresh start," he said.

But Rauner said Quinn has failed on crime, public safety and the prison system, saying the best way to reduce crime is to grow the economy to create jobs.

"We have crime because we have a lack of opportunity," he said.
Neither candidate actually answered that question, and it's a very important one in the community.
* But, speaking of "creating jobs," Mary Ann Ahern reported that some participants in a loud and rowdy protest outside the governor's debate admitted to being paid to attend. That was confirmed by Natasha Korecki…
About 15 people outside chanting "No more Quinn" this man Harold Ward says he paid them to be there pic.twitter.com/KUyIFbnbrB

— natasha korecki (@natashakorecki) October 14, 2014
Ward is pretty well known in some South Side circles as an agitator.
Ward didn't say who was paying him, but said it wasn't the Rauner campaign, even though he had a bus to take them away…
Ward says he was not paid by Rauner campaign to bring protesters Quinn. Says bus will take them all in a few minutes.

— natasha korecki (@natashakorecki) October 14, 2014
Tried asking 7-8 people who were protesting Quinn why they were protesting and was interrupted and asked not to question them.

— natasha korecki (@natashakorecki) October 14, 2014
I'm told by one reporter who was there that it appeared Rauner's people asked the protesters to stop and they complied.
* Meanwhile, Rauner's campaign is blanketing the interwebtubes with some new YouTube videos of prominent African-American supporters. I'm seeing these ads almost everywhere I navigate today. The full list is here, but let's just watch a couple of them. Pastor Corey Brooks…
* President Obama will appear with Gov. Quinn this weekend on the South Side. And he had this event scheduled for today…
As part of his Birth to Five Initiative, Governor Pat Quinn will announce an investment in early childhood education in one of Illinois' most underserved communities.

WHEN: 11 a.m.

WHERE: Gads Hill Child Development Center
2nd Floor
2653 W. Ogden Ave.
Chicago, 60608
- Posted by Rich Miller 45 Comments


* For me, anyway, the best part of last night's debate was near the end, when the two candidates were allowed to ask each other questions…
"On the 27th of February of 2001, Mr. Rauner, you fired a woman executive at your firm for not laying off enough workers, and you threatened her. You said you would bury her. You said you would bankrupt her and her family. You said you would hurt her and her family," as Quinn asked the question, Rauner shook his head, smiling.

"Why did you say that Mr. Rauner? It's never right to threaten anyone."

The crowd laughed a bit in reaction to Quinn's last comment, teeing up Rauner to unleash a visceral attack at Quinn.

"Gov. Quinn, this is more of the baloney you throw out continuously. I can't keep up with the lies that you spin.

"Let me be clear, you are running an ad about a false accusation, a frivolous lawsuit that was thrown out in court by a judge who dismissed it on summary judgment," Rauner retorted.

"You are taking an accusation and spinning it into an ad because you can't run on the truth. The truth is, you're the worst governor in America. You are failing the people of Illinois … You can't run on your record, you've got to make up lies about me in order to win."
Rauner shouldn't have laughed when Quinn asked the question, but he sure as heck did fire back with both barrels.
* A "body language expert" opined to Fox 32 that Quinn "looked like a beaten dog"…
WFLD, Chicago's Fox affiliate, spoke with a body language expert who said Quinn's appearance, especially in the last two minutes, was "pretty bad."

"It was as bad as I've ever seen anyone get beaten up in a debate," said Perry Myers, president of MSI Detective Services. […]

"You've failed in every regard," Rauner said in the final minutes of the debate. "You can't run on your record-you have to make up lies about me."

Myers noted the Rauner was "much more confident" than Quinn, who could not look the Republican candidate in the eye. "[Quinn] was shaking with every word," Myers added.
It's my own view that Quinn really doesn't like direct, face-to-face conflict, so that may be why he seemed so timid about asking the question. There have been times in the past when he's been so angry at me over something that he wouldn't even look at me when I asked him questions during press conferences. He's just that way.
- Posted by Rich Miller 76 Comments


* Sen. Mark Kirk appears in a new TV ad for Republican congressional candidate Bob Dold. Kirk represented much of this district when he was in Congress. Have a look…
* Meanwhile, Lynn Sweet obtained a polling memo from Democratic Congressman Brad Schneider's campaign…
· In a rematch of their 2012 contest, Democratic Congressman Brad Schneider now leads former Republican Congressman Bob Dold by a solid 8-point margin, 48% to 40%, while 11% of likely voters remain undecided with less than four weeks to go until Election Day.

· At the top of the ticket, Democratic U.S. Senator Dick Durbin is leading Republican Jim Oberweis by 12 points, 52% to 40%, but Democratic Governor Pat Quinn trails Republican Bruce Rauner by 7 points, 40% to 47%.

· On a generic ballot citing no specific candidates, an unnamed Democrat for Congress leads an unnamed Republican by three points, 45% to 42%.

· Voters are more likely to view Schneider's performance in Congress positively (5% excellent/37% good) than negatively (25% not so good/13% poor).

· Despite being the incumbent, Schneider (13% never heard) is actually less familiar to voters than Dold (3% never heard), providing the Democrat more room to grow.
As I've pointed out before, Gov. Quinn should be doing well in this district and he's getting pounded by Rauner.
* And this is from the Schneider campaign…
U.S. Congressman Brad Schneider (IL-10) launched a new broadcast TV ad highlighting his Democratic priorities, including protecting a woman's right to choose, preserving our environment and strengthening Medicare.

The new ad, "A Good Fit," will be paired with the "On the Floor" TV ad currently running on broadcast that hammers Schneider's opponent Bob Dold for his reliable Republican record, including his votes to defund Planned Parenthood and end the Medicare guarantee.
* The new ad…
* Script…
Husband: Let's try this again.

Wife: OK

Husband: OK, Brad Schneider and the Democrats, protecting Lake Michigan

Wife: And our drinking water…

Husband: Retirement security…

Wife: Puts the middle class first and protects my right to choose.

Husband: Equal pay…

Wife: and marriage equality…

Husband: Definitely more our style

Wife: It's a keeper.

Husband: It matches the couch.

Wife: It's a perfect fit.
We've already discussed the companion ad, but it's here if you want a refresher.
- Posted by Rich Miller 39 Comments


* The GOP gubernatorial candidate's wife is featured in a new ad that's likely intended to blunt the impact of Gov. Quinn's harsh TV spot about the alleged threats of a female executive…
Bruce Rauner today launched a new TV ad featuring his wife Diana reminding voters why Pat Quinn and his special interests allies are attacking Bruce with false negative smears.

"When Bruce decided to run for governor, we knew it would be rough," Diana Rauner says in the new 30-second spot titled "Hope." "False vicious attacks – the machine politicians will do whatever it takes to keep power. Bruce doesn't owe anybody anything and that scares special interests. But he's smart, honest, successful – everything our state government isn't. I'm Diana Rauner, if you're ready to turn our state around and create new opportunities for our kids and our future, then I hope you'll vote for Bruce."
* Will it work? Rate it…
- Posted by Rich Miller 94 Comments


* During last night's debate, Bruce Rauner refused to answer repeated questions about whether he'd ban assault weapons. I thought the questions were a bit silly because he's already said he didn't favor a ban, but it's an issue in the Chicago-area, and Quinn will attempt to take full advantage today…
Illinois Gov. Pat Quinn is drawing on the support of families of mass-shooting victims to highlight the issue of gun control in his re-election bid against Republican Bruce Rauner.

Quinn's campaign is planning a Chicago event Wednesday with Sandy and Lonnie Phillips, the parents of a young woman killed in the 2012 theater shootings in Aurora, Colorado. The event also will feature families of Illinois victims of assault-rifle shootings.
* Meanwhile, the Rauner campaign released this video last night about Gov. Quinn's repeated attempts to evade questions about whether he'd back a post-election extension of the income tax hike. Again, kind of a silly question because of course the governor plans to make another push to pass the extension if he wins, and won't be able to get it done if he loses. But, anyway, here's the YouTube video…
- Posted by Rich Miller 44 Comments


* "My mama said that every man is only worth his unbroken word," laments Daniela Andrade in her gut-spilling, knife-sharp original "Don't Care," which has close to a million YouTube views. Let's ease our way into Andrade's unselfconsciously literate planet this morning by tuning into her and Gia Margaret's seminal and beautifully melodic cover of Springsteen's "Dancing in The Dark"…
Man, I ain't getting nowhere
I'm just living in a dump like this
- Posted by Rich Miller 16 Comments


Like other governors on the campaign trail before him, he's doling out millions of dollars in taxpayer funds for everything from new roads to improved drinking water systems in the final weeks before the Nov. 4 election.

Through Monday, this month's total alone stands at 26 projects worth more than $140 million.

By contrast, during the same time period in 2013, Quinn's own official news releases note he handed out two grants worth a total of $1.48 million.
* From the Rauner campaign…
Pat Quinn is already under federal investigation for misusing millions in October of 2010, and now it looks like he's pumping out millions more to boost his campaign once again. He's throwing around taxpayer money in October in the hopes of raising your taxes in November." — Rauner spokesperson Mike Schrimpf
I hope they remember all these news releases if their guy wins. No ribbon cuttings in October, 2018 for Bruce or that comment is gonna come back on him.
- Posted by Rich Miller 15 Comments


…Adding… Let's move this to a fresh thread at the top of the page. Click here.
* I'll post a link or an embed before tonight's gubernatorial debate begins at 6. CBS 2 hasn't yet posted anything on its site.
From the station…
Crews are busy getting the DuSable Museum Auditorium ready for Tuesday's debate, which will be televised on CBS 2 at 6 p.m. CBS 2's Dorothy Tucker introduces us to the two groups behind the debate.

Andrea Zopp is the CEO of the Chicago Urban League which has been promoting jobs, businesses, education, and political empowerment in Chicago's African-American community for nearly 100 years.

"Our vision is that a stronger African-American community is a better Chicago," Zopp said.

Hosting political debates is not new to the Urban League. Among the many, the Democratic primary gubernatorial debate in 1984, the 2000 U.S. congressional debate and now the gubernatorial debate between incumbent Pat Quinn and Republican candidate Bruce Rauner.
- Posted by Rich Miller 12 Comments


* Greg Hinz looks at voter registration totals. Chicago is up at least a net 25,000 from four years ago…
For the 2010 general election, Chicago had 1.335 million voters in what is called the active file. As of last evening, the city total was up 1.9 percent, to 1.360 million, with perhaps 6,000 late registrations yet to be processed and not included, according to the Chicago Board of Elections. […]

It looks like the biggest registration pop has been in Latino wards, not wards that predominantly are home to African-Americans. For instance, of the eight wards in which current totals are higher than both the March primary and under the old ward map in 2010, six are predominantly Latino and two mostly white. Of the 18 wards in which registration is up just since the primary, five are predominantly African-American, six are Latino, five white and two located on the racially mixed Far North Side lakefront.
* But DuPage is up almost 30,000 over four years ago, although that could change…
Team Rauner can smile at what's happening in heavily Republican DuPage County, where according to the Election Commission registration already is markedly above what it was four years ago at this time, reaching 588,888 versus 559,000. But Rocky Lofendo, manager of the commission's registration division, note that 10,000 or more could come off that total when the commission completes its canvass, removing from the rolls those who have moved.
* Cook and Lake are also up…
Compared to 2010, total registrations so far are up about 25,000 so far, hitting 1.395 million at last check, according to County Clerk David Orr's office. That's down from the primary, but in between the county did a voter canvass and removed thousands of names of those no longer eligible to vote.

In Lake County, which usually tilts Republican, the total has about matched that of four years ago — 404,637 then to 403,690 now — with more coming in, says County Clerk Willard Helander.
- Posted by Rich Miller 15 Comments


* There are some Quinn TV and Internet ads out there which I don't think we've discussed yet. For instance, "Task"…
* "Education"…
* Here's a new web ad which uses the voice of former Sen. Kirk Dillard called "Bruce Rauner's world view: 'I've got the money, I've got the power'"…
* This one is labeled as a TV ad on the YouTube page, but as a web-only ad in a press release: "Bruce Rauner 'Tax Plan'"…
* And here's the Spanish language version of the campaign's "HomeBanc" ad called "Casa"…
* Meanwhile…
President Barack Obama is planning to return home to Chicago's South Side on Sunday for a get-out-the-vote rally focused on supporting Gov. Pat Quinn, an Illinois congressman said Tuesday.

Rep. Danny Davis, a Chicago Democrat, said the Quinn campaign reached out to him Monday night to ask about distributing tickets for the event. Davis said the venue had not been chosen at that time but would be at an indoor location on the South Side.

"I understand that it's primarily for Pat Quinn," Davis said of the rally.

"I think the president is obviously interested in helping to get the vote out for Democrats and I think it would certainly be desirable to have him come," added Davis, who said he planned to attend the rally and expected other Democratic members of Congress to turn out.
- Posted by Rich Miller 7 Comments


* Political campaigns rarely advertise in newspapers, but Susan Crown, Lynn and Jim Harris, Mary Ittelson, Gerri and David Kahnweiler, Diana Rauner and Corinne Wood paid for a big ad in the Chicago Tribune today…
To Supporters of Reproductive Rights,

We write as longtime supporters of reproductive rights to celebrate the fact that in this election both candidates for Illinois Governor are pro-choice
.
Bruce Rauner battled through a close Republican primary with a clear, consistent position on reproductive rights:

It's a decision that should be made by a woman with her physician, her family or minister, not by government."
– NBC Chicago Republican Primary Debate, 3/4/14

The only difference between Bruce Rauner and Pat Quinn on reproductive rights is the issue of parental notification. Pat Quinn opposes parental notification, and Bruce Rauner favors it. Voters can decide for themselves whether they stand with Rauner or Quinn on parental notification, while knowing that both candidates have promised to protect the current status of reproductive rights in our state.

Supporters of reproductive rights should be thrilled that both the Republican and Democratic candidates are pro-choice. Having a pro-choice Republican candidate is a major advance for our issue here in Illinois and nationwide.

Bipartisan support for reproductive rights is essential to their survival, and we hope Illinois sets an example for other states

Reproductive rights, access to women's health needs, and women's rights will not have to be contested in this election. This is as it should be: women's rights should not be a partisan issue. Voters will be free to select their candidate based on the many other important issues facing our state.
The statement is signed by dozens of people. Read the list by clicking here.
Discuss.
- Posted by Rich Miller 35 Comments


* If you were writing a movie script about the 2014 Illinois campaign, what would it be called? Bonus points for naming actors who'd play the various roles.
- Posted by Rich Miller 64 Comments


* From the Galva News…
The press conference scheduled for 9:30 a.m. today at All-Feed Processing and Packaging in Galva has been cancelled.

A representative of Bobby Schilling sent out an email about 7:30 this morning saying the press conference was being cancelled due to "unforeseen circumstances." No reschedule date was given.

The press conference had been scheduled for today so Schilling could address Friday's announcement that All-Feed was planning to cease business in two or three months due to inability to pay fines levied by OSHA. All-Feed owner Tim Anderson indicated Friday that Schilling has been a supporter of All-Feed.
* Standing up for a business that is being unfairly maligned by the government is one thing, and standing with workers about their lose their jobs is also a good idea, but the Dems sent over the OSHA report. The company had been put into OSHA's Severe Violator Enforcement Program…
The U.S. Department of Labor's Occupational Safety and Health Administration has again cited All-Feed Processing and Packaging Inc. for willful and repeat violations for exposing workers to combustible and respiratory dust hazards. In addition to creating an explosion hazard, the plant's high concentration of airborne dust could cause workplace-induced asthma* and other illnesses. The company was cited for willful electrical and equipment violations for failing to provide approved equipment for working near combustible dust. OSHA initiated an inspection in November 2013 after a complaint and found one repeat and five willful violations. OSHA has proposed penalties of $254,000 for the pet food manufacturer, which remains in OSHA's Severe Violator Enforcement Program. […]

Because of the most recent inspection, OSHA has cited the company for five willful violations involving exposing workers to combustible pea flour dust by failing to install a dust collection system with explosion protection. Any combustible material can burn rapidly when in a finely divided form. If such a dust is suspended in the air in the right concentration, under certain conditions, it can become explosive. OSHA also found that electrical equipment and forklifts used by the company were not approved for use in combustible-dust atmospheres. Arcs and sparks from forklifts had the potential to ignite the dust, causing an explosion hazard. […]

OSHA has inspected All-Feed 14 times since 2000, resulting in more than 70 violations.

In early 2012, the U.S. District Court for the Central District of Illinois, Peoria Division, found Galva-based All-Feed in civil contempt of court for failing to allow OSHA to inspect its facility between May 4-July 5, 2011, to monitor employee's eight-hour time-weighted average exposure to airborne dust. After gaining entry to conduct the monitoring, workers were found to be exposed to dust particles in excess of the time-weighted allowance per shift.
Sheesh.
* And then, Schilling doubled down…
Republican Bobby Schilling says a pet food plant in Galva that's expected to close soon with the loss of 20 jobs is being unfairly treated by federal government regulators. […]

Colin Milligan, Rep. Bustos' spokesman, said Mr. Schilling wanted "to go to bat for a company that, even after an explosion at its plant in 2009 sent three workers to the hospital, was found in contempt of court for refusing to allow safety inspectors to do their jobs."
- Posted by Rich Miller 19 Comments


* Less than a month after he left the Chicago City Council, former36th Ward Ald. John Rice landed a job at IDOT. He denied using any clout, but his job application wasn't filed until the day he was hired in the exempt position. From a February 10, 2012 New York Times article…
Brooke Anderson, a spokeswoman for Mr. Quinn, said in an e-mail this week that the governor — who lives in the 36th Ward, on the Northwest Side — did not get involved in "personnel decisions at the agency level."

A spokesman for the transportation department said the decision to hire Mr. Rice was made by Michael Stout, who stepped down at the end of December as director of the department's traffic safety division.

Mr. Stout said this week, however, that he "never hired anybody" and did not know who had decided to bring Mr. Rice onto the state payroll.

"He was given to me," Mr. Stout said.
* But who gave him to Stout? From the Bruce Rauner campaign…
NEWLY REVEALED EMAILS SHOW QUINN'S OFFICE INVOLVED IN RICE'S HIRING A MONTH BEFORE HE APPLIED

Last Week, Michael Shakman Released An Email Dated October 27, 2011 In Which IDOT Officials Tell Quinn Deputy Chief Of Staff Sean O'Shea That They "Need Candidate Info" For Rice. "Sean, Attached is the updated epar spreadsheet (Rutan-Exempt). As you will see, John Rice is on the second page under 'Need Candidate Info.'" (Mike Woods Email To Sean O'Shea, 10/27/11)

Attached To The October 27 Email Was A List Of Pending Rutan-Exempt Hires At IDOT, With Rice's Name Listed Under The "Need Candidate Info" Category. (Mike Woods Email To Sean O'Shea, 10/27/11)

Rice's Name Is Also At The Top Of The October 28, 2011 "Lavin List" Of Political Hires. (Lavin List, 10/28/11)
Quinn himself now admits that former deputy chief of staff Sean O'Shea and former chief of staff Jack Lavin handled patronage requests to IDOT. But the e-mail definitively answers a question that neither the Quinn office nor IDOT would address three years ago. The direction came from the governor's two top guys.
*** UPDATE 1 *** From the governor's office…
Rich - as we said in 2012 – the Governor was not involved in this personnel decision at the agency level. Regarding the list – it was for Rutan-exempt hires that had to be approved by the chief of staff. As you will recall – under the previous admin all hires were approved by the chief of staff. Under Gov Quinn – that was changed to only Rutan exempt – as is appropriate.

From the OEIG report:

Footnote 135 - Investigators also obtained documents from the Office of the Governor. Included were multiple versions of a document maintained by IDOT Titled ―Rutan-Exempt ePARs for IDOT…Lavin List…‖ (Lavin List). The Lavin List is a list of all IDOT Rutan-Exempt ePARs IDOT maintained reflecting Rutan-exempt candidates for hire that were pending approval by former Chief of Staff Jack Lavin or a Deputy Chief of Staff.
*** UPDATE 2 *** Rauner campaign…
The governor's office continues to evade the key question: who directed IDOT to hire Ald. Rice? His name appears on a "Lavin List" one month before he even submitted an application and IDOT had emailed the governor's office that they needed more information about him. Clearly this was not an IDOT-initiated hire.
- Posted by Rich Miller 43 Comments


* Tribune…
Karen Lewis, the controversial, combative and charismatic leader of the Chicago Teachers Union, will not run for mayor, significantly boosting Mayor Rahm Emanuel's chances to win re-election next year.

The decision by Lewis comes after she was diagnosed with a cancerous brain tumor last week, said a source familiar with her medical condition. Lewis underwent surgery and took a leave from her union duties.
* Sun-Times…
"I have always respected and admired Karen's willingness to step up and be part of the conversation about our city's future, but nothing is more important than a person's health," the mayor said. "Along with all Chicagoans, I will keep Karen and her family in our thoughts and prayers, and we look forward to seeing her on her feet very soon."

Ald Bob Fioretti, who has already kicked off his candidacy, issued a statement, held a news conference and sent out a fund-raising appeal in the hours after Lewis' announcement.

"Today my friend Karen made a decision not to run for mayor of Chicago," he wrote in an email seeking donations Monday night. "I have the pleasure of calling her a friend, and I join many across this city in praying for her health today."

The Chicago Teachers Union, which remains tight-lipped about Lewis' medical condition, already handed Lewis' duties as union president to Vice President Jesse Sharkey which he would retain "until she's recovered."
* Mark Brown…
Most elected officials in Chicago would rather try to work with Emanuel than against him, just as they did with Rich Daley.

Some of those who might stand a chance of beating Emanuel would blanch if they were so much as mentioned in that context.

Ald. Robert Fioretti (2nd), the most prominent remaining declared candidate, is an exception, and I don't want to be dismissive of his candidacy. I appreciate his willingness to serve as the loyal opposition to not just one, but now two Chicago mayors. That's not easy. I agree with him on a lot of issues. He's served the city well.

But he's never really struck a lot of people as mayor material, which is why everyone is so fast to overlook him now. […]

Emanuel has managed to make a lot of Chicago voters angry with him.

But without a viable alternative, they don't have anywhere to take that anger.
Agreed.
- Posted by Rich Miller 19 Comments


[I took this story down earlier this morning so I could check on some questions raised in comments, but I'm reposting it now with some additional information which confirms its authenticity.]
* While the biggest mayoral story by far yesterday was Karen Lewis taking herself out of the race (which we'll discuss later), a completely unnoticed press release from a little-known gadfly had almost as much of an impact. From William Kelly…
Today, I am donating $100,000 to my mayoral campaign against Mayor Rahm Emanuel. I am taking this step because we have a historic opportunity to reclaim the City of Chicago from the clutches of Mayor Rahm Emanuel - the most unpopular mayor in Chicago's storied history.

I will not stand idly by while Rahm continues his march to destroy our city from within.

But I need YOUR HELP. Will you match my donation with your most generous contribution of $25, $50, $100, $250 or whatever amount you can afford now and help me raise $100,000 to defeat Rahm?
* Kelly did, indeed, contribute $100,000 to his own campaign…

In addition to that contribution, Kelly kicked in $7,441.48 back in July. So, that new contribution means he has busted the contributions cap. From the Illinois State Board of Elections…
A candidate or public official is considered "self-funding" if, during the 12 months prior to an election, the candidate or public official or their immediate family contributes, loans, or makes independent expenditures in support of or opposition to the candidate, in aggregate, totaling more than $250,000 (for statewide offices) or $100,000 (for all other elective offices) to the candidate or public official's political committee or to other political committees that transfer funds to the candidate's committee.
Unreal. Kelly just opened the Rahm floodgates.
* A friend reacts…
Every donor in Chicago hates William Kelly right now
True.
Maybe the mayor will be magnanimous and stay within the caps regardless. I mean, with Lewis out, it's not like he'll need to rai… Oh, who am I kidding?
- Posted by Rich Miller 55 Comments


* Sun-Times…
In the overall head-to-head race, the survey showed Quinn having an edge over Rauner of just under 3.5 percentage points – within the poll's margin of error of plus or minus 3 percentage points.
That's actually a bit outside the margin of error, but I would've rounded down the "just under 3.5″ to "3″ anyway, so, whatever, it's close enough for hand grenades.
Anyway, the Sun-Times story focused on a question about whether voters wanted business or political or both experience in a governor. A plurality of 42 percent said "business." That's good news for Rauner, of course, but 24 percent said "political" and 25 percent said "both."
* Since we have some "historical" numbers to compare, I was a bit more interested in this question…
Those queried last week considered Rauner the reform candidate over Quinn — a similar finding to what Early & Often reported in August. However, Rauner's reform numbers have slipped nine percentage points since Early & Often posed that question in August. Then, 46 percent picked Rauner as the reformer, and 21 percent chose Quinn. Last week, 37 percent said Rauner was the reformer and 26 percent said Quinn was.
It's not just that Rauner has fallen 9, it's that Quinn has also jumped 5. That's a fairly significant swing.
* These numbers have moved against Rauner as well. From the October poll, with August results in parentheses…
Which gubernatorial candidate do you think most understands your everyday concerns?

Rauner: 36 (40)

Quinn: 41 (38)

Grimm: 6 (N/A)

Neither: 16 (12)
Quinn now leads on that question, and his lead is outside the MoE. It's a slight lead, to be sure, but it's a seven-point swing. The trend is not becoming Rauner's friend. But, there's three weeks to go, campers. All sorts of things can happen.
- Posted by Rich Miller 39 Comments


* Gov. Pat Quinn's radio ad on Bruce Rauner's alleged threats against a female LeapSource executive might be even more damaging than Quinn's TV ad. Listen to the whole thing…
Bloodtober, baby.
* Script…
FEMALE ANNOUNCER: What do we really know about billionaire Bruce Rauner's temperament?

Let's look at how he treated his female employees at one of his out-sourcing companies.

An NBC News investigation has revealed that Rauner repeatedly threatened a woman executive and then fired her for not laying off enough workers in order to maximize his profits.

The shocking details of Rauner's threats to the woman executive were part of a sworn court deposition and reported by this NBC News report:

CAROL MARIN: "Rauner told another board member, quote 'I will bury her. I will bankrupt her with legal fees. I don't know if she has a family or not, but if she does she'd better think twice about this.'"

FEMALE ANNOUNCER: While that doesn't say everything about Bruce Rauner, it says a lot.

And Bruce Rauner, if you're listening, listen closely: Threatening women and their families is despicable, and has no place in Illinois. Period.

GOV. PAT QUINN: Taxpayers for Quinn paid for this message because there's so much at stake.
Keep in mind that the Chicago metro area has one of the longest commute times in the nation, so lots of people listen to their car radios every morning and every afternoon. Many, if not most, will hear this - over and over again.
Also, the announcer's pitch was perfect throughout. Whatever side you're on, if you're at all honest you have to admit that the Quinnsters have run some incredibly solid spots this fall, far outshining Rauner's efforts. If Quinn does lose, it won't be because of his ads.
Oof.
- Posted by Rich Miller 85 Comments


* Bruce Rauner has switched tracks again and is now blasting Gov. Pat Quinn for his declaration to the Daily Herald editorial board that he would push to make the income tax hike permanent during the fall veto session. From a Monday press release…
Bruce Rauner today launched a new TV ad educating voters that Gov. Pat Quinn plans to push through a massive income tax increase right after the November election.

The 30-second spot, titled "Gonna Happen," uses Quinn's own words before the Daily Herald editorial board where he admitted he was secretly planning to push through a permanent income tax hike during the lame duck session of the General Assembly.

"Voters need to know that Pat Quinn is planning a massive tax hike right after the election," Rauner spokesperson Mike Schrimpf said. "Illinois families have been suffering under Pat Quinn's 67% income tax hike for the last four years. Now Quinn wants to hit them with another tax increase right after the election. Illinois families cannot afford four more years of Pat Quinn."

Last month, the Daily Herald reported that Pat Quinn "said he wants a vote on the income tax in the weeks after Election Day, before the next governor and new set of lawmakers are sworn in." The Daily Herald also noted "that's how the 2011 income tax hike was approved, hours before the new legislature was set to be sworn in and with the help of several Democratic lawmakers who had lost the November election and had promised not to raise taxes."
* The ad…
- Posted by Rich Miller 30 Comments


* A completely wasted opportunity…
Illinois legislators created the Urban Weatherization Initiative in 2009, promising that as much as $425 million in taxpayer money would go to train an army of workers in predominantly African-American neighborhoods to identify and fix energy-efficiency problems in homes. […]

But records and interviews show:

◆ More than 1,900 people have been trained for jobs as laborers and inspectors for the program. But only a fraction of them have been put to work or found jobs utilizing their skills outside the program. Exactly how many isn't clear. State officials say they don't have a figure. People involved with the program say it's only a small percentage of those trained.

◆ Officials say that's because no work on homes was done until last spring — three years later than planned. As a result, only 183 homes have gotten energy upgrades.

◆ More than $13 million of the $16 million-plus spent so far has gone for administrative costs and training.

◆ Worker training didn't begin until 2011, though Quinn signed the legislation into law in July 2009.
Oy.
…Adding… The Sun-Times didn't break it out, but admin costs were $1.5 million, according to DCEO. The rest of that $13 million was spent on training.
- Posted by Rich Miller 26 Comments


* My weekly syndicated newspaper column…
The most important question asked of Bruce Rauner during last week's gubernatorial debate in Peoria was posed by Jamey Dunn-Thomason of Illinois Issues magazine.

My pal pointed out that Kansas Gov. Sam Brownback, a Republican, had cut taxes across the board on the theory that it would boost the state's economy. His idea hasn't worked. What's happened instead is a huge revenue shortfall, which has forced gigantic state budget cuts and an economy that now lags the rest of the country.

So, what did Rauner think of Brownback's policy, Dunn-Thomason wondered.

It has seemed to me over the past several months that Rauner is a true believer in "Brownbackism." He's proposed slashing the income tax over 4 years from 5 percent to 3 percent, without regard for the budgetary pain he would cause, and predicted that doing so would so intensely stimulate the state's economy that all those lost revenues would magically be replaced by new income from growth.

The idea is a fantasy, and Brownback's Kansas pretty much proves it.

The hard truth is that almost the entire Illinois income tax hike pays for the state's pension payments. Illinois had kept its tax rate low in comparison with most of the nation for decades because it was skipping and skimping on its long-term pension obligations, which finally led to big trouble with the state's credit raters.

And since the Illinois Supreme Court appears to be in no mood to help the state out on pension reform, the only responsible thing to do is to keep revenues about where they are now in order to avoid a very real disaster in the rest of the budget.

You may not like to hear this, but the math is the math.

What we've all been hearing out of Rauner to date appears to be ideologically driven nonsense designed to appeal to a gullible and angry public. He absolutely cannot do what he says he'll do unless he intends to drive the pension systems into bankruptcy, but I'm not sure he can legally get away with that.

Rauner has also pledged big spending increases for P-12 education, higher education, infrastructure, natural resources, corrections, and a host of other state programs. How the heck can he do that if he plans to slash state revenues?

I've been hearing from some Republicans over the past couple of weeks that Rauner is planning to "pull a Jim Thompson." Our former governor twice ran on a pledge not to raise taxes, in 1982 and then again in 1986. But as soon as he was safely sworn in, he declared he had not realized the extent of the budget problems and now firmly believed that Illinois desperately needed a tax hike.

Rauner's proposed expansion of the sales tax to services would bring in only $400 million – a drop in the bucket compared to the billions lost from the income tax hike rollback, and wouldn't even begin to provide the revenues needed to fulfill his spending promises.

But, if you listen carefully, you'll often hear him say that he hasn't completely ruled out expanding that new tax to other services.

So, what I've been told by people who have regular private contact with him is that Rauner intends to drastically expand that service tax beyond what he's claiming now in order to replace some of the revenues from gradually phasing out the income tax hike. He'll have a "Big Jim Moment" come January, if he's elected.

OK, let's go back to last week's debate.

"I don't agree with the tax policies that were put in place in Kansas," Rauner declared in response to Dunn-Thomason's question. In other words, tax cuts without regard for consequences is not in the cards.

Rauner then returned to his familiar talking points about looking "at the entire tax code" to close corporate loopholes and "broaden the base, lower the rates." Putting that into context with his Kansas statement, to me, at least, supported what I've been hearing about what he actually intends to do with the budget next year.

A tax on services will naturally dampen growth and will lower the overall burden on the wealthy, and that's a totally legit debate to have, if it comes to that.

I admit that I'm counting on the fact that he's lying through his teeth about taxes, and I acknowledge that even a broad service tax will replace only about a third of the income tax cut he says he wants.

But when he publicly rejected the Kansas model last week, I breathed a quiet sigh of relief.
- Posted by Rich Miller 61 Comments


* From the Quinn campaign…
As Bruce Rauner continues to conceal his long-held opposition to raising the minimum wage, new audio released today shows him vowing that he "always" has, and "always will" oppose raising the minimum wage "in and of itself."

Here's the quote exactly:

"I have said consistently, consistently, and I always have and I always will that I am against raising the minimum wage in and of itself. If that's the only change we make, I am adamantly against it. That's been true and that will be true."

The quote was made in the context of the Republican primary, when Rauner was establishing his right-wing bonafides by saying that he was "adamantly, adamantly against" raising the Illinois minimum wage, and even went so far to propose lowering the Illinois minimum wage. Proof also emerged that Rauner advocated eliminating the minimum wage earlier this year.

The new audio shows Rauner's fiercely-held opposition to raising the minimum wage will continue in perpetuity. No evidence exists to suggest that Rauner has ever sincerely supported raising the minimum wage.
* OK, the full, raw audio, from this past January on Roe Conn's now-defunct WLS AM show is here…
* During that exchange, at about the 7:20-mark, Conn asks Rauner why he didn't "couple the notion" of increasing the minimum wage with his proposed business reforms the previous year when he said he was "adamantly, adamantly against raising the minimum wage." Rauner's full response…
"Ok, that's a fair question. The answer is, you know what, every time we're talking about an issue, it has ramifications broadly. And there's a lot of scenarios that, that we can talk about as, as well. I'm not even including… Let's, let's not try… The other business reforms that we really need in Illinois. And where's the, where's the tradeoff in, in there? Politics is about tradeoffs.

"I have said consistently, consistently, and I always have and I always will, I am against raising the minimum wage in and of itself. If that's the only change we make, I am adamantly against it. That's been true and that will be true.

"In a context, in a broader context, of, of other changes, I support it. That's not inconsistent at all. And maybe I should, I could, I could take 20 minutes every time I give a speech, but you know what, not, not, not every topic in every speech that we touch on every possible scenario. That's just not how it works."
In context, he's saying what he has been saying for months. But he said what he said.
…Adding… The Rauner campaign points to this comment at the 1:23 mark…
"I am not in favor of reducing the minimum wage in Illinois. That is not what I am trying to say. I mischaracterized it's my fault my mistake. I believe we should either move the Illinois wage to the national minimum wage and raise the national minimum wage in that context. And or, or if that can't be done if that national minimum wage is not going to raise I think it will be and I support that. But if it's not raised at the national level I do support and I can support increasing Illinois minimum wage. But only only in the context of a comprehensive pro business reform package including workers comp reform tax reform and tort reform. If we do that pro business reform in that context I would support and do support raising Illinois minimum wage."
* And since he flipped-flopped-flipped on the minimum wage, why is he still sticking by his adamant support for "right to work"?…
Rauner told The Associated Press in a recent interview that the ["right to work"] zones would be a way to give local entities autonomy and help jumpstart economically-depressed areas. Rauner said an example of his plan could let municipalities or counties decide on whether to make paying union fees voluntary for unionized workers. And it would allow struggling areas, such as Chicago neighborhoods or downtown Decatur, the ability to lower corporate income tax rates to lure new businesses, something that appears to take a program that Illinois already offers a step further.

"Create opportunities where our state is really suffering the most. Create opportunities of more flexibility where they can innovate and really create environments that are very attractive to business," the wealthy businessman told AP in the recent interview. "What I'd love to do is travel, on my nickel, recruiting companies to come to those zones and … create some true economic growth in some of the most impoverished neighborhoods."

The zones would "allow local communities to decide whether workers must join a union in order to get a job," according to Rauner's website. He told AP such zones would give counties and cities control.

But unions and Quinn blasted the idea - which has already been contentious between unions and Republican governors elsewhere - as hurting workers and unions.
Bad move. Really bad move. 50,000 workers joined the union rolls last year in Illinois. Subscribers know more, but I just don't get the addition on this one.
- Posted by Rich Miller 32 Comments


* I hope you are all having a great Columbus Day weekend. Thanks to you, I am, even though I published a Capitol Fax today. Hey, some things just can't wait until Tuesday.
Comments won't be open on this because the blog isn't starting back up again until tomorrow, but let's all spend a few minutes enjoying Grace Potter, Steve Kimock and Joe Satriani performing Neil Young's "Cortez the Killer." They appear to be having the time of their lives driving each other to higher and higher levels of musical expression, resulting in a breath-taking crescendo…
I still can't remember when
Or how I lost my way
- Posted by Rich Miller Comments Off