* Your one-word thought about the immediate future of Illinois governance? Please keep it to one word only. And, of course, keep it clean. Thanks.
- Posted by Rich Miller 211 Comments


* I'm hoping to be at this event today, so check back…
On his first full day on the job, Gov. Bruce Rauner is scheduled to sign an executive order on ethics.

Rauner made reference to the move in his inaugural address on Monday, saying the order would focus on the executive branch of government.

A notice from the governor's office on Tuesday says the order is "focused on improving ethics and accountability in the executive branch of Illinois."
These sorts of EOs are common with new governors. For instance, click here to see Blagojevich's first batch of ethics orders, and click here to see Quinn's.
* Meanwhile…
Also on Tuesday, legislative leaders in both the Illinois House and Illinois Senate plan to meet for a leadership meeting in advance of the next general assembly being sworn in.
- Posted by Rich Miller 32 Comments


* Gov. Bruce Rauner has named Ngozi Okorafor as the acting director of CMS. Okorafor, a Nigerian-American woman, has worked at CMS for quite some time and is an accomplished attorney who won a "40 under 40″ award from Crain's a few years back.
This should be a pretty easy confirmation process. Senate President John Cullerton has been a past supporter. "She's a perfect bridge builder" between Rauner and the Democratic leadership, said one ally today. She also has a reputation in government as very tough-minded. This isn't some GOP window dressing move.
* Also…
The University of Illinois Board of Trustees is expected to choose a new chairman Thursday for the first time in six years, though two of its seats could be empty.

Edward McMillan, a Republican who was reappointed to another term over the weekend by Gov. Bruce Rauner, will likely be named chairman Thursday when the board holds its annual election of officers in Chicago, according to current Chairman Chris Kennedy.

Kennedy, who will not be in attendance, told The News-Gazette he'd spoken with other trustees and "it seems like there's unanimous support for Ed's leadership."
* Meanwhile, Treasurer Mike Frerichs announced his top staffers today…
Jay Rowell, Deputy Treasurer
Jay Rowell previously served as director of the Illinois Department of Employment Security (IDES). In that role, he oversaw nearly 1,900 employees and nearly $8 billion in unemployment insurance payments. His efforts identified and reduced improper payments by nearly a half billion dollars as he lead the transition of IDES to an employment-focused agency. Rowell's experience also includes the political director for the Illinois Senate Democrats and other positions with the State of Illinois and City of Chicago. Rowell graduated cum laude from Loyola University Chicago School of Law.

Justin Cajindos, Chief of Staff
Justin Cajindos formerly served as deputy chief of staff in the Office of the Governor, overseeing eight state agencies with a total of 4,000 employees. In this role, Cajindos was a policy advisor for environment, energy and agriculture. His prior experience in federal and state government includes positions as an aide to U.S. Senator Richard J. Durbin and as chief of staff to state Senator Michael W. Frerichs. Cajindos is a graduate of the University of Illinois at Urbana-Champaign.

Catherine Shannon, Director of Legislative Affairs
Catherine Shannon previously served as deputy director of the Illinois Historic Preservation Agency. She managed a state agency responsible for 56 state historic sites, 180 employees and an annual operating budget of $24 million. Shannon is a former director of the Illinois Department of Labor. She also served as the legislative director for Illinois Federation of Teachers and the Illinois AFL-CIO. Shannon began her legislative work more than 25 years ago on the research/appropriations staff for the Illinois House of Representatives, Office of the Speaker. She is a graduate of Northern Illinois University.

Rodrigo Garcia, Chief Investment Officer
Garcia previously served as acting director of the Illinois Department of Veterans' Affairs (IDVA). In that role, he oversaw nearly 1,400 employes and a $150 million budget. His efforts led to: the design of the $70.5 million Chicago Veterans Home; implementation of results-based budgeting systems; and transformation of IDVA's aging technology and operational infrastructure that, in aggregate, resulted in tens of millions in new revenue and cost efficiencies. Garcia also worked in bank supervision and regulation at the Federal Reserve Bank of Chicago and in global wealth management at Morgan Stanley & Co. He proudly served in the United States Marine Corps with three tours in Iraq and Afghanistan. He graduated summa cum laude with graduate degrees with a focus on public policy and finance from Northwestern University and the University of Illinois at Chicago. He recently completed Harvard University's Kennedy School of Government.

Keith Horton, General Counsel
Keith Horton previously was deputy general counsel for the Office of the Governor. In that role, he managed or served as the liaison to the chief legal counsels of more than 20 state agencies, boards and commissions, including the Department of Commerce and Economic Opportunity and the Illinois Finance Authority. Horton previously served as deputy general counsel of the Capital Development Board and worked in private practice for two large law firms in Chicago. Horton graduated from Yale University with a degree in economics. He earned his law degree from the University of Illinois College of Law, where he was editor-in-chief of the Elder Law Journal.

Paris Ervin, Director of Communications
Paris Ervin previously was the bureau chief of communications at the Illinois Department of Transportation (IDOT). She served as the spokeswoman, led a team of community relations managers and guided multimillion-dollar media contracts promoting traffic safety. Ervin is a former WICS-TV reporter who graduated from the University of Illinois Springfield with a Bachelor of Arts in communications. She graduates this May with a master's degree in public administration.

Julian Federle, Chief of Policy and Programs
Julian Federle previously was a deputy director at the Illinois Department of Employment Security (IDES). At IDES, Federle managed the day-to-day operations of the agency's re-employment programs as well as the administration of unemployment insurance benefits. Federle reshaped the agency's service delivery model, saving the state money, while expanding services and decreasing fraud. He attended Columbia University in Chicago.

Zach Koutsky, Senior Advisor to the Treasurer
Zach Koutsky was Treasurer Michael W. Frerichs' campaign manager and deputy director to the treasurer's Transition Committee. Koutsky previously served as the chief of staff for Frerichs' state senate office and has worked for non-profits and political campaigns in nine states. Koutsky earned a master's degree in urban planning and policy with a concentration in economic development from the University of Illinois Chicago and a bachelor's degree from Illinois State University.

Charise Williams, Deputy Chief of Staff for Civic Engagement
Charise Williams previously served as director of community relations for Oak Street Health. She oversaw the outreach and implementation of four community-based, senior care clinics. Under Williams' leadership, the outreach team acquired hundreds of new patients, which grossed more than $1.2 million in six months. She earned her master's degree in public policy from the University of Chicago, Harris School of Public Policy.

Dave Clarkin, Deputy Chief of Staff of Public Affairs
Dave Clarkin has nearly 20 years of public affairs experience in communications, marketing, legislative policy and community outreach. Clarkin served as deputy director of communications and senior policy advisor for the Department of Children and Family Services, leading all communications and helping develop the agency's strategic performance plan. Clarkin began his career in state government with the Illinois House of Representatives where he shaped technology policy and appropriations for health care and human services totaling more than $7 billion annually. An Edwardsville native, Clarkin earned a bachelor's degree in biology and political science from the University of Illinois at Urbana-Champaign.

Sarah Ryan – Director of Scheduling & Special Events
Sarah Ryan spent five years as the Office Manager and later Operations Director for U.S. Senator Richard J. Durbin. She graduated from DePaul University.
Discuss.
- Posted by Rich Miller 47 Comments


* Let's hope Rep. Lou Lang's prediction that former Gov. Pat Quinn doomed the medical marijuana program by not issuing licenses for growers and distributors turns out to be inaccurate…
The recommendations for the licenses had reached Quinn's desk, Rep. Lou Lang said. But the ex-governor has not explained why he left office without acting on them. The applicants paid thousands of dollars in fees totaling $5 million, Lang said.

"This single failure may doom the medical cannabis program," Lang said. "This single failure said to all of those folks that made applications to be cultivators or dispensary owners that, 'We took your $5 million dollars but we'll get to you when we feel like it.'"

Lang said applicants might take the state to court to recover their money. Also left in a lurch are cancer, multiple sclerosis and epilepsy patients waiting to seek treatment through the program.

"Some very sick people were hurt yesterday," Lang said. "And some very innocent people were hurt yesterday. And some very innocent families were hurt yesterday. From a person who has spent his life talking about healthcare."
* More…
Lang said even if the licenses for growers and distributors were awarded tomorrow, it would still only leave around 2 1/2 years for the program. Once the licenses are issued, it would take at least four to six months for the first crop to be ready for sale. The legislation did not include a specific timeline for issuing licenses.

"This single failure may doom the medical cannabis program," Lang said. "This single failure said to all of those folks that made applications to be cultivators or dispensary owners that we took your $5 million but we'll get to you when we feel like it."

He said he was considering introducing legislation to start a new timeline for the program from when it is actually implemented. […]

Lang said he intended to open a dialogue with the new governor. He plans to contact Lt. Gov. Evelyn Sanguinetti, who split with Rauner during the campaign and said she supported medical marijuana. Lang said he hoped Rauner wouldn't start the application process over with his own staff at the helm.
Unless something dramatic emerges to justify Quinn's punt, this inaction by the former governor was an inexcusable cowardly act. And, sorry, but I don't buy this…
Quinn spokesman Brooke Anderson disputed that, insisting that the only reason he balked in the waning hours of his administration was that the heavy lifting on vetting the applicants was not complete.

"There was more work to do," she said. "Agency officials were rushing to get the work completed."
You can watch Lang's full press conference by clicking here.
- Posted by Rich Miller 28 Comments


* When Mrs. Rauner presented the bible for her husband's swearing in, the incoming governor started to put his right hand on the good book, then withdrew it.
"Raise your right hand," said the judge who swore in Bruce Rauner yesterday. Rauner started to haltingly move his right hand. "Put your hand on the bible," the judge said. Rauner then put his right hand on the bible, and kept his left hand at his side. "Raise your right hand," the judge politely said again. Rauner raised his left hand…
He must've really been nervous. Or he's dyslexic.
Not that this was an Earth-shattering moment or anything, but I bet I received ten text messages when it happened yesterday.
- Posted by Rich Miller 37 Comments


* AP…
Republican Gov. Bruce Rauner moved quickly to address Illinois' budget mess Monday, taking the oath of office and then ordering state agencies to immediately freeze all nonessential spending.
* React…
Some Democrats who attended the inauguration said they want to see how Rauner determines just what is non-essential state spending.

"I think most people would say we tried to pass a lean-and-mean budget and that every bit in the budget is essential," said Rep. Lou Lang, D-Skokie. "The governor may have one point of view, but the people who have been working in state agencies over a number of years and the legislature might have another point of view."
And…
To make a point, Rauner announced a freeze on all nonessential state spending, an order that had Senate President John Cullerton hooting in derision.

"I don't know exactly what that means and I don't know if he does either. But it sounds great," the veteran Democrat said.
* Rauner's press release explains…
Executive Order 15-08 requires every executive branch agency to report to the Governor's Office of Management & Budget (GOMB) to identify every contract awarded or entered into by a state agency on or after November 1, 2014, and every hiring decision taken by agencies on or after November 1, 2014.

All agencies are further ordered, until July 1, 2015, to halt the awarding, entering into, amending or renewing of state contracts and grants. Exceptions are made for contracts required by law, emergency expenditures, small purchases, and essential operations.

Major interstate construction projects which have not commenced will be reviewed.

The governor also instructed agencies to manage existing resources by halting the sale/lease of motor vehicles, stopping out-of-state travel, and limiting in-state travel.

Executive Order 15-08 further instructs Central Management Services (CMS) to identify surplus property for auction in compliance with state law. Further, GOMB and CMS will review all property owned or leased by the state and develop a strategy for consolidation and relocation of offices.

Finally, the governor ordered all agencies to reduce energy consumption and spending on energy, including reducing heating, air conditioning, and lighting usage when facilities are not in use.
That line about "major interstate construction projects" appears to be aimed at the controversial Illiana Expressway.
- Posted by Rich Miller 92 Comments


* From Bruce Rauner's inaugural address…
Our state's crisis is not only financial. We have a MORAL crisis, an ETHICAL crisis as well. We have a state government that too few have faith in; that lack of faith is JUSTIFIED, and undermines people's willingness to sacrifice and help the government in its mission.

Illinoisans see insider deals and cronyism rewarded.

They see lobbyists writing bills for special interests and taxpayers being left with the tab.

They see government union bosses negotiating sweetheart deals across the table from governors they've spent tens of millions to help elect.

It's a corrupt bargain and the people of Illinois are left to wonder where they fit in. Who's looking out for them and their families?

Taxpayers' money belongs to them; not the government. We have a moral obligation to minimize how much we take and to ensure what we do take is spent efficiently and effectively
Rauner didn't mention "union bosses" very often during the general election. He all but dropped the phrase after the GOP primary.
* Some folks weren't amused at the reappearance…
In response, Democrat Terry Link said, "I was upset by that. I didn't applaud either. I don't think it's corrupt."

However, some Springfield Republicans called the description perfectly accurate. While it may be legal for Illinois' big public employee unions to try to control state government, GOP legislators said it was morally corrupt and hurt taxpayers. They're expecting a huge battle once Rauner unveils his budget proposals next month.

"When the budget's released in February, it's going to be difficult. There's no question about that," said Republican State Senator Sue Rezin.
- Posted by Rich Miller 68 Comments


* SJ-R…
Gov. Bruce Rauner might have called for "A Little Less Talk and a Lot More Action" during his inauguration Monday, but he finished off the night asking, "How Do You Like Me Now?"

While many governors tend to settle for fancy dinners and cocktail hours, Rauner opted for a Toby Keith concert at the Prairie Capital Convention Center, featuring the country superstar's afore-mentioned songs.

Keith started his set at 10:30 p.m. He played two songs before bringing Rauner and his wife Diana to the stage at 10:40 p.m. They shared their first dance as governor and first lady to "You Shouldn't Kiss Me Like This."
Toby was his usual awesome. Man, what a performance.
* And here's the dance, courtesy of BlueRoomStream.com…
* The Boat Drink Caucus was in fine form last night. Best show they've ever done…
Opening the concert was the Boat Drink Caucus, a band of lawmakers who play Jimmy Buffett cover songs and others classics, though they're used to more low-key appearances at Springfield taverns. Their slogan for the night was "practicing in public."

In a nod to the tough road ahead for the new governor as he inherits a state mired in debt, the group played a well-known standard from the Rolling Stones, "You Can't Always Get What You Want."

They also were joined by Blackhawks national anthem singer Jim Cornelison, who sang Eric Clapton's "Wonderful Tonight."
* Related…
* Well wishers greet Rauners, looking for hope, happiness and history

* Rauner gets hug from Madigan — Lisa, that is
- Posted by Rich Miller 40 Comments


* Tribune…
In an eleventh-hour flurry Monday in Chicago, Democratic Gov. Pat Quinn signed a few final bills into law, appointed friends to ceremonial posts and laid a series of political traps for incoming Republican Gov. Bruce Rauner.

Quinn also maintained his pace of working through a large backlog of clemency petitions. But his swipes at Rauner with several executive orders on the rookie governor's first day overshadowed the other actions — and showed just how sore Quinn remains from the bruising 2014 campaign.

Quinn, who waged a class warfare theme in his failed re-election bid, took direct aim at the refusal of the wealthy private equity executive to release his full set of income tax returns during their race. Quinn issued an executive order requiring governors to make available for public inspection individual income tax returns on or before May 1 each year.

He also issued an order to require state contractors pay at least $10 an hour — a nod to his failed quest to raise the statewide minimum wage.
The executive order is here.
* Sun-Times…
On Monday, some actions appeared directly tied to a bitter loss to his political rival.

One of Quinn's executive orders would force future governors to make public all tax information, including supporting documents and schedules. That was an issue in the campaign as Quinn attempted to portray Rauner, a wealthy venture capitalist, as a bloodless multimillionaire who was hiding possible conflicts of interest. Rauner refused to release accompanying schedules showing details at how he paid his taxes.

As governor, Rauner would have the power to undo the order; however, it could bring political blowback and raise transparency questions.
That executive order is here.
* Rauner, however, rescinded two of Quinn's appointments from yesterday. James Anderson's appointment to the Civil Service Commission and former state Rep. Kim dd Buclet's appointment to the Chicago State University Board were both withdrawn today.
…Adding… Rauner is rescinding all of Quinn's appointments that require Senate confirmation.
- Posted by Rich Miller 75 Comments


* It's been a serious day, so let's lighten things up a bit.
Most of the civilized world is now familiar with the Boat Drink Caucus…
Isn't it enough for state Rep. Chad Hays, R-Catlin, to be one of just 118 members of the Illinois House of Representatives?

Now, the sometimes rock 'n' roll star is going to play at next month's inaugural concert with his band, the Boat Drink Caucus, which will open for headliners Toby Keith and Buddy Guy. […]

"It should be fun," said Hays, who sings and plays acoustic guitar in the Jimmy Buffett-like group that also features Rep. Mike Tryon, R-Crystal Lake (guitar) and Sen. Don Harmon, D-Oak Park (guitar and bass).
It's truly a fun band. And even if you're not going to the big show tonight, they'll be playing around town during session.
* And what better way to celebrate than with a portrait of Rep. Hays the, um, artist as a young, um, man?…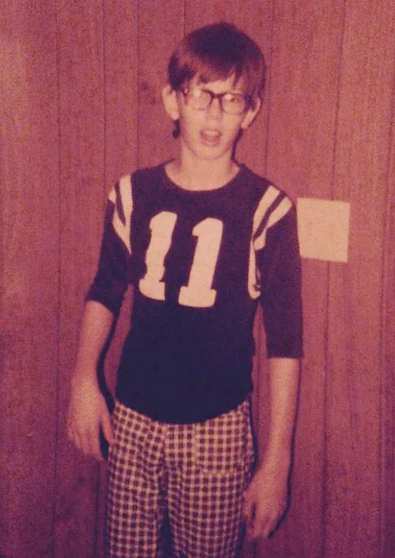 - Posted by Rich Miller 66 Comments


* If you were watching the live coverage feed earlier today, you saw that now former Gov. Pat Quinn was a busy little bee this morning, right up until moments before Gov. Bruce Rauner finished his oath of office.
Here are his bill signings and his two amendatory vetoes…
Bill No.: SB 3028
An Act Concerning: Regulation
Clarifies certain provisions of the Compassionate Use of Medical Cannabis Pilot Program Act.
Action: Signed
Effective: Immediately

Bill No.: SB 2774
An Act Concerning: Regulation
Creates standards for ride-hailing insurance coverage, driver requirements, non-discrimination, safety and operations.
Action: Signed
Effective: June 1, 2015

Bill No.: SB 2774
An Act Concerning: Regulation
Creates standards for ride-hailing insurance coverage, driver requirements, non-discrimination, safety and operations.
Action: Signed
Effective: June 1, 2015

Bill No.: HB 3707
An Act Concerning: Local Government
Amends a provision of the Township Code.
Action: Signed
Effective: Immediately

Bill No.: HB 3817
An Act Concerning: Elections
Makes changes regarding candidate filing for elected school district offices.
Action: Amendatory Vetoed
Effective: Immediately

Bill No.: SB 3397
An Act Concerning: Revenue
Allows retailers to receive sales tax deductions and refunds for uncollectible sales taxes.
Action: Amendatory Vetoed
Effective: Immediately
His AV messages are here and here.
*** UPDATE *** Quinn's AV of HB 3817 contains this language mandating binding referenda for minimum wage hikes…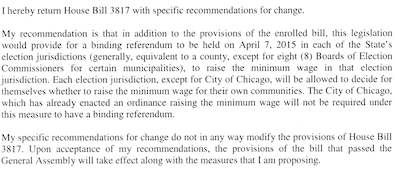 However, this is a House bill, and I'm told the House has no plans yet to meet before the new GA is sworn in on Wednesday. So, it's basically an empty gesture because this bill dies without legislative action.
[ *** End Of Update *** ]
* He also took clemency action…
Governor Pat Quinn today granted 43 and denied 119 clemency petitions. As part of today's final grants, Governor Quinn granted four immediate commutations, reduced the sentences of two other petitioners and granted his second pardon based on innocence.

The 162 clemency petitions acted upon today by Governor Quinn are part of dockets dating back to 2003. Each person granted clemency has recently undergone a criminal background check through the Illinois State Police's Law Enforcement Agencies Data System (LEADS).
* And then there was this…
Minutes before Bruce Rauner was sworn in as governor, Governor Pat Quinn released 102 new appointees to state boards and commissions.

Filed with the Secretary of State's office on Sunday, January 11, Quinn's appointments (lists are here and here) cover a wide swath of mostly low-profile, unpaid state panels with varying degrees of policy making authority and most that need no Illinois Senate confirmation.

Quinn appointed people to the newly created Medical Cannabis Advisory Board, the Illinois Arts Council, the Illinois Single Audit Commission, America's Central Port District, the Illinois Medical District Commission, the State Board of Pharmacy, the Elevator Safety Review Board, etc.
Quinn did appoint a former top aide, Sean Vinck, the Chief Information Officer, to a seat on the Illinois Clean Energy Community Foundation Board, which will pay Vinck $20,000 per year. No Senate confirmation is needed.

The now ex-governor did appoint several individuals to posts that require Senate confirmation and a couple that pay hefty salaries.

Quinn tapped ex-State Rep. Kim du Buclet (D-Chicago) to the Chicago State University Board of Trustees and ex-Department of Human Services Secretary Michelle Saddler to the Teachers Retirement System Board, replacing Patrick Gibbs. Both need Senate confirmation.

Quinn installed Tumia Romero at the Illinois Prison Review Board, a part-time job that pays $85,886 and for a term that lasts until January 21, 2019 – after Rauner's first term. He also tapped Ilonka Ulrich of Skokie for a seat on the Illinois Workers Compensation Commission, which brings a $115,840 annual salary. These appointment also require Senate confirmation.

Finally, Quinn added ex-Governor Jim Thompson and ex-State Board of Education Commission Chairman Gary Chico to the 25-member State Bicentennial Commission.
* Under law, appointees who have to be confirmed by the Senate are considered late term appointments…
"Late term appointee" means a person who is appointed to an office by a Governor who does not succeed himself or herself as Governor, whose appointment requires the advice and consent of the Senate, and whose appointment is confirmed by the Senate 90 or fewer days before the end of the appointing Governor's term.
And that means this…
A late term appointee shall serve no longer than the sixtieth day of the term of office of the succeeding Governor.
So, most of those folks listed above (except for Vinck and a few others) are out soon.
- Posted by Rich Miller 62 Comments


* Your reaction to Gov. Rauner's inaugural address?
…Adding… If you missed the address, or you want to listen to it again, here's the raw audio…
- Posted by Rich Miller 89 Comments


* The Sun-Times looks at Bruce Rauner's end of December $20 million campaign cash infusion, designed to "bolster" his legislative agenda…
Thanks to $10 million of Rauner's own money, $8 million from Citadel CEO and billionaire Ken Griffin, and $2 million from businessman Richard Uihlein, Rauner walks into the Statehouse with some serious "forget you" money.

Rauner's team says he needs it, but some Springfield insiders are predicting that it already has hurt him politically.

"By doing this, it actually makes people more partisan, whereas before, people were willing to work with him to give him the benefit of the doubt. It sort of puts you back in the arms of Father Madigan," said state Rep. Jack Franks, D-Marengo. Franks said Rauner's vows to work with Democrats were taken as sincere until the $20 million.

"It was like: 'I really want to hear from you, I really want to hear your ideas. By the way, I've got $20 million, so maybe we don't have to disagree so much.'

"It's a staggering sum. It's fundamentally changed politics. There's no longer a safe seat anywhere," Franks said.
I can see why an incumbent would think that "There's no longer a safe seat anywhere" is a bad thing. But is it? Not to my eyes.
Yes, there are legit questions about how this mountain of cash will influence state politics, but the Democrats are gonna need a better argument than that.
* Gov. Quinn was predictably upset…
"I think on the last day of the cycle, again, [it's] thumbing your nose at the spirit of the law, to say the least, of having three extremely wealthy people dump $20 million into the election system," the governor said.
* But…
"It levels the playing field on resources, and that's always been the problem with Republicans since they've been out of the governor's mansion," [Republican consultant and strategist Pat Brady] said.
That's a very good point. Democratic outrage may be coming from the fact that they can no longer dominate the GOP on the finance side.
* Also, Greg Hinz…
In the November election, Rauner put a ton of his own money into attempting to elect GOP representatives and take away Madigan's speakership. Rauner also recently announced that he has raised another $20 million to woo and lean on lawmakers in the months to come. Anyone who knows Springfield knows that Madigan's priorities are becoming speaker and remaining speaker.

A few days later, Madigan arranged to pass a bill cutting in half the term of Leslie Munger, whom Rauner is appointing Illinois comptroller, replacing the late Judy Baar Topinka. She will have to face voters in a 2016 special election. "Constitutionally dubious," Team Rauner grumbled afterward. Anything but bipartisan.

But there are more copacetic interpretations of those actions. For instance, some insiders say Rauner's newly refattened war chest may be aimed more at keeping GOP lawmakers in line than unseating Dems. […]

Pat Brady, former Illinois Republican chairman and a big Rauner ally, notes that the bill, which shortened the term of some appointed statewide officerholders, also would apply to a vacancy in the attorney general's office. Some think Madigan's daughter Lisa Madigan might vacate that post in a couple of years to take on Rauner's presumed re-election effort.

"You'd have to ask (ex-Gov.) Rod Blagojevich what a real declaration of war from Mike Madigan looks like," Brady quips.
As much as the Democrats may be complaining, it's the Republicans who should probably be watching their backs right now.
* Rauner fired back at Quinn…
"The special interest groups that make their money from the government are the problem in our political donation system," Rauner told reporters at an appearnace at a bowling alley in downstate Moweaqua two days before his inauguration. "That's what Gov. Quinn relied on in his prior election, just like Rod Blagojevich.

"I have no connections to the government…. All the folks that have given him his money get their contracts and money from the government. That's a conflict of interest. That's the biggest problem we got."
* And we'll give Quinn the last word on billionaire Ken Griffin, who supplied $8 million of that $20 mil…
"I had a chance to visit with that man once. He was in my office. Pleasant guy. But his philosophy, I completely disagree with. It's a very Libertarian, scorched-earth approach [against] using the power of the government to help people. He would not be very sympathetic to them. So, I don't think that's the way to go," Quinn said.

"There is a force unfortunately in our country that wants to use the power of government to help people who are wealthy. I know they were not on our side in this election. I think it's not healthy that a billionaire, he happens to be one, can basically thumb their nose at our campaign contribution limits."
- Posted by Rich Miller 71 Comments


* Mike Sneed has the scoop on yet another missed opportunity…
In the wake of Gov. Pat Quinn's exit from office Monday, Sneed has learned he will NOT give a green light to Illinois license applications to cultivate and distribute medical marijuana — and will toss a safety wrench into the marijuana mix.

Sneed has also learned Gov. Quinn, who had been urging caution in the state's medical marijuana process, will sign legislation Monday to further tighten the new medical marijuana laws.

Under the changes Quinn is signing into law, the Department of Agriculture will have the power not only to revoke marijuana growers' licenses, but also to suspend them.

Quinn will also announce the first dozen appointments to the Medical Cannabis Advisory Board, which will ultimately have 16 members, including patients and doctors.

Translation: The Illinois Department of Agriculture and Public Health will NOT issue medical marijuana licenses before Quinn leaves office and Gov.-elect Bruce Rauner will inherit the responsibility.
Ugh.
*** UPDATE *** House Deputy Majority Leader Lou Lang, who was the chief sponsor and longtime advocate of medical marijuana…
"The inexplicable unwillingness of Governor Quinn to finish the job on the medical marijuana program means one thing: unnecessary prolonged pain and suffering of very sick people. The people suffering from cancer, epilepsy will be further victimized by the governor's failure to do his job.

"Starting on day one, I will work with the Rauner Administration to finish the work on the medical marijuana licenses that Governor Quinn left behind."
- Posted by Rich Miller 33 Comments


* Some eyebrows went up when Bruce Rauner released a list of donors to his inauguration/transition effort. Sun-Times…
The groups all have an interest in public-policy decisions and range from the Illinois Hospital Association, which donated up to $100,000, to the Wirtz Corp. and Walgreen Co., which donated up to $25,000 each.

"Those are groups that do not do business with the government," Rauner said, differentiating his inauguration donors from other groups that "contract with the state directly."

He said money coming from groups that have state contracts would not be welcome. "That's where we do not want to have financial dealings," he said.
Um, Walgreens gets lots of state money via the Medicaid program.
* Tribune…
The Republican campaigned on a theme of shaking up Springfield and railed against the entrenched special interests, but the list of inaugural and transition donors his team released this weekend lists groups, companies and individuals with vested interests in state policy. The Illinois Hospital Association and Illinois Manufacturers' Association were listed at each giving up to $100,000, as was Foresight Energy, a Downstate coal mining operation. Altria, the tobacco firm, and Richard Duchossois, the northwest suburban businessman, were listed as giving up to $50,000.

Those listed as giving up to $25,000 include Ameren, Associated Beer Distributors of Illinois political fund, Associated Builders & Contractors, Illinois Association of Realtors, Illinois State Medical Society, People's Gas, State Farm and Wirtz Corp.

During a two-day tour of rural Illinois, Rauner was asked about the inaugural donations.

"Well, we're not taking money from anybody who does any business with the government at all," he said. "That's the, that's the thing. We don't want money in the inauguration from folks who are, are — that's the thing we've got to stop — is the money with organizations that also do business with the state. We've got to put an end to that."
Quite a large number of those companies are regulated by the state.
Discuss.
- Posted by Rich Miller 31 Comments


* From the SJ-R…
Democratic Gov. Pat Quinn will not be attending Monday's inauguration ceremony for his successor, Republican Bruce Rauner.

"Gov. Quinn was invited, but we are told (he) is not attending," said Mike Schrimpf, spokesman for Rauner.

Quinn spokesman Dave Blanchette said, "The governor appreciates the invitation, but he'll be working and finishing up his work as governor."

Quinn will be in Chicago, Blanchette said.
Thoughts?
- Posted by Rich Miller 97 Comments


* My weekly syndicated newspaper column…
We have likely received an early lesson in how the upcoming spring state legislative session will play itself out with new Republican Governor Bruce Rauner and a Democratic General Assembly.

The Democrats on Jan. 8 jammed through their plan to limit the term of incoming Republican Comptroller Leslie Munger to two years, with a special election in the presidential year of 2016. Rauner appointed Munger to replace Judy Baar Topinka, who passed away in December.

Rauner remained silent in the days leading up to the special legislative session, but House and Senate Republicans went ballistic.

The GOP accused the Democrats of needlessly firing a partisan shot before the new Republican governor was even sworn in. They nit-picked every possible angle, from the legislation's constitutionality, to the legality of the special session itself, all the way down to the germaneness of the "vehicle bill" the Democrats used to transport their amendment to the governor's desk.

At one point, House Republican Leader Jim Durkin all but called House Majority Leader Barbara Flynn Currie a liar for claiming that the legislation had nothing to do with a Democratic attempt to pick up the seat in a presidential year, which have favored Democrats since the days of Bill Clinton.

Republican state Rep. Dennis Reboletti called the bill "political thievery." GOP Rep. Dwight Kay asked Leader Currie, "You really don't like Gov. Rauner don't you? Because he's a Republican."

More than two hours after adjournment, Gov.-elect Rauner's office released a statement calling the Democratic proposal a "constitutionally-dubious election bill," but downplayed the dispute by claiming Rauner "remains committed to working with members of both political parties to pass 'Judy's Amendment' and finally merge the Comptroller and Treasurer offices, which would be a true victory for taxpayers."

On the merits, the Republicans do have at least one valid point. Whatever you believe about the need for a special election, there is no doubt that Comptroller Munger will have a tough time retaining her post in two years, when Democratic Illinois native Hillary Clinton will likely be on the presidential ballot. The Democrats must've had a hard time keeping a straight face when they denied any political motivations.

Many of the Republicans' other arguments were just plain silly, but what they showed us is a willingness to play attack dogs on behalf of their party's new governor, while allowing Rauner to remain mainly on the high road. Last week's vote also helped Durkin and Senate Republican Leader Christine Radogno to begin the process of rallying their members around their new governor and serving notice to the Democrats that a new day is coming.

So, while they lost the vote, they actually won. And, besides, Illinois voters aren't really all that worked up about this issue anyway. While they favor a four-year term for the next comptroller rather than a two-year term and a special election, it's not by an overwhelming margin.

At my request, pollster We Ask America conducted a survey on Jan. 5 about the comptroller question.

"As you may know," 1,022 respondents were told, "the recent death of Illinois Comptroller Judy Baar Topinka created an opening in that office that will be filled with an appointment by incoming governor Bruce Rauner. Some feel that the appointed comptroller should serve until the next state election in four years, while others think that a special election to fill the spot should be held within two years. Do you think the appointment to replace Comptroller Topinka should last four years or should a special election be held in 2016?"

Just under half, 49.7 percent, said they favored a four-year term, while 45.5 percent of respondents said they wanted a special election in 2016. The rest were undecided.

Only a few demographics clearly favored a two-year term: Democrats, 56 percent to 39 percent; Chicagoans, 53-44; suburban Cook County residents, 52-45; and African-Americans, 52-46. A small plurality of Latinos, 48 percent to 45 percent; and women, 48-47; also supported a two-year term with a special election.

But everybody else favored Rauner's preference of a four-year term, including Republicans, 62 percent to 33 percent; collar county residents, 55-40; men, 53-42; independents, 52-44; Downstaters, 51-42; and whites, 51-44. The poll had a margin of error of plus or minus 3 percent.

The special election vote in the Legislature was the Democrats' last hurrah as the complete majority power in Springfield. They took advantage of an opportunity to possibly pick up a statewide office while they still had a Democratic governor around to sign the bill into law, even though their plan isn't firmly backed by Illinoisans.

I hope they enjoyed their fun, because those days are now over—at least for four years.

We're in for some interesting times, campers.
- Posted by Rich Miller 16 Comments


* My Crain's Chicago Business column…
It's too early to judge Gov. Pat Quinn's legacy, but two of his accomplishments offer lessons for Bruce Rauner.

Quinn supported the death penalty during his long political career, but when the Illinois General Assembly unexpectedly passed a bill in 2011 to abolish capital punishment, Quinn searched his soul and sought counsel from clergy, activists and others. He finally signed the legislation into law.

That took no small amount of guts. Abolishing the death penalty is fraught with political minefields. One heinous mass murderer who can't be put to death could spell the end of even a healthy political career—and Quinn's career never has been terribly healthy.

Governors aren't faced with dilemmas like this every day. Quinn took his time and wound up putting principle first. Gov.-elect Rauner would do well to remember that example, because his day will come.
Click here to read the rest before commenting, please. Thanks.
- Posted by Rich Miller 11 Comments


* Just a quick note to say that I've opened comments on all the posts from this weekend. Have at it.
- Posted by Rich Miller 4 Comments


* Gov.-elect Rauner hasn't formally announced it yet, but this is widely known…
Philip Nelson, immediate past Illinois Farm Bureau president, plans to transition toward a new job this week — Illinois Department of Agriculture (IDOA) director.

Gov. Bruce Rauner nominated the Seneca farmer to the post to succeed Bob Flider. Nelson said he plans to put a "new face" on the department of agriculture.

"The department is not just about agriculture but also food. We can reach out to consumers in the same way Illinois Farm Families does," said Nelson, referring to an Illinois agriculture coalition, including IFB, aimed at sharing information with consumers. […]

Nelson served as IFB president from 2003-13. He led the organization as vice president from 1999-2003. Prior to those roles, he served as Illinois Soybean Association and LaSalle County Farm Bureau, and vice president of the American Soybean Association.

"The budget will certainly be something that will be under scrutiny very shortly as the governor is going to make a budget address in February. He knows, and I know the challenges facing our state," Nelson told the RFD Radio Network. "The governor said, 'Philip, if you come on board, I'll give you the resources you need to truly make an impact on the department.'"
More promises for more money. Reality has apparently not yet sunk in.
- Posted by Rich Miller 4 Comments


* From a press release…
Equality Illinois Offers Cooperation to New Governor
But state's largest LGBT organization slams appointment of Meeks as 'an insult'

CHICAGO – As Bruce Rauner prepares to take the helm of the state on Monday, Equality Illinois extends its hand in cooperation but promises to remain an ever-vigilant voice and force representing the state's lesbian, gay, bisexual and transgender citizens.

"Illinois is facing many challenges and it's going to take both parties and people of all ideas working together to resolve them. LGBT Illinoisans and Equality Illinois are ready to do our share, including working directly with the Rauner Administration, to make Illinois better," said Bernard Cherkasov, CEO of Equality Illinois.

Sadly, one of his first major appointments, the nomination of James Meeks, a virulently outspoken anti-LGBT former member of the Illinois Senate, to guide the state's education system does not measure up to Rauner's election commitment of holding "no social agenda" and is an insult.

Illinois is a diverse state facing complex and challenging issues, and as they are addressed by the new governor, Equality Illinois, the state's largest civil rights advocate for LGBT Illinoisans, stands committed to not only preventing backsliding on the significant accomplishments for LGBT Illinoisans achieved under Democratic and Republican administrations but continuing the struggle for full equality.

"Even as we've made progress elsewhere, we are fighting against pervasive bullying and youth suicide and for greater understanding of the needs of transgender teens, and to have Meeks at the helm of the institution that is guiding the education of our children is an insult," said Cherkasov.

"An individual's supposed expertise in one area does not excuse major failings in another. Meeks actively worked against the freedom to marry and has called homosexuality 'an evil sickness.' He was cited as one of the leading religious voices in the anti-gay movement by the Southern Poverty Law Center," Chekasov said.

"The Meeks appointment presents the Illinois Senate, which approves or rejects gubernatorial appointments, and the House with the obligation to ensure that his anti-LGBT social views do not creep into Illinois education policy and that Illinois remains on the path to full equality," Cherkasov said.

Rauner's appointment of business executive Leslie Munger to replace the late Judy Baar Topinka as comptroller is more typical of the officials Equality Illinois expects Rauner to choose. "Leslie Munger has already demonstrated her willingness to support and work with LGBT Illinoisans, and that is a standard we expect Rauner to follow," Cherkasov said.

"We hold the door open for working together with the new Rauner administration but we will not hold back in defending our victories, asserting our intention to continue the fight for full recognition and protection of LGBT Illinoisans and to speak up and act boldly when our expectations are not met."
- Posted by Rich Miller 52 Comments


* From a press release…
The Rauner Transition and Illinois Inaugural Committees voluntarily released a list of contributor donations received as well as pledged donations. Both committees were entirely funded by private citizens and companies.

Donations Up to $100,000

David MacNeil
Foresight Energy Services
Illinois Hospital Association
Illinois Manufacturers Association

Donations Up to $50,000

Richard Duchossois
Alpine Bancorporation Inc.
Altria*
Association Venture Corporation

Donations Up to $25,000

Andrew Bluhm
Leslie Bluhm
Meredith Bluhm
David Helfand
H.W. Knapheide III
Colonel (IL) Jennifer N. Pritzker, (Ret.)
Ameren*
Associated Beer Distributors of Illinois PAC
Associated Builders & Contractors – IL Chapter
BP Capital Management
BW Financial Services
Illinois Association of Realtors
Illinois Association of Realtors – PAC
Illinois State Medical Society
Integrys Business Support LLC
ISMIE
Meijer
People's Gas
Property Casualty Insurers Association
State Farm
Walgreen Co.*
Wirtz Corporation

Donations Up to $10,000

Robert Bonifas
The Bousis Family
William Farley
Connie Nord
Robert Wislow
ACE American Insurance
Astellas
Barnes & Thornburg LLP
BGR Group*
BNSF Railway Company
K12, Incorporated*
Broadway in Chicago
CME Group
CNA
CNSI
Enbridge
Energi Insurance Services
Entertainment Software Association
Ford Motor Company*
Government Accountability Alliance
Horizon Pharma USA
IL Credit Union
Illinois Health Care Association PAC
Illinois Policy Institute*
The Inland Real Estate Group
Lafarge
Murray Energy Corporation
PhRMA
Rep. Wayne Rosenthal
Safari Childcare Inc.
Superior Ambulance
TRK-PAC Mid-West Truckers Association Inc.
United Airlines
Zack Stamp LTD

Donations $1,000 to $5,000

Mary Ann Abate
Wendy Abrams
Patty Becker
Mark Biel
Karen Boswell
Don Brumleve*
Matt Campbell
Philip V. Carleen
David Casper
Vasavi Chakka
Brandon Collins
David Crumbaugh
Karen Darch
Charles Denison
Amy Derick
Ann Deters
James Dominik
Carol Smith Donovan
Bill Fleischli
Ezequiel Flores
Dave Gallano
Nancy Gelderloos
Mark Glennon
Mark Goode
Elizabeth Gorman
William Graham
Giovanni Gullo
James Harris
James Hennegan
Timothy Hennessey
Sen. Sue Rezin
Jim Holland
Robert Horn
Dale Huhnke*
Stuart Jolly
William Kates
Douglas Knierim
Vincent Kolber
James Kranjc
Dominick Lanzito
Dave Leckrone
Aaron Lawlor
Richard Lawrence
John Lewis
Craig Manske
Kevin Martin
Michael McAuliffe
William McCreery
Ryan McLaughlin
David Miller
Lori Montana
Sean Morrison
James Murphy
Michael Murphy
Kris Neuman
Brad O'Halloran
Catherine O'Malley
Peter Orum
Lisa Palivos
Lance Rosenmayer
Brian Rowland
Lee Rubenstein
Manuel Sanchez
Nick Sauer*
Bruce Simon
Jay Dee Shattuck
Samuel Skinner
Greg Smith
Rep. Joe Sosnowski
Barbara Stewart
Dalitso Sulamoyo
Rep. Ed Sullivan
Mike Thoms*
Susan & Edmund Thornton
Jil Tracy
Frank Trilla
Timothy VanFleet
Robert Vickery
Eric Wasowicz
Joseph Williams
Michael Willis
Paul Zeller
Alliance of Healthcare Council
CDDACS-PAC
Colliers Bennett & Kahnweiler LLC
CSX Corporation*
DENT-IL PAC
ECIA Action
Illinois Bankers Association
Illinois Bankpac
Illinois Coal Association
Illinois Coal Association Committee on Affirmative Leadership
Marquis Energy LLC
Omar Medical Supply
Raucci & Sullivan Strategies LLC
Rentech Nitrogen*
Tenet Healthcare
VC Energy Corporation

*Pledged
- Posted by Rich Miller 9 Comments