* The Rauner administration and AFSCME have reached an agreement not to lock out or strike until at least September 30th.
* Click the pic to see a larger version of the agreement…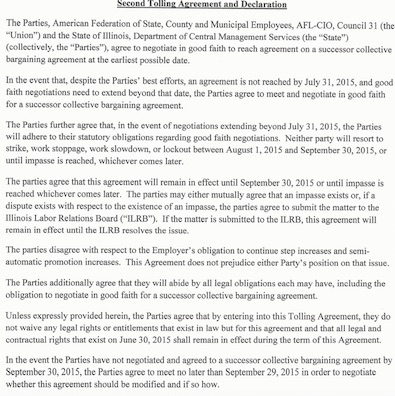 *** UPDATE *** From AFSCME…
The terms of our existing agreement with the state have been temporarily extended through at least Sept. 30. This temporary extension underscores our union's commitment to reaching a fair agreement with no disruption to state services, and gives us the ability to keep working toward an agreement in the weeks to come.

Even so, the parties remain very far apart on many basic issues as a result of the Rauner Administration's continued extreme demands that would undermine public services, strip the rights of public service workers, reduce access to health care and make it impossible to keep pace with the rising cost of living.

At the same time, reports have revealed that the Rauner Administration is soliciting strike breakers, including retired state employees and potentially the Illinois National Guard. These actions suggest the Rauner Administration is planning a work stoppage that would be counter to the public interest.

In recent days the Governor's public comments have changed in tone, forgoing the confrontational tenor of earlier remarks. We hope his Administration's actions will comport with that new tone—such as making real progress at the bargaining table, halting the recruitment of strike breakers, or enacting Senate Bill 1229 to provide a final recourse of arbitration to settle differences between the parties without disrupting public services.
76 Comments



































































































































































































































Sorry, comments for this post are now closed.