* From a Tuesday Illinois Policy Institute press release…
Six Illinois child care providers and home caregivers represented by attorneys from the Liberty Justice Center and the National Right to Work Legal Defense Foundation have filed a federal lawsuit seeking to remove the SEIU as their union representative.

Illinois law forces thousands of child care providers and home-based caregivers to be represented by the Service Employees International Union, or SEIU, as a condition of providing care to people who receive subsidies from the government. Even though these caregivers no longer are forced to pay money to the SEIU, thanks to the 2014 U.S. Supreme Court ruling in Harris v. Quinn, they still are forced to be represented by the union even if they do not want the union to speak for them.

The lawsuit filed today in the federal district court in Chicago seeks to end this practice. The plaintiffs are seeking to strike down the state law that deems the SEIU their "exclusive representative."

"The government has no right to appoint an 'exclusive representative' to speak on citizens' behalf just because they benefit from a government program," said Jacob Huebert, senior attorney at the Liberty Justice Center, a public-interest law firm, who is co-counsel in the lawsuit. "Under the First Amendment, individuals get to decide for themselves what they will say to the government and who will speak on their behalf. This lawsuit asks the federal courts to strike down this unconstitutional scheme."

Victory in the case would build upon the Supreme Court's decision in Harris v. Quinn, in which the Court ruled that forcing home-based caregivers who are not government employees to pay union fees violated their First Amendment rights.

"Home-based caregivers should not be forced to associate with a union they have no interest in joining or supporting," said Mark Mix, president of the National Right to Work Foundation. "We hope this case will build on the Supreme Court's landmark, Foundation-won Harris decision to protect caregivers' freedom of association and put a stop to union bosses' forced home care unionization schemes."

BACKGROUND:

In 2003, former Illinois Gov. Rod Blagojevich issued an executive order that said a group of Illinois residents who provide home-based care for people with disabilities through a state Medicaid program would be considered state workers for the sole purpose of unionization. Following the executive order, a state law was passed that granted the Service Employees International Union, or SEIU, exclusive representation of these home caregivers. Blagojevich signed a similar executive order in 2005 for child care providers who served children from low-income families. That executive order also was followed by a state law designating the SEIU the exclusive representative of these child care providers. These executive orders and the subsequent laws allowed government unions to force child care providers and home caregivers to pay union dues as a condition of their clients' or family members' receiving help from the state.

Between 2009 and 2013, the SEIU collected more than $30 million in compulsory union dues and fees from home caregivers, and an additional $44 million-plus from child care providers who were force-unionized.

But in a landmark decision in 2014, the U.S. Supreme Court ruled in Harris v. Quinn that it was illegal to force people to pay money to a union as a condition of helping people who participate in state entitlement programs. The Court held that these caregivers were not state employees, and therefore could not be forced into a union or forced to pay union dues or fees.

Lawsuit available online here: http://illin.is/1iRd7AG
- Posted by Rich Miller 42 Comments


* Press release…
On November 7, 2015 the General Membership of the Illinois Democratic County Chairman's Association met in Springfield to discuss the future leadership of the organization. During this meeting Macoupin County Democratic Party Chairman Mike Mathis stepped down as President of IDCCA. President Mathis said "I have decided to run for State Representative for the Illinois 95th District. It will be a challenging campaign and one that I intend to win. I also don't want to hold back the progress of this organization. So I will be stepping aside as President to allow someone else to take up the charge of leading us." Mathis is also the Macoupin County Circuit Clerk and has held this office since 1996.

The General Membership of the IDCCA moved quickly to fill the position of President of the organization. Rock Island County Democratic Party Chairman Doug House was unanimously elected President to serve out the remaining term. President House has a long commitment to the Democratic Party and to Organized Labor. He has been the Chairman of the Rock Island County Democratic Party since April 2012 serving as a Precinct Committeeman for the past 30 years in Rock Island. He is also a 25 year member of Operating Engineers Local 150. President House has also served as the Political Director to the late Congressman Lane Evans.

"It is an honor to be elected to lead this organization. We are the grassroots of the Democratic Party and we are stronger today than ever before. I would like to thank Mike Mathis for his leadership and I look forward to working with him to get him elected State Rep." President House said.

When asked about an issue that the IDCCA will face in the 2016 Election cycle, President House said "Governor Rauner has made it his mission to destroy Organized Labor in this state. The Illinois Democratic County Chairman's Association will not stand for this. Rauner believes that tearing down our State and cutting services to millions to innocent residents is the best way to lead. We know that he is wrong and we are going to fight for these people."

President House will serve out the remainder of the term left by Mike Mathis and will end in May 2016.
- Posted by Rich Miller 15 Comments


* MrJM asks in comments…
Has a primary opponent for Mr. Dunkin been identified?
* Yep. I reached out to Andre Smith today about his campaign and he said he'll be officially kicking off his race today and tomorrow. Smith claimed he had already collected 2,000 petition signatures, with a goal of 4,000 [adding: he says he'll file 1,500 - the maximum amount]. His campaign website definitely needs work, but he also sent this…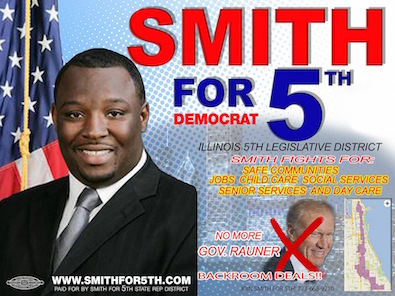 Rep. Dunkin is everywhere in his district and has always worked hard, so this is not going to be an easy race at all. With that in mind…
* The Question: Caption?
[Also, it's a state holiday and I have a bunch of stuff to do, so blogging will be light for the rest of the day.]
*** UPDATE *** I'm hearing of another, union-backed candidate. Stay tuned…
- Posted by Rich Miller 53 Comments


* From the synopsis of SB 317…
Provides that the State shall operate an Illinois State Museum in Springfield and at branch sites at Dickson Mounds, Lockport, Rend Lake, and the James R. Thompson Center. Provides that the Illinois State Museum and all branch sites shall be open to the public. Provides that the Illinois State Museum shall operate a Research and Collections Center to research, preserve, and maintain access to the extensive Illinois State Museum collections. Effective immediately.
The bill passed the Senate with 40 votes (Republican Sam McCann joined with the Democrats) and passed the House yesterday with 82 votes, including these Republicans…
Bourne, Bryant, Butler, Davidsmeyer, Hammond, David Harris, Kay, Bill Mitchell, Moffitt, Poe, Pritchard, Unes
Rep. Dunkin also voted for it.
This looks like the governor lifted the brick. I've asked the administration for comment. We'll see.
*** UPDATE 1 *** From Lance Trover…
Under review
*** UPDATE 2 *** Press release…
State Senator Andy Manar's proposal to reopen the Illinois State Museum system received veto-proof support from lawmakers in their efforts to undo the governor's closings.

Manar (D-Bunker Hill) introduced Senate Bill 317 in July to guarantee that the State Museum in Springfield –and its four branch sites—stay open.

The Senate approved the legislation in August. The House approved it Tuesday. Both the House and Senate approved it with bipartisan, veto-proof majorities. The legislation now goes to the governor.

Manar issued the following statement:

"The State Museum is a vital educational and cultural institution and should remain open. The success of this legislation is a credit to the work of every ISM supporter who made the case and showed how important this institution truly is."
- Posted by Rich Miller 27 Comments


* I tried and tried to get the House Speaker yesterday to talk about the bright side of this week's developments. Somebody else finally got this out of him…
Madigan warned that a final budget agreement remains distant, despite the governor's change in positions.

"I think there's a mixed answer. Obviously, the governor has restored some programs, and that's good," Madigan said. "But we are still a far way away from a resolution."
He's right on both points.
But he needs to realize the progress here.
* Gov. Rauner's press release…
"I want to thank General Assembly members on both sides of the aisle who helped craft and ensure reasonable and responsible compromises to the issues addressed today. As a result of their efforts, now we are able to move forward on providing child care for working families in a more financially-responsible way, and we are able to continue our long-term transformation towards better and community-based care for our seniors.

"This week, we were also able to reach an agreement on unemployment insurance reform so we can take a small step forward in our effort to make Illinois more competitive and grow jobs. I urge the legislature to act on this legislation as soon as possible and send the unemployment insurance reform bill to my desk.

"While we made progress today by working together, we did not accomplish all that we could, and the biggest issues remain. We still need major structural and economic reforms. We need term limits and a truly balanced budget. We need true, long-term property tax relief while finding ways to help school districts and local units of government. I know that not all of these are easy, but I'm confident we can accomplish a tremendous amount if everyone is willing to work together."
Measured, hopeful and pragmatic.
Much, much more of this, please.
- Posted by Rich Miller 28 Comments


* I'm pretty sure this is as close as you can get to a done deal…
State Rep. Raymond Poe said Tuesday he's been approached by Rauner administration officials about becoming the state's next agriculture director.

The Springfield Republican said, however, it appears he's just one of several people who have met with administration officials about the job, and he isn't aware that any final decision has been made.

Poe said he's interested.

"I've met with all of them (Rauner officials), but there's been several of us who met with all of them," Poe said. […]

"We're still passing (petitions)," he said. "If this thing doesn't materialize, I guess we're still running."
The timing is tricky, however. Either they need to get somebody else on the ballot before the end of the month, or hope that nobody else files for the office and then appoint Poe after the filing period ends and then have the chairmen appoint a ballot replacement.
- Posted by Rich Miller 19 Comments


* The Sun-Times on the failed House child care assistance program vote…
House Democrats were just one vote short — voting 70-35 on Senate Bill 570. It needed 71 votes to pass. Rep. Ken Dunkin, D-Chicago, didn't vote — showing some tension between House Democrats and the administration.

"'Come on, Ken!'" House Democrats screamed as Dunkin did not vote on two key bills favored by Democrats. […]

"Let me be clear that no one bears more responsibility today for the defeat of this legislation, which protects our children and child care and home care in Illinois than Rep. Ken Dunkin himself," Jaquie Algee, vice president of SEIU Healthcare Illinois said at a press conference organized by House Speaker Michael Madigan.

Algee said Dunkin broke a promise to his constituents — pulling out a photo of Dunkin holding a child at an event several weeks ago. The picture has the words "I promised" written on it.
* Video…
More video here.
* WSIL…
"You know, Mr. Dunkin has now missed three votes where he apparently supported the governor's position," House Speaker Michael Madigan (D-Chicago) said at a news conference later.

Asked if he'll support Dunkin's re-election, Madigan says it's something he'll have to consider.
Oof.
* PR consultant Maze Jackson, who is a Dunkin friend, defended his buddy on Facebook…
WHAT BLACK PEOPLE REALLY NEED TO UNDERSTAND ABOUT WHAT HAPPENED IN SPRINGFIELD..

Political gamesmanship at it's finest. So one day prior to this vote the Governor agrees to restore the funding to childcare. Some say he was pressured by moderate Republicans, which I would buy if any of Republicans had voted for the bill, but they did not. The Governor released a statement that said he made the decision after consulting with Ken Dunkin. Democrats remain furious with Dunkin for missing a union vote on SB1229 in September, and so even though he (along with other members of the Black Caucus) negotiated a deal to restore the funding AND DID IT, SOMEBODY felt the need to call a vote that essentially said "I know we made a deal, but we don't trust you so we are going to do THE SAME THING THAT GOT US HERE BEFORE."

So when the results were the same, people got all up in arms, calling Dunkin a traitor, vilifying him in the press…al the while failing to mention…THE CUTS TO CHILDCARE WERE RESTORED. So…where is that story? Springfield insiders playing inside baseball, calling bills and votes for political mailers and campaign commercials, but here is a newsflash for those of you caught up in the Springfield bubble…When the checks start rolling in the hood, none of those people who get those check will care about these bills.

BLACK PEOPLE…If the goal was to restore funding for childcare, and that funding was restored, as yourself…HOW COME THEY ARE NOT TALKING ABOUT THAT? Was it really about the kids, because I sure have not heard anybody talking about them. As I said before, hate on Dunkin if you want, but he exercised his leverage to get concessions from the Governor, no vote required. In this stalemate, who has delivered ANYTHING but rhetoric? Oh and the restoration of the funding levels for childcare? Do you think that happened because the Governor all of a sudden woke up and had a change of heart? Nope…he was leveraged by Dunkin on behalf of Black folks, and they want you to be mad? But WHY though? […]

The Senate with bulletproof supermajority that can pass anything it wants agrees to hold the bill in good faith…The House has an imaginary supermajority, spends the last two months disrespecting the lone swing vote, and decides to run the bill even after an agreement to restore funding was made? Why?

Black folks are more scared of people outside of their community than inside. That stated, insiders know that the solidarity among Democrats is cracking. While they won't say it publicly, several legislators have noted to me that The Speaker is so focused on beating Rauner that he is willing to take the entire state down to do it…
I think we saw an example of that with yesterday's vote!
* WCIA…
"I credit representative Dunkin for not participating in it. He wants to get things done. He saw that they were great strides made by the administration," said House Minority Leader Jim Durkin (R).
* Korecki…
A simmering Democratic caucus boiled over after Dunkin spoke up in the House Dem-only meeting, poking at state Rep. Jehan Gordon-Booth for pushing SB570 after Rauner had agreed to reverse cuts he made to health care. Booth said she wanted to preserve the program and prevent Rauner or future governors from using kids as political pawns.

– Two members of the Black Caucus "tried to beat Dunkin back into submission," but he wouldn't give in.

– "It was like an Amish shunning with more verbal abuse," said one state lawmaker. "It was cathartic for some folks. He poked the Bear. The Bear was 70 other members of his caucus."

– At one point during an intense, emotional floor debate, state Rep. Jaime Andrade stripped Dunkin's nameplate from the front of his seat, walked it over to the Republican side of the chamber then threw it down, saying: "He's all yours now."
When people focus on Madigan's anger at Dunkin, they're ignoring something even more important, which is the House Democratic Caucus' anger at their member.
And that anger is a big reason why the House Democrats wanted floor votes yesterday. They wanted to put Dunkin on the spot as much or more than they wanted to send a message to Rauner…
House Democrats on Tuesday opted to poke Rauner in the eye by bringing those very bills, already doomed in the Senate, to the floor for debates that delved into an exercise in the absurd. Sure, the governor had hammered out a deal with Senate Democrats. Sure, that deal ended the unnecessary — and in the case of the CCAP, economically devastating — emergency rules Rauner adopted when facing a state without a budget on July 1.

But, the Republican governor isn't to be trusted, Democrats squealed. Both party-line votes fell one member short of passage, which included support from Reps. John Bradley, D-Marion, and Brandon Phelps, D-Harrisburg.

"Let's move past all of this Democrat-Republican crap, because that's what this is," shouted sponsor of the suddenly gratuitous CCAP bill, Rep. Jehan Gordon-Booth, D-Peoria.

If only Gordon-Booth practiced what she preached.
- Posted by Rich Miller 69 Comments


* Riopell…
Republicans and Democrats made a rare joint effort to send some long-awaited state money to mayors and Illinois Lottery winners who have been begging for it.

But the money might not be coming soon.

Illinois House lawmakers of both parties approved state Rep. Marty Moylan's legislation to send gasoline and gambling tax money to communities that have missed out during the ongoing state budget impasse, an idea Gov. Bruce Rauner endorsed. The Des Plaines Democrat's proposals would mean millions of dollars in money that has been delayed since the state blew past July 1 without a budget in place.

But even in that agreement there was friction that underscored the ongoing budget stalemate that has lasted most of the year.

And because the Illinois Senate still needs to approve — and isn't scheduled to meet again until next year — the check isn't yet in the mail, and might not be for a while.
It goes beyond that. House Majority Leader Currie filed a motion to reconsider on the bill after yesterday's vote. It can't move to the Senate until that brick is removed.
* Why did he do that?
Tension is growing between state Sen. John Cullerton and Madigan. Sources tell Illinois Playbook that Madigan was fuming not because Senate Democrats cut a deal with Rauner on day care funding, but because of the way that they did it. Madigan would have pushed for Rauner to put his members on a bill codifying funding levels instead of agreeing to a rule change. Why? It was Rauner, after all, who sliced the day care benefits and turned around and restored them. He could do the same thing again tomorrow if he wanted.

– Cullerton, meanwhile, wants to find a way to give Rauner something to walk away with a deal. Madigan fears Cullerton doesn't fully appreciate the intensity with which Rauner is going to go after Democrats in the next election, sources say.
Rauner's gonna go after Democrats next year whatever they do. That doesn't mean all progress should stop until next November, however.
- Posted by Rich Miller 24 Comments


* More hopeful news via press release…
After reaching economically-responsible compromises on Unemployment Insurance Reform, the Child Care Assistance Program and DON Score legislation, the Rauner Administration announced today that it is taking some steps forward on EDGE Tax Credits as well as re-instituting the Film Tax Credit approvals. Both credits were suspended for new projects at the beginning of the fiscal year.

Since taking office, the Administration has been implementing policies to ensure a more fiscally-responsible approach to EDGE agreements in order to balance investment in Illinois with taxpayer benefits. Policy changes include:

1. No longer supporting "Special EDGE" agreements (see below for more information) that only benefit certain companies that can afford lobbyists;

2. No longer providing tax credits for job retention, only for capital investment and net new job creation;

3. Requiring that tax credits can only be obtained for jobs created above a baseline of all existing employees located within the state, rather than just the baseline of employees located at the specific project location;

a. In the past, a company that signed an EDGE agreement for an expansion project in a certain location only needed to maintain a requisite number of employees at that specific facility in order to meet its requirements. Laying off employees at a different facility in the state, or even closing it, would not have impacted its ability to continue receiving taxpayer funded benefits for the facility for which it was receiving the EDGE agreement;

4. Prohibiting more than one tax credit on the same facility. Previous administrations would allow multiple EDGE deals on jobs created at the same facility;

5. Focusing on marketing the assets of the State, rather than leading with our incentives.

With these policy changes now firmly established at Department of Commerce, signs of progress with the legislature and a number of job-creating projects in the pipeline, the Administration will now allow Department of Commerce to make an EDGE offer to companies, confirm eligibility and enable companies to demonstrate that they've met all the requirements necessary to receive credits. Actual EDGE and film tax credits for new projects will still not be certified or able to be claimed until an FY16 budget is enacted. These changes will allow the Administration to better recruit new investment to Illinois without impacting the budget.
…Adding… From comments…
Film tax credits. Dunkin's pet project. Figures.
You gotta do what you gotta do.
- Posted by Rich Miller 18 Comments


* Twice yesterday, House Speaker Michael Madigan told people not to talk to me. He was joshing, of course, and he said it with a smile, but he said it for the second time after a press conference yesterday and it was caught on video. I thought you might get a chuckle out of it. Thanks to our good friends at BlueRoomStream.com for the clip…
- Posted by Rich Miller 13 Comments


* Sun-Times…
Gail Hamilton, a home care provider in Springfield, told reporters Rauner used a "back door deal" on both child care and home care "as a way to save face as moderate Republicans broke with his extreme and damaging positions."

"We moved Gov. Rauner to action. We moved moderate Republicans. We moved Democratic allies with other advocates. But now Gov. Rauner wants credit for this. It's shameful to me that Gov. Rauner wants credit for restoring the programs that he cut. It is laughable and predictable given the willingness of Bruce Rauner to play politics with the lives of vulnerable people."

Hamilton said the bills would have kept Rauner in check.

"These bills are necessary bills because the governor chose to abuse his executive power and use administrative rules to begin a back door destruction of these programs," Hamilton said. "These bills were necessary to make sure that this governor, any governor, cannot abuse their executive power again."
It's not that I disagree with everything Ms. Hamilton said. It's just that I'm trying very hard these days to look at the bright side.
This state has been engaged in what amounts to a political civil war for months. Civil wars are most definitely not "civil" (just the opposite) and don't end easily, precisely for the reasons outlined by Hamilton.
But the fact is that Republicans did move the governor off the dime. That's good news.
We'll have more on this topic throughout the day. I just wanted to get the ball rolling with Hamilton's quotes, which were elegantly spoken and understandably heartbroken and angry.
It's time we start winding this thing down.
- Posted by Rich Miller 43 Comments


* Tribune…
Three Kemper Corp. life insurance companies have sued the Illinois state treasurer, claiming the office is improperly demanding records to identify families that are owed life insurance money after a death of a family member.

United Insurance Company of America, Reserve National Insurance Company and Reliable Life Insurance Company claim that Illinois Treasurer Michael Frerichs is overstepping his authority. Frerichs has been doing audits of about 40 life insurance companies to determine whether people in Illinois are entitled to money from life insurance policies that have been forgotten after the insured person has died.

Since 2013, Frerichs said, $195 million has been identified for grieving families that often did not know a family member had a life insurance policy.

While 22 companies have provided records related to insurance payments, the three Kemper insurance companies sued to prevent the inquiries, he said. The life insurance industry has been raising issues over audits for years, and a similar case has been ongoing in California.
* The Daily Chronicle editorialized…
Their suit has less to do with principle than with their bottom line, which the company acknowledged in a May 2015 10-Q filing with the Securities and Exchange Commission.

"… Such requirements could have a material adverse effect on the Company's profitability, financial position and cash flows," the company wrote. "The Company's stance in opposition to the aforementioned actions by state legislators, Treasurers and insurance regulators, including the Life Company's initiation of the litigation described above, also creates a risk of reputational damage to the Company … particularly if the Company's position is not ultimately vindicated."

Whether or not their lawsuit is successful, Kemper's reputation should suffer a hit. They should not be fighting measures meant to help them honor their commitment to their policyholders. This is money they were supposed to have paid out, in some cases years ago. It's only fitting that they make good on their obligation now, along with any interest that might be due.

Bereaved families in Illinois deserve the benefit of their loved ones' life insurance, whether or not they are aware it existed. Hopefully, the courts will side with Frerichs. If not, legislators should change our state's laws to ensure that benefits reach the people for whom they were intended when they need them most.
* But the US Chamber is very upset and weighed in this week…
Rogue State Treasurer Rewriting the Law for a Private Auditor's Gain

In a massive overreach of authority, the Illinois state treasurer has superseded state law by imposing new standards on how life insurance policies are paid out, and in the process, may fundamentally change the role the state plays in the life insurance industry.

Illinois State Treasurer Michael Frerichs, along with the private company Verus, have been conducting audits of insurance companies and requiring them to pay out life insurance policies based on an unreliable list of the deceased in the state. If a beneficiary can't be found, that payment goes directly to the state, creating what many see as a taking.

Even more troubling, the private auditing firm Verus will take its paycheck from these payouts. […]

This abuse no longer flies under the radar. This latest lawsuit spotlights the highly unconstitutional nature of promulgating a new requirement outside the regulatory and legislative process and forcing retroactive use of the DMF by insurers. Courts in West Virginia, Florida, Ohio, and the U.S. District Court for the District of Massachusetts all have rejected the private audit firms' demand that insurers cross-reference against the DMF. It's time for Illinois to follow suit and reign-in this rogue state treasurer.
- Posted by Rich Miller 80 Comments


* Greg Hinz looks at a new study of the Chicago pension situation…
In the report, Moody's says that despite the recent adoption of the biggest property tax in Chicago history—$543 million over four years—the unfunded liability in the city's four pension funds will continue to rise for at least 10 years and, potentially, until some time after 2030. […]

Moody's looks at four scenarios, assuming various possibilities about whether Gov. Bruce Rauner signs a bill that would allow the city to defer an additional $200 million a year or so needed for the police and fire funds, and whether the Illinois Supreme Court upholds a lower court ruling tossing out reforms in the laborers' and municipal funds that cut benefits while requiring somewhat increased city contributions.

Under the "best" scenario, in Moody's view, Rauner doesn't sign, the courts say yes, and the city comes up with the additional hundreds of millions from, well, somewhere. Assuming City Hall doesn't borrow the money, gross unfunded liability would top out at around $22 billion and begin dropping around 2022.

On the other hand, what many insiders believe is the most likely scenario—Rauner signs, and the courts say no—unfunded liabilities still will be rising in 2030, nearly doubling to just under $40 billion. That means the two funds would "deplete (their) assets in approximately 10 to 13 years."
The full report is here.
- Posted by Rich Miller 36 Comments


[The following is a paid advertisement.]
EXELON CEO CHRIS CRANE – "A PHENOMENAL YEAR FOR US"
Today, Exelon announced third quarter 2015 profits of $629 MILLION. Yes, you read that right. Exelon has made more than $2.0 BILLION in the first nine months of this year. And yet despite their good fortune, Exelon still demands a corporate bailout even as our state budget crisis goes from bad to horrendous. They have promised to return to the ILGA with a full court bailout push in 2016!
IN THE THIRD QUARTER, EXELON MADE NEARLY SEVEN MILLION DOLLARS A DAY or $284,873 AN HOUR
On this morning's earnings call, Exelon CEO Chris Crane described 2015 and said, "This is a phenomenal year for us."
OTHER EXELON NEWS: ALL ILLINOIS PLANTS TO REMAIN OPEN
Yesterday, Exelon announced that Clinton would remain open through at least 2017.
Exelon previously announced that because Quad Cities and Byron cleared the PJM auctions, Quad will remain open through at least 2017 and Byron will remain open through at least 2018.
Struggling Illinois ratepayers have had enough.
Just say no to the Exelon Bailout.
BEST Coalition is a 501C4 nonprofit group of dozens of business, consumer and government groups, as well as large and small businesses.

- Posted by Advertising Department Comments Off


* From the Illinois Policy Institute…
On Oct. 30, Anthony Goodwin couldn't stop shaking.

It wasn't because the gas was shut off in his family's mobile home, even though that was the case. It wasn't from frustration with the electric company that was coming to turn off the lights in a few days time.

It was because the Goodwins were watching thousands of dollars in donations roll in on the heels of the publication of their story.

Anthony and Ashley Goodwin, as well as their two children, were stuck between a rock and a hard place that is disturbingly unique to Illinois: a worst-in-the-Midwest jobs climate and budget gridlock due to politicians' refusal to address the state's fundamental economic problems.

Thankfully, their GoFundMe page had racked up nearly $5,000 in donations from across the globe in a matter of hours.

"We were astonished, dumbfounded," Ashley said. "Dumbfounded is the best word to use."

"I know it might [be a] cliché, but this has totally changed our lives," Anthony said.

"There are so many more opportunities, and so much less worry. It might not seem like much, but in a low-income community like this it makes a huge difference."

The money raised ensured the Goodwins can keep their lights on, reinstall their gas, buy groceries for their children, and make rent for at least the next year. One donor who wished to remain anonymous also offered to give the Goodwins a car.

"Special thanks to the car donor," Anthony said. "I might hug the guy, and I'm not a huggy person."
In case you missed it, the background is here. Thanks to everyone from this blog who donated. Y'all never cease to amaze me.
- Posted by Rich Miller 18 Comments


* Subscribers were told about this earlier today…
Gov. Bruce Rauner is compromising over the state's budget mess, indicating he's OK with Democrats' legislation to disburse tax dollars already collected to local governments and lottery winners.

A memo Tuesday from a Rauner staffer to lawmakers says the Republican now supports the legislation and even suggested adding money, such as for road salt with winter around the corner.

The plan includes $1.9 billion collected in motor fuel tax for cities, wireless phone tax for 911 services and lottery dollars to pay winners. Rauner and Democrats have feuded over a spending plan since the fiscal year began July 1.
* From the memo…
From: Richard Goldberg, Deputy Chief of Staff for Legislative Affairs
To: Members of the General Assembly
Date: November 10, 2015
Re: HB 4305: Another Opportunity for Compromise

While we continue to urge legislative leaders to enact a complete balanced budget rather than taking a piece - meal approach, Governor Rauner is comfortable with HB 4305 proceeding as an effort to build on the compromises announced yesterday regarding Unemployment Insurance, Child Care Assistance Program and DON Score. In addition, to further strengthen the progress made over the last few days, legislators can – and should - fund the public safety and critical services currently excluded from HB 4305, including salt for snow - covered roads, funds for veterans in state - run homes and debt service payments that would ensure Illinois avoids a debt default. While adding these line items will not help balance the budget, doing so will ensure important services paid for by "Other State Funds" are funded while negotiations continue on how to reform state government and balance our "General Revenue Fund" budget.
That is not your usual Goldberg memo.
Once again, Rauner was facing a floor defeat so he abruptly changed course. He can be moved. Moderate House Republicans demanded a resolution and they're the big winners here. The pressure is working. Take advantage of it.
Now would be a good time to make some reasonable counter-proposals on the Turnaround Agenda.
…Adding… And I mostly agree again with the Tribune editorial board…
We do know that until the Democrats negotiate with Rauner on a new budget, say what new tax revenue they want to collect and compromise on parts of his economic agenda, there will be more fights over spending cuts. The damages caused under prior management have left Illinois vulnerable to job losses and ruined state finances. Springfield has a growing pile of unpaid bills and a looming pension payment that the state comptroller says her office cannot make.

Our question post-Monday: Wouldn't it be easier for all sides to negotiate in good faith on these bigger issues instead of embracing stalemate? We're looking at you, House Speaker Michael Madigan.

Monday's three developments do show that compromise is possible.

Not to jinx this, but: More agreements, please.
Say what you want about their ridiculously over the top screaming editorials of the past year, that one was fairly reasonable.
…Adding More… From comments…
Come on Rich just because the hostage taker sends you pics that the hostage is still a live does not mean you start to legitimize his demands. Creating a crisis and then attempt to frame his change as a compromise is a trick you are falling for hook line and sinker.
This is a common refrain in comments today. It's been a long war. People refuse to get beyond the past. The only way this war's ever gonna end is if people start looking at the future. This shouldn't be allowed to last forever.
*** UPDATE 1 *** AP…
A spokesman says Illinois House Democrats will not immediately consider Gov. Bruce Rauner's suggested changes to legislation that would send collected tax dollars to cities and lottery winners. […]

Steve Brown is spokesman for House Democrats. He says Rep. Martin Moylan might add some money to the bill for police training and other purposes but not Rauner's ideas until they're evaluated.
The only reason to do it this way is to force the Republicans to vote "No" on the bill.
That ain't cool.
*** UPDATE 2 *** The Rauner folks ought to file an amendment to Moylan's bill…
Moylan said he plans to ask for a vote on his $1.9 billion plan today but hadn't heard from Rauner's staff about changes in the weeks preceding a possible vote.

"If he wants to propose something, he needs to file a bill," Moylan said.
*** UPDATE 3 *** I'm told that the governor's office gave Speaker Madigan the language last week at the Speaker's request.
*** UPDATE 4 *** The governor's brick is off, regardless of whether the Democrats add the requested amendment, I'm told.
*** UPDATE 5 *** I've seen some pretty solid evidence that the governor's budget office did, indeed, deliver the Speaker's staff some appropriations language on November 8th.
- Posted by Rich Miller 109 Comments


* Sophia Tareen with the AP…
The governor announced an agreement with labor and business groups on proposed unemployment insurance changes. He also said the administration would ease restrictions on who qualifies for state-subsidized child care and drop plans to curb which elderly and disabled Illinoisans can get state-funded services, two issues that were heavily protested by advocacy groups.

"You're seeing lots of legislative movement and compromise," Rauner spokesman Mike Schrimpf said. "All of these issues … took serious and lengthy negotiations with multiple parties."

However, it's unclear which moves will stick in a Democratic-controlled Legislature that's been at odds with Rauner for months over a spending plan. Rauner wants pro-business reforms and other changes aimed at curbing union power before a budget for the fiscal year that began July 1. Democrats want him to sign off on new taxes, among other things.

Senate President John Cullerton's spokeswoman Rikeesha Phelon said the chamber was "hopeful" the moves were a sign the administration was ready to resolve "larger budget issues." But House Speaker Michael Madigan's spokesman Steve Brown was unconvinced, saying some unemployment insurance ideas had already been settled and legislation restoring funding to the child care assistance program was likely to emerge today.
How about not looking a gift horse in the mouth and start working on some freaking solutions?
This impasse needs to end. I really don't care what motivated Rauner yesterday. He moved off the dime. That's encouraging no matter what the haters believe.
*** UPDATE *** Mark Brown is not wrong…
Faced with the prospect of an embarrassing legislative defeat, Gov. Bruce Rauner caved in Monday and promised to undo his indefensible crippling of the state's child care assistance program.

The governor called it a "compromise," although it was closer to a full retreat. He was clearly the one who gave up the most. […]

The counter-argument is that Rauner only showed an ability to work with legislators when he was on the verge of a vote that could have been seen as a stinging rebuke. Rauner was particularly upset by the prospect of taking away his emergency rule-making authority over the program, limiting his power to govern.

Obviously there is a political element to going ahead with a vote. Madigan may be eager to prove he can still put all 71 Democrats on a bill when necessary to thwart the governor, having come up short in a key September vote.
All true. Every word.
But he's on the move. Why stop the momentum? Capitalize on the victories and push him harder on everything else.
This ain't brain surgery.
- Posted by Rich Miller 48 Comments


* I was out with a top Madigan guy and a top Rauner guy last night when Oswego Willy texted me this tweet…
BREAKING: we're hearing unofficial word there may be a budget deal. This is unconfirmed but we have reason to think it is accurate

— IllinoisChannel (@IllinoisChannel) November 10, 2015
They both had a nice chuckle.
Wish it was true, though.
- Posted by Rich Miller 12 Comments


* The Terre Haute Tribune Star updates its Marshall story…
The City of Marshall, Ill., will meet with representatives from the state today in hopes of arranging payment on outstanding utility bills for Illinois Department of Transportation facilities in Clark County.

Meeting details were arranged moments before Mayor Camie Sanders planned to announce Monday the city would shut off services for all state-owned properties in Marshall. Illinois has operated without a budget since July 1, and utility bills have gone unpaid while a budget impasse continues in Springfield.

Utilities will be kept on at IDOT's garage and offices on Edgewood Street as both sides discuss a solution. IDOT closed the Cumberland Road Rest Area along Interstate 70 Monday morning.

The ranger at Lincoln Trail State Park has shut off water to all buildings, except his residence, and has personally offered to cover the bill until the state resumes paying, Sanders said.

Marshall — which operates its own utilities — provides electric, water, sewer and gas services to the local IDOT offices, while the highway garage receives electricity. Both the rest area and state park only receive water.

Gov. Bruce Rauner's office called city hall late yesterday morning about the situation, and Sanders will travel to Springfield today and sit down with senior representatives from IDOT and Rauner's office. […]

"It seems like you do not get a response until you're willing to pull that plug," he said. "And it shouldn't be that way."
Background is here.
- Posted by Rich Miller 28 Comments


[The following is a paid advertisement.]
ComEd's Future Energy Plan promises an affordable, fair and secure clean energy future for Illinois, leveraging the full power of the Smart Grid.
• More renewables and energy efficiency savings
• New technology to secure the grid in emergencies
• Extra financial assistance for customers struggling to pay bills
• No net cost to residents over the next 10 years
ComEd is proud to be delivering on the promises we made when the General Assembly passed Smart Grid legislation.
Through the Future Energy Plan, we will continue to deliver on our promises to Illinois and our customers. To learn more, visit www.comed.com/energyplan.
- Posted by Advertising Department Comments Off


* Remember this story from October 1st?…
Illinois Republican Party Chairman Tim Schneider, who is remaining neutral, tells POLITICO that while potential delegates for Bush, Kasich and Rubio have called the state's GOP HQ raising their hands for those campaigns. "I can't tell you we know right now, who to contact if someone wants to be a Trump delegate … I'm not sure the Trump campaign understands the complexity of having delegates in every congressional district." Petitions start circulating Oct. 3 and candidates have until January to get them in.

Mitt Romney "basically sealed the nomination in Illinois last time," Brady, then GOP chair, contends. Rick Santorum, who was leading polls at the time, didn't make it on the ballot in more conservative Illinois districts that would have supported him, Brady says.

'REAL CONTENDERS' UP AND RUNNING: In some states, getting on the ballot is a breeze. "Not in Illinois — probably because somebody is making money off the petition printing contract," Brady said. "It is a brutal process here. Anybody who's a real contender has to have an operation up and running now."

QUOTABLE: "He asked all the usual suspects. They all turned him down." — Pat Brady on Trump's attempt to drop roots in Illinois.
You would think that a bunch of guys who backed another wealthy man (Bruce Rauner) for governor would've been a bit less smug about a rich outsider.
* From last night…
"Ladies and gentlemen, the holder of the largest event ever at the Prairie Capitol Convention center, and the next President of the United States … Donald Trump!" an announced yelled, as Trump — in a bright red tie and neatly pressed suit came on stage. Twisted Sister's rock anthem "We're Not Gonna Take It" played. Trump began his seemingly off-the-cuff speech before a convention record of more than 10,000 people boasting about his highly-rated turn hosting Saturday Night Life, and getting in some digs at his competition. But he soon transitioned into more political, and international affairs.
The largest event ever.
Who's the "real contender" now? I mean, do you think Bush or Kasich could fill that room?
Like Rauner, Trump doesn't need the establishment.
Not saying he's gonna win the nomination, mind you. I have my hands full with Illinois, so I don't follow national politics closely enough to make that call.
Just sayin…
*** UPDATE *** From Trump's Illinois director Kent Gray…
We signed up thousands of new volunteers and supporters. Our petition passers that worked the crowd prior to the event really knocked it out of the park.
- Posted by Rich Miller 53 Comments


* Sun-Times…
If a strike vote were held tomorrow, the Chicago Teachers Union would likely walk off the job, the union reported Monday in preliminary results of a practice strike vote taken late last week.

About 97 percent of members voting — with 95 percent participation among the 27,000 CTU members casting ballots in the mock vote last Thursday — said to strike.

"We are very pleased and not at all surprised by what we've learned," CTU spokeswoman Stephanie Gadlin said in an email Monday. She called the poll an "internal union exercise" that was "designed to test the CTU's organizational bandwidth." She added that final analysis was still being prepared.
* Um, OK, but Sharon Schmidt over at Substance News published the CTU's actual "Yes or No" questions…
The Chicago Teachers Union and the Board of Education are in ongoing negotiations over our next contract and remain far apart on many issues.

Indicate your choice by putting an X in the appropriate box.

1) In negotiations, Board of Education negotiators demand that CTU members agree to pay cuts, increased health care charges, elimination of minimum staffing levels and contract changes which will remove hundreds of CPS employees from our schools to help balance the Board's budget. CTU's Bargaining Team categorically rejects these proposals.

Do you agree with the bargaining team?

2) The Mayor and Board of Ed refuse to stand up to corporations like Bank of America and to super rich individuals like Bruce Rauner who underfund our schools by refusing to pay their fair share in taxes. Should CTU highlight the real cause of CPS budget challenges by organizing boycotts, corporate campaigns and legislative efforts to retrieve that money?

3) Forrest Claypool, Rahm's hand-picked CEO, has earned a reputation as a privatizer and an anti-union manager at the Chicago Park District and the Chicago Transit Authority. He supports school vouchers, charter school expansion, and has made massive cuts to special education and is threatening 5,000 layoffs. Do you support a vote of no-confidence in Forrest Claypool as CEO of the Chicago Public Schools?

4) CTU's demands include: A librarian, nurse, art, music, and PE teacher in every school, expansion of Early Childhood programs, funded homeless and restorative justice coordinators, strengthening of special education, grievable class size limits, a minimum wage of $15 an hours for all Board employees, limitations on paperwork, improvements to the evaluation system, protection for paraprofessionals, and an expansion of the Grow Your Own program which supports community members who become teachers.

Do you support these demands which will strengthen our schools and provide better programming to meet the needs of all students?
A scanned version of the document is here.
Anybody ever seen a push poll that blatant?
Also, where's the strike question?
And in case you haven't heard of Substance News, click here to see its front page. It is most definitely not on the side of management.
*** UPDATE *** The CTU responds…
CTU Vice President Jesse Sharkey said the polling strategy was the same one used in the runup to the 2012 teachers' strike.

"In a nutshell, our legal counsel advised us to stay away from the word 'strike' in the practice poll, which is why we called it a 'practice,' " Sharkey said.

"The law keeps us from asking questions twice, so what we do is we ask a series of questions that cover the four corners of our bargaining proposals," he said. "Really what we're saying is we're trying to stake out the four corners of our bargaining positions and check the sentiment of that in our schools."
Not buying it.
- Posted by Rich Miller 53 Comments


* Subscribers know a bit more about this…
The Illinois House on Tuesday is expected to vote to limit the governor's ability to change requirements for people receiving state childcare assistance, despite a compromise Gov. Bruce Rauner's administration announced on Monday in hopes of scuttling the bill.

However, a key Democrat — state Rep. Ken Dunkin — is expected to side with Republicans on Tuesday, fueling tensions between the governor's office and House Democrats.

On Monday, Rauner announced he reversed restrictive requirements he put in place over the summer that severely reduced state day care assistance to the working poor. His changes meant that a mother of two must earn less than $838 a month in order to receive subsidies. The compromise language raises that requirement to more than $2,700 a month. Saying he reached bipartisan compromise on the matter, Rauner deemed SB570 moot. Rauner opposes the bill, saying it too severely restricts the powers of the governor. Politically, Rauner does not want to be put into the position of vetoing day care assistance bill. […]

"He helped set the table to get the child care deal done," a senior administration official told POLITICO Illinois. "The fact is that thousands of families are eligible for child care today because of Ken Dunkin's efforts on these important issues." […]

"The governor and I came up with an agreement last week," Dunkin told POLITICO. "What occurred is, I suggested he talk with the House and Senate sponsors and get their take on it. It's a good agreement so there's really no reason for that bill to be called."
Governors have a lot of tools. Pat Quinn didn't use many of them, Rod Blagojevich bungled his use of them, but Bruce Rauner appears to have found the instruction book.
And scream all you want about Dunkin, but he's positioned himself pretty darned well here.
We'll see what Madigan does now, but if he can't get any Republicans to vote for this childcare bill today, his king may be in check.
- Posted by Rich Miller 60 Comments


* This was yet another hugely controversial move that the governor undid today…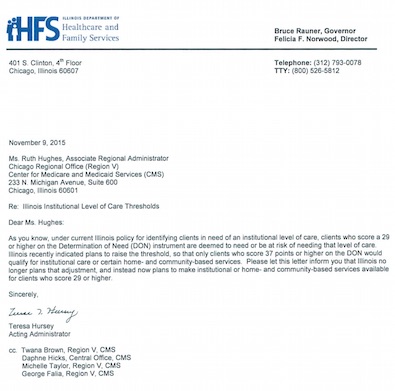 Expect updates.
…Adding… They're giving credit to Rep. Dunkin…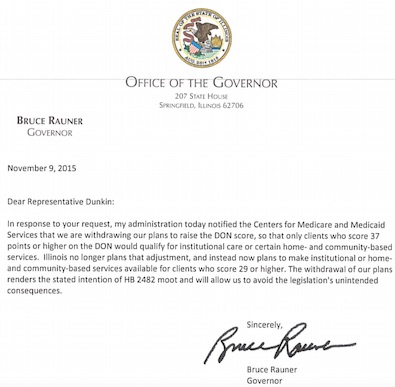 * From SEIU Healthcare Illinois President Keith Kelleher…
"As with child care, home healthcare for vulnerable people in Illinois will remain under the sword of Bruce Rauner until and unless his power to do harm is offset. Therefore, we urge that legislators vote for House Bill 2482 when they convene Tuesday and protect seniors and people with disabilities from ever being used as political pawns. This is not a time for celebration: We should never have gotten to this point in the first place."
- Posted by Rich Miller 55 Comments


* Crain's…
In a sign of how the state's energy policy dynamics have changed, a senior executive at the clout-heavy company now says Exelon is open to an alternative to a bailout—creating a state or regional market to put a price on power plant carbon emissions. That wouldn't benefit Exelon's nukes as directly or immediately as a subsidy but assuredly would boost the company's finances over time.

The company continues to say that it wants Springfield to increase electricity rates statewide or it may have to close plants. But Exelon repeatedly has postponed acting after lawmakers failed to meet its deadlines for new legislation. And a brighter financial outlook for plants previously pegged as money-losers is making for a difficult sale.

Five of Chicago-based Exelon's six Illinois nukes now are projected at least to break even within the next few years. Until recently, the company had said red ink at three of the plants—Quad Cities, Clinton and Byron—would persist, forcing Exelon to close the facilities unless it got almost $300 million in help from ratepayers through a state-mandated surcharge on their electric bills.
OK, that's good news. No bailout is preferable. Charging for carbon plant emissions won't be an easy thing to do in a coal-producing state like Illinois, however.
* But check this out…
Exelon is deferring all but the most immediate capital projects at Quad Cities and slicing other costs at all of its power plants as part of an upcoming cost-cutting initiative, Dominguez says.
Since I live about 50 miles from a nuclear power plant (Clinton), I would rather that they not skimp too much.
Just sayin…
- Posted by Rich Miller 17 Comments


* Springfield…
There's a line of about 15 people waiting for the Trump event tonight. First in line arrived at 8 a.m. pic.twitter.com/nMNbxU5eg2

— Jamie Munks (@JamieMunksSJR) November 9, 2015
* And Mundelein, where the new medical marijuana dispensary opened today…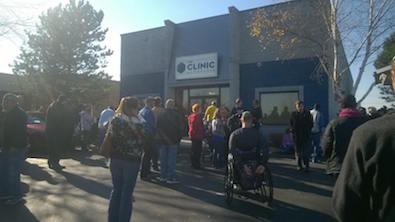 * The Question: Caption?
(And I apologize in advance if you're a Trump supporter or a medical marijuana patient. No offense meant. Just having a little fun.)
- Posted by Rich Miller 51 Comments


* As subscribers know, talks on this topic appeared horribly snagged last week. No longer…
Governor Bruce Rauner announced today that his administration has reached an agreement with business groups and labor organizations to reform and improve Illinois' unemployment insurance system.

"We have a lot of work left to turn around Illinois, but today's agreement is a step towards making us more competitive so we can increase investment in the state and grow jobs," Governor Rauner said. "I want to thank the legislators involved in crafting this agreement and urge the legislature to swiftly pass legislation and send it to my desk."

"For more than 30 years, governors and legislative leaders have brought business and labor together to negotiate changes to Unemployment Insurance for the benefit all in the state of Illinois," Illinois AFL-CIO Secretary-Treasurer Tim Drea said. "Because it is so vital to the economy and safety net for working families, Unemployment Insurance negotiations are always difficult, but all parties were committed to the process and an equitable agreement was achieved."

"On behalf of the employer community, we would like to thank our counterparts in labor, the Rauner Administration and the representatives of the four legislative caucuses who all played valuable roles in reaching this agreement," said Rob Karr, President & CEO of the Illinois Retail Merchants Association. "While the discussions were rigorous, they were always fair and ultimately productive."

Under the agreed framework an individual would be ineligible to receive unemployment insurance benefits following separation with an employer if a worker:

• Damaged an employer's property through grossly negligent conduct;
• Consumed alcohol, illegal or non-prescribed drugs during work hours in violation of an employer's policies;
• Provided false information in an employment application;
• Endangered the safety of himself/herself or co-workers through grossly negligent conduct;
• Knowingly and repeatedly violated reasonable written attendance policies of an employer;
• Refused to obey an employer's reasonable and lawful instructions unless the refusal is due to the lack of ability skills or training of the worker or if the instruction would result in an unsafe act; or
• Did not maintain required licenses, registrations and certifications required by law for the specific job.

Under current law, a worker could still be eligible for unemployment insurance benefits if any one of the above items occurred in the workplace. For the first time ever, these common-sense reforms will be implemented, creating a more fair and stable unemployment insurance system.

Additionally, the framework allows recently separated workers who are eligible for Social Security to receive a full unemployment insurance benefit. Under current law, 50 percent of the amount an older worker receives for Social Security is subtracted from the potential unemployment insurance benefit. Illinois and Minnesota are the only two states in the nation to allow this practice. This reform will return $25 million to Illinois seniors.

Governor Rauner had made strengthening misconduct and abuse provisions central components of his unemployment insurance reform proposal.
*** UPDATE *** Press release…
After many hours of negotiations, the Illinois Chamber of Commerce is supporting an agreement between business leaders and organized labor on unemployment insurance changes that has been reached. "For the business community, the two key issues in the agreement are a benefit change for seniors and a change to 'misconduct' for employers," said Todd Maisch, president and CEO of the Illinois Chamber.

Both changes are important philosophical revisions for both business and labor, but neither are big ticket items from a dollar perspective.

The benefit change will eliminate the offset of Social Security for determining benefits based on an individual's income. "With this change, some seniors may now become eligible for unemployment insurance benefits where they would have previously been disqualified because of Social Security income," explained Maisch. Others will receive higher benefits because their Social Security income would have reduced their benefit amount. Illinois is the last state in the nation to offset unemployment insurance benefits with social security.

"The proposed revisions to "misconduct" include eight typically egregious circumstances for which employers may protest a benefit claim," said Maisch. With this compromise, employers will not have to prove that the reason for the discharge was "willful and deliberate" and caused harm to the employer or was repeated after warning or instruction from the employer.

The bigger dollar issues for the unemployment system are the elimination of changes to the law that were set to take effect on Jan. 1, 2016. If there had not been any agreement to change the law, employer unemployment insurance taxes would have increased an annual $470 million, and benefits to unemployed workers would have been reduced by approximately $300 million per year.

Finally, there will be a moratorium on any UI legislation through Jan. 1, 2018. This compromise plan needs state lawmaker approval and the governor's signature.
- Posted by Rich Miller 43 Comments


* Hardly a surprise…
More than half of Sangamon County employers report the state budget deadlock — now in its fifth month– has begun to hurt sales and profitability, according to a fall survey released Monday by University of Illinois Springfield.

The Economic Outlook Survey also shows a 22 percent drop in expectations for the overall, local economy from the spring survey. More than 260 companies and not-for-profits were surveyed from Sept. 28 to Oct. 15.
* From the report…
Respondents were asked about the type of effect (large negative, small negative, neutral, small positive, or large positive) the state budget impasse is having on seven different aspects of their organization or firm: gross revenue/sales, profitability, on - hand cash, potential hiring, capital investment, total number of employees, and overall firm status. As seen in table 7, more than half of respondents report that the current state budget impasse is having a negative effect on their organization's gross revenue/sales (53.8 percent) and profitability (51.0 percent). In addition, 46.1 percent of all employers in Sangamon County report that the state budget impasse is having a negative effect on the overall status of their firm.

When asked, "is there any other way that the budget impasse has impacted your firm," respondents mainly speak about consumer confidence and uncertainty, the lack of funds they are receiving from the state government, and the stress it is putting on both employers and employees. Responses differ slightly between employers from different economic sectors.

For example, a private sector respondent stated th at : "Consumer confidence in t he economy is the largest problem for my firm. If the governor is able to accomplish [it] , then it might be better for Illinois' in the long term. People are afraid that they are going to lose their job therefore they are not spending any money."

Another respondent from the non-profit sector reported, "It has reduced our ability to serve children. It has increased the community's need for support but decreased our ability to meet that need."

Finally, a public sector respondent stated, the "impasse has stopped state employees from traveling to the capitol."
The accompanying table…

Keep in mind that some of those interviews took place over a month ago, and things have gotten significantly worse since then.
- Posted by Rich Miller 43 Comments


* Kerry Lester…
Miss Pat Quinn yet? That's the sign in the window of Greater Palatine Area Democrats as Illinois enters its fifth month without a budget.
- Posted by Rich Miller 66 Comments


* Finke…
A crowdfunding effort has been launched to raise the money needed to keep the 50-year tradition of stringing Christmas lights on the dome alive this year.

It was launched Thursday by Kristina Rasmussen, executive vice president of the conservative Illinois Policy Institute.

"I put it up (Thursday) morning," Rasmussen said. "It's pretty simple. I'm a Springfield resident, and I really like Christmas. I like holiday cheer. I like Christmas lights. I like Christmas ornaments. I thought it would be nice for the community, if this is something they value, to help step up and privately fundraise for this."

Secretary of State Jesse White's office said this week that it would not be stringing the lights on the dome as a money-saving move. The office said it will save $7,300.

On the GoFundMe website, Rasmussen wrote: "Illinois is broke and state officials are wisely cutting back on non-essential spending. Let's come together as a community to privately fund this annual tradition."
* SJ-R editorial…
Homebound senior citizens are getting fewer nutritious meals delivered to their homes. Public health departments are cutting back on services. Doctors are being asked to treat state workers and their families without any expectation of getting paid anytime soon. Shelters for women fleeing domestic abuse are closing or cutting back. The list of effects of Illinois' budget impasse goes on and on.

But talk about not decorating the Capitol dome for Christmas, and the public attention perks up […]

Friday's newspaper had another story about a different fundraising effort. This one was about Megan Garcia, a Cantrall sixth-grader. Columnist Dave Bakke told the tale of how Megan, who's 11, heard of a local family facing the crisis of having a 2-year-old diagnosed with a brain tumor, and decided to help. First, she asked for donations to the family in lieu of birthday presents. Then she organized a school fundraiser. At the end, she raised more than $3,000 to help the Ingram family. […]

If you're fortunate enough to be able to help others in need — no matter how small the amount — this will be the year to contribute.

And that generosity toward the most vulnerable among us will light up the holidays far more than strands of bulbs hanging from a dome ever could.
Agreed and that's why I didn't link to Kristina's GoFundMe page last week. I think it's nice that she's doing it, and I don't oppose it at all, but I'm channeling my energy elsewhere this year.
By the way, I checked with the SoS office and they said they've told Rasmussen to forward the money directly to CWLP because they don't have any appropriations authority.
*** UPDATE *** Press release…
Secretary of State Jesse White announced today that the Christmas lights at the Capitol dome in Springfield will be able to shine throughout the holiday season due to a $7,300 electricity payment provided by the Basic Crafts Council of Mid-Central Illinois.

"I commend the Basic Crafts Council of Mid-Central Illinois for their generosity and holiday spirit," said White. "Their payment of $7,300 to the local power company, City Water Light and Power, allows the state to continue the more than 50-year tradition of adorning the Capitol Dome with colorful and festive Christmas lights. I also want to thank the Operating Engineers' Local 965, Laborers Local 477 and Carpenters Local 270, who make up the Crafts Council."

The Basic Crafts Council of Mid-Central Illinois submitted the check to the City of Springfield's City Water Light and Power to defray the utility costs associated with powering the Christmas lights atop the Capitol dome during the holiday season.

The Secretary of State's office had made the decision on Tuesday, November 3 to forgo putting up the Christmas lights on the Capitol Dome because the lights are nonessential and because the office is cutting costs in order to save money during the budget impasse. The office is committed to providing customer service and essential services to the public for as long as possible.
- Posted by Rich Miller 26 Comments


* Subscribers know the back story on this press release…
Governor's office spokesman Lance Trover released the following statement regarding Senate Bill 570:

"As a result of bipartisan discussions with legislators concerning the future of the Child Care Assistance Program, the Rauner administration today plans to amend the emergency rule it filed at the beginning of the fiscal year. Under the amended rule, income eligibility will rise to 162% of the federal poverty level while current co-pays will remain intact. Other eligibility and restrictions will also be lifted pending further review and legislative consultation. Additionally, the governor's office will establish a bipartisan, bicameral task force aimed at ensuring the long-term stability of the program.

"The governor's office thanks the serious, good-faith negotiations by members of the legislature who made today's announcement a reality. This bipartisan agreement will allow us to avoid the unintended consequences and costs that SB 570 would have brought. By working together, we will be able to bring financial stability to an important program valued by members of both parties."
*** UPDATE 1 *** Press release…
State Senator Toi Hutchinson (D – Chicago Heights) released the following statement before her tour of the YWCA Kankakee Child Care Center to bring attention to the lack of child care funding:

"Every month that goes by without a budget hurts working families and children in ways that are immeasurable. Investing in child care is the responsible thing to do no matter which way you look at it, no matter which political party you belong to. I have been fighting for months to get more children into classrooms as soon as possible and give providers the stability they desperately need to make it through this crisis.

If Senate Bill 570 comes back to the Senate for a vote, I have agreed to hold it only as long as a the temporary rule is actually passed in the Joint Committee on Administrative Rules on Nov. 17, giving thousands of providers and kids immediate relief. It's past time for us to work together in every way we can every time we can. Our children deserve nothing less."
*** UPDATE 2 *** SEIU Healthcare Illinois President Keith Kelleher…
"Now, at the 11th hour and ONLY AFTER bipartisan public outcry across Illinois over the pain and suffering caused by cuts that have kicked 70,000 kids off child care, Bruce Rauner comes to the table. His arbitrary actions, which should never have happened in the first place, show just why, deal or no deal, we still need Senate Bill 570 to pass tomorrow, to remove the ability for a governor, Democrat or Republican, to use unchecked executive power to destroy by rule those programs created by statute.

Since the governor apparently now realizes the needless pain caused by his actions, we call on him to expedite the rules returning children to the program instead of figuring out ways to use them as political pawns."
*** UPDATE 3 *** From sponsoring Rep. Jehan Gordon…
Thousands of vulnerable children, parents and childcare centers have been affected by the devastating emergency rule that was enacted on July 1st. They all desperately need stability and certainly in these tumultuous times. It is my full intent to run SB 570 tomorrow afternoon in the House of Representatives. This legislation brings long term stability back to the Child Care Assistance Program. My primary focus and concern is that of children, families and childcare centers that need access to this vital work program now. We must pass SB 570 to statutorily make certain that our children are never put in this kind of limbo ever again.
*** UPDATE 4 *** Press release…
We applaud Governor Rauner's decision today to suspend damaging emergency rule changes made to the Illinois Child Care Assistance Program (CCAP) on July 1, 2015. We also applaud our legislative champions in both chambers of the Illinois General Assembly who refused to let children and families be anything but the highest priority in our state. Of course, we would also like to acknowledge the thousands of families and advocates statewide who continue to make sure the Governor and the General Assembly know just how important this issue is.

Key changes announced by the Governor today include:

• Increasing eligibility to 162 percent of Federal Poverty Level from 50 percent of the Federal Poverty Level.
• Suspending child support requirements instituted on July 1, 2015.
• Suspending restrictive background checks for relative caregivers.

While this agreement is a good start, we recognize that there is significant work to be done in order to end the chaos that has been created in lieu of a state budget. We look forward to working with the Governor and the General Assembly on a state budget solution that includes sufficient revenue to fully fund all programs that low-income, hard-working families rely on.

Fight Crime: Invest In Kids Illinois
Illinois Action for Children
Latino Policy Forum
Ounce of Prevention Fund
ReadyNation Illinois
Sargent Shriver National Center on Poverty Law
Voices for Illinois Children
*** UPDATE 5 *** From our pal Emily Miller…
Dear Rich,

The voices of children, families, and providers regarding the devastating impact of the Governor Rauner's July 1st decision to cut child care in Illinois have been heard. Today, the governor and lawmakers announced a deal to immediately restore access to affordable child care to all families at or below 162% of the federal poverty level and to eliminate additional barriers put in place earlier this year.

The deal made by lawmakers and the governor means that, effective immediately, a single mom of two children entering the work force can access child care assistance in Illinois if she makes less than 162% of the federal poverty level, or $2,713 per month (roughly $15.50 per hour 40 hours per week.)

In addition, Governor Rauner has agreed that once a budget passes, eligibility for the child care program will return to the pre-cut level of 185% of the federal poverty level. That means a single mom of two who earns up to 185% of the federal poverty level, or $3,098 per month, will once again have access to child care assistance.

After 5 months of devastating cuts to child care, families and advocates are understandably wary of deals that might compromise Illinois' commitment to ensuring families can remain self-sufficient by working.

That's why, in addition to the changes announced today, Voices for Illinois Children believes it's still important for lawmakers to take stand by voting yes on Senate Bill 570—a move that gives lawmakers and their constituents a means to ensure all parties to this deal remain accountable. A bipartisan 'yes' vote on SB570, and its passage in the House, will provide the much-needed and lasting proof that access to quality, affordable child care is a priority in this state.

If the governor and lawmakers continue to operate in good faith, as they have throughout the negotiation, the deal will move forward as planned. If they do not, the bill will be in a position to be placed on the Governor's desk to eliminate the cuts for good.

Overall, the ability of governor and lawmakers to work alongside each other is encouraging in the context of the larger budget fight. Voices hopes this negotiation can serve as the framework for making further progress on the many issues impacting Illinois' children and families.

We look forward to working with the governor and lawmakers to pass a budget with the revenue needed to fully fund vital programs for children and families.

Thanks for your hard work, and we'll be in touch soon.

Emily Miller

Policy & Advocacy Director

Voices for Illinois Children
- Posted by Rich Miller 91 Comments


* Peoria Journal Star…
Gov. Bruce Rauner made two stops last week during his visit to the Peoria area, including to visit a series of classes at Charter Oak Primary School.

Aside from kids demonstrating an impressive familiarity with government affairs — who among us knew as much about elective term lengths or the separation of powers in the fourth grade? — the youths asked Rauner some good questions.

One question in particular stuck out from the last group of them, a question on organization in government.

Rauner stressed the values of teamwork and of being able to work together with others. That includes working to "get a great team of people together and try to get things done."

Given the state's current budget drama, perhaps the working-together-with-others part of that plan needs some work?
* Chicago Tribune…
Speaking to a Chicago gathering of business students last month, Gov. Bruce Rauner related how a professional mentor long ago had instilled in him the importance of embracing the golden rule.

"Treat other people the way you'd like to be treated," Rauner said. "Sounds simple. Sounds corny. Hard to do consistently, and it's the key to success. It's the key. Respecting other people." […]

Each side insists it has the moral high ground in the dispute, which now has left Illinois without a spending plan almost halfway through the budget year. All of which may underscore another bit of career advice Rauner gave to those business students in October.

"Persistence, persistence, persistence," he said.
* Keith Kelleher, president, SEIU Healthcare Illinois & Indiana…
In private conversations, many Republicans have told us how pained they have been to be put in this position of voting against the most vulnerable people in their communities and against programs that actually benefit the economy, save taxpayer dollars and help people who often are their friends and neighbors and, in some cases, their flesh and blood.

Some of them have actually broken down in tears describing the threats and intimidation they've faced from Bruce Rauner and his allies, who themselves have made very clear they are willing to do or say anything they believe will help achieve their union-busting, non-budgetary goals.
- Posted by Rich Miller 39 Comments


* AP…
Among the numerous financial headaches caused by Illinois' budget mess is $700 million in construction projects that Gov. Bruce Rauner halted in the summer, and officials have no estimate of how much more they'll need to dole out for stopping and, presumably, restarting them once there's a spending agreement.

About a dozen construction sites will need to be protected from winter at a cost of about $2 million, officials said.

Rauner halted projects at universities, state parks, prisons and even Lincoln's Tomb in the spring, eyeing a rapidly approaching start to the budget year and no agreed-upon fiscal plan. An Associated Press analysis of records obtained under the Freedom of Information Act shows when work stopped July 1, it affected 419 contracts affiliated with 218 job sites. Of those, 95 were under construction, said Lyndsey Walters, spokeswoman for the agency administering the work, the Capital Development Board. […]

"This has not been pleasant," said Ric Krause, president of Chicago-area PATH Construction, whose company had to stop work on eight projects worth $26 million — less than half of which, according to records, has been paid. With that much work in the hopper, PATH has a number of staff members who are experts on the specific projects but now have no work to do.
- Posted by Rich Miller 29 Comments


* I doubt many Illinoisans know the words to our state song. Click here for the best version I've ever heard.
But the commenter known as "Fiercely Independent" came up with some alternate lyrics…
With the budget process slowing, Illinois, Illinois
And the unpaid bills a-growing, Illinois, Illinois
Where the Governor's "one of us"
As he throws us 'neath the bus
And the unions he must bust, Illinois, Illinois,
And the unions Bruce must bust, Illinois
* Meanwhile, somebody who goes by the online handle "warh201″ has a new rap song about the impasse. Click here.
- Posted by Rich Miller 17 Comments


* Tribune…
Democratic Senate President John Cullerton of Chicago collected more than $765,000 for three campaign funds, much of it from labor unions that are allied with Democrats during the state budget impasse against Republican Gov. Bruce Rauner.

The pattern of giving shows how campaign contribution limits in Illinois can be worked around. The construction and general laborers' political fund gave at total of $136,700 — the maximum $53,900 to Cullerton's state central committeeman fund and Cullerton's Senate fund and $28,900 to the Senate Democratic fund. An operating engineers' fund gave $158,700 — the maximum $53,900 to Cullerton's state central committeeman and Senate Democratic funds, plus $50,900 to his Senate account. All told, that's nearly 40 percent of the haul Cullerton reported receiving Friday.
* Tribune…
State Rep. John Bradley of Marion reported nearly $100,000 in campaign contributions, including the maximum $53,900 the Laborers' D.C.-based fund has been given to numerous potential Republican targets next year as well as political funds controlled by Democratic House Speaker Michael Madigan.
But, yeah, they're gonna fold any day now and fully buy in to the Turnaround Agenda.
- Posted by Rich Miller 18 Comments


* Republican House candidate Jacob Bramel officially kicked off his legislative campaign over the weekend…
He called House Speaker Mike Madigan "a tyrant and a dictator" who has oppressed the people of the state for more than 40 years. […]

"As your state representative, I will take us out of the dark ages of liberalism and fast forward us into a conservative revolution because the government should not tell you how to run your business, what job you can have, what school you can go to, how to raise your family, or punish you for being successful.

"I want a government so small that you can barely see it." […]

Without giving exact detail, Bramel promised to "repeal outdated legislation — legislation that hinders our everyday lives in favor of our own self-determination." He also said pension reform would be high on list to fix while fulfilling promises already made.
Bramel faces HGOP-backed Jerry Long, who describes himself as a "constitutional conservative," in the primary and then will most probably run against Democratic LaSalle County Circuit Clerk Andrew Skoog in the general. The district is represented by retiring Rep. Frank Mautino.
- Posted by Rich Miller 26 Comments


* My weekly syndicated newspaper column…
The concept of a public meeting on November 18th by the four legislative leaders and the governor sounds nice, but will it actually move the ball forward and break the months-long governmental impasse?

As you probably know, a group of good government types recently called on the state's leaders to sit down and talk about solving the state's budget issues. The four tops and the governor haven't met as a group since late May.

House Speaker Michael Madigan quickly accepted and then suggested that the meeting be held in public. The move has quite a few people scratching their heads because nobody expects anything will be solved while the public is looking on.

So, why bother?

A big reason is that the Democrats want the public to see what they've been seeing with their own eyes for months. The governor walks in, they say, exchanges pleasantries, then repeats the same basic talking points that he's been making since April.

Top Democratic sources say that Rauner cannot talk in detail about much of his Turnaround Agenda. They've asked relatively uncomplicated questions about tort reform, for example, and claim they've been met with empty stares.

"They can prep [Rauner] on the budget for the next month and it won't do any good," fretted a top Republican shortly after Madigan suggested a public meeting.

It's not that the governor isn't bright. He is a very smart man. It's just that he has never been a detail guy. And a big part of the problem with these negotiations is that many of the topics are nothing but details. Even the far more experienced Madigan might be able to delve down only a couple of levels into the workers' comp issue, but he doesn't have the expertise to go much deeper than that, Democrats admit.

What they need to do is set up some expert committees and let them deal with the details. But the experts can't do that until the tops give them some sort of direction, and everybody is just floundering right now.

Anyway, back to the upcoming meeting.

Gov. Rauner did his level best the other day to once again tamp down expectations ahead of the meeting. "I don't think it's going to matter much," the governor said, noting correctly that people don't like to compromise in front of cameras.

Rauner and his legislative allies have been insisting that the governor be allowed to set the agenda, which has some of the good government reformers who initially proposed the sit-down worried that Gov. Rauner would attempt to highjack the meeting and insist on talking only about his "Turnaround Agenda," which he wants resolved before he will negotiate the budget. The agenda includes some harshly anti-union proposals on collective bargaining, as well as some unacceptable (to Democrats and unions) changes in the workers' compensation program and things like term limits and redistricting reform.

But the governor also said something last week which went almost completely unnoticed. The governor told reporters that he was planning a "comprehensive agenda" for the meeting.

"We will include structural reform in the agenda," Rauner said (predictably, since that's code for his Turnaround stuff), and then said, "We will include revenue and taxes on the agenda, we'll include spending levels on the agenda."

The idea may be to put the Democrats on the spot and finally make them talk about what taxes they want to raise.

House Speaker Michael Madigan reiterated his support for new revenues recently in Chicago. "The number one problem facing the government of the State of Illinois is the state budget deficit," he said for the millionth time, according to the Chicago Sun-Times. "Which means that we have to get together to talk, negotiate, do some cuts and do some new revenue. There should be a balanced approach."

Madigan, however, has never specifically said what "new revenue" he would actually back, and neither has his fellow Democrat Senate President John Cullerton. The governor's people have been quietly pointing out this glaring omission for the past several days.

The governor told top Democrats during a private meeting months ago that he would be willing to raise the income tax to 4.75 percent, which is a percentage point higher than its current level, if he got what he wanted on the Turnaround Agenda. The Democrats have not yet accepted that proposal and have apparently been waiting for the governor to make his offer public.

I doubt anything gets done, but it might be fun to watch.
* Related…
* Erickson: Rauner, lawmakers should meet during session

* Finke: At least they're not arguing about the table
- Posted by Rich Miller 34 Comments


* The little town of Marshall (population 3,933), is shutting off services to some state facilities…
At 1 p.m. — unless the state intervenes — the toilets will stop flushing at the Cumberland Road Rest Area along Interstate 70.
The lights will go out at the Illinois Department of Transportation's highway garage in Marshall. And IDOT's local office building will lose electricity, water, sewer and gas services.
* The town is owed almost $500,000, which is a lot of money to such a small community. But the mayor is also quite upset about the impact of the impasse…
For Marshall, the ramifications go beyond the outstanding utility bills. [Mayor Camie Sanders] said talks between the city and a company interested in relocating to the community fell through, because the corporation won't invest in Illinois until the impasse is resolved.
Ugh.
- Posted by Rich Miller 73 Comments