[The following is a paid advertisement.]
Credit Unions find numerous ways to support their communities each holiday season. This year, Cornerstone Credit Union and Credit Union 1 are helping to ensure that everyone's needs are met – from their own members and employees, to animals in need at local shelters.
Cornerstone Credit Union, with locations in Freeport, Sterling, and South Beloit identifies ways to best assist the communities they serve throughout the holidays. With donations they collect, the credit union puts together Thanksgiving food baskets for credit union members in need. Employees nominate members they feel would most benefit from receiving this gift.
Additionally, Cornerstone Credit Union displays a food bin where members and employees can donate to the Salvation Army to assist with their collection efforts during the holiday season. The credit union also coordinates donations to Toys for Tots, and their Helping Hands Committee provides a monetary donation to an employee who has recently experienced an unexpected life hardship.
In addition to serving their members and local families in need, credit unions also assist local animal shelters during the winter months. For example, Credit Union 1 in Springfield is currently holding a donation drive for Friends of Sangamon County Animal Control.
Credit union employees and their members are proud to be making a difference in their communities this holiday season!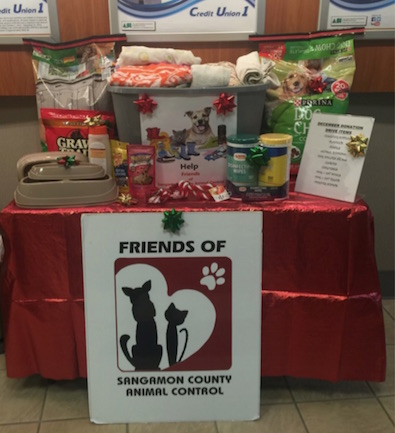 - Posted by Advertising Department


No Comments
Be the first to comment.
Sorry, comments for this post are now closed.