* I watched part of the new Godfather epic (arranged in chronological order with previously unseen scenes) on the teevee the other day with a friend of mine who now works for Gov. Rauner. And since Abe Vigoda passed away today, I thought I'd share this story.
Remember that scene when the young Vito Corleone is stalking the mobster Don Fanucci during the big carnival just before he kills the old man? Here's a photo of Fanucci to refresh your memory…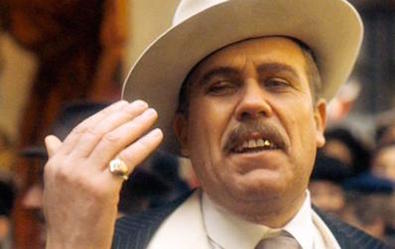 I had a sudden revelation.
"Hey, I get it now. Don Fanucci is Madigan to you guys!"
He flatly denied it, but if you listen to the governor talk about Madigan's alleged corruption, and you read the Dan Proft/Brendan Reilly exchange, and then listen to him throw me under the bus by falsely claiming I once worked for MJM, and any random Chicago Tribune editorial, and we may be onto something here.
* From Wikipedia…
Fanucci is a Black Hand extortionist in Little Italy. Fanucci demands protection money from neighborhood businesses. Vito Corleone (Robert De Niro) witnesses Fanucci threatening to disfigure a young girl when her father refuses to pay him, and almost intervenes but is stopped by his friend, Genco Abbandando, who tells him who Fanucci really is. Vito also loses his job when Fanucci demands that Genco's father provide employment for his nephew, Sandiago.

In the novel and in the chronological film version re-edited for TV (The Godfather Saga), Vito witnesses an attack on Fanucci by two youths of the neighborhood who are tired of Fanucci's oppression over the neighborhood. Although Fanucci screams for help, nobody comes to his rescue and the attack ends only when the youths have robbed him, cut his throat, and run away. Vito knows from his own experiences that a real Don would probably be escorted by bodyguards, and that anybody who dared attack him would be dealt with severely and publicly. Vito begins to suspect that Fanucci's power comes from the threat of force rather than force itself.
They're the good guys, with a dark side.
OK, we already know they think of themselves this way. And we know that they despise Madigan. But check out the Tribune today…
Madigan's chronic refusal to compromise — his devotion to politics rather than governance — has led to tragic service cuts for the state's most vulnerable citizens. Lutheran Social Services of Illinois announced it would cut 750 positions and slash programs because the state owes it $6 million.
If they could just get rid of this guy like Corleone did to Fanucci, then all would be right in the world.
Except life isn't a movie.
68 Comments











































































































































































































Sorry, comments for this post are now closed.