* Things appear to be getting rough out there…
In 3rd Ward: Ken Dunkin's goons used knives to cut his name from this billboard truck & threatened the driver's life pic.twitter.com/qoZkIG6Cay

— Brendan Reilly (@AldReilly) March 4, 2016
…Adding… A police report has been filed, according to Ald. Reilly.
This is the original billboard…
It's getting real out in these streets. #ChicagoPolitics #KenDunkin #JulianaStratton #IL5thDistrict #Election2016 pic.twitter.com/oqKCMyvLia

— Desert Sista (@desert_sista) March 2, 2016
* Meanwhile, we discussed this yesterday…
"If donating a book constitutes voter fraud, then the Senator is guilty of the same thing for handing out tax rebates at the polling place," responded Cardenas campaign manager and 15th Ward Ald. Raymond Lopez. "I don't think of what he's alleging as voter fraud."

Lopez' comments referred to a flyer distributed by Muñoz' 12th Ward Democratic Organization promoting a property tax rebate seminar scheduled for this Saturday at the McKinley Park Field House, the same location as the 12th Ward's early voting polls.
* And then I posted this from Tom Shaer, Deputy Assessor for Communications at the Cook County Assessor's Office…
This seminar is one of over 125 standard Taxpayer Outreach events which the Cook County Assessor's Office annually does for many community organizations and elected officials in all townships.

All aspects of property valuation, assessment, the appeal process and exemptions will be covered. No 'rebates' are being offered and qualifications for all exemptions are subject to State of Illinois statutes governing such exemptions.
* Late yesterday, Ald. Ray Lopez sent me an e-mail…
Does this look like a typical flyer for a "standard Taxpayer Outreach event" to you?
The flier…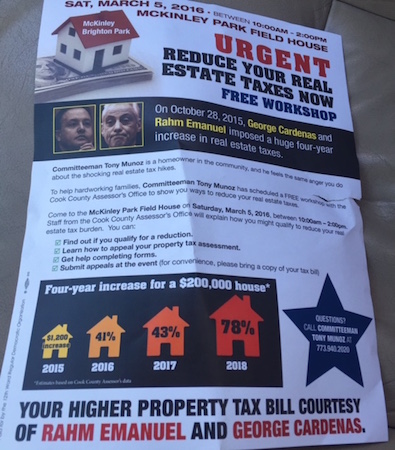 19 Comments
























































Sorry, comments for this post are now closed.