* Press release…
Leaders from SEIU Healthcare Illinois' child care and home healthcare bargaining committees will hold an emergency press conference at 12 p.m. Wednesday at their headquarters to provide updates on contract talks for some 52,000 Illinois caregivers who have worked without a full collective bargaining agreement since June 30, 2015, and will provide shocking new figures to describe the extent of damage caused to programs by Gov. Bruce Rauner.

They will be joined by Sen. Daniel Biss (D-Skokie) and Rep. Sonya Harper (D-Chicago), sponsors of the "Invest in Illinois" legislative package that passed overwhelmingly in the General Assembly in the recent session and which was intended to help ameliorate the Rauner attacks on care.

At the press conference it will be revealed that, according to the state's own figures, the Child Care Assistance Program has 55,000 FEWER children participating than a year ago, countering Rauner claims that his attacks would not permanently damage the program. (see attachment).

WHAT: Emergency Press Conference to Discuss Collapse of Caregiving in Illinois, Update on Contract Talks for 52,000 Home and Child Caregivers.
WHEN: 12 p.m., NOON, Wednesday, June 15.
WHERE: SEIU Healthcare Illinois Headquarters, 2229 S. Halsted Ave, Chicago.
WHO: Sen. Daniel Biss, Rep. Sonya Harper, SEIU Healthcare Illinois leaders.
The attachment is here.
- Posted by Rich Miller 22 Comments


* From a Monday e-mail blast…
This morning several Directors of Illinois area agencies on aging informed the Illinois Department on Aging that they have developed plans to close down their region's community senior services network this summer. This information was provided during a phone call where the Department explained that federal funding would stop after reimbursements covering the month of June. Unless there is a court order or an enacted state appropriation, no federal funds will be processed for July, August or September. Not all area agencies on aging are in the same situation this summer (AgeOptions would not have federal funding for community based organizations, but will continue state funds for home delivered meals, about half of the meals, if the Court Order continues into July, August and September). It is clear that many of Illinois' 230 community senior service agencies will desist operations without federal support.

The biggest problem is that the federal dollars are in jeopardy that come from the U.S. Department of Health and Human Services - Administration for Community Living under the U.S. Older Americans Act. The federal appropriation is on a fiscal year that begins October 1, 2015, and concludes September 30, 2016. Under Illinois law, that funding will end on June 30. The Department stated that June reimbursement will come through in early July and then no additional funding is anticipated following that date unless there is a Court order or a state appropriation.

Federal Older Americans Act resources require state match. That match is combined with federal funds to process payments under the Beeks Consent Decree for meals. Home Delivered Meal funding alone is problematic since it may not be used for administrative purposes. Area agencies administer the court ordered dollars with their federal dollars and state match under Planning and Service Area Grants to Area Agencies on Aging. Not a penny of Planning and Service Area Grants has been provided this year.

Without the federal and state funding, there will not be a viable Aging Network. Federal law requires that the Illinois Department on Aging send the federal and state matching resources to the 13 designated area agencies on aging for distribution to community service provider agencies. It may not be proper under federal guidelines for the Department on Aging to send the court-ordered Home Delivered Meal funding directly to community agencies. Those agencies have contracts with area agencies on aging, and no contract with the Department. This is a legal, moral, practical, administrative and human mess! When will reason prevail and Illinois act responsibly to pass an agreed budget with adequate resources to meet its legal obligations under the Illinois Constitution?

If no federal dollars are released and no state administrative support to area agencies on aging is provided, the high stakes game of chicken being played out by elected leaders will result in the loss of independence, health and lives of older persons. It is time for politics to be put aside and for leadership and governance to prevail.

Jonathan Lavin
Chief Executive Officer
AgeOptions
* Lavin referred me today to Barb Eskildsen, Director of the Western Illinois Area Agency on Aging. Eskildsen told me that her agency will "probably be closing either the end of August or the first or second week in September. After that, we will have no money to pay our staff."
A few local services may be able to stay open, she said, because locals are "fundraising frantically" with donors.
During yesterday's meeting, the area agencies were told that the governor's office believes they will be getting state money through consent decrees. But Eskildsen said the only consent decrees are for home delivered meals. Medicaid services are also part of that mix, however.
"This whole thing is just one hot mess," Eskildsen said.
I asked the Department on Aging for a response at about 1:30. They confirmed the meeting and promised to get back to me. I assume a response is forthcoming and will post it here when it arrives.
…Adding… And here's the IDOA response…
The Illinois Department on Aging (IDoA) understands the strain that's been placed on our Aging Network due to the failure of the Majority Party to pass a balanced budget – a strain that will increase if the appropriation authority to pass through their federal funding ends.

The GOP Leaders have introduced SB3435/HB6585, which is a bridge that will pay for social services through the end of December and give the Agency appropriation authority to pass through federal funds. IDoA urges the Majority Party to work with the Governor to pass SB3435/HB6585 to protect our seniors and allow our provider network to continue caring for our most vulnerable.
- Posted by Rich Miller 61 Comments


The Republican National Committee doesn't consider Illinois a competitive swing state, despite a Republican governor and a Republican U.S Senator, because the RNC's National Training Day doesn't include the Land of Lincoln.

The RNC is investing in fourteen states Saturday at 150 locations to activate over 5000 volunteers for training and voter contact. The effort is in coordination with the Trump Campaign, State Parties, and House and Senate campaigns across the country as part of the RNC's commitment to elect Republicans up and down the ballot. […]

The Trump campaign has been promoting a 15-state strategy, which, CNN says, includes Illinois - despite the last time a Republican presidential won in Illinois was 1988. Trump said in a speech on May 26, "I put so many states in play: Michigan being one. Illinois."

But the RNC isn't as hopeful as Trump is. That doesn't bode well for the struggling campaign to re-elect Republican U.S Senator Mark Kirk just under Trump on the November ballot. […]

The RNC has had the permanent ground operation in place for over 1000 days, and currently has over 750 staff, including over 450 paid staffers in the field, months ahead of Election Day. But not in Illinois.
Discuss.
- Posted by Rich Miller 43 Comments


* Illinois Republican Party press release…
Illinois Republican Party Releases Robocalls
Calls highlight Democrats' tax hike agenda, refusal to hold session

Yesterday Mike Madigan announced that he would cancel Wednesday's planned House session for the second week in a row. Today, the Illinois Republican Party released robocalls in competitive House and Senate districts to highlight Madigan's refusal to hold session and his plan to hold the state hostage in order to force a massive tax hike with no reforms on Illinois families.
* Sample robocall script…
This is a critical alert. House Speaker Michael Madigan again canceled votes in the legislature, putting public safety, vital services and our schools at risk.

And State Senator Gary Forby & State Representative John Bradley won't go back to Springfield and stand up to House Speaker Mike Madigan to pass a balanced budget.

Together, Mike Madigan, Gary Forby & John Bradley are holding the state budget hostage to force a massive tax hike with no reforms and increase our state debt by billions.

Visit www.RebuildIllinois.com to sign the petition telling Gary Forby & John Bradley to put public safety, our schools and the needs of our district ahead of Chicago political boss Mike Madigan.

Gary Forby & John Bradley have been siding with Mike Madigan long enough.

Paid for by the Illinois Republican Party.
* Audio…
* The Question: Rate it? Take the poll and then explain your rating in comments, please.
bike trails
- Posted by Rich Miller 66 Comments


* Treasurer Mike Frerichs speaking today…
"The State of Illinois has been around for nearly 200 years… For 200 years we've done annual budgets. It has happened. It can happen. The only reason it's not happening is because some people don't want it to happen."
* Raw audio…
* Frerichs was elaborating on this press release…
The state of Illinois earned $7.8 million less in investment income the first quarter of 2016 as a result of the budget impasse, Illinois Treasurer Michael Frerichs said today. That translates into projected missed earnings of $31.2 million for 2016.

Threats of unplanned fund sweeps and the need to pay court-ordered bills required the treasurer's office to make short-term investments that prioritized cash availability rather than longer-term, higher-yielding investment opportunities.

"A budget is a spending plan. Without a spending plan, it is very difficult to know what money is needed for basic government operations and what money for normal investments," Frerichs said. "The law requires us to have money available to pay bills. The inability to adequately plan investments rips money out of the pockets of every person in our state, especially hurting those on the margins such as the poor, senior citizens, and children."

Metropolitan Family Services of Chicago is among the service providers that essentially has lent the state of Illinois money because the state has not paid its bills.

"By the end of FY16, Metropolitan will be owed $2.6 million from the state of Illinois for contracted services that have not been paid. In order to keep core services open, we have been forced to tap our own credit and serve as involuntary lenders to Illinois. All year long, low-income families and not-for-profit providers have suffered, footing the bill for problems they did not create. The lack of a state budget is a structural failure that is damaging our economy, hurting thousands of people, and causing irreparable harm to communities served by organizations such as Metropolitan Family Services," said Taneka Jennings of Metropolitan Family Services.
- Posted by Rich Miller 27 Comments


* We've discussed this before, but here's the AP…
Gov. Bruce Rauner is trying to weave a wider web of blame for the state budget mess, extending his criticism of House Speaker Michael Madigan and other Democratic lawmakers to Attorney General Lisa Madigan, the speaker's daughter.

But Lisa Madigan dismisses the Republican's claims that she too is trying to "create a crisis" that would force a tax increase.

Rauner noted last week that Madigan, a Democrat, is pushing the courts to declare that state workers should not continue to get paid without a budget appropriation, something that has eluded Springfield for more than a year.

Madigan, who is serving her fourth term as attorney general, declined to comment directly on Rauner's remarks. And it's unclear if she will continue to pursue the worker pay issue, saying in a statement that "the best way to ensure state employees are paid for the rest of this fiscal year and all of the next fiscal year is for the governor to work with the legislature to pass an appropriation to cover state employee pay."
From what I'm hearing, I believe the Rauner folks are hoping to find a strong challenger to AG Madigan in 2018. They really do not respect/like her, the governor included. And they firmly believe she's doing her father's bidding.
- Posted by Rich Miller 44 Comments


* Demonstrators raised quite a ruckus outside while Gov. Rauner spoke to a South Side church over the weekend. Afterward, Rauner met with a small handful of the protesters…
Activist Lamon Reccord, 17, who moments earlier lead anti-Rauner chants and blasted a siren from a megaphone, was part of the group who met privately with Rauner and his wife.

The meeting lasted about 10 minutes. Rauner spoke briefly about the sitdown outside the church.

"What we've agreed we're going to do is every week or so we're going to meet with members of the community and leaders in the community and talk about the issues," Rauner said. […]

"I brought to the governor's attention the pain that this budget impasse is having on the black community," [activist Eric Russell] said.

"And I told him how it appears he is balancing his budget on the backs of the poor and he basically said 'I just got here and I'm trying to fix this mess.' And we took exception to that because there is no level of compassion in regards to him balancing the budget," Russell said.
* Video…
- Posted by Rich Miller 34 Comments


* Finke…
The administration of Gov. Bruce Rauner wants to speed up resolution of its case on whether an impasse exists in labor talks between the state and its largest employee union by bypassing a recommendation in the case by an administrative law judge.

The administration says a quicker resolution of the case will help the state save $35 million to $40 million a month in higher health insurance costs for workers. […]

"The governor has filed a request that we believe is totally without precedent," AFSCME spokesman Anders Lindall said Monday. "We've never seen anything like this before, to cut the administrative law judge out of the process and proceed to the full board. It's just more evidence of the endless lengths this governor will go to impose his demands and not negotiate a fair agreement." […]

AFSCME will have a chance to respond to the state in writing, but hasn't done so yet. After that, it will be up to the five-member board to decide what to do with the request, said Melissa Mlynski, executive director of the Illinois Labor Relations Board. She declined further comment because the matter is pending.
* The administration's full response…
The use of an administrative law judge, who does not make a final ruling, but merely issues a non-binding recommendation to the Labor Board, is optional under state labor laws.

Those labor laws, which AFSCME helped write, expressly contemplate an expedited proceeding where the Labor Board issues a final ruling without a recommendation by the administrative law judge.

We are asking for the Labor Board to consider those faster procedures in this case, because we continue to pay for AFSCME's platinum plus health care plans. Each month these added health care benefits cost taxpayers an extra $35 to $40 million. With the nation's largest bill backlog, budget deficit, and pension liability, Illinois can no longer afford to pay for one of the country's richest benefits packages.
Discuss.
- Posted by Rich Miller 101 Comments


* Case in point…
The budget impasse, the unfunded pension liability, the inability to properly and effectively fund education are a result of the current map-drawing process.
Yes! Remap reform will solve all of our problems! Illinois isn't at all divided politically. People in southeastern Illinois, Iroquois County, etc. will magically become Democrats and Chicagoans and south suburbanites will magically become Republicans!
* Look, I support redistricting reform. But one reform ain't a magic cure-all. Heck, the Republicans drew the legislative map in 1991 and Speaker Madigan maintained a Democratic majority for eight out of the GOP map's ten years.
So, please. Take a breath.
* Related…
* State board approves remap item for ballot, pending lawsuit
- Posted by Rich Miller 24 Comments


* Back on June 3rd, the Illinois Republican Party highlighted this Chicago Tribune editorial…
Don't be surprised if they cut a half-year deal and boast for the cameras that they did something big. They'll blame and spin and preen like peacemakers, then explain in great fogs of detail why this was the best they could do. Heroes, all.
* Today's press release…
"After proclaiming that the House would be in continuous session and meet on Wednesdays, Mike Madigan has canceled session for the second week in a row. Without a stopgap budget, prisons will not have the necessary funds to operate and schools may not open in the fall. Madigan is again using the working groups as an excuse to stall progress - two stopgap bills backed by the Governor and statehouse Republicans are written and ready to vote on.

Mike Madigan has abandoned the needs of the people of Illinois in his desperate attempt to force a tax hike and prevent reform. Today, news organizations are reporting a 'mega lobbying effort from Chicago' to pass Madigan's 7 billion out-of-balance budget in the Senate. Senate Democrats now face a crucial test – will they put a halt to this madness, or will they cave to political boss Mike Madigan?" – Illinois Republican Party Spokesman Steven Yaffe
So, they were against a stopgap before they were for it?
* But the governor is sitting on a stopgap approp bill himself. And Voices for Illinois Children wants him to sign it…
A month ago, the Illinois House and Senate passed Senate Bill 2038 to provide over $700 million in emergency cash to help service providers keep their doors open after 12 months of no payments from the state. Not a single legislator voted "no;" 167 voted "yes."

Yet, nearly four weeks after receiving this bill, Governor Rauner has not signed it. His inaction is denying service providers an essential financial lifeline.

As the huge bipartisan support in the General Assembly shows, signing SB 2038 is simply the right thing to do. This is because the money authorized to save service providers is currently just sitting idle in special state funds.

For example, over $400 million sits in the Commitment to Human Services Fund. This money is meant to support human services. SB 2038 simply authorizes the state to spend dedicated human services money on human services.

To be clear, SB 2038 is not a solution to the state's financial crisis. It is only a temporary, emergency lifeline to providers. Lawmakers and Governor Rauner must finally enact a budget supported by billions of dollars in new revenue to fund essential services and investments for a more prosperous and compassionate state.
An accompanying image…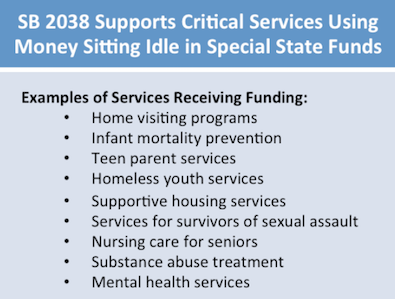 * Meanwhile…
Without state funding and with an increase in need, the Southern Illinois Coalition for the Homeless is struggling to keep its doors open.
*** UPDATE *** The governor was asked about the bill today and he said he opposes it because it doesn't include any administration money. Raw audio…
- Posted by Rich Miller 33 Comments


* I really needed a good laugh today, so this new poll did the trick…
A new poll released by a group of Illinois mayors and local officials shows 66 percent of Illinois voters support the Next Generation Energy Plan, while only 17 percent oppose the legislative proposal, an overwhelming 49-point margin of support. As respondents heard more specific details of the plan, it drove overall support for the plan even higher – to 77 percent.

"Illinois voters understand the economic, environmental and reliability benefits and the need for this comprehensive energy legislation, which is why there's such overwhelming support," said Clinton Mayor Roger Cyrulik. "Illinois cannot afford to wait any longer – our livelihoods are on the line."
Yeah. OK.
* Check out the poll's wording…
In the very near future, the State Legislature may consider a bill called the "Next Generation Energy Plan" that would drive Illinois' clean energy future by incentivizing companies to keep and develop clean energy resources, especially solar, save and protect jobs, strengthen the state's infrastructure and secure the future of Illinois' nuclear power plants. Do you favor or oppose this plan? (PROBE: Strongly/Somewhat)
Well, yeah. When you put it like that of course people supported it, although only 35 percent said they strongly favored it.
A legit poll would've also provided the downsides to the proposal. This poll didn't do that.
* Methodology…
Fabrizio, Lee & Associates conducted the statewide survey of 600 registered Illinois voters on May 9-10, 2016 on behalf of Exelon. The poll has a margin of error of plus or minus 4 percent
If you look at the poll results, two of the least persuasive entities on this topic are Exelon and ComEd. So, expect lots of front groups to start appearing.
- Posted by Rich Miller 18 Comments


* Tribune…
Former Illinois Gov. Pat Quinn kicked off a signature drive Sunday to impose a two-term limit on Chicago's mayor and create a citywide elected consumer advocate position.

The binding referendums could be on ballots as early as November or in the 2018 cycle, meaning there's potential to make Chicago Mayor Rahm Emanuel ineligible to seek a third term in 2019.

Quinn insisted his effort wasn't aimed at any individual, and getting nearly 53,000 valid signatures before an Aug. 8 deadline for November's ballot would be challenging. He explained how he got his start in petition drives — including laying the groundwork for the Citizens Utility Board — and wanted to give residents a way to bypass the mayor and City Council.

"Part of my mission in life is not to sit on the sidelines, but to try and organize movements and give people a greater say in their government," he said. "It's a way to let fresh air in and let the people into City Hall."
* AP…
Quinn wouldn't say what groups he's coordinating with. If the measure doesn't come before voters in November, it could be on the ballots during the 2018 gubernatorial election.

He refused to answer if he'd seek public office again. Quinn has recently been making the rounds at political events, fueling talk that he's wants to throw his hat in the ring again.

"I've run for office before," Quinn said. "We'll see about the future."
* From Quinn's e-mail to supporters…
1. Chicago is the only city among the nation's 10 biggest cities without a term limit on its mayor.

2. Incumbent Chicago mayors routinely outspend their challengers by millions of dollars reaped from lobbyists, corporations and billionaires.

3. The best way to achieve true campaign finance reform and end secrecy in City Hall is through mayoral term limits. And the only way to achieve term limits is through a petition drive and binding referendum, a power authorized by the 1970 Illinois Constitution.
* Mayor Emanuel's react…
"Look, I got, I'm focused right now, Pat Quinn can do what he wants," Emanuel said before speaking at the Clemente High School graduation ceremony. "I know what I'm focused on. I'm here to make sure that Springfield takes note, as they did on the weekend Sullivan (High School) graduation I spoke at, I'm here speaking at Clemente, of the gains our kids are making on education, that it is not the time to pull the rug from underneath our kids."
* And columnist Jim Dey had nothing but praise for Quinn…
Quinn's proposal cuts at the heart of the ambitions of would-be mayors in that notoriously corrupt city. When they get elected, almost all of them want to stay forever. They either leave feet first (Mayors Richard Daley I and Harold Washington) or are thrown out by voters (Mayors Michael Bilandic and Jane Byrne).

In recent history, Mayor Daley II stepped down on his own and only then after city government and the school systems were on the brink of financial collapse.

Now Mayor Rahm Emanuel, politically weakened because of his mishandling of a fatal police shooting, holds the office. Unpopular, abrasive and the ultimate political insider, Emanuel offers the perfect step ladder for Quinn to climb back into prominence.
It's easy pickings.
- Posted by Rich Miller 48 Comments


* A must-read story about how a lobbyist and a Latino House member killed off a modest disclosure bill that had passed the Senate…
The code word for black workers caught Rosa Ceja by surprise.

She was working for a temp agency in spring 2014, supervising workers at a big brick packaging plant northwest of Chicago. Crews of minimum-wage temp workers in hairnets boxed consumer products such as adult diapers and energy drinks in shifts around the clock.

She knew the company wanted only men for some jobs and only women for others. And she knew those codes: "heavies" for men, "lights" for women.

But when Ceja asked the recruiting office to send more heavies, she was told there were only "guapos" available. She was confused. "Guapo" means "good-looking" in Spanish. "I'm like, 'Who cares if he's cute?' " Ceja remembers saying.

Guapo, her fellow recruiters told her, meant a black worker. Black people didn't want to work hard or get their hands dirty, they explained, so they were called the pretty ones. Latinos, the "feos" or ugly ones, were what the company wanted.

Ceja said she checked with a packing company supervisor to make sure.

"She said, 'If you ever bring me a black guy, they're automatically walking out,' " Ceja said.
Ugh.
- Posted by Rich Miller 12 Comments


* My weekly syndicated newspaper column…
The Democrats got a bit of good news and some serious bad news in a recent Capitol Fax/We Ask America poll. And that bad news is particularly negative for anyone who can be credibly connected to House Speaker Michael Madigan.

The poll of 1,231 registered Illinois voters found presumptive Democratic presidential nominee Hillary Clinton leading presumptive GOP nominee Donald Trump by 12 points, 47-35. Another 7 percent said they were voting for Libertarian Party candidate Gary Johnson and 12 percent were undecided. The poll was taken June 5 and 6, had a margin of error of +/-3 percent, and 39 percent of the responses came from mobile phone users.

John Kerry won this state by 12 points in 2004, the last time an Illinois resident wasn't on the presidential ticket. So, Clinton's numbers are already aligning with Kerry's. And the poll was taken before Illinois' U.S. Sen. Mark Kirk and other Republicans withdrew their support from Trump.

Clinton is leading 67-17 in Chicago and 47-35 in suburban Cook County. Trump, however, is ahead 42-38 in the suburban collar counties and leads by 10 points, 45-35, among Downstate voters - the location of some potentially very hot state legislative battles, so it's not all good news for the Dems. Then again, Democratic presidential candidates haven't fared well in some Downstate regions in a long time, but Democratic legislators have mostly managed to hold onto their seats.

When looking at gender, location and voting history, the Libertarian candidate Johnson does his best with folks who have voted in the last three Republican primaries, scoring 11 percent - not good news for Trump at all.

But as Gov. Bruce Rauner's people have been warning for months, the Democratic House Speaker is getting the blame for the yearlong governmental impasse by a huge margin.

"The Illinois General Assembly has once again adjourned its spring session without a budget agreement - an ongoing situation that some feel is caused by a clash between Governor Bruce Rauner and Speaker Mike Madigan," poll respondents were told. They were then asked to assign blame between the two men.

The poll found that voters blame Madigan by a decisive 21-point margin, 55-34, with just 9 percent saying "both" and a mere 2 percent saying they were still undecided.

The polling company conducted a similar survey late last month for another client. Based on that earlier polling, the firm's principal Gregg Durham said there "seems to be a widening gap putting the Speaker in the lead in the budget blame game." Durham noted that while Rauner enjoys "relative solidarity among Republican voters, Speaker Madigan's numbers are comparatively soft among Democrats." For example, 28 percent of people who have taken Democratic ballots two out of the last three cycles say Madigan is chiefly to blame. Independents blamed Madigan 49-39.

Durham also said there were significantly more people who said they were undecided in the earlier poll. So, positions appear to be hardening.

Chicago is the only region that blames Gov. Rauner over Speaker Madigan for the impasse, 52-35. But there is only one contested race in the city, and Chicago GOP Rep. Michael McAuliffe's district includes suburban Cook territory as well, where Madigan is blamed 54-36. And there are lots of expectedly competitive legislative races coming up in suburban Cook. About 7 percent blame both in Cook County and 3 percent are undecided.

Downstate voters predictably blame Madigan over Rauner 59-29, with 11 percent blaming both and an almost microscopic 1 percent saying they're undecided. Just about everybody has an opinion on this one, and that opinion is not good for the Democrats.

Madigan does worst among collar county voters, where 64 percent blame the Speaker and just 27 percent blame Rauner, with 2 percent undecided and 8 percent blaming both men.

Just 29 percent of men blame Rauner, but a very strong 62 percent blame Madigan. Another 7 percent say both are to blame and 1 percent are undecided.

Fifty percent of female votes point their finger at Madigan as opposed to 38 percent who blame Rauner. 10 percent of women blame both and 3 percent are undecided.

The results reportedly confirm similar polling taken by the House Democrats and they definitely confirm polls taken by the Republicans. So, why continue down this path? The answer from multiple sources is that Madigan is convinced it's up to him to stop Rauner in his tracks, even if that means taking some losses.
Subscribers have crosstabs and more info.
* Also, you may have seen some media coverage of a recent Illinois Observer poll on this topic. However, the publication did not disclose what company conducted the poll, which is highly unusual to say the least. It's also a purely automated poll, so it likely doesn't include mobile phone users. I'm not saying that my poll is 100 percent accurate. No poll is. And nobody should rely on any one poll or any one pollster. But that lack of disclosure troubles me.
* Related…
* Many Blame Madigan for Budget Impasse

* Editorial: Budget fight hurting Dems?
- Posted by Rich Miller 94 Comments


* From House Speaker Michael Madigan's office…
"Legislators from the House and Senate continue on Tuesday to meet in bipartisan working groups on a number of issues, including workers' compensation, collective bargaining and working to reach an agreement to end the state budget impasse. These groups continue to meet at the request of Governor Rauner and Republican legislative leaders, and the Speaker believes these discussions should continue uninterrupted, that all sides should focus on the progress that has been made, and allow the working groups to continue so we can work together to end the budget impasse quickly. Therefore, the House will not be in session on Wednesday, June 15."
Gov. Rauner publicly berated Madigan for canceling last week's session, claiming it was evidence that Madigan was "slow-walking" the talks. Expect more of the same.
- Posted by Rich Miller Comments Off


* After the terrorist attack over the weekend, state issues and the state's problems just don't feel as compelling or as urgent.
I'll be back tomorrow.
- Posted by Rich Miller Comments Off


[The following is a paid advertisement.]
While Exelon's $2.6 BILLION nuke bailout "reeks" as the Quad City Times editorialized, perhaps even more outrageous is that ComEd/Exelon's so-called "Next Generation Energy Plan" GUARANTEES more than $1 billion in profits on program spending of just $2.4 billion for the first 10 years.
Instead of passing-through expenses with no mark-up for programs like energy efficiency, which has been done for years, NGEP forces ratepayers to borrow from ComEd and then pay guaranteed profits with no risk. It's like a massive statewide predatory lending scheme.
Energy Efficiency: ComEd earns $804 million in guaranteed profits over ten years (NGEP presentation p12).

Solar Rebate: ComEd earns $113 million in guaranteed profits over ten years (NGEP presentation p17). If a person or business invests their own money in solar panels, ComEd receives guaranteed profits on part of that investment.
Microgrids: ComEd earns $106 million in guaranteed profits over ten years (applied rate of return from other programs to Microgrid spending).
In total, ComEd/Exelon's bailout bill is a $7.74 BILLION RATE HIKE over ten years.
ENOUGH IS ENOUGH.


JUST SAY NO TO THE COMED/EXELON BAILOUT.
BEST Coalition is a 501C4 nonprofit group of dozens of business, consumer and government groups, as well as large and small businesses. Visit www.noexelonbailout.com.
- Posted by Advertising Department Comments Off


* Veto message…
To the Honorable Members of
The Illinois Senate,
99th General Assembly:

The State has gone too long without a balanced budget. State vendors and service providers have gone too long without payment. We need real solutions to our fiscal problems, not unfunded, empty promises. So today I return Senate Bill 2046 and implore the General Assembly to pass a complete, balanced budget for Fiscal Years 2016 and 2017.

The Constitution requires the General Assembly to pass a balanced budget, but the General Assembly continues to abdicate that responsibility.

A balanced budget is not just a constitutional requirement or the right thing to do for taxpayers; it is the only possible way to manage State government over the long-term. Unlike the federal government, the State is unable to sustain deficit spending over multiple years without significantly impairing its operations. Case-in-point: the State is suffering from a cash-flow crisis from years of deficit spending, leading to a current bill backlog of more than $7 billion. The State is months or even years late in paying vendors and service providers, particularly from general funds.

Without a balanced budget, an appropriation is just an unfunded, empty promise – a check written from an over-drawn bank account.

Social service agencies and providers need real funding, not empty promises. Social services are being squeezed out by State debt and pension obligations, personnel costs, and other mandated spending. The only way to ensure that social services are fully funded is to pass a balanced budget, where spending is in line with revenues.

Senate Bill 2046 is an empty promise. The bill purports to appropriate $3.89 billion, including more than $3 billion in general funds that the State does not have, for higher education and social service providers, but provides no source of funding. Students, universities, community colleges, social service agencies, and our most vulnerable residents need real solutions and real funding, which Senate Bill 2046 does not provide.

Therefore, pursuant to Section 9(b) of Article IV of the Illinois Constitution of 1970, I hereby return Senate Bill 2046, entitled "AN ACT concerning appropriations", with the foregoing objections, vetoed in its entirety.

Sincerely,

Bruce Rauner
GOVERNOR
* The bill passed the Senate with a strong veto-proof majority. It only received 65 votes in the House, which is six shy of an override. Three Democrats were absent. I suppose the Democrats will now try to flip one or two of their own votes and hope that a college-town Republican or two will cave. But that hasn't worked in the past.
…Adding… Illinois AFL-CIO President Michael Carrigan…
"Gov. Rauner has shown, once again, that he puts politics above people. His veto keeps vital services like education, mental health services, addiction treatment, and grants for low-income college students from desperately-needed funding. His veto of SB 2046 prolongs and exacerbates the pain he created in the first place by forcing the budget crisis. He says one thing, does another, and then blames everyone else. Rauner is playing political games and people are getting hurt."
…Adding More… SEIU Healthcare Illinois President Keith Kelleher…
"The governor's veto of Senate Bill 2046 is more evidence this governor wishes to continue the hostage situation he has caused in Illinois. He has spent recent days blaming everyone but himself for holding up a budget until he gets his union-busting demands that have nothing to do with saving taxpayer dollars and everything to do with weakening rights and protections for Illinois' working families and driving down wages and benefits for ALL workers.

"The governor needs to stop the blame game and do what's right. We have seen too many suffer for his misplaced priorities."
…Adding Still More… Statement from John Patterson, spokesman for Illinois Senate President John J. Cullerton…
"It's disappointing that the governor chose to veto the entire proposal. The governor's veto underscores the need for immediate action on the balanced, bipartisan emergency budget for human service providers that has been on his desk for nearly a month. His administration identified the dollars. Nearly $700 million in overdue payments could go to businesses as soon as he signs it."

"Despite today's veto, the Senate President remains optimistic that the governor will do the right thing and sign the balanced, bipartisan emergency budget for human service businesses. We would encourage him to do so quickly. These businesses, their employees, clients and families have waited long enough."
- Posted by Rich Miller 65 Comments


* From a Democratic Party of Illinois e-mail entitled "Why Do Republican Senators Keep 'Joking' About The President's Death?"…
SHOT: Republican Senator David Perdue Jokes About Praying For Obama's Death [Daily Beast, 6/10/16]

CHASER: Republican Mark Kirk Jokes He Supports A "Shoot-On-Sight" Order For Obama. [Politico, 6/18/08]

BOTTOM LINE: No Matter What These Republican Senators Think, These Jokes Aren't Funny.
Um, actually, no.
Click the link provided and it's clear that Kirk made what was then a fairly common mistake. He wasn't joking about killing the guy.
* From Progress Illinois at the time…
Since Barack Obama stepped onto the national stage, public officials from John Ashcroft to Ted Kennedy to Mitt Romney have mistakenly referred to him as "Osama." Today, Mark Kirk added himself to this illustrious list. However, I think it goes without saying that he picked a most inopportune context.

Listen to Kirk express his support for a policy "where if we see Obama there's a shoot-on-sight order"

Obviously, Kirk meant to say "Osama." But geez … talk about a gaffe.
* The audio…
* The transcript…
DON WADE: In fact, yesterday in a conference call, Barack Obama's advisers were asked, "If Osama bin Laden were caught, should he get to challenge his detention in U.S. courts?" And the advisers said that — should that right to challenge detention that they get at Gitmo based on the Supreme Court ruling, should that be applied to bin Laden? — and Obama's advisers said, "Yes."

KIRK: Yeah, and I would much rather have a policy where if we see Obama there's a shoot-on-sight order.

DON WADE: Well, okay. I'm with you, but I don't know whether that's going to make 67 — well it might –

ROMA: I don't think Osama bin Laden — no one ever sights him.
* The Kirk apology at the time…
"On Wednesday, I misspoke when talking with a local Chicago radio program regarding the current presidential campaign of Sen. Barack Obama as well as the status of our anti-terrorism efforts against Osama bin Laden. During the course of this conversation, I mistakenly referred to 'Osama' as 'Obama.' After being alerted to my mistake, I apologized to Sen. Obama for my misstatement and will take extra care to make sure I do not make such a mistake again."
…Adding… IL GOP Chairman Tim Schneider…
"The Democratic Party of Illinois attack on Senator Kirk is baseless and reprehensible. They should immediately apologize and retract the statement. Politics is a tough business, but there's no place in politics for insinuations of the sort that the DPI made today."
- Posted by Rich Miller 9 Comments


* And here it is…
Gov. Bruce Rauner Announces Staff Transitions

Richard Goldberg Named Chief of Staff

CHICAGO - Governor Bruce Rauner announced today that Mike Zolnierowicz will transition from the Administration at the end of June. Richard Goldberg will be promoted to Chief of Staff.

"Z is a tremendous leader and a great Chief of Staff. He has done an amazing job leading our team through some very difficult circumstances," Gov. Rauner said. "I am grateful that he will remain a close ally and adviser. I look forward to continuing to work with Z in the months and years ahead."

Effective July 1, Richard Goldberg will assume the role of Chief of Staff.

"No one will work harder to fix the State than Richard. He is extremely smart, loyal and relentless," Rauner said. "Richard has my full support and trust. I know he will do a great job in his role." […]

About Richard Goldberg

Rich Goldberg currently serves as Deputy Chief of Staff for Legislative Affairs and Strategic Initiatives in the Governor's Office. Previously, Rich served as Deputy Chief of Staff to U.S. Senator Mark Kirk of Illinois. A former National Security Fellow at the Foundation for the Defense of Democracies and a former Congressional Scholar at the Foreign Policy Initiative, Rich also serves our country as a Navy Reserve intelligence officer holding the rank of Lieutenant. In 2011, he deployed to Afghanistan as the senior intelligence officer for Electronic Attack Squadron 209 where he helped plan more than 200 air combat operations. For his service at home and overseas, Rich has been awarded two Joint Service Commendation Medals, a Joint Service Achievement Medal, a Navy Achievement Medal, the Afghan Campaign and NATO Medals, and other various decorations. Raised in Skokie, Rich attended Solomon Schechter Day School and Ida Crown Jewish Academy before earning a Bachelor of Science in Journalism from Northwestern University. He is also completing a Master's in Public Policy and Administration at Northwestern.
* Our new overlord…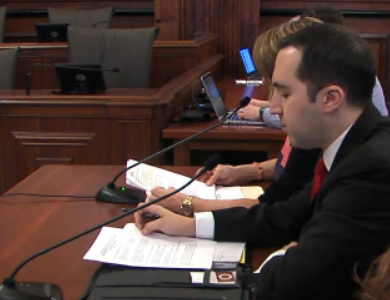 * The Question: Caption?
…Adding… Heh…
Sen Don Harmon on Goldberg's new job: "I hope that this is a re-commitment to working together to try to reach a responsible budget… (1)

— Tony Arnold (@tonyjarnold) June 10, 2016
…and I hope this is not the moment when Thelma looks at Louise and they decide to drive off the cliff." (2)

— Tony Arnold (@tonyjarnold) June 10, 2016
Harmon is the guy who coined the phrase "grass bowl" when describing Goldberg.
- Posted by Rich Miller 46 Comments


* I received this press release yesterday from a group calling itself Environmental Progress Illinois…
Over the last few months we've seen growing recognition by Democratic political leaders that efforts to close nuclear plants prematurely are disastrous for the climate. Hillary Clinton said efforts to prematurely retire nuclear plants "put ideology ahead of science and would make it harder and more costly to build a clean energy future." Energy Secretary Ernie Moniz said, "We're supposed to be adding zero-carbon energy sources not subtracting them." And Senator Cory Booker endorsed extending the nuclear the same subsidy wind energy receives: "I know the challenges global warming [presents]… We've got to support the existing fleet."

But while a growing number of Democrats have come to see the importance of fair and equal treatment of clean energy sources to solve climate change, a handful of elected officials remain ideologically opposed to nuclear power — even as they advocate subsidies for wind and solar.

Case in point is Illinois Attorney General Lisa Madigan. Last month Madigan helped kill efforts in the Illinois legislature to support two nuclear plants that are suffering from being excluded from federal subsidies and the Illinois state Renewable Portfolio Standard — both of which Madigan supports. "This proposal would force consumers to pay more only to boost the companies' profits further," said Madigan.

Democratic legislators in Springfield were spooked by Madigan's comments, and the bill died. Days later, Exelon announced it would close the two plants, which would be replaced by natural gas that would increase carbon emissions the equivalent of adding two million cars to the road.

And yet, Madigan has long advocated subsidies for wind and solar and has enjoys a close relationship relationship with wind and solar advocates — some of whom are supported by the very same natural gas, wind and solar corporations that would benefit from the legislation she endorses.

Last August, Madigan advocated for for "clean jobs" legislation that includes large subsidies for wind and and solar — subsidies that would be paid for by higher rates paid by Illinois ratepayers. The so-called "clean jobs" coalition members includes the Environmental Law and Policy Center, which accepts money from natural gas company Invenergy, as well as solar and wind companies that stand to benefit from the closure of Illinois nuclear plants.

And last February, Madigan joined a conference call on the clean power plan that was arranged by the Sierra Club — an organization working to shut down nuclear plants in Illinois and California and replace them with natural gas and renewables. In 2012, the Sierra Club was forced to admit that it secretly took $26 million from natural gas interests. Recently, the Sierra Club has been urging its members to buy solar panels from Sungevity, which turns around and gives $1,000 per homeowner signed up to the Sierra Club.

Notably, if Quad and Clinton are closed, the increased emissions will be one-third of total emissions Illinois is supposed to reduce under the Clean Power Plan.
Madigan needs to address the inconsistency of her position by making a clear statement about why she can justify subsidies for solar and wind but not for nuclear. If she's ideologically anti-nuclear, as she appears to be, then she needs to explain why. If she's not, then she needs to explain her double standard. The 2,000 Clinton and Quad workers at risk of being laid off, and the people of Illinois more broadly, deserve an explanation.
I was a bit surprised to find out this group is backed by a couple of Pritzker family members. So the whacks at Madigan, the Sierra Club and the pretty widely respected ELPC were interesting.
* I asked the AG's office for comment…
We have consistently supported the development of clean energy as a way to reduce carbon emissions and grow our economy. But we've also always argued that as the state takes steps to comply with the Clean Power Plan, we must ensure that consumers are treated fairly.

The claim that Exelon's "nuclear plants … are suffering from being excluded from" subsidies is false. So is the allegation that supporting the development of wind and solar technology while resisting a profitable company's demand for a state bailout is a "double standard."

Exelon's nuclear plants have benefitted from two rounds of Illinois subsidies already. First, Illinois electricity ratepayers paid all of the construction costs for the Illinois nuclear plants. Illinois consumers then paid again when Exelon and others convinced Illinois lawmakers to create a competitive market for electricity and consumers were charged for additional costs associated with the transition to a deregulated supply market. Exelon's current bailout demand would amount to a third round of subsidies for these plants.

Supporting emerging energy technology – in this case the development of wind and solar technology through the renewable energy portfolio standard – is nothing new. Nuclear power received much greater support when the plants were being developed.

We do not want to see the loss of any Illinois jobs. But the notion that the only way to preserve jobs is to boost Exelon's profits is false – and ignores Exelon's and ComEd's role in creating the current regulatory structure. When electricity costs were higher, Exelon and ComEd pushed for a competitive market for electricity generation, without state regulation. As a result, beginning in 2005, Exelon Generation has posted profits every year, at times over 30 percent a year. But now that natural gas and progress on energy efficiency efforts have driven down electricity prices, Exelon is claiming that some individual plants are not profitable and demanding that Illinois increase consumer charges to protect it from the competitive market.

Notably, Exelon is not offering to pay back the subsidies if the plants once again generate profits. And its supporters never mention that Exelon is a profitable company that could choose to use the company's profits to preserve the two plants that Illinois consumers have already paid for. What is more, at the same time Exelon has asked Illinois lawmakers for a subsidy, it has successfully encouraged federal ratemaking officials to increase capacity charges, resulting in an additional $264 million in Illinois revenue for this year alone.

Finally, while we are not advocating for nuclear plant closures, it's false to claim that lost nuclear generation would necessarily be replaced going forward by Illinois gas and coal plants. It is important to remember that Illinois is a net exporter of electricity, and if Illinois nuclear plants are needed to maintain a reliable source of electricity, then federal operators of the power grid will work to prevent their closure. In addition, wind and solar are cost competitive with gas and coal and are only getting cheaper. Encouraging renewables and energy efficiency will allow Illinois to meet our Clean Power Plan obligations cost effectively and without putting ratepayers on the hook to further pad the bottom line of a profitable company.
There are two points in there to think more about. The first is the long history of subsidizing Exelon's nuke plants. And second is that we produce lots more electricity in this state than we consume.
- Posted by Rich Miller 23 Comments


* After reading this story, I wasn't sure about what the problem was…
Governor Bruce Rauner is reviewing a new bill that would punish tow truck drivers who pull up behind disabled vehicles to solicit business.

Often, a car is towed away, even before police arrive to take an accident report.

A bill passed by the General Assembly would make it a felony — with prison time — for a tow truck driver who stops at an accident scene without being called by the car's owner.
* But when reading the full story at the Tribune, I realized that this happened to my car once after an accident in Chicago a few years ago…
"This is a major step forward as we attempt to put limitations on the rogue tow operators that have plagued many areas of the state," Joe Wehrle, chief executive of Des Plaines-based nonprofit National Insurance Crime Bureau, said in a statement. "Motorists should not be subject to predatory towing practices that result in outrageous charges and tactics, such as holding cars hostage in salvage yards until the owner or their insurance company pay what amounts to a ransom to get the vehicle returned."
Yep. Holding my car hostage is a good way to describe what they did. It was ridiculous and I couldn't believe it was legal.
So, hopefully, this bill will be signed into law and then accomplish what it's supposed to do.
* In other news…
A proposal introduced this week would ban daily fantasy sports in Illinois.

State Rep. Scott Drury, a Highwood Democrat who has been a vocal opponent of a plan to legalize and regulate the games, sponsored a measure that would make operating games such a crime. Seasonlong fantasy contests would remain legal.

The debate over fantasy sports betting sites, such as those operated by FanDuel and DraftKings, has raged on for months. An industry-supported measure was making progress in the General Assembly, but opposition from casinos and other gambling interests and an allegation of unethical behavior by a lobbyist plagued the proposal and stalled it at the end of the spring legislative session. Drury says he's concerned regulations aren't tough enough.

"There's been no real willingness from the industry to abide by regulations," Drury said.
* Meanwhile…
Expect the governor's office to be sent about 400 pieces of legislation in the coming days and weeks. Right now there are only eleven bills on his desk. […]

Senate President John Cullerton's spokesman, John Patterson, said lawmakers are managing the workload to avoid flooding the governor's desk all at once. Patterson also said they send bills they consider priorities, including two that would increase state pay for home and child care workers to $15 an hour.

"We look at things that are trying to identify a lot of our priorities, things that would help working families," Patterson said. […]

[State Rep. Jeanne Ives, R-Wheaton] said her government transparency bill is also a priority: "[T]here's currently an injunction against a school board that wanted to delete closed session minutes that my bill is specifically written for so that a newly elected trustee can have access to closed session minutes."
That Illinois Policy Institute radio network article was posted a couple of days ago. There are now 34 bills on Rauner's desk.
* Related…
* Deadline Extended for Numerous Bills: House Speaker Michael Madigan, D-Chicago, extended the deadline to June 30 for more than 80 House and Senate bills. Madigan spokesman Steve Brown said it's normal practice by the legislature to extend deadlines. Among the bills are appropriations for higher education, the auditor general's operations and more.

* A look at bills Illinois lawmakers passed this session
- Posted by Rich Miller 9 Comments


* As I mentioned yesterday, my brother Devin and his daughter Isabel are visiting. We all went out for a long dinner last night and they're heading to the Lincoln Museum today.
From Devin's Facebook page: "Oscar makes for a great alarm clock for waking up sleepy daughters." Heh…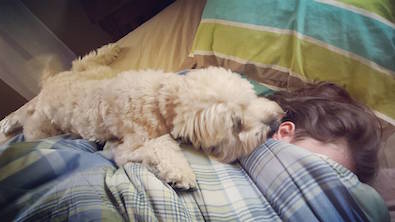 I asked Izzie how she slept. "Not long enough," she replied.
- Posted by Rich Miller 13 Comments


* NBC 5…
Chicago Public Schools can't yet say if there will be a summer school program. In the past, thousands of students have participated. But for this summer, the current website doesn't list any dates or details.
Oy. More kids in harm's way.
* According to CPS, last summer's program cost $16 million…
While the city looks to state lawmakers, the new head of the Principals Association Troy LaRaviere blames irresponsible spending.

"We have almost 40 percent more schools and only two percent more students," LaRaviere said. "Who does that? Who spends money that recklessly?"
* But did all those new schools (charter and otherwise) provide the competitive push that neighborhood schools needed? The Trib thinks so…
A scant 16 years ago, Chicago Public Schools students were just as likely to drop out of high school as they were to graduate. Half finished, half didn't. An appalling coin flip.

Today an astonishing turnaround gains steam: Almost 3 in 4 CPS students graduate, and that number is projected to rise, according to a new study from the University of Chicago Consortium on School Research. And, no, these higher rates are not the result of setting the academic bar lower, the study says.

CPS has boosted graduation rates for students of all races and income levels. That's more than a measure of success at elite and charter schools. Neighborhood schools are now close to matching the traditionally higher graduation rates at charter schools. In other words, competition works for CPS. Big time. […]

For years, graduation rates at neighborhood schools lagged charters by 10 percentage points or more. But the neighborhood schools — non-charter and non-selective enrollment schools as defined by the consortium study — have closed that gap. Critics have long complained that charters siphon off the best students, leaving neighborhood high schools to languish. But the consortium research suggests the opposite: Innovative charter competition spurs all schools to work harder and smarter, to educate students better.
The full report is here.
It would be nice to hear the governor acknowledge this very real progress.
- Posted by Rich Miller 10 Comments


* Yet another silly press release from the ILGOP…
Gary Forby Says Legislature Has "Nothing to Do"
Waiting on Orders from Mike Madigan

Despite no budget and no funding for schools or prison, Senator Gary Forby yesterday said that the legislature has nothing to do and essentially admitted he is waiting on orders from Speaker Mike Madigan.

In response to a question about Mike Madigan canceling Wednesday's planned House session, Forby responded "I think he [Madigan] thought we'd have something to do, but you know, we don't have anything to do." (45 sec)

"People are suffering right now in Illinois. Parents are rightly worried that summer school programs will be canceled and that schools may not open in time in the fall. Our prisons need funding to ensure that they continue to operate. It is outrageous that Gary Forby is waiting on orders from Mike Madigan to do anything about this. Republicans have proposed two bills to fund schools, government services, and prisons. Gary Forby should get back to work and vote on them." - Illinois Republican Party Spokesman Steven Yaffe
* First of all, can somebody please tell me how Forby's quote means he's waiting on orders from Madigan? Anybody? Bueller?
Secondly, I listened to Forby's interview. Here's what he actually said…
"I think he thought we'd have something to do, but you know, we don't have anything to do. President Cullerton said 'I'm not going to call you back until the leaders get together and come up something.'"
Forby went on to say that he believed neither Madigan nor Rauner want a budget before January.
And as far as "getting back to work," Forby also said he's in Springfield three days per week for bipartisan working group meetings. But he said the progress is so slow that it could be January before they do anything.
* Basically, this is just an attempt to pair the name "Forby" with the name "Madigan." It doesn't actually have to make sense, as long as they put those two names together and post it on the Interwebtubes for all to Google, or plant it in a "friendly" media outlet and then use it in a mailer.
- Posted by Rich Miller 17 Comments


* As we've discussed before, the governor is accusing Speaker Madigan of creating a crisis in order to leverage a budget deal (and a resulting tax hike). Madigan's path to this crisis is withholding approval of any appropriations to fund government operations. So, when Team Rauner claimed that the human services stop gap bill had "drafting errors" because the legislation didn't appropriate any money to administer programs, the HDems countered by saying they had done it deliberately.
The bill overwhelmingly passed both chambers and Madigan wants Gov. Rauner to sign it…
Madigan said of a bill that is sitting on Rauner's desk and would provide a stopgap measure to fund social services. "He refuses to sign that bill because he continues seeking a state of crisis in Illinois."

Rauner on Wednesday defended his decision not to sign that bill, saying it doesn't have "essential services in it."

"That bill is designed to still create a government crisis," Rauner said.

The measure, approved by both the Illinois House and Senate would have authorized spending about $450 million from a human services fund, and another $250 million from special funds to be spent on items such as foreclosure prevention, and affordable housing.
* Along those lines, Illinois Department of Corrections Director John Baldwin recently penned an op-ed about his agency's rapidly approaching crisis…
Without a budget, the Corrections Department will be hard pressed to continue with critical reforms that improve operations and outcomes, increase safety, and enhance programs aimed at helping offenders be successful once they return to communities across this state. Furthermore, we will be severely challenged to meet our legal obligation to provide constitutionally adequate care to the men and women in our custody who have been diagnosed with mental illness.

Lack of a balanced budget or stopgap budget will impact the department's ability to feed offenders, keep the lights on, run water and fulfill other day-to-day duties. Our vendors, including many mom-and-pop businesses, that provide food supplies, fire equipment examination services, building repair parts and maintenance services, depend on our payments. These local businesses will continue to suffer without payment and will eventually have to pull their services. That could cripple the department in a matter of days.
As subscribers know, the Rauner administration has been trying to pry loose a stopgap for DOC and some other agencies since April. No luck so far.
I figure a federal judge will probably have to step in if DOC can't feed its prisoners, or if water, sewer or lights are shut off.
- Posted by Rich Miller 27 Comments


* Let's revisit Comptroller Munger's press release from yesterday so that we can take a quick look at what could be ahead if there is no new budget…
While court orders, consent decrees and statutory authorization of some payments will continue, Munger noted that $23 billion in existing spending for schools, 911 call centers, domestic violence shelters, federally-funded social and human services and higher education will stop next month without new legislation. In addition, businesses and organizations that have signed contracts and provided services to the state this year face the very real possibility of having to go to Court to be paid in the absence of a stopgap budget. […]

Compounding Illinois' challenges, Munger noted businesses that have provided goods and services to the state in good faith in the current fiscal year will continue to go unpaid without legislation in Springfield. Typically, unpaid vendors would go before the Court of Claims to compel payment, but without an appropriation that Court is not an option. As a result, the state faces the possibility of a wave of costly lawsuits.
* The 82 social service providers which sued the state for not honoring their contracts have a court hearing next month…
Attorneys this week set a July hearing for the lawsuit, which Diana Rauner's group joined weeks after it was first filed.
* I asked the attorney general's office yesterday what happens to the St. Clair County court order regarding state employee pay when the new fiscal year begins…
The order reads: "…the court finds that this order authorizing payment is applicable to all other state employees [in addition to union members] at their normal rates of pay until further order of this court."
So, until the court revisits this topic, workers will continue to be paid after June 30th.
* But lots of other things won't get any funding if there is no budget deal by the end of the fiscal year. Back to the Munger release…
Munger highlighted four budget bills that were passed by the General Assembly and signed by the Governor that will sunset in the new fiscal year. The legislation authorized spending that included:

* $13.7 billion for K-12 education
* $3.1 billion that funded local governments, 911 call centers, domestic violence shelters, lottery winners and other programs and services
* $5.4 billion in federal spending including the Low Income Energy Assistance Program, child nutrition programs, HIV prevention and home-delivered meals for seniors
* $600 million for colleges, universities and MAP grants
Discuss.
- Posted by Rich Miller 42 Comments


* Greg Hinz…
Faced with a revolt on its board and a deal with the city to add hundreds of acres of new park spaces, leaders of Friends of the Parks are offering to drop the civic group's opposition to locating the proposed Lucas Museum of Narrative Art on the lakefront.

The action could keep the $700 million prize here and not in San Francisco or Los Angeles, where museum patron George Lucas has threatened to move it. But the facility still could face obstacles.

Friends is expected to address the situation today, but I'm told there was a contentious meeting two days ago when the group's attorney, Thomas Geoghegan, warned that the group could lose its case in court, and its board voted 12-4 to seek a negotiated settlement.

According to a source with first-hand knowledge, though group Executive Director Juanita Irizarry and Chair Lauren Moltz felt otherwise, a majority of the board is interested in negotiating a deal in which it drops its court case, which so far has blocked the museum, if the Emanuel administration agrees to provide more park space elsewhere. If the group loses the city's request for an order of mandamus in the 7th U.S. Circuit Court of Appeals, it would lose its leverage to achieve even that.
Thoughts?
*** UPDATE ***  Tribune…
"Contrary to recent reports, our board remains fully united on the preservation of our lakefront and ensuring that the public trust doctrine is not ignored," Friends of the Parks Board President Lauren Moltz and Executive Director Juanita Irizarry said in a statement. "We do believe that the Lucas Museum has a place in Chicago for all to enjoy, but not at the expense of one of our most precious public resources. We have always said we were open to discussions. Anything else you hear is rumor and speculation. We are not dropping the lawsuit." […]

"We're absolutely continuing our lawsuit, and we have no plans to drop it," said Tom Geoghegan, the group's lawyer. "We think we have a good case."

Geoghegan also said the group remains opposed to the city's alternate plans to build the museum on the site of the McCormick Place East convention center.
- Posted by Rich Miller 43 Comments


* From Senate Democratic spokesman John Patterson…
Rich,

Yesterday, the New Jersey Supreme Court ruled that the state can freeze retirees' cost-of-living adjustments.

The New Jersey Supreme Court ruled on Thursday that retired public employees do not have a contractual right to receive increasing cost-of-living adjustments, a decision that is expected to save the state billions of dollars.

Governor Chris Christie's administration suspended the COLA payments, which are tied to inflation, as part of reforms in 2011 aimed at curtailing the ballooning cost of public pensions.

I asked our pension expert Eric Madiar to weigh in.

The short answer is that the Illinois Constitution is different than the New Jersey Constitution.

Here's Eric's summary:

The New Jersey court held that because of the New Jersey Constitution the legislature lacked the power to create a binding contractually enforceable pension right. The creation of such a right was tantamount to taking on state debt in violation of the state constitution. The court stated that the legislature can only take on state debt and commit itself to the needed appropriations to fund that debt with voter approval. Since that did not occur when the pension right was passed, it was not a binding promise when the legislature enacted it.
…Adding… More from Patterson…
Eric re-read the opinion this morning and offers this addendum noting that the New Jersey court looked at what the Illinois court had done and drew a distinction between the two constitutions.

The New Jersey Supreme Court held that COLAs are not protected pension benefits and are distinct from the pension annuity that a retiree is entitled to receive under New Jersey pension law. The New Jersey court focused on the lack of clear and unmistakable statutory language conferring COLA increases as a protected pension benefit. This is unlike what occurred in Illinois where the Illinois Supreme Court found that COLAs are part of the protected benefits that cannot be unilaterally changed. Indeed, in footnote 7 of the decision, the New Jersey Supreme Court notes how the statutory system regarding COLAs in Illinois is different from New Jersey.
- Posted by Rich Miller 43 Comments


* Subscribers were told about this late last night. It's been brewing for weeks…
Rauner chief of staff Mike Zolnierowicz will vacate his government position by July 1 and act as the chief party political strategist as Republicans look to gain legislative seats and emerge from their superminority status in both chambers. The decision is expected to be announced today.

Taking his place as chief of staff is Richard Goldberg, a deputy governor of legislative affairs who in the past has had a rocky relationship with rank-and-file Democrats. Goldberg, however, has been part of recent leaders' meetings and budget discussions […]

Zolnierowicz's change is another sign that the two sides are gearing up for an all out war this November, as Republicans look to pick up seats and keep Illinois House Speaker Mike Madigan from expanding his already substantive power base. The odds are with the Democrats in November, given Illinois' makeup and election year voter tendencies typically favor Dems. However, Rauner has already dispensed $5 million to the Illinois Republican Party, in an effort to snag seats from Madigan's majority. […]

Zolnierowicz is not expected to return to his government post after the November elections, instead looking toward Rauner's reelection campaign.
The legislative Democrats have a worthy campaign foe and the Prince of Snarkness is now chief of staff.
Interesting times.
*** UPDATE ***   Greg Hinz says Governor Rauner is girding for war with his choice of Richard Goldberg as chief of staff…
Rauner aides declined to speak on the record before the announcement but say Goldberg is being unfairly slammed.

"Goldberg has been involved in budget discussions from the beginning, trying to find creative solutions to difficult issues," said one senior Rauner hand. And, as chief of staff, his role will be different from that of lobbyist, that source added.

But another conceded that, with Springfield stalemated, there is no reason not to play hardball. […]

"After 18 months, Democrats have no intention of working things out," my source said. "The speaker wants to hold schools hostage to get a higher tax rate."
- Posted by Rich Miller 104 Comments