* AP…
Gov. Bruce Rauner promised Wednesday that Republicans would outspend Democrats this fall in a GOP effort to reclaim the Illinois General Assembly.

"This year, we're going to go toe-to-toe with them," Rauner told party county chairmen at an event starting the Illinois Republican Party Governor's Day at the Illinois State Fair. Rauner said Democrats have far outspent the GOP in recent elections, but "we're going to do better than they do. You'll see the biggest ground game ever for legislative races in Illinois."

He did not mention the source of funding, but he has previously poured millions of his personal wealth into party coffers. […]

"We're going to stand against that machine and beat that machine this year," Rauner said. Democrats have their party day at the Illinois State Fair on Thursday. Democrats hold supermajorities of 71-47 in the House and 39-20 in the Senate.
* Sun-Times…
"The machine has pounded with their power in the past. They have outspent us two, three, four-to-one. Not this time. Not this time. We're going toe-to-toe — and, in fact, we're going to do better than them," Rauner said of the well-funded campaigns, which already include TV ads and mailers.

Rauner, whose own funds help to fuel his governor's campaign, continues to push on for his reforms, despite a constant battle with state Democratic leaders. Although Rauner didn't mention Madigan during the breakfast, party organizers handed out a button featuring a picture of a young Madigan which included the words" "career politician since 1971."

Rauner spoke of a state "taken over by a machine, a political machine that doesn't care about people," saying it's also taken over Chicago, the Democratic Party and the Illinois General Assembly.

"We are going to stand against that machine and we are going to beat that machine," Rauner said to cheers, saying the machine is behind job losses, lower family incomes and the highest property taxes in America.
* Tribune…
Much of the Rauner effort has been to link Democrats to Madigan, the Southwest Side Democrat who has served as speaker for 31 of the last 33 years. At the fair, Republicans distributed buttons pushing term limits with a picture of a young Madigan, calling him a "career politician since 1971." That's the year Madigan arrived in the Illinois House after serving as a delegate to the convention that resulted in the 1970 Illinois Constitution.

While attacks on Madigan haven't worked in the past, state House GOP Leader Jim Durkin, of Western Springs, said the difference this time is the governor's money.

"We have the resources to be able to really educate Illinoisans about what's happening in Illinois and what the problem is. First time we've had the resources to do it," Durkin said.

"It's either the governor and on the other side it's organized labor," he said of the campaign money race. "This is competition. We're competing with them. … It's both green."
* Rauner chanted "Term limits! Term limits! Term limits!" at the end of his speech. People were pretty hot and tired by then, so there wasn't a whole lot of energy in the crowd. Plus, the issue can't be addressed by voters until 2018 at the earliest.
Meanwhile, there's a presidential race going on, but you'd hardly know it by listening to the speakers…
.@chrisradogno is first speaker to say "trump" "Don't let people not vote" "we need votes down the ballot" pic.twitter.com/mmDe9mX8xE

— Matt Dietrich (@MattReboot) August 17, 2016
A Trump supporter protests—won't put down his Trump sign as Mark Kirk speaks at state fair. Kirk won't support Trump pic.twitter.com/WcrACYXXEJ

— Hannah Meisel (@hannahmeisel) August 17, 2016
Man who held up Trump sign in silent protest of Mark Kirk is Denis Fisher, who says he won't vote for Kirk over this pic.twitter.com/heQUR3Iagw

— Hannah Meisel (@hannahmeisel) August 17, 2016
I saw very few Trump signs at the rally today.
- Posted by Rich Miller 36 Comments


* If you were watching the Governor's Day live feed, you know that Congressman Rodney Davis called out US Sen. Dick Durbin for being a longtime politician who has helped create trillions of dollars in deficit spending at the national level. Durbin has been musing about a gubernatorial bid and this Durbin campaign e-mail will only increase the speculation…
We should be making it easier for people in this country to vote.

I honestly don't think this is a radical idea, which is why I was disappointed to see Illinois Governor Bruce Rauner veto legislation to modernize voter registration.

This bill would dramatically modernize voter registration in Illinois, adding thousands of eligible voters to the rolls and making our state's voting lists more accurate and secure. In addition, this idea would remove an obstacle for people who live far from where they need to register.

And it even included strict provisions to protect against voter fraud.

In short, there was no reason to veto this legislation, which is why I'm asking you to join me today in expressing your disappointment with Governor Rauner's action:

Tell Governor Rauner that it is unacceptable to veto modernizing voter registration in the state of Illinois by adding your name today.

I was proud to see my State Senator and good friend Andy Manar introduce this idea and happy to see it received overwhelming bipartisan support when it passed the General Assembly.

This legislation will make it easier for two million people in Illinois to vote in future elections. My hope is that the General Assembly will move quickly and overturn this shortsighted veto.

In the meantime, let's make sure that Governor Rauner hears from people like us. He needs to know that we're all going to continue fighting to make it easier for people in this country vote.

ADD YOUR NAME

Best wishes,

Dick Durbin
The e-mail's links connect to this website.
- Posted by Rich Miller 17 Comments


Illinois Comptroller Leslie Geissler Munger on Wednesday announced "No budget, no pay" legislation to ensure that the General Assembly and Governor pass an annual balanced budget, as required by the state's Constitution.

Specifically, the legislation requires a balanced budget be passed in order for the state's Constitutional Officers – and the 177 members of the General Assembly – to be paid their salary.

"I don't know of an employer that would pay someone that is not doing their job. Why should taxpayers settle for less?," Munger said. "We tell small businesses, nonprofits, hospitals, schools and others to wait in line for months for what they're owed by the state – it's unconscionable that we would prioritize politician pay and move them to the front."

Munger's announcement comes after she directed her staff in April to pay politicians – herself included – like every other state vendor. State law demands that elected officials be paid, but Munger implemented policy that required them to wait in line.

Despite pushback from her colleagues, Munger has followed the policy. She is now introducing legislation to ensure that if a balanced budget is not in place, there is no compensation for elected leaders.

She also noted that her challenger for Comptroller, Susana Mendoza, spent 10 years in the State House, voting for every one of Speaker Madigan's budgets, tax increases and pension holidays. Munger said Illinois must go in a different direction.

"I was raised in Joliet, I met my husband at U of I and raised my family in Lincolnshire," Munger said. "We love Illinois and I, like many Illinois voters, have seen enough of the machine politics that have made Susana Mendoza. Enough is enough. When I look at her record, I can't help but ask, what's the deal?"
Thoughts?
- Posted by Rich Miller 86 Comments


* Says the person who was appointed to her current office after losing a legislative race…
Comptroller Munger tells GOP bkfst that Susana Mendoza has 'used the Chicago machine to jump from office to office'

— Bernie Schoenburg (@bschoenburg) August 17, 2016
* But Munger isn't exactly wrong about Mendoza, either. Check out this Illinois Issues profile posted on the Democratic comptroller candidate's own campaign website…
She calls fellow Democrats Ed Burke, a Chicago alderman, and Illinois House Speaker Michael Madigan political mentors
Think that'll somehow find its way into the fall campaign?
- Posted by Rich Miller 20 Comments


* Tribune…
Details about the Illinois Fairgrounds Foundation were few Tuesday, beyond the large-scale goal of raising enough money to cover an estimated $180 million to repair dilapidated barns, aging sewer and electrical systems and deteriorating roadways.

Several board members have been appointed, but the group has yet to secure any pledged donors — beyond a promise by Rauner that he and wife Diana Rauner plan to kick in an unspecified sum. Diana Rauner also is spearheading private fundraising to revitalize the dilapidated governor's mansion and has said she's secured $4.5 million in pledges so far, including $1 million from herself and the governor.

As it stands, everything is on the table, including the possibility of selling naming rights to buildings, said board member John Slayton.
* The Question: Best corporate State Fair building names?
- Posted by Rich Miller 75 Comments


* Ain't gonna happen…
Rod Blagojevich and his supporters hope President Barack Obama might consider clemency for the imprisoned former governor.

"Obama certainly has the power to commute (reduce) Blagojevich's sentence and send him home to his family. The president has two daughters just like Blagojevich and he may have some compassion for him," says Leonard Goodman, the defense attorney handling the former governor's appeal of his 2011 corruption conviction.

An online petition asks Obama to grant clemency to the imprisoned former governor. It needs 100,000 signatures by Sept. 9 in order to get the White House's attention. It has 969 signatures as of Tuesday afternoon. The petition, whose creator is identified only as "A.G.," was put on the White House's "We the People" website. […]

"I think he deserved some kind of pardon or diminished sentence, but I don't think there's any likelihood that will happen. There are a lot of people out there with much more compelling problems," says Ed Genson, Chicago's dean of criminal defense attorneys. […]

"The focus of President Obama's clemency attention has been on drug offenders and cases of (pardoning) people who have been long out of prison and who are dealing with the adverse effects of having a conviction," [Margaret Love, a D.C. attorney who specializes in executive clemency issues] says, adding it would be unlikely for Obama "to do anything so unpredictable" as to pardon Blagojevich.
No way is this gonna happen. No way.
Blagojevich and Obama were never close. In fact, Rod left the 2004 Democratic National Convention in a huff because Obama was getting all the media attention. Rod saw himself as Illinois' rising star, and he never got over the fact that Obama was the one who caught lightning in a bottle. Obama, for his part, mostly kept his distance from Blagojevich. They did share a fundraiser (Tony Rezko), but there wasn't any other significant overlap to my recollection, so the former governor has nobody with strong Obama connections to make his case. And their families weren't close, so Obama wouldn't have a personal feel for their current pain.
Also, Blagojevich was initially convicted of trying to sell Obama's US Senate seat. A commutation or pardon would be seen by many tinfoil hat types as an admission that Obama was somehow in on it.
Not to mention that US District Judge James Zagel did a pretty good job the other day of explaining why Blagojevich didn't deserve a reduction in his sentence.
And then there's the pathetic response to the online petition.
Nope.
- Posted by Rich Miller 23 Comments


* SJ-R…
Gov. Bruce Rauner was among a group of buyers who paid $104,000 Tuesday for the Grand Champion Steer, besting the previous Illinois State Fair record of $100,000.

The steer was shown by Lucas Wisnefski, 18, of Wyoming, Illinois. Speaking to reporters afterward, Wisnefski explained his formula for success.

"It's hard work and dedication," he said. "Always try to work the hardest you can." […]

The previous record paid for a champion steer was two years ago. Last year, it brought $62,000, and then was resold for another $12,000. Wisnefski's steer was bought by Bruce and Diana Rauner and a group calling itself Friends of the Exhibitor (Wisnefski).

The governor wasn't available for comment after the sale.
* Tribune…
Congratulations to Gov. Bruce Rauner — the Usain Bolt of buying expensive cattle at the Illinois State Fair — who on Tuesday night became the proud owner of a $104,000 steer. […]

Wearing blue jeans, cowboy boots and a red and blue plaid shirt, Rauner confidently fended off rival bidders to scoop up a 1,324-pound cross-breed named "David L."

Just as Bolt celebrated before the crowd in Rio de Janeiro on Sunday night with his trademark "lightning" pose, the governor acknowledged the audience at the state fairgrounds in Springfield with his trademark "thumbs up" gesture.

Rauner got a big cheer for setting a new record at the charity auction, which benefits 4-H clubs and the Illinois Future Farmers of America.
- Posted by Rich Miller 26 Comments


* Press release from Wind on the Wires, a group which advocates for wind power…
Illinois Governor Bruce Rauner signed legislation Tuesday that will ensure the state's rural communities continue to receive tens of millions in annual property tax revenue from wind farms.

Senate Bill 2612, sponsored by Senator Dave Koehler (D-Peoria) and Rep. Tom Demmer (R-Rochelle), extends a sunset provision in an existing law that is scheduled to expire at the end of 2016. The tax revenue from Illinois wind farms injects millions of dollars into local coffers for rural schools, roads, and other government services.

Illinois' existing wind projects provide over $30 million in annual property tax revenue to local communities, according to a July 2016 study by the Center for Renewable Energy at Illinois State University. The state ranks fifth in the nation for installed wind capacity, and is leading the way for clean energy job growth in the Midwest, according to a recent study by Clean Energy Trust.

"Business stability for wind farm operators is an issue on which both sides of the aisle can agree," said Kevin Borgia, public policy manager at Wind on the Wires. "We applaud Sen. Koehler and Rep. Demmer for forging unanimous, bipartisan support for the legislation."

"Extending this provision will ensure that rural Illinois communities will continue to benefit from tax revenue generated by wind farms for years to come," Borgia added.

The bill is not a tax break, it simply extends the sunset on existing law governing the amount of local property taxes that wind farms will pay to local governments. This revenue is increasingly important for rural counties amidst ongoing budget stalemate at the state capitol.
* Rep. Demmer…
Legislation passed by State Representative Tom Demmer (R-Dixon) to extend the process by which wind energy devices are assessed for property taxes, providing stability for both the industry and local taxing districts was signed into law by Governor Rauner on Tuesday.

"I am glad to deliver a stable, predictable method that both local government and wind energy developers can use for the next five years," said Rep. Demmer. "This helps communities and businesses plan for the future. That is good for taxpayers and good for wind energy employees."

Prior to the Governor's enactment of Rep. Demmer's legislation, the assessment process for wind energy devices was scheduled to sunset in tax year 2016. Under the terms of the legislation, the assessment process will be extended five years, until 2021.

Wendy Ryerson, Chief County Assessment Officer for Lee County and past president of the Illinois Chief County Assessment Officers Association, reacted the passage of SB 2612 in May by stating, "the continuation of the state-wide assessment standard provided by SB 2612 offers stability for taxing districts and wind project owners, and gives assessment officials a proven methodology to follow. It is a win-win for everyone."

Rep. Demmer's legislation was supported by the Illinois County Assessment Officers Association, the Fair Assessment Information Resources Committee, and the Illinois Farm Bureau.
- Posted by Rich Miller 13 Comments


* From the twitters…
The good morning gift Illinois Republicans are receiving upon entering the party pre-fair gathering. #TermLimits pic.twitter.com/hEzxQZuryA

— Amanda Vinicky (@AmandaVinicky) August 17, 2016
…Adding… An ILGOP press release "explains" the button…
The seasons come and go, but not Mike Madigan – he's been a career politician for 45 years and the Illinois House Speaker for over 30 years.

No wonder Madigan has stonewalled every legislative and citizen attempt to get a term limits referendum on the ballot.

In Mike Madigan's mind, term limits exist – he only enforces them when his minions fall out of his good graces. The politicians he controls are churned through his Chicago Machine and propped up by his rigged system of special interest cash and gerrymandered districts.

IT'S NO SURPRISE THAT MADIGAN OPPOSES TERM LIMITS
HE'S MADE MILLIONS OF DOLLARS OFF HIS SPEAKERSHIP AND HIS POLITICALLY-CONNECTED LAW FIRM

Mike Madigan's law firm – Madigan & Getzendanner – handles property tax appeals for some of Chicago's most expensive properties3.

When wealthy Chicago property owners need to save money on their property taxes, they turn to Madigan, and Madigan turns to Cook County Assessor Joe Berrios, Chairman of the Cook County Democratic Party and longtime ally of Madigan, for favorable property tax appeals.

In 2013, Madigan's firm secured $10 million in property tax tax refunds and shaved $18 million off property valuations for clients.

Madigan has said that his annual income has topped $1 million, in addition to his $95,000 salary as Speaker of the House, but he refuses to reveal his net worth or release his tax returns.

Mike Madigan has eliminated any ethical boundaries between his private business dealings and his public capacity as Speaker – Madigan is using his political clout for personal financial gain. Now more than ever, Illinois needs term limits to put an end to Madigan's rigged system and his Chicago Political Machine.
- Posted by Rich Miller 55 Comments


* Bernie interviewed US Sen. Mark Kirk…
Asked if he has considered becoming an independent, given his policy differences with some in his party, Kirk said, "In the case of Illinois, the Democratic Party is largely a party of SEIU," which is short for Service Employees International Union.

"The SEIU is so corrupt," he said. "The problem is the big unions are already running the state. They'll run it just like the big unions have run Puerto Rico. … And I think it's incumbent upon me as a leader of this community to make sure we have fiscally conservative decisions to make sure we have enough money for roads and prisons and schools. We gotta protect the people of Illinois from the fate of the people of Puerto Rico or Greece."
* More…
Kirk also said he has been "all over the map" on who he would support for president, but returned Tuesday to saying he plans to write in former CIA director and retired U.S. Army general David Petraeus, who pleaded guilty to mishandling classified information.

As for the Petraeus guilty plea, Kirk said, "My worry is that he was always seen as a potential rival to the president. I think they went too hard on him."
In case you lost track, Kirk started out backing Trump, then went to Petraeus, then dumped him for Colin Powell and now he's back with Petraeus.
Kirk also told Bernie he "largely" likes Gov. Rauner's Turnaround Agenda.
- Posted by Rich Miller 20 Comments


* Pearson…
The schedule says Governor's Day, also known as Republican Day, but make no mistake: It's Gov. Bruce Rauner's day at the Illinois State Fair. […]

Rauner has remade the Republican Party in Illinois, using his wealth and that of his friends to provide campaign resources unlike anything the state GOP has ever seen.

Rauner has provided the state party organization with more than $10 million from his campaign fund for this election cycle. That, in turn, has allowed the state GOP to move huge sums of cash to the legislative campaign arms of state House and Senate Republicans.

Much of that money has been turned into cable TV ads and mailers backing Republicans challenging targeted Democratic incumbents in the suburbs and Downstate, most often seeking to connect the officeholders with Rauner's chief nemesis, longtime House Speaker Michael Madigan, who chairs the state Democratic Party.
* Some of today's focus, I'm told, will be on US Sen. Dick Durbin, who's been openly mulling a run against Rauner in 2018, including when he was at a Metro East event with Rauner just the other day.
"I think you're going to see folks address [Durbin] in their remarks today and it will be part of a larger effort over the course of the next few months as long as he's considering," said a Rauner insider this morning. "He's had a free pass in the press in our view."
The insider said Durbin has "Mountains of baggage," adding, "He's screwed up DC for over 30 years and thinks he's qualified to fix the state? What a joke. And, oh, by the way - he embarked on this navel gazing exercise about whether to run by first kissing Mike Madigan's ring."
Mess with the bull…
- Posted by Rich Miller 54 Comments


* From the twitters…
.@GovRauner's BBQ is 2nite: While he feeds fat cats, we've been raked over the coals. #FreeBuddy #ilbudgetnow #twill pic.twitter.com/NnuseJygbg

— Buddy the Budget (@BuddytheBudget) August 16, 2016
* Press release…
Buddy the Budget is the fully funded budget Illinois needs, but who Governor Rauner has held hostage to his extreme agenda for more than year.

Buddy the Budget and social service, faith, and labor leaders will gather outside a $150 a plate BBQ fundraiser in Springfield this evening to free Buddy. Families across Illinois are hoping Governor Rauner will set the state budget free so children, students, seniors, people with disabilities, and working families get the services they need to get ahead.

What: Buddy the Budget and social services allies will ask Governor to sign a fully funded budget

Where: Outside Governor Rauner's BBQ fundraiser at the Illinois Association of Realtors
522 S. 5th Street, Springfield

When: Tuesday, Aug. 16th 5:00 p.m.

Visuals: Buddy the Budget, signs

Buddy the Budget will be accompanied by her spokesperson Megen Rose and is available for media interviews.

Buddy the Budget is supported by a grassroots coalition of social service, and community, and worker's organizations fed up with Governor's failure to secure a budget for the State of Illinois.
I asked which groups are in the coalition and was told that the Chicago Metropolitan Battered Women's Network "and all its members" are part of it as well as the Faith Coalition for the Common Good. "We're just getting off the ground."
- Posted by Rich Miller 77 Comments


While U.S. Senator Mark Kirk is running ads criticizing GOP presidential nominee Donald Trump and Congressman Adam Kinzinger (IL-16) continues to refrain from voicing support for Trump, GOP Congressman Rodney Davis (R-13) signed onto the Trump campaign's new agricultural advisory committee.

Davis, who is serving his Congressional second term, is a member of the U.S. House Agriculture committee and Subcommittee Chair of the Bio Tech Committee.

The formation of the board represents Trump's endorsement of these individuals' diverse skill sets and ideas that can improve the lives of those in agricultural communities, a campaign statement said Tuesday.

Mr. Trump said, "The members of my agricultural advisory committee represent the best that America can offer to help serve agricultural communities. Many of these officials have been elected by their communities to solve the issues that impact our rural areas every day. I'm very proud to stand with these men and women, and look forward to serving those who serve all Americans from the White House."
Davis has only token opposition in the general election. That district of his is loaded with college campuses and Trump's numbers are absolutely horrible with young people. So if the Democrats had recruited a decent candidate, the incumbent may not have been able to stick his neck out this far.
- Posted by Rich Miller 18 Comments


Sent: Monday, August 15, 2016 20:26
To: HFS.SendAll
Subject: Health Benefits Update from John Terranova

Dear Colleagues,

Many of you have questions about the State's health insurance proposal. That is understandable, as health insurance is a very important topic that affects us all. Indeed, like you, I participate in the very same health insurance program, so frequently have many of the same questions. Would I be able to continue paying the same premium I am paying now? How much would it cost to obtain basic services like immunizations and vaccines? What would be the most that I have to pay out of pocket in any given year?

To answer these and other questions, I sat down with a knowledgeable colleague, Teresa Flesch, who serves as the Assistant Deputy Director in the CMS Bureau of Benefits. Teresa is a terrific source of knowledge about health insurance benefits, and what resulted from my conversation with her is a very informative and short video that you can access by clicking here. Teresa and I believe you will find the video useful and recommend that you find five minutes to watch it.

As always, if you have more questions, please do not hesitate to reach out to me and my colleagues in CMS Labor Relations, or submit questions through the FAQ website.

Yours,
JT
John Terranova
Deputy Director
Office of Labor Relations
Department of Central Management Services
* I asked AFSCME for a response…
Rich,

This latest video from the Rauner Administration is riddled with misstatements, omissions and outright falsehoods—not unlike all of its communications related to the state contract.

To be clear, despite our repeated information requests across the bargaining table dating back nearly a year, the Rauner Administration has refused to provide AFSCME with its proposed health plan summaries containing the level of detail discussed in this video. As a result we cannot independently analyze the validity of some of these claims.

That said, under the terms the Rauner Administration had on the table when it walked away from negotiations back in January, for an employee to keep their current plan—same doctors, same coverage and same co-pays and other out-of-pocket costs—premiums would double in the first year the plan is implemented, and could continue to go up another 10% per year after that.

Those premium increases would cost the average worker some $10,000 over the term of the contract. Since Rauner is also demanding a four-year wage freeze, that's effectively a $10,000 pay cut for the typical employee.

The Administration claims it would offer a choice of other plans, including ones at current premium levels. But employees would likely pay sharply higher co-pays, deductibles and other out-of-pocket costs under those plans. In essence, here the Rauner Administration is telling workers who can't afford higher premiums to simply hope they don't get sick.

What the Rauner Administration never admits is that its overall demand is for workers to pay 67% more of the cost of health care in the aggregate. Their vaunted "choice" for employees is whether to bear those vastly higher costs in the form of premiums or co-pays, deductibles and other out-of-pocket costs.

The AFSCME bargaining committee has made clear its willingness to moderate increases in employee health costs. But there is no justification for the radical cost-shifting demanded by the Rauner Administration. The overall value of the state health plan is now about average among the states. The Rauner Administration's demands would drop Illinois to the bottom five worst state health plans in the nation.

Just two examples of this video's misleading claims and omissions:

* The section from 1:23-1:40 discusses certain plan options that may offer the same coverage at the same premiums as today—but doesn't disclose until a later section the vastly higher co-pays, deductibles and other out-of-pocket costs that would be imposed under these options.

* The section beginning at 1:55 discusses preventive care, noting that "many of the most common services would be free". The implication is that the Rauner Administration is somehow due credit for this, or that it's offering free services out of kindness. The reality is that every health plan is required by federal law—President Obama's Affordable Care Act—to provide these preventive services free of charge.

It's also worth noting that it's not only the 38,000 AFSCME-represented state employees who would be affected by the Rauner Administration's demands. These demands would be imposed on all the more than 360,000 people covered by the state group health plan, including all active and retired state employees, active and retired university employees, and their spouses and dependent children.

Misleading communications—including videos like this one—are intended to confuse employees. It's a disservice to workers and to the collective bargaining process for the administration to cherry-pick information in this manner instead of providing the complete proposed plan summaries to our union. This type of misinformation is even more troubling when public taxpayer resources are being expended to produce and disseminate it, and when public employees are being subjected to it on the job.

Many state employees feel these videos and emails are inappropriate and unethical. State workers have tough and important jobs to do, serving their communities. When they're at work they want to focus on their service, not be distracted and harassed on the job by the Rauner Administration's anti-union misinformation campaign.

I hope this information is helpful.

Martha Merrill
Director of Employee Benefits
AFSCME Council 31
- Posted by Rich Miller 33 Comments


* Governor Rauner has often said, "I can't find a year when we've had a balanced budget in Illinois."
He may not be wrong. From Thomas Walstrum, a business economist at the Federal Reserve Bank of Chicago…
Illinois's fiscal crisis has been a long time coming. From the late 1980s on, Illinois has spent more than it has collected in revenues. And while the typical U.S. state has also generally spent more than it has collected, Illinois's overspending has outpaced the national average since the mid-1990s, primarily through pension spending. How could Illinois get away with this for so long when it is required by law to have a balanced budget? Over the years, lawmakers used a variety of techniques to put off paying the bills, including underpaying into the pension systems. Such techniques can work for only so long, and Illinois is now coming to terms with over 20 years of poor fiscal performance.
* Drill down a bit…
Figure 3… shows that starting in the mid-1990s, Illinois began spending a greater percentage of its revenues than the average U.S. state. In addition, since the late 1980s, Illinois has been spending more than 100% of its revenues, meaning it hasn't had a truly balanced budget for well over two decades and has been accumulating debt.
* Figure 3…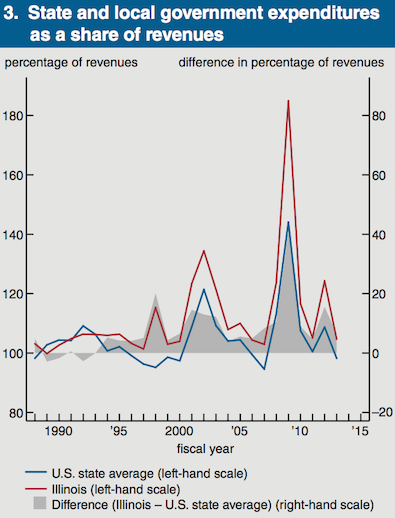 Keep in mind that the difference between spending and revenues in Illinois shot way back up in Fiscal Year 2015 and 2016 because of the partial expiration of the income tax hike without many cuts.
* OK, back to the narrative…
How, specifically, has Illinois overspent relative to its revenues? To shed light on this question, I look at expenditures by category, as classified by the Census Bureau, for Illinois versus the average U.S. state during FY1994–2010 (Illinois's overspending became markedly higher than that of the typical U.S. state in FY1994, and Illinois raised taxes in FY2011). For those 17 years, I calculate the average of yearly expenditures as a percentage of total revenues. Figure 4 shows that over those years, Illinois's spending averaged 115.9% of its revenues compared with 105.7% for the typical U.S. state.

Thus, while spending outstripped revenues for both Illinois and the typical state during this span, Illinois overspent by much more (10.2 percentage points). The top two categories on which Illinois spent more were the change in pension liabilities (4.6 percentage points more) and employee retirement (2.8 percentage points more). Pension-related spending, then, makes up almost three-quarters of the difference between Illinois's spending and that of the typical state.

Illinois also spent 1.3 percentage points more of its revenues on general debt interest than the average state—a sign that Illinois was accumulating debt outside of its pension system as well.
* Figure 4…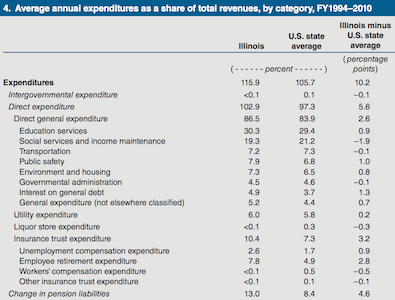 And, again, keep in mind that this doesn't take into account our current fiscal nightmare.
- Posted by Rich Miller 15 Comments


* Press release…
In response to an immediate need for solutions that will decrease the number shootings in the City of Chicago, State Representative Sonya Harper, D­Chicago, will hold a press conference to announce the introduction of a bill that will require the stamping of serial numbers on all ammunition sold in the state of Illinois. The press conference will be held on Tuesday, August 30, 2016 at US Bank, 815 W. 63rd St., 4th Floor Community Room, Chicago, IL, from 10am to 11am CT.

"Since we are having such a hard time tracking the flow of illegal guns into our communities, let's start tracking the bullets." Harper said. "More than 2,600 people have been shot in City of Chicago so far this year, many of them children in my own community. Being able to track fired bullets directly back to the seller will help law enforcement agencies target those who are distributing ammunition illegally."

Attendees will have the opportunity to ask Representative Harper questions about the proposed legislation. Joining Harper will be national security analyst Dimitri Roberts and CEO of Ammo Coding Systems, Dr. Matt Harrington. Roberts will explain the practicality and possible timing of implementing the solution that will result from passing the bill. Dr. Harrington will be on hand to address the technical aspects of this legislation and how the tracking systems works and can result in decreased homicide rates.

"Ammo Coding Systems exists to track ammunition from creation to the point of sale, leaving a precise footprint of everywhere the ammunition travels," said Dr. Matt Harrington. "By implementing this system that identifies individuals, who illegally sell weapons that sensibly take lives, will ultimately and quickly save lives."
Thoughts?
- Posted by Rich Miller 47 Comments


* Tribune…
Chicago police officers' emails discussing the Laquan McDonald shooting can't be kept secret even though they were transmitted privately, a state official has decreed in what open-records advocates say is a solid step toward transparency on an issue that has roiled Illinois and reached as high as Hillary Clinton's presidential campaign.

The binding opinion last week by Democratic Attorney General Lisa Madigan follows quickly on a May Cook County Circuit Court ruling that Chicago Mayor Rahm Emanuel's emails about separate issues aren't automatically exempt from disclosure even though sent on private devices.

The opinion has the force of law, requiring the police to search officers' private accounts and turn over relevant emails — although the police department can ask a judge to overturn it. The dictum also fuels an ongoing national debate about access to discussions of public business on privately held cellphones and computers under decades-old disclosure laws which didn't anticipate such an explosion of electronic communication. […]

"This binding opinion will hopefully make clear that public employees cannot evade FOIA by using private devices when conducting public business," said John Costello, a Chicago public-access lawyer.
* This was the Chicago Police Department's original defense…
Because the communications sought, if any exist, would have been prepared by or sent to individual officers and employees rather than the City, they are not communications "prepared by or for" a public body. And because the communications would not be stored on a City server or account, they cannot be "used by," were not "received by," and are not "in the possession of, or under the control of," a public body. Thus, the requested communications, if any, do not fall within the FOIA' s definition of a "public record" and are not subject to production under the Act.
* The attorney general's retort…
When an individual public employee such as a CPD officer acts in an official capacity, he or she transacts public business as a member of a municipal police department, which clearly is a public body subject to the requirements of FOIA. CPD's interpretation would undercut the principle that public bodies act through their employees, by excluding from the definition of "public records" communications sent or received by employees of a public body on personal devices or accounts, regardless of whether the communications pertain to the transaction of public business. Such an interpretation erroneously focuses not on the content of a communication but on the method by which it is transmitted.
There's lots more, including a mandate to search e-mails more broadly. So, go read the whole thing if this subject interests you.
- Posted by Rich Miller 40 Comments


* Tribune…
Citizens to Protect Transportation Funding is launching its public education campaign seeking support for a proposed state constitutional amendment to put state transportation spending in a "lockbox," safe from other uses.

The group is a coalition of business, labor and construction groups, and it has raised almost $1.2 million for its push for what it calls the "safe roads amendment," which voters will face on the Nov. 8 ballot.

The group has launched a website and will be following up its campaign with television and radio advertising. It contends the amendment to keep transportation funds from being swept for other government uses will mean "safer roads, a stronger economy and is the only way to hold Springfield accountable for future spending."
* Greg Hinz…
But equally interesting is the list of political and legal hotshots steering the effort on behalf of the proposed constitutional amendment. Included: former Rauner chief of staff Mike Zolnierowicz, top Democratic strategist Eric Adelstein and Eric Madiar, former chief counsel to Illinois Senate President John Cullerton.

None of those figures would be involved without approval from bigger pols. And, since Speaker Mike Madigan's House voted to put the "safe roads" amendment on the ballot, the speaker apparently is aboard, too.

"If you look at the vote in the General Assembly, it was nearly unanimous," says Zolnierowicz. "This is an area on which people agree."

The amendment specifically would mandate that all money that goes into the road fund be used for transportation needs—in a lockbox of sorts. And through the "road fund," public transit in the Chicago area traditionally has received a fair-sized cut of annual fund spending.

The fund has been starved for cash lately—in part because state gasoline and license taxes and fees have been frozen for so long and in part because of what the group says have been $6.8 billion in diversions to other state needs over the past 12 years; $500 million was siphoned off just last year.
Those staff meetings must be fascinating.
- Posted by Rich Miller 25 Comments


* This is a good idea. We have a lot of large agribusiness interests in this state which haven't stepped up to back the Illinois State Fair. And the facilities could certainly use a sprucing up, to say the least…
Governor Bruce Rauner today, on Agricultural Day at the Illinois State Fair, applauded the launch of a new not-for-profit, Illinois Fairgrounds Foundation, to emphasize capital improvements at the Springfield and Du Quoin fairgrounds.

"The State Fair is the best place for Illinois to show off its products and accomplishments, and to ensure we can continue to do that, so that our children and grandchildren can continue on with this same tradition, we must preserve the State Fair experience and the legacy of its entertainment for generations to come," said Governor Rauner. "A foundation is the best way to ensure that the fairgrounds get the upgrades and renovations necessary for these important assets. And it allows the fairgrounds to be less reliant on state money while putting no additional costs on the taxpayers. This is a win for taxpayers and the agricultural community as a whole."

The Illinois State Fairgrounds in Springfield includes more than 170 buildings spanning 360 acres of land, with buildings as old as 124 years. The Du Quoin State Fairgrounds includes more than 20 buildings spread across more than 1,200 acres of land, with buildings as old as 93 years. Many of the buildings on both fairgrounds are in dire need of restoration, including paint, plumbing, roofing, and structural repairs. Combined, the fairgrounds carry $180 million in deferred maintenance costs.

"As a life-long Springfield resident, I've had a front row seat to the deterioration of our state fairgrounds," said Dept. of Agriculture Director Raymond Poe. "Years and years of deferred maintenance has taken a toll on our fairgrounds. The facilities in Springfield and Du Quoin are used 365 days a year, not just the 11 days of each fair. We need to stop ignoring these problems and start planning for the future."

Leaders in the agricultural community established the Illinois Fairgrounds Foundation to promote, support, assist, and sustain the Springfield and Du Quoin State Fairgrounds. The foundation will be led by a volunteer board representing a diverse cross section of the agriculture industry. Board members will engage with private sector business organizations and individuals to develop strategies to raise private funding, coordinate with the Department of Agriculture to plan projects and determine the Fairgrounds' needs, and serve as ambassadors for the revitalization and improvement of the Fairgrounds and their agricultural heritage.

"I have had the privilege of working with Illinois companies and Illinois agri-businesses that support Illinois agriculture," said board member John Slayton. "Over the years, these companies have contributed large chunks of money to help our youth exhibitors through the Governor's Sale of Champions. There are companies in Illinois who are passionate about our state, our state's number one industry, and our state fairs. Many of these companies currently donate to state fairs in other states because these states possess a vehicle to accept such donations. Now, with the Illinois Fairgrounds Foundation, we can keep Illinois dollars in Illinois supporting Illinois agriculture."

"In past administrations the maintenance of the fairgrounds has been neglected, resulting in tens of millions of dollars in unmet infrastructure needs in Springfield and Du Quoin. I am pleased the agriculture community has created a foundation that will enable our private sector partners to help modernize and restore the greatness of these facilities," said State Sen. Bill Brady (R-Bloomington).

"I fully support the Illinois Fairgrounds Foundation and its mission to raise private funds to help improve the infrastructure as well as promote the fairgrounds," said State Rep. Tim Butler (R- Springfield). "I anticipate the foundation will prove beneficial to the taxpayers, Springfield and the State."
…Adding… As if on cue…
A power outage has hit the Illinois State Fairgrounds in Springfield even as cleanup continues from days of heavy rains.

"We do have some buildings and tents without power," spokeswoman Rebecca Clark said in an email Tuesday. "Not all buildings are impacted. We are working to restore power."
- Posted by Rich Miller 23 Comments


* Interviewing Speaker Madigan's press secretary isn't ever an easy task because he's done this so many times before and his motto is: Just because they ask a question doesn't mean you have to answer it.
But Dan Proft gave it a go and posted the video online. Kudos to both for doing this, but check out this exchange at the 10:30 mark…
Proft: After 30 years at the helm, do you think Mike Madigan has any regrets about political or policy choices given where Illinois finds itself?

Brown: I'm sure he probably does. I don't think I've ever had that conversation with him, so I wouldn't be able to enumerate. But I can't imagine that he stands here today and thinks that everything was terrific all along, given some of the things that have gone on.
* The full interview…
* The Question: Speaker Madigan's greatest single mistake?
- Posted by Rich Miller 39 Comments


* Amanda Vinicky talked to House Speaker Michael Madigan about Republican calls for embattled Auditor General Frank Mautino to resign…
"It's understandable that the Republicans, as they will do, are attempting to make different political issues. I understand that. They ought to look at their own house though. They seem to have some problems inside their own house and they ought to work on that," longtime Illinois House Speaker, Democrat Michael Madigan, said recently in an interview with public radio.

"I think it's appropriate that there would be an inquiry, which is happening. Certain issues have been raised. Frank Mautino has been responding to those issues. He will continue to respond to those issues," Madigan said. "My expectation is that at the end of the day, after there's been a full inquiry, and a full level of knowledge as to what happened, that Frank will be vindicated, and he'll continue to serve as the auditor general."
- Posted by Rich Miller 29 Comments


* Mark Brown…
Illinois social services agencies have struggled for the past year to communicate the message that state spending cuts are more than just a problem for poor people in Chicago and the Democrats who represent them.

Now they've got some new data to back it up.

Illinois Partners for Human Service, a group of 850 organizations operating in the state, released Monday an interactive online "Heat Map" to identify the specific effects of state spending reductions.

Instead of relying on anecdotal stories to make its case, the group crunched information provided by the state Department of Human Services and Department on Aging to calculate the impact by county and state legislative district.

Judith Geithner, the organization's executive director, said the numbers show that the fallout from the spending cuts has been "totally bipartisan" with losses landing on suburban and Downstate areas represented by Republicans as well as the Democratic areas more commonly associated with social service needs. […]

For example, one of the biggest hits from the Department on Aging's spending reductions was in the district of Sen. Matt Murphy, R-Palatine. Murphy, who announced his resignation last week, saw his district experience a steep $54 million drop in spending by the department — or 41 percent — from 2015.
There's one caveat about this study. Spending is based on "the location of the headquarters of the organization receiving the payments, not where the services were necessarily performed." Even so, it's good stuff. Click here to see the data.
- Posted by Rich Miller 25 Comments


* The governor's office sent another statement yesterday about Rauner's Friday veto of the automatic voter registration bill. I asked Abe Scarr from Illinois PIRG to respond point by point and his comments are indented and in italics…
The National Voter Registration Act lays out three specific requirements for voter registration at driver's licenses facilities (DMVs). Each voter registration application must "(i) state each eligibility requirement (including citizenship); (ii) contain an attestation that the applicant meets each such requirement; and (iii) require the signature of the applicant, under penalty of perjury" (42 USC 1973gg-3(c)(2)(C)).

Under SB 250, a driver is given a choice to register at the DMV. If the driver declines, the Secretary of State is directed to process the voter registration application anyway – "regardless of whether or not the individual attested to his or her eligibility to register to vote." In that case, how will the driver attest to meeting the requirements to vote or sign the application under penalty of perjury?

Federal law does not require an attestation at the DMV. It requires the opportunity to attest. If the individual does not attest in this circumstance, they will only be registered if they have shown documentary evidence of their eligibility.

During discussions, proponents indicated that the Secretary of State will post a copy of the eligibility requirements at the facility, and that those requirements will be stated in a "script" used by DMV employees. That is not adequate to protect our election system and falls short of the basic requirements of the NVRA.

That is not quite right. Individuals will be directly provided with the eligibility requirements in writing as part of their interaction. This fulfills the requirements of the NVRA.

An individual who does not attest at the DMV will -only- be registered if they provided documentary evidence of their eligibility. And if they attest but show documentary evidence of their ineligibility, they will not be registered. This is more secure than our current system. In fact, two of the three examples of non-citizens being accidentally registered at the DMV would have been prevented were the provisions of SB250 in place.

SB 250 also requires the source agencies (e.g. the Secretary of State, Department of Healthcare and Family Services, Department of Human Services, Department on Aging, and Department of Employment Security) to share citizenship information with the State Board of Elections to enable the State Board to screen the data for noncitizens.

This is inaccurate. SB250 only requires this of the SOS -not the other sources agencies. SB250 was written with a different process for SOS and for other agencies. The other (non-dmv) agencies would only pass along applications for individuals who do attest to their eligibility, and does not require those agencies to share records of citizenship information shown.

The bill provides: "After each transaction, the agency shall electronically transfer to the State Board of Elections personal information relevant to voter registration, including all records of documents relating to identity, address, and citizenship." The State Board is then tasked with screening the registrations and removing any noncitizens.

This is true for SOS, not other agencies.

But various federal laws prohibit this information sharing. For example, HFS advised us that federal Medicaid rules and data sharing agreements prohibit HFS from sharing this data with the State Board. For that reason, we suggested that agencies filter the data before sharing with the State Board of Elections. Proponents indicated that this was their preferred course originally, but that they modified the draft of the bill because the Secretary of State did not want to conduct this screening.

This is correct - we did originally propose that the screening occur at the source agencies. And we are OK in principle with this process — which should be easier now at the DMV because of changes made as part of real ID.

Proponents note that five other states have moved to automatic voter registration, but those states provide additional protections that SB 250 does not. For example, the Oregon DMV screens its records and processes automatic voter registrations only for persons for whom the DMV has verified citizenship; and voters are required to attest to meeting the qualifications to vote at the time of voting. In California, a person must attest to meeting the qualifications to vote at the DMV and may opt-out. SB 250 does not incorporate these protections.

In private discussions, proponents have conceded that the bill does not clearly reflect the process they envisioned. We appreciate that they are willing to make many of the changes that we believe are necessary. For that reason, the Governor remains willing to work with them to pass a bill later this year that accomplishes their goals, expands voting opportunities, and protects the integrity of our voting system.

Because we wrote the bill in an open process that included input from impacted agencies and legislative leaders from both parties, and because we made tweaks as we went, portions of the legislative language are not as clean as if we started from scratch. That's how this sausage was made. The bill does reflect the process we envision.
* More from Scarr…
The bill treats Drivers Services and other agencies differently. Drivers Services is the only agency that would share the data for all individuals (besides TVDL applicants). Beyond the basic information they already share with the State Board for voter registration applications, they would also share a record of what specific documentation the individual presented in getting their driver's license or state ID. That would allow the state board to "screen" that data and pass along applications to local election officials of those who have documented they are eligible, and not pass along information for those that have documented they are ineligible.

Other agencies would only share data for individuals who do affirm their qualifications while interacting with the agency. We wrote the bill to not have the same data sharing and screening process at the other agencies a) to fully comply with the NVRA which requires a yes/no question at those agencies b) because many agencies lack the relevant data, which would make the process inefficient.

So yes it is true that federal law does limit what information some agencies can share, but that is irrelevant as the bill does not ask them to share that information.
* Related…
* Orr denounces Rauner veto of automatic voter registration

* Democrats, advocates blast Rauner veto of automatic voter registration bill

* Democrats Slam Rauner For Veto Of Automatic Voter Registration

* Proponents of automatic voter registration sound off after Rauner veto

* Rauner veto of automatic voter registration bill sparks outrage

* Rauner, Democrats in major fight over voter rules

* Editorial: Soooo embarrassed by public disclosures
- Posted by Rich Miller 28 Comments


[The following is a paid advertisement.]
Last week, the Independent Map Amendment presented its final brief to the Illinois Supreme Court. In this brief, attorneys for Independent Maps argued that the lower court ruling against the redistricting reform amendment is contrary to both the intent of the 1970 Constitution and the plain language of the constitution's provision allowing voters to propose amendments.
Independent Maps citied the record from the 1970 Constitutional Convention, which shows that the delegates who drafted and approved the initiative provision regarded redistricting as one of the "critical areas" the initiative process was intended to address because legislators are unlikely to propose needed reforms on their own.
A delegate to the 1970 Convention also weighed in with an Op-Ed in the Chicago Sun-Times earlier this week. Here's what he had to say:

The 1970 Constitutional Convention intended the initiative provision to open up the redistricting process and provide a way for citizens to act directly in proposing a specific constitutional amendment for voters' ratification.
The Illinois Supreme Court should reject the numerous technical objections conjured up against this initiative by self-interested advocates and allow the voters to give the proposal and up or down vote in November.
- Posted by Advertising Department Comments Off


* This e-mail was received by a public schools official…
From: Christina Hibbert
Sent: Friday, August 12, 2016 2:33 PM
Subject: State Fair invite

Good afternoon,

My name is Christina Hibbert, and I am hoping you will stop by and see me at the Coors Light tent at the State Fair Wednesday, August 17. I have a VIP bag, which includes a T-shirt, beer tickets, can coozie, etc., specially for you!

I am the Government Affairs Outreach Coordinator for Illinois Policy. We are an independent research and education organization that generates public policy solutions aimed at promoting personal freedom and prosperity in Illinois. We would like to connect with you to learn about issues you face as a local official. Our goal is to target policies to help you flourish and better serve taxpayers.

Please RSVP by calling or texting me at xxx-xxx-xxxx to be added to the list of VIPs and include your T-shirt size. Your VIP bag will be ready for you when you arrive.

Should you have any questions, please do not hesitate to reach out. Thank you for your service. I look forward to hearing from you!

Respectfully,

Christina Hibbert

Government Affairs Outreach Coordinator

Illinois Policy Institute/Illinois Policy Action
Thoughts?
* Related…
- Posted by Rich Miller 38 Comments


* Press release…
The Domestic Workers' Bill of Rights, sponsored by State Senator Ira Silverstein (D-Chicago) to establish provisions for overtime, wages, days off and other protections for Illinois domestic workers was signed by the governor late Friday.

Domestic workers will no longer be exempt from the Minimum Wage Law, Illinois Human Rights Act, One Day Rest in Seven Act and Wages of Women and Minors Act. House Bill 1288 defines what constitutes domestic work and expands rights for this class of workers from which they are now exempt.

"I am pleased to see domestic workers gain the same rights and protections as all working people in Illinois," said Senator Silverstein. "Domestic workers are striving to provide for their families and current law makes their struggle more difficult, and unfair, while they play an important role in Illinois' economy."

Domestic workers are defined in HB 1288 to include workers in homes performing house cleaning, caring for children, ill or older family members, laundry, cooking or other home tasks.

According to proponents who include the Sargent Shriver Center on Poverty Law, Women Employed, and labor and immigrant rights groups, 23% of domestic workers are paid below minimum wage and 58% of live-in workers are required to work during their scheduled time off.

"Their work is vital to families' homes, but they are often exploited. They continue to work because they need the money and have no recourse," said Wendy Pollack, founder and director of the Women's Law and Policy Project at the Shriver Center.

The Domestic Workers Bill of Rights takes effect January 1, 2017.
According to Progress Illinois, the proponents are holding a press conference tomorrow.
- Posted by Rich Miller 2 Comments


* Daily Herald…
One of the largest public employee pension systems in the state is questioning whether Elk Grove Village's mayor and five of its trustees work enough hours to be eligible for pensions.

A three-page letter sent by the Illinois Municipal Retirement Fund's general counsel to village officials asks for documentation showing elected village board members work at least 1,000 hours a year — the threshold to be eligible for a pension.

And if not, IMRF asks the board to adopt a resolution abolishing their participation in the pension fund.

The inquiry was prompted by a tip from the International Union of Operating Engineers Local 150, a prominent labor group that's been critical of the Elk Grove Village board's support of Gov. Bruce Rauner's turnaround agenda.

Using public meeting minutes, Local 150 sent its analysis to IMRF of the estimated time board members spent in meetings in 2015, which showed no one spent more than 60 hours.
- Posted by Rich Miller 35 Comments


* From the Journal & Topics newspaper…
A print publication that's financially supported by some of Illinois' most deep-pocketed Republicans has made its way to the mailboxes of some Northwest suburban homeowners, including residents from Des Plaines, Park Ridge, Elk Grove Village, and Wheeling, three months before this November's general election.

The North Cook News, a four- to- eight-page publication printed on newsprint, contains articles related to Illinois politics and advocates for or against certain candidates. For example, in its early July issue, it featured a front page photo of Democrat State Rep. Michelle Mussman, with the headline and text stating that she favors sending funds to Chicago schools rather than to suburban schools. Mussman serves portions of Elk Grove Village and Schaumburg. In early March, a front page of a newspaper published by the company featured a large copy of an official police report on domestic battery accusations against West suburban Democrat Chris Welch.

The North Cook News is one of at least 10 to 15 "newspapers" funded by the conservative political action committee Liberty Principles PAC headed by former GOP governor candidate and now radio talk show host Dan Proft. Liberty Principles has strong financial backing from Republican Gov. Bruce Rauner and real estate tycoon Sam Zell. The PAC became heavily involved in the 55th District state representative campaign in 2013 when Des Plaines resident Marty Moylan and Park Ridge Republican Mel Thillens faced off. Much of Liberty's support came in the form of printing and distributing expensive campaign literature criticizing Moylan, the eventual winner and current incumbent.

Dan Gott, a Des Plaines resident and challenger to Moylan in this fall's election, told the Journal & Topics Media Group this week that he has published many articles in the North Cook News in recent weeks. When asked whether he was invited to submit articles about his campaign to the publication Gott replied, "I'd rather not say. That's personal."
Emphasis added.
*** UPDATE ***  From Dan Proft…
First, papers are neither funded by Rauner nor Zell.

Second, no candidates have been or will be invited to "submit" articles about their campaigns.

Absurd.

(Emphasis added).
- Posted by Rich Miller 28 Comments


* While watching today's press conference about Gov. Bruce Rauner's veto of the bipartisan automatic voter registration bill, two things stuck out for me: 1) Nobody in the Rauner administration ever spoke up during the drafting, committee hearing and floor voting process before it passed both chambers with overwhelming bipartisan majorities; 2) The governor's claims that the bill put the state in violation of federal law were not true. This is from Abe Scarr at Illinois PIRG…
Rich,

State agency voter registration is governed by the National Voter Registration Act (NVRA), commonly known as Motor Voter. There are many requirements outlined and they differ between agencies like the DMV and social services agencies.
The key requirements at the DMV are:

* individuals must be informed of the qualifications to register to vote
* individuals must be informed of the penalties for falsely stating they are eligible
* individuals must be given the opportunity to affirm their qualifications
* declining to opt in cannot result in any negative consequences for the individual in the underlying service transaction

Social service agencies have additional requirements:

* The question about wanting to register and affirm qualifications must be a yes/no question
* Individuals must get the same support from the agency in registering that they would in the underlying service transaction.
* Finally, individuals in the specific instance of updating their information at an agency must have the opportunity to decline to have their address updated. There is debate among NVRA experts if the opportunity to decline has to be at the agency or not.

SB250 meets all of these requirements. The Governor's message that individuals must be given the opportunity to decline registration at the DMV is a misreading of the NVRA. That -is- a requirement at the social service agencies, and for those agencies, the bill was drafted to place the opt-out at the point of agency interaction. It is not a requirement of DMV transactions. In those, individuals must have to have the opportunity to attest, but they do not have to attest, nor do they have to have the opportunity to decline at that specif moment. Under SB250, individuals have an ongoing opportunity to opt out, but not at the point of DMV interaction.

For address updates at the DMV, our original intention with SB250 was the same as other DMV interactions - a back end opt out. We communicated in negotiations that we would be ok with providing the opportunity to decline address updates at the DMV, if the individual is presented at the time with their current registration status.

That request of the Governor's office, like most of their requests, could have and would have been incorporated in the bill language had they engaged in April or May - but they did not. We offered to make them in a trailer bill. The only requests (2 of 7) we did not agree to were to push back the implementation date one year - from 1/1/18 to 1/1/19, and their request to make all DMV interactions an up-front opt out. On the implementation date, they site the State Board of Elections as needing more time to implement. However, the State Board signed off on that date and supported SB250. Further, i we made the other changes the Governor's office wanted, there would actually be less for the State Board to implement. On the opt-out, we maintain that it would not accomplish the fundamental goal of the legislation, which is to change the default status of eligible voters from "only registered if they take affirmative action to register" to "registered unless they take affirmative action to not be registered."
* And here's more from Common Cause…
"Governor Rauner's staff explained that a primary reason he did not sign the bill is because he wants to delay implementation until 2019, after the next gubernatorial election," said Trevor Gervais, Lead Organizer of Common Cause Illinois. "Playing politics with something as important as voting rights is absolutely unacceptable." The bill was drafted with input from all stakeholders, including county clerks, the State Board of Elections, and the Secretary of State's office, who made it clear that there was no problem with the original implementation date of January 1, 2018.
* And a group called Just Democracy Illinois (the Better Government Association is a member) connected Rauner's veto to the Illinois Policy Institute's lawsuit we've discussed here and which has received almost zero coverage by the mainstream media…
"Between Governor Rauner's veto of Automatic Voter Registration, and the pending lawsuit that seeks to stop Election Day Registration, Illinois is moving away from making the franchise more accessible, and moving toward the sort of tactics that have suppressed the vote in other states across the nation. Now is not the time for Illinois to move backward on voting rights."
- Posted by Rich Miller 33 Comments


* People on the South and West sides often fear going to public parks because of all the shootings. In the Gold Coast, they hate their gelato. I am not making this up…
Gelato-gate is heating up.

Gold Coast residents who frequent Mariano Park, a picturesque little plaza at State and Rush streets, clamored for weeks for new park tenant Bow Truss Coffee to bring in the gelato that was promised them.

In mid-July, they got their wish with the addition of Black Dog Gelato, known for its unusual flavors and supplier to some of the city's best restaurants.

But, these residents now say, it isn't good enough for their tony neighborhood.

The complaints, voiced via e-mail to DNAinfo last week, cite everything from the texture of the gelato, to Bow Truss owner Phil Tadros' inaction, to the appearance of the Black Dog stand, essentially a freezer case stationed under an awning next to the Bow Truss kiosk.

Brian Dryer, a Gold Coast resident for nearly 20 years, called the pink stand an "IKEA shack" with inadequate signage and "no smiles at counter it's terrible." […]

The park "needs to be updated end of story. We don't deserve what is being offered right now as dessert," said Judi Steinreich, who appears to be one of those leading the charge leveled at Bow Truss owner Phil Tadros.
- Posted by Rich Miller 64 Comments


In early summer, after the company formerly called Tribune Publishing had rejected two takeover offers from Gannett, two of its biggest investors found themselves in an escalating dispute. The investment firm Oaktree Capital Management was publicly questioning the motives of Michael W. Ferro Jr., an investor and the new chairman of the publishing company, in his decision to rebuff Gannett.

Mr. Ferro formulated his own pointed response: During a meeting in July at his estate in Lake Geneva, Wis., he suggested to top editors and executives that their journalists investigate Oaktree and Bruce Karsh, co-chairman and co-founder of the firm, according to two people with direct knowledge of the meeting.

No damaging article about Oaktree was published, but the episode provides a glimpse into the combative business style of a relatively unknown technology entrepreneur who has become one of the country's most significant and unpredictable media moguls. Since taking a $44 million stake in Tribune Publishing in February, Mr. Ferro has installed himself as chairman, fired the chief executive and replaced him with a longtime associate, overhauled the senior executive ranks, and reshaped the company's board so that a majority is aligned with him. […]

Mr. Ferro declined to be interviewed for this article. A spokesman for Mr. Ferro, Dennis Culloton, denied that Mr. Ferro suggested that Tronc's papers should investigate Oaktree.
Sheesh.
- Posted by Rich Miller 6 Comments


* Tribune…
Republican Gov. Bruce Rauner says he was "disappointed" to learn about the departure of Sen. Matt Murphy after the Palatine Republican announced he was leaving office to join the private sector.

Murphy's resignation marks the second high-profile legislative ally of Rauner's to step down in recent weeks. Rep. Ron Sandack, of Downers Grove, resigned in July, after yanking down his social media accounts, saying several fraudulent ones were set up in his name, and declaring politics had gotten "too ugly." Sandack reported the incident to Downers Grove police, who released a heavily redacted report.

The governor's reaction to Murphy's exit was decidedly different. While he refused to comment on Sandack, Rauner offered praise for Murphy.

"I was surprised by it, disappointed. I think he's been a great legislator," Rauner said Friday after cutting the ribbon to open the Illinois State Fair. "He will be missed, no question."
* Sun-Times…
"That said, we have strong advocates in the General Assembly for what we are recommending for reform," the governor said.

Illinois Senate President John Cullerton, D-Chicago, said the governor is losing a key ally — a respected legislator and floor leader who "would make a lot of Democrats kind of cringe because he was very articulate.

"We didn't agree with him, but you could tell he was able to come up with the kind of saying that you knew was going to be quoted. I think there was respect for that even though folks didn't necessary agree with him. They respected his ability to make points.

"I'm sure that whomever they replace will be just as supportive of Gov. Rauner as Matt Murphy was," Cullerton said. "But the problem is that maybe the governor doesn't appreciate the experience Matt Murphy brings to the Legislature. And that's going to be lost.

"That's what I would have said if I was the governor and somebody from my party left, rather than: We'll just be fine without him."
* ABC 7…
Next week, the attorney will join a firm that lobbies state lawmakers.

"Two kids in college, two more on the way, the realities of the math just dictated that I needed to jump into the private sector," Murphy said. […]

Sen. Sue Rezin said the resignations are not a sign that the Illinois GOP is in disarray.

"For many of us, this just is simply a personal decision," said Rezin.
He was reportedly looking at $100,000 in tuition costs with all those kids.
* And here's part of his Facebook post announcing his resignation…
To my colleagues, past and present, we know better than most that the job is hard. At times the weight of the responsibility that comes with it can be difficult to carry. But the truth is I have loved every second of serving with you and would do it all over again in a heartbeat. I have particularly enjoyed getting to know and befriend people from every corner of our state, from both chambers and parties. I wish more people outside of the legislative process could see how well we get along personally, even when we disagree vehemently on policy, and also how many legislators really do care about our state and our constituents.
- Posted by Rich Miller 47 Comments


* From Americans for Prosperity Illinois…
Rich-

Hope you've had a great weekend and are ready for Fair week.

I wanted to send you details about the advocacy efforts we are launching this week, along with the digital ads we're running (below). The initial phase of the advocacy campaign consists of an extensive digital ad campaign in each of the legislative districts, reinforced with our door-to-door effort and direct mail through November. Additional legislators will be added to the advocacy efforts in the coming month. If you are not in a targeted district, hopefully you will not see the ad (except on CapFax J).

In the House districts, the campaign will focus on failure to curb government over-spending by passing the unbalanced Madigan budget and promoting higher taxes. In the Senate, the ads focus on the Democrat majority's refusal to address the problem of ever-increasing property taxes that drain family budgets and dampen growth.

The accountability effort will initially include the following Illinois Senate & House members:

SD 23 - Tom Cullerton https://youtu.be/O48MQHSu8pw

SD 31 - Melinda Bush https://youtu.be/AZX5BdO2RAE

LD 46 - Deb Conroy https://youtu.be/ZrOo4AfgqDo

LD 62 - Sam Yingling https://youtu.be/zSKhUI7zrxw

LD 111 - Dan Bieser https://youtu.be/lBmc40LX544

LD 117 - John Bradley https://youtu.be/GxdAplIImWw

TEXT of House Ad:

There's a "yes" problem in Springfield.

Why? Because politicians like to say "yes" to special interests.

"Yes" to more spending and handouts.

"Yes" to Speaker Mike Madigan's agenda.

What do all those "yeses" add up to? A budget out of balance by seven billion dollars.

Call John Bradley. Tell him to quit voting for Mike Madigan's overspending.

So we're not stuck with another massive tax hike to pay for all those "yeses."

TEXT of Senate Ad:

Rising property taxes.

They wreak havoc on family budgets.

And cost property owners millions of dollars each year.

That's why people all over Illinois support a property tax freeze.

But Senator Melinda Bush and State Senate Leaders don't care.

They're blocking the tax freeze from becoming law. Using insider political tactics to stop it.

Tell Melinda Bush to stop pandering to special interests.

And pass the property tax freeze now!

Thanks for your attention to this. Feel free to come back with any questions. Looking forward to seeing you at the Fair this week.

Regards,

David From

David W. From| Illinois State Director| Americans for Prosperity
Discuss.
- Posted by Rich Miller 13 Comments


* From the New Yorker…
African-Americans represent sixty per cent of Baltimore residents old enough to drive legally but eighty-two per cent of those who are stopped by police. In Ferguson, where African-Americans are sixty-seven per cent of the populace, they represent eighty-five per cent of automotive and pedestrian stops. In Chicago, which has roughly equal black, white, and Hispanic populations, blacks and Hispanics are four times more likely to be stopped by police.

The facile response is to see this as a product of the disproportionate number of violent crimes committed by African-Americans. But the number of times that blacks are stopped does not hold up to any examination. In Baltimore, whites who were stopped were twice as likely as blacks to be carrying contraband. In Chicago, police found contraband on white drivers twice as often as on black or Hispanic drivers. In Ferguson, blacks were twenty-six per cent less likely than whites to be carrying illegal or controlled substances. The reasons are straightforward: police tended to stop whites based on some particular indicator of illegal behavior, whereas for people of color the simple fact of their appearance could be cause for a police encounter. For whites, suspicion is an opt-in circumstance. For blacks, it's nearly impossible to opt out.
* Meanwhile…
Alexes Harris is an associate professor of sociology at the University of Washington and the author of "A Pound of Flesh." Published in June, the book analyzes the rise of monetary sanctions in the criminal-justice system. Harris argues that jurisdictions have increasingly relied on levying fines for minor infractions—broken tail-lights, vagrancy, traffic violations—as a way to generate municipal revenue. For instance, a Department of Justice investigation revealed that, in 2013, police in Ferguson, Missouri, issued arrest warrants for nine thousand people, almost all for municipal-code violations such as failing to pay a fine or missing court appearances. Doing so allowed the city to collect $2.4 million in fines and fees, the second highest source of income for the city, behind taxes. […]

Harris says that economic forces have created one of the underlying tensions of modern-day policing: impoverished communities have become deeply distrustful of police, in part because they have come to expect an interaction with an officer to result in some sort of monetary punishment. "When you know that you're constantly being surveilled for fines and fees, and you're constantly going to be stopped, police are not going to be seen as legitimate anymore," Harris says. "So it increases the tension between police and communities of color." […]

At the core of the issue is a criminal-justice system that has exploded in size in the past two and a half decades. From 1993 to 2012, annual criminal-justice expenditures rose seventy-four per cent, from $157 billion to $273 billion, according to Council of Economic Advisers. But the report noted that, rather than raise taxes to cover the costs, "state and local governments . . . have increasingly turned to monetary sanctions as a source of additional revenue." The burden of payment now falls on offenders, and on the poorest of the poor. In a report published in 2010 by the Brennan Center for Justice, researchers analyzed criminal-justice debt in the fifteen states with the highest prison populations, and reported that eighty to ninety per cent of those charged with criminal offenses "qualify for indigent defense." As a result, some people can never pay the fines. Another eye-opening study, commissioned by the University of Alabama at Birmingham and published in 2014, interviewed nine hundred and forty-three people who were under supervision for a felony. They were asked if they had ever committed a crime specifically to pay off court fines. Statewide, seventeen per cent of the respondents said they had committed a crime—mostly selling drugs—to pay off fines. In counties where the question was asked by an independent interviewer, rather than a probation or corrections officer, the percentage was even higher: In Marshall County, Alabama, forty-three per cent of the respondents admitted to committing crimes to pay off official debts. […]

"If police interactions with people are limited to situations where someone's safety is at risk, there's going to be X number of confrontations," Karakatsanis said. "But if you multiply that to giving the police this whole other duty of finding people who owe debt and have the police interact with everyone who owes money, you're astronomically increasing the number of police-civilian interactions. Even if the percentage of those interactions that are violent stays the same, you're going to see a lot more violence."
Thoughts?
- Posted by Rich Miller 25 Comments


* Sen. Mark Kirk has burned himself twice by announcing he'd be writing in a presidential preference rather than voting for anyone who is actually on the ballot. And now he's refusing to talk about the subject at all…
Kirk yanked his endorsement of GOP presidential nominee Donald Trump in June, saying he would write in former CIA director and retired U.S. Army Gen. David Petraeus, who pleaded guilty to mishandling classified information. Last month, Kirk said he was switching his write-in vote to Colin Powell, saying the former secretary of state and retired Army general was "much more experienced at the national level."

But last week, in denouncing Democratic presidential nominee Hillary Clinton's support of the multinational deal aimed at curbing Iran's ability to develop nuclear weapons, Kirk told CNN he "can't support someone who is for the Iran agreement." Powell, however, supported the Iran agreement.

"Don't really need to discuss my write-in choice because it's not that important, it's not going to swing the election at all," Kirk said. […]

"My job is to make sure that if it's Clinton or it's Trump that we have the strongest representative possible in the Senate," Kirk said.
Whenever candidates refuse to talk about something they can always be assured of getting more reporter questions about that very topic.
And it was a silly move in the first place because, as Kirk himself was eventually forced to admit, write-in votes aren't counted in Illinois for people who are not officially registered as candidates.
*** UPDATE ***  The Duckworth campaign passed along the exchange…
REPORTER: Senator, you had mentioned that you would not support anybody who supported the Iran deal and Colin Powell, who is your write-in choice, did support the Iran deal.

KIRK: My job is to make sure, if it's Clinton or it's Trump, that we have the strongest representative possible that's in the Senate.

REPORTER: So it's more playing a defensive posture about whoever is President is what it comes down to?

KIRK: And we're sending someone who is the best representative for the state of Illinois. And, instead of Tammy Duckworth, who really represents Chicagoland. For me, cause I was born downstate, and will travel downstate, so the rest of the state needs a Senator too.

REPORTER: So do you have a new write-in choice for President?

KIRK: I think we will, uh, we'll just, uh, make sure, uh, go with whoever's best. Don't really need to discuss my write-in choice because it's not that important. It's not going to swing the election at all.
* Video…
- Posted by Rich Miller 17 Comments


* WTAX…
It passed overwhelmingly in the Illinois General Assembly, but Governor Bruce Rauner says the measure allowing you to register to vote through your drivers license isn't the way to do that.

Rauner vetoed the measure, and said Sunday at the Illinois State Fair the Automatic Voter Registration measure violates federal law, even though the intent is good.

"Right now, the law is if someone interacts with a department and they say they'd like to register, then the process begins," says Rauner. "This just takes that away and automatically registers people. Unfortunately, it can create a problem because not everyone in Illinois who interacts with state government and receives some government benefits is a citizen." […]

"I think there are six or seven changes that we would recommend to make it comply with federal election law, and also comply with good practice, so we can encourage voters — everyone who wants to vote and is entitled to vote — to be able to vote very easily," says Rauner. "But, try to make sure to try to eliminate the risk of inadvertent voter fraud, or inappropriate voting."
* We'll look at the proponents' side of this issue later today (a press conference is scheduled for 10:30), but here is the governor's veto message from Friday…
Our democracy depends upon free and fair elections and is strengthened by increased voter participation. I strongly support efforts to simplify the voter registration process and remove barriers to voting, while still protecting the integrity of our election system.

Earlier this year, I signed Senate Bill 1529, a bipartisan bill to modernize our election system and expand voting opportunities. The bill allows the use of digital voter signatures; expands online voter registration; enables the State to fund its participation in national Electronic Registration Information Center; extends the ability of military voters and others to vote by mail through Election Day; and enhances criminal penalties for fraudulent voting. I look forward to continuing to work with the General Assembly to modernize our election system and promote voter participation.

Senate Bill 250 would transition Illinois to an automatic voter registration system – one of the first states in the nation. I thank the sponsors and proponents for their commitment to increasing voter participation. Today I return the bill, however, to provide the sponsors and proponents with the opportunity to make some important corrections to protect the integrity of our election system and to comply with federal law. We must also ensure that the State Board of Elections is provided with adequate time and resources to implement the bill's provisions.

Background

Current law allows citizens to complete a voter registration application at the Secretary of State's Driver Services Department. The Secretary of State transmits the application to the appropriate local election authority to be processed. This process is subject to both the Illinois Election Code and federal law, including the National Voter Registration Act.

Public Act 98-1171, enacted last year, expanded this system to allow individuals to register to vote whenever they conduct business or interact with the Department of Human Services, Department of Healthcare and Family Services, Department of Employment Security, and Department on Aging. An agency employee notifies the individual whether he or she is registered to vote and offers the individual an opportunity to register or to update his or her registered address. The agency transmits the registration or updated information to the State Board of Elections, which in turn transmits the information to the local election authority. The public act requires the State Board to complete its implementation by July 1, 2016, but that work has not yet been completed.

Senate Bill 250 would change this system by requiring automatic registration. The bill would require each agency to automatically process a voter registration for each individual about whom it has information, whether or not the individual intends to register. The individual is later informed about the automatic registration and given an opportunity to opt-out by contacting the appropriate election authority.

The proponents of the bill intend to remove barriers to voting, which I applaud. But in the haste of amending and passing the bill on the last day of the spring legislative session, they concede that the bill does not plainly and clearly describe the process they envision. For the past several weeks, my Administration has been working closely with the proponents and lawyers for all four legislative caucuses to address the concerns described below. I remain hopeful that these concerns can be addressed and we can together enact a bill that achieves our shared goals.

Voter Integrity and Compliance with Federal Law

We must ensure the integrity of our election system and that it complies with federal law. The National Voter Registration Act imposes certain conditions on voter registrations, including that the applicant must be informed of the voter eligibility requirements, must attest that he or she meets qualifications to vote, and must sign the voter registration application. Federal law provides the individual with an opportunity to decline to register to vote or to transfer his or her information for voter registration purposes without adversely affecting other government services.

Proponents contend that individuals will be informed of the qualifications to vote; that the agencies will check their own records to confirm an individual is a citizen and otherwise eligible to vote before processing the registration; and that the agencies will indicate to the State Board of Elections which identification documents were checked. But that is not how the bill is drafted.

Senate Bill 250 does not require an applicant to attest to meeting the qualifications to vote or to sign the application, as required by federal law. The bill directs the Secretary of State's Drivers Services Department to automatically register the individual "regardless of whether or not the individual attested to his or her eligibility to register to vote." The bill relies on the State Board of Elections to screen out individuals who are not eligible to vote, even though the State Board may not have access to that information. In fact, some of the agencies in possession of citizenship-related information are prohibited by federal law from sharing that information with the State Board.

The consequences could be injurious to our election system. We know that non-citizens have registered to vote in Illinois after obtaining a driver's license and voted in recent elections. Among other documented cases, a citizen of Kenya registered to vote and voted in the 2004 election, and citizens of Peru and the Philippines registered to vote and voted in the 2006 election. Each of these cases of voter fraud was caught by immigration officials, not the State of Illinois.

The bill should be conformed to the system that the proponents describe. Agencies with access to citizenship information should use that information to verify a person's eligibility before processing the voter registration. That responsibility should not – and legally cannot – fall to the State Board of Elections, as the bill currently provides.

Reliability of State Agency Information

Senate Bill 250 intends for agencies to automatically update voter information based on the agency's records. This assumes that agency records are accurate, consistent, and reliable.

While we are working to update and consolidate State information systems through the new Department of Innovation and Technology, the State does not have a single dataset for each individual that can be reliably used to verify current information. In fact, the agencies charged with updating voter records could have different name or address information about the same individual, due to no fault of the individual. Residency for unemployment benefits or human services may be different than residency for election purposes. An agency should not automatically change an address without providing the individual with an opportunity to verify that the address is accurate for the purposes of voter registration.

Senate Bill 250 tacitly acknowledges this problem. The bill provides that if a voter's registered address is mistakenly changed, and the voter appears at the voter precinct for his prior registered address, the voter should have the opportunity to vote at that prior address with a regular (as opposed to provisional) ballot. The bill also provides that the voter should not be disqualified from voting "due to an error relating to an update of registration." The law should avoid errors in the first place.

Implementation Timeline and Resources

The State Board of Elections has said that the timeline for implementation is aggressive and, to date, no funding has been provided to carry out the work needed. Despite diligent efforts, the State Board is already past-due in implementing the changes required by Public Act 98-1171, which underlie the changes that would be required by Senate Bill 250. We should provide the State Board with the time and resources needed to properly complete the implementation.

Recommended Changes

Senate Bill 250 seeks a worthy but ambitious goal. After the State Board of Elections, Secretary of State, and others raised concerns about how it would be implemented, the sponsors and proponents introduced a series of amendments at the end of May. There remain some unaddressed problems, but for which there are workable solutions. Specifically:

· The Secretary of State should only transit voter registrations for which it has been able to verify citizenship and should indicate which identification documents were checked. As part of REAL ID compliance, this information will be available to the Secretary of State for any person seeking to obtain a REAL ID-compliant license. Proponents indicated that the bill intends for this screening; the bill should make this a clear requirement.
· Other State agencies, other than the Secretary of State, should check voter registrations against their available citizenship records when possible before submitting those registrations to the State Board of Elections. Each of the four State agencies identified in the bill has access to that information. If the agency does not have citizenship-related information for a particular person, the applicant must attest by signature to meeting the qualifications to vote.
· The Secretary of State and each other State agency should notify a potential applicant whether or not he or she is currently registered to vote, based on information provided from a State master voter file, and if so at what address. If the person is already registered to vote at another address, the agency should confirm that the person desires to update his or her address, before automatically processing an errant address change. If the person is not registered to vote, and requests not to be, the State agency should honor that request.
· The bill should define "reliable State government source", which is a source of information that may be used for completing a voter registration. The bill should set out a process for how other information sources are added to the list of reliable sources, as currently contemplated by the bill.
· The bill should set out a realistic implementation deadline, and we should provide the State Board of Elections and other implementing agencies with adequate resources. We must also recognize that county clerks and other local election authorities will incur costs in implementing this bill. The bill allows e-mail notices to be used for certain purposes; we should examine expanding e-mail use to reduce costs for the State and local election authorities.

Proponents have expressed willingness to make some of these changes, while others remain in discussion. I thank the proponents, sponsors, and legislative staff for continuing to work with my Administration to address these concerns. I hope we can complete this work and pass a bipartisan election bill in the near future.
Until then, I cannot approve Senate Bill 250 in its current form. Therefore, pursuant to Section 9(b) of Article IV of the Illinois Constitution of 1970, I hereby return Senate Bill 250 entitled "AN ACT concerning elections", with the foregoing objections, vetoed in its entirety.
Sincerely,

Bruce Rauner
GOVERNOR
- Posted by Rich Miller 11 Comments


* And there's plenty more where this came from…
The House Republican Organization, the campaign arm of the House GOP, is spending $301,511 [this week] while the Republican State Senate Campaign Committee is spending $189,795 [this week], the report shows.

Among the candidates benefiting is Rod Drobinski, of Wauconda, who will be airing more than 2,200 ads costing nearly $115,000. Drobinski is challenging Democratic Rep. Sam Yingling, of Grayslake. Yingling's campaign is spending $86,405 to run more than 3,000 ads of its own.

Among Senate contests, Republican challenger Seth Lewis, of Bartlett, is benefiting from nearly $80,000 worth of ads in taking on Democratic state Sen. Tom Cullerton, of Villa Park.

Also getting nearly $80,000 worth of help is Republican Mike Amrozowicz, of Gurnee. He's challenging Democratic state Sen. Melinda Bush, of Grayslake.
The full cable TV buy report is here.
* And keep in mind that the above total doesn't include the big network TV buys in southern Illinois and Chicago…
Republicans dominated the top 10 transfers of [last] week, with money flowing out of Governor Rauner's Candidate Committee, the House Republican Organization, and the Illinois Republican Party. Governor Rauner's Candidate Committee transferred $5 million to the Illinois Republican Party last Thursday, which then transferred $2.3 million to the House Republican Organization and over $650,000 to the Republican State Senate Campaign Committee. The House Republican Organization was active with transfers in the Chicago area, giving over $400,000 to 20th District House candidate Michael McAuliffe (R-Chicago), $85,000 to 62nd District House candidate Rod Drobinski (R-Wauconda) and $83,000 to 45th District House candidate Rep. Christine Winger (R-Wood Dale).

Rep. McAuliffe, who won his past two elections with over 60% of the vote, ran tv ads for the second straight week. According to the FCC, he spent over $70,000 for 82 spots on ABC, FOX, and NBC that started airing on Monday and will continue through Sunday. Rod Drobinski is challenging incumbent Rep. Sam Yingling (D-Grayslake), after suffering a defeat by Yingling in 2014 by a margin of 4% of the vote.
Emphasis added.
- Posted by Rich Miller 7 Comments


* My weekly syndicated newspaper column…
An organization controlled by Gov. Bruce Rauner has spent a million dollars on a new television ad promoting legislative term limits in a little over a week. And that's just for starters.

Turnaround Illinois Inc. is one of those "dark money" non-profit groups that doesn't have to disclose its donors. It has so far booked $1,015,084 in broadcast, satellite and cable TV ads. The group purchased $684,455 in broadcast TV ads scheduled to run Aug. 5 through Aug. 14. The biggest chunk of the money, $344,850, was spent on very expensive Chicago broadcast TV spots. All the ad buys are expected to be renewed.

Gov. Rauner's TV ad features several "real people" talking about the need for term limits. Rauner has also set up a website where folks can "sign" an electronic petition supporting the idea. One of the people appearing in the ad exhorts watchers to help them get "a million signatures."

Before the ads appeared, Rauner spent several days touring the state demanding that House and Senate Democrats come back after the election and pass a term-limits constitutional amendment, which wouldn't be voted on by the public until 2018. Rauner himself appears at the end of the ad to say, "Let's all sign the term limits petition. Go to FixIllinois.com."

Yes, the issue is pretty much solely political and more than a bit phony. Even if the legislature passed a term-limits proposal this November (and it won't), the limits wouldn't actually get in front of voters for two more years and then wouldn't start limiting terms for another 10 years. By that time, House Speaker Madigan will be 86 years old, and he could still run for a state Senate seat. But, hey, the House Democrats are notorious for using federal issues like Medicare and Social Security in state legislative races, so, whatever. It is what it is.

Rauner's group also paid $130,820 for St. Louis broadcast television, even though most of those viewers live in Missouri. Illinois candidates often skip St. Louis broadcast entirely or wait until late in the game to air any ads because they aren't very cost-efficient. You always know somebody has big bucks to throw around when they go up on St. Louis TV, and it's practically unheard-of in early August.

The Rauner organization also plunked down $32K for broadcast ads in the Champaign-Springfield-Decatur market; $73K in the Quad Cities (where Democratic Rep. Mike Smiddy is attempting to hold onto his seat), $57K in the already crowded (with state legislative ads) Paducah, Ky., market, $21K in Quincy and $25K in Peoria.

In addition, Rauner has dumped $207,000 on satellite TV ads through Aug. 25 and appears to have added to his initial $21,989 cable TV buy with $101,640 more through Aug. 14. The cable buy locations line up with suburban and Downstate Democratic legislative districts that Rauner's political organization has targeted.

So, what is going on here? First and foremost, Rauner needs to improve his own polling numbers, both for his 2018 re-election and, more immediately, so his involvement can be of some use to his Republican legislative candidates this fall.

A recent poll conducted for Democratic U.S. Rep. Tammy Duckworth's U.S. Senate campaign found that Rauner's job approval rating was just 37 percent, with a disapproval of 55 percent. "He's been sitting around there for all of 2016, so opinions are hardening," said a source familiar with the poll's findings.

Rauner's people counter with their own poll numbers, which they say have Rauner's approve/disapprove rating at 44-49.

Either way, Rauner has to start moving numbers his direction to have a positive impact on this year's election. The term-limits issue polls off the charts in this state, so firmly attaching himself to the proposal in an unprecedented and sustained advertising buy will likely help. 78 percent supported the idea in a February poll taken by the Paul Simon Public Policy Institute.

The information-gathering aspect of this term-limits push also can't be ignored. Rauner has reportedly put his trusted lieutenant Chip Englander in charge of his data project. All his legislative races are gathering lots of data and it's being pooled in one spot. Building on Rauner's 2014 race, and adding this year's data (including from those who sign up online for the term-limits pledge) the Illinois GOP could be "among the nation's elite in data" for 2018, predicted a Republican insider. "Maybe the top."

And regardless of which poll is accurate, he's gonna need every bit of help he can muster, both this year and during the next cycle.
- Posted by Rich Miller 7 Comments


* My Crain's Chicago Business column…
Sometimes it seems like everything our state government tries to do turns out wrong.

It created and expanded a pension system for public employees that it has almost never properly funded. It raised income taxes and was finally getting its fiscal house in some semblance of order only to let much of that tax hike expire. The government plunged into an 18-month budgetary stalemate with no end in sight. It dawdled so long on creating fracking regulations that it missed the oil boom experienced by other states.

I could go on forever, but I'm sure you have your own examples.

But here's one of my current pet peeves:
Go read the rest before commenting, please. Thanks.
- Posted by Rich Miller 26 Comments