* I never got around to our Golden Horseshoe Awards today. It's Friday and I was distracted and tired from a long week are my excuses and I'm gonna stick to 'em. We'll get back to the awards on Monday.
Radney Foster was in Springfield recently, so he'll play us out with an appropriate song…
We've both lost this fight before
- Posted by Rich Miller Comments Off


* And yet, almost nobody in state government wants to discuss this…
Homicides citywide are up about 56 percent compared to last year and shootings are up about 49 percent, but just five of Chicago's 22 police districts are driving the bulk of Chicago's rise. All are on the South or West Sides.

In the 11th [police district], shootings are up by 78 percent compared to a year ago, and homicides are up 89 percent. So far in 2016, 91 people have been killed in this district, where only about 74,000 people live. That is more homicides than in all of last year in entire cities, such as Seattle (population 684,000), Omaha (444,000) and Buffalo (258,000).
- Posted by Rich Miller 37 Comments


* Gov. Bruce Rauner probably enjoyed the most receptive audiences of his time in office when he visited the Quad Cities area and Clinton to sign the Exelon bill. The Rauner folks have made a video of the events. Have a look…
It was wonderful to join the communities in the Quad Cities and Clinton this week to celebrate the signing of the Future Energy Jobs Bill. pic.twitter.com/GMQcGoIqLk

— Bruce Rauner (@GovRauner) December 9, 2016
- Posted by Rich Miller 40 Comments


* I dunno. You gotta be pretty desperate for news to ask Rahm Emanuel, the mayor of a city in financial peril and dealing with a huge spike in violence and racial discord, if he plans to run for president in 2020. Just sayin…
Chicago Mayor Rahm Emanuel had a fiery response when asked Thursday night whether he would consider running for president in 2020.

The former White House chief of staff to President Obama and senior adviser to President Bill Clinton flipped off consultant Neil Hare — twice — after being posed the question at BLT Steak, prompting laughter from others at the bar.

Emanuel, famed for his coarse language and caustic retorts, was hanging out at the restaurant located blocks from the White House during a swing through Washington this week.

But the mayor isn't shy when it comes to how he feels about being asked about potential presidential ambitions.

"She's a reporter," someone at BLT said after the Chicago mayor gave Hare the bird, referring to your ITK writer.

"I don't give a f— who she is," Emanuel shot back.
Also, the guy's at a bar. Not cool.
- Posted by Rich Miller 37 Comments


* Seems like decades ago…
The predawn rousting of Gov. Rod Blagojevich from his Ravenswood Manor home Tuesday marked a stunning climax to a tale of alleged public corruption unmatched in Illinois' storied history of elected scoundrels and thrust the state into an unprecedented political crisis.

Illinoisans awoke to news that their governor had been arrested, handcuffed and hauled before a federal magistrate on sweeping charges he conspired to sell his office many times over–including putting a price on the U.S. Senate seat vacated by President-elect Barack Obama.

U.S. Atty. Patrick Fitzgerald said the governor's actions forced his office to intervene. "Gov. Blagojevich has been arrested in the middle of what we can only describe as a political corruption crime spree," he said. Fitzgerald said Blagojevich's "conduct would make [Abraham] Lincoln roll over in his grave."

The well-coiffed governor, sporting a turtleneck beneath a blue Nike track suit and running shoes, was released on his own recognizance and walked out not only free, but still empowered to make an appointment to the Senate seat federal prosecutors say he tried to corrupt.

"They're doing well. He's sad, surprised and innocent," Blagojevich attorney Sheldon Sorosky told reporters outside Blagojevich's home Tuesday night.

Throughout the day, the halls of state government in Springfield and Chicago were humming with calls for his resignation or impeachment–and lawmakers planned an emergency session to schedule a special election and to strip the governor of his sole authority to fill the Senate post.
My website as well as those run by the Tribune and the Sun-Times all crashed that morning because of the traffic spike. Such crazy times.
- Posted by Rich Miller 42 Comments


* From the ILGOP…
Newly published federal campaign finance reports reveal that both Chris Kennedy and J.B. Pritzker teamed with Mike Madigan and Lisa Madigan to help fund the failed Leading Illinois For Tomorrow (LIFT) PAC that spent nearly $10 million attacking Bruce Rauner in the lead up to the November elections.

"It's clear that both Chris Kennedy and J.B. Pritzker will do whatever Mike Madigan wants. Pritzker and Kennedy combined to give to a failed Madigan front group $950,000 and thousands more to Madigan's House candidates," said Illinois Republican Party spokesman Steven Yaffe. "The only thing less surprising than wannabe governor candidates doing the Speaker's bidding is Lisa Madigan pouring in $150,000 to help him. Lisa Madigan proved that she'll do anything she can to help Mike Madigan protect the special interests and failed status quo. Springfield needs a shake up more than ever."

Despite the Madigan-backed LIFT PAC spending close to $10 million this fall, Illinois Republicans still netted six seats in the Illinois legislature.

"The Madigan family and Chicago Democrat elite can spend all the money they want, but it won't change the fact that Illinoisans want major reforms in Springfield," Yaffe said. "Voters now know all the potential Democrat candidates for governor stand with Mike Madigan."
Go read the rest if you want.
…Adding… Just noticed something at the link. Chris Kennedy gave $50,000 to the LIFT PAC while JB Pritzker gave $900,000. That's the whole "money" argument for the primary in a nutshell.
- Posted by Rich Miller 34 Comments


Republican Gov. Bruce Rauner praised President-elect Donald Trump's choice for education secretary Thursday, saying the Michigan billionaire and school voucher proponent is "a very talented and very passionate education advocate."

Betsy DeVos, whose husband is an heir to the Amway fortune, was named late last month as Trump's choice to head the federal Department of Education.

DeVos is a longtime advocate for voucher programs that allow parents to use taxpayer funds to pay for private or parochial schools. She's also a former chair of the Michigan Republican Party.

"I do know Betsy DeVos, I have great respect for her," Rauner said Thursday when asked about Trump's selection of DeVos. "I think she's a very talented and very passionate education advocate. And I personally am a believer in school choice. And I look forward to working together."
* From the Detroit Free Press' editorial page editor…
In Detroit, parents of school-age children have plenty of choices, thanks to the nation's largest urban network of charter schools.

What remains in short supply is quality.

In Brightmoor, the only high school left is Detroit Community Schools, a charter boasting more than a decade of abysmal test scores and, until recently, a superintendent who earned $130,000 a year despite a dearth of educational experience or credentials.

On the west side, another charter school, Hope Academy, has been serving the community around Grand River and Livernois for 20 years. Its test scores have been among the lowest in the state throughout those two decades; in 2013 the school ranked in the first percentile, the absolute bottom for academic performance. Two years later, its charter was renewed.

Or if you live downtown, you could try Woodward Academy, a charter that has limped along near the bottom of school achievement since 1998, while its operator has been allowed to expand into other communities.

For students enrolled in schools of choice — that is, schools in nearby districts who have opened their doors to children who live outside district boundaries — it's not much better. Kids who depend on Detroit's problematic public transit are too far away from the state's top-performing school districts — and most of those districts don't participate in the schools of choice program, anyway.

This deeply dysfunctional educational landscape — where failure is rewarded with opportunities for expansion and "choice" means the opposite for tens of thousands of children — is no accident. It was created by an ideological lobby that has zealously championed free-market education reform for decades, with little regard for the outcome.

And at the center of that lobby is Betsy DeVos, the west Michigan advocate whose family has contributed millions of dollars to the cause of school choice and unregulated charter expansion throughout Michigan.
Kind of a dichotomy there, to say the least.
- Posted by Rich Miller 60 Comments


* Pantagraph…
A Michigan automotive company hopes to take over the former Mitsubishi plant in Normal.

Rivian Automotive is in talks to buy the entire 2.4 million-square-foot plant and manufacture there, bringing 500 jobs by 2021 and 1,000 when at full production, the Illinois Department of Commerce and Economic Opportunity (DCEO) announced late Thursday afternoon.

The company expects to invest up to $175 million in the project by 2024.

Mitsubishi shut down production at the plant in November 2015 and laid off the last employees in May. The plant employed 1,200 before closing and about 3,000 at its peak. […]

An agreement between Rivian and Normal specifies that in order to receive [$1 million] incentives, the company must employ 35 workers by the end of 2018, 75 in 2019, 300 in 2020 and 500 in 2021. Those are "full-time employees with an average weekly salary equal to or greater than the average weekly salary in McLean County."
The company started out in Florida then moved to Michigan when its incentive package ran out and Michigan stepped up with some cash. Its website has nothing on it.
Founded in 2009, Rivian is an automotive technology company developing an integrated portfolio of products and services to advance the shift to sustainable mobility. Backed by strong investors and driven by a team of passionate innovators, Rivian is creating solutions that redefine traditional automotive economics and remove the pain points of conventional ownership.
Yeah, I don't know what that means, either. Supposedly, they're trying to develop a low-priced but high performance sports car…
Rivian Automotive, founded in 2009, develops and manufactures efficient sports cars. The company was formerly known as Mainstream Motors Inc., and changed its name to Rivian Automotive in 2011.
But…
As of yet, there is no indication that any cars have been manufactured.
Let's hope this works out.
- Posted by Rich Miller 39 Comments


* As we discussed earlier this week, Senate President Cullerton has told the governor it would be much easier to pass a pension reform bill if Rauner reached a contract agreement with AFSCME. Speaker Madigan also said this week he wants the AFSCME negotiations to be part of the working group talks. Cullerton explained his position to WTTW…
So why isn't that pension reform happening? Cullerton says the governor's contract dispute with state public employee union AFSCME has poisoned the well, and that it's the governor who's holding up pension reform.

"He's offered them no pay raises for four years, and to cut their healthcare by a third. How, on top of that, can we say 'We're going to cut your pensions too?' He has an ability to negotiate that contract and help us pass a pension reform bill. Democrats or Republicans won't vote for pension reform. The conversation isn't what's going in the bill, it's, how are you going to pass it? And he's not offering any help."
* Related…
* Curtis Black: Rauner's war on unions brings Illinois to the brink
- Posted by Rich Miller 113 Comments


* Paris Schutz for "Chicago Tonight"…
Gov. Bruce Rauner and legislative leaders were to meet again Thursday, but the meeting was called off. Rauner says it's because leaders don't have a budget plan. Democratic leaders say it's the governor who doesn't have a plan.

The reality is, a series of working groups, spearheaded by the governor's budget director, concluded that taxes would have to go up from 3.75 to 4.85 percent, and that the sales tax would be broadened to include some services. In addition, there would be cuts and some reforms. But neither party wants to be the first to propose a tax hike.

I asked [Senate President John Cullerton], Why not go first? He responded that he believes it's on the governor to do that.

"He has to tell us, 'I have a plan where we'll cut $8 billion out of the budget,' or, 'We're going to cut some of it, but we're going to need some revenue.' It's not a matter of who's going first. We don't have the votes in the Democratic Party to pass a tax increase and then override it if Rauner veto's it. So that means, if there's gonna be a tax increase, Governor Rauner is going to determine what that level's going to be, or if it should be. Tell us that number and then we'll go back and figure out how to spend the money you're willing to sign."
- Posted by Rich Miller 52 Comments


* Michael Sneed reports that Bill Daley says he's backing Chris Kennedy for governor and not JB Pritzker. That doesn't mean much, of course, except possibly Kennedy access to some of Daley's wealthy friends, who he probably knows anyway. But read on…
"If anybody had the fire in the belly to run, it would be Pritzker," said a top Dem source. "He could pull the trigger and self-fund and run." […]

Sneed is told Pritzker and Kennedy also called Chicago Federation of Labor President Jorge Ramirez to seek support. "I explained the optics," said Ramirez. "Kennedy has his own mystique. It's amazing. And he is really serious. So is Pritzker. He's determined."

It's been suggested Pritzker could do $450 million of his own money. "Kennedy couldn't and wouldn't do that, relying instead on his platinum donor list to fund his campaign," the top Dem source said.

However, Sneed is told House Speaker Mike Madigan was disappointed in Kennedy's ability to raise money for Dem campaigns in the last election gleaned from his donor lists.

"Look, Madigan has been sucking air from the trial lawyers and laborers to get his people elected — and getting tapped out," said a second Dem source. "Susana Mendoza's race for state comptroller was expensive. That's why Madigan told Pritzker and Kennedy to rely primarily on self-funding if they are gonna run."
Discuss.
* Related…
* Meet the Democrats' proto-Trumps - Liberal mega-donors move to run for governor after watching their party lose ground in 2016
- Posted by Rich Miller 57 Comments


* We're going to try something new this holiday season. Rather than post them in comments, our ever-valuable commenter VanillaMan will be sending me Christmas songs to post on the front page. If you're unfamiliar with the tune this is built on ("We Need a Little Christmas"), click here…
Haul out those wish lists
Count up taxes before my spirit falls again
Fill up the pensions
I may be rushing things, but make requests again now
For we need a little budget
Right this very minute
Compromise among parties
Something for everyone in it!
Yes, we need a little budget
Right this very minute
The Speaker may be in a fury
But Governor, constitutionally, it's your DUTY!

So climb down from ideology
Put on the brightest smiles that citizens have ever seen
Slice up appropriations
It's time we stopped with - vetoing everything down!
For we've grown a little leaner
Grown a little colder
Grown a little sadder
Grown a little older
And we need a little budget
Sitting on our printers
We need a little budget now

Haul out that backlog!
Tell Mendoza we're gonna live each living day
Fill up all the funds
Especially the one you from which you expect to get pay
But we need a little budget
Right this very minute
We know you can do it
Just hold your breath – get to it!
And we need a little budget
Right this very minute
It's been two years, for crying-out-loud
Time to step up and be proud!

So climb down from deadlock
Stop listening to all those hacks on talk radio
Slice up the differences
It's time you did the job you were sent to do now!
For we need a little budget
Right this very minute
If the Cubs can do it
You're out of excuses – screw it!
And we need a little budget
Right this very minute
We need a little budget now
We need a little budget now
We need a little budget now!
- Posted by Rich Miller 21 Comments


* The governor tweeted out a message to legislative Democrats today…
Democratic legislators should put taxpayers & critical human services ahead of personal gain & drop the lawsuit prioritizing their paychecks pic.twitter.com/Lfugp8smTj

— Bruce Rauner (@GovRauner) December 8, 2016
* Transcript…
I'm calling on Democratic legislators to put taxpayers and critical human services ahead of their own personal gain by dropping the lawsuit to prioritize their paychecks. Paying politicians shouldn't be put ahead of human services or school funding. It's simply insulting to demand otherwise. This lawsuit is a stunning reminder of why we need term limits and real change in Springfield.

I've also called on Comptroller Mendoza to fight this in court. Hire an outside attorney and work every day against this lawsuit just like Comptroller Munger did.

Democrats should do the right thing and end this frivolous lawsuit. Democrats need to put human services and taxpayers ahead of themselves. They should be putting pressure on their leadership to work with Republicans on passing a balanced budget with reforms that create jobs, lower property taxes and improve our schools. If they won't do a balanced budget, they shouldn't be paid first. No budget, no pay.
A guy who makes $185 million a year probably wouldn't miss six months' pay. Just sayin…
- Posted by Rich Miller 89 Comments


* Two Illinois-centric takes: 1) Cook County has remained one of the nation's most robust economic engines for decades; and 2) Illinois used to be the home to lots more engines than just Cook, but we're definitely not alone as new business startups are increasingly confined to fewer high-density counties while far fewer new businesses are being established…
This graphic is kind of blowing my mind today. It's amazing, troubling, and I don't quite know what to do with this information. pic.twitter.com/JxaRsWvJTa

— Karin Robinson (@karinjr) December 8, 2016
More info and data can be found here.
- Posted by Rich Miller 11 Comments


* Sun-Times…
The Chicago Board of Education approved an amended $5.5 billion operating budget for Chicago Public Schools on Wednesday but acknowledged more drastic changes could come next month after the governor blasted a $215 million hole in its budget. […]

School board president Frank Clark said he remained "optimistic" but acknowledged for the first time that the cash-strapped CPS may have to make other plans.

"There's approximately another month in the 99th General Assembly, and until that ends, I expect the state will fulfill its promise and keep its word, and provide the necessary funding for Chicago children," Clark said. "If for whatever reason the unthinkable occurs, we are prepared to deal with another amended budget at our next regular board meeting in late January."

The district wouldn't discuss any possible cuts, saying they expect legislators to come through. CEO Forrest Claypool also renewed the possibility of filing a lawsuit he had prepared in June while waiting to see if legislators would approve hundreds of millions in state aid, including the pension money. The district isn't in any kind of financial shape to be able to borrow the money.
* The Republican Party of Illinois is still trying to shake loose some answers from House Democrats. My in-box today…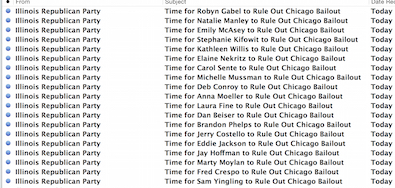 * Sample e-mail…
"Yesterday, Chicago Public Schools passed a budget with a $215 million hole, signaling that they are still counting on the House to override Governor Rauner's veto of the Chicago bailout. Robyn Gabel has refused to rule out voting for the bailout. Gabel owes it to the families in her district to guarantee that if an override is called, she will stand with them and vote no." – Illinois Republican Party Spokesman Steven Yaffe

Yesterday, the Chicago Public Schools board passed a budget with a $215 million hole.

After Democratic leaders reneged on their promise to pass pension reform, an agreement that would have freed up resources for Chicago schools, House Democrats will soon face their first big test.

They can either stand for taxpayers who are demanding fiscal sanity from Springfield, or vote to recklessly bail out Chicago Public Schools.
I don't think it's unreasonable to ask the question, whether or not you agree with the way it's being asked.
- Posted by Rich Miller 34 Comments


* The 2016 Golden Horseshoe Award for Best State House Staffer - Non Political, Democrat goes to Justin Cox…
Hands down Justin Cox is deserving of this award. He is one of the hardest working staffers under the dome, and one of the go-to staffers for huge projects as evidenced by his tremendous work on the recent Exelon legislation. He is a top notch performer, a definitive leader, and a great person on top of it all. I don't think you could find anyone who would say a bad word about Justin and his work.
Yep. Keep an eye on that guy.
* The 2016 Golden Horseshoe Award for Best State Senate Staffer - Non Political, Democrat goes to Mike Hoffman…
Mike has put in hundreds of hours on school funding reform, staffing several statewide commissions on the matter and both drafting and analyzing giant bills changing how the state spends a big chunk of money. He's a solid, hard-working guy.
I couldn't agree more.
* On to today's categories…
* Best State House Staffer - Non Political, Republican

* Best State Senate Staffer - Non Political, Republican
Remember, if you don't explain your vote, it won't count. So give us your best pitches in both categories, please. Thanks!
- Posted by Rich Miller 19 Comments


* From the liberal Economic Policy Institute…
During the third quarter of 2016, the African American unemployment rate was lowest in Vermont (6.2 percent) and highest in Illinois (14.2 percent). Illinois has had the highest unemployment rate for four consecutive quarters. Since the fourth quarter of 2015, the black unemployment rate in Illinois has risen 1.1 percentage points as unemployment has increased 0.7 percentage points statewide. Consistent with last quarter, seventeen states had African American unemployment rates below 10 percent in the third quarter of 2016—in 12 of these states, the rate was lower than the third quarter national average for African Americans (8.4 percent). […]

New York's black-white unemployment rate gap was the smallest in the country. In that state, the black unemployment rate was 1.5 times the white rate during the previous quarter. This change was due to a decrease in the state's black unemployment rate at the same time that whites increased their likelihood of unemployment. The largest gaps were in the District of Columbia, where the black unemployment rate was 8.0 times the white rate, and Illinois, where the black unemployment rate was 2.9 times the white rate.
Ugh.
- Posted by Rich Miller 36 Comments


* Kerry Lester…
Democrats dismayed by Donald Trump's presidential victory are focusing their energy on unseating longtime Bolingbrook Mayor Roger Claar, an ardent Trump backer who hosted a fundraiser for him in September.

Three-term Will County board member Jackie Traynere was part of a group protesting at the fundraiser at the Bolingbrook Golf Club and said that got the ball rolling for her to file nominating petitions to run in the April 4 election. […]

Claar, who's making plans to attend Trump's inauguration Jan. 20, says his 30 years as mayor show he has the backing of the local electorate. He also points out that municipal elections are nonpartisan.

"There's no such thing as a Republican pothole or Democratic pothole," he says. "These are local issues, not national or international or even state (issues)."
Kerry reports that US Sen. Dick Durbin's people along with Congresscritter Bill Foster's office are involved in this. Durbin pushed hard years ago for a "red to blue" campaign in Will County and it worked.
Hillary Clinton scored just shy of 67 percent in Bolingbrook this year. Pat Quinn also won it both times, the second time by a healthy 53-44 margin.
And while Claar has been a successful mayor and Bolingbrook is a pretty darned nice town, he's never really been so forceful and out front about a presidential candidate as he was this year. Roger is a guy who prides himself on getting along with everyone, but he went out of his way to back Trump, who is most definitely not a popular man in that town - pulling just 27 percent of the vote. That can leave Claar open to lots of criticism, particularly since his oppo file is on the thickish side. Also, he hasn't had a real opponent in years, so he may be a bit rusty. But he does have a ton of cash in his campaign account. Turnout is usually very low in local Bolingbrook races, so we'll see.
- Posted by Rich Miller 28 Comments


* Phil Kadner's latest column ends thusly…
But Democrats, rather than criticizing [Gov. Bruce Rauner], ought to be putting together their own initiatives to spur job growth. Somehow, they still don't get it.
Actually, Kadner's column was about Donald Trump. I substituted the governor's name on my own because, well, it's even more true here. Criticism is important, of course, but the Democrats in this state have yet to pass any sort of economic development plan in the past two years - unless bailing out Exelon's two nuclear plants qualifies.
- Posted by Rich Miller 35 Comments


* You gotta watch closely for the potential bait and switch in this story…
It's been threatened to shut down and has laid off hundreds of workers.

So why is publicly-funded Chicago State University paying hundreds of thousands of dollars to well connected lobbyists?

That's just one of several questions CBS 2 investigator Brad Edwards had for Chicago State University leaders. […]

CBS 2's Brad Edwards showed him a list of expenditures. CBS 2 investigators found the school spent $1.9 million in less than three years on lawyers, lobbyists and PR pros.
But then the story only details about $250K over three years (for an average of about $84K per year) for lobbying and public relations work. They undoubtedly had other similar costs (I know of at least one), but is this mostly for legal work? From the way the story was presented, it kinda looks to me like the numbers could've been padded to make a point.
People don't like to hear this, but a corporation or entity that's in trouble needs lobbyists and/or PR help the most. And CSU has most definitely been in trouble. The school is literally fighting for its very life, so I can't blame them for hiring some top lobsters and public relations types. My only suggestion would be to hire a connected Republican or two, considering that their main political problem right now is the governor's obvious wrath. But that's just me.
- Posted by Rich Miller 25 Comments


* From an SJ-R editorial…
The six Democratic state lawmakers who filed a lawsuit last week demanding they be paid on time have a point: They are owed about six months' worth of pay, and the Illinois constitution appears to be on their side in this matter.

It may be legally correct, but it's still frustrating for taxpayers to see that legislators may get their checks in a more timely manner. […]

A judge will most likely agree with them - but the lawsuit is a tone-deaf move that implies no one in the Democratic Party thought about the optics such an action would create. It made them look selfish and callous about the suffering happening throughout Illinois.
Look, when the SJ-R, or the News-Gazette or some other entity can devise a plan that puts pressure on Democratic legislators and the wealthy governor equally to come to an agreement, then maybe I could go along with it. But this ain't it.
- Posted by Rich Miller 52 Comments


* AP…
A federal judge in Illinois has refused to move Aaron Schock's corruption case from Springfield to Peoria at the former congressman's request.

The 35-year-old Schock is accused of using government and campaign money to subsidize a lavish lifestyle, as well as pocketing thousands of constituents' dollars. The (Peoria) Journal Star reported Wednesday that U.S. District Judge Sue Myerscough said in her opinion that keeping the case in Springfield doesn't hurt Schock, but that it could delay other cases she is hearing.

Schock requested the move last month, arguing that the Peoria court was more convenient and appropriate. Prosecutors didn't want the case moved.
- Posted by Rich Miller 17 Comments


* Press release…
Illinois' approval of zero emission standards (ZES) is credit positive for Exelon Generation Company, LLC (ExGen, Baa2 stable), as the subsidies are critical for the survival of two of its nuclear facilities, Quad City and Clinton, according to Moody's. ZES is a 10-year subsidy to be paid by utility customers in their monthly bills, and Moody's expects that relative to shutting down its plants, ExGen's pre-tax cash flow will improve by about $160 million per year.

Many nuclear plants operating in deregulated power markets generate minimal or negative cash flow, and many are located in rural areas and serve as primary sources of employment and tax base. Closing these plants risk harm to local economies as well as states' desire to reduce greenhouse gas emissions.

At the same time, Illinois' ZES program is credit negative for Dynegy Inc (B2 stable) and NRG Energy, Inc. (Ba3 stable) because they own plants that burn coal or natural gas in the same market but are now at a competitive disadvantage without the subsidy.

Moody's declaration of "credit positive" or "credit negative" does not connote a rating or outlook change. It is indicative of the impact of a distinct event or development as one of many credit factors affecting the issuer.
* Meanwhile…
The Illinois Commerce Commission has approved a 5 percent increase in the annual delivery rate for ComEd, expected to generate $127.5 million in additional revenue for the utility in 2017.

Most ComEd residential customers will see their bills go up by about $2 per month beginning in January, the company said Wednesday.
So, two bucks a month equals $127.5 million. The Exelon bill is supposed to raise twice that, but rate hikes for residential users are supposedly capped at 25 cents per month.
* The Sun-Times explanation…
In 2017, customers will see dips in their bills based on savings from the change in energy efficiency program spending, according to an analysis conducted by the Illinois Commerce Commission. After five years, the analysis shows, rates would go up by 8 cents per customer per month, based on that reduced spending level.

But a separate analysis by the Citizens Utility Board factors in the impact of energy efficiency. By 2022, when the commission's report shows a small bump, customers will already see bill savings due to energy efficiency efforts, which should equate to a savings of about $2 per customer a month, according to CUB.

The Illinois Commerce Commission study was used in negotiations with Rauner's administration. And the governor and his staff helped ensure a rate cap increase of 25 cents a month for residential customers of ComEd and Ameren for 13 years. It also limits increases on commercial customers to a 1.3 percent increase over last year's rates.

ComEd will present annual numbers each year to the Illinois Commerce Commission, which may cause the costs to fluctuate, but the rate impact will be capped at 25 cents, per the agreement.
- Posted by Rich Miller 23 Comments


* The inimitable Michael Sneed…
Businessman Chris Kennedy, Chicago's link to the JFK dynasty who is eyeing a bid for governor, telling folks "I'm in" at the Irish Fellowship Club of Chicago Christmas Luncheon on Friday.

How does Sneed know?

I was there.
* Meanwhile, Bernie talked to Cheri Bustos about her recent DC promotion and Gov. Rauner…
"I have seen four (Illinois) governors go to prison in my lifetime, and yet, I have never seen a governor worse legislatively than Governor Rauner," Bustos told me in a telephone interview. "He has been hurtful to so many people. And the fact that he cannot put his ego aside long enough to be able to sit down and be willing to compromise for the good of our state is very troubling. […]

Rauner has sparred with majority Democrats in the state legislature since he took office in 2015, and the state continues to operate without a full budget. Rauner has blamed House Speaker MICHAEL MADIGAN, D-Chicago, who also chairs the Democratic Party of Illinois, for blocking a deal as Rauner has insisted on what he calls reforms that Madigan has called non-budget issues that should be dealt with separately.

Is Madigan at fault?

"We've always had a budget up until Governor Rauner was in office," Bustos said.
- Posted by Rich Miller 79 Comments


* Bernie writes about the Illinois Republican Party's Statehouse video tracker…
The GOP put out a video on Nov. 30 showing state Rep. SAM YINGLING, D-Grayslake, as he walked near the Statehouse. The tracker following Yingling asked if he would vote for Madigan for another term as speaker. The GOP obviously delighted in the response of Yingling, who didn't stop or turn around, and said, "I don't know. You should talk to him." They put it on YouTube and issued a news release.

I'm not positive who the tracker was, but I do know that a Republican staffer, AARON DeGROOT, was at the Capitol that day, as he had a camera pointed at Madigan when the speaker addressed reporters following a meeting in Rauner's office. I asked DeGroot if he was the tracker.

His response: "Rank-and-file Democrats have allowed boss Madigan to rule Illinois with an iron fist for decades, and I'm part of a team dedicated to holding those who refuse to stand up to Mike Madigan accountable." […]

"Bruce Rauner has created such a toxic environment in Springfield that I question his ability to get anything done," Yingling told me Wednesday. "He is spending all of his time continuing to campaign as opposed to governing." […]

"You do not invest tens of millions of dollars into an otherwise-defunct organization and then take a hands-off approach," Yingling said [of Gov. Rauner's flat denial that he's involved with the ILGOP actions].
Yingling badly muffed his tracker encounter, but he isn't wrong here. It's highly difficult to believe Rauner would turn over tens of millions of dollars and not be involved with any operations whatsoever. And if Rauner is somehow telling the truth, he needs to get up to speed with what's being done with his money and in his name. Pronto.
- Posted by Rich Miller 63 Comments


* So, apparently, tomorrow's scheduled meeting is being postponed unless the Dems get back to the governor soonish…
The following is attributable to Lance Trover, Deputy Chief of Staff to the Governor, regarding Democratic leaders' ongoing discussions with their caucuses on whether or not to propose a budget framework:

"The Governor and Republican leaders remain ready to negotiate on a balanced budget with reforms to grow jobs, lower property taxes, improve schools and implement term limits. However, Democratic leaders continue to discuss internally whether they are prepared to present a budget proposal, so we will schedule the next Four Leaders meeting when we receive confirmation that they are ready."
…Adding… Sun-Times…
Rauner's administration said the delay was prompted after reaching Rep. Greg Harris and learning the Democratic leaders were not planning to present their budget proposal. Harris has been attending leaders meetings alongside House Speaker Michael Madigan as his "chief negotiator." […]

"The Democrats have been working tirelessly to deal with the budget issues. Somehow they had it in their heads that we're going to take over some executive action. I don't think that's going to happen."

"We're trying to do what the governor is asking us to do and go forward," Brown said.
*** UPDATE 1 ***  Harris, I'm told, informed the governor's office that there had been no presentation to his caucus about the budget proposal as of yet (which was discussed at the Tuesday meeting). When asked if there'd be a budget presented at the meeting tomorrow, Harris told them there would not be.
Madigan's spokesman Steve Brown said in response, "We're going to try to examine and try to understand the governor's actions."
*** UPDATE 2 *** From Senate President John Cullerton's spokesman John Patterson…
"The Senate President is disappointed that the governor cancelled what we hoped would be a robust discussion on a budget framework. President Cullerton has participated in these meetings to keep moving toward a fair and balanced budget. He thought that progress, albeit slow, was finally being made. President Cullerton hopes the governor will reconsider and get everyone to the table so we can keep working."
- Posted by Rich Miller 76 Comments


* Press release…
On her first day in office, Illinois Comptroller Susana Mendoza instructed her staff to issue a directive prioritizing social services, education, and public safety payments ahead of employee bonuses.

"I know first-hand how hard state employees work," Mendoza said. "But I know there are group homes for people with disabilities; rape crisis centers; caregivers for the poor and elderly and other worthy programs likewise waiting to be paid by the state and it's hard to justify leap-frogging millions of dollars in employee bonuses over those bills."

This fulfills a campaign pledge Mendoza made during her campaign for the office of comptroller. The previous administration had argued they could not separate out employee bonuses from regular pay. Mendoza was able to implement the change in her first day.

Payroll Bulletin 2-16, distributed to state agencies Wednesday, explains that employee bonus requests should be submitted separately from regular pay forms for state employees from now on.

This will allow the office to group those bonuses along with vendors, state legislators and top elected officials, including the Comptroller, whose payments are subject to delay due to insufficient funds because the state has not passed a balanced budget.

"When we learned through news reports in October, that as social service agencies were cutting programs because of delays in state payments, the Comptroller, at the direction of the Governor, was giving out nearly $4 million in bonuses to mainly top management staff in the heat of the election, I found that unconscionable," Mendoza said.

The new rule will also bring needed transparency to the practice of granting bonuses, allowing the public to know who is on the receiving end of such awards.

"This is a necessary step to ensure accountability and transparency in government and should've been in place before now," Mendoza said.

The state's current backlog of bills stands at $10.4 billion and growing.

The nearly $4 million in bonuses reported in October were on top of employees' regular salaries. Regular salary payments to employees will continue uninterrupted.
Good move. Munger's protestations were never really believable.
- Posted by Rich Miller 55 Comments


* From the Clinton bill-signing of the Exelon nuclear plant bailout legislation…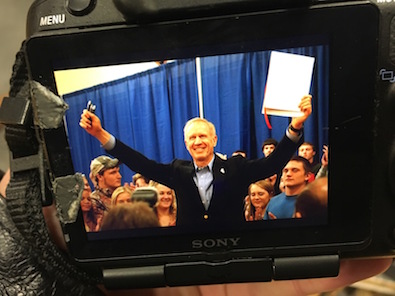 - Posted by Rich Miller 88 Comments


* Reuters…
Chicago's public school (CPS) system plans to sell a new type of bond issue in an attempt to separate the debt from the district's severe financial woes and protect it in a potential bankruptcy filing, according to a document released by the district on Tuesday.

The preliminary prospectus for the debt indicates the Chicago Board of Education will issue $500 million of bonds secured solely by a capital improvement property tax and not by the district's general obligation pledge.

That pledge currently covers about $6.8 billion of existing bonds that are rated junk by Moody's Investors Service, S&P, and Fitch Ratings. […]

CPS cannot currently file for municipal bankruptcy in Illinois, although there have been attempts to change state law to allow such a move. The prospectus includes legal opinions on a "hypothetical bankruptcy" by CPS that conclude payments on the new bonds would not be automatically stopped by a federal bankruptcy court and that bondholders would retain a lien on the tax revenue.
- Posted by Rich Miller 37 Comments


* Zorn…
In the 47 state House districts in which a Democrat and Republican appeared on the November ballot, Democrats won just 50.6 percent of the votes cast for a major-party candidate and won only 22 of those races (46.8 percent).

In the 13 state Senate districts in which a Democrat and Republican appeared on the ballot, Republicans won 51.5 percent of the vote but won only six of those races (46.2 percent). […]

But the results continue to suggest what critics of our partisan political maps have long maintained, that the state is far more closely divided than indicated by the Democratic legislative majorities
There are so many problems with this type of analysis.
I looked at the Senate races because I don't have all day, but I'd bet much the same can be said of the House.
* Let's start with something that often gets overlooked. There are a lot of Latino residents in the 22nd Senate District (at least 36 percent), which means the turnout will not be as high as other districts. So, Democrat Christina Castro got 64 percent of the vote and 39,000 votes. In the far whiter 26th District, however, Republican Sen. Dan McConchie scored 59 percent, but almost 63,000 votes.
Also, by focusing solely on contested districts you leave out the votes in all those uncontested districts. This year, 15 Chicago Senate districts were up for grabs, but none of those incumbents had challengers. And, to say the least, it would be tough for even the most committed reformers to draw lots of Republican districts in the city unless they were spoking them way out into the western suburbs. There were also no challengers in the Rockford Senate district, and the Dem districts in Rich Township, Joliet, Peoria and Alton.
That's 20 overwhelmingly Democratic areas without Republican challengers. By contrast, just 8 Senate Republicans had no challengers. I don't know why those votes weren't counted.
* On to the main point. Seven Democratic incumbents and one Dem favorite had Republican challengers this year. The Democrats lost one of those races by 10,000 votes (Forby). Sen. Tom Cullerton won by only 800 or so. Of the other winners, Cristina Castro won by almost 20,000, Sen. Bennett won by 19,000, Sen. Morrison won by 16,000, Sen. Bush won by about 7,000, Sen. Bertino-Tarrant won by 6,000 and Sen. Laura Murphy won by about 5,500. All but the Castro race were "real" contests. That works out to a total margin for the Democratic winners of a little over 74,000 votes.
But Democratic candidates challenged several heavily favorited Republicans, which ran up the score. Sen. Oberweis ended up winning by 10,000 as did Fowler over Forby. Sen. Rezin won by 15,000, Sen. McConchie won by almost 20,000, Paul Schimpf beat Sheila Simon by 21,000 and Sen. Althoff won by a whopping 34,000 votes (almost half the Democrats' total margin). That works out to be a total margin for the winners of about 110,000 votes.
And all that tells you… what?
Well, it does tell you that the Democratic map-makers packed a whole lot of Republican voters into GOP districts (which would be GOP anyway because of where they are) and carved up some swing districts for themselves. But does it mean that voters as a whole actually preferred Republicans over Democrats when you're only talking about a handful of districts? Nope.
* Now, is the state more closely divided than the legislative maps indicate? Well, Hillary Clinton got 55.8 percent of the vote here. Let's compare that to the House totals since all House seats were up this year. The Democrats won 67 seats, or 56.8 percent of the chamber. Um, that's pretty darned close.
Go back a couple of years and look at the governor's race and things are different, of course. But, hey, as long as we're playing around with numbers…
* Again, just to be clear, I support remap reform on general principles. The people should pick their legislators, not the other way around. But let's have an honest discussion about it.
* Semi-related…
* Mark Brown: Term limits might be the answer, after all
- Posted by Rich Miller 19 Comments


* The 2016 Golden Horseshoe Award for Best House Secretary/Admin. Assistant goes to JoAnn Sullivan in Speaker Madigan's office. She's retiring soon and is one of the most organized, yet sweetest people you'll ever meet. I do not know how she will be replaced. She is, as one commenter called her, a "class act who has kept everything headed in the right direction for years." True that.
Runner-up goes to Lynn Langdon with Representative Hammond's office. "I envy her amazing organizational skills," was how one commenter put it.
* The 2016 Golden Horseshoe Award for Best Senate Secretary/Admin. Assistant goes to another retiring person, Jan Hohl with Senator Sullivan for nominations like this…
Put simply, Jan is like bedrock in a place subject to seismic shifts of all shapes and forms– annoying lobbyists, new staff, and crazy protestors, just to name of few. She is diligent and organized, firm, yet cordial. She knows when to make a joke and when to be serious. On top of all this, she does it all with elegance and class that I fear is becoming characteristic of a bygone time. She's been a great asset to Senator Sullivan, the Senate Democrats, and the entire Statehouse as an institution. For those reasons, and many others, I would nominate her as best legislative assistant in the Senate.
Runner-up goes to Martha Kohlrus, who was nominated by Sen. Weaver himself…
I regularly hear from constituents regarding the great service they have received from Martha whether they called, emailed or stopped by my office. She has done all she can to get me up to speed my first year in Springfield. I don't believe I have ever met a person that can maintain such a positive attitude regardless of work load.
* Now, on to today's categories…
* Best State House Staffer - Non Political, Democrat

* Best State Senate Staffer - Non Political, Democrat
Remember, if you just provide a name your vote won't be counted. So, please explain your nominations and please do your very best to nominate in both categories. Thanks!
- Posted by Rich Miller 42 Comments


* Clever…
Dear Colleagues,

As you know, since the Labor Board's ruling on November 15 that the State and AFSCME are at impasse, we have begun implementing $1,000 bonuses and other merit pay, instituted bereavement leave, and asked AFSCME to join us in jump-starting workplace safety task forces.

AFSCME responded by going to court to stop the State from implementing these and other common sense measures.

Once employees found out about AFSCME's efforts, we started receiving questions like this one: "I was curious if the union blocked my $1000.00 bonus that I have earned or if the state was able to issue my check."

Unfortunately, AFSCME obtained a court order that blocked bonuses, bereavement leave, and workplace safety task forces. On December 5, appearing before a judge who we believe has no jurisdiction to even hear the case, AFSCME got a temporary restraining (TRO) order that blocks the State's implementation efforts. Until the TRO is lifted, no bonuses may be issued, nor may the State implement any other common-sense proposals.

We will of course vigorously challenge the TRO on appeal and keep you updated on the progress.

Sincerely,
JT

John Terranova
Deputy Director
CMS Office of Labor Relations
- Posted by Rich Miller 62 Comments


* Site Selection magazine…
It's hard enough to maintain a first-place finish in Site Selection's annual ranking of state business climates three years in a row. Georgia did that last year. This year, it extends that winning streak with a fourth consecutive top billing. This ranking combines an equal share of subjective and objective criteria.

Fifty percent of the ranking is based on a survey of site selectors – corporate facility investors and site consultants — who indicate simply which states they deem to be the most business friendly. Texas and South Carolina were first and second by that measure, followed by Georgia. At 50 percent of the total, a third-place finish earned Georgia significant points. That's the subjective part. The other 50 percent — the objective side — is a combination of factors primarily based on announced project data resident in the Conway Projects Database (see the methodology below), which credits areas with corporate facility projects of at least $1 million in capital investment, 20 or more new jobs or new construction of at least 20,000 sq. ft.
Illinois doesn't fare well on the "subjective side" because of our well-deserved reputation. We're 24th.
But Illinois' performance far outpaces its bad rep. On the objective side of actual new projects of at least $1 million, things are much different. Illinois ranked 3rd in total numbers of new projects in 2014, 2015 and did so again in 2016.
Even so, the state is slipping in projects per capita. Illinois ranked 8th per capita in 2014, but moved up to 4th place in 2015. We're now down to an 11th place slot in projects per capita.
The site's overall ranking had Illinois tied for 15th with Michigan and Iowa.
* Related…
* Cahill: Indiana can't compete on costs. You heard me.

* A Sneak Peek of the Seismic Shift in Corporate Tax Breaks: New nationwide accounting rules now require state and local governments to report all economic development incentives programs — like Boeing's — as foregone tax revenue. Beginning with fiscal 2017's annual financial reports, the Governmental Accounting Standards Board (GASB) is requiring governments to report things like the total number and value of tax abatements that year, the criteria that businesses must meet, and how the government will get that money back if the goals aren't achieved (commonly referred to as clawback provisions). Reporting the annual value of these abatements will clearly show their effect on governments' bottom lines.
- Posted by Rich Miller 9 Comments


* From the ILGOP…
Chris Kennedy & 3 Others Added To BossMadigan.com
Kennedy Kissed Madigan's Ring; Knows Madigan is the Real Boss
Madigan: "I told him that 'you'd make a very good candidate for governor.'"

The Illinois Republican Party today added Chris Kennedy and three new legislators to BossMadigan.com.

Over the summer, Chris Kennedy earned a glowing endorsement from Mike Madigan after secretly meeting with him, but ran away when pressed by reporters.

"Mike Madigan endorsing a run for governor by Chris Kennedy tells you everything you need to know about Chris Kennedy," said Illinois Republican Party spokesman Steven Yaffe. "Chris Kennedy secretly kissed Mike Madigan's ring months ago because he knows Madigan is the real boss."

Chris Kennedy
Before he can announce a run for governor, Chris Kennedy knew he first had to kiss the ring of Mike Madigan. That's why Kennedy secretly met with Madigan, but so far he's refused to talk about it.

In fact, instead of discussing his meeting with Madigan, his thoughts on the income tax or his opinion on reforms for state government, Kennedy lashed out at reporters. Learn more by watching this video.

Fred Crespo
Fred Crespo's taken nearly $1 million in political funds from Mike Madigan and voted 5 times to make Madigan the Speaker of the House. While Madigan and Crespo look out for each other, they've also teamed on a phony budget that would have increased state debt by $8 billion or forced a massive tax hike on Illinois families. Worst of all, Crespo voted to make sure he gets paid even while he refuses to pass a balanced budget.

Deb Conroy
Mike Madigan funneled over $1.2 million into Deb Conroy's campaign accounts, and she voted to make him Speaker every time she had the opportunity. That's not all. Madigan and Conroy both voted to make sure they get paid even without a state budget.

It's no wonder Madigan and Conroy are refusing to pass a balanced budget alongside good government reforms. They already made sure they get paid even if schools and social services suffer. Time for Conroy to break away from Madigan.

Jay Hoffman
Jay Hoffman is one of Mike Madigan's most loyal lieutenants. Hoffman voted 11 times to make Mike Madigan the Speaker. He voted in favor of Madigan's 67% income tax hike with no reforms. He voted for the Madigan-Blagojevich pension scheme that increased debt by up to $22 billion. He voted with Madigan to make sure politicians get paid before schools and social service providers. Last, but not least, Hoffman voted for Madigan's $8 billion out-of-balance budget.

Jay Hoffman is the poster-child for what happens when politicians follow Mike Madigan's commands. It's time for Hoffman to finally show some independence and oppose Madigan's next bid for Speaker.
* And check out the pic they're using…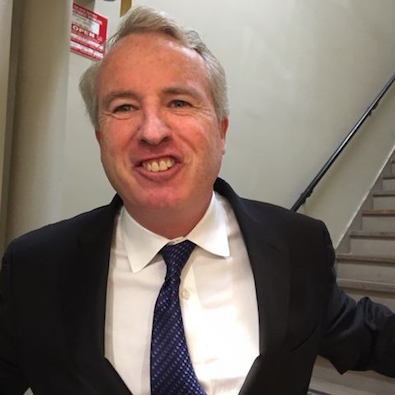 Oof.
- Posted by Rich Miller 52 Comments


* From WLDS AM…
A long-time political reporter doubts the state will get a new budget before next summer.

In fact, Chicago Tribune's Ray Long says there may be no budget until Democrats try to get Governor Bruce Rauner out of office in the 2018 elections.
* You may recall that I asked Gov. Rauner about this almost a year ago, back in January. Oscar the Puppy made the interview slightly difficult, however…
Miller: Do you see [Speaker Madigan] cutting a deal before the primary? Or before the General Election?

Rauner: I don't know what timing he is going to choose. You know my buddies over in the Democratic caucus, some say that there's a chance he'll do it soon, others have said there is no way it's happening before the primary. And more and more are sayin' no way until after the general. At some point we got to lead.

Miller: How do you get there? You've faced complicated situations in business. You didn't become who you were by just waiting everyone out.

::Oscar growing increasingly agitated::

Rauner: I haven't played every card in my hand, I haven't done everything I can do. I'm just going to keep doing what I can do to try and get a compromise.

Miller: Are you going to wait four years? Before we get a budget? Your entire term?

Rauner: Here's the thing – I will not sign off on a tax hike that doesn't have reforms in it.

::Oscar barking madly::

Miller: Oscar please!!

Miller: So, four years? Are you really willing to wait four years?

::Oscar continues barking as if to stop the interview all together::

Miller: Are you really willing to wait four years?

Rauner: I'm not waiting, I'm working my ass off 24/7.

Miller: Ok, are you willing to work your ass off and get nothing 24/7 for four years?

Rauner: We've already got a lot in the first year. I'm all about improvin' the future for the people of Illinois.

Miller: (After a pause) Uh-huh.
Raw audo is here.
*** UPDATE ***  That above interview was when the governor promised me economic and fiscal projections for his Turnaround Agenda. When I published them, Rauner promptly disowned his own numbers and then falsely claimed I was a former Madigan employee to distract from his woefully anemic projections of a $500 million revenue increase.
So, along those lines, here's Wordslinger in comments today…
–We're two years into Rauner's term and I continue to be amazed that he thinks he's going to get what he wants by opting for a 24/7/365 war against Madigan. Is he really any closer to his policy objectives than he was when he was first elected?–

Therein, I think, is a fundamental miscalculation many are making.

If squeeze-the-beast is the real agenda, and I think it is, then everything Rauner is doing makes perfect sense.

By his own (since disowned) calculation, Rauner estimated that his "agenda" would generate $500 million a year in extra state revenue.

So, do you push an FY17 budget with an $8 billion deficit (now estimated at $13 billion), and triple the backlog of bills to an estimated $14 billion by June 30, to hold out for an extra $500 million a year?

That would be the act of a lunatic. And Rauner ain't crazy. He knows what he's doing, and he's accomplishing what he set out to do.

He just didn't tell anyone what that was, for good reason.
Your thoughts?
…Adding… 47th Ward offers a counter-point…
He's just so far removed from the carnage that he doesn't care about the damage he is doing. The damage he is inflicting is in service of his anti-union zeal. He will stop at nothing to eliminate public unions. Period.

He knows he can't get this done without breaking the whole political system so that's what he's doing, and damn the consequences.
I tend to side with 47 on this one.
- Posted by Rich Miller 62 Comments


* NY Times…
Gov. Chris Christie of New Jersey may be pressing his own candidacy to be the next chairman of the Republican National Committee, but Mr. Trump, who has the final say, appears to have other ideas.

A person close to Mr. Trump said the president-elect's allies are coalescing around Nick Ayers, a member of the transition team, to be the party's chairman. Mercedes Schlapp, another Republican operative, is being considered for a role as co-chairwoman.
* From July…
Pence's vice presidential race is headed by the same operative, Nick Ayers, who ran Rauner's 2014 race for governor. Ayers described himself to me in a telephone call last year as a key player in Rauner's campaign—the guy who drafted the campaign plan, hired staff, and handled media buying. He said, "I was the one who on election night [November 4, 2014] called [Rauner] and Diana in their hotel suite and told them we had won. I gave them the news before the AP called it." […]

In addition to guiding Rauner, who had never run for as much as student council president before taking the state's top job in 2014 from incumbent governor Pat Quinn, Ayers also connects to Rauner through the Schrimpf twins, Mike and Chris. When Ayers, 33, became executive director of the Republican Governors Association in 2007, he hired both Schrimpfs (also 33), Chris first, as communication director.

Ayers claims credit for later talking Mike Schrimpf into working for Rauner as communications chief, before the venture capitalist formally entered the race. Schrimpf stayed on during the campaign, and until well into Rauner's first term […]

Interestingly, while Ayers made plenty of money working for Rauner—Politico's Natasha Korecki reported late last year that Ayers' Target Enterprises, which creates campaign ads, "was one of [Rauner's]…biggest payees"
Schrimpf was in Springfield briefly last week, by the way.
* Also from July…
In 2014, Ayers reinvented himself, this time with a much lower profile, finding new success on the shadowy edges of the dark-money world, where avoiding scrutiny is the point. After the Pawlenty debacle, Ayers went to work for Target Enterprises, an ad-buying firm based in Los Angeles. Ayers and his new employer picked up work consulting on the campaign of Bruce Rauner, an extremely wealthy Republican businessman from Chicago, who ran for governor as an outsider against a crowded field of Republicans and a troubled incumbent Democrat. Shortly before Ayers went to work for Rauner, his opponents came under fire from mysterious outside groups.

The groups, based in Ohio, emerged out of the blue to lob factually dubious attacks at Rauner's opponents, and then disappeared. Far more experienced Republican candidates and would-be candidates fell by the wayside. The Ohio groups doing the attacks—with vague names such as Jobs & Progress Fund—hid the source of their money and the motivations for the attacks. (It later came out that one of the groups was partially funded by Ayers' old employer, the Republican Governors Association.) But the limited paper trail they left showed that they had hired Ayers' consulting firm. Rauner's campaign denied any knowledge of the outside groups or who was funding them, despite their close ties to Ayers.
More background on those mysterious 2014 primary ads is on this site.
* But it appeared to start even earlier…
In early 2013, Rauner was publicly considering a run for Illinois governor, as was Rep. Aaron Schock (R). Quite suddenly, a previously unknown — at least to Illinoisans — group, the Jobs & Progress Fund, began running a series of ads on television and radio tearing Schock down for allegedly voting for huge tax increases and "a mountain of debt."

Jobs & Progress, an Ohio group, had less than a month earlier changed its name from the equally bland Ohio First for a Better Government. A politically active 501(c)(4) nonprofit, the group is not required to disclose its donors, nor did it share much else on its initial corporate filings besides the name of its attorney, David Langdon. Langdon is known in Ohio as a staunch conservative and opponent of campaign finance disclosure.

Schock wasn't even a declared candidate at the time, though there was a good deal of buzz that he'd throw his hat into the ring. All of that immediately screeched to a halt.

"It looked to everybody that it was a brushback pitch," said Rich Miller, a blogger and local pundit who covered the mysterious attacks at the time. "It was getting fairly clear that (Schock) was gearing up for something like that and then those ads appeared and everything kind of stopped."
- Posted by Rich Miller 11 Comments


* Tina Sfondeles at the Sun-Times…
House Speaker Michael Madigan emerged from a leaders meeting on Tuesday with the fiery yet unexplained accusation that Gov. Bruce Rauner is holding the budget hostage "to help his wealthy friends and large corporations."

When asked to elaborate, Madigan would only say: "I mean by that exactly what I said."

The speaker's comment came after another leaders meeting with the governor in Rauner's Chicago office — with no sign that a resolution is on its way. There are just 25 days left before appropriations granted by a partial budget run out — leaving social service agencies and universities, among many other state services high and dry.

"I'm not the one who decided to hold hostage the Illinois governmental budget. It's a very unusual tactic for anybody, including the governor, to hold hostage the governmental budget making process in order to help his wealthy friends and large corporations," Madigan said.
Thoughts on what Madigan meant by that? Perhaps keeping the personal and corporate tax rates down?
* Tom Schuba at NBC 5…
During Tuesday's press conference, the speaker once again pushed for working groups, a move Rauner and the Republicans have frequently dismissed.

Madigan proposed establishing working groups for a series of non-budget issues, including education, pensions, workers' compensation, local government consolidation and the elimination of mandates on local governments. Madigan also pushed for rank-and-file members of the legislature to aid in the state's negotiations with the American Federation of State, County and Municipal Employees Council 31.

"This would be in response to the governor's request for what he would characterize as a turnaround agenda," Madigan said. "These are all issues that are pending before the legislature. They're such that the members of the legislature and those who have become expert in these areas should participate in the discussions, should participate in the decision-making, in terms of trying to move toward an agreement on moving bills that would make all of these changes."
OK, so now he wants to talk about non-budget issues via working groups. But the Republicans say it's too late.
* Charles Thomas at ABC 7…
But bipartisan working groups studied budget issues last winter and spring before the General Assembly adjourned in July without a spending plan:

"The question here is how much more do we want to go back to square one and recreate working group?" said Republican State Senate Minority Leader Christine Radogno.

"I look at that as a stalling tactic, which we've seen a lot over the last few weeks," said Republican House Minority Leader Jim Durkin.
Nobody asked about the AFSCME angle, however. I'm certain that the GOP doesn't want to talk about that hot potato.
* Kim Geiger at the Tribune…
Indeed, Madigan downplayed the urgency of the deadline, pointing out that the stopgap spending plan provides a full year of funding for primary and secondary education, as well as capital construction — meaning that some, but not all, of the spending will expire with the new year. At risk is funding for higher education, human services and some government operations, Madigan said.

The speaker, who has been the target of pre- and postelection attacks by the Rauner-led Illinois Republican Party, tried to pin the blame on the governor.
There is little doubt that MJM is slow-walking this thing. I mean, why else would he allow a resolution to reach the House floor that puts members in opposition to a lame duck tax hike?
* Ivan Moreno at the AP…
The crux of the disagreement over a budget has remained the same. Rauner is insisting that Democrats pass parts of his agenda, including passing pro-business legislation, freezing property taxes and considering term limits among other things. But Democratic leaders have said Rauner should drop his demands and focus only on a state budget without pre-conditions.

Meanwhile, Illinois is more than five months behind in paying debtors, and every month the state is increasing its more than $5 billion deficit because spending for government employees and crucial services like Medicaid is on autopilot.
The Cullerton angle is here.
- Posted by Rich Miller 20 Comments


* The IMA on the Exelon bailout bill…
"Today, Illinois' ability to compete for middle class manufacturing jobs was weakened by Governor Bruce Rauner's signature of SB 2814.

"Last week, lawmakers approved a 500-page bill that significantly alters Illinois' energy policy with very little time for stakeholder review. We hoped that the Administration would take time to review this comprehensive legislation and contemplate the impact that electric rates have on Illinois job creators.

"Illinois manufacturers have lost nearly 10,000 good, high-paying jobs in the past year while our neighboring states are growing. Building a guaranteed electric rate hike into state law and reversing twenty years of deregulation is not the answer to get our economy booming again."
…Adding… The governor obviously disagrees with the IMA…
Nothing more important than protecting jobs, Gov. Rauner says @wqad pic.twitter.com/QPRNsSicxF

— John David (@JohnDavidWQAD) December 7, 2016
- Posted by Rich Miller 28 Comments


* AP…
Democratic House Speaker Michael Madigan, who has ruled the state party for over three decades, has become the Republicans' favorite target for attacks, even as they try to get him to capitulate to Rauner's conditions for a budget.

Last week, after Madigan cited a scheduling conflict for missing a negotiating session, the Illinois Republican Party launched a "Boss Madigan" website criticizing his tenure as the country's longest-serving state House speaker and highlighting lawmakers loyal to him to pressure them to break ranks with their leader. Republicans have also urged House Democrats not to support Madigan for another term as speaker next month.
The media has reported on that website several times. But reporters haven't even mentioned the startling introduction of Republican Party video trackers at the Statehouse. And Rep. Sam Yingling wasn't the only legislator targeted by the trackers. He was apparently just the only one who said something goofy enough to post on YouTube. If this continues, it will do infinitely more damage than any website or e-mails.
Republican operatives also hand-delivered an anti-Madigan packet to Democrats' Statehouse offices last week, which was odd and took some Dems by surprise (and kinda creeped them out).
GOP types have also been actively trying to privately convince Democrats to vote against Madigan's reelection. So far, to no avail.
* Meanwhile, here's the latest ILGOP press release…
* Mike Madigan Says State Government is a Democracy, but Runs it Like a Dictatorship
- Posted by Rich Miller 40 Comments


* Just stay away from elevators, Chris, and you'll be fine…
Businessman Chris Kennedy is interviewing potential pollsters and consultants as he moves toward a possible 2018 gubernatorial run, sources close to Kennedy told POLITICO Illinois.

Kennedy, son of the late Robert F. Kennedy, has increased his public profile since the spring and has publicly discussed the possibility of running for governor — without making commitments.

Top Illinois Democrats who have met with Kennedy say they would welcome his candidacy but were not sure if he'll actually make the run, given his flirtations with higher office in the past.

But a top aide to Kennedy told POLITICO Illinois on Tuesday that he is preparing to file papers with the state board of elections "in short order … some time in the next month."
Kennedy doesn't have the cash of someone like Bruce Rauner or JB Pritzker. He's got money, but he's not OMG rich. Case in point was his backing of Innovation Illinois, which was supposed to be a counter to the Illinois Policy Institute. But Kennedy never put nearly enough money into it or raised enough outside funds and it fizzled.
So, we'll see how he does on his first fundraising report.
We'll also have to wait and see if he decides to venture out to experience how large this state really is. We're essentially Boston, MA to Richmond, VA in length (and in politics). And Quincy to Danville (our widest point) is about 230 miles. He's been to Springfield and the Quad Cities, but there's a whole lot of Illinois beyond that.
The guy has floated his name so many times for so many offices that it's difficult to believe he'll actually follow through. And, of course, he failed bigtime when confronted by an aggressive reporter during the Democratic National Convention. Does he have what it takes to endure a statewide bid? Maybe we'll find out.
* Meanwhile…
After being elected to a leadership role in the House Democratic Caucus Monday, Rep. Cheri Bustos is primed to shape outreach and communications efforts for a party that suffered a series of pivotal losses in November's election.

Bustos was tapped to co-chair the Democratic Policy and Communications Committee after winning every county in her downstate swing district last month. […]

During Tuesday's interview, the congresswoman also looked ahead to the 2018 Congressional elections.

"We have a lot of opportunities in two years to hopefully win back some seats and spread what we think is important to working families," the congresswoman said. "Spread that at a deeper and broader level throughout the country, and that will be part of what I hope to play a part in."
Bustos dropped by some state lobbying associations lately to let them know she's interested in running for governor. But she doesn't yet have an active state campaign account and that new DC role could mean she'll be otherwise occupied.
…Adding… Good point from a commenter on the new Bustos gig…
It could also just be one of those "everyone gets a title" things that caucuses, especially minority caucuses, do nowadays.
Agreed.
- Posted by Rich Miller 40 Comments


* Sun-Times…
Throughout the recent presidential campaign, this mostly blue state's Republican governor tried to keep a safe distance from Donald Trump.

While Bruce Rauner skipped his party's convention last summer, Palatine GOP leader Aaron Del Mar cheered Trump enthusiastically from the arena floor, as a member of the Illinois delegation in Cleveland.

That difference must not matter much, because Rauner picked Del Mar last week to represent him at the city-state agency that runs the port of Chicago through June 2020. Del Mar stands to make $20,000 a year to sit on the Illinois International Port District's board, which meets once a month.

Del Mar says he's the best person for the job, citing a degree in public management from Indiana University, his prior service as a Palatine village trustee and his current position as Palatine Township's highway commissioner.

"I'm honored the governor appointed me to this position," Del Mar said. "My resume speaks for itself. I have real-life experience and the educational background."
Some nasty oppo is also included in the story, but nowhere does it mention what could be the actual reason behind the appointment.
When GOP Sen. Matt Murphy announced his retirement, Del Mar coveted the appointment. As a township committeeman he had almost 42 percent of the weighted vote in Murphy's district, making him a strong contender. He could've also appointed himself, by himself, to Rep. Tom Morrison's (R-Arlington Heights) seat if Morrison got the Murphy gig. But Team Rauner got a lot of pushback on Del Mar (that oppo may have had something to do with it), so they went with Rolling Meadows Mayor Tom Rooney instead.
Del Mar got completely shut out. And now he gets a little plum job at the port district.
- Posted by Rich Miller 24 Comments


* From the city…
Good morning-

I wanted to make sure you are aware of a meeting on the Mayor's schedule this morning.

Mayor Emanuel will meet with the president-elect this morning when he is in New York for a series of other meetings. When they spoke a few weeks ago the President-elect asked for a meeting with the Mayor, as he has done with others who have significant experience in the White House and several other big city mayors. The meeting will take place at 10 AM eastern, 9 AM central.
According to the pool report, Emanuel didn't use the main entrance at Trump's building.
…Adding… From the mayor's office…
Mayor Rahm Emanuel and mayors from across the country today sent a letter to President-elect Donald Trump urging him to continue the Deferred Action for Childhood Arrivals (DACA) Program until Congress modernizes the immigration system and provides a more permanent form of relief for the close to one million young people who were brought to the United States before they were 16.

"Ensuring DREAMers can continue to live and work in their communities without fear of deportation is the foundation of sound, responsible immigration policy. Ending DACA would disrupt the lives of close to one million young people, and it would disrupt the American economy, as well as our national security and public safety," said Mayor Emanuel in the letter to Trump. "We encourage your Administration to demonstrate your commitment to the American economy and our security by continuing DACA until Congress modernizes our immigration system and provides a more permanent form of relief for these individuals."

The DACA program helps ensure that qualified undocumented youth can seek higher education, work and engage in military service without fear of deportation. Youth who were under the age of 31 as of June 15, 2012; came to the U.S. before reaching their 16th birthday; have lived in the US continuously for five years; and are currently in school, have graduated or obtained a certificate of completion from high school, have obtained a general education development (GED) certificate, or are an honorably discharged veteran of the Coast Guard or Armed Forces of the United States; who have not been convicted of a felony offense, a significant misdemeanor, or more than three misdemeanors of any kind; and do not pose a threat to national security or public safety; may apply through the program for temporary deferred action and work authorization.

Nearly 742,000 youth have participated in DACA since the program began in 2012. In addition to citing the disruption to countless lives of youth across the country, the Mayors also cautioned the incoming Administration about the economic impact that would come with the eliminating DACA.

According to the National Partnership for New Americans (NPNA), eliminating the program would lead to the loss of $9.9 billion in tax contributions over the next four years and would wipe away at least $433.4 billion from the U.S. gross domestic product (GDP) over the next decade.

Mayors signing the letter included: Mayor Megan Barry of Nashville, TN; Mayor Bill di Blasio of New York City, NY; Mayor Jorge Elorza of Providence, RI; Mayor Eric Garcetti of Los Angeles, CA; Mayor Michael Hancock of Denver, CO; Mayor Betsy Hodges of Minneapolis, MN; Mayor Jim Kenney of Philadelphia, PA; Mayor Ed Lee of San Francisco, CA; Isiah Leggett County Executive, Montgomery County, MD; Mayor Sam Liccardo of San Jose, CA; Mayor Ed Murray of Seattle, WA; Former Mayor Stephanie Rawlings-Blake of Baltimore, MD; Mayor Fran
- Posted by Rich Miller 22 Comments


* Crain's…
On the day before Gov. Bruce Rauner is to sign into law a multi-year electricity rate hike for consumers and businesses statewide, his Illinois Commerce Commission approved a $127 million 2017 rate increase for Commonwealth Edison.

The power-delivery rate hike goes into effect Jan. 1 and will add about $2 per month to the average household's monthly electric bill.

Unlike Rauner when he agreed last week to sign the bill raising rates statewide to keep open two nuclear plants slated for closure by ComEd owner Exelon, the ICC had little choice but to approve next year's rate hike.

That's because ComEd's rates are set according to an annual formula enacted over then-Gov. Pat Quinn's veto in 2011. The formula permits the utility to quickly recover its $2.6 billion investment in upgrading the area's power grid and installing smart meters in nearly 4 million homes and businesses. The formula gives regulators only minimal ability to influence ComEd's requested rates. It also enables the utility to collect more from ratepayers if it doesn't earn its allowed rate of return in a previous year.

With next year's increase now set, ComEd will have hiked delivery rates by $734 million over the past five years under the 2011 law. That has raised the average ComEd household customer's monthly bill, which currently exceeds $80, by more than $10.
- Posted by Rich Miller 35 Comments