* Crain's…
Chicagoland accounted for almost 87 percent of the nearly 426,000 private-sector jobs added since the Great Recession. This graphic shows the percentage change in private-sector employment by year in the Chicago area and the rest of the state compared to 2009.
* The graphic…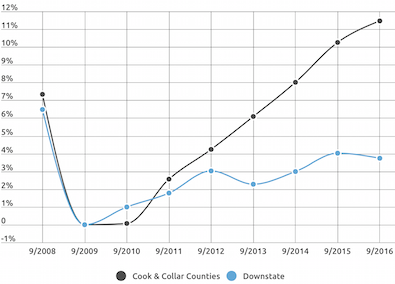 * Back to the Crain's piece…
Sixty-three percent of Indiana's counties have lost population since 2010. The percentage is 67 percent in Missouri and Michigan, 73 percent in Iowa and Ohio, 55 percent in Minnesota and 53 percent in Wisconsin. Illinois topped them all: 86 percent of the state's 102 counties lost population.

The magnet-like attraction of the Chicago region defies its highly-publicized problems. Data from the federal Bureau of Labor Statistics show Chicago and its surrounding metro counties are the engine for 9 out of 10 new jobs in Illinois. It is a trend vividly underscored in recent months when farm and construction equipment giant Caterpillar announced it was moving its headquarters from Downstate Peoria to north suburban Deerfield. […]

Despite talk of statewide economic development strategies, the lure of investment almost always benefits large metropolitan areas. Wage data bear that out. Just three of Missouri's 115 counties—in metro St. Louis and Kansas City—have an average weekly wage of $900 or more, while the average wage in 49 counties is under $600, according to the Bureau of Labor Statistics.

In Indiana, frequently pointed to by politicians and interest groups as a model for Illinois to follow, average weekly wages are below the national norm in 90 of 92 counties, statistics show. […]

"Moreover, because Chicago is less reliant on goods-producing employment, it has been better insulated than the rest of the state from the struggles affecting both the construction and manufacturing industries," the report said. "The difference between the Chicago-area economy and the economy in the rest of the state has had and will continue to have important implications for Illinois."
* Related…
* Dynegy to decide by year-end whether to exit southern Illinois: Representatives of MISO Energy, the grid operator for all or parts of 15 states in the central U.S. including downstate Illinois, in recent months have privately warned legislative leaders in Springfield and Gov. Bruce Rauner of potential power-supply shortages in the future if they don't assist some of the coal-fired plants downstate. Absent a court ruling halting the subsidies, which will take effect late this year, or additional state help to his fleet, Flexon said more plant closures are inevitable. Recent market signals are very negative. Under an auction conducted earlier this month by the regional grid operator for the Midwest, generators in downstate Illinois will be paid next to nothing for their promise to be available during peak-demand periods in the year beginning June 1, 2017.
54 Comments

































































































































































Sorry, comments for this post are now closed.