* This higher ed fact sheet was handed out earlier in the week. Click the pic for a larger image…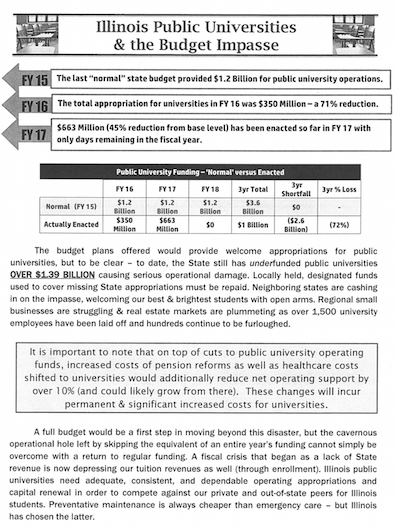 Oy.
* Meanwhile, from ABC 7…
Dozens of faculty members from Northeastern Illinois University held a New Orleans-style funeral march for the state's higher education through the streets of Winnetka and up to Governor Bruce Rauner's door.

They marched to the governor's home because they said they were out of other options. NEIU typically operates on a $90 million budget, one-third of which is funding from the state. Now the school is trying to figure out how they will open their doors in the fall.

The NEIU employees took their slow funeral march through downtown Winnetka. At the front of the pack of horns and robed employees was a tombstone symbolizing the death of public education.

"What we think this is, is Rauner trying to ruin the university system," said Sophia Mihic, professor of political science and philosophy at NEIU and president of the faculty union.
* And unionized NEIU staff produced a video the other day…
50 Comments





















































































































































Sorry, comments for this post are now closed.