* I received this photo earlier today…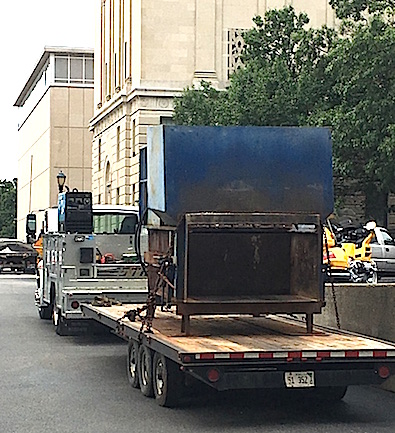 * Along with this text message…
The Senate janitors told me that they have to take the trash to the Stratton now because the dumpsters were just removed because state didn't pay? Might want to check
I've since seen some tweets and Facebook posts about it.
* So, I checked with Secretary of State Jesse White's spokesman Dave Druker. The SoS controls the Statehouse, so they're in charge.
Dave told me that the contract is expiring with the current garbage collection provider, so it's now removing its dumpsters. The new provider, which submitted a lower bid, is starting on Monday.
In the interim, janitors will have to take the trash to the Stratton Building.
* It would've been a great story, though.
*** UPDATE ***  I'll bow to popular demand and make this a caption contest.
66 Comments





































































































































































































Sorry, comments for this post are now closed.