* The Madison County Democratic Party held an Iowa-style caucus last night. People had the choice of 7 locations throughout the county where they could listen to speeches and interact before cvoting. The party decided in advance that a majority of those voting would be needed to endorse. Nobody reached that majority…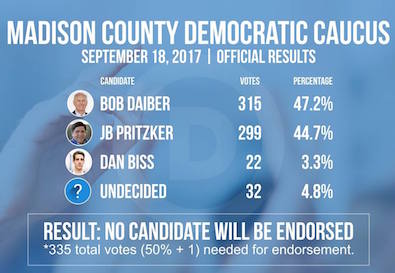 That's a pretty good turnout.
Bob Daiber is the Madison County Regional Superintendent, so he had been expected to win this thing.
* But the Pritzker campaign worked it hard and nearly took it…
"The argument for me to the people in the Democratic party — we want this to become a biannual event. We want to be like Iowa, we want to be an early testing ground for a candidate's retail appeal." Pritzker came down and organized, targeted social media ads and motivated laborers to support him, [Madison County Democratic Party Chairman Mark Von Nida] said. "Biss was smart," Von Nida said. Keeping in mind the viability threshold rule, he concentrated on the two areas in the county where he had a toehold and flooded them with his supporters. "Kennedy had a presence at the different sites, but they were spread out," not able to reach the 20 percent minimum at any of the sites, meaning he was deemed not viable.

"Getting no voters at all, you probably didn't take it seriously and organize or you didn't have a retail appeal," Von Nida said. "We hope the candidates that run statewide will pay attention to Madison County and take it seriously and court voters … Candidates that were looking for a bounce or some momentum coming out of it, it is what it is."
* From a loyal reader who was there…
At my site labor comprised 90% of the votes for Pritzker… That AFL-CIO endorsement payed off!
* From the Kennedy campaign…
There's no question Chris has strong support in Madison County. Our campaign staff and volunteers were nimble and well-organized yesterday. Once it was clear that JB used his resources to bus people in, we teamed with the Daiber campaign to pool our votes so there would be no endorsement.
So, a "moral victory" then?
* Daiber didn't seem pleased with Pritzker on Twitter…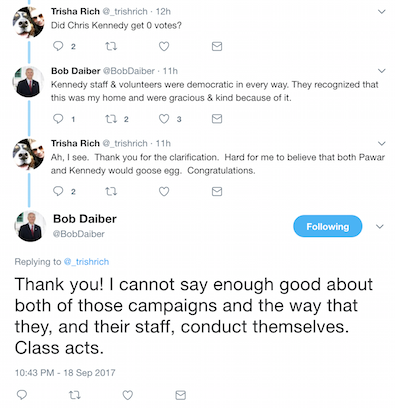 *** UPDATE ***  Statement from Anne Caprara, Pritzker campaign manager…
"First Kennedy complains about the press to the press and now he is upset that our campaign is building a statewide grassroots operation with field offices and organizers in every region. To make such a false accusation isn't just petty, but Kennedy is using the Bruce Rauner playbook of blaming others when you can't get the job done.

"We believe that every voter in every county matters and we organized voters in Madison County just as we would anywhere else in the state. To somehow suggest that their time and commitment to the caucus process in Madison County is manufactured is a disrespectful lie and the type of dishonest rhetoric voters have had enough of. The Democratic Party in Madison County did a terrific job organizing an energetic caucus and we commend Bob Daiber on his strong showing."
OK, well, it's on now.
60 Comments



















































































































































































Sorry, comments for this post are now closed.