* Michael Hastings is a Democratic state Senator from Tinley Park. I've altered the image to take out his address, but a buddy sent this to me today and it's already going around…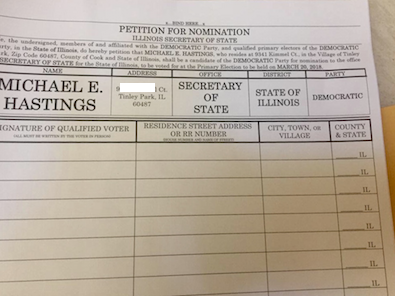 "I have a lot of petitions out," Hastings said today, confirming that he's also passing petitions for attorney general.
"I don't intend to run against Jesse White, I'll tell you that right now," he said, adding that he's only circulating petitions because he's heard the same rumors we talked about yesterday, that secretary of state petitions are being circulated for Ald. Walter Burnett, who is Secretary White's guy, and that White would drop out late in the game and Burnett would be ready to go. Secretary White's office flatly denied those rumors.
* So, I got ahold of Ald. Burnett. "I'm not passing petitions," he said.
"Mr. White is not playing no games. He's running. I'm not," Burnett said. "Mr. White is running and I'm supporting him and if somebody is trying to do that they're trying to manipulate something."
"I haven't seen the petition," he continued. "I don't even know if there really are petitions. The 'alleged petitions,' I have nothing to do with them."
* Anyway, back to Sen. Hastings. He's an attorney and complained today that "We don't have any suburban representation," on the statewide slate. He sounded very interested in running for AG.
…Adding… There's some speculation that because White isn't on the party slate's petitions that this somehow means he isn't actually running. Lisa Madigan also opted out of the slate petitions (when all incumbent candidates appear on the same petition), and people are putting two and two together and coming up with five. But the White people claim they always do their own petitions. Also, White hired Rocco Claps as his new political director a couple weeks ago or so. Everyone probably needs to take a breath here. And while I can understand Hastings not wanting to take any chances, I don't think the secretary is amused, from what I've been hearing.
39 Comments




















































































































Sorry, comments for this post are now closed.