* This is from one of Dan Proft's newspapers. There's no byline on the story, but Dan does still have some friends in the administration. I'm not sure what to believe at the moment…
Governor Bruce Rauner will sign House Bill 40, mandating state taxpayer funding of abortion, sources tell Prairie State Wire.

Rauner revealed his decision during a staff conference call this morning.

In signing the bill, Rauner will become America's first governor to initiate taxpayer funding of abortions.
Could be misdirection. Could be a lot of things, including true. Stay tuned.
…Adding… I'm told this did not come up during the staff conference call.
- Posted by Rich Miller 46 Comments


* BND on Monday…
A Marion County Board member is making a run for state representative now that state Rep. John Cavaletto, R-Salem, has decided not to run for re-election next year.

Adam Smith, of Centralia, announced Monday he is seeking the Republican nomination for the 107th District. Smith owns Smith Truck Service, which services the local oil industry, and is a real estate agent at Coldwell Banker of Centralia.

He said he wants to roll back the recent income tax hike.
* From his Monday press release…
Smith said Illinois is driving businesses and taxpayers out of the state at an alarming rate, and that the trend will continue until real reforms which make Illinois a more business-friendly state are made in Springfield. Smith said it is no secret that the overall tax burden in Illinois is "absurd." He said, "there is a limit to what is sustainable and we have exceeded it. It is time to bring Illinois back from the edge of the cliff before it's too late." Smith also supports term limits for legislative officeholders, saying "we have had a permanent tax increase being implemented by temporary politicians."
* BND today…
Two days after announcing his run for the Illinois House, a Marion County Board member is dropping out of the race.
* From his press release…
Marion County Republican and Centralia resident Adam Smith is suspending his campaign for the State House of Representatives, effectively immediately. Smith said, "Upon further review and a lot of introspection over the last several days, I have realized there are not enough hours in a day to achieve all that needs to be done for a campaign." He added, "In addition to running a business, selling real estate, and fulfilling county board obligations, it is important to me that I still have time for my church and family responsibilities."

Smith indicated many factors led to his decision to run initially in the March 20, 2018 Republican Primary, and the aforementioned factors also lead him now to suspend the campaign for State Representative of the 107th District of Illinois. Smith's withdrawal does not, however, indicate a lack of interest in the issue of excessive taxation which he believes is debilitating the State of Illinois, nor does it dampen his interest in contributing to the betterment of our local and regional economy where he is able to do so. Smith also ran on a platform of pro-business reforms.

Smith will continue to serve as a Marion County Board Member. He stated, "I sincerely appreciate the vote of confidence I have received from all my friends and family."
I have never seen a press release like that before. He "suspends" his campaign after two days because campaigning takes a lot of time and energy. And then he thanks all his friends and family for their "vote of confidence"?
* Related…
* July 14, 2017: With the school year and summer school complete, a freshman English and theater teacher at University High School in Normal has started his campaign for Congress.

* Today: A high school teacher who wanted to unseat U.S. Rep. Rodney Davis, is ending his run for Congress.
- Posted by Rich Miller 12 Comments


* Hmm…
Rauner won't take off topic questions (again) but sources confirm #ILGA at Veto session will consider $100 Mil for #ObamaLibrary

— Mary Ann Ahern (@MaryAnnAhernNBC) September 27, 2017
* The Question: Your thoughts on this idea?
*** UPDATE *** I'm told by Madigan spokesman Steve Brown that the report has "No basis in fact"…
When Illinois lawmakers return to Springfield in late October for the veto session, multiple sources tell NBC 5 the General Assembly are likely to consider whether to approve $100 million in capital funds for the Obama Presidential Library.

Sources say Speaker Madigan proposed the funding when he met with GOP Leaders Jim Durkin and Bill Brady.
- Posted by Rich Miller 23 Comments


* Press release…
The National Conference of State Legislatures (NCSL) issued the following statement in response to the release of the tax reform framework developed by the Trump administration, the House Committee on Ways and Means, and the Senate Committee on Finance:

As a central tenet of tax reform is to provide tax relief for the middle class, NCSL is dismayed that the released framework will eliminate a deduction that is vital to middle class taxpayers, the State and Local Tax (SALT) deduction. The SALT deduction has existed in the federal tax code since its inception, which coincidentally was also when the federal tax code was at its simplest, because federal tax writers were cognizant to not tax an individual's income twice. Eliminating this deduction will lead to higher tax burdens for tens of millions of middle class taxpayers of every political affiliation, an outcome contrary to the stated goal of providing meaningful relief to taxpayers. The elimination of the SALT deduction also impedes the ability of states to invest in infrastructure, fund education, and provide the vital public services that Americans expect from their state and local governments.

Ensuring that the incomes of American workers are not taxed twice hardly counts as a special interest tax break or loophole that needs to be closed. NCSL strongly supports preservation of the SALT deduction and opposes any attempt to harm middle class taxpayers and their communities.

Protect state taxpayers. Protect local decision making. Protect SALT.
I don't think I've ever seen NCSL take a hardcore public stance like that before.
"Blue" states tend to have higher state and local taxes, including property taxes, which is one reason why this is being floated in a Republican Congress. But there are a whole of of Republican members in high-tax suburban and rural districts that will be exposed to some serious constituent anger over this topic.
* From GOP Congressman Rodney Davis…
"Today House Republicans united around middle-class Americans who are being crushed by our outdated tax code," said Davis. "Illinois residents know all too well the impact high taxes are having on their families' ability to save and get ahead and our state's ability to compete for good-paying jobs. Our plan uses Illinois as an example of what not to do. We want to cut tax rates for individuals, simplify but maintain important middle-class deductions, and make it so American businesses can compete globally. There's still much more work to be done, but this is our shot at changing the lives of each working American for the better and I hope we get bipartisan support to get it done."
But under this bill, those high state and local taxes won't be deductible.
- Posted by Rich Miller 18 Comments


* Press release…
Today, the Illinois Senate Democratic Victory Fund announced a new initiative to support female candidates running for the Illinois Senate: Wings.

"We are proud to introduce Wings as an initiative to support our female legislators and candidates running for the Illinois Senate," SDVF Communications Director Courtney Zientek said. "The amount of enthusiasm we've seen from women across Illinois looking to run for office has been so inspiring, and we are looking to harness that energy as we head into 2018."

Wings will bring a special focus to our five female Senators up for re-election in 2018, and our seven female candidates working to get on the ballot and challenge Republicans next fall to join the ranks in the Illinois Senate. Wings will highlight their campaigns across the state and give women a platform to reach historic heights in Illinois government.

"There has been a lot of talk about the lack of women running for Governor of Illinois, but we have heard from many women at the local level looking to make a difference for their communities," Zientek said. "Senate Democrats strongly believe that our historic number of female candidates will lead us to victory in the 2018 elections and add to our majority in the Illinois Senate."

We are proud that Illinois currently has more female Senators than any state legislature in the country. However, women are still sorely underrepresented in state government and the Illinois Senate Democrats are dedicated to ensuring we add to our historic number of female legislators serving in the Illinois Senate.

Stay tuned for more information on how to get involved in our Wings campaigns and learn more about the female candidates running for the Illinois Senate here:
* In other news, US Sen. Tammy Duckworth won't take a side in the governor's race…
On Illinois politics, Duckworth said she is not taking sides in the crowded Democratic primary race for governor. But she said she has offered to help all of them, even making available her precinct-by-precinct election results from Downstate counties that both she and Trump won. Some Democrats have taken her up on the offer — she declined to name them — but not all.

She said J.B. Pritzker and Chris Kennedy are past contributors, and state Sen. Daniel Biss was an intern in her failed 2006 race.
* Meanwhile, in the attorney general's race…
Mayor Rahm Emanuel on Tuesday declined to say how much input community members will have in finding a new head of the just-launched police oversight agency that's a key piece of his effort to increase public trust in the Chicago Police Department.

Talking to reporters for the first time since sources acknowledged Monday that Sharon Fairley had told the mayor she was planning to step down to run for attorney general, Emanuel offered few specifics about the search for a successor.

"We're going to have a process to — I'm going to be naming a process, working with a lot of different people, working, and I've had a number of discussions with individuals about how to create a process that has input to have a set of names that reflect, I think, the independence and authority that we've built over the past 22 months," Emanuel said.

The mayor praised Fairley and said she has left the agency ready to carry on without her. Fairley took over the widely distrusted Independent Police Review Authority following the crisis sparked by the fatal shooting of black teen Laquan McDonald by a white police officer, turning the agency into the new Civilian Office of Police Accountability.
As far as I can tell, Fairley has made just three local/state campaign contributions totaling $5k. Her first was $1K to Democratic gubernatorial candidte Paul Vallas in March of 2002, then $1,500 to the eventual nominee Rod Blagojevich in August of the same year, then $2,500 to John Stroger in 2006 while she was in law school.
This NY Times article about Fairley's 2002 marriage to Ariel Investments CEO John Rogers (they've since parted ways) said she was "executive director of consumer marketing and trademark development at Pharmacia, the pharmaceuticals maker in Peapack, N.J." at the time of her first contributions. According to the piece, she "graduated magna cum laude from Princeton and received an M.B.A. from the University of Pennsylvania."
She got her law degree from the University of Chicago and she is listed as a law lecturer. From her bio…
After receiving her J.D. degree from the law school in 2006, Sharon served as an Assistant Attorney General in the Criminal Appeals section of the Office of Illinois Attorney General. In March 2007, Sharon joined the United States Attorney's Office for the Northern District of Illinois. As an AUSA, Sharon investigated and tried a variety of criminal cases involving federal criminal law violations such as illegal firearms possession, narcotics conspiracy, bank robbery/murder, murder for hire and economic espionage.
The Chicago Fraternal Order of Police is not a Fairley fan, to say the least.
* Moving right along, we'll just have to see if anyone in the media will take this bait…
I'm gonna ask @GovRauner here on Twitter whether he supports Roy Moore, his party's nominee for US Senate in Alabama, until he answers 2/

— Will Guzzardi 🖇 (@WillGuzzardi) September 27, 2017
- Posted by Rich Miller 15 Comments


* I'm not sure if "Scott" is Rep. Drury and someone else wrote this tweet or if Scott is the name of the tour guide other than Rep. Drury, or what. But have at it…
We took a break from campaigning in Springfield to take a tour of the Capitol. Thanks, Scott! pic.twitter.com/6qEa5McoYM

— Scott Drury (@Drury4IL) September 27, 2017
*** UPDATE ***  As you can see, he or his campaign deleted the tweet, but somebody I know saved the photo…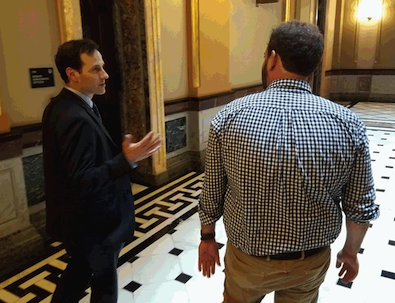 Carry on.
- Posted by Rich Miller 64 Comments


* SJ-R…
[Gateway Foundation's Springfield Treatment Center] has seen the substances plaguing its clients change drastically over the past five years as a nationwide epidemic of opioid abuse took hold in downstate Illinois, Henry said.

Gateway, which draws clients primarily from 60 downstate counties, used to serve more alcoholics but now sees 85 percent of its clients dealing with addictions from heroin, prescription drugs and other opioids, she said. […]

Statewide, the 1,826 opioid-related deaths reported by the Illinois Department of Public Health for 2016 represent more than a 70 percent increase compared with 2013 and a 32 percent increase compared with the 1,382 opioid-related deaths in 2015.

In Sangamon County, there have been 33 opioid-related deaths so far in 2017, compared with 23 in all of 2016, 41 in 2015, 32 in 2014, 14 in 2013 and 29 in 2012, according to Coroner Cinda Edwards.

At least 17 of 2017′s opioid deaths were caused by heroin overdoses, Edwards said, compared with nine heroin deaths in all of 2016 and 21 in 2015.
The full state report is here.
- Posted by Rich Miller 19 Comments


* Personal PAC's Terry Cosgrove on the possibility that Gov. Rauner could issue an amendatory veto of HB40 to remove the public funding component but leaving the new "trigger" deletion in place as a sort of compromise between the two sides…
Will Anti-Abortion Activists Back Trigger Repeal Move?

If Brady, Durkin, McSweeney, Breen, Morrison, Jiesel, McConchie, McDormand et. al. put their stamp of approval on Rauner's deal to get rid of their sacred "trigger" law in exchange for his piles of money and their supporting him, how will the folks at Illinois Review, "we are not a hate group!" Illinois Family Institute, Illinois "Right to Life" (except for women, of course) et. al. react if their so-called "champions of life" legislative leaders saying that it is ok to get rid of the "life begins at conception" language in Illinois law? Outlawing all abortion is their dream with a Trump appointed Supreme Court ready to allow it, and now they are all trading it away. I believe there are a few bible verses they all might want to look at.
Um, OK. Your thoughts?
*** UPDATE ***  Illinois Review…
Wednesday, State Rep. David McSweeney (R-Barrington) and Jerry Costello (D-Collinsville) introduced HR 620, a bi-partisan effort to stop Illinois taxpayers from paying for abortions and squelch the growing movement to effectively end the "Hyde Amendment."
The resolution…
WHEREAS, in the 2017 spring session of the 100th General Assembly, both houses of the General Assembly considered, and with partisan votes passed, a bill – House Bill 40 – that was primarily drafted to expand state funding for abortions; and

WHEREAS, on April 14, 2017, Bruce Rauner, at a time when the Governor was in full awareness of HB 40 and its intended purpose, publicly pledged that the he would veto the bill; and

WHEREAS, Illinois is already one of the highest-taxed states in the United States, especially after the adoption of the recent 32% increase in the income tax rate, and it is not appropriate to expand state funding for abortions; therefore be it

RESOLVED, by the Illinois House of Representatives of the 100th General Assembly, that we call upon Governor Bruce Rauner to immediately honor his pledge to veto HB 40; and be it
- Posted by Rich Miller 18 Comments


* From the Center for Tax and Budget Accountability…
Illinois' fiscal year 2018 budget introduced major changes to the state's public pension systems in an attempt to grapple with Illinois' roughly $130 billion in unfunded liabilities. One of the most important aspects of these changes was a new package of benefits. This new package, called "Tier 3," introduced a hybrid defined benefit-defined contribution plan in addition to the defined benefit plans of Tier 1 and Tier 2.

This month, the State Universities Retirement System (SURS) released the first long-term actuarial analysis of the effects of Tier 3 and other changes contained in the FY2018 budget.

CTBA has identified three major takeaways from SURS' analysis:

* The "normal cost" of Tier 3's defined benefit plan-that is, the cost of funding the benefits earned by current employees in a given year-will be higher than many observers expected. As a result, public employers-in this case, public universities and colleges-will be required to make larger payments on behalf of their Tier 3 employees.

* The larger normal cost also means that Tier 3 employees will pay the maximum 6.2 percent of their income towards the defined benefit portion of their retirement benefits. When added to the 4 percent of income they will pay towards the defined contribution portion of their retirement benefits, that means Tier 3 employees will pay 10.2 percent of their income in pension contributions-significantly more than the 8 percent current SURS workers pay.

* Contrary to some reports, which concluded that because Tier 3 will not be implemented in FY2018 it will not be able to produce any savings in this fiscal year, SURS still projects $61 million FY2018 savings from Tier 3. Over the long run, however, the pension changes made in the FY2018 budget do not meaningfully reduce the state's projected pension payments.
The full report is here.
Apparently, the new plan is just about as "This Is Illinois" as you can get.
- Posted by Rich Miller 22 Comments


* Press release…
Today, Comptroller Susana Mendoza endorsed JB Pritzker and Juliana Stratton at a grassroots campaign event at IBEW Local 193 in Springfield. This marks JB's second endorsement by a statewide officeholder after Secretary of State Jesse White endorsed the campaign in August.

"Comptroller Susana Mendoza is a force. She is strong, she is fearless, and she is a vital voice for the people of Illinois," said JB Pritzker. "There is no one who has done more to hold this governor accountable than Susana Mendoza. Since day one, she has traveled this state, meeting families hurt by this governor and working towards solutions. Think about how much Susana could accomplish if instead of spending her time defending families from the governor of Illinois, she had a governor as a partner in Springfield who would stand up for working families. Now it won't be easy to defeat Bruce Rauner and his right-wing allies in 2018. But we've got Susana Mendoza on our team, we're going to win. Together, we're going to defeat Bruce Rauner for good."

"As your state Comptroller, I have seen firsthand the division and destruction Bruce Rauner has caused this state. Over the past three years, we've seen the longest budget impasse in the country's history, our bill backlog triple to $16 billion, eight credit downgrades, and social service providers decimated," said Comptroller Susana Mendoza. "We need a governor who looks out for all Illinoisans, who will join me in lending a voice to the voiceless, and unify our fractured state. That is why I'm proud to endorse JB Pritzker and Juliana Stratton for governor and lieutenant governor. I believe JB and Juliana have a vision that will put an end to Rauner's crisis and move our state forward."
- Posted by Rich Miller 17 Comments


* Tribune…
In a move that could lead to dirtier air in Chicago and other downwind communities as far away as New York, Gov. Bruce Rauner's administration is pushing to overhaul stringent limits on lung-damaging pollution from some of the last coal-fired power plants in Illinois.

Proposed amendments to state rules would scrap limits on the rate of pollution from a fleet of eight coal plants in central and southern Illinois owned by Dynegy Inc. Instead, the state would impose annual caps on tons of sulfur dioxide and nitrogen oxide emitted by the fleet — a subtle but significant change that could stall or reverse efforts to reduce Dynegy's contributions to smog, soot and acid rain.

Drafted with extensive input from the company's Chicago-based attorneys, the proposed pollution caps are significantly higher than what Dynegy's fleet emitted during each of the past two years, according to a Tribune analysis of federal pollution data.

Alec Messina, director of the Illinois Environmental Protection Agency, said the goal is to keep the financially struggling coal plants open by giving Houston-based Dynegy more flexibility to operate individual generating units, several of which are not equipped with modern pollution controls. Before joining the Rauner administration, Messina worked as a lobbyist for a trade group that represents the company's interests in Illinois. […]

None of the Dynegy plants burns Illinois coal; the company ships its fuel by train from Wyoming mines that produce coal with a lower sulfur content. But the company employs about 1,000 people in Illinois and the power plants contribute to the tax base of local communities, making their survival a potent campaign issue as Rauner seeks re-election next year.
* The story has prompted a couple of campaign responses. Here's Ameya Pawar…
"For too long, politicians have allowed major corporations and powerful special interests to exert control over our government, to the point of allowing companies to rewrite laws that serve their own self-interests. Gov. Rauner is continuing that tradition by allowing Dynegy to rewrite environmental regulations to benefit the coal giant at the expense of public health and the environment. As governor, I'll stand up to the political insiders, special interests and corporations who put profits over people and will fight to protect our environment and improve people's lives in our state."

Illinois has the opportunity to lead the country in the fight against climate change and the creation of a 21st century economy. Pawar believes a commitment to environmental sustainability is the best path to economic prosperity and quality jobs that cannot be automated or shipped overseas. Through statewide green initiatives, protections and policies, we can revitalize our economy, create 21st century jobs, improve quality of life, and protect our future.

The coal industry doesn't employ enough Illinois residents to justify preferential treatment in our energy mix. These plants increase asthma and local air pollution, damaging the health of our communities. Over the next 18 years, we should make a commitment to replace all that dirty power with renewable energy. Wind and solar energy are approaching grid parity in many areas, and the economics of those projects will continue to improve if we make long term commitments and deploy these technologies around the state. We can accelerate the pace of renewable integration by harnessing local installation expertise, lower the barriers to permitting and grid integration, and make an investment in our energy future.
* Sen. Daniel Biss…
"With this revelation, Bruce Rauner has proven himself an ally to those who seek to pollute our ecosystem, as well as our political system. He's allowed coal company lobbyists to rewrite their industry's own regulations, endangering the health of generations of Illinoisans and threatening the land on which we all live in exchange for continued political support. As Rauner once again chooses billionaires over working families, he's confirming who he represents in the Governor's mansion, and it isn't the rest of us. Too bad for Bruce, it is the rest of us who get to decide who belongs in the governor's mansion, how we run our state, and whether we will fight for a clean environment for generations to come."
…Adding… Kennedy campaign…
Governor Rauner's Illinois EPA has become a lackey for coal industry executives who are more driven by profits than by a belief in innovation and progress. The IEPA agreed to change a provision concerning pollution caps to allow coal companies to close plants with more pollution control equipment and replace them with cheaper, dirtier plants that tend to be more profitable. This change alone is an abdication of responsibility by the IEPA, and it is a deplorable sacrifice of the public good in order to increase the profit margins for Rauner's big business allies.

We cannot allow the standards that protect the environment and our families' health to be hijacked by company executives behind closed doors. We need open and frank discussions about how to overcome our environmental and economic challenges.
…Adding More… Press release…
The Illinois Clean Jobs Coalition issued the following statement today in the wake of a report published today by the Chicago Tribune detailing a proposed rule change being drafted by the Illinois Environmental Protection Agency:

"After having worked for more than two years in an open, transparent process to pass historic clean energy legislation, the Illinois Clean Jobs Coalition is deeply disappointed to learn of backroom negotiations taking place between Gov. Rauner's political appointees at the Illinois EPA and Houston-based Dynegy Inc., which would result in massive new air pollution for the state of Illinois and beyond. We are especially dismayed by this turn of events given that Gov. Rauner less than a year ago signed into law the Future Energy Jobs Act, a bill which brings cleaner air and better health to people across the state, and in particular will deliver groundbreaking investments in clean energy development to central and southern Illinois. Instead of advancing real, long-term economic solutions for Illinois communities and protecting public health, the Rauner administration appears to be re-writing critical rules to help an out-of-state company pad its profits while polluting our air."
…Adding Even More… JB Pritzker tweeted this out today…
Instead of working to protect our environment, @GovRauner is showing his loyalty to his special interest friends.

By making an inside deal with an out-of-state polluter, Rauner makes it clear that special interests take priority over our state.

We need a governor who puts Illinoisans first, and that's exactly what I'll do in Springfield.
* Meanwhile, let's set the Wayback Machine to March of 2015…
Gov. Bruce Rauner's bid to dig the state out of its financial hole could strip a program designed to boost Illinois coal production.

As part of the Republican governor's spending proposal for the fiscal year beginning July 1, the Office of Coal Marketing and Development at the Illinois Department of Commerce and Economic Opportunity would be reduced from eight employees to zero.
- Posted by Rich Miller 29 Comments


* From the Illinois Republican Party…
Susana Mendoza Repays Her Debts to Madigan, Endorses Madigan's Candidate for Governor

Mendoza's endorsement of J.B. Pritzker is the latest order she's taken from Mike Madigan

"Mike Madigan made Susana Mendoza's political career by backing her campaign and clearing the field of her opponents. Now, she's repaying those debts by endorsing J.B. Pritzker, Madigan's favorite candidate for governor. Madigan is steamrolling all opposition to Pritzker, and Susana Mendoza is playing her part as a cog in Madigan's corrupt Chicago Machine." - Illinois Republican Party Spokesman Aaron DeGroot

In the latest example of Mike Madigan doing whatever it takes to ensure J.B. Pritzker wins the Democratic nomination for governor, Madigan ally Susana Mendoza endorsed Pritzker's campaign for governor.

It's well established that J.B. Pritzker is Mike Madigan's chosen candidate for governor. That is why Mendoza's endorsement comes as no surprise - she's been showering Madigan with praise and doing his bidding for years.

Mendoza thinks Madigan is a"brilliant politician, tactician, and public servant and a great man". Mendoza even said Madigan is her "political mentor".

Just a day after voting for Madigan's massive 67% tax hike, Susana Mendoza seconded Madigan's nomination for Speaker, ensuring yet another disastrous two-years of his reign over Illinois. In her speech, Mendoza said this of Madigan:

"It's also my sincere honor to second the nomination of Michael J. Madigan for Speaker of the Illinois House of Representatives. I've had the privilege to serve under his unparalleled leadership for 10 years now, only a quarter of the time that Illinois has benefited from his almost 40 years of stewardship. Over the last decade, I have witnessed his skills as a leader and a man who time and time again has demonstrated his passion and love for this state and has consistently put Illinois first."

And in 2015, Madigan pushed Daniel Biss out of the race for comptroller to clear the field for Mendoza, preventing a contested primary and ensuring an easy nomination.

Over her long career in politics, Susana Mendoza has racked up a lot of debts with Mike Madigan. Now, Mendoza is repaying her debts to Madigan by endorsing his favorite candidate for governor, J.B. Pritzker.
- Posted by Rich Miller 48 Comments


* Tom Kacich interviewed retiring state Rep. Reggie Phillips, a very conservative Republican who voted for the tax hike and the veto override…
Phillips came into the Legislature as a disciple of Gov. Bruce Rauner's so-called turnaround agenda. He said he still believes in it, but it's obvious in both his words and actions that Phillips didn't buy into all of Rauner's political strategies and methods. Phillips voted both for the income tax increase and the budget deal that Rauner outwardly opposed.

"The theme was to make Illinois better, shake up Springfield. I understood it. I'm in. I'm for it," Phillips said. "But the direction it took, it took off on its own. It was like being on a whitewater raft with a professional helping you, and then all of sudden, you don't have paddles. […]

Phillips, whose district includes Eastern Illinois University, community colleges, hospitals, prisons and other institutions affected by the two-year-long budget impasse, said he couldn't watch it continue.

"And all it did was do more devastation at that point, in my opinion," the two-term lawmaker and builder-developer said. "I was looking at my crystal ball, and my crystal ball said, wait a minute. You don't want to see your university close on your watch. You don't want to see the community colleges in your area devastated with less students going. You don't want to see dentists leaving your district. You don't want to see everything else that could happen.
- Posted by Rich Miller 21 Comments


* NBC 5…
Gov. Bruce Rauner has rejected a measure requiring Illinois elementary schools to teach cursive writing.

The measure was among several bills Friday that the Republican took action on. In his veto message, Rauner says the legislation is "yet another unfunded mandate" for schools that doesn't protect students' health or safety.

Proponents had said it's important to teach tech-savvy kids to write in cursive so they can sign documents, write personal notes and read historical texts. The proposal would've taken effect in the 2018 to 2019 school year.
He vetoed the bill last Friday. Click here to read his full veto message. The bill passed the Senate 41-15, so that's a veto-proof margin. But the House vote was 62-38.
* Sun-Times…
The bill's lead sponsor, Rep. Emanuel Chris Welch, D-Hillside, said in an email that he was "disappointed" by the veto.

"Research is clear that cursive writing improves cognitive learning and other important things in life," Welch said. "But we are talking about Bruce Rauner, who could care less about kids and working families."
* Illinois Policy Institute…
Imposing a mandate on school districts – and by extension, taxpayers – at an unknown cost is irresponsible given the high tax burden piling up at the local level. Instead of adding a new cost, lawmakers should be looking to ease that growing tax burden. And reforming school districts, rather than placing additional mandates on them, would be a good place to start.
* From the Senate's sponsor, Kimberly Lightford…
"The governor's veto threatens the ability of students to learn a fundamental skill that they will need going through life. Practical benefits, including writing a check, developing a motor skill and even interpreting historical documents like our Constitution, all require using and understanding cursive writing.

"Even with advances in technology that have emphasized more typing and less writing, we cannot give up teaching a skill that students will still need in their lives."
* BND…
"If the parents want cursive writing, they should tell their district," said state Rep. Charlie Meier, R-Okawville. Superintendents argued that the state should be legislating safety and civil rights issues, not cursive writing. Others argued that there were more important things that schools needed to focus on, and abandoning cursive was a sign of the times.
Your thoughts?
- Posted by Rich Miller 43 Comments


* From the Catholic Conference of Illinois…
Hi Rich,

There's an interesting tidbit about HB 40 if Gov. Rauner signs it into law. It was brought to our attention by professor Michael New at Ave Maria University in Florida. He studies abortion trends and the impact of public policy on those trends. […]

Fifteen states currently fund elective abortions through Medicaid. In 11 states this is because of a court order.

However, the four states where the policy is "voluntary" (HI, MD, NY, WA) all legalized abortion before Roe v. Wade. The legislation which legalized abortion did not contain any language about funding abortion through Medicaid. What happened is that after abortion was legalized, administrative agencies in these 4 states decided (on their own) to reimburse doctors and hospitals for abortions. Subsequent legal action by pro-lifers was unable to reverse the policy.

So, if Gov. Rauner signs HB 40, he would literally be the first governor to sign legislation that would start taxpayer funding for elective abortions in his or her state.
* Meanwhile…
The Illinois Republican delegation to Congress signed onto a letter sent to Rauner on Tuesday, urging him to veto HB40.

"As you have said yourself, this bill wrongfully requires taxpayers to participate in funding abortions," the letter reads. "While the political pressure may feel extreme, we respectfully ask you to focus on the underlying issue and not waiver [sic] on your commitment to protect taxpayers as well as the most vulnerable members of our community. We ask you to veto this harmful legislation." Read the letter

[Personal PAC's Terry Cosgrove] said the assertions in the letter that the bill would allow late-term abortion in Illinois is "a complete political red herring." "Post-viability abortions are not legal in Illinois and doctors don't do them. Late-term abortions are already outlawed in Illinois and that was upheld by the Illinois Supreme Court."
- Posted by Rich Miller 11 Comments


* Tribune…
Mayor Rahm Emanuel declined to criticize two Chicago police officers caught on Instagram kneeling in support of nationwide protests, but said he understands why the department is disciplining them.

"They were somewhat betwixt, between two different aspirations," Emanuel told reporters Tuesday.

The officers are facing a reprimand for violating department policy against political activity while on duty. "The policy of the Police Department is consistent, I can say this," the mayor said.
* Sun-Times…
After a weekend of sideline demonstrations that swept through the NFL and exposed the nation's bitter racial divide, the two uniformed African-American officers were photographed "taking a knee" in the lobby of a South Side police station.

The officers are seen kneeling beside a woman whose head is bowed. While the woman's face is not clearly visible, the photo was posted Sunday on the Instagram account of Englewood community activist Aleta Clark, who is best known for selling T-shirts with the slogan "Hugs No Slugs."

Clark posted several photos of herself striking a kneeling pose at several locations with children and neighborhood residents.

The photo shows the woman kneeling between the two officers, all three with their fists raised, beside the caption: "That Moment when you walk into the police station and ask the Men of Color are they Against Police Brutality and Racism & they say Yes… then you ask them if they support Colin Kapernick [sic] … and they also say yes… then you ask them to Kneel!"
* But here is what CPD policy actually prohibits…
In addition to the positive requirements of all the foregoing sections, the following rules of conduct set forth expressly prohibited acts.

Prohibited acts include […]

Rule 42: Participating in any partisan political campaign or activity.
Look, I get why the department would want to nip this sort of thing in the bud, but how is what those cops did a "partisan" activity? Partisan means something connected to a political party, right?
*** UPDATE ***  And of course this would happen. From Chicago Code Blue's Facebook page…
The organization describes itself as a "coalition of law enforcement supporters whos mission is to support the efforts of our brave men and women of our Chicago BLUE."
- Posted by Rich Miller 50 Comments


* Press release…
Biss for Illinois campaign manager, Abby Witt, released the following statement in response to J.B. Pritzker's latest ad announcing his support for a progressive income tax.

"It's great to hear a billionaire talk about a progressive income tax, but actions that live up to those words would be even better. This summer, when asked if he supports taking action in Illinois to close a tax loophole that hedge fund billionaires use to avoid paying their fair share, J.B. said no. That's the same thing he said when asked to pay his full property taxes last year, instead gaming the system for a big tax break.

"Daniel has been fighting for a progressive income tax for years, publicly supporting proposals by his colleagues in the Senate and introducing his own proposed amendment this summer. He passed the first bill in the nation to close the carried interest tax loophole, which would provide much needed revenue for Illinois.

"J.B. might be spending millions to do it, but talk is still cheap."

Background
* Biss is right about Pritzker's position on the closing the state loophole, but the billionaire does favor federal action…
If the Biss bill becomes law, it would impose for the first time a state tax of 20 percent on Illinois private-equity firms, as well as venture and hedge fund firms, for the investment gains they achieve for clients. That would drive investment firms out of the state, O'Hara says. An Illinois Department of Revenue analysis suggests she may be right. It predicts $1.7 billion in additional revenue the first year, but a wash in later years as firms leave or reclassify income.

J.B. Pritzker agrees that Illinois firms might flee, and take jobs with them. "I favor a federal law to close the carried interest loophole nationally, which would create an even playing field across states and ensure Illinois is not disadvantaged in drawing investment capital to our state," he says in a statement.
…Adding… From the Pritzker campaign, which points out that the candidate has been pushing a graduated income tax since Day One of his campaign…
April 2017: At His Campaign Kickoff, Pritzker Told Reporters That We Needed To "Start With The Millionaires And Billionaires And Make Sure That They're Paying Taxes First." "At his kickoff event, Pritzker told reporters, 'I think that we ought to start with the millionaires and billionaires and make sure that they're paying taxes first, and then we're not going to be talking about raising taxes on middle-class families until we take care of that problem.'" [Chicago Tribune, 4/6/17]

HEADLINE: "Pritzker Says State Needs Progressive Tax Structure" [State Journal-Register, 4/17/17]

May 2017: Pritzker Called For A Progressive Income Tax That Would Require Wealthier People To Pay More. "Instead, Pritzker's proposing a progressive income tax structure that would require wealthier residents and corporations to pay more." [Peoria Public Radio, 5/26/17]

June 2017: Pritzker Called For A Progressive Income Tax So That We Weren't Putting The Burden On Working Families. PRITZKER: "Well, we need to start with a progressive income tax in this state. People who can afford to pay should be the first ones who step up to the plate. We shouldn't be putting the burden upon working families, and middle-class families, and people striving to get to the middle-class, before we ask people who can afford to pay to step up to the plate." [Morning Shift, WBEZ, 6/14/17]

July 2017: Pritzker: "We've Got To Make Sure We've Got A Progressive Income Tax In This State." "'Well, we've got to make sure we've got a progressive income tax in this state so that people could afford to pay a higher rate due,' Pritzker said. 'And people in the middle class, striving to get to the middle class don't get burdened by higher taxes.'" [Fox Illinois, 7/4/17]

July 2017: When Asked If They Supported A Progressive Income Tax, All Six Gubernatorial Candidates Raised Their Hands. "When asked by moderator Brandis Friedman, of WTTW's Chicago Tonight, who supported a 'progressive' income tax, all six men raised their hands. Each also said they supported raising the state's minimum wage and working to fund public schools before charter schools." [Chicago Sun-Times, 7/14/17]

August 2017: Pritzker Talked With The Democratic Women Of Kendall County About A Progressive Income Tax. "The pair addressed an event hosted by the Democratic Women of Kendall County, a relatively new organization formed in April, at the UAW Local 145 hall… During his address, Pritzker focused on issues such as implementing a progressive income tax to give property tax relief to residents, improving funding for education and social services, and legalizing marijuana. Pritzker said he favors a progressive income tax, in which those who make more money pay a higher income tax rate, to help fund schools and offset the property tax burden." [Kendall County Now, 8/16/17]

September 2017: JB Pritzker To Macomb County: "We're One Of The Few States Left That Still Has A Flat Tax. It's Antiquated, It's Unfair And It's Regressive." "Pritzker outlined some points needing to be addressed to solve the state's financial challenges. He encourages a progressive income tax. 'We're one of the few states left that still has a flat tax system. It's antiquated, it's unfair and it's regressive. But we have a challenge because it's written into the constitution,' he said. 'We can overcome that in two distinct ways. The first is to elect enough state representatives and senators to get it done. He need 71 votes in the House and 36 in the Senate. We don't have enough in the House for sure.'" [McDonough County Voice, 9/27/17]
- Posted by Rich Miller 19 Comments


* Add this to a long and apparently growing list of financial issues for the GOP incumbent, who faces a contested primary next year and may run for governor…
State Sen. Sam McCann, R-Plainview, and his wife, Vicki, were subjects of a foreclosure lawsuit filed last summer on a home they purchased in Florida in 2005.

McCann, who owns a construction company, said the property included 20 acres he hoped to develop, but the purchase was followed by the "financial meltdown" of 2008-2009.

According to the lawsuit, filed July 1, 2016, by Bank of America against the McCanns, a bank and two unknown tenants, the McCanns defaulted on the loan and failed to make any payments since April 1, 2015.

The final judgment of foreclosure, dated June 1, listed the total due as $157,573. That included the unpaid principal of $134,081, plus $17,346 in interest, as well as other charges, such as title search, service of process and notice of publication. […]

"Unlike some other legislators, or would-be legislators, I don't have to read about the problems real Illinoisans face in a textbook," McCann said. "I have faced and continue to face many of the same problems that so many citizens face every day. I have indeed walked a mile in their footsteps."
- Posted by Rich Miller 17 Comments


* From the Illinois State Board of Elections…
On Friday, September 22, 2017, the Illinois State Board of Elections received a call from the Department of Homeland Security confirming that Illinois was one of the states which had its voter registration database targeted by Russian "hackers." This notification related to the incursion into the Illinois database that occurred in July of 2016, as detailed in our August 26, 2016 Illinois Voter Registration System Database Breach Report. There was no new information provided to Illinois in the DHS call.
- Posted by Rich Miller 7 Comments


* Dave McKinney interviewed House Republican Leader Jim Durkin this week and he summed up the interview for WBEZ…
On what Durkin doesn't want Amazon to do

McKinney: He doesn't want to see environmental standards relaxed to suit Amazon. He doesn't want to see Amazon given permission to fast track any kind of legal disputes to the state supreme court. These were concessions that Wisconsin made to Foxconn. He doesn't want to do that. … If, for some reason, Amazon doesn't meet the 50,000 jobs that it's promising to create, he wants to give Illinois the ability to yank those subsidies. So those are his key points. Here we have one legislative leader, going on record saying what he wants to see contained in an incentive package. […]

What's next for Illinois before October 19

McKinney: Jim Durkin has said that perhaps here we need to schedule a special session in Springfield prior to the deadline to submit these proposals, which is Oct. 19. Durkin told me that the Foxconn example caused him to sit up and think a little bit about what ought to go into an incentive package that will have to be acted on by Springfield.

Watch for whether or not we get a special session or not. Durkin is going to be pushing for that, or he at least favors it. We would probably know ahead of the 19th what the details of it are. If there is a decision to try and show an act of good faith and get a package passed ahead of that deadline, I think strategically that would be a good move. I think if not, I would expect word of what's going into these things to begin trickling out after the 19th. Nobody wants to show their hand prior to that.
…Adding… Press release…
Mayor Rahm Emanuel and Governor Bruce Rauner today announced the formation of a committee that will support the drive to bring Amazon's HQ2 to the Chicago area. The committee will be co-chaired by Oscar Munoz, CEO of United Airlines.; Penny Pritzker, Founder and Chair of PSP Capital; Jim Reynolds, Chairman and CEO of Loop Capital; and Miles White, Chairman and CEO of Abbott.

The effort will be headed by the Mayor and Governor, who are serving as Honorary Co-Chairs of the Committee, and Cook County Board President Toni Preckwinkle, who is serving as Honorary Vice-Chair. In total, the committee is comprised of more than 600 leaders from across the business, financial, technology, arts and culture, civic and education communities.

"This unprecedented coalition brings together the public and private sectors with education, community and faith leaders to speak with a powerful, unified voice that says that Chicago is the ideal location for Amazon to build its new home and continue to grow for generations," Mayor Emanuel said. "As we prepare the bid to bring Amazon home to Chicago, this committee will highlight the region's competitiveness and strength as a national and global leader in business, education, research, culture and quality of life."

"This Committee's membership compellingly represents the assets that Illinois offers business," Governor Rauner said. "These leaders take advantage of our resources in transportation, distribution and logistics; technology and engineering excellence; world renowned medical, academic and educational research; and culture, arts, recreation and sports. Most important, they access Illinois' diverse, highly skilled workforce. Their involvement sends a great message about the value of doing business in Illinois."
The full and very long list is here.
- Posted by Rich Miller 17 Comments


* The AV rumor was flying all day yesterday, so I tend to believe this, but we'll just have to wait and see what he does…
House Minority Leader Jim Durkin met with Cardinal Blase Cupich on Tuesday to relay that Gov. Bruce Rauner is mulling issuing an amendatory veto to the HB40 abortion bill, sources told POLITICO.

Durkin — hailed as one of the chief negotiators in the landmark education funding bill — discussed with Cupich the thinking behind Rauner's anticipated step with the abortion legislation just sent to his desk: veto the portion expanding the public funding of abortion, but support a reversal to the so-called "trigger law," sources said. The trigger law would automatically make abortion illegal in Illinois in the hypothetical case that the U.S. Supreme Court overturns Roe v. Wade. Rauner has already voiced support for that portion of HB40, saying he would sign a bill that only contains language reversing the so-called "trigger."

It's the expansion of public funding of abortion that's riling opponents of the bill, so much so, in fact, that they've threatened to primary Rauner if he signs it. But supporters say an amendatory veto would kill the whole bill. (more on that below). […]

Reached Tuesday, Durkin confirmed he had met with Cupich but would not elaborate on HB40 talk. "The Cardinal and I had a conversation about the education bill, the tax credit program, implementation and other areas of interest," Durkin told POLITICO. "Sure we had a meeting. I just don't want to go any further than what I told you."
An AV was the plan under the prior staff regime.
- Posted by Rich Miller 27 Comments


* Word for the last several days is that she's endorsing him…
** MEDIA ADVISORY: JB Pritzker Wednesday Schedule **

JB Pritzker and Comptroller Susana Mendoza to Make Major Campaign Announcement

STOP 1 – SPRINGFIELD

WHAT
JB Pritzker and Comptroller Susana Mendoza will be joined by union members and supporters at a grassroots event to make a major campaign announcement.

WHEN
Wednesday, September 27 at 10:00 AM

STOP 2 – CHICAGO

WHAT
JB Pritzker and Comptroller Susana Mendoza to hold press conference outside of the Thompson Center.

WHEN
Wednesday, September 27 at 2:00 PM
- Posted by Rich Miller 24 Comments


* Back in August, Sen. Daniel Biss dodged a direct question about whether he favored repealing the Cook County pop tax. He actually kind of rationalized why the tax was approved in his response…
We have a tax code that was written by billionaires and political insiders for their own benefit. Because the system doesn't work for middle class Illinoisans, local governments are placed in a no-win situation to generate revenue.
* Bill Cameron tried to pin Biss down during his Connected to Chicago show…
CAMERON: And let's talk about the bill to repeal the pop tax the penny per ounce pop tax up here in Cook County, much hated because it raises the price so much and is so visible. Might have Cook County Board President Toni Preckwinkle who broke the tide to enact it, might be in trouble in the next year's election. How would you vote on the pop tax repealer?

BISS: Well, listen, here's the problem here. The problem is the pop tax is a regressive tax like we've discussed and yet the state doesn't leave the county with a lot of options. And the truth is that local revenue sources in Illinois have been regressive whether it's the pop tax, or any kind of other fees like this that tend to nickel and dime the poor or the property tax which is also regressive. OK? And so, in my opinion what the state needs to do is to have a comprehensive tax reform that enables local governments to fund their operations in a way that's actually fair in a way that actually makes sense. And so a lot of people are going after Cook County now and making political hay out of this. What I would say is they didn't have a lot of better options. So, let's create better options for them. Let's work on a comprehensive tax reform plan in the state of Illinois, use that to have a modern 2017 tax code, not a 1970 or 1920 tax code. And then with that tax code bring in adequate revenue from the people whose incomes have ballooned in the last two generations who can genuinely afford to pay. And then quit with this nickling and diming of poor people.

CAMERON: Was that a yes you'd vote for the repealer of the pop tax?

BISS: I'm for comprehensive tax reform. That's the right way forward. And I think the kind of half measures that address one problem, but don't actually fix the root, don't really help us very much. Let me give another example. Property taxes in Illinois are way too high, way too high. And Bruce Rauner has been pushing for a property tax freeze that doesn't actually solve the problem. And so, the Bruce Rauner property tax freeze would just hurt schools, hurt local governments. I'm not for that. I'm for a bill that cuts property taxes by reforming our tax code and funding our schools and the way they should have been funded for decades. And that's something that we've been talking about for a long time but no one's had the guts to do. I'm running for governor to finally actually get these things done, so we have a tax code that works for the rest of us in a school finance system that works with the rest of us and a state government that genuinely works for all of us.

CAMERON: That's state Senator Dan Biss. Daniel, thanks for coming in.

BISS: Thanks so much for having me.

CAMERON: Who I think is for repealing the pop tax, but I'm not sure.
I don't think he is, Bill.
* Meanwhile, Biss faced more questions about his voting record on the Golden Mean with Michael Golden podcast…
GOLDEN: Ok, two last questions. One raw policy and lawmaking and then one raw politics about the campaign and how you're doing. So, look you clearly have a progressive vision, you know your campaign you said it's a campaign about Medicare for all, it's a campaign about a $15 minimum wage, about college affordability and tax fairness.

But in Springfield though, it has been noted that you've cast some tough votes. Sometimes were at odds with progressives.

At one point $6 billion in cuts as part of Medicaid reform and if the reporting's accurate because I didn't follow this legislation but it strips some public employees of collective bargaining even though I know that you are big on workers' rights and you take on the governors of Wisconsin and not just Illinois but Wisconsin and Michigan too in terms of them trying to reduce the strength of collective bargaining power so I guess it's a two-part question Daniel. The first is talk about sometimes you have to make tough votes and compromise in order to get anything done and if you will you may comment on a couple of those things I just noted in that recent legislation.

BISS: I mean, listen, you do have to compromise and I think that, frankly, the state of Illinois is burning in part because we have a governor who's unwilling to compromise, who's unwilling to find paths forward to work with the other side and I think that's not a constructive way to do to make progress.

Now what I will say is that I have been focused in my time in the legislator on finding ways forward, on advancing progressive causes, and on compromising when necessary, and one legislator doesn't have the ability to change the terms of the debate. And so, I have voted for things that I love, I have voted for things that were tough compromises and I've voted for those things to help move the state forward.

But I also think it's important to say we have not asked all of the right questions in Illinois, and the most important question that we should be asking is how to reform our tax system so that we can actually have the ability to afford the government that we need. And since I first began running for state Rep. and through my time in the legislature and certainly now in my campaign for governor I've been fighting very hard to repeal that flat tax provision in the Illinois constitution, which has made it impossible for us to ask the richest residents to pay their fair share. And because of that inability we've had devastating budget problems throughout my time in the legislator. Those devastating problems have resulted in unpleasant compromises that I've sometimes voted for to move the ball forward but in the meantime, we need to actually fix the underlying problem and to fix the underlying problem we need to fix our tax code.
- Posted by Rich Miller 29 Comments


* Uh-oh…
Fired Rauner staffer who compared abortion to Nazi eugenics takes the governor to task in a @chicagotribune op-ed —> https://t.co/yWXKuRZj3C

— IL Working Together (@IllinoisWorking) September 26, 2017
* To the Brittany Clingen Carl op-ed…
Beyond supporting Rauner during his 2014 campaign, I also briefly worked in his administration this summer. I learned firsthand during that time how strident the Rauners are in their support of abortion, so I'm not going to attempt here to prove to them how morally wrong it is. I won't try to convince them that abortion is murder; that claiming to fight for women's rights is contrary to allowing millions of them to be exterminated in utero; that science proves life begins at conception; that pre-born children are more than just "clumps of cells." (Perhaps on this last item, the Rauners can refer to a recent social media post by the Ounce of Prevention Fund, where Diana Rauner is president. A Sept. 18 Ounce of Prevention Fund Facebook post said: "Parenting begins before your baby is even born: Did you know babies' taste buds begin developing at 8 weeks? Research suggests that what you eat during your pregnancy impacts what your child eats as they grow up — so time to start developing their taste for veggies now!")

Since moral arguments will not resonate, I'll stick to the political and economic ones.

In April, the governor's office stated he did not support HB 40 due to "the sharp divisions of opinion of taxpayer funding of abortion." Rauner's initial assessment of the situation is correct, and he should stick to it. Taxpayers on both sides of the abortion debate are deeply divided over whether taxpayers should pay for abortions, especially abortions that are entirely elective and are not related to rape, incest and/or the life of the mother.

The governor should stick to the theme that was his battle cry during the 2014 campaign: Protect taxpayers. Forcing taxpayers to pay for elective abortions is not consistent with the promises Rauner made when he ran for office. […]

If Rauner wants voters — especially those who comprise his conservative base — to believe anything he says on the campaign trail in 2018, he should veto the abortion bill on his desk. If Gov. Rauner truly believes in doing what's best for taxpayers, he must veto the legislation.
- Posted by Rich Miller 49 Comments


* News-Gazette…
Local state senator Scott Bennett said he's not interested in running for attorney general.

The Democrat Bennett, who is an attorney, said several people asked him about the job after the recent announcement that incumbent Democrat Lisa Madigan would not be running for re-election.
* The Question: Your Democratic attorney general primary prediction? Don't forget to explain your answer.
- Posted by Rich Miller 16 Comments


* Rate it…
* Script…
When the Institute on Taxation and Economic Policy looked at every state with an income tax, guess who they said was the most unfair?

That's right. It's Illinois.

It's time for that to change. As governor, I'll fight to pass a progressive income tax. It will make the wealthy pay more, provide support for priorities like education and reduce the tax burden on middle class families.

Let's make our tax system fair and bring real change to Illinois.
*** UPDATE 1 ***  There's a problem with Pritzker's analysis.
If you look at ITEP's Illinois analysis [click here], you'll see that the share of family income going to the state's personal income tax is actually quite a bit less for the lowest 20 percent of earners than it is for the highest earners. That's likely because of the Earned Income Tax Credit.
The real culprits are sales and property taxes. The bottom 20 percent pay 7.1 percent of their family income to the sales tax, compared to 0.8 percent for the top 1 percent. And the bottom 20 percent spend 4.9 percent of household income on property taxes, compared to 1.8 percent for the top 1 percent.
So, while he's right that our tax system is unfair, his solution won't do anything about the really regressive taxes.
* Then again, this is also from ITEP…
The study, Who Pays?, provides insight into the drivers behind the unfairness encoded into Illinois' existing tax system. Illinois relies heavily on taxes that are not based on ability to pay, but rather on a flat rate. Further, unlike most other states, Illinois does not have an income tax where taxpayers with higher incomes pay a higher rate and taxpayers with lower incomes pay a lower rate. As a result, the income tax doesn't bring more balance to the overall tax system by offsetting the higher share of income that poorer taxpayers pay in sales and property taxes.

One positive aspect of Illinois' tax system is the state's Earned Income Tax Credit, which lets low- and moderate-income working families keep more of their earnings to help pay for things that help them keep working, such as child care and transportation. To improve tax fairness in Illinois, lawmakers should increase the value of the state's Earned Income Tax Credit.
*** UPDATE 2 *** From the ILGOP…
J.B. Pritzker supported the income tax hike without reform, engineered a property tax scam that saved him over $230,000, and is partnering with Mike Madigan, who profits from Illinois' broken property tax system. Pritzker pretending to care about fair taxes is just his latest scam.
- Posted by Rich Miller 78 Comments


* Press release…
Mayor Rahm Emanuel and the Department of Buildings today announced the 53rd tower crane to operate in Chicago in 2017, breaking the record of 52 tower cranes operating set last year. The latest tower crane to dot the sky is located at 2345 N. Lincoln Avenue, a six- acre mixed-use development on the former site of Children's Memorial Hospital.

"People are optimistic about the future of Chicago. They want to move here, they want to invest here and they want to build here," said Mayor Emanuel. "As Chicago's economy continues to get stronger, we will continue to partner with businesses, big and small, to keep this progress going."

With this new tower crane, there are 53 tower cranes in operation this year, 31 are still on construction sites in Chicago and seven new tower cranes are pending installation. This marks the largest number of operating cranes in a year since the Great Recession, when the City dropped to as low as 12 operating tower cranes in 2010.

The new tower crane is the second to be installed at this development, called The Lincoln Common. The transit-oriented development features 94,000 square feet of retail space, 538 apartment units, 40 luxury condominiums, a 47,000 square foot boutique office building, a parking garage with 850 spaces, a 149-room senior living facility and more than an acre of open space. New buildings will be mixed with restored and revitalized structures to integrate into the existing neighborhood fabric with ready access to the Fullerton train stop (red/brown/purple CTA lines), buses and bike lanes.

"The Hines McCaffery partnership is very proud to share in this historic moment," said Dan McCaffery, Chief Executive Officer of McCaffery Interests. "We love this city and the opportunities it offers for so many. Congratulations Chicago!"

Cranes typically operate on construction sites for over a year and can operate for as long as two years, depending on the size of the development.

In addition to tower crane records, Chicago last week reported a dramatic uptick in permits issued for single-family home renovations. In 2015, the average number of permits issued per month was 169, and through the first half of this year, we have averaged 202 permits per month. Following a commitment to homeowners last fall to issue single-family home renovation permits without special zoning approvals in 30 days or less, the average time to get this permit in 2017 is 25 days (a decrease of 10 days from 2016).

"The Department of Buildings is committed to being a partner, not an obstacle, for building projects," said Building Commissioner Judy Frydland. "We have laid the groundwork in the last two years with reforms that make it more cost-effective to build and easier to obtain building permits."

Recent reforms implemented under Mayor Emanuel and Department of Buildings Commissioner Judith Frydland include a new Electrical Code approved by City Council in early September, the elimination of multiple dwelling registration, and additional code relief for plumbing, energy, and natural light and ventilation requirements.
Might wanna get rid of that cloud services tax, Mr. Mayor. Amazon awaits.
* Meanwhile, Crain's has an interesting story about how manufacturing is doing very well in Lake and Will counties…
A strong market for the wares of those [medical] device-makers is why, when statewide manufacturing employment clocks in at 16 percent lower than its prerecession high, Lake has recovered to within 1 percent of the 51,700 workers the industry employed there in 2008. Will County, busting at the seams, has done even better: Last year manufacturing employment surpassed the high it hit in 2008 by 3 percent. The industry employed almost 22,000 in the county in 2017's first quarter, according to the U.S. Bureau of Labor Statistics. […]

Lake County, on the other hand, is not solely medical equipment, but that's one of the largest clusters, says Kevin Considine, CEO of economic development firm Lake County Partners. The largest is pharmaceuticals. Drugmakers Abbott, AbbVie and Baxter are headquartered there, with AbbVie operating a factory in North Chicago while Baxter has one in Round Lake making products "from penicillin to pre-filled IV bags." Though the recession certainly touched the county, he says, "we're very fortunate to be deep in sectors that weathered that well." […]

In Will County, economic development specialists say there's no single factor driving the rise in manufacturing employment. Certainly, the county has taken its lumps. Caterpillar has shrunk the workforce at its Joliet plant from 770 in 2015 to 475 now, with the plant scheduled to close in 2018. But small and midsize companies are relocating from elsewhere in the region, attracted by the county's low taxes and thriving distribution and logistics industry, says John Greuling, CEO of the Will County Center for Economic Development.

Magenta, a plastics injection molding company, has added at least 70 jobs, distiller Diageo North America added 100 in Plainfield in 2013, and Julian Electric moved 300 employees in May from Westmont into a new corporate headquarters in Lockport.
- Posted by Rich Miller 19 Comments


* The Olympia Fields Democrat will have served 6 terms by January of 2019. He was active in the behind the scenes efforts to convince Democrats to vote for the tax hike and attract Republican votes to the bill. He's probably best known for his transportation work, particularly on mass transit.
He's a smart man who puts in the work and he's gonna be missed.
* Press release…
State Representative Al Riley announces that he will not seek re-election in 2018, thus ending six terms representing the 38th District in Springfield. Riley came to the House in January 2007. One of his main goals was to focus on the development of the south suburban region. Riley also attempted to highlight regional inequities in the distribution of resources throughout Chicagoland.

"Residents of the Southland have always had some of the longest times to work of anyone in the Chicago metropolitan area.", Riley says. "Similarly, reaching entertainment venues, schools or other places has always been difficult." Because of that, Riley has always been a champion of transportation equity. As Chairman of the House Mass Transit Committee, Riley presided over numerous hearings, and developed policies and legislation to address many of those issues.

Riley co-sponsored the bills which created public-private partnerships for the South Suburban Airport and Illiana Expressway. He also was the sponsor of legislation, which abolished "Section 41" of the Metropolitan Transit Act of 1945. The abolition of Section 41 negated the CTA's ability to throw out a claimant's injury lawsuit if a minor detail was missing from the claim.

Riley and his other Southland colleagues worked collaboratively to develop the I-294/I-57 interchange and bridge projects. He also started the process, almost ten years ago, to secure new Highliner cars on the Metra Electric line that had bathroom facilities; the last commuter rail line to have such facilities. Recently, he was the chief sponsor of a bill creating a process for the sale of the Thompson Center and a bill creating a framework for procurement reform, which was recently signed into law

During his tenure, Riley has served on numerous committees; chairing Cities and Villages, Mass Transit and State Government Administration. "I guess one could look at the committees I chaired, and get an idea of my philosophical bent", Riley says. Riley also served two terms as Assistant Majority Leader in the Illinois House. "I really enjoyed my tenure in House leadership". "It gave me a larger platform from which to discuss, create policies, and help my colleagues in a more official position", Riley says. Riley's intention is to serve out his current term in the House, which ends January, 2019.

"Many of the things I set out to accomplish in 2007, I have done so", says Riley. "If a few did not fully come to fruition, I am proud that I raised the issue and in many cases, got laws on the books". "My plan is to continue that kind of advocacy once my legislative career ends", Riley says.
…Adding… The updated retirement list…
Another day, another name added to the list of legislators choosing to leave the Illinois General Assembly pic.twitter.com/JhkBfxDZmq

— IL Working Together (@IllinoisWorking) September 26, 2017
…Adding More… Sen. Michael Hastings…
Representative Al Riley has been a leader for our communities and a strong voice representing the Southland in Springfield. Rep. Riley helped to usher in a great expansion in the south suburban region, leading to economic and social growth.

He was a great battle buddy to have in Springfield, however Rep. Riley will still be engaged in fighting for families across the Southland. I wish him all the best and look forward to working with him in other capacities.
- Posted by Rich Miller 17 Comments


* That's a lot of effort for five bucks…
It only took 10 emails, thirty facebook posts and a hundred a fifty thousand tweets, BUT I GOT MY FIVE @danielbiss BUCKS BACK! pic.twitter.com/gJeQBI4Z2x

— 🌹Humintelpro🐐🌮🔷 (@rorydavidbrown) September 26, 2017
Perhaps ease up on the espresso and drink this instead?
* Here's something you don't see every day: A #TakeAKnee, pro-fairgrounds tweeter…
Rauner typical GOP in that way, he also is a racist telling Steelers off because he has $ in the team.Fix up fairgrounds year round if u win

— kerry grahame (@madamsquirrelly) September 26, 2017
* Yeah, he's late (again), but just look at the size of that Downstate Kennedy crowd!…
At Pookie's in Marion waiting for Chris Kennedy (@KennedyforIL) to arrive. Originally scheduled to be here nearly two hours ago. pic.twitter.com/AAe92p7W9E

— Joe Ragusa (@JoeRagusa) September 23, 2017
* Someone who says he's running for Congress against incumbent Democrat Mike Quigley…
I voted Bernie for prez and wrote in Tupac for everything else. Finally in 2018 we have some real candidates. #wolf #pawar

— Benjamin Thomas Wolf (@benjaminwolfBTW) September 23, 2017
* And he didn't even win the caucus…
That'll secure the nomination.

— #LimitedPrinciples (@ltdprinciples) September 12, 2017
* I wonder what happened in the intervening 12 hours?…
@Rauner I'm a Staunch Republican but I may have to support @JBPritzker because you ain't more powerful than Mike Madigan!!!

— M.C. RUDE (@MCRUDE666) September 24, 2017
I ain't voting for @GovRauner since Mike Madigan has more POWER. And I ain't voting for no DEMOCRAT like @JBPritzker. Write in candidate…

— M.C. RUDE (@MCRUDE666) September 25, 2017
- Posted by Rich Miller 25 Comments


* On Friday afternoon, I sent all the Democratic gubernatorial campaigns a link to this story…
Time is running out on Governor Bruce Rauner to act on a bill that would change the way websites track a user's location and how they store that data.
The bill is here. Notice that an amendment specifically exempted political committees. How convenient.
* Gov. Rauner vetoed the bill later that afternoon. From the Chicagoland Chamber's response…
Protecting consumer privacy is important, but not when that legislation is designed to open up businesses of all sizes to litigation. This bill would have directly contradicted the FTC's call for short, in-context disclosures, which are more effective and easier for consumers to understand.
* From the Digital Privacy Alliance's response…
(T)he Governor's veto is a betrayal of consumer trust and total failure to people who value their personal privacy. The Governor's action is a clear message that he values his Silicon Valley friends more than the people and small businesses in Illinois.
Ari Scharg is a board member for the alliance. He's also a partner at Edelson PC, "a consumer protection firm based in Chicago and San Francisco." The alliance's legislative director is Jacob Wright, an attorney at Edelson PC.
Edelson PC and its namesake have been contributing to legislators since August of last year, and many of those contributions were in the $10K range.
The firm is well-known in California…
When technology executives imagine the boogeyman, they see a baby-face guy in wire-rim glasses. His name is Jay Edelson.

Mr. Edelson, 42, is a class-action lawyer. He is also, if not the most hated person in Silicon Valley, very close to it. His firm, Edelson PC, specializes in suing technology companies, claiming privacy violations. He has gone after pretty much every tech company you have heard of — Amazon, Apple, Google — as well as many that you have not.
He's stirred up some stuff in Cook County, too. Click here.
* So, I was mainly curious what JB Pritzker and Chris Kennedy thought about the bill, since Pritzker has been very involved in the tech community through his work to set up 1871. The wildly successful tech center is located in the Merchandise Mart, which Kennedy ran. But I also wanted to give everyone else a chance to weigh in, so I asked the campaigns: "As governor, would your candidate sign this bill into law? Why or why not?"
* Here are their answers in order of their submission…
Gubernatorial Candidate Tio Hardiman supports HB3449 and would sign this bill into law because it is very important that we protect consumers on all levels. As leaders, we should always find a way to make sure that people come first and agreeing to allow websites owners or APP developers to track or store information about consumers without their permission could present serious problems for the majority of consumers in the state of Illinois.
* Next…
Bob Daiber says he would sign HB3449 because this legislation brings a dimension of privacy for consumers. Daiber said in today's digital world, individuals should possess the right to grant consent before information is tracked or stored in a database.
* Sen. Daniel Biss…
"Litesa and I both strongly supported this bill in the spring, and I would definitely sign it.

"As the recent Equifax breach reminded us, neither corporations nor the government can be blindly trusted with our personal data. That's why I've led on these issues in the Senate, introducing legislation to limit police surveillance, crack down on banks selling credit card data, stop Equifax from profiting off their data breach by selling data protection services, and more. We need a Governor who will stand up and protect all Illinoisans, not a Governor who continually sides with millionaires and big corporations over the rest of us."
* Pawar's campaign initially sent me a press release about the governor's veto, then sent me this…
Yes, Ameya Pawar would have signed HB 3449, the geolocation privacy bill. It's a shame Gov. Rauner chose to protect big corporations instead of consumer privacy. Because of his veto, Illinois missed an opportunity to become the first state to codify these protections and lead the way nationally on geolocation legislation.

Rauner saying this bill would result in job losses without improving privacy protections is false. It's merely an attempt to distract from his strict pro-business agenda that protects the billionaire class while ignoring the needs of working families.

Pawar would have signed the geolocation privacy bill because he believes government exists to serve its residents and protect their privacy, especially when private consumer information is being used to serve corporate self-interests without their consent. Giving consumers more control over what information is shared, and to whom, is necessary for increasing transparency and restoring trust in our institutions.
* Now, here's Chris Kennedy…
Yes, signing this bill allows the consumer to hold the power when it comes to the personal information they share with businesses. I trust the wisdom of the consumer more than the wisdom of government regulators or corporate competitors. Let them decide to opt in or opt out. In the age of Equifax and Russia meddling in our political elections, our priority should be to protect people online and build trust among consumers.
* JB Pritzker…
As governor, I will sign the Geolocation Privacy Protection Act. Protecting digital privacy ought to be a priority for our state and for our nation. Without federal action, we need to make sure every mobile phone user in Illinois isn't having their location information tracked by companies without a user's explicit permission.
I thought it might be possible that one of those two guys would break from the pack on this topic. I should've known better.
…Adding… From comments…
Rich ,
How about this little twist ….. Aren't we recruiting Amazon to the State of Illinois?
Exactly right.
* Related…
* Question 1: Marijuana legalization

* Question 2: Where would they cut?

* Question 3: Municipal bankruptcy

* Question 4: Campaign theme

* Question 5: Cook County pop tax and state repeal
- Posted by Rich Miller 15 Comments


* Some heads on the governor's far right flank are gonna explode in three… two…
LGBTQ and allied groups met with Gov. Bruce Rauner Tuesday morning to discuss challenges faced by lesbian, gay, bisexual, transgender and queer Illinoisans that might find remedy in actions by the state.

The issues discussed during the meeting at Equality Illinois, the state's LGBTQ civil rights organization, included healthcare and human services, youth and schools, housing, immigration, LGBTQ cultural competency of state-funded programs, and the protection and promotion of civil rights.

The governor also presented ceremonial copies of two bills he signed this summer that were part of the 2017 Equality Illinois legislative agenda–bills that modernize the birth certificate law for transgender Illinoisans needing to correct their gender marker and ban the anti-LGBTQ panic defense in murder cases. He also signed this year a bill to build LGBTQ representation on state boards and commissions.

"We thanked the governor for signing these significant measures that advance LGBTQ civil rights," said Brian C. Johnson, CEO of Equality Illinois. "It is also important that he heard from diverse voices in the state about the challenges LGBTQ Illinoisans still face in achieving full equality in Illinois and being able to live fulfilling and authentic lives."

In addition to Equality Illinois, the organizations represented at the meeting included ACLU of Illinois, Affinity Community Services, AIDS Foundation of Chicago, Association of Latinos/as Motivating Action (ALMA), Chicago House and Social Service Agency, Howard Brown Health, Illinois Safe Schools Alliance, Lambda Legal, and Pride Action Tank.

During the approximately half-hour meeting, the participants presented an overview of key issues and provided the governor with an expansive agenda for consideration by him and his administration. (The organization(s) requesting inclusion of the particular policy item on this list is indicated in parentheses.)

ISSUES AGENDA

Healthcare and Human Services

Protection of the Affordable Care Act (ACA) and Medicaid, especially opposition against the Graham-Cassidy rewrite of health insurance (AIDS Foundation of Chicago)
Gubernatorial leadership opposing ACA repeal (Howard Brown Health)
Ensuring the Department of Insurance provides proper oversight to stop and take action against discrimination for people living with HIV and other chronic diseases in the ACA insurance marketplace (AIDS Foundation of Chicago)
Adequate funding for HIV services and programs and launch statewide "Getting to Zero" HIV elimination plan (AIDS Foundation of Chicago)
Restore Illinois Department of Human Services funding to levels of two years ago (Chicago House and Social Service Agency)
Sign House Bill 40 to ensure access to safe and legal reproductive healthcare for all women in Illinois (Equality Illinois)
HIV quality measures in Medicaid managed care (Howard Brown Health)
Medicaid access to Hepatitis C cure treatments (Howard Brown Health)

Housing

More resources for LGBTQ youth who are experiencing homelessness (Pride Action Tank)
Sign the Medicaid 1115 Waiver so that Medicaid can pay for tenancy support services in Illinois (Chicago House and Social Service Agency)

Youth and Schools

Improve treatment and placement of LGBTQ youth in the care of the Illinois Department of Children and Family Services (DCFS) (Grayson Alexander)
Improve access to mental health services for LGBTQ students in schools (Grayson Alexander)
In order to foster consistent affirming policies across the state, the Illinois School Board of Education should issue guidance to schools for affirming and supporting transgender students, including by allowing them to use facilities that match their gender identities, as required by the Illinois Human Rights Act. (ACLU of Illinois)
Regarding the fair and inclusive treatment of transgender students across Illinois, we want gender-affirming and clear guidance from the Illinois State Board of Education using existing district policies that have been working well for years and that is consistent with the Illinois Human Rights Act (Illinois Safe Schools Alliance)
Child welfare experts believe that LGBTQ youth are over-represented in child welfare systems and that one of the most significant barriers to providing this population with better care is a lack of research. For this reason, we have been advocating for a study on the prevalence and experiences of LGBTQ youth in DCFS care. The Governor's office can play an important role in identifying funding and intellectual resources to facilitate such a study. (ACLU of Illinois)

Training

Requiring LGBTQ-cultural competency training for state-funded programs (Pride Action Tank)

Immigrant Rights and the LGBTQ Community

Urge the governor to make statements against the President's recent decisions regarding the pardoning of former Maricopa County, AZ Sheriff Joe Arpaio, who was convicted on criminal contempt for racial profiling of Latinos, and against the President's ban on recruitment of transgender individuals by the military (ALMA)
Urge the governor to support greater protections for all immigrants, especially LGBTQ folks. For instance, the governor should support providing specific state resources to organizations providing both legal and advocacy services for LGBTQ immigrants seeking asylum and citizenship. An example of such an organization is the National Immigrant Justice Center, a Heartland Alliance program. Many of our LGBTQ immigrants face the threat of violence or death if returned to their countries of origins. (ALMA)

Civil Rights

Enhance our civil rights protections by reducing the 15-or-more employee requirement to be a covered employer under the Illinois Human Rights Act (Dr. Anthony Kreis)

ORGANIZATIONS and INDIVIDUALS OFFERING ISSUES AGENDA

ACLU of Illinois
Contact: Khadine Bennett, Director of Advocacy and Intergovernmental Affairs

Affinity Community Services
Contact: Imani Rupert-Gordon, Executive Director

AIDS Foundation of Chicago
Contact: John Peller, President and CEO
Ramon Gardenhire, Vice President of Policy

Association of Latinos/as Motivating Action
Contact: Luis Roman, Board Member

Chicago House and Social Service Agency
Contact: Scott Ammarell, Chief Executive Officer

Equality Illinois
Contact: Brian C. Johnson, Chief Executive Officer

Howard Brown Health Center
Contact: David Munar, President and Chief Executive Officer

Illinois Safe Schools Alliance
Contact: Owen Daniel-McCarter, Executive Director​

Lambda Legal
Contact: Christopher Clark, Midwest Regional Director

Pride Action Tank
Contact: Kim Hunt, Executive Director

Dr. Anthony Kreis
Professor of Law, Chicago-Kent College of Law
Advocate for Senate Bill 1761 (panic defense ban)
Equality Illinois Community Advisory Group

Grayson Alexander
First year student, Loyola University
Advocate for House Bill 1785 (birth certificate modernization law)
Equality Illinois Community Advisory Group
- Posted by Rich Miller 16 Comments


* This appellate court ruling in the 7th US Circuit is pretty self-explanatory…
Illinois law prevents political parties from fielding candidates on election ballots unless they meet certain conditions. One condition is known as the full-slate requirement: If a party hasn't attained sufficient voter support in past elections, it must field candidates for all offices on the ballot in the political subdivision in which it wishes to compete. So in the 2012 election, the Libertarian Party of Illinois could field a candidate for county auditor in Kane County only if it also proposed candidates for circuit clerk, recorder, prosecutor, coroner, board chairman, and school superintendent.

In this suit under 42 U.S.C. § 1983, the Libertarian Party argues that the full-slate requirement violates its right of political association under the First and Fourteenth Amendments. The district judge agreed and entered judgment invalidating the requirement. On appeal Illinois contends that the full-slate requirement is justified by its interests in political stability, preventing ballot overcrowding, and avoiding voter confusion.

We affirm the district court. The core of the fundamental right to political association is the right to band together in a political party to advance a policy agenda by electing the party's members to office. That necessarily includes the party's right to access the ballot and its candidates' right to appear on the ballot under the party banner. For a minor party and its nominees, Illinois's full-slate requirement extinguishes those rights unless the party fields candidates in races it may want no part of. This is a severe burden on fundamental constitutional rights, and Illinois hasn't offered a compelling state interest to justify it. Indeed, by incentivizing minor parties to manufacture frivolous candidacies as a means to an end, the full-slate requirement actually thwarts the interests Illinois invokes.
Hat tip: Chicago Law Bulletin.
- Posted by Rich Miller 20 Comments


* From the Illinois Policy Institute's news service…
A leading state Senate Republican says expanded gambling in Illinois could pay off existing capital construction projects, but there would still need to be a gas tax increase for future ones. […]

But Syverson said a future capital plan may require a gas tax increase because, he says, people are driving less and vehicles are becoming more fuel efficient.

"It may make sense to be looking at a small gas tax increase, something maybe as little as five cents," Syverson said. "But if the feds do a capital program then we could be matching those dollars." […]

Illinoisans currently pay the 18th-highest gas taxes in the nation. But because Illinois is one of only seven U.S. states that applies a sales tax on gas, that ranking fluctuates significantly depending on the actual price of gas. When gas prices were closer to $4 a gallon a few years ago, Illinoisans paid the third-highest gas taxes in the nation.
* Chuck Sweeny also talked to Syverson…
In 2007, the gross revenue from the state's 19 cents-per-gallon motor fuel tax was $1.49 billion. By 2016, the amount had fallen to $1.27 billion. That downward trend will continue.

Meanwhile, since 1993 the federal motor fuel tax has been 18.4 cents per gallon. Inflation has risen nearly 70 percent since then, according to the U.S. Inflation Calculator.

How do we continue to repair and rebuild roads given that the cost of the state's backlog of deferred maintenance is about $1 billion, construction costs are increasing and revenue is declining?

State Sen. Dave Syverson, R-Rockford, says we will have to face the music and consider raising the motor fuel tax. He suggests an increase of 5 cents per gallon, although road construction folks say much more than that is required.

"More than that isn't going to get a favorable response" in today's political environment, Syverson said.

"Indiana just raised their motor fuel tax 10 cents, and a penny each year after that for the next several years, something we should have done years ago," Syverson said. According to the U.S. Energy Information Administration, the national average of state motor fuel taxes is about 28 cents a gallon.
The governor has said he opposes a gas tax hike, so I'm not sure where he's going with this. And notice that you aren't yet seeing Democrats get out in front of this idea.
- Posted by Rich Miller 26 Comments


* I'm told the governor is meeting Thursday with a couple of Republican legislators who are opposed to HB40…
"I'm gonna keep doing what I've been doing and that is listening to advocates all across the state of Illinois and also meeting with legislators about it," Rauner said following an unrelated appearance at a Chicago charter school on Monday. "And then we'll be deciding where to go from there."

Rauner said that he will make a decision in the "near future" but would not elaborate further about a timeline for action.

"These are complex issues, they're very heartfelt, very strong, strong views on all sides and I want to make sure that I respect everyone in the process and listen to their points of view," the Republican governor said.
He declined to say whether he might use his AV powers on the bill.
* Meanwhile…
"This is a disturbing pattern with Bruce Rauner: he says one thing and does another thing. This is a very disturbing pattern of Bruce Rauner being a politician," said Rep. David McSweeney, R-Barrington Hills, noting that conservatives are already frustrated with Rauner for signing a law they decry as making Illinois a "sanctuary state" because it says that law enforcement cannot detain someone based solely on his or her immigration status, as well as a new education funding law that sends more money to Chicago Public Schools.

"A lot of conservatives are very upset," McSweeney said. "People are very, very focused on the fact that Bruce Rauner needs to keep his word."
* But "keep his word" to whom? In April, his office said he'd veto the bill. But back in 2014, gubernatorial candidate Bruce Rauner wrote this on his Personal PAC questionnaire…
"I fundamentally believe that abortion should be a woman's private decision, hopefully in consultation with her loved ones and her faith community, and that decision should not be impeded by government," Rauner wrote in reply to Personal PAC's questionnaire.

"This principle should apply to all women, regardless of income level or location of residency. As governor, I will work to ensure equal access to contraception and abortion services. It is my hope that by increasing access to reproductive health services we can reduce the incidence of abortions in Illinois, while ensuring that women who do make this decision receive services in a timely manner," he wrote.

Rauner added: "My highest priority in this area will be to ensure effective administration of the laws regarding access to contraception and provide that access regardless of income. I dislike the Illinois law that restricts abortion coverage under the state Medicaid plan and state employees' health insurance because I believe it unfairly restricts access based on income. I would support a legislative effort to reverse that law."

Additionally, Rauner checked "yes" boxes on questions about whether he would sign bills repealing the so-called trigger law as well as legislation about lifting Medicaid and state-employee insurance restrictions.
…Adding… Pritzker campaign…
"Bruce Rauner has gone from yes, to no, to undecided on HB40 in a shameless attempt to pander to voters," said Pritzker campaign spokeswoman Jordan Abudayyeh. "Now his time is up and this spineless governor must decide which promise to break and which Illinoisans to betray."
- Posted by Rich Miller 91 Comments


* Alabama Republican US Senate candidate Roy Moore was interviewed by Vox.com…
Jeff Stein
Some right-wing conservatives think Sharia law is a danger to America — do you?

Roy Moore
There are communities under Sharia law right now in our country. Up in Illinois. Christian communities; I don't know if they may be Muslim communities.

But Sharia law is a little different from American law. It is founded on religious concepts.

Jeff Stein
Which American communities are under Sharia law? When did they fall under Sharia law?

Roy Moore
Well, there's Sharia law, as I understand it, in Illinois, Indiana — up there. I don't know.

Jeff Stein
That seems like an amazing claim for a Senate candidate to make.

Roy Moore
Well, let me just put it this way — if they are, they are; if they're not, they're not.
"Up there. I don't know."
Whew, man.
*** UPDATE ***  I didn't realize this, but Politifact has already looked into the matter…
After checking with multiple experts, we found no evidence of such a community. What we did find was a satirical Daily Beast article headlined, "Next, We Muslims Bring Sharia to Indiana." We rate Moore's statement Pants on Fire.
- Posted by Rich Miller 87 Comments


* Sen. Chapin Rose (R-Mahomet) and Rep. Dan Brady (R-Normal) are filing a bill called the Higher Education Strategic Centers of Excellence Plan,to overhaul the higher education system. Dot points…
• Creates a uniform admission application to be accepted at all public universities in Illinois.

• Any high school student with a grade of B or better average will qualify for automatic admission to an academically appropriate public university if they maintain their B average through graduation. This will extend an opportunity to all students in Illinois; while respecting individual institutions rights to admit students that are the best fit for their existing programs.

• Any student who is not offered admission to a public university must automatically be referred to the community college district where they live and provided with enrollment information.

• If a public institution of higher education accepts a student, they will receive an acceptance letter from that institution setting forth any grants or scholarship offers extended by the institution at that time.
Seems a bit small ball, but what are your thoughts?
- Posted by Rich Miller 56 Comments


* Today…
Five former management officials of the city-owned arena face a total of 111 indictments accusing them of stealing city funds, money laundering, wire fraud and conspiracy, filing false sales tax returns and conspiracy to commit tax evasion.

The indictments, returned Sept. 20 by a McLean County grand jury, were unsealed Monday after all five defendants posted bond.

Charged are John Y. Butler, president of Central Illinois Arena Management (CIAM); Bart Rogers, CIAM general manager; and CIAM employees Jay C. Laesch, Paul E. Grazar and Kelly W. Klein.

The theft charges against Butler accuse him of taking more than $1.1 million in city money between May 2010 and March 2016 — the end date being days before the expiration of CIAM's 10-year management deal with the city.
* Earlier this month…
Former McLean County Board Chairman Matt Sorensen was sentenced to a year in federal prison on wire fraud charges Tuesday.

The Pantagraph reports Sorensen was sentenced Tuesday in federal court after submitting hundreds of thousands of dollars of false invoices for consulting work not actually performed for State Farm. Sorensen and business partner Navdeep Arora both pleaded guilty to wire fraud charges in connection with the case.
* And then there are all the questions about Bloomington's mayor…
Questions about a plane ticket to Japan for the girlfriend of the mayor of Bloomington point to just the latest case of questionable spending at city halls in Illinois.

The Edgar County Watchdogs, John Kraft and Kirk Allen, said Bloomington is not the only city where it appears city leaders are misspending city money or misusing city assets.

Kraft said the available facts for the Bloomington case don't answer all of the questions. Mayor Tari Renner is accused of buying a nearly $1,900 plane ticket for his girlfriend to go to a Sister Cities event in Japan – or at the very least "floating" her airfare on the city's credit card.

Kraft said that's against the law, and he thinks Renner knows it. He believes Renner claimed his girlfriend would reimburse the city for the ticket only after he was caught.
* At least two out of the three were exposed by local blogger Diane Benjamin, who has been filing FOIAs and lawsuits and helping break news about both the arena and Renner. Her tagline is "News Nobody Reports."
- Posted by Rich Miller 41 Comments


* WSIL TV…
Monday, Senator Dale Fowler announced plans to seek a second term.

The Harrisburg Republican made the announcement in a series of stops today in Elizabethtown, McLeansboro, Thompsonville and Goreville. […]

News 3 caught up with Fowler in Thompsonville, where he pledged to not criticize or condemn any opponents. He said he wants to show you can run an honest and ethical campaign and still win.
Fowler defeated Democratic Sen. Gary Forby last year.
I spent some time with the freshman before and during the Ozzy Osbourne solar eclipse concert and found him to be a friendly, genuine guy.
But it's one thing for him to pledge not to criticize any of his opponents. It'll be quite another to convince the Republican State Senate Campaign Committee and the ILGOP (where the real money will be spent) to do the same.
- Posted by Rich Miller 9 Comments