* Rep. Mary Flowers (D-Chicago) became the first sitting state legislator to endorse Chris Kennedy this week. Here's a video that includes her…
* Press release…
Today Daniel Biss announced the endorsement of Chicago Alderman Roberto Maldonado.

"Daniel Biss is the candidate I trust to fight for my community," said Roberto Maldonado. "Working families, immigrants, and people of color in my ward face profound threats from the Trump administration, and Rauner has failed to bring the opportunity and security we need. This election is an opportunity to elect a progressive who is grounded in the needs of our families and who has the experience and drive necessary to build a state that works for all of us.

"Daniel offers a clear, bold, and inclusive vision bolstered by a record of progressive accomplishments including organizing around the TRUST Act, preventing insurance companies from discriminating against people with preexisting conditions, and passing the Student Loan Bill of Rights to protect students and families from predatory lenders. I'm proud to endorse Daniel, and to organize my community to join in as well."

"It's an honor to receive Roberto Maldonado's endorsement" said Daniel Biss. "Roberto understands the role of local government in supporting our communities and protecting our most vulnerable residents from crises at the state and federal level. Whether he's fighting for fair education funding, defending affordable housing, or finding creative ways to support Puerto Ricans in need of assistance after the hurricane, Roberto's leadership is an inspiration and a roadmap for our city and state in years ahead."
* Back to the Kennedy campaign. From a fundraising e-mail…
Exciting news! We more than doubled the 5,000 valid signatures to get on the March ballot.

We did this all thanks to more than 200 volunteers from across Illinois who collected signatures representing almost every county in our state.

Volunteers across the state stepped up to make sure that Team Kennedy/Joy is on the ballot this March, now it's time for us to step up again to make sure that we have a winning campaign.
* Speaking of petitions…
Ron drove from Bourbonnais to drop 4 sheets of petitions off at my door!! The support our campaign receives is remarkable! We can do this! pic.twitter.com/JlyGaDDk7N

— Jeanne Ives (@JeanneIves) November 21, 2017
* And it looks like they have some cute little phone-bankers in JB Pritzker's northern Cook County campaign office…
We have an awesome phone banker in today! Tux is for #TeamJB pic.twitter.com/dztkVtvaXN

— Stacy Zeidman (@StacyZeidman) November 18, 2017
Tulip is a fan of #JB - She is also joining us in the office to make some calls for JB. :) pic.twitter.com/uyaP1CsMOS

— Stacy Zeidman (@StacyZeidman) November 18, 2017
- Posted by Rich Miller Comments Off


* I'll be shutting down the blog later this afternoon for the Thanksgiving holiday. What are your Thanksgiving plans?
- Posted by Rich Miller 43 Comments


* Back in 2015, Gov. Rauner made some GOP appointments to the Illinois State Board of Elections: Madison County Republican Party Chairman Andy Carruthers and New Trier Republican Party supporter William Cadigan. In March of 2017, Rauner appointed former Illinois Republican Party staffer Ian Linnabary and Winnetka resident Kate O'Brien to the board.
Now, check out the roll call on the ISBE motion yesterday to leave the highly controversial Crosscheck program…
4:4 vote from IL State Board of Elections on motion to withdraw from #Crosscheck:

Andrew K. Carruthers: N
Ian K. Linnabary: N
William M. McGuffage: Y
Katherine S. O'Brien: N
Charles W. Scholz : Y
Casandra B. Watson: Y
John R. Keith: Y
William J. Cadigan: N https://t.co/VRJEHCDpKb

— Rae Hodge (@RaeHodge) November 20, 2017
* Tribune…
William McGuffage, a Democrat from Chicago who has served on the board for 18 years, called Crosscheck "suspect for a lot of reasons." He contended there was a "symbiotic relationship" between Kobach's role in Kansas overseeing the multistate database and his role on "what I called the bogus Trump commission."

Republican Board Chairman William Cadigan of Winnetka called it "a shame that this whole issue of voting list maintenance has gotten entangled" with Washington politics. But he said Illinois is required by federal law to have accurate voter registration lists and noted the state has received notice expressing concerns from the U.S. Department of Justice that could lead to litigation.

Republican board member Ian Linnabary of Rockford told board members he had spoken with Kansas election officials and had "good news" that a meeting of all member Crosscheck states about security concerns would be held within the next two weeks.

While Linnabary said that no board members feel "voter fraud is rampant," he urged the panel to "take a step back" and not withdraw from Crosscheck while efforts are made to secure the system.
* Pritzker campaign…
Bruce Rauner's handpicked members of the State Board of Elections voted yesterday to keep Illinois in the Crosscheck program, a key priority of Donald Trump in the "GOP's stealth war against voters."

While there's no evidence of voter fraud in Illinois, the Trump administration is still pushing states to opt into the program that needlessly exposes personal information and could disenfranchise voters. Instead of standing up to protect Illinoisans, Rauner's appointees sided with Donald Trump.

"All four members that Bruce Rauner appointed to the State Board of Elections chose fear over facts and stood firmly by Donald Trump's side," said Pritzker campaign spokeswoman Jordan Abudayyeh. "Illinois needs a governor who will protect voting rights and stand up to Trump's relentless attacks on this state."
…Adding… Press release…
In response to the Illinois State Board of Elections' decision to continue to participate in the discriminatory, deeply flawed Interstate Voter Registration Data Crosscheck Program (Crosscheck), U.S. Senators Tammy Duckworth (D-IL) and Dick Durbin (D-IL) released the following statement:

"No American voter should ever be improperly disenfranchised because of inaccurate information, which makes the decision by the Illinois State Board of Elections to continue its use of Kris Kobach's secretive Crosscheck system so disheartening," said Senators Duckworth and Durbin. "This system could purge as many as 300 legitimate voter registrations for each registration it eliminates—it has no place in our state or our nation's electoral system. Illinois can and must withdraw from Crosscheck to restore the integrity of our state's elections and ensure all eligible voters are able to exercise their fundamental Constitutional rights at the ballot box."

Duckworth and Durbin wrote to IL SBE last month asking the board to stop using the program to help maintain the accuracy of its voter registration system and to instead participate in a far more precise alternative, the Electronic Registration Information Center (ERIC) multistate partnership, which has resulted in higher voter registration rates and increased voter turnout.
…Adding More… Press release…
State Senator Kwame Raoul (D-Chicago 13th) and State Senator Bill Cunningham plan to introduce legislation ending Illinois' participation in the controversial Interstate Crosscheck system.

Despite calls from state and national legislators to withdraw from the program, the State Board of Elections voted Monday to remain in the national voter registration database.

"If the Board of Elections will not act to protect Illinois voters, then it is our duty as legislators to do so," Raoul said. "The right to vote is sacred, and citizens in our state should know that their information is secure when they cast their ballot."

At a joint hearing of the House Elections Committee and the Senate Telecommunications and Information Technology Committee last week, legislators heard testimony on security concerns with the system.

Shawn Davis, a faculty member at the Illinois Institute of Technology Center for Cyber Security and Forensics Education testified that the Crosscheck system uses an unsecured network system. Most websites handling sensitive information use secure file transmission networks called SFTPs.

"The risk of exposing the personal information of millions of Illinois voters to an Equifax-style data breach is not worth the small benefit of remaining in the Crosscheck system," Cunningham said. "This should not be a partisan issue — it is a data protection issue and it must be addressed immediately."

Additionally, many voting rights activists say that Crosscheck is a vehicle for discrimination at the voting booth. This is because Crosscheck compares first and last names of state voter databases, ignoring middle names and designations like Jr. or Sr. This is viewed as problematic by experts because communities of color are more likely to share last names, making them easy targets for voter suppression.

The Illinois Board of Elections currently subscribes to two national voter database systems designed to help election authorities identify voters who may be registered in more than one state: Crosscheck and the Electronic Registration Information Center (ERIC). This legislation will remove Illinois from the Crosscheck system but allow the state to remain in ERIC, widely viewed as the better system.
- Posted by Rich Miller 12 Comments


* McClatchy…
When a small nonprofit called the Judicial Crisis Network poured millions into a campaign to stop the Senate from confirming Barack Obama's Supreme Court pick last year, and then spent millions more supporting President Donald Trump's choice for the same seat, political observers assumed conservatives from around the country were showering the group with donations.

Not so.

Newly obtained tax documents show that JCN's money came almost entirely from yet another secretive nonprofit, the Wellspring Committee, which flooded JCN with nearly $23.5 million in 2016.

Most of Wellspring's funds, in turn, came from a single mysterious donor who gave the organization almost $28.5 million — nearly 90 percent of its $32.2 million in revenues.

Like JCN, Wellspring — at one time tied to the donor network spearheaded by conservative industrialists Charles and David Koch — is a nonprofit that is supposed to be dedicated to social welfare functions and doesn't have to disclose the names of its benefactors. Since the 2010 Citizens United Supreme Court decision loosened certain constraints on political spending, these and other 501(c)(4) groups have become increasingly politically active while providing anonymity to their donors. Often one group, like Wellspring, will act as a conduit, giving most of its funds to other, similar groups with political agendas.

"It sounds like Wellspring Committee acted as a dark money conduit to provide an extra layer of secrecy to whomever was bankrolling the Judicial Crisis Network ads," Brendan Fischer of the nonpartisan Campaign Legal Center in Washington said in an email interview. "This has the effect of layering secrecy on top of secrecy, and almost entirely insulating donors from any form of public accountability." […]

Illinois Policy Action was another organization that benefited from Wellspring's grants in 2016, receiving $2.5 million; it's the lobbying arm of the Illinois Policy Institute, a conservative Chicago think tank in Chicago that has ties to the state's billionaire governor, Republican Bruce Rauner, according to the Chicago Tribune. In 2016, the institute released a documentary critical of Rauner's political opponent, Illinois House Speaker Mike Madigan, a Democrat.
The group is listed on page 18.
…Adding… Keep Garland out, put Gorsuch in while funding a group pushing the Janus case? Food for thought…
Justice Neal Gorsuch will likely be the deciding vote in the case of Janus v. AFSCME, a fight @GovRauner picked with public unions and a battle fought by @IllinoisPolicy's Liberty Justice Center. https://t.co/CQ94EU3qiC https://t.co/DKOrnhIjvn

— Mark Maxwell (@WCIA3Mark) November 21, 2017
- Posted by Rich Miller 15 Comments


* Kate Silver in the Tribune…
A couple of weeks ago, we met some friends of friends who'd recently moved back to Chicago after living in Springfield. They were excited to talk about the food scene when I mentioned I was writing a travel piece for the Tribune.

They suggested a new coffee joint and a sandwich shop that are at the top of our list for our next visit.

Custom Cup (321 E. Monroe St., 217-652-7279) roasts all of its beans on-site and offers individual pour-over brews and slow-brewed cold coffee. It's also a "micro roaster," where customers who want to buy beans by the bag can select the roast level (light, medium or dark), and a small batch is roasted to order. The inviting cafe serves baked goods from — wait for it — Incredibly Delicious.

Not too far away from Custom Cup is Long Nine Junction (5 W. Old State Capitol Plaza, 217-210-2400), which opened earlier this year. The chef-driven sandwich joint took over an old Quiznos space and is getting rave reviews for its crafty flavor combinations, like French country sausage with apple butter and goat cheese, and one concoction I simply can't wait to try: a garlic-bread grilled cheese with cheddar, provolone and pub cheese.
Springfield has two new downtown restaurants and I went to both last week.
* Loukinen's on 4th is right across the street from the Executive Mansion. The building has been empty for years, but was a big Statehouse hangout back in the day. We had the Manchurian Style Cauliflower as an appetizer and it was the best cauliflower dish I've ever eaten in my entire life. Seriously. Bar none. Service was very good. More here.
* Vele was also a treat. The restaurant, which specializes in southern Italian coastal cuisine, is in the old Café Brio building. They have a delicious raw bar, and while everyone else at the table shared their entrees, I selfishly kept my Lamb Shank Pappardelle to myself. It was that awesome. Service was high quality. The restaurant has the same executive chef as The Garden, which used to be the best kept secret within 100 miles, but booking a table there these days requires either super-human patience or a willingness to eat in the afternoon. Avoid the wait and head to Vele.
Anyway, I predict both Loukinen's and Vele will wind up being Golden Horseshoe Award winners in the coming years. Go check 'em out.
- Posted by Rich Miller 29 Comments


* Press release…
Today, JB Pritzker with the support of State Representative Deb Conroy unveiled his plan to combat Illinois' opioid crisis as governor. With Illinois experiencing an over 44 percent increase in drug-related overdoses from 2013 to 2016, JB's plan is a multi-faceted approach to reduce the rate of addiction through education, remove barriers to treatment, and encourage treatment instead of incarceration.

The key components of JB's plan to combat the opioid crisis in Illinois include:

Focus on Youth Mental Health and Substance Use Disorder Prevention and Education.
Reduce the Risks of Prescription Opioids.
Remove Barriers to Mental Health and Substance Use Disorder Treatment and Recovery.
Work with the Criminal Justice System to Prioritize Treatment Over Incarceration.
Ensure Health Insurance Companies Cover Addiction Treatment Fairly.
Leverage Federal Funding Opportunities to Fight the Opioid Epidemic Locally.

Read the full plan HERE.

"The opioid crisis in Illinois is ending too many lives and devastating too many families," said JB Pritzker. "While this crisis is only getting worse, Bruce Rauner is once again failing to lead. From vetoing the Heroin Crisis Act to proposing funding cuts for addiction treatment, Rauner has failed as Illinois' opioid crisis spirals out of control. It's time for a governor ready to lead and I know that by working together and investing in prevention and treatment, we can combat the opioid epidemic in Illinois and create real, lasting change. We can and we will break the cycle of addiction today and for future generations."

"Opioids have ravaged our communities and taken far too many lives, and it's time Illinois had a governor ready to take concrete action to combat this epidemic," said State Representative Deb Conroy. "While Bruce Rauner has turned a blind eye to this growing crisis, I was proud to work with JB Pritzker on this plan that will make a real difference for Illinoisans struggling with addiction. JB's plan centers around mental health and makes both the prevention and treatment of addiction top priorities. We cannot ignore this epidemic, and it is clear that JB cares and has a plan to tackle the opioid crisis head on."
* A few excerpts. Reducing the risks of prescriptions…
To combat prescription opioid abuse, I will work with physicians to put in place measures that help keep people safe. I will fight to strengthen Illinois' prescription monitoring program so that physicians and pharmacies have access to accurate information about the quantity of opioids their patients receive. I will also work to ensure that physicians are better trained in the dangers of opioid addiction and treatment options as part of continuing medical education.

Finally, as called for in the updated prescribing guidelines from the Centers for Disease Control and Prevention, I will support legislation to implement comprehensive prescribing guidelines that further limit the number of days of an initial opioid prescription, which can reduce the risk for addiction.
* Removing barriers…
As governor, I will use a multi-pronged approach to remove barriers to addiction and mental health treatment and recovery. I will restore the treatment, housing, and workforce development supports that were decimated under Bruce Rauner and look for ways to expand capacity across the state for treatment services.

Additionally, I will facilitate coordination between hospitals and social service agencies to ensure that individuals who receive emergency treatment for drug use are directed to treatment programs when they're discharged. We also need to expand jail and prison substance use disorder case management systems to connect individuals to community treatment upon release. This coordination will give those suffering from drug addiction the tools they need to transition into recovery.
* Treatment over incarceration…
As governor, I will work to increase access to problem-solving drug courts, ensure that judges understand the available treatment options, and ensure those options are more readily available. That means having enough space to meet demand in rehabilitation programs, including both inpatient or medication-assisted treatment programs. Providing access to this treatment will help formerly incarcerated people ease back in to the community, increasing their chances to rehabilitate their lives and reducing the likelihood of recidivism.
* Insurance coverage…
However, a recent report found that 75 percent of Medicaid managed care organizations (MCOs) denied coverage for a range of treatments. This is in addition to almost half of commercial insurance companies that deny coverage for inpatient treatment and nearly one-third that deny coverage for partial hospitalization, intensive outpatient, and medication-assisted treatment. The report also found that both Medicaid MCOs and commercial insurance companies regularly use other barriers to care for mental health and substance use disorder treatment short of outright denial.

As governor, I will work to ensure that insurance companies provide the coverage for mental health and substance use disorder treatment that they are lawfully required to cover. I will strengthen enforcement of the state's parity laws and close loopholes that still allow insurance companies and MCOs to partially deny coverage based on a range of non-quantitative treatment limitations. I will also work to expand healthcare across our state, through my first-in-the-nation public option health insurance program, IllinoisCares.
* Related…
* Opioid Task Force Continues To Search For Tools To Reduce Deaths In Illinois

* Marijuana expert: Legal weed inevitable in Illinois, likely soon
- Posted by Rich Miller 19 Comments


* All emphasis added. From the Rauner administration's presentation to potential buyers of its $750 million bond offering…
INVESTMENT CONSIDERATIONS RELATING TO THE FINANCIAL CONDITION OF THE STATE

Budget Passage

The State operated without fully enacted General Funds Budgets for Fiscal Years 2016 and 2017. The Fiscal Year 2018 General Funds Budget was vetoed by the Governor, and was enacted by the General Assembly after overriding the Governor's vetoes of the Fiscal Year 2018 budget package. There can be no assurance that a budget will be enacted in future fiscal years.
Great. But, hey, they're just being honest.
* More…
Budget Deficit

The Fiscal Year 2018 General Funds Budget was balanced after the inclusion of several items including the budgetary impact of the issuance of the Section 7.6 Bonds and authorized fund reallocations and interfund borrowing. The Fiscal Year 2018 General Funds budget has an estimated underlying structural deficit of $1.5 billion… To avoid future structural deficits, the Governor and the General Assembly would, among other potential solutions, need to reduce expenditures, adjust revenue collections or approve a combination of revenue adjustments and reductions in expenditures. The State can provide no assurances as to how, when or in what form this might be addressed.
*Sigh*
* Remember the governor's 2013 campaign vow: "They won't stop me if I want to dramatically spend less. You need the legislature if you want to spend more. If you want to spend less, they can't stop me"? Well…
The State estimates that the General Funds financial commitment in Fiscal Year 2017, beyond the amounts sent to the Comptroller in Fiscal Year 2017 described under "Fiscal Year 2017 Spending in the Absence of a Budget," totaled $1.6 billion for State employee health insurance providers and $1.2 billion for other State operational costs and grants. […]

Total General Funds expenditures with the revised definition of funds for Fiscal Year 2018 are estimated to be $37.4 billion, an increase of $1.7 billion or 4.8 percent from estimated Fiscal Year 2017 results for the revised definition of General Funds. This reflects approximately $150 million in deficit reduction actions directed by the Governor.
So, instead of "dramatically" spending less, the governor spent $1.2 billion without an appropriation last fiscal year and has identified just $150 million in cuts this fiscal year.
*** UPDATE *** Comptroller Mendoza…
The Governor has now signaled that he plans to head into yet another budget cycle without talking, negotiating or compromising with legislators – leaving the state once again without a budget. That demonstrates the height of irresponsibility and the failed leadership that has come to define Governor Rauner. The good news is that legislators of both parties proved this year they are up to the task of working around an obstructionist, out-of-touch, and frankly, irrelevant governor to pass a budget for the good of Illinois.

The message that I continue to send investors, because it is true, is that Illinois is a sound investment and will continue to meet its debt service obligations under my watch. I implore the Governor to learn from his past mistakes and to follow through on his Constitutional responsibility to submit a balanced and responsible budget. He should do his job and begin good-faith negotiations with legislators.
- Posted by Rich Miller 49 Comments


* Background is here. I'm told this Dan Proft Liberty Principles PAC spot is running on cable TV in House Republican Leader Jim Durkin's district…
* Script…
Jim Durkin and Mike Madigan like Illinois state government just as it is.

Madigan makes millions as a property tax appeals attorney. Your property taxes go up to finance the relief Madigan gets his friends.

Durkin gets rich as a municipal attorney by getting local governments to borrow money. Your property taxes go up to finance the debt Durkin gets local governments to pile up.

Madigan and Durkin play the same game so they're financed by the same insiders.

They work together against you.

Madigan and Durkin get rich. You get gamed.

It isn't a pretty picture.

If you're tired of looking at it, Vote no on Jim Durkin.
Rate it.
…Adding… This is a one-week, $73K buy. Click here to see details.
- Posted by Rich Miller 24 Comments


* Gov. Rauner's campaign account…
Illinois is at the edge of disaster, that is why this election is so important. I am committed to getting corrupt leadership out of the Legislature and protecting Illinoisans from bad government. #twill #ilgov https://t.co/UUFhO2Zc7L

— Bruce Rauner (@BruceRauner) November 20, 2017
* But the Bond Buyer's reporter makes a good point…
….and my first thought when saw tweet, was what perfect timing since working on a little something about the $750M issue next week…..believe gov or his finance team in roadshow……"state credit fundamentals improving" https://t.co/vlOvGGEK0F

— yvette shields (@Yvette_BB) November 21, 2017
And as Illinois heading back into the bond market next week, his finance team highlights "improving credit fundamentals" in investor presentation. https://t.co/emAZ7g0GOK https://t.co/eqm1pvPP8a

— yvette shields (@Yvette_BB) November 21, 2017
* And the governor's state account is trumpeting a "Thankful for Illinois" message…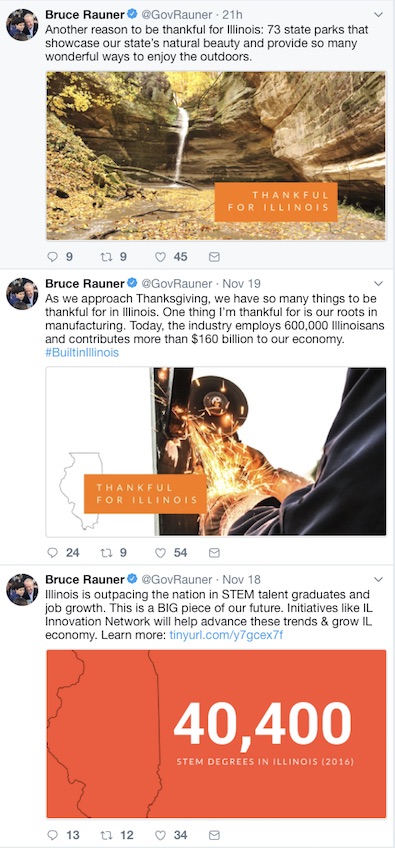 - Posted by Rich Miller 64 Comments


* Republican Congressman John Shimkus on St. Louis Public Radio…
Shimkus said he is staying out of next year's Republican gubernatorial primary, and has no plans to endorse any of the likely contenders. Incumbent GOP Gov. Bruce Rauner is expected to face more conservative Republican challengers. Many social conservatives were upset that Rauner signed a bill allowing Medicaid and state-based insurance to cover abortions in some cases. "We thought that he would stay out of some of the socially-divisive issues," Shimkus said. "He did not." But the congressman added that he will support the GOP victor in the 2018 general election.
* From November 1st…
U.S. Rep. Darin LaHood, R-Peoria, says he's not sure who he will support for governor in 2018.

"I was and continue to be very disappointed that Governor (Bruce) Rauner signed HB40 allowing taxpayer funded abortions throughout the state of Illinois," LaHood said in a written response to a question from The State Journal-Register. "I am currently focused on my own re-election to the 18th Congressional District. I plan to wait and see who ends up filing to run for governor before making any decision on an endorsement."

LaHood added in an interview that Rauner has not asked for an endorsement.

"I would be happy to meet with him and give him every consideration," LaHood said. "I believe it was a mistake to sign HB40, and I want assurances moving forward that he's not going to make this kind of mistake again … because I think that's going to hurt him."
LaHood has some very active tea party chapters in his district.
* October 20th…
U.S. Rep. Peter Roskam, R-Ill., is rethinking his support for Gov. Bruce Rauner given the governor's recent signature on a bill that expands the public funding of abortion, the congressman told POLITICO.

Roskam, the Ways & Means Tax Policy chairman who is taking a lead role in an effort to overhaul the U.S. tax code, is the highest-ranking elected official in Illinois to potentially pull back from Rauner after the governor signed HB40. The new abortion law — which Rauner had promised to veto — has so infuriated conservatives, they are now talking about drafting a potential primary opponent to challenge Rauner.

Roskam said Rauner's move to sign the bill was "fundamentally out of step" with his congressional district.

"I've got to reevaluate that and I'll reevaluate that in the right time," Roskam said Thursday when asked if he still supported Rauner. "Signing HB40 was a huge mistake on the policy and it was a huge mistake on the politics. The policy, this is the home of Henry Hyde, the author of the Hyde Amendment and I am his successor."
Roskam helped elect Rep. Jeanne Ives and she represents his home town.
- Posted by Rich Miller 15 Comments


* Back to Greg Hinz's interview of JB Pritzker…
On Speaker Madigan, who also serves as chairman of the Illinois Democratic Party, Pritzker surprised me when he repeatedly went out of his way to declare that the party, unlike its siblings in other states, has atrophied under Madigan's nearly two decades of leadership.

"There really is no Illinois Democratic Party," Pritzker said, referring in part to the lack of a unified field organization, but also to the fact that the party's central committee doesn't even bother to meet to consider endorsing candidates anymore. "The Democratic Party doesn't exist. . . .I believe we need to build a real Democratic Party in Illinois when it comes to field."

Pritzker said he's doing just that with his own campaign, setting up a structure of workers in every corner of the state—and he indicated that structure might continue later. He ducked when asked if that would work if the structure was turned over to Madigan, who usually is mostly concerned about retaining control of the House: "I don't know," Pritzker said.
Pritzker is doing what Bruce Rauner did in 2013 and 2014. The ILGOP basically existed only on paper back then. Rauner opened a ton of field offices during the primary (Pritzker just opened his 15th field office) and hired a ton of field staff. Rauner's press releases back then were also similar to Pritzker's today. Pritzker doesn't just do specific candidate-based releases, he sends out lots of releases that you'd normally see from state parties in other states.
The difference is that Rauner completely took over the ILGOP after the primary, injecting tens of millions of dollars in the process. Pritzker won't be able to do that unless Speaker Madigan steps aside, and that doesn't seem likely.
* Back to the story…
But he seemed to bend over backward to rebut charges from Rauner and some Democratic rivals that he has the speaker's private backing.

"I don't owe my election to anybody. I'm getting elected on my own," he said. And if he hasn't called for Madigan to step down—"As governor of a state, you don't get to choose" who you work with—Pritzker did note that he favors the adoption of term limits on legislative leadership positions, something that, if implemented, would affect Madigan sometime in the next decade.
- Posted by Rich Miller 24 Comments


* Biss campaign…
Today, Daniel Biss released a video, "A Guide for Billionaires Releasing Tax Returns," highlighting what information to look for in a candidate's tax return releases, as J.B. Pritzker and Chris Kennedy finally bow to voters' pressure to release their income tax returns after promising to do so over seven months ago.

That's a big deal, because tax returns let voters know how a candidate makes their money, and who they're in business with. That's important information when we're deciding who will run the fifth largest economy in the country.

See the video, "A Guide for Billionaires Releasing Tax Returns"

But not all tax returns are released equally.

It isn't enough for candidates to release only some of their tax forms - the voters of Illinois deserve honest, transparent, and full disclosure of tax history.

We should see the standard tax return. Candidates should disclose their sources of income, the deductions they claim, and any businesses they have a stake in.

Bruce Rauner, like Donald Trump, has hidden documents that previous candidates have disclosed for decades. Will Pritzker and Kennedy hide those documents as well, or will they come clean with the voters of Illinois? We'll find out.
- Posted by Rich Miller 20 Comments


* Greg Hinz interviewed JB Pritzker yesterday…
Illinois may need another tax hike to balance the books and pay for needed public investments, even if the progressive income tax eventually comes about. […]

"If you want to add revenue, the first focus is on accelerating growth and not raising taxes," he said. […]

However, even if waste is cut, some new money will be needed to pay bills and meet tomorrow's needs, Pritzker said.

Some will come from amending the Illinois Constitution to allow a progressive income tax, something that would require a referendum vote, likely in 2020. Pritzker said he could not estimate how much that would pull in, but he projected the state would net another $300 million to $700 million by legalizing and taxing marijuana.

Would that be enough to meet all the needs while growth accelerates?

"No. But it depends on how you prioritize," Pritzker replied.

Would boosted income from a progressive income tax suffice?

"I don't know," he replied. "I haven't proposed a budget. . . .(But) it's clear that we are underfunding schools."

Pritzker later suggested that some spending cuts would be on the table, but did not get specific.
* The Republican Governors Association pounced…
Illinois Democrat gubernatorial candidate J.B. Pritzker openly admitted in an editorial board interview with Crain's Chicago Business yesterday that he would seek massive tax hikes if elected Governor – even more than previously disclosed by his campaign.

Pritzker's openness about raising taxes if elected poses challenges for his nascent campaign, since Illinois voters already face some of the highest tax burdens in the nation. Pritzker's position in favor of tax increases is in stark contrast to that of Governor Bruce Rauner, who has consistently advocated for structural reforms and lower taxes as the solution to Illinois' fiscal challenges.

This is not the first time Pritzker has detailed his openness to tax hikes. He began his campaign amidst audio recordings documenting that he favored a large increase in the state income tax, and has opposed a property tax freeze.

Pritzker has also come under fire for not paying his fair share of taxes on his second gold-coast Chicago mansion, getting hundreds of thousands of dollars in politically connected tax breaks. Now, he's running on raising taxes for others.
* Greg updated his piece with this statement from the Pritzker campaign…
"J.B. does not believe we should raise taxes on middle class families, period. As J.B. has said since he entered the race, passing a progressive income tax will be his top priority as governor and he is committed to finding budget solutions, like legalizing and taxing marijuana, to help address the damage Bruce Rauner has done."
*** UPDATE 1 *** ILGOP…
"Illinois may need another tax hike to balance the books and pay for needed public investments, even if the progressive income tax eventually comes about.

"That was the fiscal bottom line from Democratic gubernatorial hopeful J.B. Pritzker today as the Chicago entrepreneur and investor, who's moved ahead in some recent polls, met with Crain's Editorial Board for a wide-ranging interview."

That is how Greg Hinz's Monday column on J.B. Pritzker column begins. Pritzker continues to mirror his patron Mike Madigan when it comes to taxes, promoting even higher taxes despite Madigan's 32% tax hike on Illinois families earlier this year.

Madigan muscled through the increase this summer, and if he has his way, will continue to raise taxes.

This comes as no surprise, as Madigan has stated a tax increase to 5% is a "good place to begin."

This all while Pritzker continues to dodge releasing his own tax returns. It has been 221 days since Pritzker pledged to release his taxes, but he continues to hide behind empty promises of 'soon.'

When it comes to raising taxes, Pritzker is lock step with Madigan: more taxes, no reform.
*** UPDATE 2 *** Rauner campaign…
Yesterday, JB Pritzker stated his support for yet another tax increase on working families all across Illinois. This would mean even more tax hikes after Pritzker's ally, Speaker Mike Madigan, rammed through a 32% tax hike earlier this year. Governor Bruce Rauner knows that more tax hikes will only force more jobs to leave the state. That's why he's fighting to reform Madigan's corrupt system in Springfield.

From Greg Hinz's Monday column: "Illinois may need another tax hike to balance the books and pay for needed public investments, even if the progressive income tax eventually comes about. That was the fiscal bottom line from Democratic gubernatorial hopeful J.B. Pritzker today as the Chicago entrepreneur and investor, who's moved ahead in some recent polls, met with Crain's Editorial Board for a wide-ranging interview."

Following Pritzker's comments, Rauner spokesman Justin Giorgio issued the following statement:

"The contrast is clear in Illinois. Governor Rauner is fighting for every single Illinoisian by working to fix a broken and corrupt system. He wants everyone to be able to keep more of their hard-earned paychecks. But JB Pritzker doesn't want to do the difficult work of making real reforms. JB Pritzker just wants to raise taxes to avoid showing any leadership and staying in the good graces of Mike Madigan."
*** UPDATE 3 *** Pritzker campaign…
"The idea that Bruce Rauner is fighting for every Illinoisan is as laughable as his team's spelling and tired talking points. Bruce Rauner decimated schools, social services, and working families across this state and refuses to take a stand on Donald Trump's tax plan that will raise taxes on many middle-class families. The truth is, the best thing Rauner can do for every Illinoisan is hop back on his motorcycle and ride off before destroying anything else in this state."
*** UPDATE 4 *** ILGOP…
So J.B. Pritzker does not deny his plan to raise income taxes on every Illinoisan. Our suspicions have been confirmed. Illinois, hold onto your wallets. Pritzker and Madigan are coming.
Um, didn't he say he didn't want to raise taxes on the middle class at all?
*** UPDATE 5 *** Pritzker campaign…
A. Please refer to previous statement: "J.B. does not believe we should raise taxes on middle class families, period."

B. Does Rauner support Donald Trump's destructive tax plan? Yes or no?
- Posted by Rich Miller 48 Comments


With four Democrats now formally filing to challenge state Sen. Ira Silverstein, the first to receive an endorsement from one of Silverstein's Senate colleagues is Ram Villivalam. Democratic State Sen. Laura Murphy tells NBC 5 "I've known Ram for 10 to 12 years and I've watched him work campaign, after campaign, after campaign."

Villivalam, is the former political director for Rep. Brad Schneider and has worked for SEIU. Murphy adds "I believe it's possible for Ram to win the seat."

She's also calling for Silverstein to step down because of the allegations from a victims rights advocate who says Silverstein sexually harassed her. Murphy says "elected officials are held to a higher standard, we all know that."
This is becoming a very crowded race, which will benefit the incumbent. The latest to jump into the contest is Chicago attorney David Zulkey, who serves on the board of the Sauganash Community Association. Alison Leipsiger and Caroline McAteer-Fournier are also running.
Villivalam, however, is the only challenger to report any contributions so far (a bit over $40K). Silverstein had about $75K in the bank at the end of the last quarter and has reported raising $12K since then.
- Posted by Rich Miller 5 Comments


* ILGOP press release…
Following the sexual assault allegations against Minnesota Senator Al Franken, many Democrats who have received money from Franken's PAC, Midwest Values, have donated the money to charity.

Sen. Claire McCaskill, who has received $30,000 in donations from Franken since 2006, has given that money to Missouri Food banks.

Sen. Jon Tester donated his $25,000 of Franken money to a Montana organization against sexual violence and harassment.

Sen. Sherrod Brown's campaign has vowed to donate the $28,100 received from Franken to various charities.

Sen. Tammy Baldwin, who received $20,000 from Franken, is donating it to a group for women veterans in Wisconsin.

Congressional candidate and State Rep. Abby Finkenauer has vowed to return the $1,500 she received from the Franken PAC.

Senators Dick Durbin and Tammy Duckworth have both received $21,000 and $5,000, respectively, from the Franken PAC, yet neither of them have returned the money or announced any plans to.

Why are Durbin and Duckworth keeping Franken's dirty money? Both should put their money where their mouth is and either return or donate all campaign cash received from Franken. Actions speak louder than words.
- Posted by Rich Miller 26 Comments