[The following is a paid advertisement.]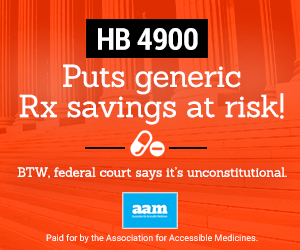 Passage of HB 4900 will drive up the cost of generic drugs and jeopardize the one aspect of health care—generic medicines—where patients are actually saving money. Generic medicines saved Illinois patient and state programs almost $10 billion in 2016. HB 4900 is bad medicine for Illinois. Vote no. Learn more.
- Posted by Advertising Department


No Comments
Be the first to comment.
Sorry, comments for this post are now closed.