* WXEF Radio…
The Thelma Keller Convention Center ballrooms were jampacked Thursday night to hear retired Marine and FOX News contributor Oliver North.

North, the new president of the National Rifle Association, was in town in part on behalf of the local Republican state representative candidates, but also to promote traditional values in the face of a changing world. […]

About a half-dozen protesters were on hand ahead of Thursday's event. Local police present in case of any problems said there was a "civil discourse" between protesters and attendees…the attendees saying they appreciated the protesters' differing point of view, the protesters shaking hands with the attendees.
* The official caption under the accompanying photograph is "Oliver North w/officials From Effingham, Iroquois, Christian And Mercer Counties Who Have Passed Firearms Sanctuary Legislation. 33 Counties Have Now Passed Such Legislation"…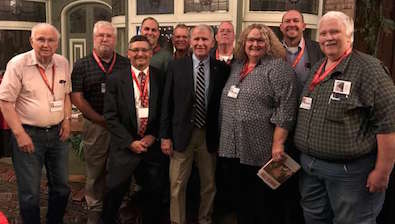 * Related…
* President of NRA visits Effingham
38 Comments

















































































































Sorry, comments for this post are now closed.