* Ald. Moreno mailer…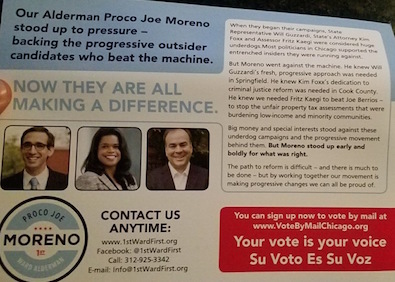 * Rep. Will Guzzardi (D-Chicago)…
Alderman Joe Moreno recently sent campaign literature that included my name and likeness. The alderman did not receive, nor did he request, my consent to appear in this mailer. And while the statement made in the piece is factually correct — he did support my campaign in 2014 — I believe the mailer makes a misleading implication. I have not endorsed Alderman Moreno's re-election campaign. I have been increasingly troubled in recent years by both his personal and his professional conduct. I urge voters in the First Ward not to confuse my appearance in Moreno's literature with my support for his candidacy.
Moreno, of course, has a few other problems to deal with.
…Adding… Press release…
Today, in response to State Representative Will Guzzardi's statement indicating Joe Moreno had not received his endorsement for reelection or even permission to use his likeness in a mailer sent to 1st Ward voters, 1st Ward Aldermanic candidate Daniel La Spata, released the following statement:

"Joe Moreno continues to make news this week for all the wrong reasons. It's shameful that he's trying to mislead 1st Ward voters and distract from his record of selling out our ward by engaging in the machine-style politics that have held this city back. But he's not fooling anyone.

"1st Ward voters see right through his misdirection and excuses. They know Moreno's failed record and they've seen his character, especially over the last week. That's why in 18 days they're going to throw him out of office and support my campaign. Our ward needs an alderman focused on making housing affordable and improving our schools, not one constantly distracted by personal problems and controversies."
16 Comments















































Sorry, comments for this post are now closed.