[The following is a paid advertisement.]
When President Donald Trump released his proposed budget March 11, he was rightfully criticized for projecting outlandish economic growth. Larry Summers, former director of the National Economic Council under President Barack Obama, said Trump's economists "should be embarrassed" by their estimate.
J.B. Pritzker is relying on a similar growth fantasy in Illinois to sell his tax plan. A one-page summary released by the governor's office March 15 reveals Pritzker's tax promises rely on growth estimates that are higher than the state's five-year average, higher than the state itself projected as recently as November 2018 and far more optimistic than most economists predict.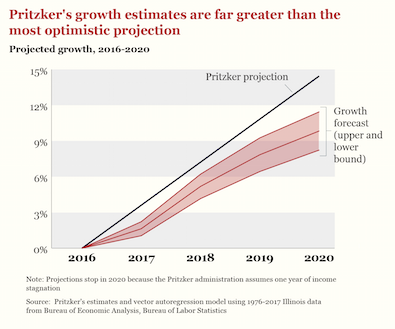 Because of the governor's extraordinary growth projections for Illinois' economy, his expected tax collections are overstated. He would need to increase the size of his tax hike in 2021 by nearly $1 billion simply to cover the difference between his assumptions and a reasonable growth estimate.
Pritzker's plan won't deliver on the promises he's making, meaning it will only serve as a bridge to further tax hikes.
- Posted by Advertising Department


No Comments
Be the first to comment.
Sorry, comments for this post are now closed.