* From Local 150…
This morning, Senators Martin Sandoval (D-Chicago) was joined by a bipartisan group of leaders from government, commerce, organized labor, and the construction industry to announce legislation that will produce approximately $2.4 billion in annual funding for transportation infrastructure throughout the state of Illinois.

Sandoval stated that this funding is necessary to boost the safety of Illinois' roads, bridges, and transit systems. "We have been underfunding our transportation infrastructure for decades," said Sen. Sandoval, "and the end result is that we now have pothole-ridden roads that we can't afford to fix and more than 2,300 bridges rated as 'structurally deficient.' This problem has been left to worsen for too long, and now is the tie for leadership and decisive action."

HB3233 will provide the additional funding through increases to Illinois' motor fuel tax on gasoline and special fuels, vehicle registration fees, driver licensing fees and title certificate fees. The current state tax on gasoline – which has remained at 19 cents per gallon since 1990 – would increase to 44 cents on July 1, 2019. This increase alone would create more than $1.2 billion in additional annual revenue. To offset the increase in special fuel tax rates, the legislation will eliminate the current Commercial Distribution Fee, a tax on all trucks. (Click to view bill summary)

Fuel tax rates will also be indexed to inflation to keep pace with rising costs. Since Illinois last adjusted its fuel tax in 1990, the state's infrastructure purchase power has been continually diminished by inflation and increased efficiency. A long-term funding solution will allow state agencies to plan projects well into the future.

Sen. Don DeWitte (R- West Dundee), who serves as the Minority Spokesman for the Senate Transportation Committee, attended the press conference as a show of Republican bipartisan support and discussed the need for an infrastructure plan that would be sustainable for years to come. "The proposal put forth today is a good starting point as we work toward a comprehensive infrastructure plan that addresses the critical needs facing our state's transportation, education and public facilities," said DeWitte.

The legislation also creates the Illinois Works job program that will help community-based organizations recruit and prepare the next generation of Illinois' workforce for apprentice training programs. The legislation will encourage the use of apprentice training and provide incentives for contractors to utilize minority, female and veteran workers.

"Illinois has some of the most advanced career training programs in the world," said Marc Poulos, executive director of the Indiana-Illinois-Iowa Foundation for Fair Contracting. "Our ailing infrastructure demands repair and maintenance, and by addressing that problem, we can also put a generation of Illinois workers into good-paying careers with ongoing education, healthcare, and retirement benefits. Illinois' workforce will see substantial benefits from this much-needed investment."

"Almost 20 percent of Illinois' public roads are in 'poor' condition," said Mark Barkowski, senior vice president of F.H. Paschen and chairman of the Illinois Road and Transportation Builders Association. "The safety of our infrastructure has suffered from the lack of investment, and the deficiencies are on display across the state. Much of the repair work that has been done is temporary, and the time for permanent fixes is now."

"Infrastructure's impact upon Illinois' economy cannot be ignored," said Tyler Power, director of government affairs for the Quad Cities Chamber of Commerce. "Illinois is the commercial hub of the nation, and our economic strength relies upon being able to transport goods safely and quickly through the state. This legislation would fund the kind of infrastructure investment that will pay massive dividends across all sectors of our economy."

HB 3233 will offer flexible funding opportunities to the Regional Transit Authority and allow municipalities to generate infrastructure revenue. A new project selection process will prioritize the most needed transportation and transit infrastructure projects.
* Check out all the tax and fee hikes. The Motor Fuel Tax would rise by 25 cents per gallon, to 44 cents. Vehicle registration fees would be increased by $50 a year. Drivers' license fees, title fees and electric car and all truck registration fees would be increased…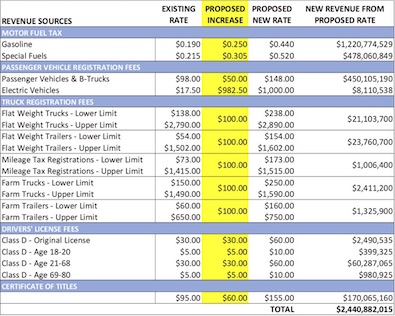 And that doesn't include paying for "vertical" projects.
62 Comments

























































































































































































Sorry, comments for this post are now closed.