* The New York Times editorial board takes a look at what will happen to state and local tax burdens by income level if the governor's graduated income tax is approved by voters…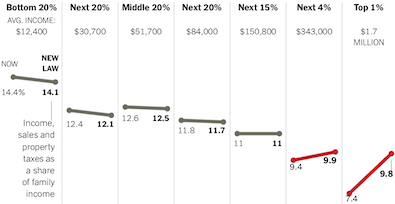 * From the editorial…
Economic inequality in the United States has reached the highest levels since the 1920s, and there is mounting evidence that the unequal distribution of income and wealth is contributing to the nation's economic and political problems. Reducing inequality ought to be a focus of public policy. Rewriting state tax laws to place the greater burden on those with greater means is an effective and sensible response.

Taxation in the United States remains progressive because the federal income tax remains the largest source of government revenue. But the distribution of the total burden has become much less progressive. In 1961, Americans with the highest incomes paid an average of 51.5 percent of that income in federal, state and local taxes. Half a century later, in 2011, Americans with the highest incomes paid just 33.2 percent of their income in taxes, according to a study by Thomas Piketty, Emmanuel Saez and Gabriel Zucman published last year. Over that same period, the bottom 90 percent of Americans, ranked by income, saw their tax burden increase from 22.3 percent of income to 26 percent of income. […]

The Illinois plan is a step in the right direction rather than a complete corrective. Under current law, households in the bottom quintile of the income distribution pay 14.4 percent of their income in taxes on average, while those in the top 1 percent pay 7.4 percent of their income in taxes — a difference of 7 percentage points. The proposed changes in the income tax would cut that gap to 4.3 percentage points, according to the Institute on Taxation and Economic Policy.

Illinois is seeking to address longstanding fiscal problems, notably an underfunded pension system, so it is raising taxes on the rich without significantly reducing taxes for everyone else. Other states, however, could do better by raising taxes on the rich and using the money to reduce the taxation of low-income families.
It also dispenses with the notion that legions of high-income people will leave the state…
Indeed, the Stanford sociologist Cristobal Young has calculated that people with million-dollar incomes move across state lines less often than other Americans. They are more likely to be married, more likely to have children, more likely to be involved in civic and social groups — and, in many cases, their wealth stems from their communities. A successful Springfield dentist cannot relocate her patients to Missouri. A man who owns a chain of gas stations around Peoria is likely to remain in Peoria. A company that relies on Chicago's highly educated work force may not be focused on finding the place with the lowest tax rates.
* The Tribune looks at who will pay more here…
In fact, a quarter of all taxpayers statewide who would be hit by the higher rates — those earning more than $250,000 a year — reside in just 15 of the state's more than 1,500 ZIP codes, covering places like Lincoln Park, Wilmette, Barrington and Elmhurst, according to a Tribune analysis of Illinois Department of Revenue income tax data from 2016, the most recent year available.

In Lincoln Park, for example, 14% of taxpayers — 4,757 filers, the most in any ZIP code — earned more than $250,000. That includes 1,010 who earned enough to qualify for the top rates under Pritzker's plan, which would tax individuals earning more than $750,000 and couples earning more than $1 million at 7.99% of their total income. The current rate is 4.95% for all taxpayers.

In some tony suburbs, the concentration of high earners is even greater. In both north suburban Winnetka and west suburban Hinsdale, more than 29% of taxpayers — 2,740 of filers in Winnetka and 2,288 in Hinsdale — would be affected by the higher rates that kick in at $250,000.

Overall, roughly 85% of those who would see higher tax rates under Pritzker's plan live in Cook County and the five collar counties, which are home to about 66% of the state's population. That means a disproportionate amount of the new revenue generated by the tax hikes would come from the Chicago area.
Aside from partisanship, one of the reasons Downstate legislators opposed taxing the rich is because they have so few high-income people and they worry what will happen when that handful of rich folks has to pay more. Some could, indeed, move their factories to other states. Others, like farm implement dealers, would have to stay.
43 Comments
































































































































Sorry, comments for this post are now closed.