* Greg Baise op-ed in the SJ-R about the proposed graduated income tax…
If we learned anything from the last eight months, it's that Governor Pritzker and Speaker Madigan's alliance is impenetrable. The speaker has passed the governor's increased spending and is promoting the Blank Check Amendment. In turn, the governor refuses to address multiple reports that some of those closest to the speaker are under federal scrutiny.

The fact is, despite this strong alliance and the speaker's grip on the General Assembly, that doesn't mean we have to accept higher taxes via the Blank Check Amendment.

Because at the end of the day it's up to you, the voter, to make your voice heard in November 2020 on whether you trust the Madigan/Pritzker Partnership with more of your hard-earned tax dollars.

Be on the lookout for more from The Vote No on Blank Check Committee. How do you know if what you are reading is from the committee? Just look for our logo: If you see a Speaker Madigan silhouette hovering over a blank check, you're in the right spot.
* The logo…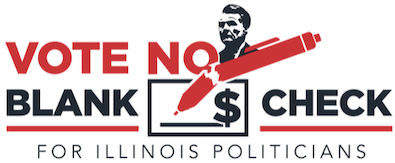 49 Comments


















































































































































Sorry, comments for this post are now closed.