* First a little news. Haven't heard Beth Coulson's name in a while. She's one of the last liberal Republicans. She replaces former Rep. Steve Andersson, who told me he wanted a new challenge after helping the Human Rights Commission clear its backlog…
Building on a strong team of diverse experts in their fields, Governor JB Pritzker announced the following appointments in his administration:

EMPLOYMENT SECURITY BOARD OF REVIEW

Elbert Walters III will continue to serve on the Employment Security Board of Review.* Currently,Walters III serves as the Director of Powering Chicago where he promotes the unionized electrical industry. Prior to this position, he was the Business Representative at the International Brotherhood of Electrical Workers Local no. 134 and has 20 years of experience as an electrician. Walters is a member of the Chicago Building Trades Council and a Chicago Workforce Board Member. He received a Labor Leadership Program Certification from DePaul University.

HUMAN RIGHTS COMMISSION

Elizabeth Coulson will serve on the Human Rights Commission.* For over fourteen years, Coulson served as the elected State Representative for the 57th and 17th districts. She also was an Associate Professor and Chair of the Physical Therapy Department at Rosalind Frank University of Medicine and Science. Coulson is on the Board of Trustees at Rosalind Franklin University of Medicine and Science and is a member of the board at Youth Services of Glenview/Northbrook. She received the Legislative Award for Equality Illinois, the Paul Simon Public Service Award from the Illinois Campaign for Political Reform, and the Legislator of the Year Award from the Illinois Nurses Association. Coulson received her Bachelor of Science from University of Kansas, her Master of Arts from Wellesley College, her Physical Therapy certification from Northwestern University Medical School and her Master of Business Administration from DeVry University's Keller Graduate School of Management.

THE LINCOLN ACADEMY OF ILLINOIS

Lucy Moog will serve as a member of the Lincoln Academy of Illinois. Moog is a longtime activist and has been involved in politics for three decades. She has led community outreach efforts on four Presidential campaigns, as well as numerous gubernatorial and Congressional races. She has served as the District Director for the 5th Congressional District and also launched the critically acclaimed environmental advocacy campaign and public art project "Cool Globes: Hot Ideas for a Cooler Planet," which has since exhibited in 13 cities worldwide. Lucy's personal Cool Globe creation was selected among a myriad of finalists to be displayed at the Kennedy Center in Washington, D.C. Moog serves on the Advisory Committee of Chicago Ideas Week's YOU(th) initiative and is a dedicated volunteer with Personal PAC, the Cool Globes/Know Tomorrow movement and Francis W. Parker Parents' Association. Moog also serves as the Chicago 43rd Ward Democratic Committeeman. Moog studied government and psychology at Connecticut College.

Caralynn Nowinski Collens will serve as a member of the Lincoln Academy of Illinois. Dr. Nowinski Collens is the CEO of Dimension Inx, a next-generation biofabrication company developing regenerative medical implants that repair tissues and organs. Previously, she served as the co-founder of UI LABS, a first-of-its-kind technology organization focused on the digital future of industries. Nowinski Collens spent her early career in venture capital and corporate finance, primarily focused on technology-based university spin-outs. Nowinski Collens is the Chairman Emeritus of the Board of Directors of MxD, Chair-elect of the Board of Imerman Angels, and a member of the Executive Council of Granite Creek Capital Partners. She is a member of the Chicago Chapter of the Young Presidents' Organization (YPO) and recognized as one of Crain's Chicago Business' "Forty Under Forty" and "Tech 50". She earned a Bachelor of Science of Northwestern University and Doctor of Medicine and Master of Business Administration from the University of Illinois College of Medicine.

* Appointments pending confirmation by the Illinois Senate.
* Man, I miss my friends and warm parties on cold winter nights…
Pull off your coat, throw it in the corner
* Tribune the other day…
A second federal stimulus package offers some financial support for Illinois colleges and universities, but the money falls far short from covering the pandemic's sweeping economic toll on higher education.

Public universities, community colleges and private institutions in Illinois stand to receive an estimated $718 million from the Coronavirus Response and Relief Supplemental Appropriation Act, according to figures released by the U.S. Department of Education. Former President Donald Trump signed the law in late December.

Schools can put the money toward emergency aid grants for students, remote learning technology and personal protective equipment, among other approved uses. In all, the legislation provides $21.2 billion to institutions of higher education nationwide — more than the $14 billion in the first relief bill.

Still, the Illinois Board of Higher Education estimates the most recent stimulus package will offset only 27% of pandemic-related costs at the state's 12 public universities.
* Press release…
The following letter was sent to Illinois' federal legislators today by presidents of the state's public universities, seeking additional relief to offset costs associated with the COVID-19 pandemic.

Dear Senator/Representative:

We write on behalf of Illinois' public universities to thank you for the pandemic relief Congress approved in December, and to request additional urgent assistance, as President Biden has proposed in his American Rescue Plan.

COVID-19 continues to have a devastating impact on higher education. Our universities have taken extraordinary measures to continue operating during the pandemic, such as purchasing hardware and software for students to take online courses and providing COVID-19 testing for students and employees. At the same time, we have seen significant revenue declines due to closed facilities and room and board refunds, among other issues. All told, the financial impact of the pandemic on Illinois' public universities through December 2020 was over $533 million, and that figure is estimated to reach $819 million by the end of spring semester.

We are grateful for the support Congress has provided, most recently in the Coronavirus Response and Relief Supplemental Appropriations Act (CRRSAA). Our universities will receive $147 million from CRRSAA's higher education relief fund, with an additional $69 million in emergency financial aid grants for our students. This support is vital, but further relief is needed.

Specifically, we request:

• Further financial assistance for institutions of higher education and students, for costs incurred since the beginning of the pandemic. We support the request made by the American Council on Education (ACE) and leading higher ed associations for an additional $97 billion in emergency funding.
• Funding to make up for disruptions to research grants, which have been particularly harmful to early-career and female researchers. We support ACE's request for $26 billion in emergency funding for federal research agencies.
• Funding for state and local governments, so that they can continue to provide essential services.
• Temporary and limited liability protections to help ensure that universities acting in good faith and following applicable public health standards do not face expensive and time-consuming litigation, as detailed in the May 28 letter from higher education associations.

We thank you for your continued advocacy on behalf of Illinois at this challenging time.
* Meanwhile, from the IFT…
With Illinois now in Phase 1B of COVID vaccinations, we applaud the prioritization of PreK-12 employees and teachers by the State of Illinois and the CDC.

However, with a high likelihood of COVID-19 outbreaks at colleges and universities, along with reported community spread associated with these outbreaks, it is necessary for the safety of our students and communities that higher education faculty and staff also be included in Phase 1B. Despite CDC guidance, higher education employees in Illinois are currently left out of this category.
* Oscar loves the snow more than just about anything. He's always begging to go outside these days. If I have a scheduled phone call, I have to let him out before it starts so he can get it out of his system and doesn't interrupt my work. I do love this little doggie…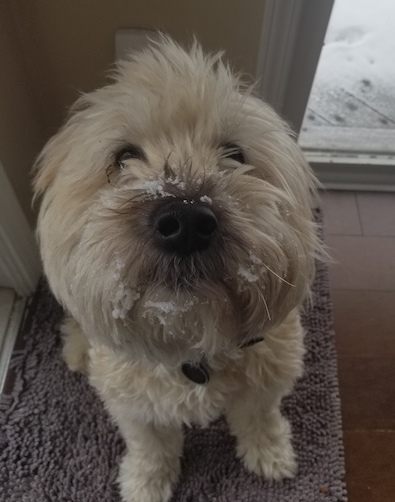 * The Question: Your favorite pet story?
* CBS 2…
A viewer worried about the vaccine delays reached out to CBS 2 about a legislative hurdle that could further jam up distribution. There are 10,000 dentists in Illinois, but state guidelines leave many unable to administer the vaccine, despite being more than qualified. […]

The Illinois Department of Financial and Professional Regulation issued an Emergency Proclamation in December 2020, which requires dentists to take a four-hour training on administering injections. Part of the training is in-person.

Milgram said the extensive injection training isn't necessary.

"We're more than capable of giving injections. I've probably given 20 different people injections today," he said. "Dentists probably give more shots than any other health care profession."

Dave Marsh, director of governmental affairs at the Illinois State Dental Society, agreed. […]

Marsh is working with the state to create a one-hour online program so dentists can administer the vaccine at public health sites.
I asked the administration about this the other day and was told today they worked with dentists on new and streamlined training requirements. IDFPR issued an emergency proclamation today. Click here.
* We need more vaccines…
Only four days into efforts to get vaccines into the arms of senior citizens, complaints are piling up about clunky websites and scarce appointment times at some of the pharmacies distributing the shots.

Some seniors are giving up in frustration because of the cutthroat competition.

And those without access to a computer or high-speed internet are likely to get left behind.
Americans are unaccustomed to scarcity, particularly when it's due to the rank incompetence and repeated failures of national "leadership."
* Some people are insanely stupid…
Microsoft co-founder turned philanthropist Bill Gates says he has been taken aback by the volume of "crazy" and "evil" conspiracy theories about him spreading on social media during the COVID-19 pandemic, but said on Wednesday he would like to explore what is behind them. […]

They include claims that Fauci and Gates created the pandemic to try and control people, that they want to profit from the virus' spread, and that they want to use vaccines to insert trackable microchips into people.

"But do people really believe that stuff?," Gates asked.
Yes, they do and it's mind-boggling.
Five lawmakers are asking Gov. J.B. Pritzker to move the Metro East to the next level of the Restore Illinois COVID-19 plan.

Currently, only Region 4, containing Madison County and six other counties, is not allowed to offer indoor dining at bars and restaurants.

On Thursday, state Sens. Rachelle Crowe, D-Glen Carbon, and Christopher Belt, D-Centreville, were joined by state Reps. Katie Stuart, D-Edwardsville; Jay Hoffman, D-Swansea; and LaToya Greenwood, D-East St. Louis, in delivering a letter to Pritzker urging him to move the Metro East to the next tier which would allow restaurants and bars to reopen for indoor dining at a limited capacity and school sports practices to resume. […]

"As of today, our region has met two out of the three required criteria to move forward a tier – including both a lower positivity rate of COVID-19 and hospitalizations," they said. "However, our region remains to be held back due to the number of available ICU beds – despite that number not being truly reflective of the actual situation for our region.

The lawmakers said that, as a border region in one of the nation's largest metropolitan areas, residents use hospitals and healthcare providers on both sides of the river, particularly in St. Louis. There are many more hospital beds available regionally than reflected in the count of beds when limited to just Illinois, they said.
Um, folks, ICU availability is just 19 percent on the other side of the river. That's only a tiny bit better than the 18 percent on the Illinois side. Sheesh.
* Tribune live blog headlines…
Can the US keep COVID-19 variants in check? Here's what it takes

How worried should you be about missing your last routine mammogram or colonoscopy due to COVID-19 fears?

Third stimulus check updates: President Biden taking 'creative steps' to push for $1.9 trillion aid plan

Pregnant women get conflicting advice on COVID-19 vaccines

How the coronavirus turns the body against itself

How do I schedule a second COVID-19 vaccine shot? Why hasn't my health system contacted me yet? Common Illinois vaccine questions answered.

City, CPS, CTU allies in dispute over in-person learning to discuss return to school

Unemployment up statewide in 2020, with near 1 million false unemployment claims

Is the COVID-19 pandemic growing or shrinking in Illinois? New website tracks a key metric.

Blaming teachers union, CPS cancels Friday in-person classes as it races to reach a deal with CTU before students are due back Monday.

Chicago health commissioner urges patience with teacher vaccines as some CPS principals push to get staffers shots ahead of full district rollout.

Novavax vaccine appears 89% effective against COVID-19. Shot also works, though not quite as well, against other strains.

First U.S. cases of South Africa COVID-19 variant found in South Carolina.
* Sun-Times live blog headlines…
Illinois vaccination efforts increasing but slow, only 1.5% of the population have received vaccine

Pandemic help wanted: Fast food managers, road race experts

Clergy, parents call on CPS classes to remain remote until vaccine is widely distributed

Canada to quarantine travelers, suspend flights south

EU regulator authorizes AstraZeneca vaccine for all adults

J&J 1-dose shot prevents COVID-19 but is less effective than some other vaccines

No in-person classes Friday as CPS, CTU continue negotiations to avert strike

Housing advocates in Chicago aiming to help tenants ahead of a potential wave of evictions
* Press release…
The Illinois Department of Public Health (IDPH) today reported 4,156 new confirmed and probable cases of coronavirus disease (COVID-19) in Illinois, including 71 additional deaths. The state has also administered a record high number of vaccine doses for the third straight day in a row, with 58,357 doses administered in the most recent 24-hour period.

- Bond County: 1 female 70s
- Champaign County: 1 male 60s
- Coles County: 1 male 60s
- Cook County: 1 female 40s, 1 female 50s, 2 males 50s, 1 female 60s, 3 males 60s, 1 female 70s, 2 males 70s, 1 female 80s, 3 males 80s, 1 male 90s
- DeKalb County: 1 female 60s
- Douglas County: 1 female 80s
- DuPage County: 1 female 70s, 1 male 90s
- Effingham County: 1 female 90s
- Fayette County: 1 male 90s
- Iroquois County: 1 female 90s
- Kane County: 1 female 20s, 1 male 60s, 2 males 70s, 1 male 80s, 1 female 90s, 1 male 90s
- Kendall County: 1 male 40s
- Lake County: 1 male 50s, 1 female 70s, 1 female 80s, 1 female 90s
- LaSalle County: 1 male 60s
- Logan County: 1 male 50s
- Madison County: 1 male 70s, 1 male 90s
- McHenry County: 2 female 70s, 1 male 70s, 1 male 80s
- Peoria County: 1 female 90s
- Piatt County: 1 male 80s
- Pike County: 1 male 60s
- Randolph County: 1 male 80s
- Rock Island County: 1 female 60s, 1 female 80s
- Saline County: 1 male 70s
- Shelby County: 1 male 90s
- St. Clair County: 2 males 70s, 1 male 90s
- Stephenson County: 1 female 70s, 1 female 80s
- Tazewell County: 1 male 60s, 1 female 80s
- Vermilion County: 1 male 60s
- Whiteside County: 1 male 70s
- Will County: 1 female 50s, 1 female 70s, 1 male 70s, 1 male 80s
- Williamson county: 1 female 90s
- Winnebago County: 1 male 80s, 1 female 90s, 1 male 90s

Currently, IDPH is reporting a total of 1,120,528 cases, including 19,138 deaths, in 102 counties in Illinois. The age of cases ranges from younger than one to older than 100 years. Within the past 24 hours, laboratories have reported 111,057 specimens for a total 15,844,619. As of last night, 2,735 in Illinois were reported to be in the hospital with COVID-19. Of those, 532 patients were in the ICU and 297 patients with COVID-19 were on ventilators.

The preliminary seven-day statewide positivity for cases as a percent of total test from January 22–28, 2021 is 4.3%. The preliminary seven-day statewide test positivity from January 22–28, 2021 is 5.4%.

A total of 1,304,475 doses of vaccine have been delivered to providers in Illinois, including Chicago. In addition, approximately 496,100 doses total have been allocated to the federal government's Pharmacy Partnership Program for long-term care facilities. This brings the total Illinois doses to 1,800,575. IDPH is currently reporting a total of 887,845 vaccines administered, including 131,401 for long-term care facilities. The 7-day rolling average of vaccines administered daily is 38,738 doses. Yesterday, a total of 58,357 doses were administered making it the third day in a row Illinois has seen a record high number of COVID-19 vaccine doses administered. On Tuesday, 53,628 doses were administered and 55,865 on Wednesday.

*All data are provisional and will change. In order to rapidly report COVID-19 information to the public, data are being reported in real-time. Information is constantly being entered into an electronic system and the number of cases and deaths can change as additional information is gathered. For health questions about COVID-19, call the hotline at 1-800-889-3931 or email dph.sick@illinois.gov.
* One major lesson I learned from cannabis legalization is that the police too often rely on gross exaggeration (or worse) to make their case against bills they oppose. Remember when they were falsely claiming that hundreds of drug-sniffing dogs would have to be euthanized?
There was the Downstate sheriff who warned that drug cartels would buy up houses in Christian County to grow pot if the state legalized home-grown. And then there were all the goofy, hyped up "studies" they used to justify their position against the legislation. The sky did not fall. The world did not end. (OK, it kinda did, but that had nothing to do with legal weed.)
* And so it goes with the criminal justice reform bill. For instance, I keep seeing this argument pop up…
Some of the provisions in the new law are difficult to interpret or, in the guise of being lenient, lay the groundwork for individuals to be charged with a more serious crime than they otherwise would have.

One provision relates to "obstructing or resisting a peace officer."

It says "a person shall not be subject to arrest … unless there is an underlying offense for which the person was initially subject to arrest."

That scenario apparently contemplates a situation where a person arrested for one offense commits the additional offense of resisting the arrest.

But what about a situation where a third party intervenes when police are making an arrest?

If that third party obstructs the arrest or helps the primary suspect resist the arrest, is that third party subject to arrest for resisting or obstructing?

The law appears to say the answer is no. But, alternatively, can that third party instead be charged with a more serious offense like aggravated battery to a police officer or mob action?
I checked with the Senate bill sponsor Elgie Sims. He said the above analysis is wrong. If you physically intervene to prevent somebody else's arrest, that's enough to be charged with obstructing an officer.
The whole idea of the language, Sen. Sims said, is to prevent the police from arresting people who, for instance, say something harsh about the police while somebody else is being arrested.
Now, maybe Sen. Sims is wrong. But the moral of the story here is reporters ought to remember the old City News slogan: If your mother says she loves you, check it out.
* I saw somebody say somewhere that it was almost like US Rep. Adam Kinzinger was created in a laboratory to run statewide in 2022. This WaPo profile is quite something…
In 2006, Kinzinger encountered another heightened moment. On a night out in Milwaukee, he and his girlfriend were walking along a street full of popular bars and restaurants after dinner with a friend. Suddenly they heard a woman screaming, "He cut my throat! He cut my throat!" The woman, clutching her neck, looked to Kinzinger for help as her boyfriend held the bloody knife.

"I remember going to thoughts of, 'If I watch her die, I can't live with myself for the rest of my life,' " he says. "But the second thought was, 'If I fight him, I'm going to die.' " […]

He had been worried about violence in the District for weeks. Kinzinger tracks conspiracy theory-addled online chatter and grew concerned about the rhetoric at Trump's post-election rallies. He told his staff to work remotely the day of the certification vote and advised his wife, a communications staffer for Vice President Mike Pence whom he married last year, to stay home. Kinzinger has a permit to carry a concealed weapon in the District, but almost never brings his gun to the Capitol. That day, he did.

Taking a break from the proceedings, Kinzinger left the House floor, returned to his office and started seeing incoming messages on Twitter: "@RepKinzinger we're coming for you," said one. "Tell us where you are right now," said another. "I hope you know what's coming."

"He's very collaborative, very expeditious," says Rep. Marcy Kaptur (D-Ohio), with whom Kinzinger co-sponsored legislation to provide funding for European allies to invest in more secure telecom infrastructure. "I think he knows his own mind and that's really helpful. He's very adroit."
* And while some on the far right call him a Republican In Name Only, Kinzinger is deftly turning that RINO moniker around on them…
More recently he has criticized freshman Republican Rep. Marjorie Taylor Greene of Georgia, who has espoused false conspiracy theories involving QAnon and mass school shootings and has used social media to support violence against Democratic House Speaker Nancy Pelosi.

"She is not a Republican. There are many who claim the title of Republican and have nothing in common with our core values. They are RINOS. She is a RINO," Kinzinger said […]

"I think in six months it's not going to be necessarily the party of Donald Trump. But this is the whole point: I do think we are in a battle, that it may be a battle that really needs to happen, for our party to say what is it we stand for now when it comes to policy. But as much as anything, are we aspirational or are we a party that feeds on fear and division?" Kinzinger said.

"If you're a leader of the Republican Party right now, you need to be focused on one thing — not winning another election, that's not what we should be focused on right now. What we should be focused on is restoring the integrity of this party," he said.
* Ouch…
This didn't age well. https://t.co/QQjosO57XM

— Adam Kinzinger (@RepKinzinger) January 26, 2021
* But he's also trying to maintain his ideological conservative street cred…
Abortion remains one of the most divisive issues of our time. However, Americans from both sides of the divide agree that taxpayer funds should not be used. The Hyde Amendment has been in place for almost half a century & it must be retained. My letter to Congressional Leaders: pic.twitter.com/kNGVb5LB81

— Adam Kinzinger (@RepKinzinger) January 27, 2021
* And he recently took a poke at the governor…
For an Administration that spends so much time calling for a one-size-fits-all approach on literally everything, I'm shocked Governor Pritkzer hasn't used that approach in #Illinois. Every health dept. across IL has a different vaccine registration process & form. What a mess.

— Adam Kinzinger (@RepKinzinger) January 27, 2021
I'm assuming that the Democrats will give him the best possible district to encourage him to run for reelection instead of governor or US Senator. But he may not want to stay in the US House after all this.
Obviously, the man knows how to throw a punch, so don't count him out in either the primary or the general. If he runs for governor, though, I would imagine the Democratic Governors Association will double-down on its 2018 primary strategy and run ads aimed at Republicans claiming he's not right-wing enough. Because if he gets out of that primary, he's going to have a heck of a story to tell Illinoisans...
Rep. Adam Kinzinger is willing to lose his seat over his vote to impeach then-President Donald Trump, the Illinois Republican told CNN's David Axelrod during an episode of "The Axe Files" podcast released Thursday.

"I did it knowing full well it could very well be terminal to my career," Kinzinger said of his vote. "But I also knew that I couldn't live with myself having, you know, try to just protect it and just felt like the one time I was called to do a really tough duty, I didn't do it."
People eat that stuff up.
* Last month…
Parents of four Illinois high school athletes filed a lawsuit Monday against Gov. J.B. Pritzker and the Illinois High School Association in LaSalle County Court.

The suit claims Pritzker's cancellation of the winter high school sports season ''is an unconstitutional violation of the Plaintiffs' right to equal protection under the Constitution of the State of Illinois.'' The suit seeks to bar Pritzker and the IHSA from enforcing the cancellation of the winter sports season.

''[Pritzker] is using this emergency statute to create these restrictions,'' said Laura Grochocki, the attorney for the plaintiffs. ''They are supposed to have a rational basis. We are asking why high school sports have the restrictions and why college sports and pro sports do not. Is there a rational basis for the restrictions on high schools? Or is there something else at work here, why [colleges and pros] are allowed to play and high schools are not?''

Trevor Till, the son of lead plaintiff Lisa Moore, took his own life in late October in Champaign. He graduated from Seneca in June. Till ran cross-country and track, was class president and participated in multiple school activities.
* Fox 32 yesterday…
An Illinois mother of a teenager who killed himself during the coronavirus pandemic is suing Gov. JB Pritzker over COVID-19 restrictions, telling "The Faulkner Focus" on Thursday, "My son died because of COVID isolation."

Lisa Mara Moore's son Trevor Till, who was hoping to go to the state championships for pole vaulting in his senior year of high school but couldn't because of coronavirus restrictions, committed suicide in October. Moore said she believes "100 percent" that the lockdown "changed Trevor from who he was to the person that did this." […]

The group's attorney, Laura Grochocki of the nonprofit organization Remember America Action, filed the suit last month in LaSalle County Circuit Court.

Appearing with Moore on "The Faulkner Focus" Grochocki said, "Unfortunately, in Illinois and I think in many, many other places, I think the elites in power, they've dismissed high school students."
A mother has lost her son. She's clearly devastated and deserves our sympathy and our empathy. Please, do not make her the focus of your comments or you'll be banned.
* Instead, let's take a look at Remember America Action. From its home page…
Remember America Action is recruiting, educating and mentoring young conservative lawyers to do battle on social media censorship, election fraud, FEC, education, and civil and constitutional rights violations in courtrooms across America. The legal battlefield will be the most important battlefield of our lifetime - the new TURNING POINT.
* From its "About" page…
Remember America Action is also at the forefront of helping businesses and individuals fight COVID-19 restrictions on fundamental constitutional liberties. President Trump is right – keeping the economy shut down is UNHEALTHY for our country. These shutdowns are destroying lives.
* And from its "Audit the Vote" page…
Furthermore, the State of Illinois uses Dominion voting machines and software – machines and software that, it is alleged, can manipulate the vote, change votes, and mark ballots. This must be investigated. If it is determined that Dominion voting machines and software are vulnerable to fraud, we request that public officials take immediate action against the use of these machines and software and ensure that any future technology cannot mark or change ballots or be interfered with from outside third parties, either foreign or domestic.
Those claims about Dominion have been thoroughly debunked. The company is also suing purveyors…
The 107-page legal complaint in US Dominion v. Giuliani, a defamation lawsuit filed in federal court on Monday, is really an extraordinary read.

It lays out how Rudy Giuliani, the former New York mayor turned Trump consigliere, allegedly spread a "Big Lie" to an audience of millions, potentially endangering hundreds of millions of dollars' worth of government contracts sought by the voting machine company Dominion Voting Services in the process. Unsubstantiated smears against Dominion began to spread in the Trumpiest corners of social media while votes were still being counted in the 2020 election. Before long, accusations that Dominion was involved in a scheme to hand the election to Joe Biden were picked up by right-wing media, by Trump-aligned lawyers such as Giuliani and Sidney Powell, and even by Donald Trump himself.

None of it was true — and now Dominion is launching its own legal counterattack.
* Buried deep down in this Champaign News-Gazette story…
Frustrated by the slow pace of COVID-19 vaccinations at local long-term-care facilities, the health district offered to take over long-term-care vaccinations in Champaign County itself.

The state agreed with the plan last week, health district Administrator Julie Pryde said, but when her agency called nursing homes to offer assistance, they declined.

"We contacted every single place last week when we were going to go in and do it ourselves, and they just didn't want it," she said.

That's likely because long-term-care facilities were reluctant to give up the vaccination appointment dates they've been waiting on with CVS or Walgreens, Pryde said.

Not only that, she said, switching vaccination providers would have involved more paperwork, such as obtaining new consent forms for residents being vaccinated.
*Facepalm*
* And on the other end of the spectrum…
— Bad COVID-19 Takes (@BadCOVID19Takes) January 29, 2021
For example, we've administered 27 million vaccines. If you pick that many Americans at random, you'd expect 640 to die within 24 hours. Post-vaccine deaths are running much less than that, suggesting that they are coincidental. Ignore panic pornographers. https://t.co/rX5OjPI3Lq

— Bad COVID-19 Takes (@BadCOVID19Takes) January 29, 2021
* John Seidel on Wednesday…
Federal authorities have arrested an Illinois man who allegedly appears in a TikTok video fighting with members of the National Guard outside the U.S. Capitol during the Jan. 6 breach of the building, records show.

Mathew Capsel, who apparently uses the moniker "Mateo Q Capsel" online, was arrested Tuesday, according to the Justice Department. He is charged with knowingly entering or remaining in a restricted area and resisting law enforcement.

The feds say Capsel was arrested in southern Illinois. However, a family member who spoke to the Chicago Sun-Times said Capsel was arrested after he got off work in Kentucky, and he was then taken to southern Illinois. The family member said Capsel is from Marseilles, a city in LaSalle County.

Court records show Capsel is in his late 20s.

A former neighbor and a social media friend turned Capsel in to the FBI, according to an 11-page criminal complaint filed against him. The former neighbor said Capsel was "known to be violent" and told the FBI about multiple videos of Capsel "on the frontline of the riot and breach."
* John Seidel yesterday…
After rioters breached the U.S. Capitol earlier this month, a photo surfaced on social media of a man and a woman wearing "Trump 2020" attire in what appeared to be the Capitol Rotunda, along with the words "Quincy made it inside," the feds say.

Someone in a Facebook chat replied, "hope they lock yours [sic] a— up," records show. And someone with the username "Christna Gerding" replied, "well since they let us inside; opened the door for us I think I'll be just fine."

Now Christina and Jason Gerding of Quincy have become the latest Illinois residents arrested in connection with the Capitol breach, according to the Justice Department. They were arrested Thursday in central Illinois, records show. […]

Christina Gerding, who is 46, and Jason Gerding, who is 50, are at least the fourth and fifth Illinoisans charged as a result of the riot at the Capitol. But their case appears to be the first from Illinois to directly reference QAnon, described in an 11-page criminal complaint as "a loosely affiliated network and community of people who believe in a number of conspiracy theories. The letter 'Q' is utilized by its believers to identify themselves."

A man from LaSalle County arrested earlier this week, Mathew Capsel, used the online moniker "Mateo Q Capsel," records show. But the complaint against him did not specifically reference QAnon.
* Former Gov. Jim Edgar in the SJ-R…
"…Republicans have lost their No. 1 political issue: It's Mike Madigan," Edgar said. "I don't know what they're going to complain about. I don't think on issues they do well sometimes. What they do well on is Madigan."
Open thread
Friday, Jan 29, 2021 - Posted by Rich Miller
* Polite and local, please. Thanks.