* Oy…
Though its historic 2019 capital infrastructure plan was estimated to boost Illinois' state transportation revenues by almost $2 billion dollars annually, state transportation and transit agency revenue generated $1 billion less than expected over the past year due to pandemic-related declines in fuel consumption, sales taxes, and transit ridership, according to a new study by the non-partisan Illinois Economic Policy Institute (ILEPI). […]

The state's major transportation revenue streams—motor fuel taxes and transit system fees—saw their steepest declines in the two months immediately following the state's March 21st stay-at-home order. During this period, statewide vehicle miles traveled (VMT) were as much as 40% less in 2020 compared to 2019. The state's overall VMT finished the first year of the pandemic down 15% compared with pre-pandemic levels, and ridership for various Chicago area transit systems fell an average of between 50% and 90%. As of yet, neither has recovered back to pre-pandemic levels.

"Because the historic Rebuild Illinois plan doubled the motor fuel tax, the good news is that despite the drop in VMT, Illinois is still generating $800 million more in gas tax revenue than it was prior to the passage of the capital plan," [ILEPI Transportation Analyst Mary Tyler] added. "The bad news is that because of the decrease in VMT, gas tax revenue still ended up being $308 million less than was projected pre-pandemic." […]

"According to publicly available data, local sales taxes generated $96 million less for the RTA between March and November 2020 compared with the year prior," Tyler added. "And combined farebox revenue from the CTA, Pace, and Metra generated $645 million less in 2020 compared to 2019." […]

"According to the U.S. Census Bureau, 35% of Illinois workers who commuted prior to the pandemic are now working from home," Tyler said.
The study is here.
* Graphs…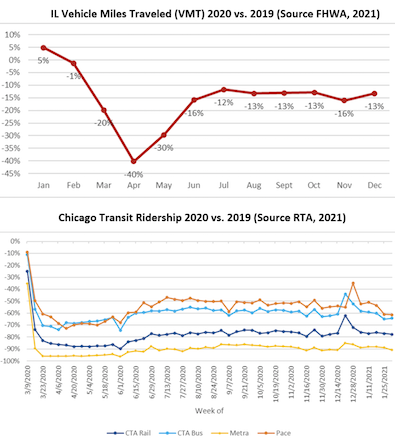 * Meanwhile, from WTTW…
According to BOMA, between 88% and 92% of workers who would normally be in their office are still not back. The rate of office subleases is at an all-time high. And the Chicago Tribune reports the overall Loop office building vacancy rate is 15% and could go higher. […]

"The experience of the office and your experience downtown is going to need to shift and change," said Sheryle Shultze, who leads repositioning and landlord services for the design firm Gensler.

A survey the company published revealed that 70% of respondents plan to go back to the office, all or most of the week, while 30% said they wanted flexible work schedules.
* CBS 2…
a survey of chief executive officers from KPMG, which said last August, 69 percent said they would downsize their company's physical space. When asked this spring, it was down to just 17 percent.
- Posted by Rich Miller 23 Comments


* Veto message…
March 25, 2021

To the Honorable Members of The Illinois House of Representatives, 102nd General Assembly:

Today I veto House Bill 3360 from the 101st General Assembly, which provides for the recovery of prejudgment interest on all damages set forth in a judgment in any action brought to recover damages for personal injuries or wrongful death, whether by negligence, willful and wanton misconduct, intentional conduct, or strict liability of the other person or entity. HB 3360 would be effective immediately.

While I support joining the majority of states that allow prejudgment interest in personal injury cases in order to encourage their prompt resolution, the provisions of HB 3360 would be burdensome for hospitals and medical professionals beyond the national norm, potentially driving up healthcare costs for patients and deterring physicians from practicing in Illinois. The majority of Illinois hospitals are self-insured, and, as a result, would be required to pay the costs of this legislation directly, at a time when they can least afford this added expense.

HB 3360 imposes a rate of 9% per annum prejudgment interest, which would begin to accrue on the date the defendant has notice of the injury. Even states with prejudgment interest, such as Michigan or Wisconsin, provide a more reasonable rate structure by tying the interest rate to market conditions such as the federal prime rate, as opposed to a flat rate. The proposed 9% flat rate is higher than many of these market-based rates adopted by other states, even when accounting for additional percentages that many states add to the market- based rates as part of the calculation of prejudgment interest. Because many businesses have been severely and negatively affected by today's economic climate, 9% interest is high and tying to market conditions would be less onerous. A 9% rate could similarly be damaging to entities like hospitals.

Further, HB 3360 would allow for prejudgment interest to be calculated on non-economic damages such as pain and suffering and loss of normal life. Again, when we compare this legislation to states that have prejudgment interest, many of them exclude non-economic damages from the calculation. For example, the prejudgment interest statutes in Massachusetts and Minnesota limit the application of prejudgment interest in personal injury cases to pecuniary damages. Minnesota law explicitly excludes future, punitive or noncompensatory damages.

While I appreciate the hard work of the House and Senate sponsors of the bill and their commitment to advocate for injured Illinoisans, HB 3360 simply didn't receive sufficient input from some of the most impacted parties, including health care providers. At a time when the health care industry and the medical professionals who have dedicated their lives over the past year to combating a deadly virus are in need of support, I cannot in good conscience sign a bill that would place these individuals and entities in further financial distress.

I have urged the sponsors to return to negotiate a compromise that includes stronger protections for health care providers while encouraging the faster resolution of these cases that can leave families devastated for years. It is in the best interest of all Illinoisans for this issue to be fully negotiated with an opportunity to for input from all stakeholders, advocates, and other interested parties.

I understand that this compromise legislation is now advancing through the General Assembly with these suggested changes and additional feedback from stakeholders.
Therefore, pursuant to Section 9(b) of Article IV of the Illinois Constitution of 1970, I hereby return House Bill 3360, entitled "AN ACT concerning civil law," with the foregoing objections, vetoed in its entirety.
The Senate approved the compromise bill which had already passed the House minutes after the veto was issued.
…Adding… Illinois State Medical Society President Robert W. Panton, MD…
The physicians of Illinois are deeply disappointed that, now, a second plaintiff lawyer-backed bill has cleared the Illinois General Assembly. When it became apparent that Governor Pritzker would veto a previously-passed prejudgment interest measure (HB 3360), the Illinois Trial Lawyers Association moved around a few words and numbers to come up with a slightly modified bill (SB 72) that delivers virtually the same harm as the initial legislation. ISMS vehemently opposes SB 72 and calls on Governor Pritzker to veto it.

If enacted, this new law would allow for imposition of six percent prejudgment interest annually in medical liability cases. This is a wholly new form of "punitive" damages not previously allowed in Illinois. Prejudgment interest will drive up the cost of medical liability insurance, force doctors away from our state and increase the cost of health care. Bottom line, patients will suffer.
ISMS advocates for policies that improve Illinois' healthcare system and expand access to medical care for patients. SB 72 runs counter to both of these goals.
* IMA…
"We urge Gov. JB Pritzker to veto this legislation, which will dramatically increase litigation costs on manufacturers, hospitals, and doctors that have been on the front lines during the pandemic. Manufacturers across Illinois that have created life-saving vaccines, produced personal protective equipment for first responders and health care professionals and kept grocery stores stocked with safe and nutritious food will be hit with tens of millions of dollars in additional costs," said Mark Denzler, president & CEO of the Illinois Manufacturers' Association. "Illinois' manufacturers need support from policy makers to create jobs and spur investment in communities around the state, not higher costs that will only stand in the way of our economic recovery."
* Leader McConchie…
"During the global pandemic, Illinois health care workers answered the call to serve their country - and all of us - in a time of crisis," said Illinois Senate Republican Leader Dan McConchie (R-Hawthorn Woods). "Right now, other states are working to protect businesses and health care workers from frivolous COVID-19 lawsuits. Here in Illinois, instead of thanking these life-saving heroes, we are instead exposing them to more liability.

"Today, the Illinois Senate Democrats voted to increase these liabilities and payouts for all personal injury lawsuits.

"Additionally, this legislation will increase costs for Illinois small business owners who are simply attempting to get people back to work in our communities. The cost increases caused by President Harmon's bill will be passed along to consumers or force reductions in health care, retail products, services and, most importantly, Illinois jobs.

"People who are harmed by the negligence or wrongdoing of other parties deserve to be compensated, and they ought not be limited or obstructed in their search for justice. But SB 72, addresses these noble aims with punishments and regulations that will put small businesses and health care workers at risk, unfairly punish any party wishing to dispute claims against it, and drive up health care, product and insurance costs for almost everyone in Illinois.

"Our job as legislators is to come together to make Illinois a safer, fairer and more prosperous place to work and live. This legislation does none of the above. It just hurts the Illinoisans who need us the most right now.

"I strongly urge Gov. Pritzker to veto SB 72 so the legislature may bring the business, insurance and health care communities to the table to discuss a more reasonable strategy that will protect both jobs and justice in Illinois."
- Posted by Rich Miller 8 Comments


* November 26…
Supporters of President Donald Trump sparred with counter-protesters during a downtown rally Thursday as they pushed the false claim that wide-scale fraud had swung the election for his Democratic rival, Joe Biden.

"Four more years!" a group of roughly 60 defiant Trump backers, mostly maskless, shouted as they congregated in Millennium Park after marching from Trump's riverfront skyscraper. The crew included Edgar "Remy Del Toro" Gonzalez, president of the Chicago chapter of the far-right Proud Boys, as well as other marchers touting the pro-police "Back the Blue" movement.
* Today in the Sun-Times…
The former leader of the Chicago chapter of the Proud Boys says he plans to run for the Illinois Senate after being present for the violent riot at the U.S. Capitol that's prompted federal criminal charges against roughly 20 other members of the far-right group.

Edgar "Remy Del Toro" Gonzalez told the Sun-Times that he's collecting signatures to challenge state Sen. Antonio Munoz, D-Chicago, in next year's election. Munoz's 1st District covers portions of the city's South and West sides.

"I will be the voice and the muscle for many in our state," said Gonzalez, who plans to run as an independent, in a series of Twitter messages.

Though Gonzalez no longer serves as president of the Proud Boys' Chicago faction, he is still a member of the all-male neo-fascist group's overarching Northern Illinois chapter. In recent months, he has been photographed alongside some of the group's most prominent leaders.
Kinda doubting that he's circulating petitions this early, since I don't even think he can legally do it yet. Also, he's gonna need a ton of those signatures and he'll be showing up at doors or at supermarkets looking like this…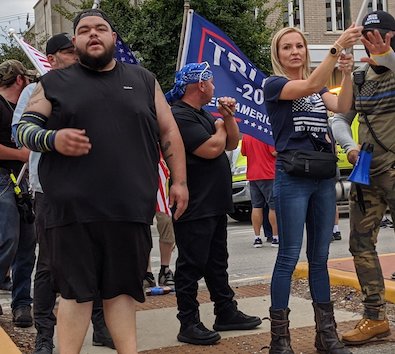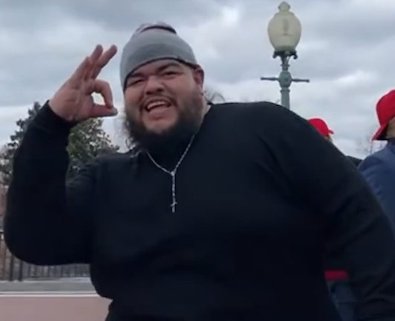 Lovely.
*** UPDATE *** According to the Illinois State Board of Elections, independent candidates can't start circulating petitions until March 29, 2022, more than a year from now.
- Posted by Rich Miller 46 Comments


* WaPo…
New jobless claims fell to the lowest levels of the pandemic era, federal data shows, with a better-than-expected 684,000 being filed last week.

Economists surveyed by Dow Jones had expected to see a number near 735,000 after filings spiked to 781,000 the week before. The latest tally is less than the pre-pandemic weekly high of 695,000, set in October 1982.
* CBS 2…
The Illinois Department of Employment Security (IDES) reported 15,595 new unemployment claims were filed during the week of March 15 in Illinois, a significant decrease from the previous week.

For comparison, during the same timeframe last year, 126,716 people filed claims in Illinois. That's an 87.7% decrease. […]

There were 71,175 new unemployment claims filed in Illinois during the week of March 8.
That seems… very odd. But click here. According to the feds, we're half the national total of reductions.
...Adding… Add in Ohio, and our two states account for more than the total national net reduction in new weekly claims.
*** UPDATE *** I asked for a response from IDES and here it is…
In the last two months, Illinois has added 44,300 jobs, and the last week of claims data is confirming that improved job market indicator. Additionally, continued claims for the last two weeks have fallen below the comparable weeks of the 2007 recession, which is further confirmation that the data is moving in the right direction.
* Also CBS 2…
"I've never applied for unemployment," Nugent said.

So an email he received Tuesday morning was such a surprise. It claimed to be from IDES, directing him to a link to claim his $1,400 unemployment payment.

"I've got a pretty good spam filter, but somehow, this made it through," Nugent said.

It was even from a dot-gov email account – but not one from Illinois. The dot-gov was Seattle.gov. […]

The City of Seattle said nearly two dozen of their employees fell for an email phishing scam Monday night and the city has now disabled those accounts.
* IDES…
The Illinois Department of Employment Security (IDES) announced today that the unemployment rate decreased -0.3 percentage point to 7.4 percent, while nonfarm payrolls were up +21,100 jobs in February, based on preliminary data provided by the U.S. Bureau of Labor Statistics (BLS) and released by IDES. The January monthly change in payrolls was revised from the preliminary report, rising from +9,700 to +23,200 jobs. The January unemployment rate was unchanged from the preliminary report, remaining at 7.7 percent.

The February payroll jobs estimate and unemployment rate reflects activity for the week including the 12th. The BLS has published FAQs for the February payroll jobs and the unemployment rate.

In February, the three industry sectors with the largest over-the-month gains in employment were: Leisure and Hospitality (+32,300), Trade, Transportation and Utilities (+2,400) and Information (+700). The industry sectors that reported the largest monthly payroll declines were: Construction (-5,600), Professional and Business Services (-4,500) and Government (-2,200).

"IDES and the Pritzker administration remain committed to supporting claimants and families with the services they need as the state moves toward a full reopening and the economy begins to recover from the COVID-19 pandemic," said Deputy Governor Dan Hynes. "IDES continues to serve an unprecedented number of claimants while working on process improvements that make navigating unemployment and job-seeking services as easy as possible."

"Under Governor Pritzker's leadership, Illinois has prioritized a safe and measured reopening of our state – with data driven metrics updated on an ongoing basis to continue bringing people back into the workforce," said Sylvia Garcia, Acting Director of the Department of Commerce and Economic Opportunity (DCEO). "The latest unemployment data demonstrates Illinois is poised to continue making progress in returning key industries, supporting workers, and restoring our economy."

The state's unemployment rate was +1.2 percentage points higher than the national unemployment rate reported for February, which was 6.2 percent, down -0.1 percentage point from the previous month. The Illinois unemployment rate was up +3.8 percentage points from a year ago when it was 3.6 percent.

Compared to a year ago, nonfarm payroll employment decreased by -461,200 jobs, with losses across all major industries. The industry groups with the largest jobs decreases were: Leisure and Hospitality (-185,700), Educational and Health Services (-62,900) and Government (-54,100). Illinois nonfarm payrolls were down -7.5 percent over-the-year as compared to the nation's -6.2 percent over-the-year decline in February.

The number of unemployed workers fell from the prior month, a -4.0 percent decrease to 454,200, and was up +100.6 percent over the same month for the prior year. The labor force was down -0.1 percent over-the-month and down -3.4 percent over-the-year. The unemployment rate identifies those individuals who are out of work and seeking employment. An individual who exhausts or is ineligible for benefits is still reflected in the unemployment rate if they actively seek work.
- Posted by Rich Miller 5 Comments


The Illinois Department of Public Health (IDPH) today reported 2,190 new confirmed and probable cases of coronavirus disease (COVID-19) in Illinois, including 35 additional deaths.

- Cook County: 2 females 60s, 2 females 80s, 3 females 90s, 2 males 90s, 1 female 100+
- Douglas County: 1 male 80s
- DuPage County: 1 male 60s, 1 female 70s, 1 male 90s
- Henry County: 1 male 60s
- Kane County: 1 female 70s
- Knox County: 1 male 80s, 1 male 90s
- Lake County: 1 male 60s
- Macon County: 1 male 60s
- Madison County: 1 female 80s, 1 male 80s
- Marion County: 1 male 80s
- Massac County: 1 male 70s
- McHenry County: 1 female 60s
- Menard County: 1 female 70s
- Randolph County: 1 female 70s
- Saline County: 1 male 70s
- Sangamon County: 1 female 90s
- St. Clair County: 1 male 70s
- Tazewell County: 1 male 70s
- Whiteside County: 1 male 60s
- Will County: 1 male 80s
- Williamson County: 1 female 80s
- Winnebago County: 1 female 90s

Currently, IDPH is reporting a total of 1,229,898 cases, including 21,171 deaths, in 102 counties in Illinois. The age of cases ranges from younger than one to older than 100 years. Within the past 24 hours, laboratories have reported 90,101 specimens for a total of 19,895,617. As of last night, 1,251 individuals in Illinois were reported to be in the hospital with COVID-19. Of those, 267 patients were in the ICU and 119 patients with COVID-19 were on ventilators.

The preliminary seven-day statewide positivity for cases as a percent of total test from March 18-24, 2021 is 2.7%. The preliminary seven-day statewide test positivity from March 18-24, 2021 is 3.2%.

A total of doses of 6,091,965 vaccine have been delivered to providers in Illinois, including Chicago. In addition, approximately 414,900 doses total have been allocated to the federal government's Pharmacy Partnership Program for long-term care facilities. This brings the total Illinois doses to 6,506,865. A total of 5,154,908 vaccines have been administered in Illinois as of last midnight, including 364,144 for long-term care facilities. The seven-day rolling average of vaccines administered daily is 101,175 doses. Yesterday, 118,544 doses were reported administered in Illinois.

*All data are provisional and will change. In order to rapidly report COVID-19 information to the public, data are being reported in real-time. Information is constantly being entered into an electronic system and the number of cases and deaths can change as additional information is gathered. For health questions about COVID-19, call the hotline at 1-800-889-3931 or email dph.sick@illinois.gov.
- Posted by Rich Miller 4 Comments


* Daily Herald editorial…
The Illinois Constitution allows the Democrat-controlled General Assembly to keep control only if it approves legislative maps by June 30. The job then goes to an eight-member bipartisan commission, but that commission has to get it done by Aug. 10. At that point, a ninth member's name is pulled out of a hat, making him or her the tiebreaker and kingmaker.

That's nuts. […]

Rather than spending time devising ways to keep control, Illinois Democrats should open up how remapping is handled. Naming a bipartisan commission to govern the process would tamp down the impact of the missed state deadlines through a good-faith effort to reach a consensus, no matter when the census numbers come in.

This might be unrealistically optimistic.
Yeah, I'm kinda thinking that ignoring the constitution with a "good faith" effort at an alternative bipartisan commission might just possibly be a wee bit on the unrealistically optimistic side.
- Posted by Rich Miller 11 Comments


* Comptroller Susana Mendoza was recently asked on Chicago Tonight about her brother, Chicago Police Det. Sgt. Joaquin Mendoza…
Back in November, I called him on his birthday to wish him a happy birthday and he had a cough. Two days later - he's only 56 - he was at Northwestern Memorial Hospital fighting for his life for 41 days. And then about a month later - a month he spent in an inpatient rehab - he's had tremendous complications. He's suffered mini strokes in his brain while he was in the hospital. Total, complete kidney failure, so he'll be on dialysis for the rest of his life.

And I share it because I think it's important for people to know that when we hear about a 99% survival rate, you know, think about my brother's situation. Sure he survived, and it's a blessing for us, but it breaks my heart to see the complications for somebody who's dedicated his life to public service and to protecting the public as he's going through this. And it's no joke. This is very real, and we're thankful that he's still with us, but many people are going through something similar. Many people have lost their loved ones. And I seriously, both as a sister and as a comptroller, you know, when we have to order things like body bags, it really hits close to home. And I just ask people, please get vaccinated the first chance you get. Please, do everything to protect yourself and protect your loved ones and let's get through this together.
* Phil Ponce then mentioned that Mendoza's brother has moved in with her…
I would just say it's pretty devastating. And I'm so thankful that I can take care of my brother right now when he needs me. There's so many families who probably feel completely overwhelmed. And I was one of them. I mean, honestly, I never thought I'd tell you that the easiest part of my life right now is managing billions in state debt, but it truly is. I feel so confident and sure of what I'm doing as the comptroller, but it's certainly a lot heavier of a lift to try to keep my brother healthy. That's where we're at. Thank you for asking. I mean, it is something that I can relate to and I know that we're not alone. Lots of families in Illinois and across the country are going through similar or even worse scenarios with having lost loved ones. But, it's real and I just ask you to take care of yourselves, please.
- Posted by Rich Miller 18 Comments


[The following is a paid advertisement.]
Employers in Illinois provide prescription drug coverage for nearly 6.7 million Illinoisans. In order to help keep care more affordable, employers work with pharmacy benefit managers (PBMs), who deploy a variety of tools to reduce prescription drug costs and help improve health outcomes. In addition to helping employers, PBMs also work with the Illinois Medicaid program in the same way to help control costs. Over the last five years, PBMs have saved the state and taxpayers nearly $340 million.
Today, Illinois faces a multibillion budget shortfall as more Illinoisans are relying on Medicaid to help meet their health care coverage needs. As legislators work to address these challenges, one way to help ensure continued cost savings is by strengthening the PBM tools that the State and employers use, which are poised to save employers, consumers and the State $39 billion over the next 10 years. These are meaningful savings that will help continue to contain costs, ensure consumer access to medicines and drive savings in public health programs.
Amid a pandemic and economic challenges, now is the time to strengthen, not limit, the tools that employers, consumers and the State rely on to manage costs and ensure consumers can access the medicines they need.
- Posted by Advertising Department Comments Off


* A Center Square headline appears ready-made for maximum social media exposure…
Pritzker in favor of passport to show COVID-19 vaccination status
* From the story…
As for a vaccination passport to prove a person has been inoculated against the coronavirus, Pritzker says a vaccination app would be useful, but should not be required to enter an event or facility.

"As long as it is your choice," Pritzker said. "If people ask you to show that for a particular venue or private venue, they have the ability and right to do that. You don't have to show that to them. You don't have to be to go to that venue or be engaged in that activity." […]

The U.S. is not distributing vaccination passports and there are concerns over falsified records and also potentially violating federal health care privacy laws.

U.S. Airlines and others in the travel industry are voicing support for vaccine passports to boost pandemic-depressed travel, and officials in Europe have been talking about the idea in time for the peak summer vacation season.
- Posted by Rich Miller 52 Comments


* The House is sending a huge number of bills to the floor this spring and this is one of them…
A proposal that cleared a legislative committee in Springfield this week aims to fully legalize the delivery and possession of any amount of marijuana — a move that would also allow for the automatic expungement of more serious pot offenses and set free those who are currently incarcerated for those crimes.

State Rep. Mary Flowers, D-Chicago, said she introduced the bill to further address the toll of the drug war and its disproportionate impact on people of color.

Pot firms are currently cashing in on the newly legalized drug and selling millions of dollars in weed each month. But Flowers noted that some Illinoisans are still languishing in prison for cannabis-related crimes, while others are dogged by their past records.
That bill has no co-sponsors.
* Another one…
In addition to the state's existing stamp, Illinois lawmakers are working on adding another fee for those who want permission to fish in the state's rivers and various water holes that would go toward fighting off the spread of invasive Asian carp.

Lawmakers in the House Agriculture and Conservation Committee forwarded House Bill 2744 to the floor for consideration Monday after approving it along party lines. If enacted, it would implement the aquatic conservation stamp, a $5 stamp that fishermen must purchase before they're able to legally fish in the state. It would be the same cost for in-state residents and those from elsewhere. It would become active in 2022.

Republicans in the committee rejected the plan because of the extra cost on fishermen.

"It is still a fee increase that everybody would pay," said state Rep. Andrew Chesney, R-Freeport.
No co-sponsors on that one, either.
* Politico…
Former GOP Lt. Gov. Evelyn Sanguinetti testified in favor of a Democratic-backed bill Wednesday, and a fellow Republican blew up.

HB 2775 calls for the Illinois Human Services Department to step in and help landlords when tenants can't pay their rent. Sponsoring Rep. La Shawn Ford, a Democrat, calls it "a human rights bill" that helps prevent homelessness among veterans, those with disabilities, families and seniors.

Sanguinetti supports the bill in her position as executive director of HOPE Fair Housing Center, prompting fireworks from fellow Republicans and signaling the challenge of who and what issues define the GOP right now.

During her testimony before the Housing Committee's virtual hearing, she noted her GOP credentials more than once — she was Bruce Rauner's No. 2 after all, a governor that engaged in a bruising fight with Illinois Democrats.

When she finished speaking, GOP Rep. Andrew Chesney erupted, saying it was "repulsive" that an avowed Republican would support such a progressive "anti-business" bill at a time the state is losing jobs and population.

He also criticized the bill, saying it would require all landlords to accept Section 8 housing vouchers mandating that private citizens or companies accept federal and state subsidies.
* Related…
* Juneteenth could be state holiday

* Bill would let more Illinois renters keep pets in their residence
- Posted by Rich Miller 48 Comments


* Kelly Bauer at Block Club Chicago…
One of Loretto Hospital's top executives resigned Wednesday night after Block Club revealed people at three businesses he had close ties with were vaccinated early with doses from the West Side hospital.

Loretto Hospital's Board of Trustees accepted the resignation of Chief Operating Officer Dr. Anosh Ahmed in a unanimous vote Wednesday, according to a news release. Ahmed's resignation came just hours after Block Club reported ineligible people who work at a steakhouse frequented by Ahmed were vaccinated early.

The board thanked Ahmed for his work — but said it will "continue to investigate any and all deviations from the rules and regulations" for vaccinations. Ahmed was hired in 2018.

"If our review should uncover anything further that indicates our processes were compromised, there will be additional consequences imposed on those responsible for these actions," board Chairman Edward Hogan said in a statement.
Thoughts?
*** UPDATE *** SEIU Healthcare Illinois President Greg Kelley…
"On behalf of our 190 members who work at Loretto Hospital, and of our wider membership of frontline healthcare workers across Chicago and across the state of Illinois, I want to express our appreciation for the Loretto board's seeking and accepting the resignation of Dr. Anosh Ahmed.

"Our members at Loretto were daily witness to vaccination irregularities and were early voices in raising the alarm that vaccine doses were being improperly redirected away from the high-risk Austin community which has already experienced a disproportionate share of the suffering, illness, and loss inflicted by this pandemic.

"With this important step, the board is signaling their willingness to take the concerns of both workers and community members seriously. It is our fervent hope that the board will now take the additional steps needed to ensure that worker and community voices are heard both in redressing the impact of these misappropriated vaccine doses, and in addressing the longstanding issues of racial and income based disparities in healthcare access that have plagued the Austin neighborhood for decades.

"There is an immediate need at present to make sure that Austin residents are able to get timely access to vaccinations. And then, there is a need to address the larger, largely ignored scandal—the redirection, through legal and officially sanctioned means of funding and resources away from the health needs of communities like Austin and into the bank accounts and stock holdings of much larger, wealthier hospitals in the richest zip codes of the city.

"We urge the board to listen to and work with our members and Austin residents to address both the immediate need for vaccine access, and to move quickly to develop a program that ensures vaccinations are truly accessible for all Austin residents who seek them.

"Additionally, we take this opportunity to call for a renewed commitment by those involved in the daily running, resourcing and regulation of the city's hospitals to accessible and affordable healthcare in all of Chicago's high-risk and low-income communities, from Austin and Loretto to the South Shore communities recently threatened by the closure of Mercy Hospital and beyond."
- Posted by Rich Miller 33 Comments


* Illinois-centric and polite, please. Thanks.
- Posted by Rich Miller 13 Comments


* From Lift the Ban…
The Lift the Ban Coalition applauds members of the Illinois House of Representatives' Housing Committee for voting to pass HB116 (Chief Sponsor Rep. Will Guzzardi, D-39) out of the committee during a hearing on March 24.

HB116 would lift the 1997 Rent Control Pre-Emption Act, allowing Illinois' municipalities to choose to enact rent control, a policy that limits the amount a landlord can raise rent at the end of a tenant's lease and has been proven to stabilize communities by keeping families in their homes. The upcoming floor vote will be a referendum on whether Illinois' Democrats choose to support working-class renters of color or the wealthy corporate real estate lobby.

Since 1997, the ban has prevented any Illinois city from stabilizing rents through rent control. Half of all renter households in Cook County are "rent burdened," paying more than 30% of their income on rent [source]. There is no legal protection against a landlord raising a tenant's rent by any amount.

"In these trying times, our state legislators should give local municipalities every tool that's possible to stabilize and protect Illinois residents," said Rod Wilson, executive director of the Lugenia Burns Hope Center. "Protecting renters should take precedence over protecting the real estate lobby and their price gouging of renters."

The Coalition looks forward to continued collaboration with legislative allies including State Senator Robert Peters (D-13) to pass this legislation, and will continue the fight to bring rent control to Chicago and communities across the state.
* Neighborhood Building Owners Alliance…
Declining rent collections and rising rent arrearages are threatening the stability of neighborhood housing, and instead of finding ways to support this crucial industry, state legislators today advanced a measure that will further threaten housing.

Throughout the entire pandemic housing providers have exhausted their resources to operate and keep their buildings open despite many tenants unable or unwilling to pay rent. Instead of focusing on this problem, the Illinois House of Representatives Housing Committee passed legislation allowing for rent control throughout the State. In cities across the world, every major study has shown that rent control has actually harmed renters by reducing the supply of affordable housing and boosting rents for first-time renters. Rent control encourages housing providers and their bankers to exit markets where these measures are in place. In short, rent control makes housing more scarce and more expensive.

A recent survey conducted by the Neighborhood Building Owners Alliance (NBOA), which represents smaller to medium sized housing providers, revealed that due to the pandemic one-third of smaller housing providers have expenses exceeding their revenues. In other words, these neighborhood housing providers, who provide the bulk of housing in region, no longer have the funding for basic building repairs. The following can be attributed to the NBOA:

"Legislators should be focused on the real housing crisis right in front of us which is property owners can no longer maintain their buildings as so many of their tenants are unable or unwilling to pay rent. Policy makers at the state and local level should focus on how the pandemic has forever changed housing before they enact new policies."
Discuss.
- Posted by Rich Miller 26 Comments


Illinois school districts that offer in-person learning to all grades made up 29.5 percent of the total as of Feb. 22, the 26th highest share among all 50 states, according to an online instructional tracker developed by the American Enterprise Institute.

Among the remainder of the Illinois districts, 50.2 percent were classified as hybrid, while 20.3 percent had fully remote instruction, according to the instructional tracker, which was created in partnership with Davidson College.

Fully in-person districts are defined as allowing students in all grades to have in-classroom instruction. Hybrid districts provide in-person instruction for only a portion of each week or only certain grades. And fully remote districts mandate online instruction for all grades, with the exception of some small groups.
- Posted by Rich Miller 3 Comments


* Kelly Bauer and Bob Chiarito at Block Club Chicago…
Employees at an expensive Gold Coast steakhouse were able to get vaccinated early, sources say — making it the third business where people with ties to Loretto Hospital's chief operating officer were seemingly able to cut the line.

Loretto Hospital and its executives, including Chief Operating Officer Dr. Anosh Ahmed and Chief Executive Officer George Miller, are already embroiled in controversy after early doses were sent to groups with which they have ties. Ahmed was heavily criticized after Loretto held a vaccination event at Trump Tower — where Ahmed and another hospital leader live — and after Ahmed told people he vaccinated millionaire Eric Trump.

A luxury watch and jewelry shop on the Gold Coast frequented by Ahmed was vaccinated by Loretto in early March, as well; and more than 200 people at the hospital CEO's suburban church got vaccinated by Loretto. Ineligible Cook County judges were also offered shots at Loretto, WBEZ reported. Dr. Allison Arwady, head of the city's health department, has said Loretto used its doses on "well-connected" people, "letting them jump the line."

Now, multiple sources have told Block Club employees at another location where Ahmed is a regular was able to get early access to vaccines: Maple & Ash, a trendy, high-end steakhouse at 8 W. Maple St. Reservations at the steakhouse require a $100 deposit, and steaks cost up to $180.

Ahmed is a frequent customer of the Gold Coast restaurant, and vaccinations were offered to higher-up workers who would've been ineligible to be vaccinated, multiple sources told Block Club. The Austin hospital Ahmed leads is meant to serve and vaccinate people on the West Side, where coronavirus has devastated communities of color.
Go read the rest. Guy had the sweet hookup.
* Since the judges were mentioned, this is from the Office of the Chief Judge…
This is in response to press inquiries regarding some judges who are not in the county's "1B" category receiving COVID-19 vaccinations at Loretto Hospital.

Judges who have received the shots were informed that the vaccines were already mixed and would be destroyed if not used by the end of the day, so they could get shots after 3:30 p.m., supply permitting. The Loretto Hospital website makes clear that COVID-19 vaccinations are given up until 3 p.m., so shots given after this would be surplus. Judges who received shots did not take shots away from other eligible persons, but used shots that would otherwise have been destroyed.

Currently, judges in Cook County who are under 65 are not classified as 1B, the group currently eligible for the vaccine. However, the Illinois Supreme Court's position is that vaccines should be available for all court officials and staff that have regular contact with the public and others in congregate setting, and judges under 65 in many other counties have already been vaccinated, according to Supreme Court spokesman Chris Bonjean.

Despite multiple precautions taken by the Office of the Chief Judge to protect court personnel and members of the public during the coronavirus pandemic –which has included conducting most proceedings by videoconference and teleconference — judges and other court employees have not been immune from this virus. A total of 286 employees of the Office of the Chief Judge and 21 judges have tested positive for COVID-19 since the start of the pandemic.

COVID-19 vaccination is to protect against a deadly virus, and judges under 65 who have been able to get these shots violated no ethical rules, but acted in a responsible manner to protect themselves, their loved ones and the public, while not taking shots away from others in the 1B category.
…Adding… I'd say Amy Jacobson has become a parody of herself, but that happened a while ago…
This is absolutely not true and I have no idea why Amy is claiming it is. She has not spoken to my sources.

At the watch job, a person who was vaccinated even said the other folks getting vaccinated appeared to be ineligible, white and privileged. https://t.co/WZPpBojH6S

— Kelly Bauer (@BauerJournalism) March 24, 2021
- Posted by Rich Miller 42 Comments


* Rep. Jawaharial Williams (D-Chicago) asks questions about a bill while sitting behind the wheel of an automobile during the House Labor & Commerce Committee hearing today. If you watch the live feed, you can see he's driving…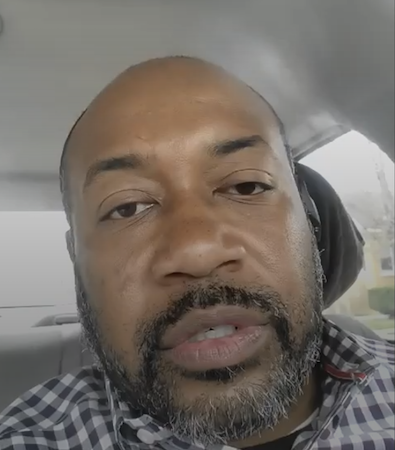 I warned people about stuff like this in today's subscriber edition.
- Posted by Rich Miller 27 Comments


* Subscribers know more…
Following eight weeks of rigorous competition, the Self-Regulating Traffic Signal Heater manufactured by Termico Technologies in Elk Grove Village has been declared the winner of the second annual "Makers Madness" contest, earning the title of The Coolest Thing Made in Illinois.

Presented by Comcast Business, the competition shines a light on Illinois' diverse manufacturing sector, which has played a critical role in the state and nation's response to the coronavirus pandemic. Manufacturers are developing life-saving vaccines and treatments, producing needed personal protective equipment, keeping store shelves stocked with important goods and nutritious foods, and powering our homes and businesses.

Manufactured by Termico Technologies in Elk Grove Village, the Self-Regulating Traffic Signal Heater uses conductive particles to heat traffic signals so they remain visible and free of ice and snow so traffic can safely navigate our roadways. As municipalities and departments of transportation around the country have transitioned away from traditional traffic signals to new LED versions, this innovative technology has become vital to protecting motorists and ensuring our transportation system continues to operate efficiently during winter weather.

Voters chose the Self-Regulating Traffic Signal Heater from a field of 311 individual products initially nominated from across the state, with over 300,000 votes cast over the course of the competition.

"The Self-Regulating Traffic Signal Heater is an outstanding example of the innovation and ingenuity of our state's manufacturing sector and has rightfully earned the title of The Coolest Thing Made in Illinois. This unique, energy efficient product from Termico Technologies impacts our lives every day by making sure the people and goods that travel on our roadways get where they're going safely and efficiently," said Mark Denzler, president and CEO of the Illinois Manufacturers' Association. "Manufacturing has always played a vital role in Illinois, especially during the pandemic when manufacturers ramped up production to produce supplies needed to combat the virus. The men and women on factory floors across the state deserve our recognition and appreciation and the Illinois Manufacturers' Association is proud to advocate on their behalf each and every day."

U.S. Sen. Dick Durbin joined the IMA in a virtual awards ceremony at www.makersmadnessil.com to help announce the winner of the contest.

"Manufacturing is a cornerstone of our state's economy and this contest is a wonderful showcase for the many innovative products made here in the Land of Lincoln," said U.S. Senator Dick Durbin (D-IL). "Time and again, manufacturers have risen to the challenge, including playing a vital role in responding to the COVID-19 pandemic over the past year. I'd like to extend my congratulations to all the participating businesses and to the Illinois Manufacturers' Association and its partners for the success of this year's Makers Madness Contest."

"Seeing Makers Madness unfold first-hand has been really exciting, and Comcast Business is proud to help the IMA make it happen," said Sean McCarthy, Comcast's Regional Vice President of Business Development and Strategic Initiatives. "The contest created a showcase for Illinois manufacturers and the innovative products they're bringing to the world stage. Congratulations to Termico Technologies for earning the title of The Coolest Thing Made in Illinois this year."

Statewide, manufacturing generates more than $304 billion in economic output, contributing 12 percent to the state's Gross Domestic Product – the largest share of any industry in Illinois. Manufacturers employ 556,300 women and men in Illinois at an average salary of $88,691, providing $52 billion in wages and benefits.

Though manufacturing remains an economic powerhouse in Illinois, manufacturers here and across the country are facing the threat of an aging workforce. Over the next decade, it is estimated that 300,000 men and women will leave the industry as baby boomers begin to retire, presenting numerous career opportunities. Nationally, there are 460,000 open manufacturing jobs today.

"We are honored and proud to have the Termico Technologies Self-Regulating Traffic Signal Heater win the IMA's 2021 Coolest Thing Made in Illinois Contest. Our traffic safety innovation keeps drivers safe and saves lives by eliminating the snow and ice buildup on LED traffic signals," said Mike Cubon, Chief Technical Officer at Termico Technologies. "We would like to thank the entire Tramec Family and the many others who have supported Termico Technologies throughout this incredible experience. We would also like to thank all of the other Illinois manufacturers whose products and innovations have made this a fun and competitive contest. Lastly, we would like to thank the IMA and Comcast Business for holding this event and allowing all the companies in Illinois an opportunity to showcase their products."
- Posted by Rich Miller 7 Comments


A Spring Valley mayoral candidate used the public comment portion of Monday's council meeting to issue attacks at his opponents, ultimately finding himself escorted out by police after several warnings to tone down his rant.

John French told the council he wanted to address the issue of theft in Spring Valley, but indicated it wasn't theft in general; he's concerned about the 300 political signs of his he said have been stolen. French said police have been notified but have done nothing to mitigate his losses. […]

"I'm not like any of these aldermen sitting here, I'm going to do something with downtown. I'm the best man that's ever gonna run this town. I'm not like you Walt, I'm gonna do something. I'm gonna fix the downtown at no charge, at my expense." […]

French, who interrupted the mayor, several aldermen and his fellow candidates a number of times was escorted out of the meeting by Police Chief Adam Curran after a rant in which he said alderman Ken Bogacz told him the mayor hired people to run against him.

"You ain't gonna do it buddy, that's twice you tried. I'm gonna win this election and I'm gonna fix this town."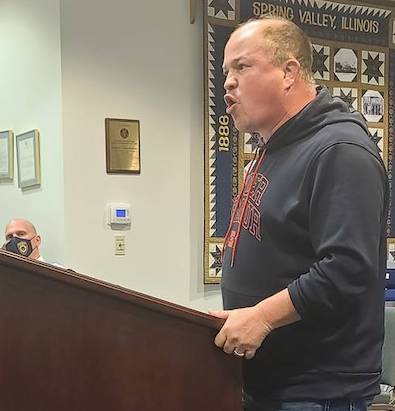 "That video makes me look like a clown," [French] said. "I'm not a bad person."

French said the night before the meeting, an unnamed man, who he said is an associate of Venegas, threatened he and his wife, ending in a 911 call.

French also said he was not escorted out of the meeting as was reported by Shaw Local News Network Monday night, saying Spring Valley Police Chief Adam Curran left the meeting with him to discuss the investigation into the theft allegations. In a video recorded and shared by Shaw Local News Network, Curran is heard instructing French repeatedly "public comment is over" as he walks behind him to the council chambers' exit. […]

Curran said he is aware of a disturbance call involving the Frenches and a person unknown to him on Sunday night. He said he discussed with French whether he wanted to pursue charges because "the situation described to him sounded like circumstances that could merit possible charges."
- Posted by Rich Miller 15 Comments


* That's a jump of well over 900 cases in a single day with an accompanying uptick in the positivity rate. Press release…
The Illinois Department of Public Health (IDPH) today reported 2,793 new confirmed and probable cases of coronavirus disease (COVID-19) in Illinois, including 20 additional deaths.

- Champaign County: 1 female 60s
- Cook County: 1 female 60s, 1 female 80s, 1 male 80s
- Franklin County: 1 male 70s
- Fulton County: 1 female 70s
- Henry County: 1 female 60s
- Kane County: 2 females 70s
- Macon County: 1 male 50s
- McHenry County: 1 male 70s
- McLean County: 1 male 70s, 1 female 80s
- Rock Island County: 1 female 80s
- Shelby County: 1 male 60s
- St. Clair County: 1 female 70s
- Stephenson County: 1 female 90s
- Winnebago County: 1 female 70s, 1 female 90s
- Woodford County: 1 male 80s

Currently, IDPH is reporting a total of 1,227,708 cases, including 21,136 deaths, in 102 counties in Illinois. The age of cases ranges from younger than one to older than 100 years. Within the past 24 hours, laboratories have reported 79,381 specimens for a total of 19,805,516. As of last night, 1,261 individuals in Illinois were reported to be in the hospital with COVID-19. Of those, 269 patients were in the ICU and 130 patients with COVID-19 were on ventilators.

The preliminary seven-day statewide positivity for cases as a percent of total test from March 17-23, 2021 is 2.8%. The preliminary seven-day statewide test positivity from March 17-23, 2021 is 3.1%.

A total of doses of 5,853,915 vaccine have been delivered to providers in Illinois, including Chicago. In addition, approximately 414,900 doses total have been allocated to the federal government's Pharmacy Partnership Program for long-term care facilities. This brings the total Illinois doses to 6,268,815. A total of 5,036,364 vaccines have been administered in Illinois as of last midnight, including 363,711 for long-term care facilities. The seven-day rolling average of vaccines administered daily is 97,680 doses. Yesterday, 107,219 doses were reported administered in Illinois.

Vaccine data has been adjusted to address the previously reported data discrepancy, and now includes doses administered on previous days that were initially excluded from the system. They were not uploaded because the records included only partial information about recipients. In order to more accurately reflect the total number of doses actually administered, changes to software coding were made to allow the system to accept reports with only partial information. This accounts for roughly 100,000 doses. IDPH has reached out to our pharmacy partners to remind them of the importance of entering information in all fields when vaccine is administered.

IDPH has also updated its long-term care facility interim guidance to reflect guidance from the federal Centers for Medicare and Medicaid Services and Centers for Disease Control and Prevention. The updated guidance allows more interaction with visitors at long-term care facilities and can be found on the IDPH website.

*All data are provisional and will change. In order to rapidly report COVID-19 information to the public, data are being reported in real-time. Information is constantly being entered into an electronic system and the number of cases and deaths can change as additional information is gathered. For health questions about COVID-19, call the hotline at 1-800-889-3931 or email dph.sick@illinois.gov.
- Posted by Rich Miller 7 Comments


* There was a bit of goofy push-back in comments yesterday to legislation which would finally bring natural gas service to one of the poorest townships in the country…
The trouble with Nicor's bill is that it creates a massive subsidy by existing customers to pay for line extensions to new customers.
According to Nicor, the project would cost existing customers 15-16 cents annually. Barely over a penny a month. So, spare me the silliness.
* SJ-R…
The House Judiciary Criminal committee passed a bill on Tuesday reducing penalties for possession of small amounts of controlled substances in an effort to better address addiction as a public health problem.

House Bill 3447, sponsored by state Rep. Carol Ammons, D-Urbana, passed the committee by a 12-7 vote after proponents of the bill argued addiction problems cannot be solved by sending someone to jail. Opponents raised concerns about how those seeking addiction treatment would access help, which the bill does not address.

The bill would make possession of all controlled substances below certain amounts for each type of substance a Class A misdemeanor instead of a felony. Multiple misdemeanor charges for possession will also not result in future stiffer penalties. […]

"We have to expand treatment options and make sure there are adequate treatment options available," said state Rep. Patrick Windhorst, R-Metropolis. "My concern is by taking this from a felony to a misdemeanor is we're going to remove the incentive individuals have to get the treatment they need."
* Oops?…
Proposed legislation placing Waukegan Community Unit School District 60 under state supervision — introduced by state Rep. Rita Mayfield, D-Waukegan, in February — will not proceed through the legislative process.

"I'm not moving the bill," Mayfield said during an interview Tuesday.

Mayfield made her decision after a March 15 telephone conversation with district officials, including Superintendent Theresa Plascencia and Gwendolyn Polk, the associate superintendent of business, because Mayfield was convinced the district is in sound financial condition.

"The finances are in really good condition," Mayfield said. "Gwen Polk did an excellent job of showing the financial condition. The district does not have a financial problem."
* IDCCA…
Following the introduction of legislation to eliminate pension protection language in the Illinois Constitution by Republican State Senator Darren Bailey, President Kristina Zahorik of the Illinois Democratic County Chairs' Association (IDCCA) released the following statement:

"Darren Bailey has just shown the cornerstone of his platform for Governor: gutting the middle class. Working and middle class families are the backbone of Illinois, and Darren Bailey has singled them out with his bill to gut guaranteed, protected pensions for those workers and retirees."

"Public servants do not go into careers in government to get rich, they enter those fields to help people. And after they serve, the State of Illinois makes a promise to help them when they retire. Darren Bailey wants to break that promise. Illinois can and must help address its pension problems but cutting benefits for Illinoisans who put in the time to serve our state is the wrong way. Shame on Daren Bailey."

As reported by WMAY Springfield, "…Bailey's proposal would allow pension benefits to be reduced or changed, regardless of whether those benefits have already been earned or when they were established."

The Illinois Education Association just released polling that showed 73% of Illinoisans believe retired teachers deserve their full pension when they retire.
I thought the new state party was supposed to be stepping up on things like this?
* Press release…
Today, the Ensuring Success in School Law (ESSL, HB 3223) was advanced from committee to the Illinois House Floor. The bill, which is sponsored by Rep. Anna Moeller (D-Elgin) and Sen. Kimberly Lightford (D-Maywood), is designed to ensure K-12 students who have experienced gender-based violence or harassment and those who are pregnant or parenting are appropriately accommodated by schools so they can complete their education.

"HB 3223 is an important step towards protecting child victims of sexual assault and harassment and young parents so they can stay in school and lead productive lives. This bill is the culmination of listening sessions and discussions with young survivors, teenagers who are parenting, advocates for survivors and students, and schools," says Rep. Moeller.

Survivors of domestic violence, sexual violence, and gender-based harassment often endure lasting mental, physical, and social consequences—and, as a result, experience a decline in academic performance. 1 in 4 girls experiences sexual violence before age 18 and survivors tend to have lower rates of graduation. It's critical to eliminate barriers that stand between survivors and their education! Teens who become parents face challenges too, accounting for 26% of students who drop out of high school.

This bill gives schools clear parameters for what they must do to support survivors. It does not require additional resources but mandates that the correct measures be taken to help vulnerable students succeed by:

• Allowing excused absences related to a student surviving gender-based violence, being pregnant, or parenting.
• Ensuring one staff member is trained to help advocate for students and connect them to resources inside and outside of school.
• Creating confidentiality protocols to help students feel safe to disclose when they need help.
• Eliminating inappropriate questioning by clarifying what proofs of violence are necessary so child survivors of trauma are only interviewed by trained professionals.

"School children are offered less support through laws and policies than their parents would receive from their workplace or their older sibling would receive from their college if they experience gender-based violence," says Madeleine Behr, Public Policy and Advocacy Manager with the Chicago Alliance Against Sexual Exploitation (CAASE). "We can't leave K-12 students, some of our state's most vulnerable people, to fend for themselves!"

Advocacy efforts for this bill are being led by CAASE and it has been endorsed by Raise Your Hand for Illinois Public Education, the Illinois Coalition Against Sexual Assault (ICASA), Illinois Coalition Against Domestic Violence (ICADV), Women Employed, Equality Illinois, The Network: Advocating Against Domestic Violence, Chicago Children's Advocacy Center (ChicagoCAC) and many other organizations.
- Posted by Rich Miller 17 Comments


* Daily Herald…
A newly appointed member of the state panel that regulates the horse racing industry didn't take long to call out the owner of Arlington International Racecourse for its decision to put the storied track up for sale.

Alan Henry, a journalist and author appointed last month to the Illinois Racing Board by Gov. J.B. Pritzker, criticized Churchill Downs Inc. Tuesday for what he called "a shortsighted and self-defeating posture" not to sell to another racing entity.

The Louisville-based horse racing and gambling corporation — whose namesake track is home of the Kentucky Derby — has created a "gauzy connection" in the public's mind, Henry argued, with that storied race, its iconic twin spires and the tradition of thoroughbred racing.

And so selling Arlington to someone who will keep the sport there would be an opportunity to burnish, rather than diminish, Churchill's brand, Henry said.
* Sun-Times…
"While [Churchill Downs'] stock is currently riding high, the corporate graveyard is full of companies whose leaders lost sight of their brand, and in doing so, lost the loyalty of their customers," Henry said during a virtual Racing Board meeting. "The corporate graveyard is full of companies whose leaders lost sight of their brand."
Nice try, I suppose, but publicly shaming that gigantic company probably ain't gonna work at this point.
* But maybe the Illinois Racing Board could've stepped in a year ago. According to a letter from Illinois Thoroughbred Horsemen's Association President Mike Campbell's attorney sent in January of 2020 to IRB Chair Jeffrey Brincat, trainer Louie Roussel allegedly told Brincat was of a $200 million offer to buy the track and any new casino gaming license that was immediately rejected.
- Posted by Rich Miller 10 Comments


* The legendary Lee Provost at the Kankakee Daily Journal…
The husband of Kankakee City Clerk candidate Destini Sutherland-Hall was arrested Tuesday on charges that he brought a gun inside the Kankakee Public Library at that evening's clerk debate.

Just as Tuesday's candidate forum between the two Kankakee City Clerk candidates had begun, a Kankakee police officer entered the room.

The officer approached Raymond J. Hall, 50, the husband of Republican Party candidate Sutherland-Hall and after only a few moments, the two walked out of the fourth-floor room where the debate was taking place.

It was later learned that Raymond Hall was carrying a handgun. Illinois law prohibits a gun from being brought into a public library even if the owner has a concealed carry permit.
* This has been an interesting week for Ms. Sutherland-Hall…
On Monday morning, the three-member Kankakee Electoral Board unanimously voted that Republican Party city clerk candidate Destini Sutherland-Hall should not have a place on the ballot for the election which concludes April 6.

Sutherland-Hall is opposing Democratic Party candidate Stacy Gall for the position which will be open as 20-year city clerk Anjanita Dumas did not seek re-election.
She's appealing the decision.
How are local campaigns looking in your neck of the woods?
- Posted by Rich Miller 17 Comments


[The following is a paid advertisement.]
Last week, the Chicago Sun-Times wrote about the need for major ethics reforms and accountability in the wake of last year's ComEd scandal, saying "Illinois is more than ready for utility ethics reform."
They specifically highlighted the Clean Energy Jobs Act (HB804/SB1718), the only comprehensive energy legislation that holds utilities accountable, lowers electric bills, and creates clean energy jobs in the communities that need them most - all without a bailout for big energy companies. Here is an excerpt:
"… the Clean Energy Jobs Act advanced out of committee last week with stronger ethics language for utilities, including making permanent the hiring and lobbying reforms ComEd agreed to over the life of its deferred prosecution agreement and installing an independent monitor at each of the state's utilities… returning some of the excess profits ComEd made through its scheme to ratepayers; conducting a thorough, independent investigation of ComEd… and restoring the oversight authority by utility regulators that has been chipped away over time."
The Clean Energy Jobs Act recently passed the House Energy and Environment Committee, and has a growing list of 43 co-sponsors in the House. Learn more at ilcleanjobs.org.
- Posted by Advertising Department Comments Off


- Posted by Rich Miller Comments Off


* Daily Line…
Like their Republican counterparts in previous meetings, McClure and Stoller throughout Monday's hearing raised questions about future meetings and the type of data that would be used for redistricting. They also offered critiques about the lack of advance notice for meetings.

McClure said the low attendance for Monday's hearing was partially due to a lack of advance notice. And the Republicans weren't the only ones who highlighted the late notice of the meeting. Sen. Sally Turner (D-Lincoln) said she couldn't attend the meeting in person because she received "such short notice."
Um, Sen. Sally Turner (from Beason, not Lincoln) is a Republican. Point being, the complaints were not bipartisan.
Also, according to the General Assembly's dashboard, that March 22nd hearing in Peoria was officially posted six days earlier on March 16th. Also, too, does she not have any staff?
…Adding… CHANGE Illinois fundraising email…
Illinois lawmakers have said time and time again that they will work with the public in the redistricting process to make Illinois districts as representative of their communities as possible.

Though they've said they want public input in committee hearings, little has been done to advertise the hearings. A promised public access portal that will allow Illinoisans to submit maps of their communities have not yet been revealed. The public deserves transparency during this critical map-drawing time, especially with the expected delay in delivery of census data.

CHANGE Illinois Executive Director, Madeleine Doubek said this about transparency in the process: "We need to ensure that people in every corner of this great diverse state of ours have a chance to participate to provide their input and have it responded to."

In these uncertain times of delayed census data, transparency is key when it comes to redistricting. Lawmakers are planning to draw our political districts for the next 10 years and It is vital that our voices be heard as our districts are drawn.

Are you aware that Illinois Senators already have held four public hearings on new political districts? Only a handful of residents have been present to provide input.
I dunno, maybe they could help get the word out by using that fundraising list to blast out notices about the hearings?
- Posted by Rich Miller 14 Comments


* Nadig Newspapers on Speaker Chris Welch's recent speech to the 38th Ward Democrats…
Welch said he was making his way through security to go to [lame duck] session Monday morning when he got a call from Madigan [telling him he was suspending his reelection bid]. […]

He said Madigan asked him if he wanted to be speaker, told him his colleagues have a lot of admiration for him and that he thought he would do a good job in leadership.

Welch said Madigan then offered four tips.

"He said, 'First, get the Black Caucus together to unite behind your candidacy and get them together quickly, you don't have a lot of time. And if you get the Black Caucus, the next thing you can do is talk to the Latino Caucus and see if they can join you and the Black Caucus to support your candidacy. If you do that, I want you to go talk to Representative (Sue) Scherer and a couple of other reps in the downstate area. They may not support you but assure them that you're going to be a representative and a speaker that always listens and you're going to do your best to help them," Welch said. "And then the fourth thing, and I probably should have started with the fourth thing, is call your wife, because if she doesn't support this, then none of this matters in the first place."
Good advice.
- Posted by Rich Miller 22 Comments


* The Tribune's Ryan Ori with the scoop…
A downtown alderman is proposing a zoning change that could clear the way for the James R. Thompson Center to be replaced by one of Chicago's tallest skyscrapers.

Ald. Brendan Reilly, 42nd, wants to allow more than 2 million square feet of space on the sprawling state-owned site, at 100 W. Randolph St., that is up for sale. The proposed ordinance is expected to be introduced Wednesday to the City Council's zoning committee, and it could be up for a vote by the committee — and eventually the full City Council — as soon as April, he told the Tribune Tuesday. […]

Pritzker sought the change because "the state is moving forward in earnest to market the property for a future sale," Reilly said.

"Restoring the underlying zoning will allow it to reach true market value," Reilly added. "Now everyone will have clarity on what is within the art of the possible for this site."
- Posted by Rich Miller 38 Comments


The Illinois Public Health Department approved a new set of rules from the federal government that not only approve in person visits [at nursing homes], but also allows people to hug and touch their loved ones, and it's allowing places like Swann Special Care Center in Champaign to truly open their doors.
City officials are cutting off vaccine supply to a private clinic that was contracted to vaccinate Chicago Public Schools employees but "knowingly misallocated" 6,000 doses to people with no ties to the district, the Chicago Department of Public Health said Tuesday.

The leaders of Innovative Express Care took some of those vaccines that had been set aside for second doses for CPS employees and instead used them for first doses for non-CPS patients, officials alleged.
Cook County Courts Pass Reopening Test For First COVID-19 Era Trial
Enrollment is down at many Illinois colleges and universities since the pandemic began, continuing a long-term downward trend. Community colleges have been hit especially hard.

Enrollment is down by 14% percent this fall and spring compared to last school year at Illinois community colleges, according to the Illinois Community College Board. This includes City Colleges of Chicago. Low enrollment at two-year schools is greater among Latino students, who are among the most affected by the pandemic.

This trend has caused concerns among experts who say once students disenroll from college, it's harder to get them back. Studies have shown the percentage of students coming back after dropping out of school is generally low.
Krispy Kreme is providing a sweet incentive to encourage more people to roll up their sleeves for the COVID-19 vaccine: Free doughnuts through the end of 2021.

Consumers who show a valid COVID-19 vaccination card at locations nationwide will get a free Original Glazed doughnut, the Winston-Salem, North Carolina-based chain announced.
Chicago public health Commissioner Dr. Allison Arwady warned the city, particularly its younger adults, on Tuesday that coronavirus metrics were once again creeping into a danger zone that resembled a previous second surge during last October.

She echoed Mayor Lori Lightfoot's Monday remarks that cautioned the city will lose its recent gains under its reopening plan if younger adults do not "remain diligent" in masking and social distancing. […]

Though the seven-day rolling average of positive cases in Chicago sits at a low-risk 3.2%, Arwady during a Tuesday question-and-answer session said it is "heading the wrong way" and is up from the previous week's 2.9%. And the daily average cases rose by 23% from last week, according to the city's dashboard, showing a rise from 285 to 350 cases that can't be attributed to more testing because daily tests only rose 6%. The city's caseload is at a "high-risk" category when it hits 300.

Though intensive care unit visits remain at their lowest since the pandemic started, Arwady said those numbers tend to lag case spikes and that emergency department visits from COVID-19 are up 45% in the past two weeks.
Also on Monday, the state health department listed metro-east Region 4 as having a seven-day average positivity rate of 3.0%, down from 3.3% on Sunday. The state reported a daily positivity rate of 2.3% on Monday, down from 3.2% on Sunday.
- Posted by Rich Miller 34 Comments


* Dean Olsen at the SJ-R…
A massive legislative package that caps payday loan interest at 36% annually and subjects employers to human-rights complaints for denying hiring and promotions to people based on criminal history was signed into law Tuesday by Gov. JB Pritzker.

The four bills, part of the Illinois Legislative Black Caucus' efforts to address systemic racism, also are designed to expand access to state contracts for minority-owned businesses, women and people with disabilities. And one of the bills allows a person with a felony conviction to live in federally assisted housing.
* Evan Weinberger at Bloomberg Law…
Interest rates on payday loans, which usually mature every 2 weeks, have reached as high 404% in Illinois, according to consumer advocates who backed the legislation.

The state's new 36% rate cap also applies to installment loans, which typically are paid back with fixed payments over longer time periods. […]

Some lenders said the bill will reduce access to credit for those borrowers most in need.

"It was rushed through the legislature without substantive input from key stakeholders and an appreciation of its hurtful impact on consumers, and we are disappointed that Governor Pritzker signed this legislation into law," Mary Jackson, the CEO of the Online Lenders Alliance, said in a statement.
Sen. Lightford specifically warned reporters yesterday against the claim that the legislation was rushed…
The whole idea of we pushed, we rushed, we pushed it through, it was done in a short period of time, it's just absolutely not true. A lot of work, a lot of hours spent, a lot of involvement from people all across the state created what you see here today.
* CNBC…
Research conducted by the Consumer Financial Protection Bureau found that nearly 1 in 4 payday loans are reborrowed nine times or more. Plus, it takes borrowers roughly five months to pay off the loans and costs them an average of $520 in finance charges, The Pew Charitable Trusts reports. That's on top of the amount of the original loan.
* Center Square…
Steve Brubaker from the Illinois Small Loan Association said the legislation will put people out of business.

"I'm worried about the members of our association, and number two, all their employees that have to try to find a job during COVID which is going to be awful, but also, you are taking a billion dollars away from customers," Brubaker said.
* Suburban Democratic state Representative with a business career in a formerly Republican district…
There are significant elements that are leading the country in this pillar. It is even more dramatic than the Justice Equity pillar IMO, (though maybe not as news-attractive.) The potential impact on economic opportunity in many arenas across the state is huge.

— Mark Walker (@walktalker1) March 23, 2021
* Tribune…
The measure also aims to expand access to state contracts for businesses owned by minorities, women and people with disabilities by amending the state's procurement code to include diversity for consideration during the request for proposal process.
Another bill increases the state's goal for contracts awarded to businesses owned by minorities, women or people with disabilities from 20% to 30% and mandates the state's Department of Central Management Services establish "committed diversity aspirational goals for state contracts" and "concerted outreach efforts to businesses owned by minorities, women, and persons with disabilities."
That could be huge.
* WIFR…
Similarly, Pritzker signed into law a measure allowing people with felony convictions to live in public housing. The state's more than 100 public housing agencies set their own rules. Sponsors said those that bar residents with criminal records contribute to homelessness and recidivism.

Another law requires state review of of the low- and moderate-income loans by banks and other lenders to improve investment in lower income communities.
Illinois' Director of Banking on that last bit…
I am so very proud that our new state CRA includes non-bank mortgage lenders and credit unions. Making Illinois the first state in the Midwest to have a state CRA and just the second state nationally to include non-bank mortgage lenders.

6/12#twill

— Chasse Rehwinkel (@chasserehwinkel) March 23, 2021
* Back to the Sun-Times…
One bill amends the Farmer Equity Act and creates a cannabis equity commission to ensure the goals the state set as part of its legalization of cannabis are met. Critics have complained that despite earlier promises, the developing recreational marijuana industry remains white-dominated. […]

It also requires the Department of Agriculture to study the disparities associated with farm ownership and farm operations in the state. […]

Republicans had expressed concerns that the implementation of the legislation would turn the state's contracting process into a "disaster," as Rep. Deanne Mazzochi, R-Elmhurst, put it. […]

"For people who will say 'oh, this is unfair, it's unworkable, we can't make it happen' that is false, and if there were remedies that they had, they could have brought them to the table," [State Rep. Carol Ammons, an Urbana Democrat] said.
* Some dot points from Brenden Moore…
• A provision allowing those with felony convictions to live in federally-assisted housing
• The establishment of an African Descent Citizens Reparations Commission by the Illinois Central Management Services
• A new annual report from all state agencies and public higher-education institutions on race and gender that includes salary information
• A new community development loan program that will guarantee small business loans and consumer loans to borrowers of color or who reside in low-income communities
- Posted by Rich Miller 28 Comments


* I try to avoid national politics whenever I can, but this guy put Pritzker in the pic, so which table would you choose? Make sure to explain your answer…
You can only sit at one table, where you sitting? pic.twitter.com/gmffZAYaG7

— free will is liberal propaganda (@fllosoof) March 23, 2021
- Posted by Rich Miller 54 Comments


* Polite conversation about Illinois issues, please. Thanks.
- Posted by Rich Miller 9 Comments


[Bumped up from last night for visibility.]
* Media advisory…
Daily Public Schedule: Wednesday, Mar. 24, 2021

What: Gov. Pritzker to give a COVID-19 update and to receive his first dose of the COVID-19 vaccine.
Where: Orr Building (Illinois State Fairgrounds), 66 4H Road, Springfield
When: 11:30 a.m.
Watch live: https://www.Illinois.gov/LiveVideo
…Adding… Just to be clear here, government employees became eligible to receive the shots two days ago.
*** UPDATE *** Gov. Pritzker told reporters today that he was receiving the Johnson & Johnson vaccine, which is a single dose.
- Posted by Rich Miller 10 Comments