* My Aunt Marilyn died unexpectedly last Friday. She worked hard, played hard and loved her family and everyone loved her back. She was a rock, but so very human. Here she is several years ago on the left next to her brothers Denny (my uncle) and Richard (my dad) and her mom (my late grandmother)…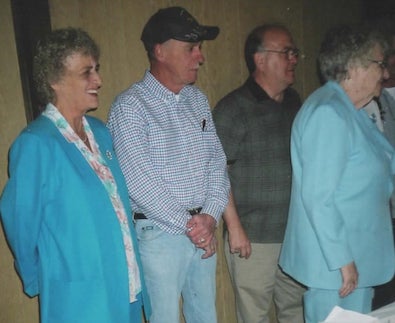 My dad and his family always called her Marilyn Rose. It was a fitting name.
* Talk to you Monday…
I'll be the breeze after the storm is gone
* Press release…
Governor JB Pritzker advanced Senate Bill 539, an ethics reform package that passed the General Assembly this session. The legislation includes a variety of measures to restrict government officials from lobbying activities, tighten regulations on registered lobbyists and consultants, and expand economic interest disclosures.

To move forward with this important legislation, Gov. Pritzker issued an amendatory veto to correct a technical drafting error. The fix will ensure that the Executive Inspectors General are able to maintain current processes and procedures regarding investigations. The Governor looks forward to working with the legislature on concurrence and pledged to certify the bill once the amendatory veto passes the legislature. Gov. Pritzker is also committed to working on additional legislation thatreflects the continued urgency of ethics reform in Illinois – which was laid out as a key legislative priority in his 2020 State of the State Address. The full amendatory veto message is attached.

"Passing real, lasting ethics reform was a top priority of mine going into the 2020 legislative session, and I'm pleased to move forward with an ethics package that includes a number of meaningful changes," said Governor JB Pritzker. "We must restore the public's trust in our government and this legislation is a necessary first step to achieve that goal. I remain committed to making further advancements so the well-connected and well-protected cannot work the system to the detriment of working families across Illinois."

"While more work remains to be done to restore the faith Illinois citizens have in their government," said State Senator Elgie R. Sims, Jr.(D-Chicago). "They demanded real ethics reform like those included in this bill, changes like stopping the practice of legislators using their influence to lobby other governments and working to enact pro-rated salaries for legislators who leave office before the end of their term. Many of the changes included in this bill place Illinois on the path to restoring the faith citizens must have to make our democracy successful."

"This measure offers bipartisan solutions to target some of the worst abuses of power in our state's history," said State Senator Ann Gillespie (D-Arlington Heights). "Our plan closes many of the loopholes that have allowed bad actors to game the system for decades. Our bipartisan team on the Senate Ethics Committee stands ready to continue this vital work to make our government work for everyone, not just a powerful few.

Senate Bill 539 includes the following provisions:

• Bans government officials from engaging in compensated lobbying, including:
o State level: Legislators, Executive branch constitutional officers
o County level: elected or appointed county executive or legislative officials
o Municipal level: elected or appointed municipal executive or legislative officials
o Township: elected or appointed township executive or legislative officials

• Strengthens the Lobbyist Registration Act by expanding the definition of 'officials' and adding 'consultant' to the definition of compensation that is regulated.

• Increases transparency of lobbying activities by expanding the persons required to register as a lobbyist and establishing a shorter, two-day deadline for registration.

• Requires lobbyists to complete ethics training before their registration or renewal is deemed complete (instead of within 30 days).

• Requires lobbyists to disclose consultants and clients no later than two days after a consultant is retained.

• Restricts appointees to certain offices from being an officer of a candidate political committee or a candidate with the support of such a committee. Members of the State Board of Elections are also restricted from contributing to candidate political committees.

• Expands and clarifies disclosures required in Statements of Economic Interest, including, among others, government units that benefit the filer, lobbyist registration, and the source of gifts.

• Bans political fundraising in Sangamon County during session or the day immediately prior to such day, with limited exceptions.

• Strengthens revolving door provisions in the executive branch and establishes such provisions in the legislative branch.

• Empowers the Legislative Inspector General to undertake investigations without obtaining advance approval from the Legislative Ethics Commission.

• Revokes the provision allowing General Assembly members to receive prorated compensation following a vacancy.
…Adding… Press release…
llinois State Comptroller Susana Mendoza's "no exit bonus/no signing bonus" reform was signed by Gov. JB Pritzker today as part of a broader package of legislative ethics reforms.

The measure ends the shady practice of legislators leaving the General Assembly in disgrace but dating their exit on the first day of the following month to claim an extra month's pay for a day's work.

"This is a matter of common sense and accountability," Mendoza said. "Waitresses and factory workers don't collect a month's pay for a day's work, and legislators don't deserve that luxury either – especially on the backs of Illinois taxpayers."

For years, legislators of both parties exploited a loophole in state law allowing them to resign on the first day of the month and collect the whole month's pay or get sworn in at month's end but claim a whole month's pay.

Former State Rep. Luis Arroyo of Chicago, charged with bribery; the late former State Sen. Martin Sandoval of Chicago, who pleaded guilty to federal bribery and tax charges; and former State Rep. Nick Sauer of Lake Barrington, charged with online sex crimes, all took advantage of that loophole in state law in recent years.

In February, three legislators could all claim a month's pay in the 22nd Legislative District following the retirement of former Illinois House Speaker Mike Madigan. To his credit, former State Rep. Edward Kodatt declined the month's salary he was entitled to for his two days in office.

The comptroller's original no exit/no signing bonus measure (House Bill 3104, Senate Bill 484) was incorporated into the legislature's omnibus ethics legislation (Senate Bill 539), which had overwhelming bipartisan support in both chambers and was sent to the governor for his signature in June.
* From a publication called District Administration…
If equity is a top priority in many districts, it is not apparent from the most recent round of state ESSA spending reports, an advocacy organization says.

Only one state, Illinois, provided enough transparent detail to allow advocates to analyze resource inequities and the action being taken to address them, according to "Going Beyond ESSA Compliance," an interactive report and web tool produced by The Education Trust.

The 49 other states are missing an opportunity to help advocates better assess the fairness of school spending patterns, said Reetchel Presume, Ed Trust's P-12 data and policy analyst.

"Transparency in school spending is crucial for identifying inequities in school funding that deny students of color and those from families with low incomes the resources they need to excel," Presume said. "For advocates and policymakers alike, school spending reports could be a tool to see if school systems are shortchanging students."
* More from the Illinois State Board of Education…
The Illinois State Board of Education (ISBE) received recognition for making Illinois' school-by-school spending data the most transparent and usable in the nation in a report released by the Education Trust. Illinois was the only state to earn a 100% rating for its development of comprehensive per-pupil school spending reports displayed in the Illinois Report Card, according to Going Beyond ESSA Compliance: A 50-State Scan of School Spending Reports. The Education Trust is a national nonprofit that works to close opportunity gaps that disproportionately affect students of color and students from low-income families. The Education Trust is a national nonprofit that works to close opportunity gaps that disproportionately affect students of color and students from low-income families.

"Data and transparency about school spending are essential to increasing equity and improving students' opportunities and outcomes," said State Superintendent of Education Dr. Carmen I. Ayala. "Equity does not mean equality. Different schools within the same district may have different student needs. One school may serve more students with disabilities. One school may serve more English Learners. School size and grade band can also impact students' needs and district spending. For a long time, people have talked about equitable spending across school districts. We are proud to be leading the nation in fostering dialogue about equitable spending within school districts as well."
The Education Trust's full report is here.
* I have some rather interesting and perhaps hazy memories of this place…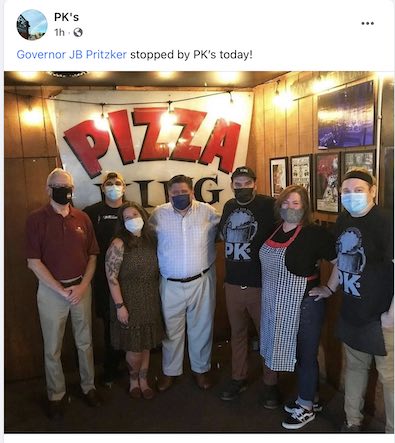 I don't think that's a usual stop on the tour.
* The Question: Caption?
* Press release…
Public Health Officials Announce 25,636 New Cases of Coronavirus Disease Over the Past Week

Almost 78% of Illinois adults have received at least one vaccine dose and 61% are fully vaccinated

SPRINGFIELD – The Illinois Department of Public Health (IDPH) today reported 25,636 new confirmed and probable cases of coronavirus disease (COVID-19) in Illinois, including 174 additional deaths since reporting last Friday, August 20, 2021. Almost 78% of Illinois adults have received at least one COVID-19 vaccine dose and 61% of Illinois adults are fully vaccinated, according to data from the Centers for Disease Control and Prevention.

Currently, IDPH is reporting a total of 1,508,005 cases, including 23,889 deaths, in 102 counties in Illinois. The age of cases ranges from younger than one to older than 100 years. Since reporting on Friday, August 20, 2021, laboratories have reported 495,608 specimens for a total of 28,568,305. As of last night, 2,240 individuals in Illinois were reported to be in the hospital with COVID-19. Of those, 500 patients were in the ICU and 253 patients with COVID-19 were on ventilators.

The preliminary seven-day statewide positivity for cases as a percent of total test from August 20-26, 2021 is 5.2%. The preliminary seven-day statewide test positivity from August 20-26, 2021 is 5.7%. However, regional 7-day test positivity averages range from 4.1% to 10.6%. http://www.dph.illinois.gov/regionmetrics?regionID=11.

A total of 13,914,213 vaccines have been administered in Illinois as of last midnight. The seven-day rolling average of vaccines administered daily is 24,056 doses. Since reporting on Friday, August 20, 2021, 168,391 doses were reported administered in Illinois.

*All data are provisional and will change. Additional information and COVID-19 data can be found at http://www.dph.illinois.gov/covid19.

Vaccination is the key to ending this pandemic. To find a COVID-19 vaccination location near you, go to www.vaccines.gov.
* More…
* Pritzker's COVID-19 vaccine requirement for teachers arrives amid school outbreaks, hundreds of possible exposures

* Carrier Mills-Stonefort schools cancel classes due to positive COVID-19 cases

* Hoffman Estates Park District mandates COVID-19 vaccination for full-time workers

* Chicago Teachers Union says 'CPS is not ready' for Monday's start of school, has rolled back COVID safety measures

* Chicago mom loses her 12-year-old boy to COVID: 'It's too hard, and I miss my son'

* Get Police Vaccinated - And prison guards, and jail workers, and anyone else charged with protecting the public's safety.

* Liberty University announces campus-wide quarantine amid COVID-19 surge

* Frerichs says pandemic has 'forged creativity'
* Comptroller Susana Mendoza held a press conference yesterday and was asked about the state's bill backlog. She said her office's oldest voucher is only "10 days old." And continued…
So we're well within a 30-day payment cycle. It's literally, this is the fastest we've been paying our bills in the state of Illinois since before the September 11 terrorist attacks in 2001. So, over 20 years since we've been paying this quickly. … I keep saying we have to be fiscally disciplined and continue to experience positive news when it comes to our finances, but we are certainly way better than we were.
As I've told you many times before, Illinois' fiscal decline has been almost continuous since the economic crisis caused by those terrorist attacks.
* Related…
* Press Release: Comptroller Susana Mendoza to resume payments to contractor fined for violating Illinois' Prevailing Wage Act

* Illinois comptroller building system to show taxpayers ROI on government programs
* Background is here and here if you need it. Press release…
The following was released by SEIU Healthcare Illinois President Greg Kelley on Gov. Pritzker's recent announcement of Vaccination Requirements for Healthcare and Educational Workers:

SEIU Healthcare Illinois continues to maintain our ongoing efforts to ensure the health, safety, and wellbeing of our 90,000 members. We are committed to promoting every measure available in protecting not only our members, but our entire community, from the life-threatening impacts of the COVID-19 virus. As a result, we are in support of Gov. Pritzker's recent announcement of the COVID-19 vaccine requirement for healthcare and educational workers.

As a union of healthcare and childcare workers, we understand how critical it is to ensure that our members are working in safe environments, while also protecting our most vulnerable populations.

In addition to our support of vaccinations and scheduled testing, it is our expectation to partner with employers to foster a collaborative approach in providing resources that enable workers to be vaccinated without negative economic impacts. These resources would include comprehensive educational programs which include channels for employee communication regarding the implementation of the vaccination.

We are dedicated to working with employers to help respond to worker needs as we combat this devastating disease.
*** UPDATE *** Press release…
The Illinois Pharmacists Association, Illinois Council of Health-System Pharmacists, and Illinois Association of Long-Term Care Pharmacy Providers support Governor Pritzker's action of issuing Executive Order 2021-20 to protect the healthcare workforce, our communities, and patients that we serve.

Pharmacists are the most accessible healthcare providers and provide patient care in a variety of settings: from intensive care units, to emergency rooms, to long-term care facilities, to the corner neighborhood pharmacy. As healthcare providers, pharmacists took an Oath to uphold "the welfare of humanity and relief of suffering" as our primary concerns and that we hold ourselves and our colleagues "to the highest principles of our profession's moral, ethical, and legal conduct" as entrusted to us by the public.

Through these darkest hours of the pandemic, pharmacists and pharmacy technicians have been there. We never closed; never stopped providing vital services for patients and continued to evolve our practices for safety, ensuring that needed medications, testing, and critical vaccines are accessible to the public. Despite these risks and dangers from the virus, pharmacists and pharmacy technicians have put themselves directly in harm's way to guarantee that our patient's medication and healthcare needs are met.

As our pharmacy teams continue to deliver patient care and battle against the coronavirus and its deadly variants, we expect all healthcare providers and healthcare workers to protect ourselves and our patients by taking the COVID-19 vaccine and wearing a mask to decrease spread of disease.

Illinois is counting on us. Our communities are counting on us. Our patients are counting on us.
* As we've already discussed, Gov. JB Pritzker recently extended the eviction moratorium through September 18. But the US Supreme Court recently put a stop to the CDC eviction moratorium…
In a statement late Thursday, White House Press Secretary Jen Psaki said, "In light of the Supreme Court ruling and the continued risk of COVID-19 transmission, President Biden is once again calling on all entities that can prevent evictions - from cities and states to local courts, landlords, Cabinet Agencies - to urgently act to prevent evictions."
And Illinois is complying.
* Grace Asiegbu takes a look at what that means in Illinois…
Under Pritzker's latest order, courts won't start hearing cases related to unpaid rent again until Sept. 18. [Michael Robin, an organizer with Autonomous Tenants Union] cautioned that landlords can sometimes abuse the process by getting emergency hearings on the pretext of health and safety issues. There's also an exception for tenants who already had a hearing scheduled. They must show up to court or risk receiving an eviction judgment against them.

Does the federal eviction moratorium apply in Cook County?

Not anymore.

On Thursday night, the U.S. Supreme Court struck down the Biden administration's moratorium, blocking an order issued through the CDC in early August that had banned evictions in counties experiencing "substantial" or "high" Covid-19 transmission rates through Oct. 3, a description that fits every Illinois county, according to the CDC's Covid Data Tracker.

But the federal order wasn't very robust, to begin with, said Michelle Gilbert, legal director of the nonprofit Lawyers' Committee for Better Housing, or LCBH. The order only shielded tenants from being physically removed from their homes — the final stage in the eviction process that is carried out in Cook County by the sheriff. That left a lot of gray areas for local courts and judges to interpret.
* Background from the Sun-Times…
With Lightfoot this week announcing that all city employees will be required to be fully vaccinated against the coronavirus by Oct. 15, Fraternal Order of Police President John Catanzara told the Sun-Times Wednesday that the mayor had "lit a bomb underneath the membership" and began comparing the order to actions by Nazi Germany.

"We're in America, G-ddamn it. We don't want to be forced to do anything. Period. This ain't Nazi f—ing Germany, [where they say], 'Step into the f—ing showers. The pills won't hurt you.' What the f–k?" he said. […]

"What he said is factually incorrect and deeply offensive to the millions of people and their families of people who were killed at the hands of the Nazis. Not only that, but it's the latest in the FOP president's incendiary, offensive, disgusting, racist, xenophobic comments that he's made," David Goldenberg, regional director of ADL's Midwest office, told the Sun-Times. "He needs to apologize and he needs to end the continued use of such offensive and indefensible language."

Another statement by Sarah van Loon, the director of the Chicago AJC, called Catanzara's "offensive and categorically false comparison … an insult to every Holocaust survivor and to the memory of the millions of lives lost during one of the darkest periods in human history."
* Press release…
Jewish Caucus Calls for Catanzara to Apologize, Resign

The Illinois Legislative Jewish Caucus released the following statement in response to FOP Lodge #7 President John Catanzara's recent remarks:

In a long career of inappropriate comments, John Catanzara has truly outdone himself. Leave aside the fact that he's wrong about vaccine mandates - they're a vital public health instrument, especially for government workers with whom the public has no choice about interacting.

But the comparison of vaccine mandates to the Nazi genocide is despicable. While we don't need to belabor the distinctions between poison gas and an FDA-approved vaccine, it bears saying: Vaccines are safe. They save lives. And the Holocaust is an unimaginable tragedy that happened to our people, not a flippant metaphor for the airing of ignorant, petty, aggrieved opinions.

Catanzara has shown once and for all that his voice does not belong in civil public discourse. We call upon him to resign immediately and to issue an apology for his intolerant and intolerable remarks to Jews everywhere.
* Members…
Illinois State Representative Jennifer Gong-Gershowitz
Illinois State Representative Denyse Wang Stoneback
Illinois State Senator Laura Fine
Illinois State Senator Ram Villvalam

Illinois State Representative Jonathan Carroll
Illinois State Representative Kelly Cassidy
Illinois State Representative Margaret Croke
Illinois State Representative Daniel Didech
Illinois State Representative Robyn Gabel
Illinois State Representative Will Guzzardi
Illinois State Representative Anna Moeller
Illinois State Representative Bob Morgan
Illinois State Representative Sam Yingling
Illinois State Senator Sara Feigenholtz
Illinois State Senator Julie Morrison
* The Center Square…
Next year's primary in Illinois has been moved to June. Filing doesn't start until January. Regardless, the Democratic supermajority at the state house is preparing to revise maps that community groups say need more time to review.

Maps determining legislative boundaries for the next ten years have been enacted, but they're being challenged in federal court. With the final Census data out, the Democratic majority has called a special session.

Before the maps were approved, groups were demanding two weeks to review the drafts and provide input. They didn't get that. It now appears likely that they're not going to get that now, as the state is moving to pass revised maps for the Aug. 31 special session.

The first hearing on Thursday featured civic groups demanding more time to review maps.

Ami Gandhi with the Chicago Lawyers' Committee for Civil Rights said lawmakers are doing an injustice.

"We're uncomfortable with this redistricting process, with this huge rush, with this lack of transparency," Gandhi said. "People are not being assured that their rights are being respected."

Jay Young with Common Cause said the process resembles the rushed maps in May.
It's of their own making, of course, but Democrats are now under the gun of a federal judge who essentially paused those lawsuits until after the special session ends. There will be no delays.
* Capitol News Illinois…
The mapmaking process that lawmakers have used is already the subject of two federal lawsuits being heard by a three-judge panel in Chicago. One, filed by the Mexican American Legal Defense and Educational Fund, or MALDEF, argues that the maps lawmakers passed in May dilute the voting power of the state's Latino population. Another filed by Republican leaders in the General Assembly argues, among other things, that lawmakers failed to enact legal maps by the June 30 deadline set out in the Illinois Constitution and, therefore, should be thrown out and redrawn by a bipartisan legislative commission.

Republicans on the committees, meanwhile, alleged Thursday that Democrats who control the General Assembly have already started drawing new maps behind closed doors and that the public hearings now taking place are only for show.

"I literally witnessed with my own eyes a member of the General Assembly looking at the map, talking to staff about whether it was square enough or not, which is what I overheard," said Rep. Tim Butler, a Springfield Republican. "There was many members of the majority in that room, looking at the maps. And I would ask you, the people who are going to testify today, have you been invited into those meetings so far to look at the maps? Are you having solid input on what these maps are going to be? No. They're being drawn by the majority as we saw in the spring with partisan intent."

Later, when asked what data was being used to draw the new maps, House committee chairwoman Lisa Hernandez, D-Cicero, said she didn't know and that she hadn't seen the maps that Butler was talking about. But she said Democrats were determined to draw new districts that would reflect the racial and ethnic diversity of Illinois.
Nobody knows anything when it comes to maps. Chasing that story involves a whole lot of brick walls. Even so, subscribers know a bit more.
*** UPDATE *** Press release…
Illinois House Redistricting Committee Spokesperson Rep. Tim Butler (R-Springfield) released the following statement after this morning's abysmal public hearing on redistricting:

"This morning's House Redistricting Committee hearing was an abuse of a free and fair democratic process. Despite hearing testimony from countless advocacy groups yesterday asking for more time, the House Democrats, who had no members in attendance [in-person], held a hearing with little notice that resulted in NO public attendance in person or even on Zoom. This continued approach from the Illinois Democrats to jam through yet ANOTHER partisan map to retain control over the state is disgusting and offensive to all the residents of our state. Let's hope that Governor Pritzker will not lie to voters twice and will veto whatever sham map the General Assembly passes next Tuesday."
The flip side is that everyone who wanted to say something spoke yesterday and citizens aren't all that riled up about this as much as the commentariat might have us believe.
* Lauren Zumbach at the Tribune…
Kraft Heinz's expectations about how often employees will work in the office changed during the pandemic. So will the office itself.

While some employers are waiting to see how the return to the office goes before making significant changes to their spaces, others, like Kraft Heinz and United Airlines, are moving forward with renovations meant to adapt to new ways of working.

Kraft Heinz, which plans to transition from full-time office work to a hybrid model that will see employees spend three days in the office and two at home, recently began renovating its Chicago headquarters. Individual desks and cookie cutter conference rooms are out, in favor of a wider variety of spaces for workers to meet and work together.

"If the purpose of the office is really collaboration, we need to rethink the office," said Melissa Werneck, Kraft Heinz's global chief people officer.
I've worked from home (except for session, of course) for a very long time. I see no problem with it and I don't think I could go back to an office environment. Your thoughts?
* Slow news day?…
FIRST IN PLAYBOOK: Republican Mark Curran, who lost the U.S. Senate race in 2020 to Sen. Dick Durbin, says God wants him to run for the Illinois Supreme Court, so he's following the call.

"We are taking on the Establishment, the Party Hacks, the Freemasons and those that could care less that Individual Liberty and Conscience Protection are no longer cherished or protected," he told supporters in an email that was forwarded to Playbook.
Dude is kinda 19th Century. I suppose John Quincy Adams would approve, though.
*** UPDATE *** With thanks to a commenter, here's video of then-Lake County Sheriff Mark C. Curran receiving a donation for "Shop with a Cop" from Barrington Masonic Lodge #522 in 2017…
…Adding… Great comment…
Did God say anything else to him? Since there was some sort of dialogue going on, it'd been nice of Mark Curran had asked for advice on how to get out of this pandemic. I think Mark Curran really missed an opportunity here.
* Rick Pearson, Lisa Schencker and Joe Mahr at the Tribune…
A Tribune analysis of state and federal data has found that the rate of hospitalization for the unvaccinated [in Illinois] has risen nearly sevenfold since the end of June. The weekly rate of hospital admittance for that group is now above 28 per 100,000 residents, approaching the peak of 35 last fall.

The vaccine doesn't stop every bad case, but the analysis found that for those fully vaccinated, the weekly hospital admittance rate is far lower, barely 2 per 100,000 residents, albeit still about four times higher than it was at the end of June before the surge in delta cases. […]

When averaged over the past week, the southern region's ICU availability was just 4% of all its staffed ICU beds — far lower than the 20% threshold that the state had previously set as one marker for considering mitigations. Half of the state's other 10 regions also averaged lower ICU availability than that threshold, including Chicago (17%), suburban Cook (17%) and North Suburban (15%).
A little over half the population here is fully vaxed, so the surge isn't putting the same pressure on hospitals as it was last fall, when nobody was vaccinated. But it's really getting bad out there, particularly in the south. As we have seen time and time and time again, things can always get worse before they get better…
URBANA — As more of their beds fill up with COVID-19 patients, administrators at local hospitals are appealing to the thousands of unvaccinated people in their communities to get their shots.

"The hospital is filling up," said Matthew Kolb, Carle Health's chief operating officer.
IDPH probably needs to go back to daily updates.
New laws
Thursday, Aug 26, 2021 - Posted by Rich Miller
* WGEM…
This pandemic has taken a toll on everyone, both physically and mentally. Gov. JB Pritzker signed two bills into law Wednesday to improve access to mental health care.

Illinois is now the third state to require insurance companies to cover mental health care. It's also the first state to move to a system where mental health professionals respond to mental health emergencies.

House Bill 2595 requires all insurers to provide coverage to treat mental, emotional, nervous, and substance use disorders. The law goes into effect on January 1, 2023. Meanwhile, the Illinois Department of Insurance must file a report to the General Assembly on how it will check for compliance by the start of next year.

Sponsors say this law can help families easily seek treatment for mental health disorders without worrying about insurance coverage.
* I received a few press releases on that bill, but here's one…
Health is Health, a campaign advocating for commonsense mental health and addiction care, celebrated the signing of HB2595 into law by Governor Pritzker. HB2595 advances access and equity in mental health care which will save lives.

"HB2595 becoming law is a vital step toward ensuring the well-being of Illinoisans around the state who struggle with mental health challenges," said Illinois State Senator Laura Fine, chief sponsor of the new legislation in the Illinois State Senate. "Moving forward, accessing and affording care will be within reach of thousands in need."

"Our communities are facing a mental health and addiction crisis that is only worsening," said Illinois State Representative Deb Conroy, chief sponsor in the Illinois State House. "This legislation will increase access to mental health treatment, giving people with mental health and substance use disorders the ability to access treatment sooner and get on the road to recovery."

Large inequities have long existed in how health plans covered mental health care. Many insurers used flawed and discriminatory guidelines to avoid paying for the mental health care and treatment services granted under existing federal law. HB2595 will change that by requiring health plans to cover medically necessary mental health and addiction care, ensuring that individuals and families get the care they need and is their right.
* Press release…
Governor JB Pritzker signed House Bill 2746, the Know Before You Owe Private Education Loan Act, into law. The legislation aims to provide potential student borrowers with critical information, allowing them to make informed decisions about how to responsibly finance their education. The bipartisan legislation passed unanimously in both chambers of the Illinois General Assembly.

"Since the beginning of my administration, I have focused on ensuring our students of all backgrounds have the resources and support they need to achieve their educational goals. This legislation builds on those efforts by providing students with the information they need to be confident in their borrowing decisions," said Governor JB Pritzker. "Determining the best financial path to achieve a higher education degree can be daunting and the Know Before You Owe Private Education Loan Act will help build transparency in that process for our young people and their families."

"For millions of student loan borrowers, the struggle of making loan payments has been exacerbated by the COVID-19 pandemic's economic impact," Attorney General Kwame Raoul said. "Students should not be faced with a lifetime of debt because they were unaware they were eligible for federal aid. I appreciate Governor Pritzker's signing this legislation that will protect borrowers and give my office the tools to better address the student loan crisis."

HB 2746 requires private educational lenders to work directly with higher education institutions to determine the enrollment status of a potential borrower, as well as financial assistance available to them. Private lenders must also file quarterly reports with the Illinois Department of Financial and Professional Regulation and the Student Loan Ombudsman. Illinois higher education institutions are required to certify with the Illinois Board of Higher Education and the Illinois Community College Board that the provisions outlined for lenders in the legislation are being followed.
* Press release yesterday…
Today, Governor JB Pritzker signed Senate Bill 1840 which advances health equity by lowering costs and improving access to care for low-income and uninsured residents.

"I'm proud to sign this legislation that will expand access to medical care for all our Illinois residents," said Governor JB Pritzker. "Illinois is taking yet another step toward expanding health equity and ensuring that cost is not a barrier to receiving vital medical services."

"Cook County is grateful to Senator Hunter, Representative Lilly and Governor Pritzker for the passing and signing of SB 1840," said Cook County Board President Toni Preckwinkle. "This historic piece of legislation will improve the process required by hospitals to screen and connect uninsured patients to life-saving resources and financial assistance programs, and provide increased transparency surrounding hospital community benefits reports. By opening up new doors for our most vulnerable residents and infusing a new level of transparency into our system, this law will have a positive impact that will be felt throughout Cook County for years to come."

"Expanding access to health care includes improving hospital community benefit plans," said State Senator Mattie Hunter (D-Chicago). "This measure offers patient-centered changes and increased options for affordable care, which is crucial to bring equity to our communities."
* Capitol News Illinois…
He also signed House Bill 2784 to create a mental health first responder system in coordination with an emergency mental and behavioral health phone system that was created by federal law.

The Division of Mental Health of the state's Department of Human Services is preparing to coordinate mental and behavioral health services to all Illinoisans as part of the federally mandated adoption of the 988 phone number. The number is expected to go online by July 2022.

The new law will require 911 call center operators to coordinate with the mobile mental and behavioral health services that are being established through the Division of Mental Health, which is also establishing regional advisory committees in each Emergency Medical Services region.

Pritzker has signed more than 570 bills thus far and vetoed a handful.
Beyond the governor's race, Republicans will have an opportunity to show if they can do this in the open race for Illinois Secretary of State. Though long a stepping-stone to higher office, the secretary of state's office is above all else a customer service-based institution.

Two Republican candidates linked to the race — state Rep. Dan Brady, R-Bloomington, and state Rep. Tom Demmer, R-Dixon — have each emphasized improving the functions of the office when discussing their potential future plans.

"I think you really have to talk about listening to what people care about, what they think is important, and try to respond to those needs," Demmer said. "Sometimes, I think that there can be some complacency from Democrats who think 'well, this is what got us here, so let's stick with it.' And the reality is, more people — Republicans, independents and Democrats — are looking for something different out of state government. And so I think that's the opportunity that we have."
* Burt Odelson won an Illinois Supreme Court case this week…
The central issue in this case is whether the appellate court erred in holding that Roger Agpawa was not a qualified candidate for mayor of the City of Markham due to a 1999 federal felony mail fraud conviction, even though he obtained a document purporting to restore his citizenship rights from then-Governor Bruce Rauner in 2018.

For the following reasons, we reverse the judgment of the appellate court.
* Press release…
Today, the International Brotherhood of Electrical Workers (IBEW), Locals 51, 146, 193, 309, 601 and 649, announced their endorsement of Nikki Budzinski in Illinois' 13th Congressional District. The IBEW represents working men and women throughout the 14 counties in the 13th Congressional District.

Nikki's parents taught her the importance of family, community, and service to others. From her grandpa, a union painter, she saw how unions built and sustained the middle class. From her grandma, a public-school teacher, she learned the value of a good education. After graduating from the University of Illinois at Urbana - Champaign, Nikki traveled the country fighting to get hard-working people the pay and workplace protections they deserve while working with the IAFF firefighters union and UFCW.

Bobby Wedell, Business Manager of Local 51, said: "We need allies like Nikki in Congress to make sure we are supporting and creating good union jobs in the 13th Congressional district. Nikki is a tireless advocate for working families and the men and women of the IBEW will be well represented by her in Congress."

Budzinski made the following statement: "I'm humbled to earn the support of IBEW Locals 51, 146, 193, 309, 601, 649 and their members. As the granddaughter of union members fighting for working families is something that's always been important to me. In Congress, I'll put working people first and be an ally to make sure the labor movement is ready to grow into the 21st Century economy."
* Politico…
Cook County Commissioner Sean Morrison, who was vaccinated earlier this year, has tested positive for Covid-19 and is experiencing mild symptoms, he said in a statement released Wednesday. Morrison is remaining quarantined at home but is continuing his duties remotely and is in regular communication with staff. Morrison's wife, a registered nurse, and two daughters have both tested negative but are also quarantined. Morrison attended last week's events at the state fair, including an indoor meeting of Republican county leaders.
* More…
* 'It's a new frontier': Lake County treasurer among the first Illinois political candidates to accept campaign donations of Bitcoin, Dogecoin and other cryptocurrencies

* Republican Glen Evans running for Illinois state Senate

* Jim Dey: Looks like Dems hold winning hand on redistricting

* Fired transgender Pritzker campaign worker can't continue discrimination suit vs Pritzker camp

* Ethics Board Warns Chicago Officials: Think Twice Before Creating Legal Defense Fund
* Daily Herald on August 17…
A pair of McHenry County mothers are suing Gov. J.B. Pritzker, claiming the mandate requiring their children to wear face coverings at school is an invasion of privacy, among other allegations.

In the lawsuit filed Aug. 9, Laura Murray and Christine Polheber are seeking injunctive relief from the governor's Aug. 4 mandate that requires students, teachers and staff to wear masks in school regardless of vaccination status. […]

The case has since been transferred to Sangamon County, along with "numerous cases filed statewide" challenging the governor's emergency authority, according to a motion filed by the Illinois attorney general's office. […]

Through attorney Lance Ziebell, however, the women argue there is no disaster or public health emergency allowing Pritzker to assert emergency powers. The women also claim that mandating their children to wear face coverings at school is an invasion of privacy and a violation of their rights under the Illinois Constitution.
* From the judge yesterday…
21-CH-79 Murray v. Pritzker

Matter comes on for hearing on the plaintiffs' motion for entry of a temporary restraining order. Plaintiffs appear through counsel, Mr. Lance Ziebell. The defendant appears through counsel, Mr. Thomas Verticchio. Arguments heard. After considering the record and arguments of counsel, the court finds that plaintiffs have not met their burden in satisfying all four necessary elements necessary for the issuance of a temporary restraining order. The motion is denied. A written order is to follow.

As to the motion to dismiss filed by defendant. Plaintiff has 14 days to file a written response, on or before September 8, 2021. Defendant has until September 20, 2021 to file a reply in support of the motion to dismiss. Courtesy copies of all pleadings filed are to be emailed to the court. Oral arguments on the motion to dismiss is set for October 1, 2021 at 1:30 p.m. by Zoom. The court will send a Zoom invite with remote hearing instructions that must be followed. A status conference is scheduled for October 14, 2021 at 11:30 a.m. by Zoom. A hearing on the Motion for a Preliminary Injunction is scheduled for November 9, 2021 at 1:30 p.m. and continuing on to November 10, 2021 at 9:00 a.m. The clerk is directed to send a copy of the docket entry to the attorneys of record.
* As of early this week, the Senate wasn't planning to mandate tests for the one-day special session. But things change. The Senate President's office told me today that these requirements will also apply to staff, members and lobbyists…
Good afternoon,

The Senate will return for a special session to consider updates to the legislative maps on Tuesday, August 31 at noon.

With the Delta variant and resurgence of COVID cases, there will continue to be safety protocols in place, which I have outlined below.

Notably, you may now take a PCR test 72 hours before attending session and present your results for access. SHIELD testing will also be available in the Stratton Building on Monday, August 30, from 2-8 p.m.

If you have any questions about these measures or building access, please email me at xxxxx or call xxxx.

COVID-19 testing

Everyone, regardless of vaccination status, must present a negative COVID-19 test to access Senate offices or the Senate chamber. You may take a SHIELD saliva test in the C Section of the Stratton Building on Monday, August 30, from 2-8 p.m.

Please utilize the current SHIELD Point N Click site (shieldilportal.pointnclick.com) using your existing log-in information to schedule an appointment. The appointment time does not matter.

However, you may also present a negative PCR test result. You may not use a rapid test.

The PCR test should be taken within 72 hours of attending session. Because these results often take 2-3 days to come back, it is recommended that you seek a test on Saturday, August 28. Tests from Sunday (8/29) or Monday (8/30) will also be accepted, but please bear in mind that it is extremely unlikely you will get a result in time if you test 24 hours in advance.

Masks

Masks are currently required in all areas of the Capitol Building, regardless of your vaccination status. Your mask should be worn covering your nose and mouth.

Social distancing

Social distancing of 6 feet should be observed whenever possible. There will continue to be a limit of three (3) reporters in each press box and three (3) cameras in the TV gallery, with one spot reserved for Blue Room Stream.

Senate chamber access

Access to the press boxes and television gallery will be limited to media with valid 102nd General Assembly press credentials. Other media may utilize the public galleries while observing social distancing and masking protocols.

Liz Mitchell
Deputy Press Secretary
Senate President Don Harmon
* ILGOP…
Today, Politico did a great job outlining the team of Madigan loyalists and lawyers generally unknown to the public that are representing Democrat leaders - House Speaker Chris Welch and Senate President Don Harmon - in their fight to preserve their politician-drawn redistricting map.

Shia Kapos at Politico…

"The legal team representing the Democratic-led General Assembly on the remap includes attorneys who have for years worked for the former House speaker."

"Michael Kasper, the noted election lawyer and former general counsel to Madigan when he was speaker, is heading up the legal team.

"Other attorneys are Heather Wier Vaught, who was chief counsel to Madigan and represented him when his team was accused of ignoring sexual harassment claims. Adam Vaught, her husband, is also on the General Assembly's legal team and has represented Madigan, too, including when the former speaker was sued for allegedly orchestrating sham political candidates. And Devon Bruce is with the well-connected Power Rogers law firm, which has donated to Madigan's campaign fund."

Madigan's team has a long history of using the legal system to keep their leader's iron-grip on power. Kasper was lead counsel and argued before the Illinois Supreme Court to strike down the 2016 Fair Maps citizen referendum. The 4-3 majority decision was written by Madigan's Favorite Judge, Tom Kilbride, who Madigan spent millions to put on the Supreme Court, and the plaintiff in the case was John Hooker, former ComEd lobbyist who was indicted last November in the ongoing federal corruption probe.

The Madigan Machine is not dead - it's leader is simply within the shadows. Why else would Mike Madigan's top lawyers and longtime friends be the lead litigators for the House and Senate remap team? They're protecting their investment as they've done for years.

ILGOP Spokesman Joe Hackler: "There could be a world where Mike Madigan and his remaining lieutenants do not infect every part of state government with their corrupt tentacles. But Illinois Democrats don't want that world. Democrats are still loyal to the man who brought them into power and the people of Illinois suffer the consequences every day."
* Something not mentioned in the above article, nor broached by the ILGOP in its press release is that the House Republicans are using Mayer Brown for legal counsel on the redistricting case. Mayer Brown was on the team that defended House Speaker Madigan in the lawsuit brought (and lost) by Jason Gonzalez.
Madigan was like McDonald's. Just about everyone worked for him at some point.
…Adding… Good point from Rep. Walker in comments…
Only a few attorneys are experienced experts on Illinois laws regarding redistricting. If they were defending the Dems' map ten years ago, who else would they be?
* I have two (count 'em) dental appointments today and the first one is in a few minutes, the next is late this afternoon. How about let's talk baseball?
* Press release…
The Illinois Retail Merchants Association (IRMA) has released the following statement regarding Gov. J.B. Pritzker's reinstatement of a statewide indoor mask mandate:

"Retailers remain dedicated to the health and safety of employees, customers and our communities. We support the governor's mask mandate as a measured approach that ensures shoppers continue to have access to needed goods, food and medicine with minimal disruption," said Rob Karr, president and CEO of IRMA. "We ask all customers to abide by this public health order in a respectful manner. We strongly encourage local law enforcement agencies to promptly assist us in ensuring employees are not subjected to verbal and physical abuse as we have seen in the past and call on local health departments to enforce this order in uniform fashion. We must all work together to ensure the health and safety of our communities."
Republican responses are here. This post will likely be updated.
*** UPDATE 1 *** Another one…
The Illinois Manufacturers' Association (IMA) released the following statement regarding efforts to slow the spread of the coronavirus:

"The scientific data is irrefutable: vaccines and mask wearing are safe and effective ways of slowing the spread of the deadly virus. These lifesaving vaccines were created by American manufacturers under federal oversight and are the best way to protect our communities and restore our economy," said Mark Denzler, President and CEO of the Illinois Manufacturers' Association. "The IMA and our members across the state support vaccinations and mask wearing to slow the spread of this virus. We cannot cede the progress that has been made in restoring our nation's health and economy."
…Adding… I asked an IMA spokesperson if this means the group specifically supports the new mandates…
The statement speaks for itself, but to answer your question – Yes
*** UPDATE 2 *** HCCI…
The Health Care Council of Illinois (HCCI), representing over 300 skilled nursing facilities, 55,000 residents and 100,000 employees in Illinois, issued the following statement regarding Gov. J.B. Pritzker's announcement today to require COVID-19 vaccinations for all healthcare workers, which HCCI called for earlier this week:

"We support Gov. Pritzker's move to require all healthcare workers receive the COVID-19 vaccine and call on those implementing the Governor's order to ensure that all segments of the industry are covered, including home and community-based services.

Operators of Illinois' skilled nursing facilities have spent countless hours formulating plans to educate, encourage and collaborate with residents and staff to get vaccinated, from working one on one with unvaccinated employees, employing infectious disease experts to answer questions and concerns about the vaccine, and partnering with trusted community groups to deploy information campaigns about the importance of the vaccines.

With the rise of the highly contagious Delta variant, we recognized bolder action was necessary to protect the most vulnerable.

The vaccine is the most effective way to put an end to this pandemic. This mandate is a step in that direction.

We are committed to continuing to collaborate with our state leaders, regulatory agencies, unions, workers and community partners to identify the best strategies to keep our patients safe and healthy."
*** UPDATE 3 *** Press release…
The Chicagoland Chamber of Commerce released the following statement regarding the statewide mask mandate:

"With COVID-19 cases rising across Chicago and the state of Illinois, we must do everything in our power to protect ourselves, those around us, and our path to economic recovery. Businesses are in a unique position to change the trajectory of this pandemic, which is why the Chicagoland Chamber of Commerce has called on businesses to review and implement policies that require all employees be vaccinated before returning to the worksite, unless a valid health or religious reason is presented. Masks are an essential tool in preventing the spread of the virus, and we support the Governor's indoor mask order as a common-sense way to help ensure businesses stay open and are able to get people back to work," said Jack Lavin, president & CEO, Chicagoland Chamber of Commerce.
*** UPDATE 4 *** IPHA…
Tom Hughes, Executive Director of the Illinois Public Health Association (IPHA), released the following statement on Thursday:

"As local health providers, we know that vaccinations and wearing a mask are two effective ways to help end this global pandemic. On behalf of the 88 certified local health departments our association represents, we strongly support the new mask and vaccination mandates issued by the governor today to help protect the health and safety of the people of Illinois against this highly transmissible COVID- 19 variant.

"Our state is facing a rapid increase in COVID-19 cases, and are now straining the demands placed on hospitals, healthcare workers and those charged with protecting the public health, including members of our association. This new surge of cases and hospitalizations has resulted in just one ICU hospital bed available for a region of Illinois covering 20 counties, and more children being hospitalized for COVID-19 than in previous surges. These alarming facts show that something must be done immediately to prevent hospitals from becoming overwhelmed and unable to care for new patients and to protect those that remain vulnerable.

"Members of our association has been on the frontline of protecting the public's health since the start of the COVID-19 pandemic last year. We strongly support these new mandates that will help save many lives across our state and prevent more hospitalizations. The vaccine is a safe and proven way to help end this pandemic and to prevent future mitigation efforts from being placed on regions in Illinois. We strongly encourage members of the public to support these efforts and get vaccinated to protect their health and stop the spread of COVID-19."
*** UPDATE 5 *** IHA…
The Illinois Health and Hospital Association and the Illinois hospital community continue to urge all individuals, including hospital employees, to get vaccinated against COVID-19 to safely protect themselves, their families and their communities against severe disease, long-term health consequences of infection and possible death.

COVID-19 vaccines have been proven to be safe and effective. The U.S. currently has the safest vaccine supply in its history. The nation's long-standing vaccine safety system ensures that vaccines are tested and safe.

From the outset of the administration of these life-saving vaccines that began last December, hospitals across the state have been a critical source of vaccines for their patients, the public and communities.

Over the past few months, many hospitals and health systems in Illinois have put in place mandatory vaccination policies for their healthcare employees.
As the prevalence of infection from the Delta variant grows, vaccination is increasingly important to protect the public by mitigating the spread of this variant and preventing hospitalizations and deaths.

We believe the Governor's vaccination requirement is another important tool to assist hospitals in their ongoing efforts to encourage vaccination of their staff as they work to address their local workforce needs while ensuring the health and safety of their employees, patients, and communities.
* Press release…
Governor Pritzker Announces COVID-19 Vaccine Requirement for Healthcare Workers, Pre-K-12 Teachers and Staff, Higher Education Personnel and Students to Slow Spread of Delta Variant

All Illinois Residents Required to Wear Masks Indoors, Regardless of Vaccination Status

Downstate Communities with Lower Vaccination Rates Experiencing Sharp Increase in COVID-19 Hospitalizations

CHICAGO – As COVID-19 infection and hospitalization rates across the state continue to increase, particularly in downstate communities with the lowest vaccination rates, Governor JB Pritzker and IDPH Director Dr. Ngozi Ezike today announced vaccination requirements for individuals in high risk settings. All healthcare workers, including nursing home employees, all pre-k-12 teachers and staff, as well as higher education personnel and students will now be required to receive the COVID-19 vaccine. Employees in all of these settings and higher education students who are unable or unwilling to receive the vaccine will be required to get tested for COVID-19 at least once per week, and DPH and ISBE may require increased testing in certain situations.

The Governor and Dr. Ezike also announced a statewide indoor mask mandate for all Illinois residents, regardless of vaccination status, as COVID-19 cases and hospitalization rates continue to increase. The masking requirements are effective Monday, August 30th.

The public health requirements come as regions with low vaccination rates continue to see a surge of COVID-19 hospitalizations. In IDPH region 5, Southern Illinois, with the lowest vaccination rate in the state at 44 percent, only 3% of ICU beds are available as the region experiences the highest case rate in the state. Since August 1st, local health departments across the state have reported 27 COVID-19 outbreaks at schools and currently hundreds of schools are being monitored for potential COVID-19 exposures.

"The quick spread of this disease in Illinois and across the country is holding us all back from the post-pandemic life we so desperately want to embrace, and it's harming the most vulnerable among us," said Governor JB Pritzker. "We are running out of time as our hospitals run out of beds. Vaccination remains our strongest tool to protect ourselves and our loved ones, to restore post-pandemic life to our communities, and most crucially, to maintain our healthcare system's ability to care for anyone who walks through their doors in need of help – and Illinois is taking action to keep our communities safe."

"Unlike the wave of COVID-19 we saw earlier this Spring, we're now seeing our hospital resources stretched thin with some areas of Illinois reduced to only a handful of available ICU beds," said IDPH Director Dr. Ngozi Ezike. "The vast majority of hospitalizations, as well as cases and deaths, are among those who are unvaccinated. This has become a pandemic of the unvaccinated. We have safe, proven, and effective tools to turn the tide and end this pandemic. But until more people are vaccinated, masks are the order of the day and will help us slow the spread of the virus."

COVID-19 Vaccination

From the beginning of the COVID-19 pandemic, the Pritzker administration has implemented policies and guidelines in accordance with the Centers for Disease Control and Prevention (CDC) to slow the spread of the virus and protect the health and safety of residents. With the Delta variant causing a rapid increase in infection rates across the state and nation and downstate hospitals in Illinois approaching capacity for hospital and ICU beds, employees in high risk settings will now be required to receive the vaccine or be subject to routine testing. Earlier this month, the administration announced that employees at all State-run congregate facilities would be required to be vaccinated.

To lower the number of breakthrough cases that require hospital admission, the majority of whom are 65 and over or immunocompromised, all healthcare workers, including workers at public and private nursing homes, must get vaccinated. Teachers and staff at pre-k-12 schools as well as personnel and students at higher education institutions are required to receive the vaccine. Workers and students in applicable settings must receive the first dose of a two-dose vaccination series or a single-dose vaccination by September 5, 2021. Second doses of the vaccine must be received by 30 days after the first dose.

Workers who do not receive the vaccine or those who opt out for medical reasons or based on a sincerely held religious belief must follow a routine testing schedule to detect cases early and prevent further spread. Testing will be required a minimum of once per week in schools and healthcare facilities. The frequency of testing may be required to increase in the event of positive cases.

Healthcare, school workers, and higher education personnel and students attending in-person classes who do not provide proof of vaccination will be prevented from entering healthcare and educational facilities unless they follow the required testing protocol.

The COVID-19 vaccine has been available for healthcare and nursing home workers since December 15, 2020, and open to teachers since January 25, 2021. To increase ease of access for all residents, the Pritzker administration established 25 mass vaccination sites across the state that were run by members of the Illinois National Guard (ILNG) who administered 1,869,755 shots to residents across the state. Additionally, teams of ILNG members supported over 800 mobile vaccination clinics across the state on top of an additional 1,705 state-supported mobile sites that focused on communities hardest hit by the pandemic, young residents, and rural communities.

The administration also launched vaccination clinics in communities experiencing high case rates. Clinics were set up in central locations within communities including schools and houses of worship and were also present at community events and, most recently, the Illinois State Fair and upcoming Du Quoin Fair.

Building on these efforts to make access to the COVID-19 vaccine equitable and easy, the administration has offered support to every school district in the State in the form of free mobile vaccination events. So far, the administration has hosted 138 school-focused event with another 163 scheduled for the coming days and weeks.

Mask Requirement

To slow the spread of the highly transmissible COVID-19 Delta variant, all Illinois residents over the age of two will be required to wear a mask in all indoor settings, effective Monday, August 30th. The requirement is applicable to both vaccinated and unvaccinated residents statewide. Countless studies have demonstrated the efficacy of masks at preventing the spread of COVID-19, with the CDC identifying at least 10 that confirm the benefit of universal masking via community level analyses – including two U.S. states – in addition to observational, economic, epidemiological, and cross-sectional survey studies. A small sampling can be found below:

* "Community Use of Face Masks And COVID-19: Evidence From A Natural Experiment of State Mandates In The US" found an estimated overall initial daily decline in new diagnoses of 0.9% grew to 2.0% at 21 days following mandates.

* "Trends in County-Level COVID-19 Incidence in Counties With and Without a Mask Mandate — Kansas, June 1–August 23, 2020" studied a Kansas executive order requiring mask wearing in public spaces from which county authorities could opt out. The estimated case rate per 100,000 decreased by 0.08 in counties with mask mandates but increased by .11 in those without.

* "Association of Country-wide Coronavirus Mortality with Demographics, Testing, Lockdowns, and Public Wearing of Masks" evaluated 169 countries on per-capita mortality on potential predictors including age, gender, obesity prevalence, temperature, urbanization, smoking, duration of the outbreak, lockdowns, viral testing, contact-tracing policies, and public mask-wearing norms and policies. Duration of mask wearing by the public was negatively associated with per-capita mortality from COVID-19.

While face coverings are not required outdoors, masks are strongly encouraged in crowded outdoor settings like festivals and concerts as well as for activities that require close contact with people who are not vaccinated.

These latest vaccine, testing, and mask requirements are a floor in the state's efforts to prevent the spread of COVID-19. Employers, schools, and other organizations can take additional health and safety steps to help bring an end to the ongoing pandemic. Governor Pritzker previously announced more stringent requirements regarding vaccination and testing for state employees at state run 24-7 congregate living facilities to protect the state's most vulnerable residents. Leaders in the private sector are encouraged to follow suit.

Vaccination is the key to ending the COVID-19 pandemic and returning to normal life. All Illinois residents over the age of 12 are eligible to receive the COVID-19 vaccine at no cost and proof of immigration status is not required to receive the vaccine. To find a vaccination center near you, go to vaccines.gov.
* Press release…
Statement of AFSCME Council 31 Executive Director Roberta Lynch:

"AFSCME has been working steadily to encourage every union member and retiree to get vaccinated to protect themselves, their family and their community.

"In discussions around vaccine requirements with the state and other employers, we have urged exactly the kind of flexible, vaccinate-or-test requirement that Gov. Pritzker and teacher unions are announcing for Illinois teachers today. It is also the same vaccinate-or-test requirement that President Biden has made of federal employees.

"The Pritzker Administration should now work collaboratively with our union to develop a similar flexible approach for state employees."
*** UPDATE 1 *** Maybe Council 31 can do something about this sentiment at Fox Developmental Center in Dwight, where this sign was posted…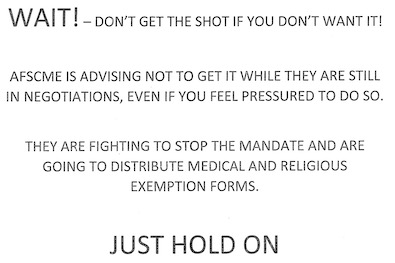 *** UPDATE 2 *** AFSCME Local 3605 president Kelley Beal's Facebook page…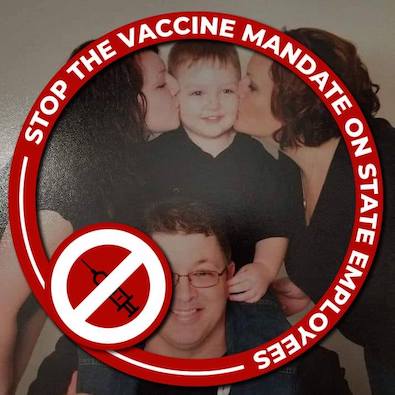 *** UPDATE 3 *** Jordan Abudayyeh…
This administration has worked – and continues to work – diligently to ensure there is a comprehensive testing regimen in state run congregate care facilities, but with unvaccinated employees transmitting the virus to vulnerable residents, it is clear that we must do more to protect our most vulnerable and those in our care and custody by requiring vaccination to prevent the spread of this deadly virus.
* Press release…
Illinois Federation of Teachers (IFT) President Dan Montgomery and Illinois Education Association (IEA) President Kathi Griffin issued this joint statement welcoming Governor Pritzker's vaccine mandate announcement for educators and school staff.

"Since the beginning of the pandemic, our unions have worked hard to protect students, teachers, staff, and communities by calling for safe working conditions and health mitigations to help stop the spread of COVID. We know the best place for students to learn is in classrooms made safe through public health strategies that work. With the Delta variant surging, case numbers in Illinois on the rise, and more children now getting sick, the Illinois Federation of Teachers (IFT) and the Illinois Education Association (IEA) support Governor Pritzker's vaccine mandate for educators and staff in K-12 and higher education.

"The surge of COVID-19 cases in our state reminds us that this vaccine mandate is a public health imperative. To implement it properly, widespread education and access to vaccines will be essential. For members who cannot, or will not, get vaccinated, we are glad to see the governor has implemented weekly COVID testing.

"We are committed to helping our locals negotiate the terms and implementation of the vaccine mandate and other safety policies in school districts, colleges, and universities statewide. Collaborative discussions between our unions and employers are critically necessary to ensure that our members' concerns are addressed and that they have a voice in how safety policies are applied.

"The vaccine mandate will help provide the greatest possible level of safety for those who learn and work in our schools, colleges, and institutions, especially as part of a layered approach that includes face masks, physical distancing, regular handwashing, adequate building ventilation, and consistent COVID testing of students, teachers, faculty, and staff. Now that these same mitigation factors will apply to higher education institutions, it will help our state keep our young adults and those who teach and work with them, safe and healthy.

"As educators, we understand the vital role we play in providing accurate, science-based information about COVID and vaccinations to combat myths and misinformation. Here is the truth: Vaccines work. Vaccines are safe. And vaccines save lives. The action taken today by Governor Pritzker is what we need so our school year can continue in person. It's the best course of action for the education of our state's youth."
* Letter to the governor from House GOP Leader Jim Durkin…
August 26, 2021

Governor J.B. Pritzker 207 State House
Springfield, II 62706

Governor Pritzker,

When your experts told you to lift your mask mandate back in May of this year, I too was ready for the pandemic to be over. When you started running election commercials declaring 'mission accomplished', I too was hopeful that the worst was behind us. I thought of all the residents of our state and country who lost their lives during the last year and a half, especially our heroes in the LaSalle Veterans' Home, and prayed for them and their loved ones.

But when your commercial buy changed, now touting your words from over a year ago that you 'would put the full weight of the state behind the pandemic response', I remembered the 18 months of your go-it-alone attitude. This past year, you ran the length of the field with mandates and executive orders without the General Assembly.

That is why your phone call last night asking for suggestions on how to get this new wave of the pandemic under control was so unexpected. I would apologize for thinking you were being insincere with that call asking my advice, but immediately after hanging up, I received a breaking news update from the Chicago Sun-Times that you had, once again, laid out your plan without input.

You are willing to negotiate with your biggest supporters, the public sector unions, on the pandemic response, but still will not listen to the General Assembly or the residents of Illinois most impacted by your actions. I will reiterate my plea on our call yesterday to please make your experts available to the General Assembly so that we can examine their data and plans, review the results of your many previous mandates and together plot a course of action that will work. You have the authority to call for a Special Session of both Chambers to address this very critical issue, and I am imploring you to do so immediately .

Additionally, instead of wasting taxpayer dollars on secret lotteries and giveaways, direct that money to buying KN95 masks for children in schools that still cannot receive the vaccine. That would lift a financial burden on families while also providing real, tangible results.

Regards,

Jim Durkin
House Republican leader
82nd District

P.S. Your administration is still stalling our requests to receive documents about your Administration's failures at the LaSalle Veterans' Home. The sooner those documents are turned over, the General Assembly can begin a thorough review of the repeated shortcomings that led to the deaths of 36 veterans and make the necessary adjustments to the state's laws to ensure that history does not repeat itself.
Notice that he didn't take a side on the actual mandates.
*** UPDATE 1 *** Gov. Pritzker was asked about this during today's press conference…
I have always been available to the >eader for any calls that he wants to make with ideas, and to any other Republican legislator, Democratic legislator. And when the legislature talks to me I listen and I have asked for ideas from both sides of the aisle. People, as you recall, early on in COVID-19 in this pandemic, I worked with a Republican legislator to ultimately put in place a mask mandate for the state back in May. I continue to listen to try to adjust things and make them work for all parts of our state. […]

I'm always open to hearing formal input from the legislature and I think that he should go do whatever it is that he needs to do. They're a co-equal branch of government, they should, what Republicans can call hearings and if they don't, you know, if they want to invite Democrats to it they should and can if they don't want to, they can still hold hearings. I'm sure you all will cover them. And, you know get ideas. I have asked all along here for any new ideas that anybody has about how to bring down the number of hospitalizations, how to bring down the spread of COVID, and I've listened when people have offered up those ideas.
Please pardon all transcription errors. Also, the GOP can't call a special session.
…Adding… Press release…
Paul Schimpf, Republican candidate for Governor of Illinois, issued the following statement in response to Pritzker's mask mandate issued today:

"JB Pritzker has lost all moral authority to lead on pandemic response by failing to follow the rules he set for others. If Democrats believe our current situation is so dire to require a mask mandate, they should take up the issue during their legislative session that is scheduled for August 31st. Absent legislative action, these executive edicts are yet another divisive act by a failed governor who believes he wields unlimited power."
*** UPDATE 2 *** Letter from the governor…
Leader Durkin,

I appreciate that as the leader of Illinois House Republicans, you support the real and tangible results of students wearing masks in schools. As you know, we have offered surgical masks to schools throughout the state over the course of the pandemic. I appreciate your request to additionally furnish KN95 masks to schools; my administration will immediately reach out to superintendents to inform them that KN95 masks are available at their request through our normal PPE distribution channels.

I will continue to do everything within my authority as governor to keep the people of our state safe, and as I have said many times, in addition to those necessary steps that doctors have recommended, I welcome any further ideas from you or members of your caucus.

I encourage you and members of your caucus to continue to bring ideas forward, and to propose legislation that would help save lives, end this pandemic and pass in the General Assembly.
…Adding… Gary Rabine…
Gary Rabine, candidate for Governor is issuing the following statement on the Governor's latest act of authoritarianism in his statewide order demanding all employees at schools to get vaccinated and a new statewide indoor mask mandate.

"It is unconscionable that the Governor would mandate all school employees to be vaccinated. It is not the government's role to make healthcare decisions for its citizens. This is a dictator-like government overreach, and it is one we, as a society, must stand up to adamantly oppose. School employees should not, as a condition of employment, be forced to be vaccinated. They as individuals should be free to make healthcare decisions for themselves.

Governor Pritzker, who comes from royalty-like wealth, seems to think the way to solve this problem is to play Chief Health Expert and King. We are not going to stop COVID-19 with authoritarian rules. People need to be free to make their own healthcare decisions. If you want to wear a mask – wear a mask. But forcing people to comply with these arbitrary rules is not accomplishing anything but stoking fear, anger and resentment."
Individuals should be free to make healthcare decisions for themselves, but this is not about them. It's about everyone around them, and those around them, and those around them, and…
* Center Square…
U.S. Rep. Rodney Davis, R-Taylorville, said no [school] district should have state or federal funding withheld over a mask policy.

"It's kind of mafia-esque," Davis said. "It's 'do it my way or we're going to hold back any funding that you may get from the state of Illinois.'"
* Also Rodney Davis…
"The National Children's Museum is a congressionally chartered museum, but they're the only one that has to pay rent to the General Services Administration (GSA), which an internal governmental, and you send money in between governmental agencies. They wanted rent from them when they couldn't be open for the last year and a half. So we made sure we gave him a break on that. But before we did, we made sure we made them take down from their website, any reference to Critical Race Theory and any reference to things that just defy people," said Davis.
* My memories of Julie all include her infectious smile and her wonderful laugh…
Julie Ann Starsiak (nee Kaptena) born into Eternal Life on August 19,2021 peacefully in her home. Beloved mother, grandmother, and cherished friend. Julie is preceded in death by her adored daughter Megan Starsiak. Julie is survived by her daughter Heather (Joseph) Kotlarz Jr. Cherished and loved by her four grandchildren Anne, Avanna, Joseph III, and Harry Kotlarz.

Julie had a heart of gold; she was generous, hardworking, and fun loving; if you met her, you would never forget her. Julie's presence at the Illinois Manufacture's Association, her undaunted tenacity as a lobbyist, and her inclination to Chicago and Illinois politics will be long remembered. Julie will always be remembered for her everlasting love and grace, her vibrant spirit, love for animals, adventurous endeavors, supporting her four grandchildren often with never-ending advice, gourmet dinners and late nights with friends. Julie joins her daughter, Megan, and will be forever and always an angel among us.

A Celebration of Life Memorial Mass will be celebrated on August 30th at 10am by Monsignor Kenneth Velo at Old St. Patrick's Church, Chicago, Illinois.
She had many, many friends. But the loss of her daughter weighed heavily on her. RIP, Julie.
* Tribune…
Illinois Gov. J.B. Pritzker is expected to double down Thursday on his efforts to deal with a resurgence of the COVID-19 pandemic's delta variant as schools reopen by requiring all educators from kindergarten through college to be vaccinated.

Additionally, Pritzker plans to require a statewide mandate of masking of people age 2 and above in indoor locations, according to two sources familiar with the governor's actions, as the variant has led to increasing hospitalizations among younger people and the unvaccinated, along with increasing reports of "breakthrough cases" among those who are vaccinated.
* Sun-Times…
The Illinois Federation of Teachers and the Illinois Education Association, the two statewide teachers unions, welcomed the vaccine mandate to help "provide the greatest possible level of safety" for in-person school.

"The surge of COVID-19 cases in our state reminds us that this vaccine mandate is a public health imperative," the unions said in a joint statement. "To implement it properly, widespread education and access to vaccines will be essential. For members who cannot, or will not, get vaccinated, we are glad to see the governor has implemented twice weekly COVID testing."

The labor organizations said they would work with their locals to negotiate the terms and implementation of the mandate in districts, colleges and universities.
…Adding… Now that we have details, let's move this conversation here
AFSCME discussion is here
Teachers here
GOP responses here
Other responses here
Comments on this post are now closed.
* Related…
* Two District 300 students hospitalized, 48 test positive for COVID-19

* GOP bans on school masks draw federal civil rights challenges: The legal challenges — filed separately in recent weeks against Texas, Florida and South Carolina — argue that those states' bans on universal masking in schools run afoul of federal anti-discrimination laws meant to protect children with disabilities.
Open thread
Thursday, Aug 26, 2021 - Posted by Rich Miller