* According to AdImpact, Richard Irvin spent $3.44 million this week on TV spots. The other side spent a total of $4.4 million, however: The DGA spent $2.25 million, Darren Bailey spent $1.57 million and Dan Proft's committee spent $621K…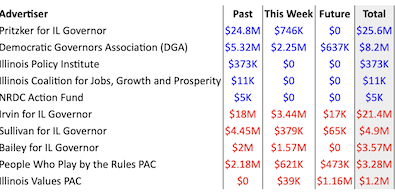 * The Hill…
The Democratic Governors Association has spent millions in both Illinois and Nevada, where incumbent governors are seeking reelection, in an apparent effort to weaken their likely Republican opponents.

"The DGA is wasting no time in educating the public about these Republicans," said Christina Amestoy, the group's senior communications advisor. "These elected and formerly elected officials want to deceptively retell their histories, and we're just filling in the gaps."

So far, the DGA has dropped $8.4 million on television ads across Illinois, including more than $4 million in the Chicago market alone. Those ads target Irvin, the leading Republican ahead of next month's primary, in which he faces state Sen. Darren Bailey (R) and a handful of other contenders. The winner of the GOP primary will face Gov. J.B. Pritzker (D) in November.
* Mark Maxwell…
Irvin briefly met with reporters at a campaign stop in Bethalto on Thursday morning. Thirteen times, Irvin dodged specific and direct questions about whether he voted for Trump. Twice, he dodged questions about whether he was a more conservative candidate than Darren Bailey.
* A group called Illinois Values PAC is spending big, big bucks on this ad blasting US Rep. Mary Miller…
But Dick Uihlein is helping bump up Club for Growth's coffers with a million bucks as it goes all-in for Miller (no relation)…
NEW FEC $100K+ CONTRIBUTIONS
CLUB FOR GROWTH ACTIONhttps://t.co/XJ7yizLITx pic.twitter.com/Hu0Rm7cUFv

— CATargetAlt (@CATargetAlt) May 20, 2022
…Adding… Notice the $100K from Alex Melvin, who has been a major past supporter of Mary Miller.
* Daily Herald on the GOP primary in Democrat Lauren Underwood's district…
During an online forum Thursday night, all five Republican candidates for Illinois' 14th Congressional District seat criticized the U.S. House committee investigating last year's deadly assault of the U.S. Capitol.

One, Mike Koolidge, said there are much more pressing issues in the nation than determining exactly what happened on Jan. 6, 2021.

"We waste a lot of time talking about something from so long ago," said Koolidge, of Rochelle. "We need to move on."

The others criticized the committee for not having an equal number of Democrats and Republicans or for how the two Republican members — Rep. Adam Kinzinger of Illinois and Liz Cheney of Wyoming — were chosen.

"It's a sham and a fraud," said candidate James Marter of Oswego.
* Politico…
— Rep. Rodney Davis has been endorsed by 18 current and former central Illinois county sheriffs in his bid for the 15th Congressional District seat. He's also been endorsed by the Illinois Fraternal Order of Police.

— Jonathan Jackson, candidate for Congress in the 1st Congressional District seat, has been endorsed by Our Revolution Illinois, the state affiliation of the national, progressive political action organization that spun out of the Bernie Sanders presidential campaign of 2016.
* Back to the governor's race…
Today, the Irvin for Illinois campaign announced the Illinois Fraternal Order of Police Labor Council endorsed Aurora Mayor Richard Irvin and State Representative Avery Bourne in the Republican primary for Governor and Lieutenant Governor of Illinois. The endorsement adds to Irvin's growing list of support from law enforcement announced in the last few weeks including the Fraternal Order of Police Chicago Lodge No. 7 , Association of Professional Police Officers (APPO) and Illinois Troopers Lodge #41.
…Adding… I knew I was forgetting something…
Today, U.S. Congressman Sean Casten (D-IL) released his first TV ad of the cycle. The ad is part of the campaign's nearly 7-figure ad buy and will be seen on broadcast and cable channels across the 6th District.

With families facing high costs, this ad highlights Rep. Casten's work to address supply chain issues and high gas prices, all while remaining true to his core values of fighting the climate crisis and protecting a woman's right to make her own health care decisions. […]

Transcript
The last few years haven't been easy. Our homes have become our schools, our offices, and even our gyms. But it's time to get life back to normal, and that's why I'm working to free up the supply chain and get gas and prescription drug prices down. All while never losing focus on the fight against climate change. I'm Sean Casten—a scientist, a businessman, pro-choice, and a Democrat—and I approve this message.
The spot…
* More…
* Friday's Chicago Teachers Union election is its most contentious in years. With 3 slates, 'it's anybody's guess' who will win.

* Dargis campaign worker suspended after ethics complaint by 8th District GOP rival: While the Dargis campaign condemned Biebel's actions, it maintains there is a record of financial litigation involving Kopsaftis. The campaign did not accuse the real estate businessman of any criminal wrongdoing. The campaign provided a list that includes eight breach of contract cases from 1990 to 2009, Chapter 7 bankruptcies in 1996 and 2010, four foreclosures during the '90s, a civil judgment for debt in Cook County, a small claims case in McHenry County in 1990, a 1993 housing court case, a 1995 condemnation case, and a 1987 eviction for possession — a type of case in which a landlord aims to take back possession of a property.
9 Comments


























Sorry, comments for this post are now closed.