* A question that came up near the end of the governor's race was if challenger Sen. Darren Bailey had passed enough legislation. Well…
Is this anti-trans bill, which will obviously not advance any further, Bailey's token gesture to the nutters at Awake Illinois who supported him and Devore's failed campaigns? https://t.co/rFLD8cEkHm

— The People's Fabric (@peoplesfabric) November 16, 2022
The bill was filed during Transgender Awareness Week and currently has no co-sponsors. Synopsis…
Amends the School Code. Provides that, for interscholastic athletic programs or comparable programs supported from school district funds, a student's sex shall be the student's biological gender assigned at birth. Provides that, in determining a student's biological gender, a statement of a student's biological sex on the student's official birth certificate is considered to have correctly stated the student's biological sex at birth if the statement was filed at or near the time of the student's birth. Amends the Board of Higher Education Act. Provides that interscholastic athletic teams or sports that are operated by a public university must be expressly designated based on the biological sex at birth of team members. Provides that a statement of a student's biological sex on the student's official birth certificate is considered to have correctly stated the student's biological sex at birth if the statement was filed at or near the time of the student's birth. Provides that an athletic team or sport designated for females, women, or girls may not be open to students of the male sex. Provides that an athletic team or sport designated for males, men, or boys may be open to students of the female sex. Amends the Public Community College Act.
PBS…
At least 32 transgender and gender-nonconforming people have been killed in the United States in 2022, the Human Rights Campaign announced Wednesday in its annual report ahead of the Transgender Day of Remembrance. […]

Shoshana Goldberg, public education and research director for the HRC Foundation, said this year's report comes amid the largest recorded wave of anti-trans legislation at the state level, which she said has largely been fueled by disinformation and stigma.

Some bills sought to limit discussion of LGBTQ topics in schools, restrict gender-affirming health care, and prevent transgender children from playing on sports teams or using bathrooms that align with their gender identities.

Such bills, she said, fuel anti-LGBTQ sentiment by painting queer and transgender people as a risk to children and communities.
* In other news, here's WCIA…
Jazmine was laid off during the pandemic and needed money to pay her rent. So she got a loan from a pawn shop using her cameras and Macbook Air as collateral.

"Not only did they give me $800, but they also low balled me because I had to come back two days later, and I got another loan, both of them high APR rates of 150%, which I had no knowledge of, they never broke down what would happen," Jazmine, a social media influencer and digital content creator, said.

In 2021, the state passed the Predatory Loan Prevention Act (PLPA), which caps the interest rate on consumer loans at 36%. But the law doesn't apply to pawn shops.

After the PLPA passed, pawn brokers asked the courts for an injunction so that the law wouldn't apply to them and they received one. […]

Now, lawmakers are considering legislation to close the loophole and it's what brought Jazmine to the State Capitol.

Pawn shops are accused of giving high interest rates to active duty service members. Despite the injunction, federal law is supposed to cap interest rates for members of the military and every store is supposed to ask customers if they serve.
An e-mail to Rich…
On behalf of Senator Collins, I wanted to bring the attached exchange to your attention.

To put it in context, in January 2021, Senator Collins spearheaded the passage of the Predatory Loan Prevention Act (PLPA), which established an interest rate cap of 36% on consumer loans. The pawnbroker industry sued the Illinois Department of Financial and Professional Regulation claiming that the PLPA did not apply to them. Judge Raylene DeWitte Grischow of the Sangamon County Circuit Court granted the pawnbrokers' request for an injunction. The injunction permitted the pawnbrokers to continue to charge interest rates as high as 243%.

Senator Collins filed a bill (SB 4241) last week to close this loophole. At the same time, she continued researching pawn loan interest rates in other states. She sent requests for information to neighboring states and to the National Pawnbrokers Association (NPA). Chris Stone was copied on the request for information to the NPA.

The email he sent to Senator Collins yesterday was a response to Senator Collins's request.
The exchange…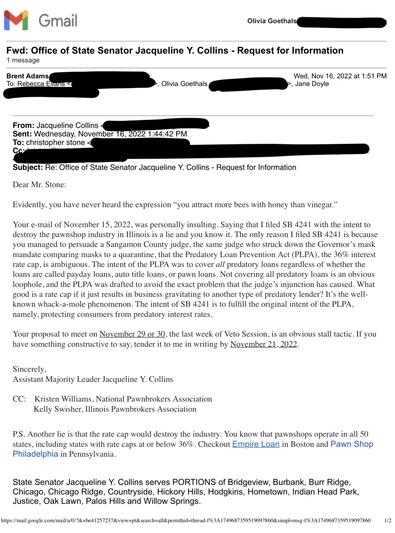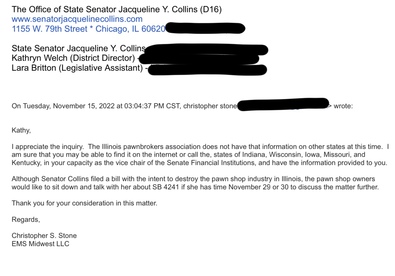 * SJ-R…
With opioid-related overdoses rising nationally and in Illinois, two state legislators announced new legislation that would target dealers of fentanyl-laced opioids and other medications with increased penalties.

Republican state Sens. Sally Turner and Sue Rezin introduced Senate Bill 4221 during a Tuesday press conference at the Capitol. They hope the bill sees some action during the six-day veto session that started Tuesday.

According to the Illinois Department of Public Health, more than 2,650 Illinoisans died from synthetic opioid overdoses last year. That number is up from 87 in 2013. Rezin said not enough attention is being given to the issue.

"In less than a decade, the state of Illinois saw nearly a 3,000-percent increase in synthetic opioid overdose deaths," the Morris Republican deputy leader said, adding that last year's total was greater than the combined sum of homicides and suicides in the state.
* NBC Chicago…
After the terrifying mass shooting at Highland Park's Fourth of July parade, many noted the irony that the incident occurred in one of the few cities in Illinois where assault weapons are banned by local law.

But few have noted that today, no other Illinois community can put such an ordinance on the books, barred from doing so by a bizarre act of the Illinois General Assembly in May of 2013, which briefly allowed towns like Highland Park to act.

It all happened in the aftermath of the massacre at the Sandy Hook elementary school in December 2012, and a failed effort to enact an assault weapons ban here in Illinois.

"I was very disappointed," former Gov. Pat Quinn said of those days more than nine years ago. "Some of the Democrats who I thought would vote yes on the legislation all of a sudden were saying, 'People in my district aren't for it.'" […]

While most observers believe it's a tough legislative hill to climb, gun safety advocates say they plan a renewed push for such a ban statewide when the legislature reconvenes in 2023. But in the absence of any such ban, some Highland Park victims are taking a different route, suing the accused gunman, his father, the gun manufacturer and the store that sold the weapon used in the Fourth of July attack.
…Adding…Center Square…
Parents of students from across the state involved with the state's Invest In Kids school choice pilot program are lobbying Illinois lawmakers to make it permanent.

The program allows donors to get a 75% income tax credit toward donations to fund school choice scholarships for qualified families throughout the state. Scholarship Granting Organizations are approved to administer the program, which is set to sunset Jan. 1, 2024. As lawmakers return, parents are looking for an extension. […]

Opponents of the measure say the tax credit to fund the school choice program with private donations takes resources away from the state's public schools.  Cynthia Riseman Lund, who represented the state's public schools teachers' unions, expressed her opposition to the program during a House Revenue and Finance Committee meeting last month.

"[The teachers' unions] support elimination of the Invest In Kids program. It is set to sunset … and we will call for the elimination of the program even sooner," Lund said.
32 Comments































































































Sorry, comments for this post are now closed.