* Two years ago, Tyler W. Massengill, the man who allegedly confessed to committing arson at the Peoria Planned Parenthood, posted this on his facebook page…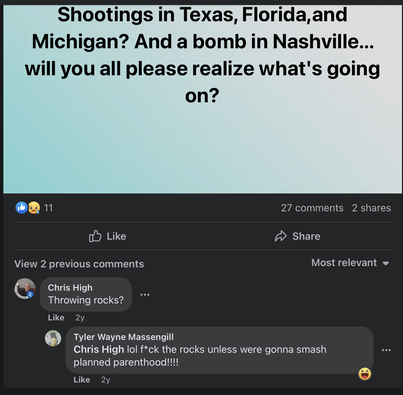 * Here's your morning roundup…
* PJ-S | Chillicothe man charged in fire at Planned Parenthood clinic: It was 'all worth it': Tyler W. Massengill, 32, told officials investigating the case that if his "actions the night of January 15, 2023, caused 'a little delay' in a person receiving services at the PHC, his conduct may have been 'all worth it,'" according to federal court records filed Wednesday.

* Sun-Times | Pritzker: Don't change high school AP course to appease DeSantis and 'Florida's racist and homophobic laws': In a letter, Pritzker told the nonprofit College Board that Illinois will reject a revised African American Studies course if it doesn't include "a factual accounting of history, including the role played by black queer Americans."

* WCIA | Illinois pays off final part of pandemic unemployment debt: In November, Governor J.B. Pritzker announced a bill that would eliminate the rest of the pandemic unemployment debt by using the state's surplus in revenue to pay it off. The bill was supported by Democrats, Republicans, as well as labor unions and business groups, before being signed into law by Pritzker Monday.

* The Center Square | GOP senators oppose prospect of another progressive income tax proposal in Illinois: The Illinois Constitution requires a flat income tax. The progressive income tax proposal in 2020 would have brought a tiered income tax structure with increased taxes on higher income earners, but voters rejected the idea. State Sen. Robert Martwick, D-Chicago, said he plans to offer the measure in the coming weeks.

* Cap Times | Wisconsin Republicans finally found something to like about Illinois: Suddenly, the state of Illinois — the place Wisconsin Republicans have demonized for decades and GOP Gov. Scott Walker mocked with billboards at the state line — has become one of our Republican legislators' favorite places.

* WBEZ | With Ed Burke off the ballot, 14th Ward residents make wish lists for their next alderman: Burke's political shadow is still shaping the race between the candidates vying to replace him. And residents who say they've felt neglected by the once-powerful alderman are making long wish lists for their next representative.

* Sun-Times | 'Nobody just goes to your house and starts killing people.' Father struggles to understand attack that killed daughter and her mother: A law enforcement source told the Sun-Times that Olmo's boyfriend and two other transgender women survived the attack.

* Sun-Times | Public safety training facility, once center of controversy, opens its doors: Mayor Lori Lightfoot slammed the project before launching her first mayoral campaign, but did an about-face once in office, making the facility even bigger and more expensive.

* Tribune | Mayor, police superintendent, fire commissioner hold ribbon-cutting for controversial $170 million training facility: The Chicago Joint Public Safety Training Campus, 4433 W. Chicago Ave., is on the 30.4-acre site of a former railroad yard. The facility will be used by members of CPD, CFD and the Office of Emergency Management and Communications. The "modern training campus" will include community spaces, computer labs, classrooms, scenario training and an indoor shooting range, according to the Public Building Commission.

* Crain's | Lightfoot to back effective ban on natural gas in new buildings: It would echo a similar statute signed into law a little over a year ago in New York City by then-Mayor Bill de Blasio. Cities like Los Angeles and San Francisco have taken matters further and outright banned gas in new buildings as America's largest cities attempt to do their part in response to climate change.

* NBC Chicago | 311 Calling Concerns: Water Leaks and City Calls For Service Initially Met With Silence: In the Edgewater case, 311 call records show since April 13, 2022, Vita and her neighbors called to report the leak at least 15 times, and online, more than half of those calls were "closed" just hours after they came in, despite the incomplete job.

* Southtown | Dolton disciplined union head who asked about money missing from pension account, complaint says: The dispute raises fresh concerns about how the administration of Dolton Mayor Tiffany Henyard is handling money and treating employees perceived as insufficiently loyal. Henyard also serves in a $277,000-a-year post as supervisor of Thornton Township, where she recently fired nearly a dozen employees.

* Highland Park News | Dad of alleged Highland Park shooter to appear in court on charge he acted recklessly in vouching for son's FOID card: Robert Crimo Jr. was charged in December with seven felony counts for vouching for his son on state forms in 2019 that cleared Crimo III to obtain his firearm owners identification card. At the time, Crimo III was 19, and, as an underage applicant, needed the signature of a parent to get a FOID card. Crimo III is charged in the shooting deaths of seven people and with several other crimes.

* Tribune | Judge slaps ex-Chicago college student who spied for China with 8 years in federal prison: A federal judge on Wednesday sentenced a former Chicago college student to eight years in federal prison for spying on behalf of the Chinese government, saying it was clear that his ultimate goal was to become a "sleeper agent" and infiltrate some of the United States' most sensitive operations.

* Sun-Times | CPS to consider science, social studies marks instead of standardized tests for advancing to the next grade: The district didn't hold any students back the first two years of the COVID-19 pandemic, citing the unprecedented circumstances kids faced academically and socially in remote learning. Officials have since been reviewing their grade retention and promotion policy and presented an updated one Wednesday to the Board of Education, which approved the new rules.

* Block Club | Ald. Silvana Tabares And Southwest Side Community Activist — Both With Madigan Ties — Face Off In 23rd Ward Race: Tabares is facing a challenge from Eddie Guillen as she seeks a second term representing parts of West Lawn, Garfield Ridge and Archer Heights. Both candidates have past ties to indicted former House Speaker Mike Madigan.

* NBC Chicago | Chicago flexes its labor muscle in the fight for the 2024 Democratic convention: The Chicago Federation of Labor is releasing a new digital ad campaign on Wednesday, first made available to NBC News, laying out a case that it's the home of the labor movement and has a plentiful cast of union members ready to work, particularly at hotels, if the White House places the convention in Chicago.

* Tribune | Mayoral challenger 'Chuy' García asks aldermanic candidate with ties to Michael Madigan to stop using his image on political mailers: The campaign brochures focus mostly on the race for alderman of the 23rd Ward near Midway Airport. But the mailers — a well-worn tool for typically parochial races — could have broader implications in the mayoral race and particularly for García, a congressman who is one of eight challengers looking to upend Mayor Lori Lightfoot's efforts for a second term.

* Pensions & Investments | State treasurers warn of pension fund, 401(k) damage if debt ceiling breached: "We are concerned that the United States government will be forced to default on its debt which would have severe consequences for the states and municipalities we serve, the U.S. economy and the day-to-day lives of the American people," the fiscal stewards of typically blue states and cities said in a letter sent Tuesday to Mr. McCarthy.

* WTTW | Push to Reopen Public Mental Health Clinics Closed 11 Years Ago Defines Another Chicago Mayor's Race: That 2011 decision rippled through not only Emanuel's 2015 bid for reelection, but also the 2019 contest to elect his successor. In 2023, the issue is once again center stage during the race for Chicago mayor, fueled in part by the lessons of the COVID-19 pandemic, which shone a harsh spotlight on the citywide need for robust and affordable mental health care, as well as continuing concerns about the violence that can erupt when people in crisis call Chicago police for help.

* Jewish Insider | Chuy García's record on Israel comes under scrutiny in Chicago mayoral race: Rep. Jesús "Chuy" García (D-IL), a leading Democratic challenger to Chicago Mayor Lori Lightfoot, faced a tough line of questioning over his congressional record on Israel in a candidate interview with the editorial board of The Chicago Tribune on Monday, according to audio of the exchange obtained by Jewish Insider.

* Tribune | CTU brings demand for 'equitable' parental leave to Chicago Board of Education: 'We deserve that': "I bring you urgency from the workers who are making it happen every day. … How do we honor their commitment?" Gates said, with the union again highlighting the discrepancy between the maximum two weeks of paid parental leave that Chicago Public Schools employees receive and the three months granted to city employees as of Jan. 1.
6 Comments

















Sorry, comments for this post are now closed.