* Just in case anyone is interested…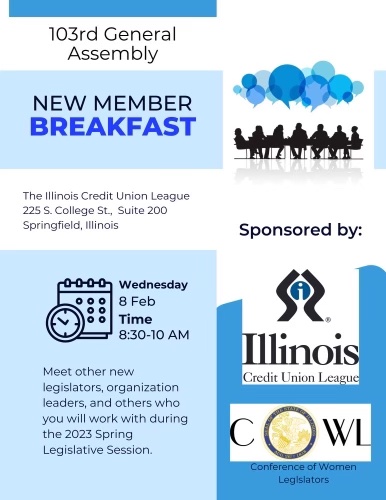 * Here's your roundup…
* Sun-Times | Income tax 'surcharge,' other measures needed to pay down pensions, business group says: The report by the Civic Committee of the Commercial Club of Chicago is a new message from a group that opposed Gov. J.B. Pritzker on the graduated income tax in 2020.

* WQAD | What to know ahead of Pritzker's budget proposal to lawmakers: llinois is coming off a record-high $50.3 billion in base revenue for the fiscal year that ended June 30 – about $8 billion more than had been anticipated when the Fiscal Year 2022 budget was initially approved in the spring of 2021. Following that strong performance, lawmakers budgeted for an 8 percent decrease in the current fiscal year that began July 1. But in the seven months that have already passed in FY 2023, revenues are outpacing even last year's strong performance by $2.3 billion, according to COGFA's January report.

* Tribune | Gov. J.B. Pritzker says tax proposal that could spur Bears' move to Arlington Heights has 'a lot of hoops to run through': "There are a lot of hoops to run through in the General Assembly for this to ever get to me and I have to say … there was a note of skepticism even in the words of the person who introduced the bill," Pritzker said at an unrelated event in Peoria. "But I think she wanted to make sure that the General Assembly had an opportunity to hear about it and consider it in committee.

* CBS Chicago | Illinois gets penalized yearly for not meeting federal Sex Offender Registry standards, but keeps getting money back: CBS 2's Tara Molina found Illinois manages to get that money back - more than $2.5 million worth. But the state still is not in good standing. This has been going on for more than 10 years. Illinois loses grant money every single year since the state isn't in compliance with the federal Sex Offender Registry and Notification Act, or SORNA.

* WCBU | Illinois Department of Agriculture director talks accomplishments so far, goals for next 4 years: "There are so many things that the Agriculture Department does that I don't think people understand," said Costello, 53, who grew up on the Franklin County row crop and beef cattle farm where his family still resides. "It's a very expansive department that is about 85% regulatory."

* Crain's | Illinois Gaming Board set to take first step toward approving Bally's Chicago casino: The agenda for the board's meeting Thursday indicates it will consider issuing "initial supplier licenses" for two entities that control and would lease Medinah Temple on the Near North Side to Bally's for its temporary casino. State records indicate both of the entities—Medinah Building LLC and Medinah Holdings LLC—are units of developer Al Friedman's Friedman Properties.

* Center Square | Madigan ally doesn't want jury to hear about 'rape in Champaign' email: Michael McClain, a former state lawmaker, longtime lobbyist and close confidante of Madigan, asked the judge in his corruption trial to bar any evidence related to the email. McClain's attorneys also want to bar any mention of the $23 million that AT&T Illinois paid to the federal government as part of a 2022 deferred prosecution agreement related to the company's efforts to influence Madigan.

* WBEZ | Garcia, Vallas and Lightfoot in dead heat in Chicago mayor's race: Garcia led with 20%, followed by Vallas with 18% and Lightfoot with 17%. Businessman Willie Wilson trailed closely with 12% and Cook County Commissioner Brandon Johnson with 11%. Just 2% said they'd vote for activist Ja'Mal Green, and 1% chose either Ald. Sophia King, 4th Ward, or state Rep. Kam Buckner. Ald. Roderick Sawyer, 6th Ward, drew no support. Another 18% said they were still undecided. … The poll was conducted Jan. 31 through Feb. 3 by Mason-Dixon Polling & Strategy, Inc. A total of 625 registered voters were interviewed by telephone, all stating they were likely to vote in the Feb. 28 election.

* Sun-Times | Lightfoot scolds rivals during testy mayoral forum for trying 'to mansplain' and 'treat me like I'm some child': The debate included many personal attacks, mainly directed toward and between Mayor Lori Lightfoot and ex-Chicago schools boss Paul Vallas. Rep. Jesus 'Chuy' Garcia was in Washington for the State of the Union address.

* ABC Chicago | Candidates bicker over crime, CPD, schools, housing and more at latest mayoral forum: With Election Day exactly three weeks away, the rhetoric at times got heated, with candidates going after each other by name.

* Illinois Answers Project | Would Transit Ambassadors Improve the CTA?: Transit ambassadors are being introduced in transit systems from San Francisco and Los Angeles to Cleveland and Philadelphia but evidence of its effectiveness remains limited.

* Crain's | Civic leader Andrew McKenna has died: Andrew J. McKenna, a consummate networker and inexhaustible dynamo who was among Chicago's most consequential business leaders of his day despite never being a major company CEO, died today at his North Shore home, according to longtime friend Newton Minow. McKenna was 93 and had fallen ill last month.

* Tribune | Family of bicyclist killed in 2022 hit-and-run on Northwest Side files lawsuit against Metra, city of Chicago: According to the 31-page complaint filed by law firm Salvi, Schostok & Pritchard, "the northwest driving lane of Milwaukee Avenue narrowed to a half-lane due to construction at the Grayland Metra Station, forcing vehicles to drive into the bike lane that ran through the underpass of the viaduct.

* Rockford Register Star | Rockford Casino hits jackpot with January revenue numbers: The temporary Rockford casino raked in more than $5 million in January. That is 49% more than the $3.3 million the casino collected in revenue minus payouts in January 2022.
9 Comments


























Sorry, comments for this post are now closed.