* Two years ago, the Illinois Chamber's independent expenditure PAC spent $960,000 to help Rep. Ken Dunkin (D-Chicago) in the Democratic primary. Dunkin lost, of course.
On March 1st, the Chamber reactivated that IE PAC. Two days ago, the Chamber disclosed depositing $165,000 in the account.
Guess what? Check out this screenshot of an online ad that a buddy of mine forwarded me today…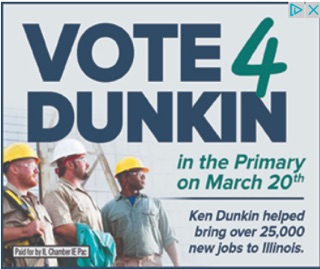 * I talked to the Chamber's President/CEO Todd Maisch this morning and he wouldn't say how much of that $160K was going to Dunkin or how much more money will be added to the IE committee.
You just can't make this stuff up.
33 Comments


































































































Sorry, comments for this post are now closed.