* Joe Bustos at the BND…
In Illinois, when people have their firearms owners identification cards revoked, they're supposed to turn them in to law enforcement and surrender their guns. But that only happened less than half of the time in the metro-east and statewide during the last four years.

In St. Clair County, FOID cards were returned just under 36 percent of the time after they were revoked from 2015-18, according to Illinois State Police data obtained by the Belleville News-Democrat.

Madison County was a little better, at 41 percent, while statewide cards were turned in 37 percent of the time during the four-year period.
* Graph…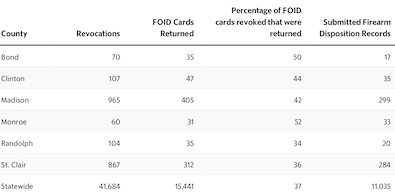 7 Comments




















Sorry, comments for this post are now closed.