* From the governor's office…
Asylum Seeker/Migrant Assistance

Since August 2022, Illinois has provided or committed over $328 million in funding to address the humanitarian asylum seeker crisis with direct funding to the City of Chicago, State-operated asylum seeker services, and additional State-supported services.

In addition to direct funding, the State has partnered with municipalities across the state, elected officials, community-based providers, and the federal government to coordinate, develop, and implement the infrastructure and coordination required for comprehensive, responsive, and strategic planning.

This $328 million investment is on top of the State of Illinois' ongoing programming as a welcoming state for all immigrants and unhoused residents, including Illinois Welcoming Centers; VTTC (Victims of Trafficking Torture & Other Serious Crimes) medical, food and cash assistance; Immigrant Family Resource Program (IFRP); New Americans Initiative(NAI); and Home Illinois, Illinois' plan to prevent and end homelessness.

Direct Funding to City of Chicago

• $51 million in direct funding from the State to the City of Chicago for general asylum seeker support services
• $19 million passthrough funding from State to City in accessing federal Shelter & Services Program (SSP) appropriation

Direct State Asylum Seeker Support

• ~ $90 million in IEMA emergency support services ($3M Federal and $87M State)
• $51 million in State direct support to asylum seekers

o Hotel Supports (Rooms + Staffing)
o Transportation
o Medical

State-Supported Services

• $64 million in comprehensive State-supported services for asylum seekers:

o Asylum Seeker Emergency Rental Assistance Program (ASERAP)
o Move-out Supports (Catholic Charities, New Life)
o Wrap-around Services (ICIRR, Coalition of Immigrant Mental Health (CIMH))
o Food (Greater Chicago Food Depository (GCFD))
o Legal Services

• $43 million in funding to municipalities to support asylum seekers statewide
• $10 million to stand-up Interim Congregate Housing (ICH) facility on behalf of City of Chicago
The city has applied to receive all of the "$43 million in funding to municipalities to support asylum seekers statewide," but Chicago Deputy Chief of Staff Cristina Pacione-Zayas said at a city council hearing today that she doesn't expect the city will receive all the money. In fact, she said, the city has asked the state to identify Latino communities throughout the state. You can click here for a list. [ADDING: The state will announce soon that it is sending the city $32 million out of that $43 million.]
* Slide from the city's presentation to that city council hearing about its costs…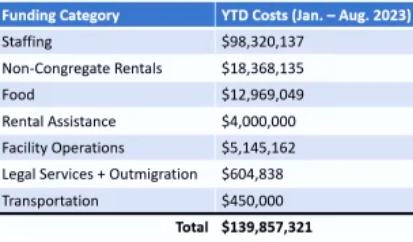 No word on how much of that came from the state beyond the $70 million listed by the governor's office (although the state's outline goes back to last year, while the city's is year to date).
…Adding… The city is reportedly planning to ask the state for an additional $200 million appropriation during the veto session. Not sure where that's gonna come from.
* The city is laughably under-staffed. There's no excuse for this…
Vasquez asks Ponce de León how many total staffers she wants the city to provide her office of immigration in the next budget. She has one paid staffer currently. She answers she wants between 6 and 10 individuals, for communication, policy specialist, project managers

— Alice Yin (@byaliceyin) September 29, 2023
That's Beatriz Ponce de León, Deputy Mayor of Immigrant, Migrant and Refugee Rights.
* Volunteers are really stepping up, despite the lack of help and direction from the city. They estimate they've spent $6.1 million…
How the city can tell volunteers "there will be 20 migrants dropped of at Police station X tonight" but then they can't even get it together to have someone from the city show up with blankets and water is mind-blowing. Totally dependent on the backs of volunteers.

— The People's Fabric (@peoplesfabric) September 29, 2023
This is how much mutual aid groups estimate they've spent stepping up where the government has failed. pic.twitter.com/rJ4tc7XVMB

— The People's Fabric (@peoplesfabric) September 29, 2023
* Also from today's hearing…
Deputy COS Cristina Pacione-Zayas notes migrants can't get proper health care at CPD stations, ambulances called 365 times in Aug. Last wk alone, same #. "At some point it becomes an ambulance run … Our EMTs are not able to attend to the rest of the city"

— Alice Yin (@byaliceyin) September 29, 2023
Izquierdo says about the 3yo girl who died en route to Chicago last month: "I keep thinking about, what if she got here, what if my team had seen her? What if we were able to do something?" Says she has also seen women who miscarried at detention centers south

— Alice Yin (@byaliceyin) September 29, 2023
Wow.
* Not only is the federal government paying to fly some migrants to Chicago, they're also doing this…
WHAT! The feds charge asylum seekers "upwards of $500" to apply for work authorization permits under Temporary Protected Status, according to DCOS Pacione-Zayas.

— Jim Daley (@jimdaleywrites) September 29, 2023
At least some waivers are available, but still. Ridic.
32 Comments































































































Sorry, comments for this post are now closed.