* Deputy House Majority Leader Lou Lang on Facebook…
Friends, In politics, all that matters is your word. So, let's be clear. A new campaign brochure authored and mailed by Senator Ira Silverstein (D-Chicago) claiming that I have endorsed him in his primary election is: False.

As a Member of the Illinois Legislative Ethics Commission, which oversaw the investigation of Senator Silverstein related to a sexual harassment complaint, I had pledged to the Niles Township Democrats and informed all parties involved in the 8th State Senate district Democratic primary, including Senator Silverstein, that I would remain neutral. Senator Silverstein's mail piece compromised that neutrality. Now I am no longer neutral.

Today, I endorse Ram Villivalam for the Illinois State Senate as I believe he possesses the integrity becoming of a legislator.
- Posted by Rich Miller Comments Off


* Remember this story from last week?…
Democratic governor candidate Chris Kennedy on Friday accused rival J.B. Pritzker of "buying off" elected officials, including local African-American leaders as part of an "apology tour" over 2008 remarks about potential black successors to Barack Obama's U.S. Senate seat. […]

Kennedy's comments came as Pritzker, a billionaire heir to the Hyatt Hotels fortune, has given more than $700,000 to local Democratic organizations and the campaign accounts of officials across the state, State Board of Elections records showed.
* Well, Pritzker is a piker when compared to the other side. Here's a report today from the Illinois Review…
Quid Pro Quo? Rauner Gives $1.5M to 41 County GOP Orgs Through ILGOP

In an political strategy unprecedented in the Illinois Republican Party, thousands of dollars were transferred from the Illinois Republican Party to county organizations in the last three months leading up to the March 20th IL GOP primary.

State Board of Elections records show that 41 county GOP organizations received gifts from the IL GOP from $5000 to $25,000. Never before has the IL GOP had the resources to distribute funds in such a manner.

Where did the unprecedented party funding come from? County leaders tell Illinois Review they were asked to fill out applications, and checks were sent their ways - no requests or expectations voiced in the process.
Most of the state party's money comes from Gov. Rauner.
* Pritzker's money was again an issue today…
Prior to hitting the parade route along Columbus Drive, Democratic governor candidate J.B. Pritzker defended putting another $6.3 million of his fortune into his campaign, a move he disclosed Friday night. It brought the record-setting, self-funding total of the billionaire heir to the Hyatt Hotel fortune to $69.5 million.

Pritzker tried to make light of the latest cash infusion. "We simply are trying to make sure that we're paying the bills in the campaign, and we're very excited about the opportunity to simply get our message out," he said.

Rival Chris Kennedy did some quick math and said the large sum "means he's spending, I guess, $2 million a day to try to buy this election. And we have to decide whether we want to send a message from Illinois to the rest of the country, the rest of the world, that a democracy can be bought." […]

"I was sort of confused about where the other half-million was," Biss said. "I was hoping that J.B. would get to $70 million during the course of the campaign. It's only, only 69.5. What a cheapskate."
Heh.
* Not sure who paid for this…
Flying above the Chicago parade route pic.twitter.com/A4xqN5×9My

— Rich Miller (@capitolfax) March 17, 2018
* Daily Herald…
Kennedy's donors include real estate developers, attorneys and family members. In 2018, top contributors include former Commerce Secretary Bill Daley with $100,000, Habitat Company CEO Daniel Levin with more than $200,000, and attorney Robert Berner of Baker McKenzie with $250,000.

Biss garnered the most donations under $25 — a total of 70, according to a report for the last quarter of 2017. He also received hefty handouts from a potpourri of wealthy Democrats and attorneys.

Those include Chicago lawyers Gary Elden with $200,000 and Leonard Goodman with $150,000, California software entrepreneur Steve Silberstein with $150,000, Evanston investment banker Charles Lewis with $250,000, and Chicago philanthropist Gail Waller with $300,000.

Compared to Kennedy with more than 258 individual donations and Biss with over 245 this year, Pritzker's financial disclosures look a little lonely — his only other benefactor is the Illinois Education Association with $14,700.
That IEA contribution were in-kinds for campaign staff.
Kennedy filed A-1's totaling $705,861 on Wednesday and $17,000 on Thursday.
* Back to Gov. Rauner's money…
When asked at a debate this month to name the top five donors to her attorney general campaign, Republican Erika Harold said she couldn't identify them.

"Obviously I have received support from the party, and I am very proud to receive support of the party," she said, adding she "couldn't say an exact amount."

There was one precise figure, though, that Harold offered: $305,000 she received a day earlier from Republican Gov. Bruce Rauner, leading the moderator to ask her whether she could be independent from the governor. […]

"The semblance of impropriety seems to be there, looking at being beholden to the governor," said Grasso, who is self-funding his campaign.
Harold has reported raising $461K since the start of the year, which she began with $162K. Grasso has raised $366K, mostly from himself. He started the year with $25K.
* Rep. Jeanne Ives' campaign reported two contributions this week totaling $250,000 from Vincent Kolber, who owns Residco. Kolber has contributed $660,000 to Ives' campaign since November 15th.
* In other campaign finance news…
The controversial soda pop tax that was repealed last year by the Cook County Board amid a public backlash has spawned two fierce Democratic primary election contests fueled by $1.8 million in campaign cash.

Union-backed challengers Brandon Johnson and Bridget Degnen are taking on tax-opposing Commissioners Richard Boykin and John Fritchey, contending layoffs triggered by the pop tax repeal have diminished vital county services. Both cite finding new ways to raise more government revenue as priorities. […]

Campaign contributions to all four candidates this election cycle come to nearly $1.4 million, even though it's not unheard of to win a County Board seat for $100,000 or less. And political action committees have poured another $442,000 in independent expenditures into the race. Most of the money comes from public employee unions that opposed the repeal of the pop tax and business interests that successfully fought to eliminate it.
* And the Trib gets around to covering House Republican Leader Jim Durkin's primary…
At a recent fundraising event in southwest suburban Homer Glen, Illinois House Republican leader Jim Durkin acknowledged that leading the minority party in a chamber controlled by Democratic Speaker Michael Madigan wasn't easy.

"I like to think my job is threefold," said Durkin, a 20-year veteran lawmaker from Western Springs. "I've got to work on policy. I've got to raise money. But I'm also an unlicensed psychiatrist at times in Springfield."

Psychiatry isn't necessary to diagnose an Illinois Republican Party facing deep ideological divides, however. In some respects, the GOP split mirrors the one on the Democratic side — insurgents from a far wing of the party pushing against the establishment.

Tuesday's election already was unusual, as a sitting governor faces a potentially difficult primary challenge. But rarer still is the year when a longtime legislative leader also faces a well-moneyed challenge in his home district.
So far, Dan Proft's Liberty Principles PAC has disclosed $1,229,373.72 in independent expenditures against Durkin and for his opponent Mickey Straub. The Illinois Network of Charter Schools' PAC has disclosed spending about $46K against Straub since March 5th.
- Posted by Rich Miller Comments Off


* Interesting…
Lipinski is getting desperate. This text was sent to us this morning from phone number 708-813-2789. Disgusting. pic.twitter.com/VDB4tylLth

— April August (@AprilAugust76) March 17, 2018
Do I blame Facebook or the Russians for this? pic.twitter.com/wUKmsgoqdf

— Tom Fornelli (@TomFornelli) March 17, 2018
I thought this was a misinformed friend from my old neighborhood, the number is a dead line. @RepLipinski is having bots text lies about nuns & nonprofits, this behavior is disgusting. Another reason for folks in #IL03 to vote for @Marie4Congress. @MaryAnnAhernNBC @capitolfax pic.twitter.com/bGLEjuBnJD

— Rebecca Zyg (@RebeccaZyg) March 17, 2018
Ooh this just happened to me too, thought it was a misinformed wrong number that perhaps I could persuade otherwise… This is a disgusting tactic. pic.twitter.com/An7XGvNEsh

— Linda Marie Huber (@_PuellaLudens) March 17, 2018
I was told by a very reliable source today that Lipinski's own polling has him up by 5 points. We shall soon see.
* Rep. Jeanne Ives' campaign claims she has put that radio ad I told you about yesterday on TV…
* She's also whacking the governor with a Google ad…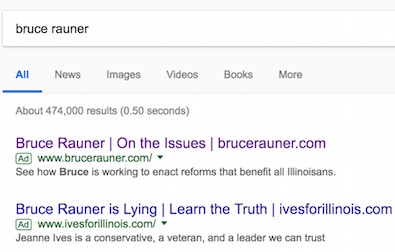 * Meanwhile…
A mailer sent out by the Cook County GOP aggravated already growing divisions in the party over "official" endorsements. A sample ballot Republican voters received reflected endorsements made personally by Cook County GOP Chairman Sean Morrison in February and an endorsement session held later.

Several township committeemen are concerned that the sample ballots sent out by the Cook County GOP contain a note that declares the sample ballot as the only "official" sample ballot for the county, and that any others were to be ignored. Wheeling Township Committeeman Ruth O'Connell said that left down ballot candidates with no endorsements. Wheeling also endorsed Jeanne Ives to be the IL GOP gubernatorial nominee over Bruce Rauner - the "official" Cook County GOP pick.

"That mailer undermines my authority as Wheeling Township GOP Committeeman," O'Connell told Illinois Review.

Chairman Morrison said his ballot focused only on the top six offices, and left local race picks to local committeemen.
* The objectionable language…
* I think we may have a new "Pants on Fire" award for Gov. Bruce Rauner, who said this in Champaign yesterday…
"Polls are pretty irrelevant. I don't pay any attention to them," [Rauner] said with a laugh.
Laughing at a question is almost always one of his "tells."
* As a Downstater, I'm kinda starting to get offended by these tweets, and so, apparently is the Belleville News-Democrat…
He was in Belleville, Illinois, today. https://t.co/f9gVE5wlSM

— News-Democrat (@bellevillenewsd) March 16, 2018
There are five counties in the Metro East: Clinton, Jersey, Madison, St. Clair and Monroe, with a total of 630,000 residents, according to the 2010 US Census. It's an important part of the state. Plus, according to the News-Democrat and my own checking, this trip was planned in advance. It wasn't some hastily arranged foray to avoid questions from the Chicago media about a Tribune story that appears to have some factual issues.
Rod Blagojevich won with Downstate votes. Pritzker is trying to do the same thing. The trip most certainly has the benefit of being out of the state's largest media market during a particularly difficult time, but he was just in the second-largest market and now he's back in Chicago today with two items on his schedule.
* The Illinois Network of Charter Schools' PAC is getting downright nasty in the super-crowded Democratic primary to replace retiring House Majority Leader Barbara Flynn Currie. Click the pic for a larger view…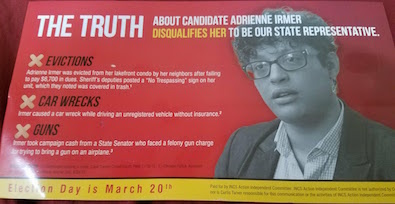 They should leave that stuff to candidates.
* Pretty good video from Biss…
.@realDonaldTrump won in 2016 without releasing his tax returns. @JBPritzker and @KennedyforIL should be better than that. #WhatAreTheyHiding pic.twitter.com/0LnFqOSzyx

— Daniel Biss (@DanielBiss) March 17, 2018
* But the constant whining about money in Biss' press releases is getting a bit stale…
JB Pritzker and Chris Kennedy reach new levels of absurdity with latest cash dumps

JB Pritzker has now spent $70 million in his attempt to buy the Democratic primary. Yet despite spending more than Donald Trump in his 2016 primary, and now more than Bruce Rauner in his 2014 general election, Pritzker has failed to move out of the 30's in polls taken over the last 10 months. Chris Kennedy has also dumped another $500,000 into his campaign this week, bringing his total to over $2 million.
* And now, this…
It's not a shenanigan, it's just a really bad ad.
*** UPDATE 1 *** Another one…
Add this to list of last minute lies, Garcia does NOT support Sandoval #ILMarchPrimary pic.twitter.com/TsLTqS2sXS

— Mary Ann Ahern (@MaryAnnAhernNBC) March 17, 2018
*** UPDATE 1 *** Technically, not a true shenanigan, but close enough…
Get your facts straight before you tweet. Sign is from CLPAC Both Chuy and Sandoval asked for and earned the PAC's endorsement. An aAd similar to the sign has been online for weeks. The sign reads CLPAC Proudly Endorses. The only lie is what @MaryAnnAhernNBC is spreading https://t.co/yNd0MqkOdE

— Mike Noonan (@NoonansPolitics) March 17, 2018
* More…
* Bernal: Madigan behind Yednock campaign: The La Salle County Board member, who is running for state representative, said party leaders asked whether she supports Chicago's Michael Madigan, the longtime House speaker and chairman of the state Democratic Party. She said she couldn't make that promise. "I had never met him and don't know him, but I certainly would not promise to agree on everything he wanted. They asked me the question three times, and I gave them the same answer," said Bernal, a registered nurse. "They said they would look for someone to face me in the primary. I feel they wanted me to support the speaker on everything."

* Slowik: High turnout of fired-up voters expected for Tuesday's primary election: I'll be watching to see how many write-in votes Mateusz "Mat" Tomkowiak picks up in his challenge to Madigan's seat on the state central committee representing the 3rd District. I expect Madigan to prevail, but Tomkowiak's numbers could be another sign of how many voters are dissatisfied with the direction of the party.

* Madigan backs Dem central committee incumbent in 13th: Friends of Michael J. Madigan has given help in the form of fliers and robocalls valued at more than $40,000 to incumbent Jayne Mazzotti of Taylorville. She was a Democratic National Convention delegate for former President Barack Obama in 2008 and 2012 and for Hillary Clinton in 2016. Her challenger in Tuesday's primary, when Democratic voters will elect one man and one woman from each congressional district to be on the state central committee, is Pamella Gronemeyer, a pathologist from Glen Carbon who was a Bernie Sanders supporter and served on the platform committee of the 2016 Democratic National Convention.

* Dems meddle against Illinois governor ahead of GOP primary

* Rauner seeks re-election, but right-wing rival Ives seeks a 'reckoning': History could be on Rauner's side. If he loses on Tuesday, Rauner will be the first Illinois governor seeking re-election to lose a primary in 42 years — and the first GOP governor in 90 years.

* Flaps, flubs and funds — Dem gov primary flush with all of it: For businessman Chris Kennedy — who raised more than $6 million for his campaign — there were immediate expectations. When will the Kennedy family sweep in? Why haven't they given more money? Why isn't he on TV? Is he really running this time?

* Governor candidates make final push for votes ahead of primary: Chris Kennedy shook hands at the 95th Street Red Line station, and is bringing in reinforcements this weekend. "So, I've relatives coming in from all across the United States to Chicago and they'll fan out across the state of Illinois. A lot of them have been here through summer and fall, so they're reacquainting the friendships they've made earlier in the campaign," Kennedy said.

* Jim Nowlan: Let's get rid of all the political consultants: Recently, on the same day, I received five over-size, glossy political postcards from Gov. Bruce Rauner. The cards told the most outrageous, bald-faced lies about an opponent that I have ever read. As I digested the messages, I became sick to my stomach.
- Posted by Rich Miller Comments Off


* Depending on how you look at things, the Tribune is being unsportsmanlike by dropping a bombshell a few days before an election, Speaker Madigan is getting some payback a few days before an election, or the Daniel Biss campaign is trying to cover up and flat-out deny legit allegations of sexual harassment and retaliation a few days before an election…
A former staffer for State Rep. Litesa Wallace — the running mate of Democratic governor candidate Daniel Biss — says Wallace ignored her sexual harassment complaint involving a community leader and then retaliated against her for making the accusation.

The woman's complaint closely resembles one of nine recently disclosed by House Speaker Michael Madigan, who has come under fire for his handling of sexual harassment allegations in both the legislature and his own political organization.

Madigan did not release names involved with the cases, but the Tribune learned of Wallace's dispute with her former aide following an open records request for documents related to pay issues and harassment accusations.

Informed of the staffer's allegations, a Biss-Wallace campaign spokesman denied any wrongdoing on the representative's part and blamed Madigan for turning the dispute into a political issue by mischaracterizing it on his list. Madigan's allies are backing one of Biss' rivals, J.B. Pritzker.
* The Tribune filed a FOIA on February 27th, hours after Madigan released a list of nine resolved staff cases involving harassment. This one is the only identified case involving payment of state funds, so it was FOIA-able…
"A staffer accused a legislator of harassment, retaliation, and failure to pay wages. The matter was resolved through counsel."
The Tribune received the info on Wednesday. Go read the whole thing and decide for yourself.
- Posted by Rich Miller Comments Off


* I'll be posting off and on this weekend. But not Sunday night because I'm gonna see this guy. Pretty stoked…
And I ain't asking for a miracle, Lord
Just a little bit of luck will do
- Posted by Rich Miller Comments Off


* After spending a not-so-small fortune on TV ads against JB Pritzker, Gov. Rauner now says that "Madigan has rigged the Democratic primary for Pritzker. That outcome in that race was determined last year. At this point they've decided to step in and try to change the outcome of the Republican primary and they're actually supporting Jeanne Ives." Have a look…
.@GovRauner on the campaign trail in Champaign today, says several times the "Democratic primary is decided," says Madigan "rigged" the race for @JBPritzker. He says the "outcome in that race was decided last year."

Anyone want to guess what his projection models are saying? pic.twitter.com/cB9sRprZSa

— Mark Maxwell (@WCIA3Mark) March 16, 2018
He doesn't look too happy.
* Zorn…
(T)he real reason Democrats are meddling in the GOP primary — which, for the record, DGA's local communications director Sam Salustro denies — is they think Ives is so far to the right on the political spectrum that she'll be easier to beat in November than the more centrist (and fabulously wealthy) Rauner.
That's very true. But the DGA has Rauner squirming more than I've seen him in a while. The trolling factor alone is worth half a mil.
* Hinz…
For governor, multiple sources say the race has tightened enough among both Democrats and Republicans that while front-runners J.B. Pritzker and Bruce Rauner still are likely to win, very close contests and even potentially upsets are possible.

Among Republicans, Rauner has taken down his anti-Pritzker television commercials in recent days and instead is concentrating his TV-ad fire strictly on conservative challenger Jeanne Ives.

He's also fending off a roughly $500,000 TV ad buy by the Democratic Governors Association—some of the ads blast Rauner, while others call Ives "too conservative," which actually may help her among Republicans—and Rauner recently raised eyebrows when he outright vetoed a bill to require state licenses for gun shops and dealers instead of ducking a decision until after the primary.

All the Rauner campaign is saying officially is that it's "taking nothing for granted." But you can take all of the above as a sign that Team Rauner is worried that, at a minimum, Ives could pull within 10 percent of him. That would be a huge embarrassment for an incumbent governor and raise questions about his ability to unite the party in November.
I told subscribers on Wednesday that Rauner undoubtedly wants to make sure the race doesn't wind up being anywhere near a single-digit margin. We'll know on Tuesday.
- Posted by Rich Miller Comments Off


* These DGA ads are really stirring stuff up. Here's a new :30 radio spot from Jeanne Ives…
* Script…
It turns out Bruce Rauner is the Democrat Governors Association's favorite fake Republican.

Rauner and his Democrat friends are attacking Jeanne Ives for being conservative.

They don't like that Ives voted against the sanctuary state law Rauner signed.

They don't like that Ives voted against taxpayer funding of abortion that Rauner signed.

They don't like that Ives voted against the Chicago Public school bailout that Rauner signed.

They don't like that Ives has been endorsed by National Review, the leading conservative journal in America.

Fake Republican Rauner and his Democrat friends don't like Jeanne Ives. Which is why you should.
* In other related news, Senate Republican Leader Bill Brady recorded a robocall for the Rauner campaign about the DGA ads…
* Script…
Hi. I'm Bill Brady, Senate Republican Leader. As a conservative, I'm calling to remind you to vote for Bruce Rauner on Tuesday, March 20th in the Republican primary.

The national Democrats have throw their weight behind Jeanne Ives in an attempt to sway the election. That shows how important this election is. We have to elect Bruce Rauner to have a hope of winning against the Democrats in November. It is critical for the future of our state and our party that you vote for Bruce Rauner on Tuesday, March 20th. Thank you.
…Adding… Everybody is getting in on the act. Sen. Tim Bivins just cut a robocall for Ives…
The guy has a great radio voice.
* Script…
This is state Senator Tim Bivins. I'm calling to tell you that I have endorsed and am voting for Jeanne Ives for Governor.

I know Jeanne Ives. Jeanne is the leading conservative reform legislator in Springfield.

Oh, and those political adds tying her to Mike Madigan? Well they're just that, political ads distorting the truth. Jeanne Ives is a rock-solid conservative who has taken on Mike Madigan time and again.

Please join me in voting for conservative Jeanne Ives.
- Posted by Rich Miller 27 Comments


* Rauner campaign…
Rauner Campaign Calls on DGA to File In-Kind Donations for Ads Supporting Rep. Ives

In response to the Democratic Governors Association's attempts to influence the Republican primary, the Rauner campaign is demanding the DGA file their advertising purchase as an in-kind donation to Rep. Jeanne Ives' campaign.

The Rauner campaign released the following statement:

"Washington Democrats know that Governor Rauner will be tough to beat in November. That's why they've decided to overtly attempt to influence the outcome of the Republican primary in favor of a candidate who is simply unelectable in Illinois. Their support of Representative Ives should be seen for what it is: an in-kind donation from a group that accepted $2 million from Mike Madigan's handpicked candidate, JB Pritzker."
- Communications Director Will Allison
The DGA had no comment.
* But I reached out to the State Board of Elections and got this…
They have a point that it should be reported. Whether it's reported as an independent expenditure or an in-kind contribution is the issue.

This seems like a pretty standard independent expenditure by the DGA. It would have to be reported on a B-1, and I find no record of any such independent expenditure in our system at the moment for the DGA's Illinois committee.

But an in-kind contribution would mean the DGA coordinated with the Ives campaign on this ad. If that were the case, it would need to be reported on an A-1.

Either way, this would need to be reported within two business days of the expenditure.
I kinda doubt the DGA coordinated with Ives, so a B-1 it is. And it'll probably have to be filed on both their ads. Better get on it, guys.
*** UPDATE *** DGA…
"These are issue advocacy communications urging the people of Illinois to contact these two officeholders regarding their disastrous policy ideas for the state. These issue ads are not reportable expenditures or electioneering communications under Illinois law."
The logic is that the ad doesn't advocate for or against any candidate, and doesn't even mention voting or elections, and therefore doesn't qualify as an "Independent expenditure," "electioneering communication" or other form of campaign "expenditure" subject to Illinois campaign finance law.
[Some content from this post has been moved to a different post. Click here.]
* Back to the DGA…
It's becoming clear that Governor Bruce Rauner is getting worried about his primary challenge from state Representative Jeanne Ives. Natasha Korecki of Politico writes that while Rauner has been pretending like he's not worried about his primary challenger, "his actions…seem to suggest otherwise." Rauner's bumped up his TV buy, focused it solely on Ives, and moved uncharacteristically decisively to veto gun safety legislation.

Republican state Representative David McSweeney said his actions show that Rauner's "running scared:"

"These turnout numbers are really worrying the Rauner people…He's running scared in Southern Illinois."

Ives recently released a poll showing Rauner had a slim 42% to 35% lead. Rauner has not released any polls himself.

"Bruce Rauner is running scared," said DGA Illinois Communications Director Sam Salustro. "And for good reason. Rauner simply cannot answer for his failed leadership that drove up debt and drove jobs out of the state. Three years into his term, Illinois is worse and Bruce Rauner's to blame."
That poll was a robopoll taken last Friday by Ogden & Fry . I told subscribers about it. MoE +/- 3.5%, 787 likely GOP primary voters.
- Posted by Rich Miller 7 Comments


A measure that banned the controversial bump stocks when it passed the Illinois House could be "poisoned" in the Illinois Senate with an amendment proposed by Democrat Sen. Kwame Raoul of Chicago. The Illinois State Rifle Association calls Raoul's change a "poison pill."

Raoul's Senate Amendment 1 would roll back municipal preemption that passed the Illinois legislature in 2013 as a vital part of the concealed carry agreement. "Specifically it repeals the preemption on long guns and allows municipalities to ban any long guns they see fit," the ISRA website says.

"Instead of having a uniform state law, where everyone knows the rules, Illinois will have a patchwork of inconsistent local gun laws - with good people unknowingly becoming criminals as they travel the state," ISRA says.

Raoul's change is deliberately divisive when there is broad, bi-partisan agreement on bump stocks - especially notable since Raoul is running in the March 20th primary to be the Democrat Party's nominee for attorney general.
* Rep. Scott Drury…
Earlier today, State Representative Scott Drury (D-Highwood) blasted State Senator Kwame Raoul (D-Chicago) for gutting Illinois' proposed bump stock ban: "As students around the country were walking out of schools to honor the slain students in Parkland, Florida and advocate for more responsible gun laws, Raoul was slaughtering Illinois' proposed bump stock ban in order to appease the Illinois State Rifle Association," said Drury. "This continues Raoul's horrendous record on assault weapons."

At issue is the bump stock ban that has been working its way through the Illinois General Assembly. The Illinois House recently passed a bill that would have banned bump stocks and trigger cranks – devices that allow semi-automatic weapons to fire at a much greater pace.

Raoul sponsored the bill in the Senate. However, before presenting the bill, Raoul admittedly cut a deal with the Illinois State Rifle Association, the effect of which was to gut the ban. The amended bill only prohibits devices that are intended to increase the rate of a gun's fire to that of a "fully automatic firearm." "The glaring problem with the Raoul-gun lobby amendment is that bump stocks can be manufactured to allow guns to fire hundreds of rounds per minute, yet still not be considered fully automatic," Drury said. "This bait and switch is why people hate politicians".

Drury also took issue with Raoul's insertion of a poison pill into his amended bill. In 2013, Raoul began his partnership with the NRA, teaming with it to prohibit towns from passing assault weapons bans. Before that misguided legislation went into effect, Drury successfully raced to get numerous towns in his district to pass assault weapons bans.

"While Raoul's amended bill removes the prohibition on assault weapons bans, it makes the bill virtually impossible to pass in the House", said Drury. According to Drury, the requisite number of votes do not exist in the House, and Raoul knows that. "Raoul should be ashamed of himself," Drury stated. "He talks a good game about responsible gun laws and then makes sure those laws can't pass. When it comes to protecting our children from deadly assault weapons, Raoul has no credibility."

Drury said that as one of the primary leaders in the General Assembly for responsible gun laws, he has been contacted by numerous advocates upset with what the advocates call Raoul's betrayal. According to Drury, Raoul is essentially acting like former President George W. Bush – declaring "Mission Accomplished" when, in fact, virtually nothing has been accomplished.
The bill is here.
* From Sen. Raoul's campaign in reaction to Drury's claims…
This week Sen. Raoul passed a bipartisan comprehensive proposal to help make our communities safer which was supported by law enforcement and gun violence prevention advocates. Rep. Drury's desperate mischaracterization gets to the heart of why he's been ineffective during his time in Springfield.

The language regarding bump stocks came from Senator Morrison's legislation. The Rifle Association language he's referring to came from the Illinois State Police.
Wednesday can't come soon enough.
…Adding… From Rep. Drury…
Rich:

As a follow-up to our press release, during debate, Senator Raoul specifically stated:

"Mr. President, I should note that the definition of bump stock and trigger crank in this bill has been amended to take in recommendations from the Illinois State Rifle Association."

Sen. Raoul made no mention of the Illinois State Police.

Scott R. Drury
- Posted by Rich Miller 15 Comments


Today the national pro-life group Susan B. Anthony List (SBA List) announced that its canvassing team will go door-to-door in Illinois' 3rd congressional district ahead of the primary election on March 20 to mobilize voters to turn out for Rep. Dan Lipinski and defeat NARAL-backed challenger Marie Newman.

The group of 70 canvassers, which includes SBA List staff and students from nearby universities, plans to visit each of 17,000 pro-life Democrat households twice in the final five days of the race. The GOTV effort is part of a six-figure campaign that includes digital ads and voter contact mail.

"Dan Lipinski is one of the few remaining pro-life Democrats in Congress, and he has shown extraordinary courage," said SBA List President Marjorie Dannenfelser. "He stood firm against Obamacare's expansion of taxpayer-funded abortion under intense pressure from party leaders to give in."
As to whether their efforts to promote Lipinski in the Democrat primary could take away from Republican pro-life candidate Jeanne Ives in the statewide IL GOP gubernatorial primary, Quigley said the group's primary mission from D.C. is federal offices.

"SBA List's primary mission is at the federal level. We are also proud to have endorsed Jeanne Ives, a champion for unborn children and their mothers, in the gubernatorial primary. This is the only statewide primary in which we are involved."
The group contributed $5,000 to Ives earlier this month.
- Posted by Rich Miller 38 Comments


* Lots of campaigns are loading up on digital ads these days because network TV is so darned crowded. The governor has been online forever, but here's a new anti-Ives online spot from Gov. Rauner's campaign…
* Script…
"When I served on Wheaton city council, the only thing that union membership understood were layoffs. It's the only thing they understood. So if you can't impose your final, best offer because the courts have blocked it, then you just start laying people off."
The tagline at the beginning and end is: "Jeanne Ives isn't for real reform. She's for laying off real people."
This from a man who promised a government shutdown in the 2014 campaign. Such is life. Click here for the video of candidate Rauner.
…Adding… 2014…
"The hard thing is getting customers; the hard thing is cutting expenses; the hard thing is laying people off. But that's what good companies do when times are tough, and she just would not do it," said Rauner, who sat on LeapSource's board.
* Meanwhile, this came in over the transom…
On Steve Cochran's show this morning on WGN Radio, Jeanne Ives called transgender people predators and insisted that there should be no abortions in cases of rape and incest. This kind of rhetoric and these views – which are far out of the mainstream in Illinois – are exactly why the Democratic Governors Association is trying to boost her in the primary. She'd be crushed in the general election.

http://wgnradio.com/2018/03/16/gubernatorial-candidate-jeanne-ives-on-who-is-worse-for-the-future-of-the-state-rauner-or-mike-madigan/

On transgender people:
6:38-7:00: "What we know is that they are truly predators"
5:41-6:37: She also talks about grandmothers being assaulted because of transgender birth certificate bill
On abortion:
9:37-9:59: no abortions in cases of rape or incest
On being a bigot:
7:24-8:01: Cochran says "large percentage of the state's population" sees her as a bigot
* I made a transcript…
The truth is he took a bill that literally means there's no medical intervention, there's no medical sign-off on a doctor for somebody to change their sex and this has far-reaching implications. All you need is an out-of-state licensed mental health professional to say that you can change your sex. And that has real policy problems. That means your grandmother who may have to have a shared room in a nursing home or a hospital bed in a shared room, can literally be having her privacy invaded by somebody who says they're the opposite sex. That's true.
* She was then asked if transgender people and gays are "truly predators"…
Well what we know is that they are truly predators in some cases. Not all cases, in some cases. And this happened in the Department of Corrections where there was a transgendered male who pretended to be a girl, and went to the female - got transitioned, in Illinois, this is not an out-of-state case, in Illinois - went to the female prison then sexually assaulted another prisoner and had to be taken back to the male prison. So this is real lifetime stuff. This happens in real life.
I hunted around for a while and couldn't find that on the Google. Not sure what she's talking about. I e-mailed her campaign and IDOC for an explanation. I'll let you know what I hear back.
*** UPDATE *** From the Ives campaign…
In 2017, Tom Morrison and several other state legislators were tipped off about an inmate who was transferred from Lawrence Correctional Center (a men's prison) to Logan Correctional Center (a women's prison) to Pinckneyville Correctional Center (a men's prison), as well as an incident at Logan that precipitated the transfer to Pinckneyville.
https://bailbondcity.com/illinois/ildoc-inmate-MAHALBASIC/M54605

Tom Morrison FOIA'ed the case at the end of May 2017. His request was denied. Morrison reached out to the IDOC liaison directly. The liaison told Morrison the request was denied because the incident was still under investigation. Morrison told the liaison that he would keep pressing the issue until he got verification. On June 6, 2017, he received a call back from the Department of Corrections legislative liaison who did not want to put anything in writing. But would confirm dates and locations for the inmate in question. The following timeline was confirmed:

10/5/2015 - The Prisoner was first sent to Stateville, on the charge of pimping minors.

10/25/2015 - The Prisoner was transferred to Lawrence Correctional Center (a men's prison)

5/17/16 - The Prisoner was transferred to Logan Correctional Center (a women's prison)

11/27/16 - The Prisoner was transferred to Pinckneyville Correctional Center (a men's prison)

5 /9/17 - Prisoner received two years of parole

In discussing the Transgender Birth Certificate Bill with Governor Rauner, Morrison presented this specific case to Rauner, told him DOC was stonewalling his request for information about the specifics of the case, and suggested that, as Governor, Rauner could learn all the details.

Morrison asked "if you are in a men's prison and could change your gender so easily to be transferred to a women's facility, why would you stay in a men's prison?" Morrison also presented other situations where objective biological sex and anatomical differences would be problematic, such as women's sports, hospitals, nursing homes, domestic violence shelters, homeless shelters, college dormitories. The Governor acknowledged to Morrison that those scenarios could be problems, but did not seem overly concerned. And, subsequently signed the bill.

There are reportedly another half-dozen such cases pending at DOC.
* Related…
* Gubernatorial candidate Jeanne Ives on who is worse for the future of the state, Rauner or Mike Madigan: She agrees, Mike Madigan is the biggest problem with getting things done in Illinois.

* Ives says she can win, Rauner's support is thin: "Bruce has no base," she says, "He's counting on uninformed voters to go to the polls and believe he's still fighting Mike Madigan and to believe I'm Mike Madigan's lacky, which everybody knows is completely false. He's counting on you not knowing the truth about him."

* Ives Blasts Rauner Over Ads: Rauner and Ives have only appeared once together in the same room – for a Chicago Tribune Editorial Board forum last month. Ives said that's because he can't defend his record. "He embarrassed himself in that debate," Ives said, "and he's worried because he can't talk to anybody about real policy choices and he can't defend his record. He wants to blame everything on Mike Madigan and not take ownership of his three years of failed governorship. And that's the truth. And that's why he doesn't want to debate me."

* Trump factor looms large in Illinois governor primary campaigns: At the same time, however, the Wheaton legislator has embraced Trump and urges what she calls the "silent majority" that elected him to rise up against Rauner… How does Ives reconcile campaigning on an honor code that prohibits lying and cheating as a rationale to take on Rauner, while not only tolerating but actively promoting Trump? Asked that question recently, Ives paused for several seconds. "For me, it's a personal affront to what Gov. Rauner has done because I'm part of that Republican caucus he lied to, OK?" she said. "So, it's a very personal thing. That's the thing. I can affect him (Rauner) and the outcome of this election. I can't necessarily affect Donald Trump."

* Tea Party Patriots Citizens Fund Endorses Jeanne Ives for Governor in Illinois: "For three years, Illinois has been led by a liberal governor – a man who presided over a massive personal income tax increase, failed to negotiate a state budget for two years, broke a campaign promise when he decided that abortions should be paid for with taxpayer dollars, and signed a bill making the Land of Lincoln effectively a 'Sanctuary State.' Sadly, that liberal governor is a Republican – a Republican who campaigned four years ago as a conservative, making promise after promise to assuage the concerns of conservative Illinois voters, then betrayed them once he took office."
- Posted by Rich Miller 30 Comments


* Erika Harold was on WLS Radio today and had this to say about her alleged claim in 2000 that she'd place a foster child in an abusive home with heterosexual parents rather than putting the kid in a house with gay parents…
Harold, who was 19 years old at the time, told "The Big John and Ramblin' Ray Show" Friday morning on WLS that she does not remember making the comments, but if she did she is sorry.

"As I've stated, I don't recall the specific exchanges alleged by those sources" said Harold. "If I said it, it was absolutely wrong. But what I'm happy to make perfectly clear, is that I support same-sex adoption, and same-sex foster parenting because we need more loving homes and places for children to be loved and cared for."

Harold also admitted during the WLS interview that she most likely would not have supported gay adoption when she was 19.

"I have changed. Certainly at the time I would not have supported same sex adoption, same-sex foster parenting and that was wrong. Like many people during that time it was a different era. And there were a lot of people who held that position, and I think there are a lot of people who have evolved like me", said Harold. […]

"There is a consensus that we need to provide children with more safe and loving homes and I think it's important that people be able to evolve" said Harold. "In politics it's important that you change your position if you realize that it was wrong. There's no point in defending positions that you may have held just because you may have held them. I think we need to be a place where people can evaluate, and pay attention to changing norms and new evidence and have humility and say 'I was wrong.'"
- Posted by Rich Miller 50 Comments


* Quincy Herald-Whig…
"This guy Pritzker, he's Madigan's handpicked candidate," Rauner said. "I know this guy. He's done a lot of bad stuff. And I am going to blow him up and take him down in November. You watch."

Rauner expressed confidence not only in his ability to win re-election but to see Republicans statewide capture enough House seats to gain a Republican majority and overthrow Madigan, whom Rauner characterized as "a unified force of bad, of evil" for the Democrats who control the General Assembly.

"We are going to blow the Democrats away, turning out the vote and taking Madigan and his corrupt machine down in November and putting a better future for our children and our grandchildren," Rauner said.

"We've got an incredible opportunity. This is the chance of a lifetime. This election will determine the future of the state," he said. "What's at stake in November? Control of the (electoral) map. Control of the redistricting after the 2020 census. We have got to hold the governorship to have a voice against Madigan in the remap."
"We are going to blow the Democrats away." And then, "We have got to hold the governorship to have a voice against Madigan in the remap."
That's kinda contradictory, isn't it? If he's saying he'll take away Madigan's majority, then why bother saying seconds later that he needs to be reelected to fight Madigan's new map?
- Posted by Rich Miller 46 Comments


* Tom Kacich…
Pamella Gronemeyer, who is running for the low-profile position of Democratic state central committeewoman in the 13th Congressional District, hasn't promised to try to unseat longtime Democratic Party Chairman Michael Madigan.

But one of Madigan's campaign committees, Friends of Michael J. Madigan, has paid for robocalls by Sen. Dick Durbin and AFL-CIO President Mike Carrigan that endorse Gronemeyer's opponent, Jayne Mazzotti of Taylorville. […]

"I think it's been a very tough fight with him and Rauner. Certainly, I'm opposed to Rauner," said Gronemeyer, a pathologist who lives in Glen Carbon and owns SEMC Pathology in Highland. "But I think that maybe it might be time to contemplate a change [in party leadership]. I think (Madigan) should want to embrace some of the people who are running on the slate with me.

"We are good Democrats. We went to the convention. We supported things. We got out the vote. I think he should embrace us rather than run ads against us. Or come and talk to us even." […]

Madigan spokesman Steve Brown said the robocalls for Mazzotti are simply "in support of incumbent members of the committee who have been longtime Democratic activists."
* Sen. Duckworth is now involved. A reader sent me this voicemail message late yesterday…
* Script…
This message is sponsored by Friends of Michael J. Madigan.

This is Sen. Tammy Duckworth. Democrats need to stand up to Donald Trump. I'm supporting Jane Mazzotti for Democratic state central committee because I know Jane will stand up to Trump and speak up for us. A vote for Jane Mazzotti is a vote against the extreme
Trump agenda.

Paid for by Friends of Michael J. Madigan.
They have to put the disclaimer right up front because of federal law.
- Posted by Rich Miller 16 Comments


* Usually, statewide Democratic primary candidates spend time Downstate early in the campaign so that they can spend as much time as possible in the Chicagoland area (where most of the votes are) during the homestretch. Rod Blagojevich's 2002 strategy was a bit different. His plan was to fight Chicago to a draw and then run up the score in the Metro East and other Downstate areas. JB Pritzker, who has given $200,000 to the St. Clair County Democratic Party, was in the vote-rich Metro East area yesterday and today…
* Democratic governor candidates: Chris Kennedy will meet with voters at three events, including a Chicago train stop in the morning. J.B. Pritzker will go to events in Granite City and Belleville.
Pritzker was in Madison County yesterday. The other candidates haven't spent much money in that region, so it makes some sense to go there.
*** UPDATE 1 *** Rep. Jay Hoffman (D-Swansea) just called to say he'd help set up this trip "weeks ago."
*** UPDATE 2 *** Hoffman forwarded me an e-mail from several days ago which shows he was, indeed, telling the truth. End of story.
[ *** End Of Update *** ]
* But Pritzker's campaign schedule also has one other advantage…
In this last week of the Illinois Governor's Primary campaign, Democrat J.B. Pritzker is keeping his distance from Chicago reporters.

On Monday morning, he attended an 8 a.m. union hall meeting in south suburban Alsip. Since then, the Chicago Tribune published a report on Pritzker's off-shore companies, formed since 2008, in direct conflict with information that Pritzker had said in the past that all off-shore interests were created by family members years ago.

After the WTTW final debate Wednesday evening, Pritzker fielded questions for less than four minutes before his press team pulled him away as reporters shouted more inquiries about whether any of the off-shore distributions were directed to family members.

Since then there has been no opportunity for Chicago reporters to speak directly to Pritzker.
* A few pics from the trail…
It was a great night to get out the vote in Madison County! It's time to get Springfield back on the side of hardworking families, and as governor, that's what I'll do. Make a plan to vote on Tuesday: https://t.co/Nz5y5t7IxI pic.twitter.com/xnEEKQwkEa

— JB Pritzker (@JBPritzker) March 16, 2018
Began the day attending a shift change and speaking with the hardworking employees at Granite City Works! pic.twitter.com/6HK5RncQhw

— JB Pritzker (@JBPritzker) March 16, 2018
From Granite City, we headed to Swansea where I was delighted to join labor leaders from Madison and St. Clair counties for breakfast! pic.twitter.com/fI0dvLpFrq

— JB Pritzker (@JBPritzker) March 16, 2018
…Adding… Pritzker was also at an Irish flag-raising celebration this morning.
- Posted by Rich Miller 21 Comments


[The following is a paid advertisement.]
Generic drugs sell for an average of 10 cents a dose. A price increase to 13 cents might trigger a government investigation. This won't provide relief to patients – it will only waste government resources. Oppose HB 4900. Learn more on the Association for Accessible Medicines website.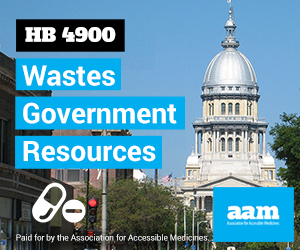 - Posted by Advertising Department Comments Off


* Sam says a lot of things and the governor's office denies this, but Rauner has made some pretty nasty threats over the years, so here you go…
[State Sen. Sam McCann] said that he will run as an independent for either state Senate or governor this fall, and would announce his plans by mid-April. […]

McCann said he was barred from a Senate Republican caucus at the Statehouse Wednesday, but did not specify why. He said he and Senate GOP Leader Bill Brady, R-Bloomington, "agreed to address the issue" after the break. The Senate is scheduled to meet next on April 10. […]

McCann said he was called to Rauner's office "a couple of times" to talk about the bill, with the final meeting being the day the Senate was to vote to override the veto. He said Rauner suggested he skip the vote if he wouldn't vote no, but made it clear that there was "one way to make him angry," which would be a "yes" vote.

"And he looked at me, and said, 'I'll destroy you and your family if you go through with this,'" McCann said.
…Adding… I'm told that several Senate Republicans had seen the report from the night before the caucus meeting that McCann would run for Senate or governor as an independent. "There was the assumption he left the party," explained one SGOP official, who said McCann arrived at the caucus right before it ended.
- Posted by Rich Miller 32 Comments


* Daily Kos yesterday…
Pathetic. Nauseating. Desperate. Pick your favorite, but these all apply to the anti-partisan group No Labels' effort to prop up conservative Democratic Rep. Dan Lipinski as he faces a progressive primary challenger, Marie Newman.

One of No Labels' super PACs, United for Progress, has sent out the mailer above trying to link Lipinski to former President Barack Obama. Here's the thing: Lipinski refused to endorse Obama in 2012—when Obama was a sitting president from Lipinski's party and, indeed, from Lipinski's home state of Illinois.

United for Progress has spent nearly $750,000 boosting Lipinski, who opposed the Affordable Care Act, marriage equality, and the DREAM Act, is vehemently anti-choice, voted to weaken Wall Street reform, and only came out for a $15 minimum wage when he lost a major union endorsement over it. This while representing a congressional district where Hillary Clinton got 55 percent of the vote in 2016.
* Today…
Team Obama settles score with Lipinski

Congressman Dan Lipinski was no friend to President Barack Obama when his fellow Chicago Democrat occupied the White House.

On Thursday, Lipinski got his comeuppance.

A collection of former Obama aides and supporters banded together to deliver some Chicago-style payback, just days before the embattled congressman faces a tough Democratic primary challenge that could end his career.
And what was that Chicago-style payback? Did they contribute a pile of money to Marie Newman's campaign? Did they announce they'd recruited dozens of people to walk precincts? Did they say they were setting up a phone bank? Did they at least send some Chicago-style pizzas to Newman's HQ?
* Nope. They held a press conference in David Axelrod's office. It did get some TV coverage, though…
"This is about calling out hypocrisy, frankly, and letting voters know what their representative is doing in Congress, and lying about their record and allegiances is not going to be tolerated," said John Atkinson, former President Obama campaign aide. […]

"President Obama needed Congressman Lipinski when every vote counted to pass the Affordable Care Act, we got it done without him but his district deserves better," said Jon Carson, Obama 2008 campaign National Field Director.
* And…
Former Obama staffers, like John Carson, gathered Thursday to say Lipinski is stealing the former president's image.
Oh noooo! Whatever will happen now?! /s
* Related…
* Lipinski, Newman to clash on TV tonight, just days before primary

* The $2 million campaign: Big bucks in race between Lipinski, Newman

* In Illinois Primary, Democrats Take Aim at One of Their Own

* Pro-Life Democrat: 'It Would Be a Disaster' for Party to Expel People Like Me
- Posted by Rich Miller 21 Comments


* Most media coverage of Gov. Rauner's hastily arranged Quincy press conference yesterday was pretty favorable. Quincy Herald-Whig…
Two months after pledging to help find money for upgrades at the Illinois Veterans Home, Gov. Bruce Rauner was back Thursday, calling for construction of a new state-of-the-art facility on the Quincy campus.

"We want to make this the best veterans home in America," Rauner said. "All I care about is that our veterans are well cared for."

The state posted a request for proposals for a master planning contract Thursday. This fall, officials hope to choose a design and know how much it will cost to build "a world-class facility."

Several Veterans Home residents of the home applauded Rauner's announcement and were pleased to hear that the home, which was founded in 1886, will continue to serve the needs of veterans.
* SJ-R…
Gov. Bruce Rauner is looking into buying a new home for veterans in Quincy, as well as adding a new building to the existing veterans' home campus. […]

"We've gotta move. We can't let any more risk occur here," he said. "These Legionella bacteria, they're tough to eradicate but we will never give up."

Rauner said the state is looking at buying a nursing home a few blocks from the current one in Quincy that has been vacant for a year.
* AP…
Gov. Bruce Rauner's administration says it will hire architectural and design teams by summer to redevelop the Quincy veterans' home campus hit by a Legionnaires' disease crisis.

Michael Hoffman is Rauner's senior adviser with oversight of the Quincy situation. He told a news conference in Quincy Thursday that the long-term goal is to build state-of-the-art living quarters for Quincy residents to reduce the chance of Legionella bacteria.
* WGEM TV…
As for the Sycamore facility proposal, Senator Jil Tracy expressed concerns about using the facility after a hearing in Chicago last week. However, on Thursday, she said trusts experts who would make upgrades and make sure veterans are protected. The old Sycamore facility is listed at just under $800,000, according to Hoffman, who said the state has the money now to buy the facility, but would need additional appropriations for modular housing that could also been needed for veterans to live in during future construction.
* But…
Pressed on when exactly the administration would attach a price tag to what Rauner envisions, Hoffman said, "We're not going to give a number at this time. But as soon as we have a plan, as soon as we have a reliable number, we will share that with the public, the General Assembly, and certainly pursue the federal option, as well."
* Purely by coincidence, I'm sure…
QUINCY — Adams County Republicans convened a political pep rally Thursday night in Quincy and brought in some heavy hitters to lead the cheering.

Illinois Gov. Bruce Rauner and former U.S. Attorney General John Ashcroft were among the featured speakers at the annual Lincoln-Reagan Day dinner at the Town and Country Inn and Suites. […]

Rauner, who spoke during the social hour before hurrying to another speaking engagement at a similar Lincoln-Reagan Day event in Pike County, acknowledged he will be facing a big battle himself to get re-elected.
The press conference was thrown together, but the political event had been on the governor's schedule for quite some time. Click here.
…Adding… What may have happened here is that Rauner realized he had to schedule something at the veterans' home if he was going to be in town for a campaign event or he'd look horrible.
* Pritzker campaign…
Yesterday, Bruce Rauner said "nothing has taken long" about his fatal mismanagement of the Quincy Veterans' Home that took 13 lives, but a public health expert disagrees.

From WBEZ: 'Beginning Of An Epidemic': Email Shows State Waited 6 Days To Publicize Legionnaires' Outbreak:

One of the nation's top infectious disease experts said it's "mind boggling" that the state would wait six days to notify the public about the initial outbreak at the Illinois Veterans Home.

"I think it's really inexcusable," said Dr. Amesh Adalja, senior scholar at the Center for Health Security in the Johns Hopkins Bloomberg School of Public Health in Baltimore, Maryland. "It takes you six days from seeing an epidemic to tell people that you're seeing an epidemic? That's six days that you've allowed that disease to spread in a manner that probably wouldn't have happened if you would have known earlier because people would have been taking action. People would have been asking questions.

"If you know there is an epidemic, you need to tell people immediately," Adalja said.

"Bruce Rauner and his administration intentionally withheld information that could have saved lives in Quincy and let this crisis spiral out of control for years," said Pritzker campaign spokeswoman Jordan Abudayyeh. "This failed governor forced staff and residents to rely on media reports for information, and his continued refusal to take responsibility for his fatal mismanagement is an unconscionable moral failing."
- Posted by Rich Miller 16 Comments


* Press release…
After the Democratic Governors Association bought ad time to meddle in the Illinois Republican gubernatorial primary, the Rauner campaign launched a new ad, 'Conservative Voter Alert.'

"Washington Democrats have teamed up with Mike Madigan's favorite Republican Jeanne Ives because they know they can't beat Governor Rauner in November. Governor Rauner's message of growing jobs, cutting taxes, and rooting out corruption in Illinois has Democrats running scared." - Communications Director Will Allison
* Rate it…
* Script…
Announcer: This is a conservative voter alert. The same Washington liberals that support JB Pritzker are now helping Jeanne Ives with last-second ads. Why? Because Jeanne Ives has already surrendered to Mike Madigan.

Ives: "We'll work with Mike Madigan."

Announcer: Liberals are hijacking the Republican primary in Illinois. They will do anything to keep the Madigan machine in power. That's why they support Ives.

Ives: "We'll work with Mike Madigan."

Announcer: Stop Mike Madigan. Elect Bruce Rauner.
* Meanwhile, National Review has endorsed Ives. Press release…
This morning, the renowned conservative opinion journal National Review, which previously named Bruce Rauner 'The Worse Republican Governor in America,' announced its endorsement of Jeanne Ives for Illinois Governor, writing,

Failing to pass the fiscal reforms he promised wouldn't alone justify his ouster in the primary. But Rauner's duplicity on the issue of abortion should be disqualifying to conservatives. During the election, Rauner — who is pro-choice, had once donated to Planned Parenthood, and whose wife is an abortion-rights activist — insisted that he was merely running to fix the state's coffers. He had, he said, "no social agenda." When a bill to guarantee abortion as a right if the Supreme Court ever overturned Roe v. Wade and provide public money for abortions through all nine months of a woman's pregnancy began circulating in the state legislature, Rauner said he would veto it. In September, he signed it into law. Pro-lifers who voted for Rauner put their trust in a man who is now forcing them to underwrite third-trimester abortions. His record is not just dreadful, but features a glaring lie.

Which is why Jeanne Ives, a state legislator, is a better alternative. Ives is an underdog and lacks Rauner's resources, but she is both a superior candidate to the governor and a solid politician in her own right. One recent poll has her just 7 points behind Rauner. For his part, the governor is running far behind the likely Democratic nominee — J. B. Pritzker, a cat's paw of Madigan — and has been unwilling to engage Ives in debate after an embarrassing showing in a joint appearance with her at the Chicago Tribune editorial office. Illinois Republicans should vote for Ives, the only conservative on the ballot.

In response, Ives said, "I am grateful and humbled to have the support of the leading conservative publication in the country. I thank National Review for understanding the purpose of our campaign and the importance of a small government policy revolution in Illinois."
The endorsement is here.
- Posted by Rich Miller 45 Comments