* Jonathan Jackson finally released his disclosure report…
IN-PERSON MEDIA AVAILABILITY: 2 p.m. TODAY

Jacqui Collins Available In-Person to Comment on Jonathan Jackson's Problematic and Unethical Financial Conflicts

After hiding his financial disclosure report for weeks and finally filing it late, direct investments include: oil and gas, Raytheon, Blackstone, big pharma

Who: State Senator Jacqui Collins (D-Chicago)

What: Jacqui Collins is available to provide comments and take questions about Jonathan Jackson's financial disclosure report linked here showcasing investments that no member of Congress should have – especially a Democrat.

After hiding his financial disclosure report for weeks and finally filing it just days before Election Day, direct investments include: oil and gas, defense contractor Raytheon, affordable housing crisis perpetrator and Trump-funding Blackstone, big pharma, Amazon and Wal-Mart.
Also, if you check Jackson's campaign "Issues" page, at the top of the list is crypto. Hmm.
* All you probably need to know about this candidate in one endorsement…
Grassroots organization, Stand for Health Freedom, endorses Judge John A. Noverini and calls all voters in the Illinois Supreme Court District 2 to vote for Noverini in the Republican Primary on June 28th.

The organization published on its website and social media accounts that "Stand for Health Freedom supports candidates who make and protect policy to support individual and family choice in matters of health and bodily autonomy. We believe John Noverini will defend and expand these rights for Illinois residents … Judge Noverini says he is fully committed to doing everything within his power as a Justice on the Illinois Supreme Court to make sure government works as it was originally intended – limited in scope and in accordance with the Constitution." Stand for Health Freedom was established in 2019 and has been dedicated to the facilitation of protecting human, parental and Constitutional rights. SHF encourages communication between constituents and their elected officials.

"My calling has always been, and will remain, to defend the Constitution and safeguard our God-given liberties," Noverini said. "Every morning before I walk into court, I pray for wisdom. I pray for Godly wisdom. And I remind myself that it is my job to preserve, protect, and defend the Constitution."
* Meanwhile…
Today, the Lake County Federation of Teachers, AFT Local 504, announced its endorsement of Judge Elizabeth Rochford for the Illinois Supreme Court's Second District. The union represents over 5,500 teachers, school-related personnel and support staff in twenty-two councils located throughout Lake County, and is a member of the Illinois Federation of Teachers.
* Club for Growth backing Lauf…
Club for Growth PAC endorsed Catalina Lauf for Illinois' 11th Congressional District.

"Over the past few years, Democrats have run Illinois into the ground and that's why it's so important that we elect conservatives like Catalina Lauf to help turn the state around," said Club for Growth PAC President David McIntosh. "Lauf is a true free-market conservative who will fight back against Joe Biden's stimulus spending that has led to runaway inflation and she will fight for school choice and Illinois families. She is a great Hispanic conservative and the perfect candidate to help bring jobs and economic prosperity back to Illinois."

Current Democrat Representative Bill Foster (CFGF Lifetime Rating 8%) is running for re-election.
* Speaking of Club for Growth and outside money…
NEW FEC F24
CLUB FOR GROWTH ACTION
$146,279-> #IL15https://t.co/cJHqEocGqJ pic.twitter.com/ed1q6M0×1k

— CATargetAlt (@CATargetAlt) June 22, 2022
NEW FEC F24
CONSERVATIVE OUTSIDER PAC INC
$414,429-> #IL15https://t.co/S4vYb8BLcW pic.twitter.com/r5bg3×27j2

— CATargetAlt (@CATargetAlt) June 23, 2022
NEW FEC F24
STRONG LEADERS FUND
$538,643-> #IL15https://t.co/hFMl3PZpz6 pic.twitter.com/55v7sfErN4

— CATargetAlt (@CATargetAlt) June 23, 2022
* Kinda like shooting political bullets at a dead political horse, but whatevs. Tribune with some late oppo…
When Richard Irvin became mayor of Aurora five years ago, he named Michael Pegues — a close childhood friend — as one of his most trusted aides at Aurora City Hall.

In addition to naming Pegues as Aurora's chief information officer, Irvin also empowered him to help run OnLight Aurora, a quasi-city agency that managed and sold access to government-owned, high-speed internet lines.

But by 2018, Pegues' leadership came under scrutiny. Records show that, while he was chairman of OnLight's board, it sponsored events for his wife's upstart business. And two contractors told police that Pegues fired them for not paying to sponsor his wife's events.
* An interesting take…
The Madigan factor also weighs heavily in Addison Democratic Rep. Kathleen Willis' bid for a sixth term representing the 77th House District, which spans portions of west suburban Cook and DuPage counties.

Willis, 60, became majority conference chair under Madigan and regularly used her campaign fund to help candidates in key races for House Democrats.

But Willis was among the 19 House Democrats who came together in January 2021 to oppose Madigan's reelection as speaker. The lone member of House leadership to take that stand, Willis also briefly put herself into consideration to be the next speaker.

Nonetheless, her long-standing relationship with Madigan has helped inspire a challenge from Triton College trustee Norma Hernandez, 31, who has the backing of progressive U.S. Rep. Jesus "Chuy" Garcia.

"I honestly think that the reason I have a primary is because of that," Willis said. "And I tell the people in my district I'm asking for their support to prove that I did the right thing by going against Madigan."
Garcia likely isn't backing Hernandez for that reason, but it's true that some trade unions are still upset at her for that flip, among other things.
* Personal PAC…
Dear Rich,

The critical upcoming 2022 Illinois election that our state is facing hits on a deeper note to State Representative candidate Gregg Johnson. Gregg lost his mother when he was just eight years old.

Until news of the leaked draft ruling to overturn Roe v. Wade, Gregg "was always secure in the fact that no other eight-year-old boy was going to go through this. So, that was a gut punch."

Gregg's mother, Shirley Hunter Johnson, was single and pregnant with her fourth child when she passed away in 1972 due to a medical condition called severe preeclampsia. This condition made her pregnancy very risky to carry to term and because of the lack of abortion access in a pre-Roe v. Wade world, Shirley and her family suffered exponential consequences.

Gregg is running for State Representative in the 72nd district to fight to protect reproductive rights, stand up for others, and make sure nothing like what happened to him and his family can happen again.

You can read more about Gregg's story here.

Finally, please remind everyone you know to get out and vote for pro-choice candidates fighting for our reproductive freedom, and to ensure that we never go back to the days of unnecessary tragedies. You can view our full list of endorsed pro-choice candidates here.
* Looks like some shenanigans are afoot…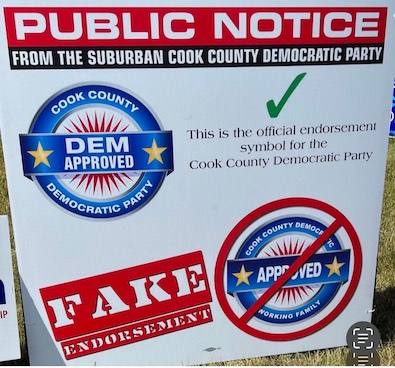 * On the left, Darren Bailey. On the right, Illinois Republican House candidate Matthew Rauschert…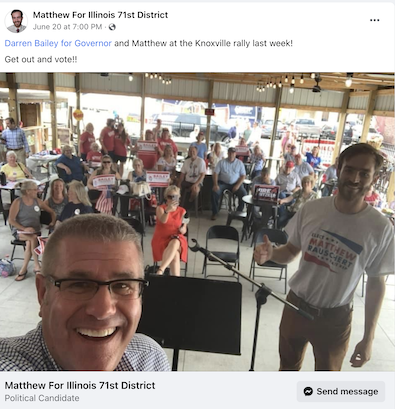 Thanks to the magic of opposition research, click here for an interesting little Rauschert video. Nice Coke shirt, dude. /s
* More…
* Rep. Tarver, seeking another term, lays out accomplishments, positions and character
- Posted by Rich Miller 19 Comments


* SCOTUSBlog…
The Supreme Court on Thursday struck down a New York handgun-licensing law that required New Yorkers who want to carry a handgun in public to show a special need to defend themselves.

The 6-3 ruling, written by Justice Clarence Thomas, is the court's first significant decision on gun rights in over a decade. In a far-reaching ruling, the court made clear that the Second Amendment's guarantee of the right "to keep and bear arms" protects a broad right to carry a handgun outside the home for self-defense. Going forward, Thomas explained, courts should uphold gun restrictions only if there is a tradition of such regulation in U.S. history

The state law at the heart of New York State Rifle & Pistol Association v. Bruen required anyone who wants to carry a concealed handgun outside the home to show "proper cause" for the license. New York courts interpreted that phrase to require applicants to show more than a general desire to protect themselves or their property. Instead, applicants must demonstrate a special need for self-defense – for example, a pattern of physical threats. Several other states, including California, Hawaii, Maryland, Massachusetts, and New Jersey, impose similar restrictions, as do many cities. […]

In an opinion joined by Chief Justice John Roberts, Kavanaugh contended that Thursday's ruling will not bar states from imposing any licensing requirements. There are 43 states, he noted, that use licensing schemes that include requirements such as background checks, firearms training, a check of mental health records, and fingerprinting. Such schemes are objective, Kavanaugh explained, rather than granting "open-ended discretion to licensing officials" and requiring "a showing of some special need apart from self-defense." Justice Stephen Breyer dissented, in an opinion joined by Justices Sonia Sotomayor and Elena Kagan. Arguing that the question before the court was "the extent to which the Second Amendment restricts different States (and the Federal Government) from working out solutions to" gun violence "through democratic processes," Breyer faulted his colleagues for striking down the New York law without a record that would allow it to determine how the New York scheme actually works in practice, "without considering the State's compelling interest in preventing gun violence and protecting the safety of its citizens, and without considering the potentially deadly consequences of its decision."
The ruling is here.
* New York Times…
Justice Thomas wrote that citizens may not be required to explain to the government why they sought to exercise a constitutional right.

"We know of no other constitutional right that an individual may exercise only after demonstrating to government officers some special need," he wrote.
Really? How about parade and demonstration permits and lobbyist registration?
* AG Raoul…
Attorney General Kwame Raoul today issued the following statement regarding the U.S. Supreme Court's decision in New York State Rifle & Pistol Association, Inc. v. Bruen.

"Today's decision striking down New York's statutory scheme does not affect Illinois' concealed-carry laws or other gun safety measures, and the steps that we have taken as an office to prevent gun violence and build safe communities remain preserved. In fact, the Supreme Court's opinion cites Illinois as being among those states whose laws are not affected by the decision.

"In the wake of the numerous occurrences of shocking gun violence that have taken place around the country, we continue to do all we can. My office vigorously defends Illinois' gun safety laws, prosecutes gun trafficking cases and individuals making false statements on FOID applications, and supports programs to assist crime victims and prevent community violence. We are also working with law enforcement and community partners to develop a state-of-the-art crime-gun tracing database for the state of Illinois."
* G-PAC…
"The Supreme Court's decision in the New York case does not threaten any of our Illinois gun laws. It explicitly affirms the constitutionality of concealed carry permit laws like the one Illinois adopted in 2013," said Kathleen Sances, President & CEO of the Gun Violence Prevention PAC. "The ruling also recognizes that states may adopt a variety of regulations on who may own or carry guns and the types of guns that are lawful. We will continue to work for the effective enforcement of our existing laws and for new commonsense laws that are constitutional."
* However, former NRA lobbyist Todd Vandermyde points to this footnote on page 30…
That said, because any permitting scheme can be put toward abusive ends, we do not rule out constitutional challenges to shall-issue regimes where, for example, lengthy wait times in processing license applications or exorbitant fees deny ordinary citizens their right to public carry.
He also believes that Illinois may have to accept other states' concealed carry licenses, that the rights of individual sheriffs to object to CC permits could be under fire, etc. Say what you want about Vandermyde, but people laughed (myself included) when he predicted that Illinois would be forced by the courts to institute a concealed carry law.
- Posted by Rich Miller 28 Comments


* I really liked Wayne. He was a fascinating person to talk with because he had so much knowledge and knew so many people and was truly a decent guy. Plus, I lived in Hanover for a time and that's where he grew up. Here's Steven Strahler at Crain's…
Wayne Whalen, a precocious corporate attorney who had his hand in the election of former Chicago Mayor Harold Washington, the writing of the Illinois Constitution and numerous other matters, including owning Ronald Reagan's downstate birthplace and chairing the Abraham Lincoln Presidential Library Foundation, died in his Kenwood home on June 20.

He was 82 and had been diagnosed with progressive supranuclear palsy, according to his widow, Paula Wolff.

Whalen was barely out of law school and into his 30s when he was elected a delegate in 1969 to the state constitutional convention, where he chaired the drafting committee and interacted with other young delegates like Richard M. Daley and Michael Madigan.

Whalen had worked the previous year on credential challenges at the 1968 Democratic National Convention and would reprise the role mightily at the 1972 convention in working on a compromise that would have seated competing slates of delegates led by then-Mayor Richard J. Daley and by Chicago Ald. Bill Singer and The Rev. Jesse Jackson. Daley rejected the compromise, which would have granted each delegate half a vote, and sat out the Miami convention that nominated George McGovern to be the Democratic candidate for that year's presidential election.
There's a great line in there from the Tribune, which reported years ago that Wayne had the look of a "solidly built outdoorsman with the face of a friendly homicide lieutenant." Yep.
* From Wayne's obituary…
Wayne Walter Whalen was born in Savanna, Illinois on August 22, 1939 to Leo and Esther (Yackley) Whalen. The oldest of five, Wayne grew up in Hanover, Illinois on his family´s mallard duck farm, Whistling Wings. Wayne´s early jobs, beginning at the age of nine, included detasseling corn and shining shoes. He was the first in his family to go to college, graduating as a member of the United States Air Force Academy's third class in 1961. While serving for three years as a missile launch officer, he would emerge from the silo at Sheppard Air Force Base in Wichita Falls, Texas to teach high school math on his days off. […]

In 1984, Wayne and five partners founded the Chicago office of Skadden, Arps, Slate, Meagher & Flom. He served as the managing partner for 25 years. During that time, he proudly represented an eclectic group of clients ranging from Fortune 500 companies to Southside lottery winners providing expert legal advice, strategy, and judgment. In keeping with his commitment to the common good, Wayne also served on numerous boards including the Abraham Lincoln Presidential Library and Museum Foundation, the Adlai Stevenson Center on Democracy, and the United States Air Force Academy Endowment.

Wayne met the love of his life, Paula Wolff, at the 1970 Illinois Constitutional Convention. Surprising everyone who knew them, they eloped on the original Earth Day at the Springfield courthouse. Married for over 52 years, they have five spectacular children and eleven even better grandchildren whom Wayne took incredible care of and loved dearly. […]

In lieu of flowers, donations in memory of Wayne may be made to the University of Chicago Medical Center for Parkinson's/Progressive Supranuclear Palsy research (http://giving.uchicago.edu/wayne-whalen) or the Lincoln Presidential Foundation (https://www.lincolnpresidential.org/giving/).
My sympathies to Paula and to the rest of Wayne's family.
* From a 2007 interview with Bethany Jaeger at WUIS…
Q.What would you expect to be the top issues if voters called for a convention in 2008?

There would be an effort to affect the guarantees of public pensions, which are contained in the existing Constitution. I think there would be an effort to roll back the powers of local government that are currently contained in the Constitution. I think there would be an effort to curtail the power of the governor in granting vetoes and pardons. For example, I think there's some that view the governor's power to pardon convicted felons [in] capital cases — the death penalty — there would be an effort to roll that back. The current Constitution of Illinois has an Equal Rights Amendment for women. That's different than in a lot of places, so that will be an issue. There's the issue of marriage and how that should be defined. That would be a question. The current Constitution is very clear on the separation of church and state as that applies to the funding of education. And I think it's reasonable to assume that there would be an effort to change that.
- Posted by Rich Miller 4 Comments


* Your explained rating of this DPI video designed to help convince the national party to select Illinois as one of the first presidential primaries in the country?…
Democratic presidential candidates need to be tested — early.

With our unmatched diversity, competitive elections, and committed Democratic leadership, Illinois is ready to become a 2024 early primary state for @TheDemocrats and be that true test of our next president. pic.twitter.com/RM0KVzSfMK

— Democratic Party of Illinois (@illinoisdems) June 23, 2022
* Script…
Welcome to Illinois. We're the heart of the Midwest. A state that reflects the very best of our nation and our party. And we're a true test for anyone who wants to be our next president. Urban, suburban rural. Public universities and manufacturers big and small. A thriving tech sector and our farming communities are the lifeblood of the Midwest. Here in Illinois are people look like America. No state more closely mirrors the nation's demographics. And we aren't just really proud of 900,000 union households, we are the birthplace of the modern labor movement. From Chicago to Carbondale, Danville to Decatur, our candidates stand out at Pride parades, union halls and county fairs. People might think we're a blue state, but we're really a state that Democrats fight to keep blue every cycle. In 2018, JB Pritzker flipped the governorship from red to blue. In 2016, Tammy Duckworth flipped the Senate. And Obama did the same in 2004. (Obama: "Thank you, Illinois, I love you!") Our Democrats win when they appeal to all voters. And we turn those wins into action, with some of the strongest laws of the nation expanding ballot access, defending reproductive choice, protecting the environment and growing good-paying jobs. To win in November, candidates have to be tested - early. And Illinois is ready to be that true test of our next president.
Please pardon all transcription errors.
- Posted by Rich Miller 22 Comments


* The last poll taken in this race is here. The last Fabrizio Lee poll is here. New one…
ILGOP Gov survey@Fabrizio_Lee
6/20-6/22
N=500 LV
+/- 4.4%

Bailey 37
Sullivan 17
Irvin 14
Rabine 7
Schimpf 4

— Dan Proft (@DanProft) June 23, 2022
Since the last Fabrizio Lee poll, taken three weeks ago, Bailey's lead has grown by 13 points. Since the last public poll, taken 10-13 days ago, Bailey's lead is up by 2 points, which is likely just background noise.
Sullivan's support has grown by just four points since the last Fabrizio Lee poll. He's up five points since the last public poll.
Irvin's support has dropped by six points since the last Fabrizio Lee poll, and it's fallen by three points since the last public poll.
Your thoughts?
…Adding… I told you about Sullivan's ad buy yesterday, but here's Politico…
Jesse Sullivan is hoping for a big surge in the final days of the statewide GOP race for governor, though you wouldn't know it from his TV ad buys. According to ad spending documentation provided to Playbook, Sullivan is spending $680,000 over the next week on TV, but nearly all of it — $568,000 — is being spent in the Chicago area.

Similar move: Fellow Republican Richard Irvin also pulled back on advertising downstate to focus on Chicago. This week, Irvin is spending $430,000, with $412,000 of it in Chicago.

Darren Bailey, the GOP frontrunner in recent polls, is spending $312,000 in Chicago and another $160,000 across the rest of the state. The downstate Republican is seen as already having sewn up the southern part of Illinois.

And in case you're wondering, Democratic Gov. JB Pritzker is spending more than all of the Republicans combined — about $1 million in the Chicago area and $600,000 across the rest of the state.
- Posted by Rich Miller 79 Comments


* Griffin is from Daytona Beach. Robert Channick from the Tribune…
Billionaire hedge fund manager Ken Griffin is moving his company's headquarters from Chicago to Miami.

In a note to employees Thursday, Griffin said his investment firm, Citadel, will relocate to new headquarters in Miami's financial district after more than 30 years in Chicago. Citadel, which has about 1,000 employees in Chicago, will maintain an office in the city, but many are expected to shift with the corporate locus to the Sunshine State, where Griffin, a Florida native, recently moved with his family.

"Chicago will continue to be important to the future of Citadel, as many of our colleagues have deep ties to Illinois, Griffin said in his note. "Over the past year, however, many of our Chicago teams have asked to relocate to Miami, New York and our other offices around the world."
Yeah, it's about the employees.
…Adding… From what I'm being told, Griffin, who was already looking at leaving, decided to hang it up when he saw Dick Uihlein so willingly team up with Gov. Pritzker. The party, at that point, was just not worth saving.
…Adding… Tribune…
In a statement Thursday morning, Irvin blamed Pritzker for Citadel's departure and for refusing "to acknowledge what everyone sees, which is that his high-tax, pro-criminal administration is literally driving jobs and businesses out of state."

"In the last month alone, Illinois lost Boeing, Caterpillar and now Citadel," Irvin said, noting recent announcements by the defense contractor and airplane-maker and Caterpillar Inc. are moving their corporate headquarters to Virginia and Texas, respectively.

Adding a pitch for his candidacy, Irvin said, "It's a clear pattern that shows no signs of ending unless we beat Pritzker in November, and I'm the only person in this race with a proven record of success to take Illinois back."

Illinois House Republican leader Jim Durkin said Griffin's departure was a sign of the state's modern-day business climate.
…Adding… DGA…
"After propping up Richard Irvin's hollow campaign for months, Ken Griffin's running home to Florida just days before the primary so he doesn't have to face the music," said DGA Illinois Press Secretary Yael Sheinfeld. "With a vote of no confidence from their biggest fan, the Irvin campaign has their work cut out for them before Tuesday's election. But no matter who nabs the nomination, Illinoisans know Gov. JB Pritzker is the only proven leader for our state."
- Posted by Rich Miller 203 Comments


* Greg Bishop scored an interview with former President Donald Trump ahead of his Quincy visit. Greg's first question was "Why endorse Congresswoman Mary Miller over Congressman Rodney Davis?"…
Well, she's somebody I've gotten to know. She's a high quality person. She's been all for me all the way. And you know, you have to remember that, and that she's just a very good person and a very MAGA person. And I said I'd do it a long time ago. Rodney said some very negative things about me at points. And I said, 'Well, you know, you got to remember that also.' And Mary's been just terrific, a tremendous supporter.
Please pardon all transcription errors.
* "Among the Republicans running, which do you think is going to pose the greatest challenge to the Democratic incumbent Gov. JB Pritzker?"…
Well, it would look like Bailey, I haven't made an endorsement, but he's doing a good job. A lot of people are liking him. And I think that, you know, he would potentially have a shot. Pritzker has been a terrible, terrible governor. He has done such a bad job, and with the lock-downs, and with everything else that you would know better than anybody. But I think maybe Bailey would be the one. I don't know how the polls are. But he seems to be formidable and could maybe give it a good shot. Because, you know, it's a little bit hard to win up there for a Republican in that way. So let's see what happens. But I think Bailey, maybe.
* While we're on this fall election topic, check out this extremely odd "polling memo" that I cannot believe an actual reporter fell for…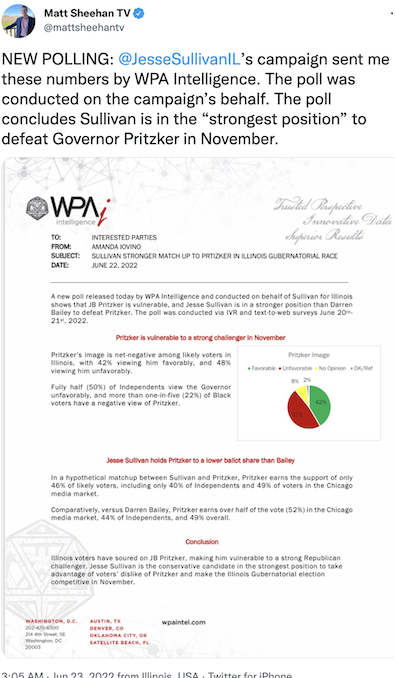 The pollster does a matchup between Pritzker and Sullivan without even disclosing Sullivan's numbers, and only reveals Pritzker's numbers in the Chicago media market in comparison to Bailey. What? I'm thinking the Downstate numbers might be different.
That whole polling memo should've been dismissed out of hand. It's a disgrace. Sullivan is obviously trying anything to convince people he's surging, but I've yet to see any hard numbers to support that claim, or even hear about them. And if Sullivan had those numbers, he'd surely release them. And those most def ain't it.
- Posted by Rich Miller 19 Comments


* Peggy Hubbard wouldn't talk to Dave McKinney, so he did some digging…
One of the apparent frontrunners in the Republican U.S. Senate primary in Illinois was part of the protests at the U.S. Capitol on Jan. 6, 2021, and has characterized the fatal insurrection as "a party at Showbiz Pizza."

Just days ahead of the Capitol riot, Peggy Hubbard told her Facebook followers that she intended to board a Washington, D.C.-bound bus with "my fellow Illinoisans/Patriots" to take "the fight for our Constitution directly to the establishment" — or, "the swamp," as she called it — and to "stir things up!"

Now, Hubbard, who has indicated she does not regard President Joe Biden as the winner of the 2020 election, is tied or leading in polls heading into the June 28 primary election. The winner of the seven-way race will go on to challenge Democratic U.S. Sen. Tammy Duckworth this fall. […]

But in front of supporters, Hubbard has minimized what happened while stumping on the campaign trail, telling an audience at a Back the Blue rally in downstate Bloomington last August: "I was there Jan. 6th. It was like a party at Showbiz Pizza. I'm telling you the truth. It wasn't what everybody thinks it was."

Hubbard said she was kicked off Facebook for a period of time following the insurrection.

"They took me down off of Facebook. I had 567,000 followers. I told the truth. Facebook shut me down within eight hours," she said at that August law-enforcement rally in Bloomington. […]

On the night of the insurrection, at 7:52 p.m., Hubbard posted that "what I witnessed today, is the warning shots of a civil war in the making."
- Posted by Rich Miller 33 Comments


* Brenden Moore talked to Gov. JB Pritzker about his big spending in the Republican primary…
"I'm running a general election campaign," the governor told me in an interview Monday afternoon. "I mean, I'm focused on beating the Republicans. And these are the messages that people will hear in a general election and I'm running those now. I mean, I have no reason not to do that."

"It's very important for people to understand who these Republicans are and what it is that they stand for," Pritzker added. "Whatever may work in a Republican primary about taking away people's rights or being far right and pro-Trump will not work in a general election. And once again, I'm just making that clear because I think that's an important part of our strategy for winning in the general election."
Yeah, OK. That's the sole reason. Right.
* ILGOP response…
"Pritzker and the Democrats are hoping, and spending money on in support of that hope, that we'll emerge from our primary so bloodied, bruised, and divided that there won't be enough time in the short time between now and Nov. 8 to pull ourselves together and unite to defeat Pritzker and his fellow Democrats," said Illinois Republican Party chairman Don Tracy on Monday.
Accurate.
- Posted by Rich Miller 41 Comments


* Hello, one and all. What's on your mind?
- Posted by Rich Miller 37 Comments