* As subscribers know, Republican gubernatorial candidate Jesse Sullivan has been trying to convince Sen. Sue Rezin to run as his lt. governor candidate. Rezin's decision to run for reelection means that Sullivan still can't pass petitions almost two weeks after the truncated circulation season has begun…
Today, State Senator Sue Rezin announced her campaign for re-election to the State Senate to continue to work with the families of the 38th District to fight for their needs at the Illinois statehouse.

"My team and I are focused on promoting legislation that will support law enforcement and mental health organizations, and will increase public safety and lower taxes in our neighborhoods and around the state," Sen. Rezin said. "After speaking with countless constituents, business leaders, and elected officials in our district, I believe there is still more work to do together, and I am honored by the support of my campaign to continue to represent this amazing community."
…Adding… I'm kinda pressed for time right now, so let's make this into the Question of the Day: Who should Jesse Sullivan choose as his running mate? Explain.
- Posted by Rich Miller 67 Comments


* Adapted from Hannah Meisel's short essay published in the Dec. 2021 edition of the Illinois News Broadcasters Association newsletter…
It's been an exhausting couple of years, if I'm honest. I'm sure that's a sentiment INBA members share.

Between a pandemic and the 2020 election, misinformation took on new heights. Then the Jan. 6 insurrection happened. Then the General Assembly's monumental spring session in Springfield that stretched from longtime House Speaker Mike Madigan's "exit stage left" moment at the start of the year all through the summer as a stalemate over massive energy and climate change legislation.

Can't forget a jam-packed Veto Session and a long fight over legislative redistricting (which, as I write this, is finally coming to a close this month). All the while, it's been surreal watching conspiracy theories get into the mainstream, whether they're about election fraud, the COVID vaccine or everything else in between.

Which takes us back to yet another election year. 2022 may be a cycle unlike we've ever seen before. That means reporters (and editors, producers, news directors, etc) regardless of medium should be thinking very deeply about how to approach coverage.

We have lofty ideas about the journalism we want to do — journalism that holds powerful people and government actors to account. But because of the realities of ever-shrinking newsrooms and the demands of the news cycle, we often fall far short of those goals, instead parroting the official line via a rewritten press release, or amplifying messages that are false at best in the name of "objectivity" and "hearing both sides."

And yes, I get it; sometimes a plug-and-play story seems like all you can manage some days in the face of ever-increasing workloads and growing hostility from the public. But in 2022, I'm asking all of us to step up in our newsrooms and initiate tough conversations about how to achieve better, more nuanced coverage — the type that's actually fair, rather than the cheapened version of fairness we sometimes settle for.

How will that work? Here are two ideas I'm thinking about before hitting the campaign trail. Yes, the political mood of the country matters. It's inescapable. In many ways, the media industry bears a lot of responsibility here. But let's be mindful about how we report on issues that fall under the (incredibly stupid) label of "culture wars."

Let's ask questions and frame stories searching for accountability. If a candidate redirects a question to blame the other party, don't be afraid to ask it again. Ask about how they'll bear responsibility for building a better politics, both as a candidate and as an elected official. Let's serve our audience by giving context and nuance about the political battle de jour, instead of letting our interview subjects direct the stories with inflammatory quotes.

Second, one of my personal goals for 2022 is covering politics in a way that reconnects it to the business of governing. After all, that's what people are supposed to get into politics wanting to do, right?

Ask how candidates plan to deliver for their district (or whatever constituency applies here). Let's focus on real, tangible things: Funding for needed projects. Oversight where things have gone wrong. Investing in programs that would actually make a difference for our corner of the state. Or willingness to pull the plug on those that have become expensive fiefdoms that no longer resemble their stated purpose.

Sure, we have to spend time on the high-level politics that colors our world; we'd be doing a disservice to our audience if we didn't use our platforms for analysis.

But let's spend more time in 2022 reconnecting politics to governing, which in turn reconnects our audience to our coverage in ways that serve them better than throwing more gasoline on the fire. Because if we continue on this same path with our heads in the sand, that fire is likely to consume us.
Discuss.
- Posted by Rich Miller 29 Comments


* Press release…
Gov. JB Pritzker and the Illinois Department of Transportation today announced that almost $111.4 million has been awarded to transit providers downstate as part of the historic, bipartisan Rebuild Illinois capital program. The governor also announced an additional $108.3 million for public ports in Illinois. The two announcements, combined with earlier commitments of $40 million to build a port in Cairo, $244 million in additional funding to downstate transit and $96 million to extend MetroLink Service to MidAmerica Airport, contribute to a combined $601 million commitment to ports and downstate transit, reinforcing the governor's priority to create economic opportunity by moving freight and people more safely and efficiently while improving all modes of Illinois transportation.

"When the General Assembly and I crafted the most robust infrastructure plan in Illinois history, our vision wasn't limited to simply updating highways, rails, and bridges. We saw an opportunity to connect jobs and economic development to communities across the state through every mode of transportation," said Governor JB Pritzker. "Today we're launching funding to support Illinois ports as well as over three dozen transit systems outside Chicago. All in all, we're announcing $110 million for nine port districts as well as $112 million for 37 transit districts, totaling nearly a quarter of a billion dollars going out to projects around the state."

Today's announcement represents the second round of competitive grants awarded as part of $355 million identified in Rebuild Illinois to invest in transit outside the Chicago area. Projects include the purchase of new vehicles as well as the construction of bus shelters, stations, and maintenance facilities to expand and improve service, provide more transportation options in downstate communities, and promote an enhanced quality of life.

A total of 37 transit systems are receiving $111.4 million to advance 51 projects, including:

• St. Clair County Mass Transit District's Emerson Park Operational Control Center in East St. Louis, $9.9 million for a new building to house county sheriff's deputies, transit control center, 911 dispatching and pilot program to assist riders with mental health issues, homelessness and more.
• Rockford Mass Transit District, $16 million for renovation and expansion of transit facility at 520 Mulberry St.
• CRIS Rural Mass Transit District in Danville, $3 million for new administrative and operations facility.
• Kendall Area Transit in Kendall County, $4 million for new facility to accommodate administration, dispatch, mechanics and secure parking for the vehicle fleet.

[…] For the state's 19 public ports, $150 million in capital funding is available for improvement projects, the first time a state capital program is investing in waterways, with $40 million already committed to a new inland port in Cairo. The remaining $108.3 million being announced today by Gov. Pritzker is being awarded on a competitive basis. Proposals were evaluated on their ability to advance IDOT's Illinois Marine Transportation System Plan, which prioritizes asset management performance-based decisions and projects that benefit disadvantaged or economically distressed areas.

A total of 12 projects are receiving $108.3 million, including:

• America's Central Port District in Granite City, $21 million total investment with $13 million for sediment reduction project in Madison Harbor, increasing operational efficiency and reducing long-term expenses.
• Illinois International Port District in Chicago, $13 million for Iroquois Landing dock wall rehabilitation at the mouth of the Calumet River and Lake Michigan, part of the Port of Chicago, the largest cargo port on the Great Lakes.
• Mid‐America Intermodal Port Authority in Quincy, $13.2 million to improve capacity and operations at existing dock and build a second dock.
* And another press release…
Governor JB Pritzker and the Illinois Department of Commerce and Economic Opportunity (DCEO) Office of Broadband today announced $47 million in funding for 22 projects in every region of the state through the second round of Connect Illinois, the state's broadband expansion plan. To promote broadband access, the Illinois Office of Broadband is making $350 million in funding available through a third round of grants, which will be accepted and awarded on a rolling basis through 2024, or until funds are depleted. Funding for Connect Illinois is made possible by Governor Pritzker's bipartisan $45 billion Rebuild Illinois capital plan, the first comprehensive infrastructure program in Illinois in nearly a decade, as well as federal broadband funding available through the American Rescue Plan Act.

Round Two funding includes $23 million in Connect Illinois grant awards matched by $24 million in nonstate funding for a total of over $47 million, with plans to expand broadband access to approximately 13,000 homes, businesses, farms, and community institutions across Illinois – through 22 new projects, with at least one in every region of the state.

"Thanks to these investments, thousands more families and businesses will have access to the economic opportunity, education, and healthcare that come with 21st century connectivity," said Governor JB Pritzker. "Connect Illinois is all about opening doors and closing gaps for our residents, delivering demonstrable change to people's lives and real opportunity for new business development and new jobs. I'm grateful to our partners in making this round of projects possible – and with another $350 million already available for the next round, this impact is just the beginning."

The second round of Connect Illinois grant awards includes 14 different internet service providers, rural cooperatives, and local governments– a diverse group of recipients representing every region of the state, with projects supporting fully scalable broadband infrastructure that will serve these areas for decades into the future.

Round Two Grant Awards:

Adams Telsystem Inc. $1,252,041 Adams, Pike
Bspeedy Wireless $152,108 Richland, Edwards, Jasper, Wabash, Lawrence,
Century Enterprises $215,120 Knox
Charter Spectrum - Bella Vista $29,555 Madison
Charter Spectrum - Briars $99,556 St Clair
Charter Spectrum - Equus Lane $109,320 Madison
Charter Spectrum - Huey $107,416 Clinton
Charter Spectrum - New Minden $250,198 Washington
Charter Spectrum - Nichols Woods $50,750 Winnebago, Clay, Crawford, Wayne
Clearwave $500,000 Saline, Williamson, Johnson
Comcast - Leisure Time Est $630,903 Vermilion
Comcast - Sterling $595,300 Whiteside
East Moline CUSD $1,706,494 Rock Island, Henry
Jo-Carroll Energy $4,688,840 Jo Daviess, Carroll, Whiteside
Mediacom - Dewey $117,054 Champaign
Mediacom - Valley View Est $52,434 Rock Island
Mediacom - Wolf Creek $45,905 LaSalle
Metro Communications $292,118 Livingston
ProTek Communications $2,000,000 Williamson
Strada Communications $5,000,000 Rock Island, Whiteside
Village of Palatine $101,387 Cook
WKT Telecom Cooperative $5,000,000 Union, Pulaski
*** UPDATE *** Press release…
The Illinois Housing Development Authority (IHDA) Board announced the conditional award of more than $55.7 million in state and federal resources that will finance the creation or preservation of permanent supportive housing across the state. Awarded under Round VIII of IHDA's Permanent Supportive Housing Development Program, the awards will support the construction and rehabilitation of 10 developments containing 259 units of affordable housing for persons at risk of homelessness, residents with physical challenges or mental health needs, and other vulnerable populations. To further support the success of residents over the long term, the housing will be integrated with flexible supportive services designed to help these households maintain their housing stability, health, and independence.

"My administration understands that affordable housing and accessible housing go hand in hand when it comes to supporting our residents," said Governor JB Pritzker. "This $55 million investment to develop hundreds of new supportive units is the next step in our efforts to tackle housing instability for all Illinoisans, building on the $75 million affordable housing investment we made last summer and the hundreds of millions of dollars we've deployed to renters and homeowners in response to the COVID-19 pandemic. Every resident deserves the basic foundation on which to build a good life for themselves and their families, and this work continues until we can give it to them." […]

More details on the developments approved under Round VIII of the Permanent Supportive Housing Development Program are below:

Arlington Heights PSH (Arlington Heights): A three-story, 25-unit development that will serve persons with a disability, youth aging out of DCFS-funded care, and veterans. Developed by Full Circle Communities, the development will create new opportunities for tenants to live in an amenity-rich and transit-accessible community in Chicago's northwest suburbs.

Lakeview Landing (Chicago): A new construction, six-story, 37-unit building in Chicago's Lakeview neighborhood designed for residents with mobility challenges. Sponsored by the Over the Rainbow Association and located on a site donated by the Lakeview Lutheran Church, the development will feature space for on-site supportive services as well as easy access to transportation and healthcare amenities. All 37 units will be supported by rental assistance form the Chicago Housing Authority.

The Covent (Chicago): The rehabilitation of the former Covent Hotel, a former single-room occupancy hotel originally built in 1904 in the Lincoln Park neighborhood. Work includes merging and upgrading the 64 single room occupancy (SRO) units to create 30 studio apartments with private kitchens and bathrooms while enhancing the building's common areas. The project is developed by the NHP Foundation with services provided by Renaissance Social Services.

ReVive Center Cressey House (Chicago): A rehabilitation project led by the ReVive Center to renovate and preserve 28 units of supportive housing. All 28 units will be upgraded with new appliances and finishes while the building's mechanical systems and common areas are replaced and modernized.

Wildwood Commons (Elgin): Construction of a two-story, 24-unit building in Elgin built on a three-acre site donated by the Association for Individual Development. Designed to serve individuals with physical or mental health challenges and those at risk of homelessness, on-site services will include wellness and health programs, job skills training, and employment programs to help residents develop skills to enter the workforce.

Hill Arboretum (Evanston): Rehabilitation of an existing 33-unit development in Evanston for adults and seniors with physical disabilities. The Over the Rainbow Association plans to make capital repairs to the building while renovating the units to better serve tenants. Work will ensure the development continues to provide barrier-free housing for vulnerable individuals in an amenity-rich neighborhood.

Kankakee Veterans Housing (Kankakee): A redevelopment led by the Kankakee County Housing Development Corporation to rehabilitate a vacant property into 14 studio apartments for veterans experiencing homelessness. The development is located one block from the River Valley Metro bus stop and will have rental assistance for every unit provided by the County Housing Authority to ensure rents are affordable to extremely low-income veterans.

Madison Apartments III (Peoria): A new construction, four-story development creating 16 studio and one-bedroom units sponsored by Phoenix Community Development Services. When complete, the development will provide housing and supportive services for homeless residents between 18 and 24 years old, many of whom will be aging out of the care of the Illinois Department of Children and Family Services.

Apoyo Village (Silvis): A new construction development sponsored by the Rock Island County Housing Finance Corporation and the Youth Service Bureau of Rock Island County. Built on a currently vacant site, the three-story building will create 24 one-, two- and three-bedroom units set aside for extremely low-income households and residents with mental health needs.

Park Street Apartments (Springfield): Construction of three new buildings, each containing eight units intended to serve homeless individuals not currently assisted by local programs. The development is sponsored by the Helping Hands of Springfield, an organization established in 1989 to help provide housing and other essential needs for residents experiencing homelessness.
- Posted by Rich Miller 16 Comments


* IDPH reported 5,019 hospitalizations as of midnight last night, which gives us a seven-day rolling average daily decrease of 2.83 percent.
* We've been doing this for almost two years now and some folks have yet to figure out that deaths are a lagging indicator. Hospitalizations have been in obvious decline for ten days to two weeks, so deaths will eventually catch up with that downward trend. Also, as we've known for a very long time, one- or two-day death spikes can sometimes have more to do with how and when local coroners report the deaths…
COVID-19 is killing Illinoisans at the fastest rate seen since December 2020, but cases, hospitalizations and positivity rates are showing a "very rapid decrease" that suggest the worst of the Omicron resurgence has passed, Chicago's top doctor said Tuesday.

The statewide numbers backed up that cautiously optimistic view, with cases up slightly — but down from last week's sky-high numbers — and hospitalizations dropping again.

The Illinois Department of Public Health reported 13,706 new cases, lowering the average to just over 24,000 infections per day over the last week — a 13% decline compared to the previous week. And with 5,183 beds occupied, hospital admissions have dipped 23% over the same period.

But deaths notched up to 121 after two days of double-digit tallies, raising the statewide seven-day average to 132 COVID fatalities per day. Not since late December 2020 have Illinois families been hit with tragedy at such a rapid pace.
Also, Dr. Ezike said recently that she's no longer watching case numbers because of all the at-home testing that's being done now.
* We are clearly in a solidly downward hospitalization trend, the vast majority of deaths for the past several months were preventable, my main concern has always been overloaded hospitals, and so I'm done with doing this every day for a while. I'll probably do one every Friday, when IDPH releases its weekly report, unless something newsworthy happens or the trend looks like it may be reversing, and that's always possible, or even probable…
A version of the omicron variant dubbed "stealth omicron" is being monitored by scientists and health experts around the world as it has been detected in more than 40 countries, but what is it and what does it mean for the pandemic?

This version of the coronavirus, which scientists call BA.2, is widely considered stealthier than the original version of omicron because particular genetic traits make it somewhat harder to detect. Some scientists worry it could also be more contagious.

But they say there's a lot they still don't know about it, including whether it evades vaccines better or causes more severe disease.
Get your shots.
* As we discussed yesterday, the weather could be an issue in Illinois, but the fear of omicron appears to be subsiding as the downward trend becomes more well known and more people are infected…
The COVID-19 booster drive in the U.S. is losing steam, worrying health experts who have pleaded with Americans to get an extra shot to shore up their protection against the highly contagious omicron variant.

Just 40% of fully vaccinated Americans have received a booster dose, according to the Centers for Disease Control and Prevention. And the average number of booster shots dispensed per day in the U.S. has plummeted from a peak of 1 million in early December to about 490,000 as of last week.
If you haven't been boosted, now is always a good time.
- Posted by Rich Miller 9 Comments


* Then-Sen. Michael Frerichs did the same sort of thing. It's standard fare for legislators running for either of those offices…
Deputy House Minority Leader Rep. Tom Demmer (R-Dixon) filed HJRCA 36 today to make state government more efficient and cost effective by eliminating the office of the Comptroller and moving the responsibilities to the office of the Treasurer.

Under Demmer's proposal, the Treasurer would maintain the State's central fiscal accounts and order payments into and out of state funds. The Treasurer would also be responsible for the safekeeping and investment of monies and securities as well as their disbursement. These functions are presently performed by two separate offices, the State Comptroller and the State Treasurer.

"Illinois taxpayers would be better served by having one office perform the duties of Comptroller and Treasurer," Demmer said. "Reducing state government's footprint and consolidating functions would achieve savings for taxpayers and streamline the fiscal operations of Illinois in a meaningful way. The late Judy Baar Topinka, who served separate terms in both offices, advocated for combining Comptroller and Treasurer into one position. We can honor her memory and reform an inefficient Madigan-era relic by acting now to let the people of Illinois have the final say on approving this reform later this year."

The Illinois State Constitution adopted in 1970 created separate offices of Comptroller and Treasurer. Combining them requires passage of a constitutional amendment, which needs a three-fifths majority vote of the General Assembly to place the question on the next General Election ballot for Illinois voters to approve.

Representative Demmer has consistently filed legislation to combine the two offices, but has been blocked by Democrats unwillingness to advance common sense reform proposals. In the 101st General Assembly Demmer filed HJRCA 22; in the 100th General Assembly he filed HJRCA 25; and in the 99th General Assembly he was sponsor of Leader Durkin's effort to combine the offices in HJRCA 3.

Several neighboring states have already successfully combined the operations of separate fiscal offices for efficiency and savings including Minnesota, Wisconsin and Michigan. In Illinois the merger has been estimated to save taxpayers up to $12 million annually and is supported by government efficiency advocates like The Civic Federation.

Representative Demmer serves Illinois' 90th District which includes portions of Lee, Ogle, DeKalb and LaSalle Counties.
* Press release…
To improve convenience and accessibility for working people, state licenses from the Illinois Department of Financial and Professional Regulation would be issued in four weeks under an initiative by State Senator Suzy Glowiak Hilton (D-Western Springs).

"Health care workers, accountants and cosmetologists are ready to enter their respective industries but are unable to get started without a professional license from the state," Glowiak Hilton said. "With this initiative, I hope to expedite the time it takes IDFPR to process applications and allow residents to enter the work force sooner."

As chair of the Senate Commerce Committee, Glowiak Hilton prioritizes legislation to benefit workers and support economic development throughout the state. Under the legislation, IDFPR will be required to process applications within four weeks as long as there were no deficiencies submitted.

"My office has heard concerns from our community about workers waiting six weeks or more for licenses to be distributed," Glowiak Hilton said. "While I appreciate the department's efforts to reduce processing times with electronic renewals, I believe our state could improve the timeliness and let residents get to work."

Senate Bill 3002 awaits to be assigned to a committee.
* Press release…
In an effort to remove a barrier to full inclusion for immigrant communities in Illinois, State Senator Mike Simmons (D-Chicago) is championing a measure that removes the use of "alien" in any Illinois statute when referring to people who have mixed statuses and referring to commerce outside of Illinois and the country.

"As a proud son of a first-generation immigrant from Ethiopia, I am happy to support building community by assisting in removing barriers to access much needed resources," Simmons said. "I want Illinois to send a clear message that we welcome immigrants and that we are working to eliminate the historic barriers that many of these communities have faced."

Senate Bill 3865 would remove the use of "alien" in any Illinois statute when referring to people who have mixed statuses and referring to commerce outside of Illinois and the country. Eliminating references to "alien" in Illinois law would remove a regressive and outdated legal term and symbolize the full inclusion of immigrant communities in Illinois. Similar legislation has recently passed in California and Colorado.

Continued use of the term "alien" as a legal term sends a negative message that recent immigrants, including many who have begun the naturalization process, are not welcome and not valued as full members of their communities.

"I believe that these efforts will facilitate a pathway to build trust between the government and immigrant communities," Simmons said. "No one is illegal and no one doesn't deserve to be here."

Simmons filed the measure in time to celebrate the Lunar New Year with the Vietnamese American Association and other ethnic groups. It awaits a committee hearing.
* Press release…
State Rep. Kelly Cassidy has introduced HB4165, which would require that any owner of a pier or drop-off location with clear access to Lake Michigan shall install public rescue equipment. This bill has got through its first hurdle by unanimously passing out of the Human Services Committee today. Ring life buoys and other types of safety equipment have not always been publicly available in situations where someone drowning along the shore could have been provided help. 53 people drowned in Lake Michigan in 2020 alone which made it the deadliest year on record according to The Great Lakes Surf Rescue Project which analyzes drowning data. There have been over 430 Lake Michigan drownings since 2010. With the passage of this bill, many of the potential preventable Lake Michigan drowning deaths could be avoided.

"That this bill is needed is a tragedy, but it also represents what happens when a community comes together to solve a problem.," said Rep. Kelly Cassidy, lead sponsor of HB4165. "I am grateful that the Chicago Park District has joined us in support of this bill and endlessly grateful to the amazing neighbors who forced the district to change their position by installing life rings repeatedly to protect our neighbors."

Having publicly accessible water safety equipment along parts of the Lake Michigan shoreline is the bare minimum that communities deserve to have to limit the risk of drowning. As such, by providing publicly available safety equipment like life rings we can truly begin setting up a shoreline safety system that meets the needs of our populations but also for future enhanced ways of proactive safety measures to finally become a practical reality.
* More…
* A look at new resolutions proposed to the Illinois General Assembly
- Posted by Rich Miller 10 Comments


* Gubernatorial candidate sucks up to online anti-anti-virus "activist" who wants candidates to say they'd like to punch the governor in the face…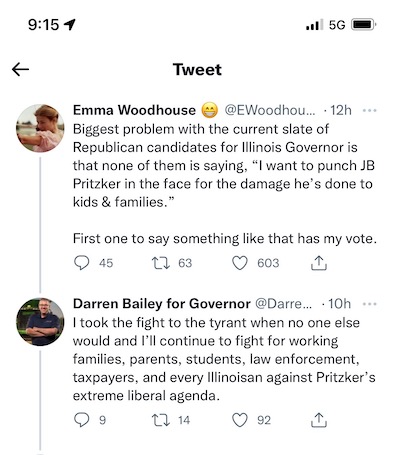 Friends, that's just not right.
* NRCC…
Hi there –

Nancy Pelosi is seeking re-election, "despite her previous pledge in 2018 that this term would be her last as Speaker after leading House Democrats for the last 19 years."

Will Marie Newman, Sean Casten, or Lauren Underwood back Pelosi if she wants to continue leading House Democrats?

Courtney Parella
NRCC
Regional Press Secretary
* Press release from a Republican candidate…
Regan Deering, of Decatur, is announcing her run for U.S. Congress in the newly mapped 13th district today.

Deering, born and raised in Decatur with a strong family history of giving back, has already been active in the area for years. She has served as the Capital Campaign Chair for Northeast Community Fund's new facility to expand access to basic needs and emergency funding and worked as the Chair of the Decatur Public School Foundation to enrich the learning opportunities of local students. A commitment to public service has also led her to volunteer roles with Big Brothers Big Sisters of Central IL and Pawprint Ministries. This community involvement has given her a front-row seat to the needs of families, and she plans to take their message to Washington.

"My husband Brian and I care deeply about the future of our three children and recognize that our country is at a critical point. We need common sense government that honors individual freedoms and the ability to create a life full of opportunity for all, regardless of your situation," said Deering. With experience as an educator, small business owner, and active philanthropist in Decatur - Regan is invested in community development and individual success. Washington's one size fits all solution to the problems facing working families in Illinois is doing more harm than good. Regan knows that progressive Democrats are out of control when it comes to trying to insert more government into the day-to-day lives of Illinoisans. She will travel the district to share her message of support for safe neighborhoods, great schools, growing economies, job creation, and a desire to unite around the American spirit.

Regan holds a Bachelor of Science degree from Duke University and a Master of Education degree from DePaul University.

The new Illinois 13 includes all or parts of seven counties-Champaign, Macon, Macoupin, Madison, Piatt, Sangamon, and St. Clair.
* Giving your announcement press release exclusively to Town Hall is a telling move…
Illinois Democrats have sought to solidify control through particularly partisan gerrymandering tactics. Jerry Evans, though, a music teacher and business owner, is still making Democrats work for their seats though, by challenging Rep. Bill Foster in the 11th district.

Townhall received a first look at Evans' press release announcing his run.

"I am running for U.S. Congress because I believe that leadership starts with service, integrity, and is fueled by compassion. For over twenty years, I have had the privilege of serving my community as an educator, and empowering young people to experience their God-given potential," Evan said. "The past 2 years of government overreach has not only hurt the children I teach, but my family, and the fifteen families of those I employ, as shutdowns and restrictions threatened my business and their jobs."

He also had strong words for his opponent. "Bill Foster, Nancy Pelosi, and Joe Biden have made the lives of Americans worse by pursuing far-left policies that restrict freedoms, drive up inflation, and overlook the needs of children, the poor- and the everyday American. I am running for U.S. Congress in order to restore freedom, economic and educational opportunity, support safety in our communities, and stand for the fundamental rights of parents, in the United States of America," he concluded.
* Press release…
Reproductive health advocate and mental health professional Eileen Dordek announced her candidacy today for the 13th District of the Illinois House of Representatives. Majority Leader Greg Harris announced he would not seek reelection on November 29th, 2021.

"We were so fortunate to have Leader Greg Harris as our Representative for the past 15 years and as a leader in our state," said Dordek. "I have spent my life serving others and advocating for the rights of women, families, and the LGBTQIA+ community. In Springfield, I will be a champion for our community, expanding mental healthcare services, lowering the cost of child care, and expanding paid leave."

Dordek announced she raised $65,000 in her first two weeks of fundraising, reporting $63,000 in A-1 contributions (donations $1,000 and above reported to the State Board of Elections).

In addition, Dordek has secured a number of major political endorsements, including 47th Ward Democrats, Senator Sara Feigenholtz, Senator Laura Fine, Representative Ann Williams, Representative Anna Moeller, Cook County Commissioner Donna Miller, MWRD Commissioner Kim DuBuclet, Alderman Matt Martin, 47th Ward Committeeman Paul Rosenfeld, 9th District State Central Committeewoman Carol Ronan, and Northfield Township Committeewoman Tracy Katz Muhl.
* Politico…
— Fernando "Sergio" Mojica joins the race to replace House leader Greg Harris in Chicago's northside 13th district. Mojica, a Chicago Public School principal, would be the state's first openly LGBTQ Latino member of the General Assembly if elected.

— Endorsement: State Sen. Melinda Bush and State Reps. Deb Conroy and La Shawn Ford are endorsing Democratic candidate Chelsea Laliberte Barnes for the state House in the newly drawn District 51.

— Scott Kaspar, a Republican candidate in IL-06 congressional district, is creating a Public Safety Task Force to address crime in the district. And he's enlisted former New York City Police Commissioner Bernie Kerik as an adviser.

— Norma Hernandez, who launched her campaign for state Representative in the 77th House District this week, is a Triton College trustee. Your host misidentified her title yesterday.
I posted that brief yesterday and also didn't catch the mistake.
* Powering ahead despite the escalating ethics probe…
Today, a coalition of leading women's advocacy organizations announced their joint endorsement of Congresswoman Marie Newman in her campaign to represent Illinois' 6th Congressional District. The organizations include the National Women's Political Caucus, Feminist Majority, and the National Organization for Women PAC (N.O.W. PAC).

"The N.O.W. PAC is proud to endorse Marie Newman and convey the gratitude and appreciation our members feel for her longstanding leadership and vision. She's always there for women - when they need access to reproductive care, justice for survivors of domestic violence, LGBTQ+ rights, and constitutional equality. We need to keep her in Congress," said Christian Nunes, N.O.W. PAC Chair.

"The National Women's Political Caucus is delighted to endorse Marie Newman for Illinois' 6th Congressional District. We know that in her second term, the congresswoman will continue to fight for women and for the issues most crucial to women's equality," said Donna Lent, President of the National Women's Political Caucus.

"I have been fighting for reproductive rights for 30 years, and with recent attacks from far-right Republicans set on controlling women, there's no chance in hell I'm stopping now," said Congresswoman Marie Newman. "I am honored to receive the endorsement of each of these powerful organizations and I can't wait to continue working with them when I'm re-elected to Congress."

Congresswoman Newman has been active in supporting women's issues for decades. In her 20s, she helped open the first reproductive care clinic in Chicago's West Loop neighborhood at a time when there were few safe opportunities for women to seek reproductive care in the area. In Congress, she is a proud member of the Congressional Pro-Choice Caucus and has a 100% pro-choice voting record. She voted to repeal the Hyde Amendment, to expand federal paid family leave, and to pass the Women's Health Protection Act, the Paycheck Fairness Act, and the Pregnant Workers Fairness Act. Congresswoman Newman proudly voted to pass the Violence Against Women Reauthorization Act, introducing and passing an amendment to the bill to create a new grant program to serve LGBTQ+ survivors of domestic violence, stalking, and sexual assault.

These endorsements add to a growing list of support among women's organizations, including the early endorsements of EMILY's List and Planned Parenthood Action Fund.
* More…
* Five months to go: Here's what you need to know to prepare to vote in Illinois' primary
- Posted by Rich Miller 21 Comments


* Richard Irvin's candidate media training apparently isn't yet completed. Politico…
Mayor Richard Irvin, who's running in the Illinois Republican primary race for governor, hasn't taken questions since he announced his run by video nine days ago. So, naturally, we made the trip to Aurora and were all ears when he was asked last night, "why run for governor" when there's more work to be done in Aurora? A few more questions came his way, but he didn't respond.

Albeit these questions weren't from journalists. They came from public commenters during an Aurora City Council meeting, a two-hour event that Irvin ran with precision. It's not unusual that he wouldn't explain his views on Texas' abortion law or whether he and the council would affirm that Joe Biden was legitimately elected. We all know how public comment processes can go.

But since Irvin and his running mate, Avery Bourne, haven't talked much yet about their vision for the state, showing up at a public event seemed like standard fare and your Playbook host decided to watch Irvin in action running a council meeting. After all, he's going to get chased down a lot when he's on the road campaigning. He might as well get used to it now. […]

"I'm totally excited about the campaign and announcement and I look forward to riding throughout Illinois and talking to people about what we need to do to make a difference in Illinois," he said. Even if he wasn't eager to talk, he definitely sounded like a man running for office.

Asked why he hasn't been available for questions, Irvin pivoted like a champ: "We've got a lot of problems in Illinois. Crime is out of control. Taxes and wasteful spending is out of control. Corruption is out of control. I look forward to riding throughout the state and talking to residents about taking our state back."
Pivoted like a champ? That's one way to put it. But, many kudos for at least trying to get him to talk. The Tribune has an Aurora bureau (actually, I'm not sure what to call it because it's the old Aurora Beacon News), but its most recent story is about high school basketball scores.
…Adding… The questions from the audience were understandable after Irvin's top campaign guy said this last October…
A campaign official for Aurora Mayor Richard Irvin said this week there is "no way" the mayor will join the race for governor.

Dennis Cook, a campaign spokesman who has served as Irvin's campaign manager in his races for mayor, said this week an online video interview that named Irvin as a potential candidate in the Republican primary was likely "just wishful thinking."

"No, he's not running for governor," Cook told The Beacon-News. "Richard just got re-elected in April. We have a job to do." […]

"There's nothing to it," he said.
Reporters were subsequently referred to Cook's remarks when they followed up.
Anyway, I'm told Irvin will do interviews next week. We'll see.
* Meanwhile, Ken Griffin's dark money judicial campaign mouthpiece Jim Nowlan wrote this in the News-Gazette…
Household incomes in America have become more and more unequal over recent decades, as measured by the Gini Index of Inequality. American society has also become more sharply polarized, as measured by Donald Trump's continuing, intense support in small-town and rural America. I know why, or at least know some of the key factors.

From my perch in rural Illinois since just after World War II, I have seen the causes at play: Women now work, at any jobs they can achieve, and like kinds marry; unions are often shadows of their former strength and numbers, and single-parent households have tripled since my childhood, to about 30 percent of the total.

Growing up in the 1940s and '50s, I recall that most married women stayed at home, and single women worked in limited fields until they married. Indeed, school boards required female teachers to stop teaching when they wed, to open a job for a man. Obviously, all is dramatically different today. I illustrate with two families, composites of many households I have known personally.
It's quite something. A buddy called the column, Nowlan's "vision of a ladyless workplace."
* From an Irvin fundraising appeal…
Unlike Pritzker, Richard wasn't born the heir to a massive family fortune. Richard's mother had him when she was only 16 and they grew up in the projects. We don't have $90 million lying around to give to our own campaign. Instead we rely on the grassroots donations of real patriots like yourself.

This is exactly the kind of corruption we're trying to stop, Friend. Pritzker and Democrats don't care about you or your vote. They would rather buy elections and continue serving themselves at America's expense.
No, Irvin will just be handed a fortune by the wealthiest person in Illinois who very much prefers to get his own way. Also, Irvin was raised in Section 8 housing, not "the projects." And y'all don't have $90 million lying around yet. And since when do Republicans believe that candidates spending their own money is inherently corrupt? 🙃
* More Irvin…
Taking a step forward in his campaign for Governor, Richard Irvin is announcing the creation of a Law Enforcement Advisory Council with 30 law enforcement leaders and advocates from across the state. As public safety remains a top priority for Irvin, he has pledged to work with this council to best address rising crime rates that have plagued Illinois communities.

One of the law enforcement officials joining the council includes former Aurora Police Chief Kristen Ziman, who is confident Richard Irvin is the best leader for Illinois, especially to work alongside law enforcement.

"Providing public safety for our communities is the pinnacle of our profession," said Ziman. "But in the last few years, crime has skyrocketed. Crime remains high, police are limited in how we can respond, and criminals set free. Our communities are less safe. As Mayor of Aurora, Richard Irvin reduced crime, hired more cops, and invested in prevention programs. It's that common sense approach that will make a difference in our communities and overall safety."

Bob Berlin, DuPage County State's Attorney, advocated for Richard Irvin's record of reducing crime, which is needed in communities across the state–including the western suburbs.

"Communities aren't safe without the work of law enforcement," said Berlin. "Richard Irvin has proven he is ready and able to work with law enforcement; as a prosecutor he did ride alongs with police on raids, and put criminals behind bars. He hasn't turned his back on police, he worked with police to reduce crime and increase public safety."

Neil Williamson, former Sangamon County Sheriff, underlined Richard Irvin's experience hiring more cops, working with police, and reducing crime rates in Aurora.

"In order to better serve and protect our communities, we need to elect leaders who understand the challenges faced by law enforcement and who care about making our communities safer," said Williamson. "JB Pritzker's Administration and the policies he's supported have made it harder to protect the communities we serve. Richard Irvin and Avery Bourne stand with police, and they understand that the state needs law enforcement to be a safer, better place to live and raise a family."

As a prosecutor, Tom Haine, Madison County State's Attorney, believes reduced crime will only become a reality with a change in leadership and voiced support for that leader to be Richard Irvin as Governor.

"Having a leader like Richard Irvin who supports police and is a former prosecutor will benefit every Illinois resident," said Haine. "Mayor Irvin and Rep. Bourne are motivated to work with law enforcement leaders to ensure safer communities statewide. We need true leadership like that for our state."

The Law Enforcement Advisory Council includes the following members:

• Rick Ahlgren, Retired Lieutenant (Aurora Police Department)
• Dwight Baird, Kendall County Sheriff
• Anthony Beckman, Police Officer, Norwood Park Township Republican Committeeman
• Peter Bensinger, Former Administrator of US DEA, Former Chair of the Illinois Criminal Justice Information Authority, Former Member of Interpol Representing the US Dept. of Justice
• Bob Berlin, DuPage County State's Attorney
• Larry Brouk, Retired Chief of Police (Forest View)
• Dan Cronin, Former Prosecutor (DuPage County), DuPage County Board Chairman
• Tom Cross, Former Prosecutor (Kendall County), Former Illinois House Republican Leader
• Mike Downey, Kankakee County Sheriff
• Jim Durkin, Former Prosecutor (Cook County), Illinois State Representative (HD 82) and House Republican Leader
• John Fahy, Fire Chief, Retired (City of Elgin)
• Jack Garcia, Director of Public Safety (City of Burbank); Former First Deputy Director, Illinois State Police
• Chad Gessner, Chief of Operations (Kankakee County Sheriff's Office)
• Tom Haine, Madison County State's Attorney
• Keefe Jackson, Aurora Police Deputy Chief (Retired)
• Ammie Kessem, 41st Ward Committeeperson, Police Officer
• Bruce Kettelkamp, Christian County Sheriff
• Michael McCoy, Chief of Police (Washington), Former Peoria County Sheriff
• Joe McMahon, Former Kane County State's Attorney
• Joshua Morrison, Fayette County State's Attorney
• Michael Murphy, Former Chief of Police (Barrington Hills)
• Gray Noll, Morgan County State's Attorney
• Pat O'Brien, Former State's Attorney (Cook County)
• Chad Peterson, First Deputy Director of the Illinois State Police (Retired)
• Dennis Reboletti, Former Prosecutor (Will County), Former State Representative, Addison Township Supervisor
• Bob Schillerstrom, Former Prosecutor (DuPage County), Former DuPage County Board Chairman
• Grace Simpson, Mercer County State's Attorney
• Steve Sloan, Stark County Sheriff
• Eric Thomas, Retired ISP, Master Sergeant
• Neil Williamson, Former Sangamon County Sheriff
• Robert Windon, Former Prosecutor McHenry County, Former Barrington Trustee
• Kristen Ziman, Former Chief of Police (Aurora)
* Irvin made a new digital buy. Click here for the report.
…Adding… DGA…
The DGA is tracking how long he's been hiding at this new site.

Irvin's been avoiding the tough questions that big donor Ken Griffin doesn't want him to answer — like why he's voted for Democrats, why he's supported Gov. JB Pritzker, and whether he would reboot the unpopular policies of Bruce Rauner.

"Radio Silent Richard is hiding from reporters because he can't answer for the unpopular platform Ken Griffin wants him to run on," said DGA Senior Communications Advisor Christina Amestoy. "Illinoisans deserve answers — and Irvin won't be able to hide his record of flip-flopping and out-of-touch policies much longer."
*** UPDATE *** Press release…
The following is a statement from Illinois Senate Democrats Executive Director Magen Ryan:

"Richard Irvin might not talk to the press, but he's making his disrespect for democracy painfully clear.

"How can Richard Irvin stack a "law enforcement advisory council" with someone who dishonored the memory of Capitol Police Officer Brian Sicknick by calling the January 6th insurrectionists "patriots"? A candidate for Governor who embraces people spreading vulgar misinformation about the Presidential Election and the deadly attack on our Capitol police – and follows their guidance – is a threat to the future of our state and our nation's democracy.

"How does surrounding yourself with people like Anthony Beckman, despite the violence they encourage, protect law enforcement? Add this to the list of questions Richard Irvin should have to answer whenever Ken Griffin allows him to speak."
- Posted by Rich Miller 71 Comments


* I lost count of the number of Golden Horseshoe Awards that Kathleen Hunter won over the years. She was almost always everyone's favorite bartender. She almost never forgot a name or somebody's regular drink.
But after more than 36 years tending bar at The Globe Tavern, Kathleen retired yesterday. Her loyal customers threw a party in her honor…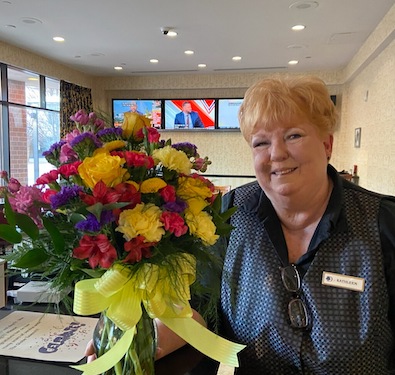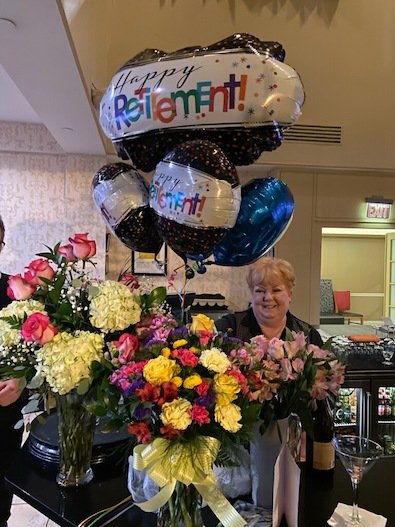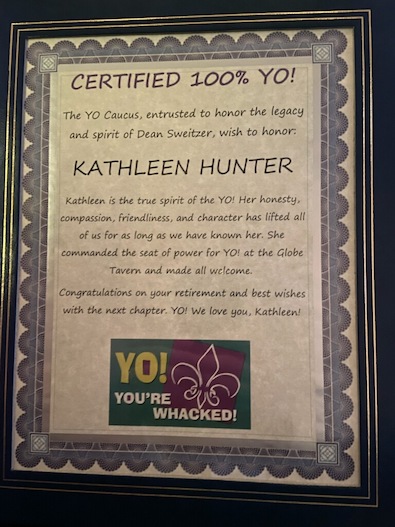 The late Dean Sweitzer initiated the "Yo! Caucus" back in the day. Whenever he'd see you, he'd say "Yo!" Dean's "caucus" held a biennial bipartisan party at the Abe Lincoln Hotel during legislative inauguration, and revelers would naturally wind up at The Globe and Kathleen would be behind the bar.
Anyway, I wanted to use this opportunity to wish Kathleen all the best, thank her for her many years of work and give some of her longtime customers a chance to do the same.
- Posted by Rich Miller 17 Comments


Veterans and others who have complaints about the Illinois Department of Veterans' Affairs will have a new outlet to voice their concerns under a state law that's going into effect without Gov. J.B. Pritzker's signature.

The Democratic governor, whose reelection campaign this year will face tough questions over his administration's handling of a deadly 2020 coronavirus outbreak at a state-run veterans home in LaSalle, did not sign or veto the proposal within 60 days after it reached his desk, meaning it automatically becomes law.

Pritzker spokeswoman Jordan Abudayyeh said in a statement that the administration "worked closely with the sponsors … and he wholeheartedly supports the legislation becoming law."

She blamed the missed signing deadline on "an internal miscommunication" after a planned signing ceremony was delayed due to the most recent COVID-19 surge. […]

[The law] creates a veterans' accountability unit within the state VA, with a director to be appointed by the governor and confirmed by the Senate. While it will operate independently of the department, the new unit will be funded out of the agency's budget.
The last time I remember this sort of bungle happening was under Rod Blagojevich.
Where the heck is their legislative shop?
I mean, all those veterans died of COVID-19 in state homes on Pritzker's watch and they can't track the deadline on this bill?
The governor deserves whatever heat he gets on this from the Republican Party, and then some. Yes, all's well that ends well. It's law either way. But this is operationally inexcusable.
*** UPDATE 1 *** Press release…
Illinois Senate Republican Deputy Leader Sue Rezin (R-Morris) issued the following statement after the Governor failed to act within 60 days on legislation that creates a veterans' accountability unit within the Illinois Department of Veterans' Affairs due to an "internal miscommunication:"

"The Pritzker Administration has a history of making careless mistakes when caring for veterans with catastrophic consequences. Fortunately for them, this one didn't lead to 36 veterans dying as we saw in late 2020 when the Pritzker Administration waited 11 days before providing crucial on-site assistance, leaving our nation's heroes and employees defenseless."
*** UPDATE 2 *** Rep. Dave Welter…
"Governor Pritzker's woefully inadequate response to the deadliest outbreak at a state-run facility in Illinois history continues to fail our veterans by forgetting to sign a bill to provide accountability in the wake of the fatal COVID-19 outbreak at the LaSalle Veterans' Home," stated Rep. David Welter (R-Morris). "Fourteen months later, we continue to get the same excuse citing internal miscommunications from the Pritzker Administration, making us no more confident in the Governor's ability to prioritize the health and well-being of our veterans."
*** UPDATE 3 *** ILGOP…
"Why does JB Pritzker show such blatant disregard for the lives of veterans? After the tragedy at LaSalle, all veterans wanted was a proper way to voice their concerns about a state agency that made deadly mistakes – and JB Pritzker couldn't even find the time to sign the bill. That's shameful," said ILGOP Chairman Don Tracy.
- Posted by Rich Miller 33 Comments


Unvaccinated teachers and school employees don't deserve COVID-19 paid leave, so no educators will get it until a bill excludes the unvaccinated, Gov. J.B. Pritzker said.

He vetoed the bill Jan. 24 after allowing it to sit on his desk for months.

The bill passed with bipartisan support in October 2021 and would've given paid administrative leave to school, college and university employees for absences related to COVID-19 rather than making them take sick time. Pritzker said it should only apply to those who are fully vaccinated against COVID-19.

The governor's office simultaneously announced efforts with two of Illinois' teachers unions to provide paid leave for every public school and higher education employee who is "fully vaccinated or has received the required doses to become fully vaccinated within five weeks" of the law passing.
Yeah, no.
The original bill gave unlimited and retroactive paid leave to vaccinated and unvaccinated K-12 and higher education public employees for COVID-19 reasons. The union-backed compromise means that the unvaxed will still receive paid leave within their usual sick day allotment and other paid days off, or as negotiated in their local union contracts. But that paid time off won't be otherwise unlimited.
I gotta say I'm a little surprised that the anti-union IPI, of all outfits, is in favor of giving unlimited and retroactive paid leave to any public employees for any reason, including through their collective bargaining agreements. But, I suppose, sowing doubt and confusion among their followers about COVID-19 may be a higher priority. And the unvaxed may be more likely to be anti-union.
*** UPDATE *** I strongly disagree, but this is as it should be…
On Monday, Governor Pritzker announced an agreement reached between his office and the state's two education unions, Illinois Education Association (IEA) and Illinois Federation of Teachers (IFT), to provide additional administrative leave for vaccinated education employees to reinstate past and future sick time used due to quarantine, isolation and illness from COVID 19. The Springfield Education Association-IEA believes that all of our members who have complied with the Governor's Executive Order to provide proof of vaccination or submit to weekly testing deserve relief and additional leave. On Tuesday evening, The SEA Executive Committee voted unanimously to direct its impact bargaining team to negotiate with the District 186 School Board for COVID leave for members not covered by the Governor's proposed legislation.

All of our members have worked throughout this entire pandemic, complied with the Governor's Executive order, and have been impacted by having to use their accrued sick days as a result of COVID cases and/or close contacts. SEA leadership supports the Governor and District 186's efforts to increase vaccination rates, and the majority of SEA members are vaccinated against COVID. SEA does not, however, support treating our members' benefits differently while all of our members have complied with the Governor's executive order. We do not support forcing our members to choose between getting a vaccine and a potential loss of sick time or wages. Rather, we support a continuing process of education and persuasion related to public health, not coercion of our members by creating tiered levels of benefits.

Even outside of the pandemic, sick days have always been essential to our membership. In order for our members to give birth, care for their families, and protect their physical and mental health in the coming school years, our days used as a direct result of COVID need to be returned to all of our members. SEA stands united in fighting to protect these days for all members.
Waiting for the IPI to stand firmly behind the collective bargaining rights of teachers in 3… 2…
- Posted by Rich Miller 22 Comments