* Check out the Rauner campaign's new Facebook ads…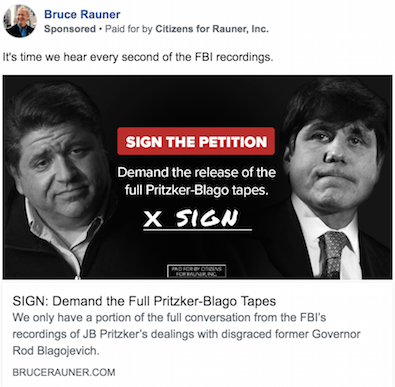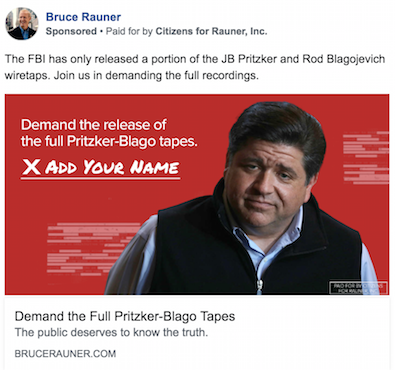 According to Facebook, the ads (I counted six slightly different versions) started running today.
Blagojevich, you will recall, made the exact same demand to release all the tapes during and after his trials.
The tapes were ordered sealed by a federal judge. I can't see how an online petition will do much of anything besides gather names for a campaign database.
We're through the looking glass.
- Posted by Rich Miller 28 Comments


* Yep…
Trump is considering commuting former Illinois Gov. Rod Blagojevich's 14-year prison sentence.

This @ChicagoMag piece reminded us: Blagojevich denied 93 percent of pardon or clemency requests during his six years as governor:https://t.co/ZwFALBuMKl

— ProPublica Illinois (@ProPublicaIL) May 31, 2018
* From that September, 2017 interview…
In the past, Blagojevich was accused of having unbridled optimism that at times blinded him to inconvenient truths. That doesn't seem to have faded. Even though he's now down to a long-shot appeal to the Supreme Court, he is convinced that he will be vindicated: "I still believe, ultimately, we'll prevail."

If that attempt fails, Blagojevich's only hope would be a presidential pardon or clemency. I point out the irony: In the six years he was governor, Blagojevich denied 93 percent of the 1,024 such requests he considered and let 2,800 pile up without action, causing a massive backlog. (By comparison, Pat Quinn acted on nearly 5,000 and granted more than one-third.) "You're right," Blagojevich says. "I didn't do nearly enough. I regret that very much. I wish I knew what I know now. The sentences are extremely merciless. I've learned there's a lot of oversentencing."
In my opinion, he denied and ignored those requests because he feared the political consequences. He was a former assistant state's attorney and wanted to look "tough on crime." And now he begs for mercy while proclaiming his innocence.
I just can't with this guy.
*** UPDATE 1 *** Gov. Rauner was asked about possible presidential clemency for Blagojevich today. His response…
Blagojevich's case and behavior has been reviewed by judges, many judges, including the Supreme Court, by many legal experts, many attorneys.

They've all come to the conclusion that Blagojevich is where he belongs and he should stay where he's at. So, I'll leave it at that.
…Adding… Video is here.
*** UPDATE 2 *** Sun-Times…
Rauner and Democrat J.B. Pritzker may have one thing in common: they don't believe President Donald Trump should grant imprisoned former Gov. Rod Blagojevich a commutation.

Pritzker's campaign said he believes "the former governor is where he belongs." […]

The Pritzker campaign also told the Sun-Times on Tuesday that "JB thinks there's plenty of other things that Donald Trump should be focusing on," while acknowledging that it's up to Trump whether to pardon or commute his sentence.
*** UPDATE 3 *** Tribune…
Imprisoned former Gov. Rod Blagojevich filed official paperwork Tuesday asking President Donald Trump to commute his 14-year prison sentence on sweeping corruption charges.
- Posted by Rich Miller 40 Comments


* Gov. Rauner is kicking off the festivities by taking the Blagojevich route, which is mighty interesting since President Trump is considering letting the man out of prison and Rauner's Blagojevich TV ads during the primary didn't really hurt Pritzker all that much. I mean, the dude won by 20 points after Rauner spent millions.
Then again, general election audiences are very different than Democratic primary audiences, and it's well known that the Rauner folks have been polling and focus-grouping the heck out of this topic. And the spot most definitely takes a wicked shot at Pritzker, which his GOP base will appreciate. Press release…
Today, the Rauner campaign is launching the first TV ad of the general election, and latest in a series highlighting JB Pritzker's conversations with corrupt ex-governor Rod Blagojevich, federal inmate #40892-424, caught on FBI wiretaps.

The ad features Pritzker and Blagojevich talking about potentially appointing Barack Obama's controversial spiritual leader Reverend Jeremiah Wright to the former president's open Senate seat.

Pritzker quipped how "hilarious" it would be, followed by both of them rounding out their conversation with a rousing "God D@mn America!"
* Rate it…
Not a lot of context there. But the patriotic theme could take hold. Again, this is a sop to the base, which is absolutely fine for this point in the campaign.
* Background text from a GOP operative…
Only 16% of people in the state blame Bruce Rauner solely for our problems. An overwhelming majority blame Mike Madigan — to whom Pritzker has solidly hitched his wagon.
* On to the next one. Press release…
Today, the JB Pritzker campaign released the first in a new series of TV ads that will document how Bruce Rauner has failed Illinoisans across the state as governor.

The first ad in the series, "Brent," highlights how Bruce Rauner's failure to pass a budget led to the halt of road construction and 20,000 workers being laid off at the height of construction season. Learn more about the Rauner Failed Me campaign at www.RaunerFailedMe.com.

"Bruce Rauner's failed leadership has had a real and lasting impact on hardworking people across our state and after three and a half years in office, it's clear this governor has nothing positive to talk about," said JB Pritzker. "Working families have been lied to, let down, and failed by Rauner for nearly four years — and it's time their stories are heard."
* Rate it…
* If you wanted Pritzker to draw serious blood with his first ad, this definitely ain't it. They're trying to build a narrative, though, so we'll see. Actual general election voters may not want this thing to start out as an 11 on a scale of 1-10 and the ad does tell a story about how a real person was hurt by the governor's choices.
Even so, it looks to my eyes like an overreaction to Hillary Clinton's unexpected blue-collar losses in the "Rust Belt" states. Illinois isn't Wisconsin, or Michigan, or Pennsylvania or Ohio, however. Hillary won Illinois by 17 points.
The spot seems like a too-careful-by-half, overpaid consultant's ad and not what the relatively small number of people who are actually paying attention right now really want (which is what the Rauner ad most definitely is - a vicious assault). Instead of kicking it all off with some nasty red meat for a few days, they've taken the safely bland route from the get-go. They may live to regret that choice. If you're gonna say you'll "protect" the state from President Trump and Gov. Rauner then you need to show you're up to the task. This ad most definitely falls short. I've been warning for months that Pritzker may not be tough enough to win this thing, and his inaugural ad, in my opinion, only bolsters that prediction. But, hey, they've got reams of polling data and endless focus group experience and I don't.
* Script…
My name is Brent Williams, and I'm a proud union laborer. I'm one of the guys that works construction out there on the highways you drive by. Last summer, in the middle of our busy season, because of Bruce Rauner not passing a budget, I was told my job was being shut down. We just bought a house. I need to be working. When I'm not working, I'm not making money, and roads and bridges aren't being fixed. Along with me, there were 20,000 other workers that were laid off. I don't know that Bruce Rauner does think of me. Why would we do it for four more years?
- Posted by Rich Miller 63 Comments