* From a press release…
Gov. Bruce Rauner today released his 2016 federal and state 1040s, reflecting income and tax rates, while detailing the Rauner family's charitable and community giving last year.

In 2016, the Rauners paid more than $22.9 million in federal and state taxes on federal taxable income of $73 million and state taxable income of $91 million. Their federal effective tax rate on income was 26.59 percent.

In addition, the Rauners and their family foundation made charitable contributions totaling more than $6.6 million.

Rauner 2016 Tax Summary:

Total Income on Federal Return: $90,707,917

Adjusted Gross Income on Federal Return: $90,441,458

Taxable Income on Federal Return: $73,347,568

Federal Income Taxes Paid: $19,504,022

Federal Effective Tax Rate on Taxable Income: 26.6 percent

Federal Effective Tax Rate on Adjusted Gross Income: 21.5 percent

Illinois Taxable Income on State Return: $91,354,858

Illinois Income Taxes Paid: $3,248,605
The returns are here.
Democratic candidates JB Pritzker and Chris Kennedy have not yet released their returns despite repeated calls by Sen. Daniel Biss that they do so.
* A bit more context…
Rauner's '16 state taxable income of $91 million is down from his '15, when he made $187.6 million. But up from '14 income of $58.5 million. https://t.co/9B9jUJHLkL

— Amanda Vinicky (@AmandaVinicky) October 17, 2017
If @GovRauner makes as much this year as he did last year, the state income tax increase will cost him roughly an extra $1.3 million. https://t.co/R7TJoITlHs

— Mark Maxwell (@WCIA3Mark) October 17, 2017
- Posted by Rich Miller 32 Comments


* One of the most over-used dodges by House Democrats when asked where they stand on Speaker Madigan's reelection is saying they want to first wait and see who the candidates are….
[Sen. Jason Barickman (R-Bloomington)] wished Rauner would have vetoed [HB40] because of the cost, and the Senator appeared to dodge the question of whether he will support Rauner for reelection or back a primary challenger.

"The reality is me – and any other Republican – are going to look at the field of prospective candidates for governor. We're going to know what that field looks like here in just a few short weeks and I think we're going to make our decisions based on [the candidates,]" he said.
As I noted in my newspaper column this week, these questions weren't even being asked before the governor signed HB40. And now a bunch of Republicans are going to be put in an awkward situation, particularly if Rauner does get a primary opponent.
* Speaking of which, I can't help but notice that Utica is about 80 miles and a world away from Rep. Jeanne Ives' home town of Wheaton…
* Rep. Ives also shared this post on her FB page…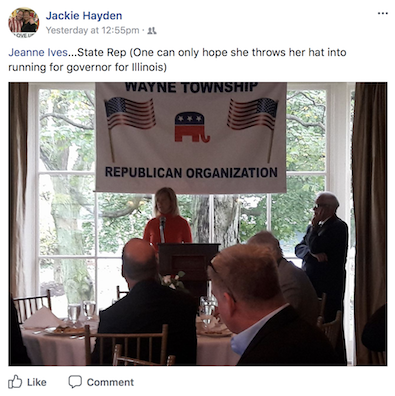 - Posted by Rich Miller 17 Comments


* Press release…
STATEMENT FROM MAYOR EMANUEL ON CHICAGO'S #1 RANK IN CONDE NAST TRAVELER'S READERS' CHOICE AWARDS

"Conde Nast readers recognize what residents of Chicago have always known: the Second City is the best big city in the U.S. This title is a testament to the innovation found in our amazing architecture, the ingenuity captured at our award-winning restaurants and 67 breweries, and the congenial character of Chicagoans. While our 77 neighborhoods each have unique cultures and characteristics, we are one Chicago, and we are proud of this distinction."
* DNAInfo Chicago…
Chicago remains the rat capital of the United States of America — at least according to a pest control company that stands to profit from the effort to fight the disease-ridden vermin.

Based on the number of residential and commercial rodent treatments ordered in Chicago's major metropolitan areas from September 2016 to September 2017, Orkin named Chicago the "rattiest" city in America for the third-straight year.

New York and Los Angeles round out the top three, with the City of Angels moving up one spot from last year, according to Orkin.

Mayor Rahm Emanuel Friday proposed spending an additional $1.5 million in 2018 to get rid of rats.
* The Question: What is your favorite thing about Chicago and what do you despise the most?
- Posted by Rich Miller 52 Comments


* It's good to finally see a positive story about proactive governing coming out of the Rauner administration. Insurance Director Jennifer Hammer deserves much credit for this...
Even before President Donald Trump announced plans last week to nix Obamacare subsidies, the Illinois Department of Insurance raced over the summer to get insurers on board with a strategy to minimize the financial pain of such a move.

The action in essence allows Illinois—as well as more than two dozen other states adopting the maneuver—to sidestep Trump's recent moves to undo major portions of his predecessor's signature health insurance law.

Trump on Oct. 12 ordered the federal government to stop paying the cost-sharing subsidies provided to insurers to defray the cost of covering low-income people. But the Rauner administration has found a way to make the federal government pick up the tab anyway.

Consumers who qualify for cost-sharing subsidies under the Affordable Care Act are only allowed to use the aid to buy so-called silver plans—mid-level policies that cover certain basic services such as maternity care and emergency room services. Anticipating that Trump would eventually do away with the subsidies to insurers, Team Rauner directed carriers that aim to sell Obamacare insurance to Illinoisans in 2018 to attach a surcharge—on average, 15 percent—to silver-plan premiums.

That's because as premiums rise, so do federal tax credits that reduce monthly premium costs for qualified consumers. Therefore, the federal government will absorb the cost of the increasingly expensive silver plans sold to subsidized buyers on the exchange, HealthCare.gov.

"Illinois deserves a great deal of credit to try to find a way to minimize the risk for both the consumers and their carriers," said Sabrina Corlette, an Obamacare expert at the Center on Health Insurance Reforms at Georgetown University.
* Meanwhile, Phil Kadner makes some interesting points about the subsidies…
Democrats ridicule Trump for having no plan to replace the Affordable Care Act (also known as Obamacare) and criticize the president's executive order ending $7 billion in federal payments to insurance companies. Those payments were created by a Barack Obama executive order because Congress would not approve them.

Supporters of Obamacare contend the federal payments are not an insurance industry bailout but part of a plan to keep insurance premiums for high-risk individuals affordable.

But I see those payments in another way. Instead of proposing true national health care with a dedicated funding stream – as provided by almost every other civilized country in the world – we have a system that fails to control medical or prescription drug costs while encouraging millions of people to sign up for private health insurance. It is in essence a system designed to provide the private insurance industry with millions of new customers while we (taxpayers) act as underwriters to minimize the industry's risk.

That's because when the Clinton administration proposed real national health care reform, the insurance industry launched a massive campaign in opposition. The industry told Americans they would no longer be able to select their own doctors and that death panels would decide who would get medical treatment.
…Adding… Tribune…
Key senators reached a breakthrough deal Tuesday on resuming federal payments to health insurers that President Donald Trump has blocked. Insurers had warned that unless the money is quickly restored, premiums will go up. […]

Murray and Alexander began talks on extending the payments months ago, when Trump was frequently threatening to stop the subsidies. Both had said they were close to a deal, but GOP leaders shut the effort down in September when the Senate revisited the Republican drive to repeal Obama's law. The repeal effort failed, as did an earlier GOP attempt to dismantle the law in July.

Trump's halt of the payments and worries about its impact have galvanized lawmakers in both parties to take action to prevent it.
- Posted by Rich Miller 9 Comments


* From the Illinois Republican Party…
Longtime Speaker of the House Mike Madigan shocked the internet on Friday when it was revealed that Madigan has finally entered the 21st century with the creation of a new Facebook page and website, both ironically branded as "Madigan for Us," in an attempt to put a positive spin on his tarnished image.

But Illinoisans are keenly aware of the real Mike Madigan and they know he's bad news. Madigan has been described as "the constant in key decisions that created the mess." Under Madigan's watch, Illinois has seen massive tax hikes, out of control pension debt, and the worst-in-the-nation out-migration.

Unfortunately for Madigan, staged pictures of him sporting a smile won't save him from his decades of destruction.

News outlets have been reporting on Madigan's "nasty-to-nice makeover":

Chicago Tribune: The softer side of Michael Madigan

Someone call the police about a missing person. Missing and replaced by a person of interest, actually. A man with a distinct resemblance to House Speaker Michael Madigan has been photographed reading books to children. He is smiling. And they are smiling. And he is wearing a plaid shirt. Where is the real Speaker Madigan and what has someone done with him?

The alleged explanation for the warm, welcoming Michael Madigan is that he's launched a website, www.madiganforus.com, that attempts to soften his image as a cutthroat politician. He also has a Facebook page and an email address. This is big news. Until recently, Madigan famously didn't use digital technology, email or social media.

…We wonder if, following the photo shoot with the kids, he handed them each a bill for $45,500. That's how much accumulated state debt a 2016 Truth in Accounting study determined each Illinois taxpayer owes.

So there you go, kiddos. Scan the website. Enjoy the fairy tales.

The News-Gazette: Jim Dey: Madigan attempting a nasty-to-nice makeover

…So what gives with the Madigan makeover?

There's no doubt that the millions of dollars the GOP has spent savaging Madigan as a sociopathic politician who puts politics first and policy second has taken its toll on the Democratic Party and its legislative candidates. All of a sudden Democratic legislators are being asked by constituents exactly why Madigan commands so much clout.

Democratic legislators know they must pay fealty to Madigan in Springfield or pay an unacceptably high price for crossing the big man. But they also know that they've got to keep that reality to themselves when they're back home or, alternatively and incredibly, tout their independence from Madigan when talking with gullible constituents.

Chicago Tribune: Mike Madigan smiles!

Mike Madigan — he's just like us!

…At least, that's the cuddly face the long-serving Illinois House speaker is projecting on a new-look website. The rebranding exercise appears to be a response to several years of well-funded advertising by Republicans that paint Madigan as the dour, calculating root of all of the state's problems (Gov. Bruce Rauner last week committed $4.45 million to the GOP's "2018 Madigan Retirement Plan").
* They missed one. From the Illinois Policy Institute's news service…
Former Democratic Party press-secretary-turned public relations consultant David Ormsby said the point of an online presence for a politician is typically to get the candidate known in their district, but Madigan's position of power in the state has done that for him.

"His own prominence has raised his profile over the course of decades," he said. "He's well known in his district."

Madigan also quietly launched a Facebook page last month. Ormsby said social media pages like what Madigan launched are used as a cost-efficient way to reach voters via paid advertising that's geographically and demographically directed. On the other hand, it also becomes a target of hostility for one of the least popular politicians in the state. On the page's lone post, hundreds of Facebook users posted a variation of anti-Madigan statements.

"They see the comments that are left so they see the good, the bad and the ugly," Ormsby said.

Most notably, Ormsby said the new online presence told him one thing about Madigan, who has led a legislative body for longer than anyone in modern American history: "He's planning to stay for a while."
Get news headlines sent daily to your inbox

Madigan, 75, has been an elected state representative since 1971. He has been House speaker for all but two years since 1983.
* The comments on his Facebook page are just brutal…
- Posted by Rich Miller 67 Comments


* Mark Brown…
Three months after the Illinois Legislature overrode Gov. Bruce Rauner's vetoes to end a two-year budget stalemate, social service agencies held hostage during the impasse are still struggling to get back to normal.

Although funding is flowing again, many agencies are still owed substantial sums for past work performed for the state.

Then there is the more subtle damage: lost trust with program participants who couldn't depend on the agency's doors staying open, valued employees who quit to pursue careers with more reliable sources of income, remaining workers caught in the layoff-scarred mentality of waiting for the next shoe to drop.

"It is a challenge when programs are cut and you have to start and stop, start and stop," said Mariana Osoria, a vice president with Family Focus, a social service provider that operates from seven locations in Chicago and the suburbs.

Family Focus specializes in early childhood development and related family support programs, including immigration services.

But in June as the state's budget impasse surpassed the two-year mark with no end in sight, Family Focus found itself in the middle of the state political fight.

Owed $2.7 million by the state at that point for services already provided and having made some layoffs, agency officials essentially said they couldn't take it any more.
Go read the whole thing. Powerful stuff.
* Pritzker campaign…
Social service agencies are still reeling from the lack of steady state funds throughout Bruce Rauner's 736-day budget crisis.

Even three months after the legislature overrode Rauner's reckless veto, places like Family Focus are still owed large sums and are attempting to resume services to their pre-crisis capacity. Agencies must also rebuild trust in their communities after layoffs cut off services for those in need.

"Bruce Rauner leveraged the tools Illinoisans need to build better lives in order to advance his political agenda," said Pritzker campaign spokeswoman Jordan Abudayyeh. "After mass layoffs decimated our social service agencies, it will take years to repair the damage done by Rauner's manufactured budget crisis."
- Posted by Rich Miller 8 Comments


* Forbes…
It was another record year for the wealthiest people in America, as the price of admission to the country's most exclusive club jumped nearly 18%. The minimum net worth to make The Forbes 400 list of richest Americans is now a record $2 billion, up from $1.7 billion a year ago. The group's total net worth climbed to $2.7 trillion, up from $2.4 trillion, and the average net worth rose to $6.7 billion, up from $6 billion. […]

Every person in the top 10 got at least $1 billion richer in the past year. Number one for the 24th consecutive year is Bill Gates, who is now worth $89 billion, up $8 billion from a year ago. Amazon's Jeff Bezos, whose fortune rose $14.5 billion in a year, retains the number two spot for the second consecutive year with a net worth of $81.5 billion, while Warren Buffett holds onto the number 3 spot. His net worth increased by $12.5 billion, despite giving away more than $3 billion of Berkshire-Hathaway stock in July. The biggest gainer (in dollar terms) is Facebook's Mark Zuckerberg. His fortune jumped $15.5 billion, but in a crazy year like this one, it's only good enough for him to hold onto his ranking as fourth richest.
* Finke looked through the list and saw only one Illinois candidate for governor…
That distinction belongs to Democrat J.B. Pritzker, whose wealth was pegged at $3.4 billion. Pritzker ranks 219th on the list of richest Americans. He's one of four Pritzkers who appear on the list.

And Rauner? Didn't make the list. The cutoff for Forbes' list is about $2 billion, which is too rich even for the deep-pocketed Rauner.

Pritzker is not the richest person in Illinois, though. That distinction belongs to hedge fund manager Ken Griffin at $8.5 billion. Griffin has given millions to Rauner and the Republican Party, although it was reported that he also recently gave $1 million to the Obama Foundation.
* Meanwhile, here's Mary Cooley at the Belleville News-Democrat…
Illinois residents are among the least likely in Midwestern states to have discretionary income, according to a business survey.

Across the country, Illinois is 30th for discretionary income but 12th among the 12 Midwestern states as defined by the study done by the storage firm Trove Technologies.

Trove used data from the Bureau of Labor Statistics, The Tax Foundation and The Council For Community and Economic Research for its analysis. Discretionary income is the money left after paying food, shelter, clothing and taxes; for this survey Trove assumed "a single person sharing a two-bedroom apartment with a roommate … a Single Filer with no dependents" for state and federal taxes. […]

Carbondale residents have $879 in annual discretionary income, according to the study, with an average salary of $37,308, taxes estimated at $8,234, and basic expenses costing $28,194.
That's a pretty narrow assumption. But it is what it is. And if you're in the bottom 20 percent of Carbondale occupations, your discretionary income is pegged at -$8,778 for the year.
* Other areas, with bottom 20 percent in parentheses…
Illinois: $5,811 (-$10,902)

Bloomington: $5,976 (-$8,893)

Carbondale: $879 (-$8,778)

Champaign-Urbana: $5,312 (-$7,911)

Chicago: $3,402 (-$13,579)

Chicago Metro: $5,002 (-$11,979)

Danville: $2,806 (-$6,564)

Decatur: $2,646 (-$8,631)

Kankakee: $4,719 (-$7,626)

Peoria: $6,386 (-$7,938)

Rockford: $5,810 (-$7,643)

Springfield: $5,395 (-$8,310)
See the numbers for yourself and plug in your own variables by clicking here. Just remember that the assumptions are very narrow.
- Posted by Rich Miller 23 Comments


* Sun-Times…
Chicago Teachers Union President Karen Lewis is in the hospital recovering from a stroke she suffered last week.

The stroke Thursday was in an area of the brain where she had a tumor removed. Lewis was diagnosed with brain cancer in October 2014.

"Yeah, I had a stroke," Lewis said Tuesday morning from the hospital.

"I'm going to be OK," Lewis added. "They're going to have me in working order soon."
* Tribune…
"I had a stroke last Thursday," she said, but didn't get confirmation from doctors until Sunday.

"It was a teeny, tiny one, where the tumor was," Lewis said of the stroke.

"What happens is, anytime you have a surgery and radiation, the blood vessels around there become friable. (The stroke) was so tiny they couldn't find it the first time they examined me." […]

"It's going to be a lot of work, it's going to be a lot of physical therapy, that's what it's gonna be," Lewis said.
* NBC 5…
Speaking from the hospital, Lewis, who in recent years had a tumor removed from her brain, said she suffered a stroke Thursday.

"I woke up, couldn't move my left leg, my left hand," she told NBC 5.

Lewis said she had no speech issues following the stroke and plans to use physical therapy to regain movement on her left side.

She remained in the hospital Tuesday but said she expects to be in rehab "very soon."
* Mayor Emanuel…
"I reached out to Karen this morning to wish her a speedy recovery and, as anyone who knows Karen would assume, she was in a good humor. Karen Lewis has always been a strong voice for Chicago's children and Chicago's teachers, and the strength of her voice is only matched by the strength of her will. A stroke can't keep Karen Lewis down."
Amen to that. Hang in there, Karen.
- Posted by Rich Miller 16 Comments


* Sun-Times…
More than $102 million and counting.

That's the amount of money raised over the past year by the three richest candidates vying to be governor of Illinois.

The lion's share of that – 69 percent – was raised by Republican Gov. Bruce Rauner, with $50 million of the $70.9 million he raised coming from his own pockets.

Democrat J.B. Pritzker raised $28.2 million, every penny from his own personal fortune.

And businessman Chris Kennedy raised $3.4 million, bringing the combined contributions the three candidates raised over the last 12 months — from themselves and others — to a whopping $102,605,158.39
Biss has so far raised $120,700 from his immediate family, including $30K from his mother this past quarter. Amazingly enough, that's more family money that Chris Kennedy has raised. Never would've guessed that.
* ICPR notes that third quarter spending topped $15 million…
Ad buys remained the single largest expenditure area for the field of gubernatorial candidates, although total spending in the area declined since last quarter. The majority of JB Pritzker's expenditures, $5.9 million, went to producing and airing ads across Illinois. Bruce Rauner and Daniel Biss also spent approximately $229,000 and $69,000 on ads, respectively. Rauner also spent $164,000 on mailers. All told, $6.2 million was spent in advertising in the third quarter, a 17% decrease from the $7.5 million reportedly spent on ads last quarter.

Research and consulting services represented the next largest spending areas for the candidates at $2.94 million. Pritzker and Rauner devoted the most resources to various media and political consulting firms, with Kennedy and Biss trailing significantly. Pritzker spent $1.66 million on consulting, Rauner spent $1.61 million, and Kennedy and Biss spent around $87,000 each.

While Pritzker and Rauner, the two self-funders with deep pockets, focused their spending on expensive areas like ads and consulting, Biss and Kennedy mainly used the funds they raised on hiring staff. Kennedy spent over half of his total expenditures on salaries, and related expenses like payroll taxes and health insurance, dishing out $395,300 for his staffers.

Biss only spent $205,200 on paying staff, while Governor Rauner, with a communications staff in his office and no primary opponent, spent the least, only devoting $162,600 to payroll and related expenses. Pritzker outspent Rauner, Biss, and Kennedy combined, paying $1.58 million on personnel for his campaign. All told, payroll costs totaled $2.35 million, more than doubling since last quarter.
So, Pritzker spent several hundred thousand dollars more on payroll during the quarter than any of his Democratic rivals raised.
* Chart…

Kennedy did not report any expenditures to his fundraising consultant. I don't know whether this is related or not, but the campaign told the Tribune earlier this month that he would end the quarter with $1.2 million and wound up reporting $1.3 million cash on hand. The campaign also didn't report any expenditures to Revolution Messaging, a firm that previously worked with the Bernie Sanders presidential campaign and which received $90,305 from Kennedy in the seond quarter.
- Posted by Rich Miller 21 Comments


* From the Pantagraph…
Erika Harold isn't running against Lisa Madigan anymore, but she still has the state attorney general's family in her sights.

"One Madigan down means one more Madigan to go," she said of Lisa and her father, House Speaker Mike Madigan, D-Chicago. "People said, if you run against the Madigans, be prepared. Take your car in to make sure your brakes are checked. That was advice I really got. … That's not a great commentary on our political system."
* Also from the piece…
Harold mostly avoided partisan issues, but she said she opposes local sanctuary city designations — Chicago has named itself one, setting up a protracted battle with President Donald Trump's administration on immigration policy — and dislikes how Lisa Madigan has opposed Trump, including suing on the Deferred Action for Childhood Arrivals (DACA) program.
*** UPDATE ***  From the Harold campaign…
Just to clarify, Erika was asked if she supported sanctuary cities and she said she believed it was a federal issue.

The reporter also wrote that Erika dislikes how AG Madigan opposed Trump on DACA. The simple fact is DACA was never mentioned at the event yesterday - a fact the reporter acknowledges. We have yet to receive an answer as to why he included that in the story.
- Posted by Rich Miller 105 Comments


* The governor was on CNBC yesterday to talk about the state's bid for Amazon's HQ2. He was his usual self. Click here to watch. I don't know why he couldn't answer the "cloud" question. Chicago has one of the best Internet hubs in the world.
Anyway, one of the things the governor talked a lot about was higher education. The DGA pounced…
[Yesterday] morning, Governor Bruce Rauner appeared on CNBC's Squawk Box to talk about the state's Amazon HQ2 bid and touted the state's university system he called "second to none." Left unsaid is that without Bruce Rauner, the university system would have been even stronger. Due to Rauner's manufactured budget crisis, the state's university system saw:

Enrollment drop by 70,000 students with some schools seeing drops of over 10% in enrollment;

Tuition and fees rise 6.7% system wide at a time when the state was not paying MAP grants;

A loss of 7,500 jobs;

And bond downgrades for many universities and colleges, leaving five with "junk" bond status including Governors State and Northeastern Illinois.

On CNBC, Rauner spent time profiling the strengths of Chicago and East-Central schools in particular, but those were some of the hardest hit. Illinois Economic Policy Institute found 78% of job losses occurred in the Chicago and East-Central Illinois, and nearly 60% of the enrollment drop came in the Chicagoland area. Chicago schools like Northeastern and Governors State saw tuition rise over 10%.

When Republican Representative Terri Bryant of Southern Illinois voted for the budget deal, she said "I hope you will help me bring my university back." Bruce Rauner vetoed the budget and called for legislators to uphold his veto. Now, he wants to brag about the state's schools.

"Governor Rauner is without shame," said DGA Illinois Communications Director Sam Salustro. "Rauner touts Illinois' education system to out-of-state businesses while cutting resources at home. He locked the state in a two-year budget impasse that devastated Illinois' colleges and universities, cut jobs, and increased debt. Rauner's failed leadership threatens the state's economic future by leaving the state's schools worse than he found them."
* As did the Pritzker campaign…
Yesterday, Bruce Rauner praised our state universities as "second to none" in a CNBC interview, but throughout his term, Rauner has driven those same public colleges and universities into the ground.

Rauner's budget crisis caused "significant damage" and forced "some of the deepest cuts to higher education in the nation" on Illinois schools according to a new report by The Atlantic. Here's the real Rauner record:

* Bond downgrades: Seven state universities saw their credit downgraded, five to junk status.
* Enrollment drop: 72,000 fewer students enrolled in Illinois public colleges and universities.
* Funding cuts: Higher education would see a 20 percent cut in Rauner's proposed budget.
* Lasting damage: Public universities leaders say, "it will take years to neutralize the harm" to their schools after Rauner's budget crisis.
* Local economies hurt: $1 billion in economic activity disappeared each year.
* Mass layoffs: 7,500 jobs were lost in higher education.
* Rankings plunge: U of I, ISU, SIU dropped in the latest U.S. News & World Report Rankings.
* Tuition hikes: 7 percent tuition and fee increases were passed on to students.

"Bruce Rauner decimated the same public colleges and universities he is now calling 'second to none,'" said Pritzker campaign spokeswoman Jordan Abudayyeh. "Bond downgrades, enrollment and rankings drops, mass layoffs, and tuition hikes are the damage done by this failed governor to our state's most valuable institutions."
* Meanwhile…
The state's budget crisis has subsided for now, but its impact on faculty recruitment remains a key issue at the University of Illinois.

Campus officials are still massaging the numbers, but outside recruiting of the UI's top professors was up 50 percent in each of the past two years over previous years, according to interim Provost John Wilkin.

"It was a challenging couple of years," Wilkin said at Monday afternoon's annual meeting of the faculty, where the issue generated some discussion. […]

In 2015-16, a total of 124 faculty members were recruited by other schools, up from 84 the previous year; at least 50 opted to stay for the following year, many with the help of retention packages. And the number of new faculty hired dropped by half.
* Related…
* Chicago officially struts its stuff for Amazon: Though the statement refers only to "the Chicago area," in fact the state and the city submitted one joint bid and it includes sites outside the metropolitan area, a source familiar with the matter tells me.
- Posted by Rich Miller 74 Comments


* He's got a point…
On Tuesday, the Biss campaign published a counter clock marking time passed since JB Pritzker and Chris Kennedy agreed to follow Daniel's example and release their tax returns. Six months after the pledge, and a day after the extended deadline to file taxes on Monday, Biss for Illinois Campaign Manager Abby Witt released the following statement:

"This election offers Democratic voters a choice about who they trust to fight for them: wealthy businessmen or a middle-class grassroots organizer with a record of progressive accomplishments. If we can't trust JB Pritzker and Chris Kennedy to keep their word on something as simple and customary as releasing their tax returns, why should we trust their other campaign promises?"

Background:
It's been 6 months since JB Pritzker and Chris Kennedy pledged to release their tax returns. To date, neither has.

Biss releases 5 years of full returns. Daniel Biss, author of a bill in the Illinois legislature requiring Presidential candidates to release tax returns in order to appear on the state ballot, released five years of federal and state tax returns with schedules, and pledged to release his 2017 returns before the 2018 primary. [4/13/17].

All Democratic candidates for Illinois governor pledge to follow Biss, release 5 years of full returns. "Pritzker, Kennedy and Pawar all say they will release their tax returns. Gov. Rauner has released his returns every year. Rauner's last return, for 2015, showed he had tripled his annual income." [Capitol Fax, 4/14/17]
Thoughts?
- Posted by Rich Miller 33 Comments