* House Republican press release…
The U.S. Attorney for the Northern District has responded to both letters from Rep. Demmer and Rep. Welch about the parameters of the Special Investigating Committee. Ron Safer, special counsel for the petitioner Leader Jim Durkin, released the following statement:

"The US Attorney's Office has given the Special Investigating Committee the green light to pursue all avenues of the investigation, including testimony and documents, that were articulated in the petition. We are grateful that US Attorney John Lausch told the Committee that his office recognizes the SIC's 'separate and independent obligation to conduct its inquiry.' We look forward to the Committee convening promptly to do this important work."

Ron Safer is managing partner at Riley, Safer, Holmes and Cancila specializing in complex, high-stakes cases with a focus in white collar and civil litigation. In 1989, Ron joined the U.S. Attorney's Office in Chicago and rose to Chief of Criminal Division, successfully prosecuting more than one hundreds defendants during his tenure.

Rep. Demmer's letter, as well as the USAO's response, are attached to this email.
* OK, here's the Lausch reply letter…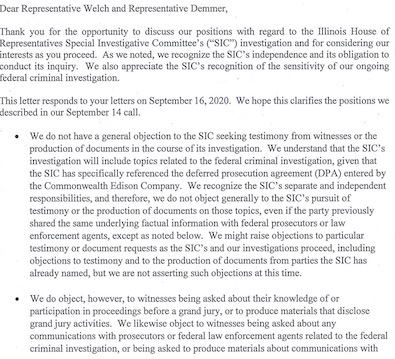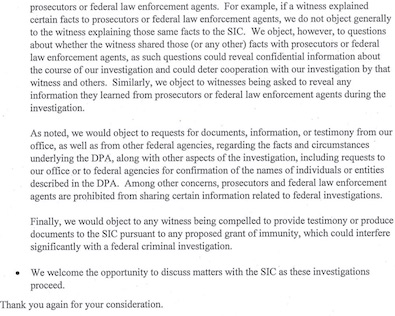 Click the pic or the link for a larger image.
* And here's what the HGOPs want to do…
To be clear, we intend to seek information – testimony and documents – from the following witnesses either through voluntary requests or subpoenas:

1. The testimony of Rep. Michael Madigan, about, among other things, the events described in the DPA
2. The testimony of Michael McClain before the SIC regarding, among other things, the events described in the DPA.
3. The testimony of Anne Prammagiore before the SIC regarding the events described in the DPA.
4. The testimony of Fidel Marquez before the SIC regarding the events described in the DPA.
5. The testimony of John Hooker before the SIC regarding the events described in the DPA.
6. The testimony of Jay D. Doherty before the SIC regarding, among other things, the events described in the DPA.
7. The testimony of Michael R. Zalewski before the SIC regarding, among other things, the events described in the DPA.
8. Testimony of current or former employees of ComEd or Exelon before the SIC regarding the events described in the DPA.
9. Document production of relevant materials by the individuals and entities listed in items #1-8 above regarding the admissions of ComEd contained in the DPA.
10. The issuance of document preservation letters to the individuals listed in items #1-8 above, or any other relevant individuals or entities.
Standing by for Rep. Welch's statement, but this is how he characterized Lausch's intent yesterday…
* Your office has no objection to requesting certain identified witnesses voluntarily testify or produce documents. However, it was stipulated there would be an objection to any witness disclosing material information or documents related to the federal investigation or grand jury deliberations. Thus, your office would object to the Committee requesting testimony or documents provided to your office in connection with your investigation.

* Your office would object to requests for documents, information, or testimony from your office, as well as other federal agencies, regarding the facts and circumstances underlying the DPA. This includes confirmation of the names of individuals or entities who are identified only by descriptive titles in the DPA and its attachments.

* Your office requested that the Committee consult with your office prior to seeking testimony or documents from any individuals, other than those that have been identified.
*** UPDATE 1 *** From Chairman Welch…
State Rep. Emanuel Chris Welch released the following statement Thursday:

"The charge of the Special Investigating Committee is to investigate a petition brought by leader Durkin, which is based entirely in the federal government's deferred prosecution agreement with Commonwealth Edison. U.S. Attorney Lausch's letter today confirms our understanding that while this committee can call individuals to voluntarily appear, they would be limited in what they can discuss. In particular, information underlying the deferred prosecution agreement beyond what is already public could be met with objection by federal investigators, and any further information collected by the federal government that informed that agreement is explicitly off limits.

"We also see clearly that Republican members of this committee attempted to go beyond what has originally been discussed with the U.S. attorney. Once again, I will not allow this committee to inappropriately interfere with the work of the U.S. attorney, and I will not allow it to be used as a stage for political theater."
*** UPDATE 2 *** Rep. Welch says he's "looking at September 28, 2020 at 9am for the next meeting in Springfield."
…Adding… More from Welch…
Working on invites now to all the witnesses on the list.

All i wanted was written guidance as has been done in the past. I got it. I think it's clear. We will proceed.
- Posted by Rich Miller 34 Comments


* Michael Puente at WBEZ…
Chicago attorney Carol Oshana represents landlords who mostly "own just one building" to supplement their income.

These small landlords, which Oshana called "mom-and-pop shops," also known as single-family rentals, make up about 34% of the estimated 45 million renter households in America, according to the Joint Center for Housing Studies at Harvard University.

In the Chicago metropolitan area, as of 2018, single family rentals make up about 20% of the 1.3 million rental units, according to Joint Center for Housing Studies.

"My landlords are very desperate. They have [renters who] are working but don't want to pay," Oshana said. […]

"Tenants know big landlords will go after them and their credit. Small landlords can't even afford lawyers," Oshana said. "Also, big landlords don't live in the building. Smaller landlords are harassed by their tenants who refuse to pay."
..Adding… NBOA…
The Neighborhood Building Owners Alliance (NBOA) has been pointing out that we don't ask grocery stores to provide free food, or pharmacies to provide free medication. We cannot ask the small businesses that provide neighborhood housing to provide free homes. That is jeopardizing their ability to continue providing stable housing, which is important for their residents and surrounding communities.
…Adding… Greg Hinz…
In other news, at [yesterday's] briefing, Pritzker extended the state's moratorium on evictions for another 30 days, citing the COVID-weakened local economy.
- Posted by Rich Miller 42 Comments


The labor market's recovery is showing fresh signs of losing momentum as persistently elevated applications for unemployment benefits show layoffs remain historically high despite summer hiring.

Weekly initial claims for jobless benefits fell by 33,000 to a seasonally adjusted 860,000 in the week ended Sept. 12, the Labor Department said Thursday. The number of people collecting unemployment benefits through regular state programs, which cover most workers, decreased by 916,000 to about 12.6 million for the week ended Sept. 5.

The coronavirus pandemic and related shutdowns caused both unemployment applications and payments to rise to the highest levels on record back to the 1960s this spring.

After sharply falling later in the spring and early summer, new applications have largely held steady since early August. The declining number of people receiving state benefits likely reflects that workers are finding new jobs, or are being recalled to old ones. But it also shows some workers who applied for benefits in March have hit the six-month limit set in many states.
* CBS 2…
The U.S. Department of Labor estimates 23,339 new unemployment claims were filed during the week of Sept. 7 in Illinois, according to the DOL's weekly claims report released Thursday. […]

The Illinois Department of Employment Security reported 25,478 new unemployment claims were filed during the week of August 24 in Illinois.

IDES reported 22,406 new unemployment claims were filed during the week of August 10 in Illinois.
*** UPDATE *** IDES…
The Illinois Department of Employment Security (IDES) announced today that the unemployment rate fell -0.5 percentage points to 11.0 percent, while nonfarm payrolls added +66,000 jobs in August, based on preliminary data provided by the U.S. Bureau of Labor Statistics (BLS) and released by IDES. The July monthly change in payrolls was revised upward from the preliminary report, from +93,200 to +105,000 jobs. The July unemployment rate was revised upward from the preliminary report, from 11.3 percent to 11.5 percent.

The August payroll jobs estimate and unemployment rate reflects activity for the week including the 12th. The BLS has published FAQs for the August payroll jobs and the unemployment rate.

The state's unemployment rate was +2.6 percentage points higher than the national unemployment rate reported for August, which was 8.4 percent, down -1.8 percentage points from the previous month. The Illinois unemployment rate was up +7.2 percentage points from a year ago when it was 3.8 percent.

The number of unemployed workers declined from the prior month, a -2.9 percent decrease to 695,000 but was up +182.6 percent over the same month for the prior year. The labor force was up +1.6 percent over-the-month and down -1.5 percent over-the-year. Confidence in the Illinois economy has grown in recent months. From January 2020 to April 2020, the Illinois labor force declined -4.6% (-294,000 individuals) and, yet, from April 2020 to August 2020, the labor force has rebounded 3.6% (nearly 224,000 individuals).

In August, the three industry sectors with the largest over-the-month gains in employment were: Leisure and Hospitality (+16,400), Government (+15,900), and Professional and Business Services (+9,900). Only one industry sector reported a payroll decline: Information (-1,400).

"As the unemployment rate steadily declines and confidence in the economy increases as more people return to the workforce, IDES remains committed to assisting those individuals still impacted by this pandemic and in need of unemployment services," said Acting Director Kristin Richards. "In addition to providing unemployment benefits, the Department is also prepared to assist individuals with job training and matching workers with hiring employers to help as many Illinoisans as possible return to work to provide for their families and basic needs."

"While it's encouraging to see a continued month over month decline in Illinois' unemployment rate, there remains much to do to bring more Illinoisans safely back to work and to rebuild our economy," said Erin Guthrie, Director of the Department of Commerce and Economic Opportunity (DCEO). "That's why the Pritzker administration continues to prioritize critical investments that support our hardest hit communities and small businesses, like our recent $220 million expansion of the Business Interruption Grants (BIG) program, and hundreds of millions in additional ongoing assistance for our communities and our community employers. These investments will help stabilize our small businesses, enable our economy to continue to safely reopen, return more Illinoisans to work, and provide our economy the boost it needs."

Compared to a year ago, nonfarm payroll employment decreased by -428,700 jobs, with losses across all major industries. The industry groups with the largest jobs decreases were: Leisure and Hospitality (-143,700), Professional and Business Services (-72,500) and Trade, Transportation, and Utilities (-53,400). Illinois nonfarm payrolls were down -7.0 percent over-the-year as compared to the nation's -6.8 percent over-the-year decline in August.

The unemployment rate identifies those individuals who are out of work and seeking employment. An individual who exhausts or is ineligible for benefits is still reflected in the unemployment rate if they actively seek work.
- Posted by Rich Miller 2 Comments


* Will and Kankakee counties make up Region 7. From IDPH…
IDPH will track the positivity rate in Region 7 over a 14-day monitoring period to determine if mitigations can be relaxed, if additional mitigations are required, or if current mitigation should remain in place. If the positivity rate averages less than or equal to 6.5 percent after 3 days, the region will return to Phase 4 mitigations under the Restore Illinois Plan. If the positivity rate averages between 6.5 percent and 8 percent, IDPH will continue to monitor the region to determine if additional mitigations are needed. If the positivity rate averages greater than or equal to 8 percent after 14 days, more stringent mitigations will be applied to further reduce spread of the virus.
Region 7's average positivity rate was 6.4 percent yesterday - the first time it's been below 6.5 percent in a while.
* So despite all the craziness by a few Will and Kankakee business owners, the populace and local leaders appear to be taking this seriously…
"Masks, distance, hand-washing, enforcement — it all works, and Will and Kankakee counties are, so far, getting the job done. And we're all rooting for them," the Democratic governor said during a Loop news conference.
More…
"Last week, I said that I was hopeful that region 7, that is Will and Kankakee counties, might become a testament to a community's ability to turn their ship around," Gov. J.B. Pritzker said in a news conference Wednesday. "I'm very happy to say my hopefulness hasn't been unwarranted. Yesterday, region 7 brought its rolling 7-day average below 7.0 for the first times in weeks. Today, that number sits at 6.4 percent; the first day below our 6.5 percent benchmark, indicating a reduced severity of community spread." […]

The mitigations were first put in place on Aug. 26, when the region hit 8 percent for its test positivity rate. If mitigations are lifted, indoor dining in Will and Kankakee counties could resume.

Will County was also removed from "warning level," after being at that level from IDPH for several weeks.
* Now, if only the Metro East would get its act together…
The seven-county Metro East region has also improved of late, after being the first region in the state to have stricter rules put in place. That region surpassed the state-set 8% positivity rate threshold Aug. 11, and climbed to over 10% at one point, but sat at 8.9%, according to the most recently available data from the state public health agency.

Pritzker called that a "testament to the fact that these doctor-recommended mitigations can work if they are followed."

The most recently-available state data showed suburban Cook County's positivity rate at 5.5%, down from 6.3% days earlier, while Chicago's rate stood at 5.1%.

Some of the other suburban areas were higher than the city, though they've seen decreases recently. The region that includes DuPage and Kane counties was at 5.7% and the region to its northeast including Lake and McHenry counties had a 6.2% positivity rate, down from 7% last week.
*** UPDATE *** Today's average is 6.1 percent, so that's two days in a row. One more and it's done.
* Related…
* Hastings appreciates urgent action on behalf of business owners - Will County will receive priority in second round of Business Interruption Grant awards
- Posted by Rich Miller 15 Comments