* Bernie…
AARON MERREIGHN of Riverton, who ran for lieutenant governor last year under the Conservative Party banner, says he'll run as a Republican next year for state representative in the 87th House District, now represented by Rep. TIM BUTLER, R-Springfield.

"Our Republican Party's still falling apart," said Merreighn, 36, who works in human resources for the Illinois Department of Revenue. […]

Butler said Merreighn "needs to make up his mind on which party he wants to be in."

Merreighn said he "left the Republican Party last year" when he became running mate to then-state Sen. SAM McCANN. Their ticket got 4.2 percent of the statewide vote in November.

Merreighn ran as a Democrat for precinct committeeman in 2014 and was listed on a Libertarian Party of Illinois news release when he ran for Riverton village trustee in 2015. He was not elected in either race.
If he loses maybe he'll run on the Green Party's ticket.
*** UPDATE *** Democrat, Libertarian, Conservative, Republican and… the Veterans Party? Yep…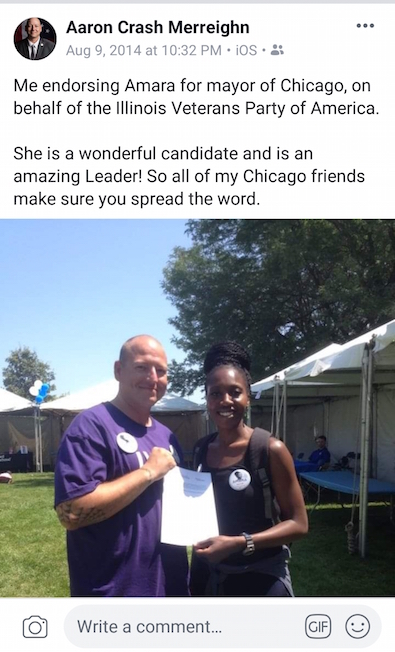 And, yes, it's a thing.
- Posted by Rich Miller 18 Comments


* Bet you never thought you'd see that headline, eh? Anyway, I thought for sure this was a political prank on Toni Preckwinkle when I heard about it, but she has fully embraced an endorsement by Todd Stroger…
The former County Board president, who lost an ugly 2010 campaign to Preckwinkle, is now backing her, he tells The Spin.

"Yeah — what's the saying? 'There are no permanent friends, no permanent enemies, just permanent interests.' And my interest is in seeing things get done in the neighborhoods that are typically overlooked. If I can bend the ear of the mayor to get something done, then so be it," Stroger, who lives on the city's South Side and works for South Side Chicago Ald. Howard Brookins, 21st, said Wednesday. […]

The two have "spoken about three times in the last week and a half — about the campaign and what my role could be. And I gave her some unsolicited advice, of course. What I told her was I thought that the campaign should start focusing more on the future, not on the past — we know who she is, (time to tell people) what is her plan. There's no use sitting and fighting with your opponent." […]

"Toni is proud to have the support of Todd Stroger because of their shared commitment to the community. He joins a growing coalition of community members who know she has the experience and vision to lead the city as the next mayor of Chicago," campaign spokesman Chris Meagher said in an emailed statement.
Stroger is absolutely right about the need to focus on the future instead of constantly talking about her and her opponent's pasts. Check out this debate story with that frame in mind…
Lightfoot then posed a question to Preckwinkle, noting how one of them will become the first African-American female elected mayor of Chicago and asking her to discuss the race's significance.

Preckwinkle took her answer in a different direction, again trying to draw a distinction between her long career in public service as a teacher, alderman and county board president and Lightfoot's background as a City Hall appointee and corporate attorney.

"You know, I think it's true that this is a historic time. But it's also true that we took very different paths to get where we are," Preckwinkle said. "I worked to bring change, to actualize change, to transform the institutions I represented and the communities I represented. And let me just say, that's hard work. Resolve isn't good enough. It takes patience and courage to do this work."

She went on to criticize Lightfoot for her work at Mayer Brown saying, "While I was transforming our health care system, increasing access and improving the quality of care, my opponent was working for a law firm that defends tobacco companies and polluters." […]

"Well, I will actually answer the question," Lightfoot said. "I hope this campaign and the fact that one of us as African-American women is going to be the next mayor of the city really gives hope to young girls that are out there and young men that are out there to know what my parents taught me: that anything is possible if you actually have the opportunity and take advantage of it and use it as a ladder up."
* Even Chance the Rapper's endorsement focused on the past…
Flanked by black activists with whom he consulted before making the endorsement, Chance said, "The resounding voice has been that they don't necessarily feel comfortable or safe going into a city where Lori Lightfoot sits on the fifth floor" of City Hall.

"Her past record as a prosecutor has not been in the best interest of young black people in Chicago, hasn't been entirely truthful. And even her campaign and the image that she's created since the February election has been … very untrue," he said.

Those same activists — from groups like Black Lives Matter and Assata's Daughters who have rallied around the #NoCopAcademy label — "appreciate Toni Preckwinkle," Chance said. […]

"The truth is that the most qualified person in terms of somebody who's gonna look out for all the people of Chicago [and] account for the police, victims of gun crime, victims of economic crime is Toni Preckwinkle. So, I'm fully behind her," he said.
* But no cash…
This isn't his first entry into the mayor's race. He and rapper Kanye West poured hundreds of thousands of dollars and ample hype into former candidate Amara Enyia's campaign.

Chance may have given Enyia a $400,000 contribution in January, but said he wasn't planning to open his wallet again.

"I don't have any more money for Chicago politics," Chance said, when asked if he would bring fresh cash to Preckwinkle's campaign.
…Adding… Lori Lightfoot…
I have great respect for Chance and the community activists and organizers across the city who are fighting for social justice," said Lightfoot. "I share their passion and commitment to pursuing true police accountability because we have not had nearly enough progress to date. That's why I've fought for police reform throughout my career. As mayor, I will take my efforts to the next level by working with stakeholders who've been engaging in this fight from the get-go. My campaign is about delivering change, which means working together to enact new paradigms and new policies. I would create a robust youth committee to incorporate the perspectives and policy ideas of these activists into our city government. Young people have a voice, we just need to listen.
- Posted by Rich Miller 21 Comments


* I've been telling subscribers about this for days…
There's a $2 billion gas tax increase on the table at the statehouse to pay for infrastructure projects, but some warn such a move will hurt lower-income families the hardest. There's also an effort to give municipalities more ability to impose their own gas taxes.

State Sen. Martin Sandoval, D-Chicago, said motorists should expect a push to double the state's gas tax from .19 cents a gallon to .38 cents heading into the home stretch of spring session. An amendment to Senate Bill 103 would also increase the annual vehicle registration fee by $50, and $130 more for electric vehicles.

A fact sheet from the International Union of Operating Engineers says those increases along with doubling the fee on drivers' licenses and increasing truck registration fees by $100 would raise an additional $2 billion.

State Rep. Joe Sosnowski, R-Rockford, said increasing the motor fuel tax will hit working families.
There's lots more to this bill, but you either gotta subscribe or wait for somebody else to write about it.
* Meanwhile, a spokesperson says this bill may be called for a vote next week in the House Revenue Committee. From a press release…
Legislation under consideration in Springfield that would allow municipalities to impose their own local, .03¢ per gallon gas tax is being welcomed as a tool for struggling communities to rebuilding their local economies.

The legislation, House Bill 102, would require municipalities to register a responsible bidder ordinance with the Illinois Department of Transportation to allow them to impose a local motor fuel tax of up to .03¢ per gallon, a tax which would be administered and enforced by the Illinois Department of Revenue.

"With towns, villages, and cities throughout Illinois struggling to pay police and fire pension costs while straining to preserve core services, local leaders need additional revenue to fund community capital construction projects ," said long-time local municipal attorney Michael Del Galdo, managing partner of the Berwyn-based Del Galdo Law Group, LLC., who serves as general counsel for multiple suburban Cook County communities. […]

"By including a responsible bidder provision in the bill, municipalities will be assured that a qualified workforce will be employed on behalf of projects supported by a local gas tax," said Marc Poulos, Executive Director, Indiana, Illinois, Iowa Foundation for Fair Contracting. "More broadly, this bill will help local communities rebuild their finances and revive their local workforce after the damage inflicted on their budgets and economies due to the Rauner Administration's historic mismanagement."
…Adding… Tribune…
[Orphe Divounguy, chief economist for the Illinois Policy Institute] said the state should eliminate waste and investigate corruption before raising more taxes.
- Posted by Rich Miller 27 Comments


* Finke…
In an effort to kick-start discussions on sports betting, state Rep. Mike Zalewski has filed four different proposals to bring sports betting to Illinois.

The Riverside Democrat said the proposals will be discussed at a hearing of the House Revenue Committee next week.

"What we have learned the last few months is there is great interest and agreement in the gaming industry to bring sports betting and its economic benefits to Illinois and little agreement yet on now to best do it," Zalewski said in a statement.

Zalewski said the proposals that will be discussed were modeled on sports betting in effect in other states like New Jersey, Delaware and Pennsylvania. He said each proposal will "generate hundreds of millions of dollars in tax revenue and other economic benefits with varying rates and fees."
A detailed fact sheet is here.
Zalewski's plan is to legalize sports betting by the end of this session, but Illinois has a history of resistance to gambling expansion, so the question of whether or not mobile sports wagering will be front and center is one that is currently unanswered.

"I think it may be in-person sports betting to start and then mobile will roll out," Zalewski told Sports Handle. "The brick and mortars in this state are going to say, 'We've been here the longest, we've vetted, we've tested, we've been here before, why would you wait here for the online guys, when we're show ready right now?'

"That may be appealing to us as a policy piece. It's a hybrid, so I think slow beginnings are probably preferred over going too fast. "
* Hannah Meisel…
Zalewski's four options for legalized sports betting all take different approaches. One amendment would allow the Illinois Lottery to take on the responsibilities for sports betting, rather than the Illinois Gaming Board. It would also allow people to make their bets anywhere Illinois lottery tickets are already sold, like a gas stations or convenience stores. […]

Another amendment would allow professional sports leagues to get a cut of sales from sports betting in Illinois. Zalewski acknowledged that this idea isn't universally popular because not everyone thinks that leagues should share in the revenue. But, Zalewski pointed out that Illinois is the home to many pro teams. […]

The New Jersey model would allow operator licenses for all riverboats and organizational licensees, and allow for bets both online and in person.

The Mississippi model would empower the Illinois Gaming Board to do more, though online betting in that model would not be allowed from a better's own home. Rather, a person would have to be physically in a brick-and-mortar casino or racetrack to place bets online.
* Dan Petrella…
Also looming in the background are perennial issues — such as creating new casino licenses and allowing slot machines at horse tracks — that have derailed negotiations over gambling expansion for the past decade. Pritzker has said he wants sports betting to be dealt with separately from other gambling issues.

Casinos, horse tracks and video gambling operators are "all very interested in sports betting as an option, and they're all still very much interested in what they want separately," Zalewski said.

"Among lawmakers, we're very cognizant that it's hard to keep this issue separated," he said. "That being said, if you get bogged down on this topic because people insist on getting … a hundred percent of what they want, then we won't get it done."

If lawmakers are able to get a bill to Pritzker's desk this spring, Illinois could be the first Midwestern state to legalize sports betting after a U.S. Supreme Court ruling last year overturned a prohibition on state-sanctioned wagering on sporting events.

[Headline changed because I had a brain freeze or something.]
- Posted by Rich Miller 6 Comments


* OK, this is gonna get a little complicated, but stay with me here. From the Illinois Policy Institute…
Pritzker's [graduated income tax] plan assumes Illinois will see average annual income growth of 3.61 percent. His administration claims this "conservative" estimate is both consistent with the state's recent performance and accounts for a one-year stagnation in income growth to account for a slowing economy. But Pritzker is wrong on both counts.

According to the IRS, the average annual growth rate of Illinois' adjusted gross income over the past five years of available data has been 3.37 percent, meaning the administration fails to correctly account for the past. The governor also alleges that a one-year stagnation of income growth in his assumption is "conservative" and accounts for an economic slowdown. But Illinois' total income has not only stagnated, but declined in two out of the past four years on record.
* First of all, Pritzker's office says they're using net income for their five-year projection, while the IPI is using adjusted gross income. What's the dif? From the governor's office…
Net Income vs. AGI

We used net income because this is the taxable base upon which the tax rate is applied. Federal AGI is only a part of the picture, and is insufficient to create a realistic projection. When individuals file income taxes in Illinois, the state modifies the Federal AGI and then applies its own exemptions and deductions to come to the net income value.
* And the governor's office looked at compounded annual growth instead of just simple growth. Team Pritzker…
The advantage of using a compound annual growth rate (CAGR) versus a simple annual average growth rate is that it provides a more realistic measure of growth. CAGR smooths year-to-year volatility, providing a more accurate way to—in the case of investments—measure actual fund performance over a given period of time. We need a 5-year forecast of incomes, because our most recent available data is for the 2016 tax year and the year the fair tax would take effect is 2021. Because we're relying on a 5-year forecast, it's far more important to know the likely values of income at the point in time five years in the future (2021), not what is happening in any given year between 2016 and 2021.

A CAGR is the compound average of a single year of growth. The annualized figure takes into account that we used the CAGR for 4 years of growth, and no growth for the fifth year [to reflect an expected national economic downturn]. So, the annualized value is effective 4/5ths of the 5 year GAGR.
* Now, click here to see the governor's chart. My own impression when I first read the IPI's report was that the group was looking at growth in all income levels, but I was more curious about people who earn higher incomes because they're gonna get hit with the higher rates. From the governor's office…
The growth in upper income brackets in Illinois is dramatically outpacing growth in lower income brackets.
That certainly makes sense and was what I expected.
* According to the governor's office, the five-year 2011-2015 compounded annual growth rate for Illinoisans making $50,001-$100,000 was 0 percent. The same growth rate for Illinoisans making $25,001-$50,000 was 1 percent. The governor's projected five-year growth (2016-2021), including a year of a national slowdown, is 0 percent for both. It's -1 percent for incomes under $25K.
But the 2011-2015 growth rate for people making between $101K and $500K was 5 percent and it was 7 percent for those making over $500K. Those are projected to be 4 percent and 6 percent, respectively, for the 2016-2021 forecast.
Higher tax rates kick in at $250K.
…Adding… From the Illinois Policy Institute…
1) They used the preliminary 2016 income number from IDOR when a final number is available. The final number is lower by $3 billion, which maybe explains why they didn't use it. This is artificially inflated, meaning the one-pager is artificially inflated too.

2) The numbers they gave you don't match the total 2016 income number they released initially in the one-pager. The reason is that the one-pager added non-Illinois-resident filer income to the total (a highly volatile revenue source). Doing this makes their taxable income estimate rosier in 2021. Recall that the 97% tax cut claim is based on the one-pager.

In other words, they took growth in a number that doesn't include an income source and applied it to a number that does include that income source (roughly $31 billion in 2016). They are flying by the seat of their pants here.

This also means they're including 560,000 non-Illinois-resident returns in their 97% tax cut talking point.

3) Despite these inaccuracies, taking the info from the one-pager — 15.22% total growth from 2016-2021 — we backed out what the 4-year annual growth rate was. We use AGI because this reflects actual changes in income whereas net income can reflect changes to the state tax code. Predicting based on net income means you have to estimate size of deductions, etc. We checked IDOR data on net income and that still doesn't reflect Pritzker's assumed growth on the one-pager.

4) Economic growth should not be expected to increase at the tail-end of an economic expansion, even if their numbers were legit. They say it's exactly the same for four years and then in one year it doesn't grow. That's irresponsible.
The one-pager referenced above is here.
- Posted by Rich Miller 49 Comments


* Unanimous statement by the Teachers' Retirement System Board of Trustees…
The Teachers' Retirement System is currently 40 percent funded. The system is at a growing risk of insolvency in the event of an economic downturn. This danger is the direct result of eight decades of state contributions that always have fallen far short of actuarially based funding. TRS long-term investment returns consistently exceed the System's expectations; but investment income alone will not be enough to prevent insolvency.

The TRS Board's fiduciary duty to its 417,000 members is its paramount concern. The payment of future TRS benefits are jeopardized without a credible plan to address the System's long-term sustainability. The TRS Board and staff unanimously adopts the following positions and will actively pursue their realization as a state government budget is developed for fiscal year 2020:

* TRS opposes any Fiscal 2020 budget for the state of Illinois that will appropriate to the System less than $4,813,577,696, the contribution calculated under state pension funding law and certified by the System on January 14, 2019.

* TRS opposes any extension of the target date currently in statute for the System to reach 90 percent funding. The target should remain no later than fiscal year 2045.

* TRS repeats its long-standing warning that the state's current pension funding law perpetually locks in underfunding for the system. A "full funding" state contribution for TRS in FY 2020 is $7,878,670,709, as certified in January of this year.

* TRS opposes any expansion of the current member "buyout" program if an expanded program does not fund the buyouts with monies other than from System assets. At a funding level of 40 percent, TRS is not accumulating any assets to pay the future benefits of active members and could not afford to buy them out.

* We respectfully request that, as in recent years, TRS and our system actuaries participate in the fiscal analysis and evaluation of any proposals that would impact the system and its members.

We stand ready to work with anyone on solutions to these important issues.
I've asked the governor's office for a response.
*** UPDATE *** And here's the governor's office response, such as it is…
Illinois is facing enormous fiscal challenges, with multi-billion dollar deficits projected for years to come. Governor Pritzker has proposed a bridge budget and a plan that will put Illinois on a path to firmer fiscal footing through the fair income tax.
- Posted by Rich Miller 49 Comments


* Press release…
Ideas Illinois launches digital ad asking voters if they trust Madigan & Pritzker with a blank check

Ad comes as Pritzker & Madigan seek passage of massive Jobs Tax on middle class families & jobs creators

Ideas Illinois today launched a digital ad asking voters if they trust Speaker Madigan & Governor Pritzker with a blank check when it comes to their taxes.

"The bottom line is we simply cannot trust Speaker Madigan and Governor Pritzker with a blank check when it comes to raising taxes," Ideas Illinois Chairman Greg Baise said.
* Rate it and keep in mind that this is a digital ad, not a TV ad…
* Script…
Announcer: There's a debate going on about Illinois' tax system.

The latest sales pitch from Springfield insiders?

Pritzker and Madigan want to change the constitution to allow a permanent jobs tax on middle class families.

'Trust us,' they say: we'll use your money to fund our schools, fix our roads, shore up pensions and cut property taxes.

Do you trust them?

In the last 8 years these same Springfield insiders handed us two of the largest tax hikes in history.

…promising these tax hikes would solve all problems. But nothing changed.

We're still burdened with debt – schools are underfunded – roads and bridges, crumbling – property taxes, still sky-rocketing.

But here they go again, asking you to pay more.

They're putting a constitutional amendment on your 2020 ballot, paving the way for their jobs tax on the middle class.

It won't say how much you'll pay: a blank check for Springfield. Pritzker and Madigan want you to trust them to do the right thing.

But they broke their promise before… and they'll do it again, if we trust them again.

Not this time.

Visit ideas Illinois.org/broken promises to learn more.
*** UPDATE *** Think Big Illinois…
Today, Ideas Illinois released a new digital ad in their latest attempt to mislead Illinoisans about a fair tax. The only problem is, they actually told the truth for a few seconds of it, and in doing so, detailed exactly why a fair tax is needed to help Illinois fix its $3.2 billion budget crisis and fund critical priorities in our state.

The ad details what the revenue from a fair tax would go to – addressing the $3.2 billion state budget deficit, funding schools, fixing roads, protecting pensions and cutting property taxes.

"In their latest effort to keep our current unfair tax system in place, Ideas Illinois actually showed exactly why we need to implement a fair tax," said Quentin Fulks, Executive Director of Think Big Illinois. "Not only will a fair tax bring in $3.4 billion of much-needed revenue that will go to fund critical priorities like our schools, but it will do so while lifting the burden off middle and working-class families. That's why Think Big Illinois is committed to fighting for a fair tax."
- Posted by Rich Miller 51 Comments


* Press release…
Today, Think Big Illinois released its first television ad advocating for Governor Pritzker's fair tax plan. The ad details the $3.2 billion deficit the previous administration's brand of irresponsible governance and mismanagement left the state in, and how Governor Pritzker's fair tax plan will put Illinois back on track.

Under Governor Pritzker's fair tax plan, 97% of Illinoisans will see no state income tax increase, with only those making above $250,000 paying more. A fair tax will bring in $3.4 billion in much-needed revenue each year, which will help solve Illinois' budget crisis and fund critical programs, including our schools.

"Governor Pritzker's fair tax plan will bring much-needed revenue into the state, while lifting the burden off middle and working-class families who are disproportionately hurt by our current tax system," said Quentin Fulks, Executive Director for Think Big Illinois. "Think Big Illinois is committed to standing alongside our working families as we fight to implement a tax structure that works for all Illinoisans."
* I talked about the ad with subscribers earlier this morning, so I'll just let that be and monitor your own reaction…
* Script…
There's a $3.2 billion hole in Springfield.

And after years of ignoring it, we can't keep doing more of the same.

Under Governor Pritzker's fair tax, 97% of Illinoisans will not see an income tax increase.
Only those making above $250,000 a year would pay more.

The governor's fair tax puts the middle class first, while making the wealthy pay their fair share.

Let's do what's right for Illinois' future.
*** UPDATE *** ILGOP…
"It's been two short weeks since J.B. Pritzker unveiled his jobs tax, and he has already broken his promise to middle class families. Pritzker called his plan 'tax relief' for the middle class, but now he says it's 'not…an income tax increase.' Tomorrow it will be a tax hike on all Illinoisans.

"Pritzker's change in rhetoric is further proof that his jobs tax proposal is nothing more than a blank check for Pritzker and Madigan to raise taxes on anyone, at any time, for any reason. J.B. Pritzker and Mike Madigan cannot be trusted with a blank check to spend more of your hard-earned taxpayer dollars." - Illinois Republican Party Spokesman Aaron DeGroot
- Posted by Rich Miller 31 Comments