* Gov. JB Pritzker has contributed $2.4 million to other campaigns and committees this June. $1.5 million of that went to the Democratic Party of Illinois, likely for stuff like this…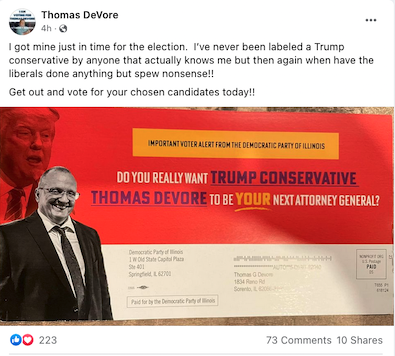 Such an odd person.
* Lynn Sweet…
In the 1st Congressional District — the crowded Democratic primary to replace retiring Rep. Bobby Rush — a surprise last minute surge of outside money — $823,122, according to Federal Election Commission reports — was spent to elect Karin Norington-Reaves, who is backed by Rush. Last week, I reported how crypto currency interests put in a combined $1,092,561 to bolster Jonathan Jackson.

Most of the independent expenditures for Norington-Reaves — some $758,000 of the total — comes from a shadowy political action committee called Forward Progress, whose donors and organizers are not known. The rest of the outside spend for Norington-Reaves, $65,122, came from the Collective Super Pac, whose goal is, according to its website, "to create an America where Black people are equally represented at every level of government." […]

GOP mega donors from Illinois — Ken Griffin and Richard Uihlein — both players in the GOP governor primary — Griffin for Richard Irvin and Uihlein backing Darren Bailey — are also factors in the $12 million in outside expenditures spent in the Miller and Davis primary, where the independent expenditures are about evenly split.

Griffin is the sole donor to the Illinois Value PAC — and his $1. 5 million contribution was used mainly on ads to oppose Miller. Uihlein donated $3 million to the Club for Growth Action fund between April and May; the group spent $2.5 million to help elect Miller.
Lynn has the outside spending in other races, too, so click here.
* Center Square…
Illinois statehouse Republicans that voted in 2019 to double the state's gas tax and include annual increases tied to inflation face challengers in Tuesday's GOP primary election.

The vote to double the gas tax in 2019 was bipartisan.

State Rep. Tim Butler, R-Springfield, supported the measure. Challenging Butler in the GOP primary is Kent Gray, who criticized Butler's support for the doubling of the gas tax that also included a parking excise tax.

"Rep. Tim Butler, if you drive a car, he's going to tax you as soon as it moves and he's going to tax you as soon as you stop," Gray said.

Butler defended his vote.

"I make no bones about the fact that infrastructure is one of the things in the state of Illinois that gives us a competitive advantage," Butler said. "And what my opponent would like to do is strip that away, basically stop the hundreds of millions of dollars of projects that are being invested right here in this community." […]

Don Debolt, who is challenging Springfield state Sen. Steve McClure in the GOP primary Tuesday. He said the incumbent is to blame for the state's high gas tax.

"He voted to double the gas tax, but more importantly, they voted to put in automatic tax increases every year into the gas tax," Debolt said.

McClure said Democrats already had the votes to double the gas tax in 2019 and if he didn't support the measure, it would have been difficult to bring projects to his district. He said separate from the motor fuel tax is the sales tax on top of the price of fuel and that needs to be suspended without impacting infrastructure funding.
Both of those challengers are endorsed by Darren Bailey.
* Pic of Rep. Zalewski getting ready to face the last primary day…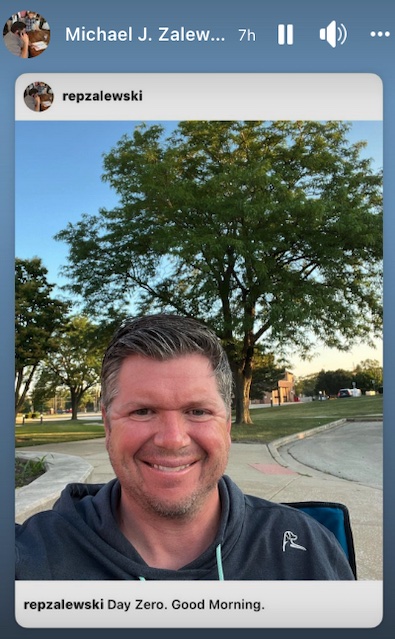 * LBG mailer…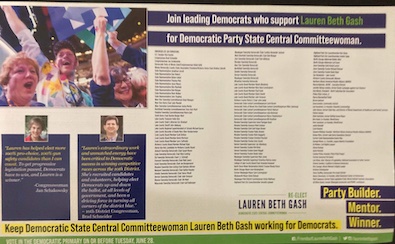 The governor has endorsed her opponent, Sen. Melinda Bush.
…Adding… More from Lake County…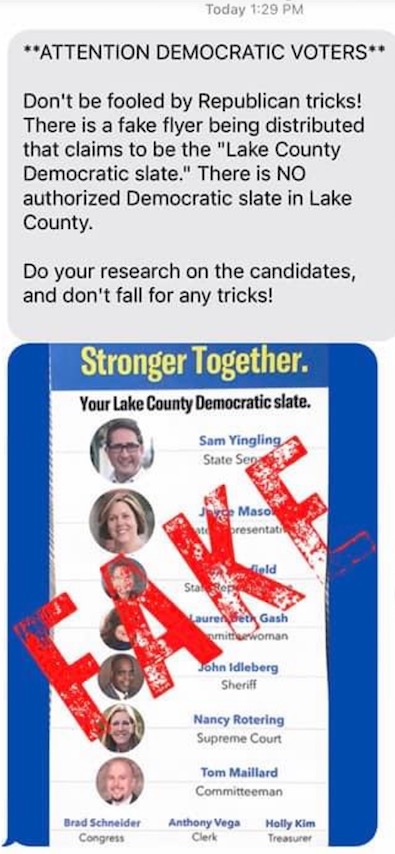 …Adding… This endorsement arrived after 3 o'clock this afternoon…
"Organized labor is the backbone of the middle class, and families throughout Illinois' need a representative of the court who is keeping their interests front and center. I know Judge Elizabeth Rochford will be a tireless advocate for workers because as an advocate for working people and families, she knows the value of unions in fighting for better wages, working conditions, and quality of life."

-DeKalb County Building and Construction Trades Council President Lance McGill
Just a bit late.
- Posted by Rich Miller 18 Comments


* Aside from the silly counties argument, the original version of this Washington Post story contained a couple of weird errors…
Nothing illustrated this change more than the 2020 general election when President Biden beat Trump by one percentage point by carrying just 14 of the state's 102 counties. (By comparison, Barack Obama won 46 counties in 2008.) Likewise, Pritzker handily defeated Republican incumbent Gov. Bruce Rauner in 2018 by carrying just 16 counties. Pritzker's strength came from the northeast pocket of the state — Cook County, which includes Chicago, and four of all five collar counties — and he barely campaigned elsewhere.
The corrected version (which is not labeled as such) changes Biden's margin to the actual 17 points, but still incorrectly claims that the governor barely campaigned in the rest of the state. Not sure where that author was at the time. But, heck, I remember Pritzker catching flak from a Chicago reporter for holding a big pre-election event in the Metro East. Also, click here and check out that thread.
* Greg Hinz…
In one new twist, voters in DuPage County will be able to cast ballots in any of the county's 263 polling places instead of going to the one closest to their house. The new option is intended to provide flexibility in casting a vote during a busy workday, but don't be shocked if someone sees a nefarious plot to rig the vote.
That is a really good idea and I hope it eventually goes statewide.
* Contrary to this take, there are a ton of hot legislative contests…
STATEHOUSE RACES: They're all up for grabs, but only a few are really hot. Top of the list for Democrats is state Rep. Mike Zalewski vs. challenger Abdelnasser Rashid in the 21st District. Zalewski is seen as one of the last vestiges of the Democratic machine and has the support of House Speaker Emanuel "Chris" Welch and Gov. JB Pritzker. While Zalelwski is a progressive with an energetic ground game.

Also watch challenges to state Reps. Denyse Wang Stoneback in the 16th, Lindsey LaPointe in the 19th, and Kathleen Willis in the 77th. Among Republican races, we're watching for the outcome of Brett Nicklaus' challenge to Sen. Win Stoller in the 37th District state Senate seat.
Um.
* Late outside money in CD11…
NEW FEC F24
CONSERVATIVES FOR A BETTER AMERICA
$11,827-> #IL11https://t.co/rJXAfbczli pic.twitter.com/DVVHZzEwaJ

— CATargetAlt (@CATargetAlt) June 28, 2022
* The Post-Dispatch ain't happy at all with the choices in the CD15 GOP primary…
Republican Rep. Rodney Davis of Taylorville, supported by this newspaper in his 2020 reelection bid for Illinois' 13th District, used to be someone unafraid to stand up to former President Donald Trump and defend old-style GOP beliefs without veering off the deep end. Sadly, space aliens kidnapped that man and replaced him with someone willing to compromise his principles at every turn just to stay in office. For inspiration on hypocrisy, he turns to his spiritual and political mentor, House Republican leader Kevin McCarthy.

Challenging Davis from the far right is Rep. Mary Miller of Oakland, who never seems to miss an opportunity to align herself with the likes of white supremacists.
Space aliens. Whew.
* Frank Avila formed this committee last month, but has never reported any contributions. Looks like a possible Chicago FOP front group…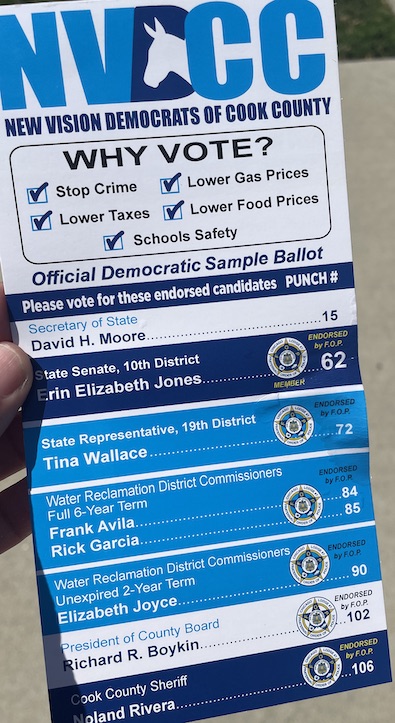 * One side of a Lyons Township Democrats' palm card…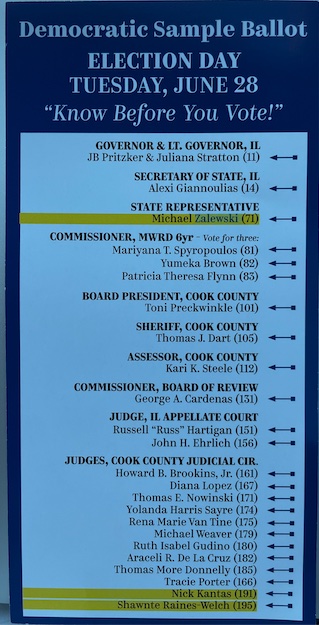 The flip side…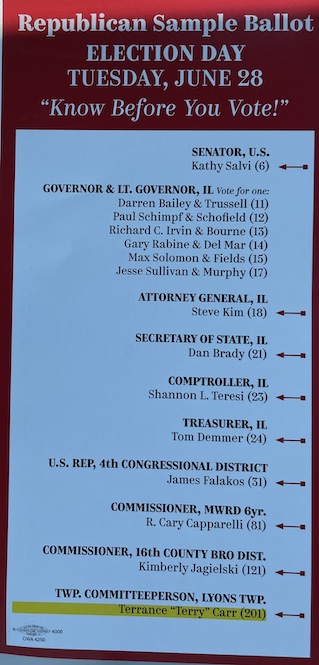 Who says bipartisanship is dead?
* Poultry politics…
Mike Holloway has had chickens at his Loami residence since shortly after he moved there in 1976.

At some point, Holloway doesn't remember when, they were outlawed in the Sangamon County village about 15 miles southwest of Springfield, but Holloway was "grandfathered" in and allowed to keep his chickens.

Loami voters will consider an advisory referendum Tuesday about allowing chickens back in the village's limits. The village of Clearlake and New Berlin also have referendums.
…Adding… The Chicago Board of Elections being the Chicago Board of Elections…
As of 8:30 a.m., State Rep. Delia Ramirez, a Democrat running in the 3rd Congressional District race, was one of two voters who had shown up at her polling place at Harriet Beecher Stowe School in the Humboldt Park neighborhood, which opened with two of four poll workers still yet to arrive.

Ramirez said while she was enroute to vote, she saw volunteers in front of the voting site at Yates Elementary School did not have voting booths open as of 6:45 a.m. Chicago Board of Elections spokesman Max Bever did not have information about Yates but confirmed three other polling locations had delayed starts.

"Unfortunately, Lillian and I talked to a number of voters who said 'I'm sorry, I've been waiting, I have to get to work," said Ramirez, who addressed reporters alongisde Lillian Jimenez, who is running to replace Ramirez's seat in the Illinois House.
- Posted by Rich Miller 22 Comments