* AP headline…
Study: Fiscal 'scarlet letter' costs state extra $80M
* From the story…
The study, conducted by DePaul University professor Martin Luby, a visiting researcher at the U of I institute, and Tima Moldogaziev of the University of South Carolina, set out to determine whether interest rates were even higher than other states' rates in similar situations. They used a "'scarlet letter' metaphor to note the hypothesized incremental risk premium demanded by investors on bonds that carry the name 'Illinois.'" […]

"That's above what the state should have been paying based on our worst-in-the-nation credit rating," Luby said. "That's one expensive reputation."
OK, but we're talking two-tenths of one percent, or about $16 million a year on average.
Yes, that money could've been better spent elsewhere, but it's not a hugely gigantic pile of cash in the state's overall budget.
- Posted by Rich Miller 17 Comments


* From the Paul Simon Public Policy Institute's latest poll…
Now that Illinois has passed a law allowing registered trained citizens to carry loaded handguns in public, do you feel more safe or less safe?

More safe 31.8%

Less safe 52.3%

Neither/about the same (VOL) 12.9%

Other/Don't know 3.0%
* From the Institute…
Voters in the Chicago suburbs responded similarly to the statewide average, with 54.6 percent saying they felt less safe. Those in the City of Chicago were much more likely to say they felt less safe (64.5 percent). In downstate Illinois, opinion was evenly split, with 41.9 percent saying they felt more safe and 40.5 percent saying they felt less safe.
* The following results compare 2013 answers (first result) to the 2014 poll…
Gun Rights vs. Gun Control
What do you think is more important? Protecting the right to own guns, or controlling gun ownership?

Response 2013 2014

Protecting the right to own guns 31.3% 41.5%

Controlling ownership 59.5% 53.0%

Other/Don't know 9.2% 5.6%

Exceptions to Concealed Carry
Do you believe there should be exceptions to allowing concealed weapons in public places—excluding them from such places as schools, college campuses, shopping malls, and movie theaters?

Response 2013 2014

Yes 71.3% 56.7%

No 20.7% 35.7%

Other/Don't know 8.0% 7.6%

Armed Guards in Schools
Do you favor or oppose putting more armed guards or police in schools?

Response 2013 2014

Favor 46.3% 53.1%

Oppose 44.8% 38.3%

Other/Don't know 8.8% 8.6%
* Methodology…
The 2014 Simon Poll interviewed 1,001 registered voters across Illinois. It has a margin for error of plus or minus 3.5 percentage points at the 95 percent confidence level. This means that if we were to conduct the survey 100 times, in 95 of those instances the results would vary by no more than plus or minus 3.5 percentage points from the results obtained here. The margin for error will be larger for demographic, geographic and response subgroups.

Live telephone interviews were conducted by Customer Research International of San Marcos, Texas. Cell phone interviews accounted for 30 percent of the sample. A Spanish language version of the questionnaire and a Spanish-speaking interviewer were made available. Customer Research International reports no Illinois political clients. The survey was paid for with non-tax dollars from the Institute's endowment fund.
- Posted by Rich Miller 36 Comments


* My weekly syndicated newspaper column…
"There was no money allocated at all before the election of 2010," Gov. Pat Quinn told Chicago TV reporter Charles Thomas about allegations that the governor had spent millions in state anti-violence grants to boost his flagging election campaign. Quinn used his to defend himself against growing criticism about a devastating state audit of the anti-violence grants.

But what the governor said in his own defense was not true.

According to Illinois Auditor General Bill Holland, Quinn's administration signed contracts with 23 local groups on October 15th, about three weeks before 2010's election day. Each of the groups, hand-picked by Chicago aldermen, were promised about $300,000 for a total of around $7 million.

"That is allocating money," Auditor General Holland emphatically said last week about the awarding of those state contracts.

A Quinn spokesman countered that the governor actually meant to say that no money was distributed to the groups prior to election day. But the groups' leaders, many with political ties, had signed state contracts in their hands. They knew that bigtime state money was on the way soon.

As you probably already know, Holland's audit uncovered massive problems with the grants, finding "pervasive deficiencies" in the "planning, implementation, and management" of the grants doled out via the Governor's Neighborhood Recovery Initiative. The program was "hastily implemented," expenses were not adequately monitored, and a third of Chicago's "most violent Chicago communities" weren't included in the program.

The governor met with a group of ministers in the Roseland community in August of 2010. Black ministers have long held a strong position of power in Chicago's African-American political culture, so Quinn was undoubtedly eager to placate them ahead of election day.

Five days after the meeting, the Illinois Violence Prevention Authority was informed by the governor's office that Quinn wanted to establish a $20 million crime reduction program. Less than two months after the initial meeting, the governor upped the grant program to $50 million for Chicago communities alone. Chicago aldermen were asked to submit lists of groups that would receive the money and that list alone was used to solicit Requests for Proposals from the groups. Contracts were signed on October 15th.

The audit's language is without a doubt the harshest since Rod Blagojevich was governor.

Some Republicans asked the Auditor General last week to forward his findings to the US Attorney.

One of the items pointed to by the Republicans is a passage from the Illinois Violence Prevention Authority's September 30th, 2010 board minutes, when an official from the governor's office told the board that "the Governor's Office is committed to allocating some of the funds for this Initiative immediately and will allocate the rest after the election."

That quote, the Republicans say, is proof that the election was an issue with the program. He was, some of them say, trying to "buy" the 2010 election. But that's not really my read.

Back when Jim Edgar was Secretary of State, he oversaw a literacy grant program. Not coincidentally, lots of African-American churches with schools received grants from Edgar. The plan was simple and well thought out: Use state money to carefully buy influence with an important constituency.

But the creation of Quinn's anti-violence initiative was completely reactive. Quinn was under enormous pressure from leaders of exploding neighborhoods to act fast.

The idea here appeared to be to throw something - anything - together as quickly as he could to get the angry ministers and neighborhood leaders off his back. Allowing aldermen to pick the local agencies further ensured that the squeakiest wheels would be greased.

What Quinn purchased wasn't votes, it was peace with a powerful and important constituency. It got him out of the headlines. He was no longer part of the problem.

There are those who say politics and governing must be completely separated, but that just can't happen in a democratic republic.

How many of the legislators carelessly talking to the press about impeachment in this case have introduced bills or voted for or against legislation to the benefit of a powerful local constituency? All of them.

There's no doubt, however, that this grant program went far beyond normally accepted practices, to the point of throwing them out. But the really serious legal problems will likely be found in the middle and the bottom - perhaps some of the aldermen who recommended the agencies and any of the connected folks who got the grants.
* Meanwhile…
West Garfield Park ranks in the top 20 most violent areas on the city map.

In 2011 and 2012, the West Side neighborhood got more than $2.1 million from Gov. Pat Quinn's administration through his Neighborhood Recovery Initiative anti-violence program, state records show.

But instead of all that public money going toward quelling the shooting and other violence there, a substantial chunk of it — almost 7 percent — appears to have gone into the pocket of the husband of Cook County Circuit Court Clerk Dorothy Brown.

Benton Cook, Brown's spouse, was paid more than $146,401 in salary and fringe benefits from state grant funds to serve as the program coordinator with the Chicago Area Project, the agency the Quinn administration put in charge of doling out anti-violence funding to West Garfield Park, state records show.
And no comment yet from the governor's office.
- Posted by Rich Miller 46 Comments


* If you really don't want to debate your under-funded opponent and you go ahead and do it anyway, you probably ought to do it like this…
In their only live joint appearance before the March 18 primary election, Republican congressional candidates Erika Harold and Rodney Davis clashed over Davis' vote to trim veterans' benefits in a federal budget deal.

The one-hour debate was held at 7 a.m. today at Bloomington-Normal radio station Cities 92.9 FM, a station whose signal doesn't reach Champaign-Urbana or any of the larger communities in the 13th Congressional District. Only a portion of Bloomington-Normal is in the district, which is represented by Davis of Taylorville.
However, the magic of the Interwebtubes means the debate is forever available to anyone with a computer. Click here.
* From the debate coverage…
"I think it's unconscionable to have voted for something that cut veteran's pensions. And I would disagree with Congressman Davis, he was not the person who led the charge on restoring those benefits."

[Harold] said Davis defended the cuts in a television interview.

"That's not true," Davis interjected.

"He was justifying the cuts as saying that they would not apply to disabled veterans, and he said that they would be applying to people who could have a second job. I think it's a mischaracterization to say that he was the one who led it," said Harold, a Harvard Law School graduate and former Miss America. "Finally I would say that if members of Congress fixed it, what was the point of having those cuts in the first place? Either they didn't read the bill carefully or, what I think happened, is they understood after the American public responded negatively that this is unacceptable and they went back and fixed it." […]

[Davis] said he was asked what the impact of the cuts would be "if they weren't fixed."

"And that's the quote they used and that's where you say that I support these cuts, and that is just wrong and disingenuous and frankly dishonest," Davis charged.
* Meanwhile…
Davis raised $328,000 from Jan. 1 to Feb. 26, according to his pre-primary filing with the Federal Election Commission. Davis also reported $1.1 million in cash on hand. […]

Former judge Ann Callis, a candidate touted as a top recruit by the Democratic Congressional Campaign Committee, brought in $102,000 in the pre-primary time period. The haul left her with $449,000 in cash on hand as of Feb. 26.

Physics professor George Gollin, a Democrat running against Callis in the primary, raised $76,000. He reported $227,000 in cash on hand, some of which includes an initial loan Gollin made to his campaign. […]

Davis' GOP primary challenger, Erika Harold, a former Miss America winner, raised $61,000 in the pre-primary period. She reported $137,000 in cash on hand.
* And here's a new TV ad by Democrat George Gollin…
* Script…
Narrator: Political insider Ann Callis folded to the tea party agenda. Ann Callis said this about cutting Social Security…

Audio of Callis: We're going to have to see what's there and what we remove

Narrator: Cut Social Security? Ann Callis wants what the tea party wants
The sentence in question was actually only part of a sentence. According to the Big Debbie's House Blog, when asked if she'd favor making people work longer before they could retire, Callis said no. The blogger documented several other times where Callis opposed cutting Social Security benefits and quotes the Illinois AFL-CIO president…
Ann Callis has the support of thousands of working men and women in Illinois because she is a true fighter for the middle-class and will protect Social Security and Medicare. Gollin's ad is clearly misleading and uses a quote out of context, and this desperate attack from George Gollin is totally unwarranted.
Subscribers have an update on poll results in that primary race.
- Posted by Rich Miller 13 Comments


* Click the pic to see a larger version of a new flier sent out in defense of Rep. Ron Sandack, who is in the fight of his life against GOP primary challenge Keith Matune…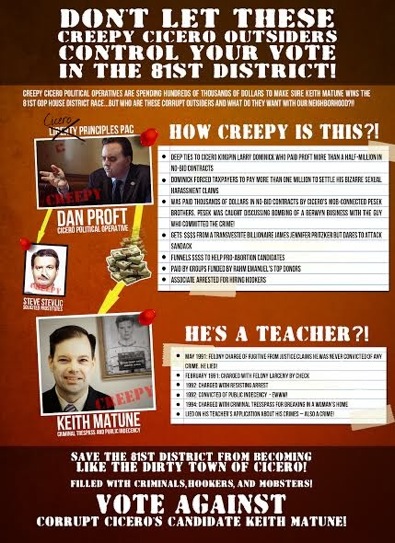 Hat tip: Illinois Truth Team, which appears to be a HGOP-related creation.
* Meanwhile, Carol Marin wrote a column bashing Dan Proft for allegedly sending out a mailer blasting Sandack that featured two men kissing. Click here to see the mailer. But Proft didn't send that mailer. It was sent by the Illinois Family Action PAC. Marin promptly apologized in a rewritten column, but added this…
Proft argues there is no excuse for my error. He is correct. There is not.

That said, there was more to the original column, and let's consider that. In my view, some of the mailers sent by Proft's own PAC, Liberty Principles, appear homophobic.

That includes a mailer against Sandack that shows Mayor Rahm Emanuel in a leotard and a line reading, "Now we know where Ron Sandack learned how to dance."

Proft, in a followup email to me, writes, "I do not believe that Rahm is gay."

Another image on a Proft mailer shows a photo of Sandack in the foregound and a gay activist in the background with the headline, "Strange Bedfellows."

Proft argues I misinterpret that as well, saying the mailer "chronicled (the gay activist's) radical activism, house being raided by the FBI . . . comparison of Scott Walker to Mubarak and the like."

Proft adds in his email to me, "You want to make the race about gay marriage. I do not. . . . To accuse me of gay bashing is little more than conservative bashing." Noting that he has supported two candidates who endorsed either civil unions or same-sex marriage, Proft maintains it is economic policy principles that guide his commitment to a candidate.

"I'm a gay basher?" he writes. "Utter and complete bulljive."
Subscribers know much more about this race, including details of a blistering new anti-Matune TV ad.
- Posted by Rich Miller 55 Comments


* Greg Hinz…
If Mr. Dillard really has momentum, the Rauner campaign has the resources to whack him back. The campaign already has up spots criticizing his legislative votes on tax and spending issues. But much of the chatter in political circles last week was about whether the Rauner campaign will question Mr. Dillard's union ties in paid TV ads, and whether it will remind voters that the senator once cut a television commercial for then-presidential candidate Barack Obama.

Team Rauner isn't saying what it will do. I'd take that as indication it's aware that a last-minute, heavily negative campaign would hurt not only Mr. Dillard but potentially backfire on Mr. Rauner, with the Dillard campaign loudly reminding voters that Mr. Rauner is the one who has donated to Mr. Emanuel and other Democrats such as former Pennsylvania Gov. Ed Rendell. […]

Four years ago, Mr. Brady was the GOP nominee against incumbent Democratic Gov. Pat Quinn, and Mr. Brady still harbors some goodwill among the GOP faithful, particularly downstate.

Mr. Brady also has another path to victory: light turnout. That would mean that traditional Republicans are dominating the party, rather than outraged "time for change" newcomers to whom Mr. Rauner has pitched his campaign.
Walking into the Capitol Wednesday with a lawmaker-turned-lobbyist, we chatted about whether Dillard, with the help of the unions, could somehow turn the numbers around in his favor.

"That's a very big hill to climb in such a short amount of time," rhymed the former suburban Republican senator.

Later in the day I talked with a veteran member of the Senate — a Democrat — who cautioned that it was still too early to call the race. After all, he said, no one saw Brady — except perhaps Brady — emerging out of the cornstalks to win the 2010 GOP primary.
* Doug Finke…
The American Federation of State, County and Municipal Employees added its endorsement to those Dillard previously won from the Illinois Education Association and the Illinois Federation of Teachers. With the endorsements should come money, which anyone running against multi-millionaire Bruce Rauner is going to need.

The question is how much the endorsements will do for Dillard when the votes are cast.

Everyone knows that turnout in primary elections is sparse. Those most likely to vote are the committed party faithful. Among Republicans, that often means more conservative members of the party, which explains why you often see GOP candidates tacking to the right in the run-up to a primary.

You have to figure that the more conservative wing of the Republican Party will be more receptive to Rauner's position that public employee unions, or at least their leaders, have been bad for the state and are the cause of many of the state's problems. So if those are the people more likely to vote in a primary election, it may not do Dillard all that much good to pick up endorsements from public employee unions.
Then again, I talked to somebody over the weekend who saw a tracker that had Dillard in fourth place. Yes, that's very weird. I don't know whether to believe those results or not. Strange days.
…Adding… Looks like a normal off-year Democratic turnout and stronger GOP turnout in Chicago. From the Chicago Elections Commission…
2010 Early Voting (Gubernatorial Primary)
……………………………………….DEM…………REP
Week 1 (22-16 days out)…….9,533………786
Week 2 (15-09 days out)…..11,060……1,023
Total for Two Weeks…………20,593……1,809

2012 Early Voting (Presidential Primary)
……………………………………….DEM……….REP
Week 1 (22-16 days out)……9,993…….1,267
Week 2 (15-09 days out)…..10,750……1,382
Total ………………………………20,743……2,649

2014 Early Voting (Gubernatorial Primary)
……………………………………….DEM……….REP
Week 0 (22-16 days out)……NO EARLY VOTING
Week 1 (15-09 days out)…..9,268…….1,753
* The Question: Odds that Brady, Dillard or even Rutherford could surge enough to win the primary?
- Posted by Rich Miller 56 Comments


* Tribune editorial…
Late last year, many lawmakers made an exceedingly difficult vote. They voted to save this state and its pension funds from financial ruin. […]

Here's the danger in the March 18 primary election. If several lawmakers lose because they took a tough vote, fewer lawmakers will be willing to make the next tough vote. […]

There are only a handful of challenges in this primary for seats in the House and Senate, but several of them are taking on outsized importance. Voters, if you're in one of those districts, reward courage. Don't settle for the lie that soothes.
And yet they didn't "reward courage" by endorsing Bill Brady, the only Republican gubernatorial candidate who voted for/supported the pension reform bill.
- Posted by Rich Miller 26 Comments


* From a press release…
Attorney General Lisa Madigan today announced that her office collected nearly $1 billion in 2013 on behalf of the State of Illinois.

Through a combination of litigation and collection efforts, Madigan's office generated more than $32 for every tax dollar appropriated to the office in 2013. Since Madigan took office, total collections have reached over $10 billion.

"My office works to maximize revenue to support critical state programs and services, and we do this while maintaining the lowest level of taxpayer funding since 1997," Madigan said. "Since my first term as Attorney General, we've secured over $10 billion in revenue to fund state operations."

In 2013, Madigan's office collected $992,581,592.32 on behalf of the state. The Attorney General's office generated nearly $374.5 million of this amount through collections litigation for damage to state property, child support, unpaid educational loans, fines and penalties. In addition, the Attorney General's office collected nearly $273.6 million through tobacco litigation and nearly $243.6 million in estate tax revenues.

Additionally, due to a settlement with JPMorgan Chase & Company, Madigan's office recovered $101 million for the state's pension systems to cover losses sustained from investments in mortgage-backed securities that contributed to the economic collapse in 2008.

Madigan's office operated in 2013 with an appropriation from the state's general revenue fund of $30,843,200 – the lowest level of funding from taxpayer dollars that the office has received since 1997. Attorney General Madigan's office generated $32.18 for every state general revenue tax dollar the office received in 2013.

The $992.6 million generated in 2013 does not include more than one billion dollars in benefits that Madigan's office successfully recovered through mediation and litigation, which is distributed directly to Illinois residents, businesses and organizations often in the form of restitution.

For instance, Attorney General Madigan's Consumer Fraud Bureau recovered and saved more than $1.1 billion on behalf of defrauded Illinois residents and businesses in 2013, a sum that includes relief that Illinois residents received directly from the $25 billion national foreclosure settlement that Attorney General Madigan secured in conjunction with her state counterparts, the U.S. Department of Justice and the U.S. Department of Housing and Urban Development. Over the last two years, Illinois residents have directly received nearly $2 billion in financial relief in the form of principal reductions, loan refinancing and cash payments as a result of the settlement, which was the second largest ever obtained through joint action of state attorneys general.

Madigan's office also reached several major settlements with the pharmaceutical industry in 2013. Among the most notable is a $1.6 billion joint state and federal settlement with Johnson & Johnson and its subsidiary Janssen Pharmaceuticals over its illegal marketing of antipsychotic drugs Risperdal and Invega. Illinois received $23.6 million under the agreement.

Madigan's office also has secured more than $85 million in unpaid gasoline sales taxes through a joint enforcement initiative with the Illinois Department of Revenue. This ongoing investigation is aimed at cracking down on gas station owners who have evaded paying sales taxes by falsely under-reporting sales figures, causing the loss of millions of dollars in state tax revenue.
Thoughts?
- Posted by Rich Miller 12 Comments


* The SJ-R goes with Kirk Dillard for governor…
Dillard, a suburban state senator from Hinsdale since 1993 and former chief of staff for former Illinois Gov. Jim Edgar, has a record of moderate views on fiscal and economic matters involving the state. In a state whose books are so dramatically out of whack, why look for moderation in a leader? Because reason and moderation — not heavy-handed, uncompromising pledges to take a jackhammer to Illinois government — are how good leaders get things done.
* But the Moline Dispatch and the Rock Island Argus go with Bruce Rauner…
Based on their records and long commitment to making Illinois a better place to live, we believe Sens. Dillard and Brady and Treasurer Rutherford could slide easily into the governor's office and get to work within the system to try to change it. But is incremental change at glacial speed what Illinois needs? Or is it time to explore shaking up a system that has made one of the best states in the nation one of the worst in far too many categories?
* Related…
* After years of running together, Brady and Rutherford now running against each other

* Tom Kacich: It's time for ugly part of campaigning

* Doubek: No Profiles In Courage

* Kass: In Illinois Republican primary, no white knights

* GOP Governor's Race: 8 Issues You Should Know

* GOP governor candidates cite proudest accomplishments

* Local Historian Shares Thoughts on Governor's Race

* 5 questions with Bruce Rauner
- Posted by Rich Miller 12 Comments


* To put this into a little perspective, Bruce Rauner reported raising more than three times this much in one day last week…
State Sen. Bill Brady's bargain-basement bid for governor is finally up on the television airwaves.

A spokesman for the Bloomington Republican said the campaign has purchased $100,000 in TV advertising time as the race for the GOP gubernatorial nomination heads into its final days.

The 30-second ad is a "nice looking piece that sells Bill Brady," spokesman Dan Egler said.

Brady has trailed his three opponents in fundraising through most of the 2014 campaign season. Records show he had about $273,000 in his campaign account at the end of 2013 and has raised about $27,000 since then.
* I asked Comcast what their numbers showed. They said Brady's claimed total may "include other systems elsewhere in the state," because their tracking has it at about $20,000 "spread across Chicago and our Central IL markets."
- Posted by Rich Miller 13 Comments


* After spending $27,000 in taxpayer money on his internal investigation, Treasurer Dan Rutherford now has three $200 an hour state-paid attorneys to defend himself against a federal lawsuit…
The state will pay three attorneys up to $200 per hour to represent Illinois Treasurer Dan Rutherford in a lawsuit filed by a former employee.

Edmund Michalowski accused Rutherford last month of sexually harassing him and forcing him to do campaign work on state time.

Rutherford, who is seeking the Republican nomination for Illinois governor, has denied the claims. He's said the accusations have made his campaign more difficult.

Documents from the attorney general's office say Robert Shuftan, Daniel Fahner and Bilal Zaheer have been appointed special assistant attorneys general. They'll be paid using taxpayer funds from the treasurer's office.
- Posted by Rich Miller 15 Comments


* Both the Tribune and the Sun-Times have published profile pieces on Bruce Rauner. Most interesting nugget in the Tribune's story…
The only way to fix the state's fiscal woes, Rauner insists, is to effectively do away with the current pension system, though he would not seek to eliminate benefits already earned by public workers. Instead, Rauner says, going forward they all should be shifted into 401(k)-style plans that don't guarantee minimum retirement benefits but give workers the option to invest the money.

Workers in the private sector were long ago shifted to the more volatile 401(k) plans, he argues. However, Rauner would not have the state pay to extend Social Security coverage to those same public workers, even though that is legally required for those in the private sector whether or not they have 401(k)s. [Emphasis added.]
…Adding… From a legislator…
Going to a 401(k) doesn't necessarily trigger Social Security. In fact, as long as the employer + employee contribution into the 401(k) is at least 7.5% Social Security can be optional.

In other words, Rauner's horrible idea isn't illegal. But it's still a horrible idea.
Also, he does want to eliminate some benefits. Rauner would freeze pension benefit payments at their current amount forever. No inflation protections at all for anyone. That'll most certainly diminish pensions over not that much time.
* Sun-Times…
Myles Mendoza, the executive director of Ed Choice Illinois, said when he'd get a voicemail from Rauner, he'd save it.

"It's like the voice of God coming through your phone. It's sort of this roaring, commanding voice," Mendoza said, adding: "You can hear the passion coming through." Mendoza, who said he doesn't get funding from Rauner, has known him since 2011 to be an advocate for education reform and having a leadership style that mixes confidence and warmth.

"It was a combination of being informed, being charismatic enough to get your attention and having the sort of sheer will to direct things in the way that they have to go," Mendoza said. "I think he absolutely will stoke the fire and once the fire's going, he will move things in the direction they need to go."

Mendoza said Rauner has told him you can't get people's attention by being a wall flower. But he denied Rauner would have a scorched earth approach to leading.

"Bruce is going to get your attention, but it's not going to be scorched earth all the way. I've seen communications where — he just has a way of making sure you don't ignore things. He is a very loving person. He has this juxtaposition between strength and compassion," Mendoza said. "Who else in this universe is a successful businessman but really spends most of their time learning and investing in education? Why is he doing this? Because he cares about disadvantaged kids. There's like a handful of people who care about this stuff on his level. He cares about it, he's like consumed by it. I think that's why he's running for governor, because he wants to change things."
Discuss.
- Posted by Rich Miller 61 Comments


* I stopped by our late commenter "Bill" Naegele's wake yesterday and spoke with his widow and his daughter. They both greatly appreciated your kind comments about Bill after we learned of his passing on Friday. As you might imagine, there was a big turnout for the wake. People loved the man.
I also spoke with some of his fellow union officials and we kicked around the idea of maybe setting up a scholarship fund. Bill taught in a suburban community college, so the focus would be there. More details as I get them.
* Bill's daughter also commented on our post over the weekend…
I would like to thank you all for the happiness this blog brought to Bill. He truly enjoyed all the banter and hell raising he experienced here with each of you. Reading the kind words and memories y'all have shared since his passing have been a great source of comfort for us.

I'll leave you with one more smile thanks to Bill- his final wishes were that we take his ashes and scatter them off of the pier in the town in Florida where he loved to vacation. The town offers the option of engraving a message in a plank of the pier and Bill asked us to make one in his honor that says, "I never caught a fish here…and now I never will."
* In the entire history of blogging, I don't think I've ever seen such an outpouring of sadness over the death of a commenter anywhere. We've built such a strong community here together that many of us feel truly close to one another.
Also, some of our commenters are so active that they almost have their own blogs within a blog. Bill was one of those folks. He had become an integral part of this website and our community and his passing has left a huge hole. I want to create a permanent memorial for him somewhere on the blog's front page and I'm currently mulling how to do it. Maybe you could help.
- Posted by Rich Miller 22 Comments