* Via an e-mail from Illinois State University President Timothy Flanagan…
Letter to Governor and Legislative Leaders from Illinois Public University Presidents/Chancellors

As presidents and chancellors of the state's public universities, we write to express our profound disappointment in and our opposition to the proposed pension legislation scheduled to be discussed in the General Assembly Tuesday morning.

For the past three years we have strongly advocated for public pension reform. We have been active and thoughtful participants in pension reform discussions and proactively endorsed a plan to reform the State University Retirement System in fiscally sound and responsible ways. We continue to believe that sensible reform is essential.

However, certain features of the plan scheduled to be discussed on December 3rd in the General Assembly, particularly the approach to COLA and the cap on pensionable salaries, will have a severe impact on the retirement security of faculty and staff in the state's public universities. It will adversely affect our collective ability to recruit and retain the people we need to educate the next generation of workers and entrepreneurs, provide health care for the state's neediest citizens, and build new startup companies and create jobs through university research. The bill will be detrimental to higher education in Illinois and ultimately to the overall economy of the State of Illinois.
…Adding… U of I's letter…
December 2, 2013 — U of I opposes pension legislation

Dear Colleagues,

Members of the Illinois General Assembly as soon as tomorrow are expected to consider, and approve, a major overhaul of the state's public sector pension systems—changes that as proposed would adversely impact public university employees, place higher education in Illinois at a competitive disadvantage, and ultimately weaken the state's economy.

For these reasons, the University of Illinois is officially opposing the legislation and we are profoundly disappointed that in nearly three years of engaging the legislative process on this crucial issue, the state's nine public universities' counterproposals will not be included.

Details of the final legislative proposal (http://capitolfax.com/DRAFTSB1PensionProposal.PDF) have only just emerged; if passed, the governor has said he will sign it into law, and it is virtually certain to face a constitutional challenge in the courts. The proposed effective date is July 1, 2014. A brief letter from the state's public universities' presidents and chancellors expressing their collective opposition went to the legislative leaders and governor today.

In a statement regarding the public pension funding crisis a year ago, the University of Illinois called for a pension system that would be reasonable, responsible, sustainable, and competitive with those offered by our peer institutions.

In our view, the legislation under consideration fails to meet those basic principles. The likely changes arguably lessen the retirement commitments made to employees and retirees, and their net effect also will harm the public higher education sector in Illinois. We will make our opposition heard and monitor the pending legislation, and will keep you informed of developments.

Sincerely,

Robert A. Easter, President, University of Illinois
Phyllis Wise, Chancellor, University of Illinois at Urbana-Champaign
Paula Allen-Meares, Chancellor, University of Illinois at Chicago
Susan Koch, Chancellor, University of Illinois at Springfield
- Posted by Rich Miller 44 Comments


* Greg Hinz…
In an extraordinary series of developments in the past 24 hours, gubernatorial hopeful Bruce Rauner and other figures on the GOP right lambasted the deal that was reached by legislative leaders on the day before Thanksgiving, saying it's way too little and likely to lead to a tax hike. Joining them was the state party's nominal leader, U.S. Sen. Mark Kirk, who this morning put out a statement saying the plan "relies heavily on accounting gimmicks (and) fails to prevent a permanent income tax hike."

But at almost the exact moment Mr. Kirk was issuing his statement, Ty Fahner, president of the Civic Committee of the Commercial Club, generally considered Chicago's most influential big-business group, was telling me the "damned good bill" has his full support — and that Mr. Rauner is seeking the politically impossible. [Emphasis added.]
Fahner is right about that highlighted point. I take no position on whether this is a "good bill" or not, but Rauner is most definitely seeking something that absolutely cannot pass at this point in Illinois history, or maybe ever.
I mean, for crying out loud, a majority of House Republicans voted against Speaker Madigan's pension bill last spring. How the heck does anyone expect the two parties to back the far more radical Rauner position? No more COLAs ever for retirees and every active employee tossed into a 401(k)? Yeah, that'll happen this week, or next month or next year, or even next decade. Right.
More…
Mr. Fahner, in an interview this morning, strongly disputed Mr. Rauner's position, and indicated he would go to Springfield tomorrow to testify for the bill.

The measure "could be better. It is not perfect," Mr. Fahner said. "But this is a damned good bill, period. . . .We are enthusiastically supporting it," pending only a final reading of final bill language.

Mr. Rauner's approach, which among other things could prevent those already working from getting any inflation adjustment at all in their pensions for the rest of their lives, "would not pass in 50 years — or two years, if he becomes governor," Mr. Fahner said. "Whatever his perfect bill might be, he's totally wrong in terms of its practicality" of passing a Democrat-dominated General Assembly.
Yep.
* Rauner's opposition is beginning to make me think of the fantasies spun by the DC tea partiers about Obamacare before they shut down the government. It's either 100 percent their way or the whole thing must crash and burn. And that ain't no way to run a railroad.
…Adding… From the IMA…
For years, the Illinois Manufacturers' Association along with many other voices have been calling for significant reform of the state's pension systems that are threatening the financial health and well being of our state. Illinois currently has the worst-funded pension system in the nation with an unfunded pension liability approaching $100 billion and an annual payment that eats up nearly twenty percent of the state's general fund budget. In addition to forcing reductions in investment in education, transportation, and other critical state programs, Illinois' severely underfunded pension systems are a major impediment to job creators.

This week, the General Assembly is finally poised to act after Governor Quinn and the four legislative leaders reached agreement on a pension reform package that will save $160 billion over the next thirty years while reducing our annual pension payment by $1.5 billion. It will result in a 100 percent, fully funded pension system by 2044.

Passage of this pension reform plan is tenuous because of vociferous opposition from public sector labor unions who are strongly opposed to changes that will limit Cost of Living Adjustments, increase the retirement age, impose a cap on pensionable wages, prohibit pensions and health care from being collectively bargained, and create an optional new 401K system for state employees to replace the defined benefit program. Labor unions are unleashing every possible resource to stop this pension reform plan.

The Illinois Manufacturers' Association strongly supports pension reform and its imperative that Illinois legislators hear from the business community TODAY OR TOMORROW about the urgent need for pension reform. Please call your respective member of the House of Representatives and Senate and ask them to VOTE YES on pension reform.
- Posted by Rich Miller 29 Comments


* Today is the last day to file nominating petitions. As of 11:13 am, the State Board of Elections' website shows no petitions from Lt. Gov. Sheila Simon, who is hoping to run for comptroller.
Nothing like waiting until the last minute.
Sheesh.
* How about a caption contest while the clock ticks down?…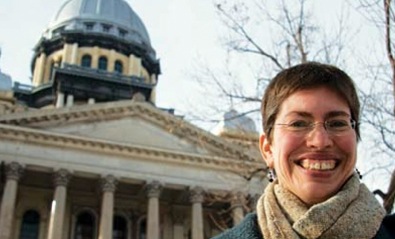 *** UPDATE *** She filed. Carry on.
- Posted by Rich Miller 84 Comments


* Surprise, surprise. Eden Martin, who maxed out to Bruce Rauner's campaign in May (back when caps were in place), agrees with Bruce Rauner that the pension reform proposal just isn't harsh enough.
But there are some real whoppers in the former Civic Committee president's latest Sun-Times column, and they're worth a look. For instance…
Second, the amount of "savings" attributed to the reforms is exaggerated. The current unfunded liability is about $100 billion. The proposed deal would reportedly reduce that by about $14 billion, which is less than had been projected under House Speaker Michael Madigan's earlier reform proposal.

Advocates say that in future decades the "savings" will amount to perhaps $160 billion. But those "savings" are speculative and over-stated. What would $1 billion of savings — realized in, for example, 2040 — be worth today? Only about $125 million — roughly 1/8th — using the state's pension discount rate.
Oh, come on, man.
Taxpayers are presently on the hook for about $380 billion in pension system payments over the next 30 years. The proposal on the table right now claims to slash those payments by $160 billion.
You can argue with the actuarial projections, but Martin's thesis relies on a complete red herring.
* More…
Similarly, private-sector plans rarely grant anything like compounding 3 percent cost-of-living adjustments, regardless of inflation. Yet the pension deal would preserve these COLAs for major chunks of the pensions of retirees.

And why, when the funds are so badly underfunded already, reduce employee contributions going forward?

Tinkering with the retirement age, fine-tuning the COLA mechanism, and reducing employee contributions — these appear to be an attempt to dress up the deal to make it look like a "compromise" with labor: bundles of offsetting give-ups and gains. Yet the unions have flatly rejected any such compromise and are preparing to go to court. So what's the point of weakening the reforms — or taking on a new state funding commitment? […]

Third, what would be the likely impact of the deal on the state's budget? Will the state's required annual pension contributions compel cancellation of the scheduled roll-back in the state's income tax? Or perhaps even require an increase? How much, and when? The number-crunchers surely know the answer, but they're not talking. Why sign on to a huge deal like this without knowing the likely consequences?
The intellectual dishonesty in that piece is so blatant. Where to begin?
The idea, as Martin well knows, is to try and make the pension reforms constitutional enough that the Illinois Supreme Court can somehow figure a way to approve them. Martin would obviously prefer that legislators push for even deeper benefit cuts and not even try for a hint of constitutionality. What's the point in doing that?
Also, notice how he not so subtly repeats Rauner's claim that the bill on the table would lead to a tax increase. Rauner blames it on the state funding guarantee, which most people believe is a good thing, but could be worked around.
* As with everything, whatever a legislature passes can always be undone. Heck, even strict, plain language constitutional requirements can be upended, as the pension bill itself clearly shows.
I posted this over the weekend, but it's worth a repost now that comments are open…
[Rep. Elaine Nekritz] said that's not the case and noted the bill's so-called pension payment guarantee has wiggle room. If the state fails to make a pension payment, a retirement system could file action in the Illinois Supreme Court to compel the state to make the required payment. But if the state faces a crisis, it could simply vote to change what the required payment would be, she noted, effectively working around that guarantee.

Nekritz noted that flexibility does cause her some concern, despite her support of the deal.
Rauner's scare tactic about how a vote for the pension bill is a vote for a tax hike is just that.
The political reality is he doesn't want this issue to disappear. So, perhaps Bill Brady ought to be more forceful when calling him out…
"Pension reform is an issue of fiscal responsibility and the future of Illinois, not a political strategy," said Bloomington's Brady, who sits on a special House and Senate panel that forged a framework before the leaders put on the finishing touches.
…Adding… Sen. Brady actually was more forceful. I didn't see his full statement, which included these shots…
The spokesman for Bruce Rauner, one of my opponents, talks about "insiders" keeping the public in the dark on the details of the bill. There is nothing in this legislation that has not been discussed and debated publicly, including during pension reform debates on other proposals last spring. If Mr.

Rauner were to talk about "insiders", maybe he could talk about his connections Stuart Levine and Ed Rendell and his pension business.
Mr. Rauner also opposes a state funding guarantee. That's the same excuse governors and legislators have used in the past, but just look where the lack of such protections has taken us.
Ouch.
- Posted by Rich Miller 36 Comments