* I suppose this happens when the President travels, but, man, the lack of any information about his speech this week has been frustrating…
Five days ahead of President Barack Obama's visit to Springfield, residents were awaiting to hear details of when exactly he'll address the Illinois General Assembly and what else he might do during his stop in the capital city. […]

The only activity [White House Press Secretary Josh Earnest] listed for Wednesday is the appearance before the legislature in Springfield.

"Now in the final year of his second term, the president looks forward to addressing the Illinois General Assembly about what we can do together to build a better politics, one that reflects our better selves," Earnest said.

On Wednesday evening, Obama is scheduled to fly to the San Jose, California, area, where he'll spend the night.
* I was able to get some information this afternoon, however.
The Capitol Building will be closed from 7:30 am until 10 am. But don't even think about trying to get in early. They want an empty building.
The tunnels in the Capitol Complex will be closed from 7:30 until President Obama leaves.
The President will speak in the House chambers. There's word that Obama might - might - do some sort of thing in the Senate afterward.
*** UPDATE *** The House Speaker's office just sent out some more information…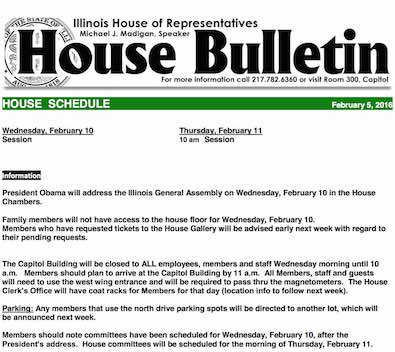 - Posted by Rich Miller Comments Off


* From AFSCME Local 51…
Spread the word. Folks should refuse to take this phony poll. Below is a sample of a phone call received from a Local 31 member:

Call from a local leader re phone survey she believed came from the Governor's Office:

just received a call from I believe Rauners office asking me about the union informing me about contract negotiations. He wanted to know my stance on paying dues, am I for unions and will I strike. He wanted to know how do I feel abou medical & merit comp. He asked a lot of personal questions and wanted to know my name which he already knew and asked to speak to me by my full name.

He asked me how much of my salary was I willing to go without.

It is recommended that you do not answer these questions.

In Solidarity
Lori Gladson
President, Local 51
* A reader forwarded me that e-mail and said he had also received the call. I asked for details…
Received a call at 6:13 pm yesterday from a [redacted] number. I'm in [redacted], so I answered. They confirmed my name, that I was a state employee, and represented by AFSCME. I assumed it was a poll commissioned by AFSCME, since they had all this information. I agreed to answer their questions believing it was an AFSCME poll (dumb, I know). The first few questions regarded opinion of the Governor (very unfavorable), opinion of AFSCME (favorable), opinion of state finances (very dire), etc. They then asked about my willingness to strike (refused to answer), how much money I would be willing to give up for a strike (refused to answer), how often do I hear updates from the union (once a week), do I believe the union is representing me well (yes). They then confirmed my name, which I found odd because they stated my name at the beginning of the call. They asked my "position".

When I started getting suspicious (around the time of the strike questions), I asked who the poll was for. The poller stated that he didn't even know who it was for. I confirmed that my name would not be used with my answers, and he agreed. The call lasted 9 minutes. Needless to say, I became more and more uncomfortable as the night wore on and wish I had refused to answer any of the questions.

I convinced myself that the Governor's office wouldn't share my personal information (phone number) with a polling agency for political reasons. Now I'm not so sure.

Shortly after receiving the call, I started going through the comments on yesterday's AFSCME posts on the blog looking for anybody mentioning something similar, but found none.

Then I received the forwarded email this morning. Crap… Hopefully we're just paranoid….
* Council 31 is now warning members about the poll…
PHONY POLL: Company tied to the Raunerites is using a phony "poll" to pressure state employees to make negative statements about our union. YOU DO NOT HAVE TO TAKE THIS CALL. If you get it, you can just hang up immediately.
Anyone else get this call?
*** UPDATE *** From the governor's office…
Hi, Rich:

The administration is not aware of this survey and has nothing to do with it.

Best,
ck
* From a reader…
Rich-

This may or may not be a coincidence. I am a county official, and received this FOIA request at the end of January.
The e-mail…
From: Research Policy [mailto:research@illinoispolicy.org]
Sent: Wednesday, January 27, 2016 3:19 PM
Subject: Illinois Policy FOIA 1.27.2016

To whom it may concern,

This is a request for information under the Illinois Freedom of Information Act (5 ILCS 140).

I am seeking documents related to the number of and names of (redacted) employees who are union members with the name of their affiliated union and residential zip codes.

As I am a researcher acting in the public interest, I ask that you waive any fees. Please notify me by telephone at 217.528.8800 or by email if you have any questions regarding my request. If possible, please forward the requested document(s) by e-mail.

I will expect to receive your response within five business days, as required by the statute (5 ILCS 140/3(d)).

Thank you very much for your assistance.

Chris Andriesen
Illinois Policy Institute
I've asked the Illinois Policy Institute about this. Stay tuned.
- Posted by Rich Miller 170 Comments