In two days, Republican candidate for governor Bruce Rauner plowed another $3 million of his personal fortune into his candidacy for governor, bringing the venture capitalist's total investment in his own campaign to more than $23 million.

So far in October, Rauner has steadily added $1.5 million every week, and now it appears to be ramping up. He's put $9 million into his own campaign since Oct. 3, state finance records show.

That's ever closer to onetime U.S. Senate candidate Blair Hull who spent a record $26 million on his failed candidacy. Hull, however, spent all of that money in the primary alone.
Thoughts?
*** UPDATE *** Kent Redfield crunched the numbers for the governor's race to date. Click here to see his full report, as of 11 this morning.
But the most relevant piece is this…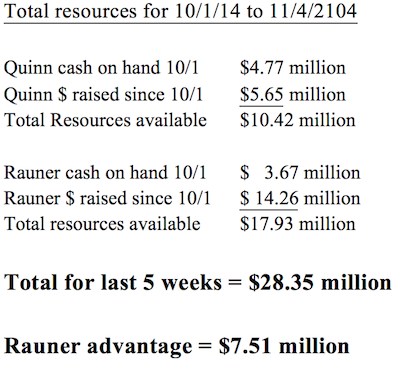 - Posted by Rich Miller 56 Comments