* At this moment, I agree with one of our commenters…
How many Illinois voters are going to pick up on this? Or the ties between Rauner (and Rahm) and the Sun-Times?

What they MIGHT pick up on is that pretty much every major newspaper in Illinois has endorsed Rauner, regardless of what's behind those endorsements.
* So far, at least, the back story is being ignored by the rest of the media. For instance, here's the AP…
The Chicago Sun-Times has endorsed Republican Bruce Rauner over Democratic Gov. Pat Quinn in the race for Illinois governor.

The endorsement published online Saturday calls Rauner "an extraordinarily capable businessman" who might be able to "break the stranglehold of uninspired, self-serving, one-party rule in Springfield."

The newspaper calls Quinn a man of integrity. But it says his "uninspired tinkering on fiscal matters" won't save Illinois.

The Sun-Times announced about three years ago it would no longer endorse candidates. It says it reversed course because of the importance of the race.
No mention of the McKinney controversy. No mention of the Quinn campaign's reaction to the endorsement. Nada. Outside of here and a few other blogs around the interwebtubes, nobody out there in Voter Land knows about this.
* Another AP story…
Republican businessman Bruce Rauner has picked up more newspaper endorsements in his bid for Illinois governor.

The Belleville News Democrat, The (Champaign) News-Gazette and the Journal Star in Peoria endorsed Rauner over Democratic Gov. Pat Quinn in editorials published on Sunday.

Rauner also was endorsed by the Chicago Sun-Times in an editorial published online on Saturday.

He also has been endorsed by the Chicago Tribune, Crain's Chicago Business and the (Arlington Heights) Daily Herald.
* From the Rauner campaign…
What They're Saying About Pat Quinn

Newspapers across Illinois are endorsing Bruce Rauner over Pat Quinn. Here's what they're saying about Pat Quinn's record of failure.

"Today's Illinois, then, is broke and broken. Quinn's most dubious achievement is a four-year income tax increase he now wants to make permanent." – Chicago Tribune

"A vote for Pat Quinn, which is really just a vote for Madigan, is a vote for the same old crumbling thing. A vote for Bruce Rauner is a vote for bold and dramatic change, which cannot come soon enough. Pat Quinn seems content to manage our state's decline." – Chicago Sun-Times

"Gov. Pat Quinn has had six years in which to put the state back on course, but ultimately has shown he is not the leader we need." – Daily Herald

"Gov. Pat Quinn has had more than 5 years to guide Illinois toward a brighter fiscal future. Instead, his incompetent leadership and regressive policies have driven the state to the brink of financial collapse…Simply put, Quinn's tenure as governor has been a complete failure." – Shaw Media

"…[Quinn]'s been in office for six years, he espouses policies that have landed the state in deep trouble and his perception that there's no problem another tax increase can't cure isn't good for what ails Illinois." – Champaign News-Gazette
"Quinn can't blame Republicans for the failures. His Democratic Party holds a supermajority in both houses. The issue is Quinn's failure to lead." – Belleville News-Democrat

"Illinois has the worst credit rating of any state. It also retains title to the highest unfunded pension liability. Its overall business climate and actual economic performance rank 46th among 50, its economic outlook 48th. Illinois' unemployment rate is near bottom of America's barrel." – Peoria Journal Star

"Mr. Quinn unfortunately has fallen victim to the vices of one-party rule, promoting patronage and passing around political favors…He is too ready to spend taxpayer money on projects that we can't afford." – Crain's Chicago Business
* Also from the Rauner campaign…
What They're Saying About Bruce Rauner

Bruce Rauner is sweeping newspaper endorsements across Illinois. Here's what they're saying about him.

"For the broke, broken Illinois of 2014, Bruce Rauner is two challengers in one: He's challenging an incumbent who tried and came up short. He would challenge the power brokers who like Illinois just as it is. No wonder they loathe Rauner. He makes them sweat. He deserves your vote." – Chicago Tribune

"Today we are putting our chips — we're all in — on an extraordinarily capable businessman who just might have what it takes to break the stranglehold of uninspired, self-serving, one-party rule in Springfield." – Chicago Sun-Times

"He is an outsider with no accumulated political debts and no reason to accumulate any…He can lead independently, without fear of abandonment by the voters or his party, and therefore work to build consensus that considers all interests fairly." – Daily Herald

"Rauner will not be beholden to the special interests that have helped to corrupt Springfield…Bruce Rauner gives Illinois hope. That's why we endorse Rauner, the Republican nominee for governor." – Shaw Media

"Rauner has offered his skills to help the ship of state land safely, and voters should answer with an emphatic yes to his request for support." – Champaign News-Gazette

"Rauner won't take a salary or a pension, and he's not beholden to any of the special interests in Springfield." – Belleville News-Democrat

"If you believe as we do that state government — the whole culture of corruption and incompetence — really has to change and that single-party control just isn't cutting it, then our best bet is with an independent candidate of the opposite party who emphasizes that 'I don't owe anybody anything' and 'being reelected is not on my bucket list.' Bruce Rauner is endorsed." – Peoria Journal Star

"Bruce Rauner is the best candidate to pull the Illinois economy out of its low-growth rut. For that reason, above others, he earns our endorsement for governor." – Crain's Chicago Business
* Maybe something will happen during tonight's debate. Quinn better hope so, and he'd better hope it results in some actual news coverage, or all these newspaper endorsements - if used properly in a solid Rauner ad - are gonna hurt.
…Adding… Rioppel covered part of the controversy for the Daily Herald…
Chicago Sun-Times Capitol bureau chief Dave McKinney has hired former Assistant U.S. Attorney Patrick Collins to look into whether Republican Bruce Rauner's campaign for governor tried to influence the longtime reporter's employment because of a story.

Democratic Gov. Pat Quinn has jumped on the story in the heated campaign with the Winnetka businessman. "We've seen Rauner bully and bribe to get his way before, but trying to silence a journalist is a new low," Quinn spokesman Brooke Anderson said in campaign email Saturday.

Rauner campaign manager Chip Englander said the campaign believed one story was unfair and wanted the paper to disclose that McKinney is married to a Democratic strategist.
- Posted by Rich Miller 68 Comments


* These headlines caught my eye over the weekend…
* Huffington Post: Koch-Backed Group Ramps Up Intervention In Tight Illinois Governor's Race

* Crooks and Liars: Koch Group Sends Fake Voter Information To Discourage Illinois Voters

* Daily Kos: Kochs now harassing voters in Illinois with registration mailers
* The alarming headlines were all based on this Decatur Herald & Review article…
It's not uncommon for residents such as Maryilynn Baer to receive political mail before the general election.

But when recent letter came to her home that asked for her husband, Edgar, to re-register to vote before the November election, Baer was overwhelmed and upset.

Her husband had been dead since May.

"It was upsetting," she said. "His name had already been taken off the voter registration list, and I sent the letter to (Macon County Clerk) Steve Bean and told him I had already notified him that Edgar had passed away."

But the letter did not come from Bean. In fact, residents across the state have received similar letters that are seemingly sent from their local officials asking them to re-register to vote, with return postage listing the local county clerk's name and address. The letters are actually being sent by the Americans for Prosperity Foundation, one of the largest conservative groups in the country.
* Trouble is, the article appears to have been mistaken. I called around over the weekend and was able to get a copy from the House Democrats. Nowhere in the mailer does it ask people to "re-register" to vote. Instead, it merely asks people to register if they haven't…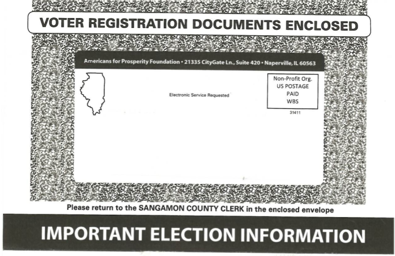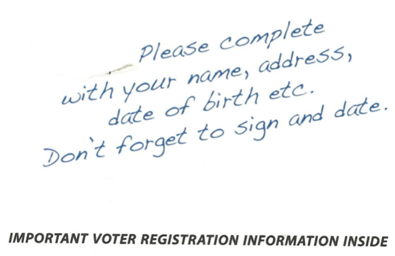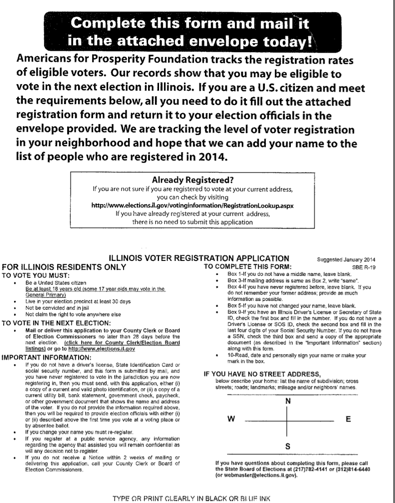 Now, perhaps there is another mailer, but the one the Democrats have seems awfully benign.
And the fact that they're mailing to dead people appears to suggest the group has an old list, not that they're up to something deliberately nefarious.
…Adding… From AFP Illinois…
Rich-

The mailer you have up on the blog is the only one that went out. Obviously, mailing to folks who have passed on is not what we want to do for a number of reasons. It's not nearly as easy to identify unregistered people as it is registered, but we use a number of models and information sources to do so. Sometimes the data is imperfect but we're trying to get as many people involved in the election process as possible.

Regards,

David From
- Posted by Rich Miller 10 Comments


* I'm not sure what happened to the site this morning, but we are slowly coming back online. Please stop hitting your refresh button to give us a little breather here.
…Adding… I'm told there was a power issue at our data center. Things are slowly coming back to life.
- Posted by Rich Miller 12 Comments


* From Bruce Rauner's campaign manager Chip Englander…
We prefer our interactions with news organizations be kept between us and that outlet. That remains true for this story as well. That said, since you are reporting on this matter, here are the facts the campaign presented the Sun-Times' editors as well as the facts on related matters:

· The allegations were tossed out in court and sworn depositions contradict the allegations. Given those facts, publishing the story was irresponsible.

· One of the reporters had an extraordinary conflict of interest – married to a Democrat operative with deep connections to an attack group that has spent millions attacking Bruce Rauner.

· 24 hours before the story Democrats were already polling on the attack, using language that mirrored what the Sun Times had asked the campaign.

· The campaign asked the Sun Times that if it was running the story, in the interest of transparency, it ought to at least disclose to its readers the conflict of interest. The Society of Professional Journalists Code of Ethics regarding conflicts of interest or the appearance stresses transparency. This request was rejected.

· After the story was published, we asked for some important clarifications and corrections to the story. These were rejected.

· No one reached out to Mr. Ferro.

· Fortunately, voters have seen through these false allegations. New poll out yesterday has us beating Quinn by 2%.

The bottom line is the campaign followed all proper channels to combat the misleading and inaccurate story prior to its publication. Our request to editors was simply that the reporter's deep connections to an attack group that has spent millions attacking Bruce Rauner be disclosed by the paper in accordance with the Society of Professional Journalists Code of Ethics.

For reference below is more information on the deep connections that we believe warranted a disclosure in the paper:

· The website of Adelstein|Liston, the advertising firm she co-owns, lists ads attacking Bruce Rauner as examples of the firm's work on its website.

· Jemma Productions, the production company paid over $600,000 to make ads attacking Bruce Rauner, lists her business partner as its proprietor and is housed within the same office suite as Adelstein|Liston.

· Illinois Board of Elections filings indicate that Adelstein|Liston and Jemma Productions are one in the same. In her third quarter report, Democratic state house candidate Kate Cloonen listed $128,800 in payments to "Adelstein|Liston Jemma Productions."

Again, in the interest of transparency, the campaign asked the Sun-Times to disclose to its readers the conflict of interest. The Society of Professional Journalists Code of Ethics states that reporters should "avoid conflicts of interest, real or perceived. Disclose unavoidable conflicts." Despite this, our request was rejected. Ironically, in its endorsement of Bruce Rauner, the Sun-Times disclosed that Bruce was once a minority investor in the parent company that owns the Sun-Times.
As the Rauner campaign surely knows by now, Liston is not doing any campaign consulting in Illinois, even though the firm she belongs to is. Rauner's folks are keeping that attack going at their own risk. But, hey, I'm always happy to post their stuff.
*** UPDATE *** From the Quinn campaign…
Once again Bruce Rauner is blaming everybody but himself and refusing to take responsibility for his own actions.

The irony here is that Mr. Rauner got into this mess by bullying a woman executive and then he paid $500,000 to make the lawsuit go away. Now here he is again, going after another woman executive.
- Posted by Rich Miller 64 Comments


* Dave McKinney disappeared from the Sun-Times for several days after the paper ran his piece about Bruce Rauner's alleged threat to "bury" a former female CEO. Crain's has some of the back-story…
A Chicago Sun-Times reporter hired former federal prosecutor Patrick Collins to investigate whether the campaign of Republican gubernatorial candidate Bruce Rauner tried to interfere with his employment after the newspaper ran a story unfavorable to the politician.

Mr. Collins said in an interview with Crain's that the Rauner campaign attempted to retaliate against Sun-Times political reporter Dave McKinney after the paper ran the story about Mr. Rauner allegedly verbally threatening a top executive of a company controlled by Mr. Rauner's onetime investment firm. Mr. Rauner denied that report through a spokesman. […]

The Rauner campaign attempted to have the Sun-Times take action against Mr. McKinney because of what it alleged were conflicts of interest stemming from Mr. McKinney's marriage to Democratic media consultant Ann Liston, Mr. Collins said.

Mr. McKinney and Ms. Liston were married in April, but Mr. Collins said the couple made arrangements earlier in the year at each of their jobs to create barriers within their work so that their relationship wouldn't present conflicts of interest for Mr. McKinney, who is the paper's bureau chief in Springfield.

"Dave McKinney has a body of work as a dogged, but fair and impartial reporter and what happened recently was an attempt to unfairly besmirch Dave's reputation and he has asked me to evaluate whether there was an improper interference with Dave's employment relationship with the Sun-Times," Mr. Collins said in an interview. […]

Just hours before the Sun-Times story went to press, the Rauner campaign attempted to quash the piece by bringing up Ms. Liston's political work with Sun-Times management even though Mr. McKinney has been covering the campaign for months, according to Mr. Collins. Mr. Collins didn't have details on who in the Rauner campaign contacted the Sun-Times and who at the newspaper was contacted.

Mr. McKinney has also written stories that were critical of incumbent Democratic candidate Gov. Pat Quinn, specifically his involvement with the troubled state-funded Neighborhood Recovery Initiative.

In recent days, Mr. McKinney was inexplicably absent from his statehouse beat for five days despite one of the hottest gubernatorial races in recent memory
The Rauner people went after McKinney, then all of a sudden the paper decided to endorse the guy. What a coinkidink.
Disgusting.
And, by the way, Dave's marriage to Ann had zero to do with this story. McKinney has been beating the Quinn administration over their freaking heads about the NRI investigation all year (to the point where I've criticized him in the Fax). Any suggestion that he was leaning Democratic is absolutely ridiculous and insane. And the decision to sideline him, to my mind, was purely about politics.
I have my own Sun-Times Rauner story, which I plan to share with subscribers on Monday.
…Adding… Liston is not a lobbyist. She's a flak. Big difference.
*** UPDATE *** Chicago Sun-Times Publisher/Editor-in-Chief Jim Kirk claimed to Crain's that no action was taken against McKinney, but did say this in an updated Crain's piece…
"Mr. Rauner's campaign spokesman Mike Schrimpf did level allegations with me that proved inaccurate and spurious," Mr. Kirk wrote. "Out of an abundance of caution, we did review this matter and we are convinced Dave's wife Ann Liston receives no financial benefit from any Illinois political campaign because of the extraordinary steps they've taken to establish business safeguards. Dave's body of work during this campaign, including the ground-breaking stories on the investigation involving Gov. Pat Quinn and the Neighborhood Recovery Initiative, demonstrates the hard-nosed reporting he has done on both campaigns. Both Dave and Ann are conscientious, ethical and among the best at their professions."
- Posted by Rich Miller 18 Comments


[Bumped up for visibility]
* Brooke Anderson from the Quinn campaign…
"It's bizarre. They said they weren't going to endorse and suddenly - as billionaire Bruce Rauner falls behind in the polls - they are changing their policy. There's a lot of concern out there that the new owners - who until recently included Bruce Rauner - are operating the paper in a way that is contrary to the independent journalistic standards of the Chicago Sun-Times.

"Unfortunately it appears that Bruce Rauner's financial influence is still being felt. Any endorsement is clouded by the fact that Mr. Rauner was a part-owner of the paper which abruptly reversed its position when he fell behind in the polls."
*** UPDATE 1 *** Robert Feder…
The decision to endorse Rauner and no other candidates on the November ballot is certain to fuel cynicism about the motives of Michael Ferro Jr., chairman of Sun-Times Media parent company Wrapports LLC.

In recent weeks, sources said, Ferro has been exerting pressure on editors regarding coverage of Rauner, who held a 10 percent stake in Wrapports before he became a candidate for governor.
There is a lot more to this back-story, and we'll just have to see if it emerges.
*** UPDATE 2 *** The endorsement is out, and it's a doozy. Oh. My. Goodness….
Rauner has a detailed campaign platform, his "Jobs and Growth Agenda," to do just that. It reads like a smart business plan. We invite you to read it at suntimes.com.
The Beatles were wrong. Money can buy you love. And blindness.
- Posted by Rich Miller 12 Comments