* Tribune…
Mayor Rahm Emanuel has for years not so subtly laid the blame for many of Chicago's problems at the doorstep of his predecessor, Richard M. Daley.

But five years out of office, Daley may be tiring of Rahm's shtick.

Twice on Tuesday, Daley's longtime spokeswoman Jackie Heard interjected to prevent the former mayor as he appeared to be on the verge of laying into Emanuel, whom he has always been careful not to criticize.
His fee-fees are hurt? Poor fella.
* Check out this new poll conducted by Anzalone Liszt for the liberal Illinois Economic Policy Institute…
Which of the following do you think is most responsible for Chicago's budget problems?

Past mayors and city councils for making promises we couldn't afford 37%

Springfield and Bruce Rauner for the state's budget mess that is hurting Chicago 21%

Washington, DC and Republicans in Congress for cutting programs and funds for large cities like Chicago 10%

Pensions and benefits for city workers that are far too high 12%

The current mayor and city council for not fixing the problem 12%

[VOL] Don't know/Refused 8%
And considering that "past mayors and city councils" also created the pension mess, you're looking at nearly half of the blame falling on Daley, et al, while just 12 percent blame Emanuel.
* Now, check this out…
When it comes to managing budget priorities for Chicagoans, who do you trust more– Rahm Emanuel or Bruce Rauner?

Rahm Emanuel 51%
Bruce Rauner 23%
[VOL] Both 1%
[VOL] Neither 23%
[VOL] Don't Know 3%
23 percent is slightly more support than Rauner received in the 2014 election, so he's not doing as badly in Chicago compared to Emanuel as some might've thought, considering all the bad press. Then again, Emanuel ain't so popular, either.
* The poll itself was ostensibly designed to test the theory propagated by the Chicago media that a "tax revolt" is brewing in the city. From the pollster…
• Voters do not blame the current Mayor and city council for the city's budget problem. Only 12% of voters say the budget problems are the current government's fault, compared to 37% who blame past mayors and city councils. Springfield and Bruce Rauner (21%) also earn a higher share of the blame.

• Taxes are not a top of mind issue. Voters are more concerned about education (35%) as well as crime and police issues (34%) than they are about taxes (15%). Even the tiny 14% of Chicago voters who identify as Republicans list taxes as their #3 issue.

• Voters are willing to pay higher taxes for more services. Voters would rather pay higher taxes for more services (29%) than lower taxes for fewer services (20%), though a plurality would prefer the current level of both (44%). A majority are also willing to pay more in taxes for the following specific services:

More police officers on foot and vehicle patrol 66% [willing] / 32% [unwilling]
More funding for school construction, teachers, and science and technology improvements 64% / 33%
Free universal Pre-K classes for all four year olds in Chicago 57% / 41%
More neighborhood services like rat abatement, tree trimming, and road paving 56% / 41%

• When forced to specific choices, voters prefer tax increases to cuts in services:

o Twice as many people prefer Chicago "raise taxes like property taxes and other fees" (53%) instead of "cutting services like schools and police officers" (25%) to pay the pensions Chicago promised to city workers.
* Methodology…
The following findings are based on a poll of n=600 Chicagoans who voted in at least 1 of the last 3 Mayoral elections (2011 primary, 2015 primary, 2015 runoff) conducted from August 8-11, 2016 via landline and cellphone [46% of respondents]. The expected margin of sampling error at the 95% confidence level is +4.0% and higher for subgroups.
- Posted by Rich Miller 30 Comments


* Sun-Times…
[House Republican Leader Jim Durkin] said Trump might hurt in some races this November, and help in others. And Durkin said he's still not ready to support the GOP presidential nominee.

"I'm not there yet," Durkin told reporters. "I want to hear someone talk like a president and act like a president before I vote for one."

State Senate Republican Leader Christine Radogno warned that a vote against Trump shouldn't mean a vote against Republicans across the state. And she argued that members of both parties have doubts about their presidential nominees.

"We'd be silly not to say there's mixed feelings about the top of the ticket. The great news is, though, that the other side has the same problem. I think we're starting on kind of an even basis here," Radogno said. "We may have people that love Trump and want to go out there and just vote for him. Our job is to say that's great but don't forget the rest of the ticket."

On her own feelings about Trump, Radogno called her ballot "private," but vowed that she wouldn't vote for Hillary Clinton.
I fully agree that Trump could actually be helpful to the Republicans in some districts. But statewide? No.
A Republican poll taken July 12-13 found Clinton leading 46.4 to 32.5. Another GOP poll taken July 14-16 had Clinton up 51-33. A Democratic poll taken August 1-4 had Clinton up 51-32.
…Adding… I meant to post this, too, but somehow forgot. Notice anything missing from the front of the ILGOP State Fair tent?…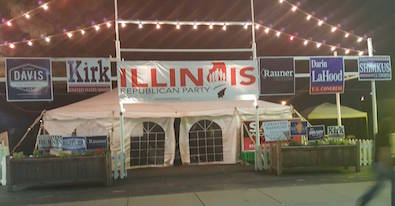 - Posted by Rich Miller 26 Comments