* New polling…
A majority of voters oppose the Trump administration's demand that K-12 schools and day care centers be fully opened for in-person instruction during the coming academic year, according to a POLITICO/Morning Consult poll.

In addition, a decisive 65 percent of voters rejected President Donald Trump's threat to cut federal funding for schools that don't reopen, agreeing instead that schools need resources for continued virtual learning or other types of instruction. Only 22 percent said schools should have their federal money reduced if they don't fully reopen. […]

Fifty-three percent of voters say they are somewhat or strongly opposed to fully reopening day cares or K-12 schools, while a slightly smaller 50 percent say they are opposed to fully reopening colleges and universities. […]

Women were slightly more opposed (53 percent) than men (47 percent) to colleges and universities fully reopening, as well, while 53 percent of suburbanites opposed the idea, somewhat or strongly.

The poll surveyed 1,992 registered voters between July 10 and 12 and has a margin of error of plus or minus 2 percentage points.
Toplines are here.
* I told you about this poll yesterday…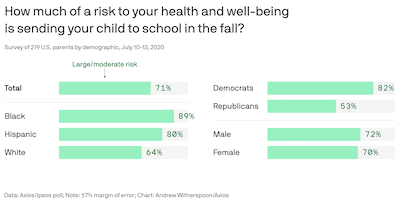 * Meanwhile, here's a press release…
The Illinois High School Association (IHSA) announced on July 14, 2020 that it will defer to the Illinois Department of Public Health (IDPH), Illinois State Board of Education (ISBE), and the Governor's Office on all of its Return To Play Guidelines moving forward.

"There is an unprecedented level of planning for this school year due to COVID-19, and we have come to understand that there needs to be a greater consistency between the guidelines for returning to learn and returning to interscholastic athletics," said IHSA Executive Director Craig Anderson. "Some of the recommendations by the IHSA Sports Medicine Advisory Committee (SMAC) and directives from IDPH have come into direct conflict with each other, especially as it relates to the use of masks by student-athletes. As a result, we feel it is important to let IDPH and ISBE provide a consistent direction for our membership moving forward. We will wait on direction from these organizations for further guidance on Return to Play plans for the 2020-21 school year."
* Press release…
The Lake County Health Department continues to work closely with Lake Zurich School District 95 in response to multiple cases of Coronavirus Disease (COVID-19) identified last week among participants of high school athletic camps and recent social gatherings. In the past week, 36 Lake Zurich High School students have tested positive for COVID-19, and all participants of Lake Zurich High School athletic camps are being instructed to self-quarantine for 14 days from their last possible exposure. […]

On Sunday, July 12, the Illinois Department of Public Health (IDPH) contracted with a private company to run a mobile testing site at Lake Zurich High School. Despite high demand for testing which resulted in long wait times, 355 individuals were tested throughout the day.
* And then there's this problem…
A dramatic slowdown in testing turnaround times is undermining the U.S. response to the coronavirus, rendering tools like contact tracing almost useless in some instances.

Quest Diagnostics, one of the main companies doing coronavirus testing, said Monday that "soaring demand" due to the surge in cases across the South and Southwest had pushed back their average turnaround time for getting results of a coronavirus test to at least seven days for all but the highest priority patients.

LabCorp, another major testing company, said last week that its turnaround times were only slightly better, at four to six days, because of "significant increases in testing demand and constraints in the availability of supplies and equipment."

The longer delays from previous waits of around two days as recently as late June in getting test results make it much harder to slow the spread of the virus. The fundamental strategy to help contain the virus is to test people quickly so that those who test positive can isolate. Contact tracers can then reach out to people who have been in contact with those infected to avoid spreading the virus on to others.
In Dallas, Texas, there's a wait of up to 8-10 days for some facilities.
* Related…
* Trump Administration Strips C.D.C. of Control of Coronavirus Data - Hospitals have been ordered to bypass the Centers for Disease Control and Prevention and send all patient information to a central database in Washington, raising questions about transparency.
- Posted by Rich Miller 12 Comments