* US Sen. Dick Durbin has a new TV ad. Rate it…
The ad is not replacing the spot featuring the wife of a wounded veteran. It'll run concurrently.
* Script…
Man I: Sixty-six thousand dollars.

Woman: A hundred thousand dollars.

Man II: Sixty thousand dollars in college debt.

Senator Durbin: The high cost of college is weighing down America's middle class. That's why I'm fighting for a law so college loans can be refinanced at today's lower interest rates. It would erase thousands of dollars of debt for millions of American families. After all, if you can refinance a car loan and a home loan, why can't you refinance a student loan?

I'm Dick Durbin, and I approve this message because Illinois' middle class deserves a break.
* In other Durbin-related news, an atheist group rated Durbin an "A" for separation of church and state and his opponent Jim Oberweis was given an "F"…
The Secular Coalition for America today released its Congressional Voter Guides for several Congressional Districts of Illinois and the Illinois Senate race. The Guides are meant to help secular-minded Illinoisans make informed decisions on the candidates for the upcoming elections in November, based on secular issues.

The Voter Guide is part of the Secular Coalition's "50 Secular Races to Watch" list which the Coalition is currently rolling out based on the U.S. House districts that received the worst grades on the Coalition's 2013 Congressional Report Card. The Secular Coalition will also grade seven Senate races across the country.
The full rationale for the ratings is here.
* Other stuff…
* Durbin has cushy lead over Oberweis, Tribune poll finds

* Durbin's views on issues as he faces re-election

* Study finds conservatives and liberals smell different
- Posted by Rich Miller 30 Comments


* Two points…
Keep in mind that the Tribune's recent poll is included here, which is definitely making things look tighter than they may be.
- Posted by Rich Miller 23 Comments


* Yes, there are very real problems with the Chicago Tribune's latest poll. But as I told subscribers today, there's good news for Gov. Pat Quinn beyond his alleged 11-point lead…
For his part, Rauner has stepped up his efforts to try to tarnish Quinn's positive reputation on ethics. The Quinn administration faces a federal grand jury probe into an anti-violence grant program he launched shortly before the 2010 election, and a state inspector general's report concluded illegal patronage hiring was done at the governor's Illinois Department of Transportation.

Asked about the impact of those controversies, 56 percent said it makes no difference in their likelihood of voting for Quinn, while 30 percent said it would make them less likely to cast a ballot for the governor.
I don't have the xtabs, but to put that into perspective, 30 percent would equal all the Republicans and about a quarter of the independents. It's a "meh" issue out there.
Discuss.
- Posted by Rich Miller 30 Comments


- Posted by Rich Miller Comments Off


* A friend sent me this text message Saturday evening. I enhanced it with links…
Just witnessed: Quinn's van attack ad immediately followed by the Rauner van ad

Took ALL of the wind out of Rauner's ad
An hour and a half later, from the same friend…
Dude. It just happened again but with the minimum wage ad
The more I think about it, the more I believe that van ad is a silly mistake on Rauner's part.
* And speaking of the minimum wage…
The [Tribune] poll found 69 percent of Illinois voters back an increase in the state's $8.25-an-hour minimum wage to $10 by Jan. 1 for adults over age 18. Only 27 percent oppose the proposal, while 5 percent had no opinion. The statewide poll, conducted among 800 registered voters Sept. 3-12, had a margin of error of 3.5 percentage points. […]

Nearly 9 in 10 Democrats favor a wage rate increase. Republicans are split, with 51 percent opposing it and 42 percent supporting it. But among independent voters, traditionally a swing voting bloc, 65 percent favor a wage rate increase and 30 percent oppose it.

Even a majority of voters who consider themselves either very or fairly conservative — 54 percent — backed a higher minimum wage in Illinois, compared with 41 percent who oppose it.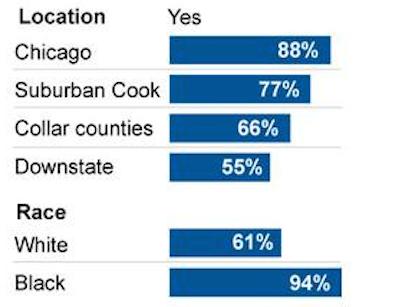 …Adding… Related…
* Bridge Project Video: Bruce Rauner: Adamantly Against What's Right for Illinois
- Posted by Rich Miller 42 Comments


* My weekly syndicated newspaper column…
The Illinois House Democrats launched their direct mail and TV program weeks earlier than the House Republicans in an attempt to knock the GOP candidates down before they even had a chance to stand up.

The mail started going out not long after the mid-August Illinois State Fair. Four years ago, during a national Republican tidal wave, the House Republicans preemptively launched their advertising program in mid-September, catching the Democrats off guard. The Republicans won a few seats they might not have picked off had they started at the usual time. The Democrats learned a valuable lesson, raised an absolute ton of money, and began their mail and TV programs even earlier.

As a result, the Republicans, who don't have much money, have been buried by hundreds of thousands of dollars in early Democratic advertising.

And the Democrats have also clearly beaten the Republicans to the punch when it comes to parroting the "message track" used by the current leader in the governor's race, Republican Bruce Rauner.

Rauner's been running his "Shake up Springfield" ads all year long. He's spent millions building his anti-incumbent, outsider message of term limits, tax cuts and property tax freezes.

But if you look at what the Democrats are doing everywhere in the state, the long-entrenched super-majority party is running very similar ads to Rauner's. They are, in one GOP operative's view, protecting their members by portraying Republican challengers as tax-loving incumbents and "tying them to the dysfunction."

"Mel Thillens in charge of our tax dollars is as reckless as a bull in a china shop," blares the headline on a recent House Democratic mailer that attacks the suburban Park Ridge Republican.

"Mel Thillens never met a tax increase he didn't like," the claim is made on the mailer's other side, noting that Thillens had voted to raise property taxes by almost 50 percent and voted for "deficit spending."

Rep. Marty Moylan (D-Des Plaines) is "fighting against unfair property tax hikes" by pushing legislation to cap them, it continues. A concurrently running cable TV ad presses home the same message: Thillens loves tax hikes and deficit spending.

"Politicians get enough perks when they retire," another pro-Moylan mailer states. "They shouldn't get free health care, too."

On the flip side, the mailer makes note of the fact that Moylan opted out of the legislative pension system and sponsored legislation to get rid of health care for retired politicians. "Marty Moylan will fight to make sure our tax dollars are spent on our priorities, not perks for politicians."

The Republicans have a positive piece in the mailboxes for Thillens. It points out that Thillens "helps run a multi-million dollar family business," and explains why he wants to work "60 hours a week as a state Representative."

Um, in the age of Bruce Rauner's $18 watch and an intense anti-Springfield mentality, the Thillens' message track is decidedly different than Moylan's. Suggesting your candidate is a millionaire and claiming he can't wait to dive into the business of Springfield probably isn't a good idea.

As a result, Rep. Moylan is doing almost as well as Rauner in the 55th House District, according to a new Capitol Fax/We Ask America poll.

The poll of 334 likely voters taken September 10th found Moylan was leading Mel Thillens 48-39. Rauner was ahead of Gov. Pat Quinn 52-39 in the district. The poll had a margin of error of +/-5.4 percent.

The early and quite expensive "independent outsider" messaging has attracted significant Republican support for Moylan. He's getting 19 percent of self-identified Republicans, compared to Thillens' 9 percent of Democrats. And the two are so far splitting the conservative-leaning independent vote, which made up 46 percent of the poll's voter sample.

That can also be seen as a sign of trouble for Moylan, however. If Republican voters "come home" and independents break more heavily against the incumbent Moylan, this thing could tighten up. The House Democrats' messaging is obviously designed to prevent that from happening.

Of course, this is just one poll - a "snapshot in time." The House Democrats say their polling shows them "in the driver's seat" in the district and the Republicans actually liked the We Ask America results.

But a poll taken near the beginning of the huge Democratic paid media onslaught found Rep. Moylan ahead 47-33, with Rauner leading 51-36.

That poll was done by respected national pollster Fabrizio Lee on behalf of WLS Radio talk show host Dan Proft's political fund. The live-caller survey of 300 likely voters was taken the week of August 25th and had a margin of error of +/-5.5 percent. The House Democrats much preferred those numbers, of course.
Discuss.
…Adding… Greg Hinz…
* Mike Madigan pulls in $358,000 — in one weekend
- Posted by Rich Miller 7 Comments


* I'm still sick as heck. But I'm so weirded out about this new Chicago Tribune poll showing Gov. Pat Quinn leading Bruce Rauner 48-37 that I had to post something. I'm just going to point out two things because I'm nowhere near up to strength.
* First, the poll was taken using registered voters…
The poll, conducted Sept. 3 through Friday by APC Research Inc., featured interviews on landlines and cellphones with 800 registered voters.
I don't know anybody polling registered voters in mid-September. Everybody is polling likely voters.
Also, the universe of registered voters is always going to skew more Democratic than the universe of likely voters (hence the Democratic Party's huge push to increase turnout this year), so that explains a lot.
* Secondly…
Helping fuel Quinn's early advantage was the poll's finding that 43 percent of voters identified themselves as Democrats while only 24 percent called themselves Republicans and 28 percent said they were independents. The partisan split is identical to a Tribune poll in fall 2008, when home state Democrat Barack Obama made his first bid for the White House, and also represents a high-water mark for Democrats in Illinois in a nonpresidential year since 1998.
Everyone who thinks that this is an Obama '08 wave year in Illinois, please raise your hand.
The Tribune's polls have been pretty good over the years. They were the first to point out how close the governor's race really was in 2010, for instance. But this one, I'm afraid, appears to be a flawed outlier.
- Posted by Rich Miller 116 Comments