* From the Paul Simon Institute…
A majority of registered voters in Illinois believe the earth is getting warmer because of human activity rather than natural patterns, according to the latest poll from the Paul Simon Public Policy Institute at Southern Illinois University Carbondale.

There are 57 percent who believe human activity causes global warming while 25 percent believe in natural causes. Only 12 percent claim there is no evidence the earth is getting warmer, while 7 percent haven't formed an opinion.

The survey of 1000 registered voters was taken Sept. 27-Oct. 2. It has a margin of error of 3.1 percentage points.

Another question asked whether to prioritize environmental protection or economic growth. Sixty-four percent believe that the environment should be given priority even at the cost of economic growth, while 27 percent believe that economic growth should be prioritized.

Shiloh Deitz, a researcher at the Institute, said "Voters understand environmental issues and are willing to prioritize them."

Among the poll's findings:

• Opinions differ about the environment across party and ideological lines: 82 percent of liberals believe climate change is due to human activity, only 28 percent of conservatives believe the same.

• While most liberals (80 percent) would prioritize the environment over economic growth, conservatives are split with 44 percent wishing to prioritize the environment and an almost equal 43 percent who want to focus on economic growth.

• Sixty-six percent of respondents under 50 see climate change as the result of human activity, compared to 55 percent of people age 51 to 65, and 47 percent of those over 66 years.

Deitz said "there is a stark contrast of these opinions across age groups. Gen X-ers and millennials have grown up with environmental awareness campaigns and this is clear in the results," she said. "Younger people are most likely to see climate change as a result of human activity and want to prioritize environmental preservation even at the cost of economic growth."

Only 7 percent of millennials believe that there is no evidence the earth is getting warmer, compared to 16 percent of adults over 66. Seventy-nine percent of those under 35 would prioritize the environment, while 61 percent of those over 66 would do the same.

One trend in the data indicates the Republican Party may soon grow more environmentalist. Nearly half (49 percent) of Republicans or conservatives under age 50 believe human activity can be blamed for the earth getting warmer compared to only a quarter of those over 50. Sixty-two percent of Republicans or conservatives under 50 would prioritize the environment even at the cost of economic growth compared to only 41 percent of Republicans or conservatives over 50.
* Let's take a look at two charts based on that last paragraph above about the age split among Republicans/conservatives…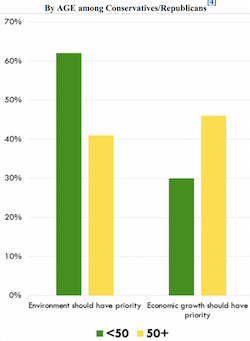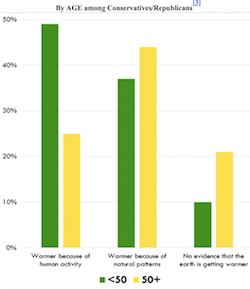 - Posted by Rich Miller 33 Comments


* From the NRCC…
To: Interested Parties
From: Dan Judy and Jon McHenry
Date: October 12, 2016
Re: Highlights of IL 10 Congressional Survey

North Star Opinion Research conducted a survey of 400 registered voters in Illinois' 10th congressional district October 8-11, 2016. Congressman Bob Dold remains well-positioned to win reelection, despite the headwinds of an unpopular presidential nominee. Highlights of the survey are:

1. The district retains its Democratic tilt. Democrats hold a 6-point advantage in self- identified party, 34 to 28 percent, and a 3-point advantage on the generic ballot for congress, 44 to 41 percent.

2. Donald Trump is unpopular in the district, while Hillary Clinton has a net positive image. Trump has a 28 to 64 percent favorable to unfavorable rating, compared to a 50 to 44 percent rating for Clinton. Clinton leads 53 to 31 percent on the ballot, with 7 percent for Gary Johnson and 2 percent for Jill Stein.

3. Bob Dold continues to have a positive image in the district. Dold has a 45 to 32 percent favorable-unfavorable rating, superior to both Trump's and Mark Kirk's ratings.

4. Dold has expanded his lead since the summer. Dold now leads Brad Schneider by 50 to 43 percent, up from a lead inside the margin of error in August. Looking at likely voters – those who say they are absolutely certain or very likely to vote in November – his lead remains 50-43. Dold receives 53 percent of independent voters, one-fourth of Hillary Clinton voters, and two- thirds of 3rd-party candidate voters.

As the national political environment deteriorates, many Republican candidates in swing districts will need to run well ahead of Donald Trump to win their races. Bob Dold has consistently out- polled Trump by 20 points, and a campaign emphasizing his independence and record of accomplishment for the 10th district has him in a solid position with under four weeks to go. A strong and well-funded campaign will keep him on track to win reelection on November 8.

Methodology

The sample for this Survey of Registered Voters in IL 10, conducted October 8-11, 2016, consists of 400 respondents selected randomly from a list of registered voters in the district who were contacted by live interviewers. All respondents confirmed that they are registered to vote in the county in which they live, and 36 percent of respondents were interviewed on a cell phone. Demographic quotas were set to ensure the sample matches registration statistics in the district.
* The DCCC begs to differ…
Newsflash: Republican Bob Dold's "Poll" is a Joke

The NRCC's new "poll," released this morning, has Republican Congressman Bob Dold at a laughable 7-point lead over Democrat Brad Schneider. This "poll" flies in the face of multiple public polls released over the past year showing Schneider with consistent leads over their Republican incumbent:

Furthermore, the NRCC's results simply defy intelligence, as their presidential nominee Donald Trump continues his death spiral in the polls, and traditionally Republican or swing states start to move over to the Democratic column. No candidate with an "R" next to their name on the ballot will be resistant to this toxic Trump Effect. A recently-released DCCC online survey conducted after the leaked Access Hollywood tapes, and after more recent allegations that Trump made inappropriate sexual advances toward many other women, found that the political environment is shifting in the favor of Democrats. These results are consistent with other public polling released since the debate.

"It's clear that National Republicans had to cook up a poll to make their incumbent candidate Republican Bob Dold feel better," said Sacha Haworth. "There's no other reason why this poll exists, since it flies so blatantly in the face of everything else that's out there."
- Posted by Rich Miller 23 Comments