* For Bill. Get up and dance…
…Adding… Bill's arrangements are as follows…
Visitation will be from 3:00 to 7:00 pm. Sunday, March 9th and Memorial Service will be at 7:30 at:

Beverly Ride Funeral Home
10415 S. Kedzie
Chicago, IL

In lieu of flowers the family asks to make a donation to your favorite charity
We'll be picking a charity next week.
- Posted by Rich Miller Comments Off


* Eric Zorn…
Brady's new one-liner — "the more I hear Bruce Rauner speak, the more he sounds like Rod Blagojevich" — isn't nearly as preposterous as it sounds.

Though Blagojevich's policy impulses differed from Rauner's, he, too, ran as a populist outsider whose superior moral judgment and iron will would rout the corrupt power elite in Springfield and spark a rebirth of Illinois, as though our problems are simple and governors are kings.

We've seen that movie already. We know how it ends.
Meh.
Blagojevich was clinically insane. There are gonna be some big fights if Rauner is elected, but at least they will probably be about something that makes some sense. Rod's GRT fight lasted months beyond all reason, for instance.
* And, yes, there is a very strong populist vein to be mined in this state. Rod had his schtick, Quinn does it, Rauner has also tapped into it.
It's no coincidence that both Quinn and Rauner insist on staying at cheap hotels. Rauner has his $18 watch, Quinn has his decades old briefcase "Betsy."
Quinn is more legit, however. He's a frugal guy who lives a relatively modest private life. Rauner may have some frugal tastes, but his Manhattan condo with a moat around it shows he has an ultra-extravagant, 0.01 percenter side as well. I'm betting he doesn't fly coach on business trips like Quinn does. Then again, Quinn loves that state plane.
* The Question: How would you compare and contrast Pat Quinn and Bruce Rauner?
- Posted by Rich Miller 39 Comments


* I'd really like to believe the guy, because mainly I don't care all that much about what people did in their 20s. But, Rep. Sandack is right that Keith Matune's stories have changed so much that I don't know what to think about his latest defense…
Court records obtained by the [House Republican Organization] and released to the media show that Matune was arrested in January 1994 for allegedly entering a woman's dormitory through a window. In April 1994 he signed a plea agreement and the court withheld prosecution in exchange for two payments of $50, good behavior and promising not to enter the premises again, according to the documents.

Matune said Thursday that the building was his previous college fraternity house, was vacant, and that he and his friends entered the building with keys, not through a window, for a nostalgic reasons after finishing college.

This is the second incident the organization has released information on regarding Matune.

"It's a desperate act of a desperate campaign who knows they're not going to win this election," Matune said Thursday. "It's the whole centerpiece of the Ron Sandack campaign. They have absolutely nothing to run on so they have to smear and defame someone's name."

Sandack said in response that, "I've run a positive campaign. People that are paying attention know where I am on the issues that matter to the families in the 81st. Mr. Matune's past is his past, and everyone makes a mistake. But his failure to be honest about it is a troubling act.

"Anyone that's been listening to him [knows that] he continually changes his story – or he's forgotten he's been arrested, or that he told the [media outlets] he's never been the arrested."
If Matune wins this primary, he's gonna cost the House Republicans a fortune this fall.
- Posted by Rich Miller 26 Comments


* From IFT President Dan Montgomery…
It is with sadness that I inform you of the passing of IFT Vice President/Cook County College Teachers Union Legislative Chairman Bill Naegele.

Information on services will be forwarded as it is received.
* Bill Naegele was one of the most infamous commenters we ever had on this blog.
"Bill," as we knew him, delighted in firing up other commenters by supporting Rod Blagojevich through thick and thin. Man, he got into some wicked fights.
It was mostly an act. He delighted in messing with people, making them defend their arguments, putting a burr under their saddles.
Bill and I eventually became friends and I got to experience the born contrarian up close and personal. He was one of the funniest, down to earth, in your face guys I ever knew.
* Bill introduced himself to me years ago at the Old State Capitol. The Statehouse was being remodeled, so the House held session at the old place. I took a photo and posted it on the blog. He wanted to maintain his anonymity, so we used a photo of the back of his head…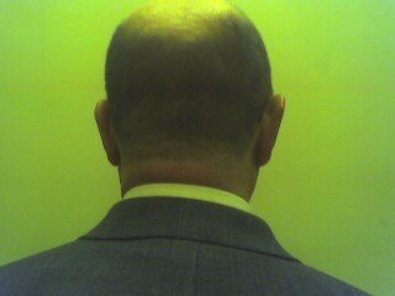 * On the day Blagojevich was arrested, Bill posted a comment that will live forever with people who've been around here awhile…

Heh.
* By then, most commenters had warmed up to Bill and he became a very popular guy. We even tried to get him appointed to Barack Obama's Senate seat. OneMan put this one together, as I recall…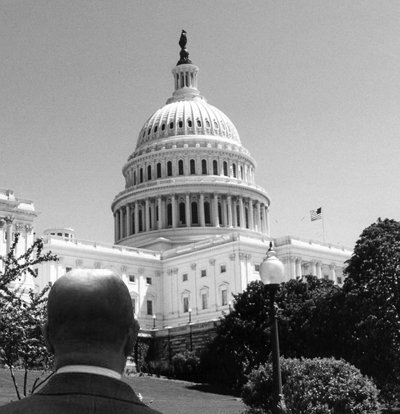 * We created a Facebook page and Bill jumped all the way in. Here's his "acceptance speech"…
My friends,

On this great day for Illinois, at this moment, we now have 200 members of the Capitol Fax Bill for Senate Group. Let me just say that I am overwhelmed and humbled by your support. It is after much soul searching and after conferring with my family that I am proud to announce that should our movement be successful and Governor Blagojevich offers me the opportunity to serve you, the people of Illinois, as your Senator, I will accept the appointment.

It is time for a change in America! We have assembled a team that is unprecedented in national politics.

My fellow Americans now is the time to show the bureaucrats in Washington D.C. how government should be run for the people not for the special interests. Except for myself and my supporters, lobbyists will have no place in the Capitol Fax Bill Senate office. Our job is not done. Call or write Rod Blagojevich today and demand change we can believe in.

Demand Bill as your Senator! God Bless you and God bless America!
* When Blagojevich appointed Roland Burris instead, Bill issued this statement…
My fellow Illinoisians,

Today is a sad day for our state. Despite our best efforts to clean up politics in this state by running a campaign clean and free of the pay to play syndrome that has plagued Illinois for decades,it now seems that we were doomed from the start.

I can state here unequivocally that I was never contacted by COS John Harris to put in my bid for appointment to the US Senate. It could be because Harris knows that I have no money, power, or influence or it could be that he knows that I would never engage in any pay to play schemes,especially with someone as totally stupid and untrustworthy as he or his boss.

Be that as it may, I would like to take this opportunity to thank all of my supporters especially Henry and Miller who made our great crusade possible. I intend to take a few weeks off, spend some time with my family, and contemplate the future.

Rest assured, my fellow Americans, You have not heard the last from CapitolFax Bill! With your support, we shall prevail!
God, I loved that guy.
* Bill's comments tapered off over the past several months. It turns out, he was very ill.
For the first time ever on this website, here's a photo of our beloved friend…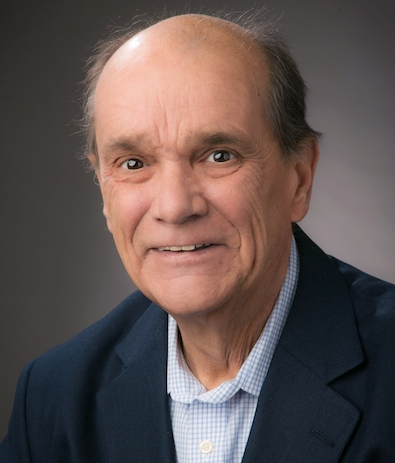 Rest in peace, pal.
This place is just never gonna be the same without that guy.
- Posted by Rich Miller 71 Comments


* Jim Oberweis surged nine points in 2006, but still lost the GOP governor's race to Judy Baar Topinka. Bill Brady surged eight points to take first pace in the 2010 primary. Another surge is apparently happening now, according to the Chicago Tribune's latest poll…
Rauner had 36 percent support — down 4 percentage points from a month ago amid a blitz of labor union-backed TV ads attacking his business dealings as a venture capitalist.

Dillard had 23 percent, doubling his support since last month, especially among Downstate voters. The veteran state lawmaker gained while state Sen. Bill Brady and Treasurer Dan Rutherford lost support in recent weeks. Brady was at 18 percent, down from 20 percent in early February. Rutherford, who was hit with a sexual harassment lawsuit by a former employee last month, was at 9 percent — a 4-percentage-point drop from the last poll. […]

There's still the potential for some shifting in the contest: 13 percent of those polled said they were undecided. The survey of 600 registered voters likely to cast a ballot in the Republican primary was conducted March 1-5 through live interviews by land line and cellphone. It has an error margin of plus or minus 4 percentage points. […]

Downstate, however, Rauner saw his support fall from 35 percent to 30 percent, while Dillard's increased from 6 percent to 21 percent. Dillard now stands tied among Downstate voters with Brady, the unsuccessful 2010 nominee from Bloomington who won the primary four years ago off his showing in the 96 counties outside the city and suburbs.
[…]

The ads may have driven up unfavorable views of Rauner. While the percentage of voters who have a favorable view of Rauner remained largely the same at 47 percent, the percentage who hold an unfavorable view rose from 10 percent in early February to 21 percent in the new poll.
Expect a Dillard/Obama TV ad or some such thing from Bruce Rauner's campaign in 3… 2… 1…
- Posted by Rich Miller 39 Comments


* Apparently, the House and Senate Republicans are not operating out of the same budgetary playbook…
Illinois senators voted along party lines Thursday to adopt a revenue estimate for next year that is about $1 billion less than was used to create the current state budget. […]

The new revenue estimate is lower in large part because much of the temporary income tax increase is set to expire at the end of 2014, midway through the next budget year. At the same time, budget negotiators must cope with increased costs that cannot be avoided, such as for pensions, health insurance for both retirees and active workers and Medicaid. Between the higher costs and less revenue, budget negotiators are looking at a $2.3 billion hole they will have to fill in the next budget.

Senate Republicans all voted against the revenue estimate. Some accused Democrats of hiding revenue to make the budget numbers look worse than they are. They said it was part of an attempt by Democrats to build support for continuing the income tax hike. […]

The same resolution passed the Illinois House on a 112-0 vote. Some House Republicans noted that the figures were based on estimates from the legislature's Commission on Government Forecasting and Accountability, which has provided reliable estimates in the past. Republicans said they were also encouraged that Gov. Pat Quinn's budget office had estimates very similar to COGFA's.
- Posted by Rich Miller 32 Comments


* From Dave McKinney and Frank Main at the Sun-Times…
Both Jermalle Brown and Douglas Bufford were gang members hired to play a small role in helping combat violence on the South Side through a program hatched by Gov. Pat Quinn's administration.

Paid $8.50 an hour with taxpayer funds to hand out anti-violence pamphlets in their South Shore neighborhood, the two low-income teens were part-time foot soldiers in the governor's $54.5 million Neighborhood Recovery Initiative, a program he once described as "a comprehensive and concerted effort to keep our young people safe, off the streets and in school."

Quinn launched that program a month before his 2010 election as an answer to gun carnage in the city — even though murders that year, Chicago Police would later disclose, dipped to a nearly 50-year low.

But instead of embodying a bold new way to fight bloodshed on the South Side, Bufford is now dead, and Brown is charged with his murder, putting a dramatic and deadly new blemish on the one-time Quinn showpiece, which was pilloried last week in a report by Auditor General William Holland.

At the same time they were on the Neighborhood Recovery Initiative payroll, Brown, then 19, and Bufford, 16, allegedly broke into a Grand Crossing home in July 2012 with one other man and announced a robbery in what Chicago Police believe was a gang-related crime.

It's not clear, based on court and police records, what happened next. But Bufford was fatally shot in the back of the head with a shotgun, and Brown and an associate now face murder charges tied to the shooting.
Ugh.
* I was on the phone with someone close to Quinn yesterday who pointed out that nowhere in the Auditor General's blistering report on the governor's anti-violence initiative was there any evidence that gangs or other notorious types had received grant money. The implication was that the program was much better run than portrayed.
Well, so far we don't know of any gangs getting grants, but we do know of at least one completely botched attempt to turn a gang member's life around by having him hand out anti-violence fliers.
Yes, handing out fliers.
What fool dreamed up that stupid quackery?
- Posted by Rich Miller 36 Comments


* Bill Brady and Kirk Dillard sparred last night over the now infamous Barack Obama ad…
Brady went after Dillard for his appearance in a TV ad run by President Barack Obama's campaign in which he stated: "Republican legislators respect Barack Obama."

Dillard downplayed the ad. "I said 15 nice words about Barack Obama," he said. "It was an Internet thing that ended up in an ad and I called him and I said, 'You know you've got to pull that because I'm for John McCain."
* It was an "Internet thing"? Really? From the June 27, 2007 edition of the Iowa Independent…
Sen. Barack Obama's first two Iowa TV ads hit the air Tuesday. Emphasizing Obama's past, the ads are intended to deflect criticism of the Democrat from Illinois as inexperienced. […]

The centerpieces of both ads are interviews with two somewhat unlikely characters: Republican Sen. Kirk Dillard of Illinois narrates the first ad, called "Carry," which chronicles Obama's career in the Illinois Senate. And the highlight of the second ad, titled "Choices," is a clip from world-famous legal scholar Lawrence Tribe, who taught Obama at Harvard Law School (although, despite Tribe's fame, Iowa Independent was unable to reach any caucus goers who were familiar with his work).

On a press conference call held in conjunction with the launch of the ads, both Dillard and Tribe were made available to reporters. Each praised Obama unequivocally during their introductions on the call.

Dillard described Obama as "someone who really carried the ball well and was instantly respected" when he got to the state senate. Dillard said he and Obama formed an unlikely "tag team, of a caucasian, suburban senator" and an African American from the inner city. [Emphasis added.]
* So, Dillard not only wasn't taken by surprise when the ad went on the air, he helped launch the TV ad with a press call. He knew it wasn't an "Internet thing" back then. And he effused praise for Obama during and after that conference call…
Dillard told the Associated Press today that while he expects to support whoever wins the Republcian nomination, "I would not lost a night's sleep worrying about my young children's future if Sen. Obama were my president because I know he would probably surround himself, like Ronald Reagan, with exceptionally experienced people."
Oy.
Sen. Dillard has been all over the map on this issue. Eric Zorn ran a timeline in 2010 about Dillard's various explanations and the way this ad has been used against him. It's worth a read.
* Also, if you'd like to refresh your memory, watch that ad…
- Posted by Rich Miller 36 Comments


* During the 2002 Republican gubernatorial primary, the Chicago Tribune endorsed Corinne Wood.
In 2006, the Tribune endorsed Republican Ron Gidwitz for governor.
In 2010, the Tribune went with Andy McKenna in the GOP primary.
* Besides all losing their primaries, what else did those three have in common?
Well, all of them were millionaires who were the biggest self-funders in their respective races.
* And, today, Mother Tribune did it again…
We do appreciate comity. But we think Rauner would have a much easier time wielding a veto pen. A much easier time saying No to legislative leaders.

Of the four Republicans, Rauner best communicates to citizens the indelible fact that Illinois is broken. If nominated now, in November he would force voters to choose a future for this state:

If that future resembles the failed past, it will feature lawmakers of both parties battling openly over proposed marginal changes to the derelict status quo.

If that future takes this state in a new direction, it will embrace changes wrought by governors of neighboring states with balanced budgets, healthy pension funds and lower unemployment.

The best solution for all that now cripples Illinois would be a jobless rate of 6 percent or less, with more workers bringing home paychecks and contributing tax revenues.

Of the Republicans running for governor, Rauner is the change agent who could best begin to rescue Illinois.
Never mind that he very nearly derailed the Tribune's much-beloved pension reform bill by coming out forcefully against it. Never mind that he has dismissed the Tribune's near to the heart workers' comp reform as basically worthless.
Nope. They just love his style, even as they continue to bash candidates for doing just what Rauner did, opposing pension reform and workers' comp reform.
*** UPDATE *** They endorsed Tom Cross for treasurer, but it was a tough call because of - guess what? - pension reform…
To our mind, Cross made a bad vote based on political considerations. He damaged his credibility. More damaging, he undermined the efforts of his successor, House Minority Leader Jim Durkin, to pass the bill. […]

Our endorsement goes to Cross. We wish it came with more enthusiasm.
Rauner did more to undermine that pension reform vote than Cross, but his opposition was not even mentioned.
Sheesh.
- Posted by Rich Miller 87 Comments