* From Cook County Clerk Karen Yarbrough…
Hi Rich,

I'm trying to learn what your savvy readers may prefer as a general ballot access framework for Illinois residents to become candidates for office. Would it be much trouble for you to run a quick poll?
* Click any and all of the proposals you favor and then explain your answer in comments…
survey hosting
- Posted by Rich Miller 59 Comments


* Crain's…
Exelon is threatening to shutter three nuclear plants in northern Illinois, which together power the equivalent of 5.5 million homes in the region.

The Chicago-based parent of Commonwealth Edison and the largest nuclear power generator in the country issued the warning about the potential for "early retirement" of its Byron, Dresden and Braidwood nuclear stations in a Feb. 8 Securities & Exchange Commission filing. While Exelon has hinted in the past that Byron and Dresden are financially at risk for closure, it was the first time the company explicitly identified Braidwood as vulnerable. […]

"Dresden, Byron, and Braidwood nuclear plants in Illinois are … showing increased signs of economic distress, which could lead to an early retirement, in a market that does not currently compensate them for their unique contribution to grid resiliency and their ability to produce large amounts of energy without carbon and air pollution," Exelon said in the filing. […]

In a statement to Crain's, Exelon said, "We are working with Illinois policymakers and other stakeholders on solutions to not only maintain Illinois' clean energy progress but to further advance efforts to reduce and eliminate carbon emissions in the electric power and other sectors." […]

Nuke closures could threaten Gov. J.B. Pritzker's goal of eventually powering Illinois only through sources that don't emit carbon. Exelon has been successful arguing that carbon-free nukes are a crucial component of state plans to address climate change by "de-carbonizing."
* Press release…
State Senator Sue Rezin, R-Morris, and State Representative David Allen Welter, R-Morris, have sent a letter to Exelon Corporation requesting a meeting to discuss the company's statement in a filing with the Securities & Exchange Commission that they may close their generating stations at Dresden and Braidwood. In the letter, Rezin and Welter emphasize the importance of protecting local jobs and the region's energy infrastructure.

"The news of a potential shutdown of two of our nuclear power plants is extremely concerning to me and no doubt to the individuals and families who would be directly impacted," said Sen. Rezin. "Not only do these facilities stimulate Illinois' labor income and employment, but they also provide huge amounts to the local property tax base, supporting our school districts, higher education and local government. It is my hope that Exelon answers our call for a meeting so that we can begin the process of establishing a path forward."

"Just over two years ago, the state approved a multi-billion dollar package for Exelon to keep their nuclear power plants in the Quad Cities and Clinton open," Representative Welter said. "The potential closure of Dresden and Braidwood jeopardizes thousands of jobs critical to families. Our local nuclear plants are an integral component of Illinois' energy infrastructure. I am deeply concerned by Exelon's statement and will fight to protect the future of workers at the Dresden and Braidwood stations."
- Posted by Rich Miller 34 Comments


* Press release…
The Chicago Department of Public Health continues to make significant strides in protecting children, adolescents and adults against vaccine-preventable diseases and was once again recognized by the Centers for Disease Control and Prevention (CDC) for its immunization efforts. During the annual grantee meeting in Atlanta, GA, CDPH received awards in three categories:

• Healthy People 2020 Award for most improved average of coverage rates for nine vaccinations for children aged 19-35 months from 2014 to 2017. Chicago's high measles, mumps, rubella (MMR) vaccine coverage (94% for ≥1 dose for 19-35 month olds) is critical when measles outbreaks continue to occur in Washington, New York and as close as the University of Illinois in Urbana Champaign.

• Healthy People 2020 Award for most improved average of coverage rates for adolescents aged 13-17 years from 2014 to 2017. Chicago surpassed the Healthy People 2020 goal of 80% Human Papillomavirus (HPV) vaccine series initiation in 2017 with 82% of teens having received at least one HPV vaccine. We are tied with Massachusetts for the 5th highest series initiation coverage in the country (after Washington, D.C., Rhode Island, Philadelphia and El Paso County, Texas).

• Recognition for programs with largest improvement in adult pneumococcal vaccination coverage with a more than 9 percentage point increase for adults aged 65 years and older from 2014-2017. Though adults can be historically hard to reach, making vaccines available to adults has been a priority for CDPH. The department spearheaded an effort to vaccinate high-risk adults with hepatitis A vaccine amidst a growing number of hepatitis A outbreaks, nationally and in other parts of Illinois. To date, CDPH has distributed over 3,000 doses of hepatitis A vaccine and administered over 2,000 doses with 11 vaccinating partners since 2017.

"Keeping Chicagoans healthy and ensuring they have access to quality preventive care is integral to keeping our City running," said Mayor Emanuel. "These recognitions and record vaccination rates are a testament to Dr. Morita's bold leadership and the Department of Public Health's strategy, which is a model for the nation."

"We are honored to be recognized as a model health department" said CDPH Commissioner Julie Morita, M.D. "These prestigious awards come with great responsibility and we reaffirm our commitment to increasing immunization rates and improving the lives of Chicagoans."

HPV vaccine prevents cervical, other genital, head and neck cancers. In 2017, 67% of Chicago teens completed the HPV vaccine series (2 or 3 doses depending on age at initiation) which is 16 percentage points higher than the national coverage levels. In addition, Chicago saw increased rates for HPV coverage in adolescent boys from 41.6% in 2016 to 46.4% in 2017.
- Posted by Rich Miller 6 Comments


* ACLU of Illinois…
Seeking to protect the ability of all individuals to make their own decisions about the full range of reproductive health care, four Illinois legislators joined Illinois advocates to announce two bills set for introduction in Springfield this week. The Reproductive Health Act modernizes Illinois laws around reproductive health care by repealing an abortion law adopted in 1975, and replacing it with language that affirms the right of all people to have full access to reproductive health care in a post Roe world, following on the promise and commitment of Illinois legislators with the passage of HB 40. That law – although largely blocked by the courts – among other things, still proscribes criminal penalties for physicians providing abortion care to patients.

The second bill will repeal the dangerous Parental Notice of Abortion law, a measure enforced for the past five years after decades of courts blocking enforcement. In the years since this law has been enforced, young people who do not have an adult family member or guardian to turn to, are forced to go before a judge before getting the healthcare that they need from a healthcare provider.

The introduction of these bills follows the release of a report from Governor Pritzker's Equality, Equity, and Opportunities transition team. The report reads in part: "The new administration should take action to keep abortion safe, legal, and accessible in Illinois. It should work with lawmakers to repeal the Illinois Abortion Law of 1975 and the Illinois Parental Notice of Abortion act of 1995 and replace it with legislation that keeps abortion safe, legal, and accessible."

"The Governor's transition team identified the reality that a person's decision around abortion and reproductive health care is affected today by a law adopted in 1975," said State Representative Kelly Cassidy, chief House sponsor for the Reproductive Health Act. "As a woman, a mother and someone who has been a long-time supporter of full access to reproductive care, from contraception, abortion, pregnancy and postpartum care, it is time to modernize and update these laws to reflect the equality of women in Illinois."

"Keeping this old law on the books with the attacks on reproductive freedom coming from Washington, DC creates confusion and invites mischief," added State Senator Melinda Bush who will lead the legislative effort for the Reproductive Health Act in the State Senate. "We know that there is a movement today to limit access to reproductive health care. We want to reflect our values in Illinois and trust women."
The Reproductive Health Act recognizes that abortion care is health care, not criminal activity as designated by the current law. The bill seeks to treat abortion care like all health care, with regulations that reflect current medical standards. Among other items, the bill would:

• Repeal the largely enjoined Illinois Abortion Law of 1975, including the criminal penalties imposed on doctors who offer abortion care;
• Repeal the long-blocked Partial Birth Abortion ban;
• Remove out-of-step regulations on health care clinics that provide abortions – regulations applied only to such clinics as a means of limiting access to abortion; and,
• Lifts disciplinary penalties adopted decades ago aimed at physicians who provide reproductive health care to women.

The sponsors and advocates supporting the Reproductive Health Act note that the bill specifically affirms that individuals and families should be the ones to make the personal decision around the use of birth control, the decision to continue a pregnancy and the decision to seek or refuse an abortion.

Finally, the bill requires private insurance plans in Illinois to cover abortion care on the same basis as contraception, fertility and maternity care.
Constituents in the 118th district and across Illinois have watched in horror over the last few weeks as states like New York, Virginia, and Rhode Island have enacted or proposed legislation essentially legalizing abortion at any point during the pregnancy, even at the time of labor. 118th District State Rep. Patrick Windhorst is voicing his outrage.

"In just a few short years, the left went from 'safe, legal, and rare' to proudly promoting the killing of full- term babies right before birth," Windhorst said. "I listened in shock as the Democratic Governor of Virginia went on live radio to advocate for their proposed bill and seemingly defended the killing of a baby with deformities AFTER birth. My heart sank as I looked at pictures of the Empire State Building illuminated in pink lights celebrating the signing of legalized infanticide in New York. It's time for Illinois to decide who we want to be in the eyes of history and our Creator."

Illinois' current abortion law already reads similar to the laws passed in New York and proposed in Virginia and Rhode Island. Abortion in Illinois after the point of viability is only legal if it is, "necessary to preserve the life or health of the mother." The definition of "health" does not appear in current statute and has been interpreted to allow late-term abortions for more reasons than preserving the mother's life or physical health. The intentional vagueness and broad use of this terminology is what was just enacted in New York. Virginia goes even further to include "mental health."

The "Illinois Anti-Infanticide Act", filed as HB 2384, would prohibit abortion after an unborn child is viable except to save the life or serious physical health of the mother. "The Act would narrowly define health as serious physical impairments," Windhorst said. "This act will save lives."

Windhorst is pro-life and is the chief sponsor of a bill repealing HB 40, which provided taxpayer-funded abortions. As a member of the minority party in the House, Windhorst also understands the political realities of Springfield at this time and is seeking to amend Illinois' current abortion law in a bipartisan manner to eliminate the barbaric act of infanticide.
- Posted by Rich Miller 20 Comments


* I had my doubts about this project. Heck, even Gov. Rauner repeatedly belittled the idea that Rivian would amount to anything. But…
General Motors and Amazon are in talks about investing in electric-vehicle-maker Rivian Automotive, which has a manufacturing plant in central Illinois, in a deal valuing the startup at $1 billion to $2 billion, said people familiar with the matter.

The Plymouth, Michigan-based startup is working on an electric pickup and SUV that would be built at its plant in Normal. Concept versions of the vehicles debuted at the Los Angeles Auto Show in November. Talks are progressing, and a deal could be announced as soon as Friday, said one of the people, who asked not to be identified because the negotiations are private.

Trucks and SUVs are gas-guzzling cash cows for Detroit automakers. An investment in Rivian could help GM get an electric pickup to market faster and help ward off upstarts such as Tesla. For Amazon, investing in Rivian would signal an ambition to shift a portion of the massive vehicle fleet that delivers its packages to zero-emission vehicles.

"Rivian is being cast in the same light as Tesla, a startup that's outside the inner circle of the auto industry, and that's appealing to GM," said Jeff Schuster, senior vice president of forecasting at researcher LMC Automotive. "GM could clearly do an electric pickup itself — it has the technology and a strong base of pickup buyers. But they don't have Rivian's image and separation."
- Posted by Rich Miller 25 Comments


* Hannah Meisel at the Daily Line…
After a bill to raise Illinois' minimum wage to $15 an hour by 2025 passed the Illinois Senate last week on a party-line vote, Gov. JB Pritzker — who has been pushing Democratic leaders to get the measure passed before his Budget Address next week — boasted that SB 1 is endorsed by a key business group in Illinois.

"This bill has the support of the Illinois Restaurant Association and will allow restaurant workers and restaurant owners to succeed," Pritzker told reporters at the Capitol last week, before ticking off the other merits of the bill.

Sam Toia, president and CEO of the Illinois Restaurant Association, had indeed signed off on the bill ahead of Wednesday's committee vote to send SB 1 to the Senate floor.

But in Springfield Monday, downstate members of the Illinois Restaurant Association told The Daily Line that they weren't asked, and that Toia doesn't speak for them.
And, man, are they ever mad.
* Channel 20…
Across from the Illinois Governor's mansion, you'll find Loukinens' on Fourth.

The restaurant opened in October 2017, but owners Kevin and Laurie Loukinen are concerned a $15 minimum wage hike could force them to close their doors.

"If I increase minimum wage at $15 an hour, then I have to increase supervisor pay, then I have to increase manager pay, then I have to match all the payroll taxes that go with that and all the property taxes that go with that," Laurie Loukinen said.

Laurie Loukinen said she once asked Gov. JB Pritzker to not harm her business while he was eating at her restaurant with his wife.

"He was in this very dining room and I said, 'Just tell me you're going to do a good job and that you're not going to kill me as a business for the sake of Chicago,' and he stood right here in my dining room and he said, 'I will not do that to you,'" Laurie Loukinen said. "And I take Governor Pritzker at his word."
You gotta wonder how the governor's next visit to that restaurant is gonna go.
Meanwhile, the owner of Obed and Isaac's compared her stand against the minimum wage hike to Winston Churchill during World War II. I kid you not.
* This is not to make light of their arguments. The governor has said that he would listen to all sides and points to the Illinois Restaurant Association as supporters even though some restaurant owners are up in arms about this bill. They do have a right to be upset. And a regionalized system does make some sense…
The news conference was organized by the Illinois Retail Merchants Association, which is pressing lawmakers to enact a tiered minimum wage. Its proposal would have a $15 wage in Chicago, while the suburbs surrounding Chicago would have a $13 wage and the rest of the state would have an $11 minimum wage by 2025.

The differences are meant to reflect that it's cheaper to live outside of Chicago and that other areas of the state do not have the same economic activity as Chicago. The states of Oregon and New York use a tiered approach, paying a higher minimum wage in a major urban area and lower wages in less-populated areas.
Frankly, though, if I was a Downstate worker making minimum wage, I'd be awfully upset that Chicagoans were paid more by law to do the exact same job for the exact same employer. A regionalized minimum wage would literally codify the alleged Chicago advantage that Downstaters so often complain about.
…Adding… ILGOP…
"Governor Pritzker is misleading the people of Illinois about his minimum wage plan by falsely claiming it's the product of compromise and Republican input, even though no Republicans support it. If Pritzker thinks it's a 'Republican idea' to phase in the wage hike over six years as opposed to three or enact insufficient tax credits for small business, he's wrong. Pritzker pledged to listen to Republicans and compromise, but it turns out those were just empty, meaningless words." - Illinois Republican Party Spokesman Aaron DeGroot
*** UPDATE *** It's on a rail…
After a Democratic House caucus, Speaker Madigan says he expects minimum wage bill to pass House as is. Specifically stated regional wage will not be in bill.

— Jerry Nowicki (@NowickiPress) February 13, 2019
- Posted by Rich Miller 85 Comments


* They can say whatever they want. Unless and until they can locate some legislators willing to actually sponsor legislation to impose a state tax on retirement income, it ain't even gonna be discussed except in news reporting and columns…
A second public policy organization is calling for Illinois to tax retirement income and expand the sales tax to some consumer services as part of a sweeping plan to fix the state's fiscal woes.

The recommendations from nonpartisan budget watchdog Civic Federation come one week before new Gov. J.B. Pritzker is scheduled to present his first budget proposal to lawmakers. The Democratic governor backs legalizing and taxing recreational marijuana and sports gambling, as well as overhauling the state income tax system in two years. But he hasn't endorsed taxing retirement income or gotten specific on taxing services.

In its annual "budget roadmap," the Civic Federation's Institute for Illinois' Fiscal Sustainability says new taxes should only be considered as part of a multiyear plan that also limits state spending. It proposes limiting spending growth to 2.4 percent per year for five years.

The call to tax retirement income echoes a similar proposal last week from the Civic Committee of the Commercial Club of Chicago, which is made up of the city's business elite. The Civic Federation has been pushing the idea for several years, though its recommendation hasn't gained traction in Springfield.
Pritzker has said that sales taxes on services are regressive and he therefore doesn't like them. Maybe we could see movement on that, but he defeated two Democratic primary opponents with the retirement income tax issue and I cannot see him ever flipping on that one.
Fiscally, it's a good idea. Sound, even. Politically, it's deader than a rock on a stump.
…Adding… Related…
* Illinois lawmakers flock to oppose retirement tax after proposal from business leaders
- Posted by Rich Miller 42 Comments


* Deputy Gov. Dan Hynes was on Chicago Tonight yesterday and talked about pensions. In addition to some of the other ideas floated in the past week (consolidation, asset transfers), Hynes made this pitch…
We need to look at the funding schedule that was put in place 25 years ago, that at the time thought we would be spending about $4 billion on pensions and now it's asking us to put $9 billion in. That is 20 percent of our revenues. And I don't think the designers of that plan ever envisioned the state of Illinois putting 20 percent of its revenues into the pension systems. So we need to take a hard look at that.
Hynes also said that the "best place to start" when looking to consolidate pension funds was the 600-plus Downstate police and fire pension systems.
- Posted by Rich Miller 95 Comments


* Crain's…
As Illinois marches toward legalizing recreational marijuana under Gov. J.B. Pritzker, market pioneers who shelled out big money to gain an early foothold in the state's medical cannabis program are trying to keep the much larger recreational, or adult-use, business to themselves.

Companies that won Illinois' 21 medical marijuana licenses in 2015 are lobbying for a clause in a forthcoming legalization bill—which many believe will pass this spring—that would deny new cultivation licenses. Such a provision would box out new competitors just as marijuana blossoms into a full-fledged consumer market.

"There's a necessity for a slow rollout to see how adult-use market demand is able to be met," says Mark de Souza, CEO of Revolution Enterprises, which won two medical cultivation licenses and owns downstate greenhouses. The former futures trader and self-described "free-market finance guy" insists constraints are necessary as the industry finds its footing. He argues no new licenses should be issued for 12 to 18 months after the recreational law takes effect, which would likely mean a moratorium through at least part of 2021.

Others see little more than an attempt to monopolize what is estimated to be a $1.6 billion Illinois recreational market. They say lawmakers who appease these companies in order to pass legislation quickly and begin collecting tax revenue are shortsighted. […]

"I'm not certain there's going to be any need for additional cultivation licenses," says state Sen. Heather Steans, who is crafting the recreational bill along with state Rep. Kelly Cassidy, a fellow Chicago Democrat. "We definitely don't want an oversupply because we don't want to encourage diversion" of marijuana across state lines to places where it remains illegal. Steans plans to commission a supply-and-demand study to determine how many licenses are needed.
* Joe Cahill pounced…
Funny how businesses generally decry government interference—unless it helps their business.

Consider Illinois marijuana producers' campaign for government aid. As my colleague Brigid Sweeney reported in this week's issue of Crain's, companies holding 21 licenses to produce medicinal marijuana want legislation legalizing recreational use to include a moratorium on new state licenses for commercial-scale production.

In other words, they want a government-mandated oligopoly on a recreational-use market worth an estimated $1.6 billion annually. The moratorium likely would last a year or more, plenty of time for incumbents to build the brand recognition, commercial relationships and scale economies to ward off new competitors.

They've apparently found a sympathetic ear among lawmakers crafting recreational-use legislation that Gov. J.B. Pritzker is expected to sign. Worried about "oversupply," State Sen. Heather Steans plans to commission a study to determine how many commercial licenses Illinois needs.

That's a question for markets to decide, not government. Restricting market access to a predetermined number of companies smacks of Soviet-style central planning. Imagine the reaction if state legislators presumed to decide how many soybean or corn farms Illinois needs.
There are legitimate concerns about market oversupply, so the red-baiting is way over the top here. The state government isn't going to be purchasing excess supply, as the federal government does with dairy products, for instance. So, limits are reasonable. The same concept goes for casino licenses.
However, allowing the "market pioneers" to lock down a monopoly would not be a good thing. At all. They need to back the heck off.
* I asked Rep. Kelly Cassidy (D-Chicago), one of the legalization sponsors, to respond to the initial article…
This article is maddening. We both [she and Sen. Steans] believe that we need the study to help us determine whether there will be need. The cultivators have significant capacity and can build plenty more to meet demand, but that's not the same as whether we need more growers to help meet demand. Many of them are insisting on no more growers, but without clear data defining the demand, it's impossible to say.
* Also, from the governor's transition committee report…
Because black and brown communities can lack access to capital — especially for cannabis-related businesses — the state could offer financing and technical training to help under-represented communities participate more fully in the legal cannabis industry, potentially through community-based incubators. This administration should lead the development of these incubators and ensure the technical support and capital participation of existing medical growers and dispensaries as a condition for expanded recreational licensing.
- Posted by Rich Miller 30 Comments


* AP…
Nearly a quarter of workers in Illinois would see their pay almost double under a proposal nearing final approval in the state legislature, but inflation will take a huge bite by the time the state's minimum wage reaches $15 an hour in 2025.

The statewide pay floor has remained at $8.25 since 2010, and new Democratic Gov. J.B. Pritzker made boosting it a central component of his successful campaign. The Senate last week approved a gradual hourly increase to $15, and the House is poised to send the legislation to Pritzker to sign before he presents his first budget plan on Feb. 20.

Illinois will join Washington, D.C., and at least four other states with a $15-an-hour minimum by 2025, an 82 percent spike in current base pay. But it may not be the momentous impact on low-wage workers that some supporters expected.

Using state labor and federal inflation statistics, The Associated Press projected that assuming the current inflation rate of 2.1 percent each year through 2025, $15 then will be worth the equivalent of $10.46 now. So instead of an 81 percent wage increase from $8.25 to $15, after inflation, low-wage workers will be taking home only 27 percent more than they are today.
That $10.46 projection didn't seem right to me. So, I crunched the numbers myself. I subtracted the equivalent of 2.1 percent of value from each year in this chart…
1/1/19: $15
1/1/20: $14.68
1/1/21: $14.37
1/1/22: $14.06
1/1/23: $13.76
1/1/24: $13.47
1/1/25: $13.18
1/1/26: $12.90
* I talked with the minimum wage's House sponsor Rep. Will Guzzardi (D-Chicago) last night and he found basically the same thing. Using the AP's formula of 2.1 percent inflation per year, Guzzardi also projected what the minimum wage will be in 2025 if no action is taken, something that was missing from the AP story…
Finally: today's minimum wage of $8.25/hr will be worth $7.24 in 2025, so I'm not sure this is a very good argument for "do nothing".

Low-wage workers need a raise. We're gonna make sure they get one.

— Will Guzzardi (@WillGuzzardi) February 13, 2019
- Posted by Rich Miller 19 Comments


* Too often, the media's focus on the very real problem of people migrating out of Illinois centers around middle to upper class white folks who are angry at the government. That focus creates a narrative that Illinois has to avoid upsetting those people or the exodus will only get worse. Progressive income tax? People are going to leave. Higher minimum wage? People are going to leave.
But that narrative ignores this issue…
I'm at the very very very beginning of a new book project about Black people moving out of Chicago and I'm crunching some numbers. Here are the twenty community areas that lost the most Black people from 2000-2016. pic.twitter.com/UuNGy2qgXe

— wikipedia brown, chiberian tiger (@eveewing) February 12, 2019
- Posted by Rich Miller 32 Comments


* Moving right along with our look at Gov. Pritzker's transition reports, let's take a glance at energy policy. One of the things that transition team members were asked to focus heavily on was capital projects…
Improve storm and wastewater management systems

The new administration should invest in storm and wastewater infrastructure projects that help protect against property damage, limit soil erosion, and improve climate resiliency, particularly in communities that disproportionately suffer from the impacts of climate change. The state should also ensure there is an equitable distribution of funds across environmental justice communities. The state could leverage State Revolving Loan Funds for these efforts. There are two types of infrastructure projects that the state should prioritize:

• Gray infrastructure projects: improve stormwater and wastewater treatment plants to remove nitrogen and phosphorus.

• Green infrastructure projects: implement the Illinois Nutrient Loss Reduction Strategy, work with conservation districts to drive on-the-ground projects, cost share with conservation entities on edge-of-field practices, and use existing state funds to purchase land for conservation.
* Here's the section on creating community clean energy empowerment zones…
The new administration should prioritize the creation of clean energy empowerment zones in rural communities, transitioning communities, and communities of color to ensure all communities share in the economic and environmental benefits of Illinois' shift to a clean energy economy. Through these zones, the state could provide community empowerment grants to facilitate locally-designed, community-directed clean energy initiatives, such as electric transit, wind and solar, and clean energy workforce development.
* More…
Expand electric vehicle charging infrastructure

In order to address the leading source of carbon pollution in Illinois – the transportation sector – the new administration should expand access to electric vehicle (EV) charging infrastructure installed by qualified local union labor. The state should authorize funding for this infrastructure and support for electric distribution infrastructure to meet EV grid demands. The state could provide incentives for conversion of public transit and school buses, offer special rates to school districts that adopt EV buses, and encourage utilities to build out make-ready work as called for and provide EV supply equipment in communities without access. The new administration could expand this initiative by leveraging capital funds available through the VW settlement and reallocating those funds to clean technologies.

Expand Illinois' energy storage leadership

Energy storage is key to a future where the world is powered by renewable energy. The new administration should leverage Illinois' position as a leader in energy storage and help facilitate incubation of energy storage-related businesses growing out of research conducted across the state. The state could integrate R&D efforts with business creation and compete for federal and private sector clean energy storage investments in Illinois. The state could also incentivize projects that propose locating at retired or soon-to-be retired coal plants in order to spur economic development in those transitioning communities.

Support shovel ready solar projects for schools and state-owned properties

The new administration should implement the Solar for All program by initiating an additional 100 projects at publicly-owned properties in low-income communities. This would bring an additional 200MW of community solar to Illinois, create local union labor jobs, and generate electricity savings for buildings like public schools.
Thoughts?
- Posted by Rich Miller 40 Comments


* I linked to the governor's transition reports, but we haven't really talked much about any of them except for the budget stuff. So, let's start by going over the Restorative Justice report. Here's the section on coping with and preventing violence…
The state can help reduce violence in communities by strengthening existing safeguards towards gun violence prevention efforts, pursuing new safeguards, and investing in community resources to prevent crime. For example, increased regulations on gun dealers, stricter reporting requirements for lost firearms, and establishing stronger Firearm Owners Identification card (FOID) requirements (accounting for hate crimes, animal abuse, and domestic violence and expanding requirements to cover 3D-printed and "ghost" guns) could keep guns out of the hands of people likely to use them illegally. The state could also convene a multi-state task force to reduce the illegal flow of weapons across state borders. In addition, measures such as better allocation of police resources to every zip code and expedited forensics tasks such as DNA-evidence processing, rape kit administration, and ballistics testing could significantly improve violence prevention and resolution.

The state could promote grassroots efforts to reduce crime and prevent gun violence, such as expanding prevention programs and resources in the neighborhoods at highest risk for gun violence (e.g., funding grassroots non-profit violence prevention programs). Resources could be allocated to transformative "Community Justice Centers" to provide civilian responses to violent incidents, including giving civilians access to resources and referrals, and offering holistic support. Trust can also be strengthened between law enforcement and the communities they serve if Illinois State Police take a larger role in investigating "use of force" incidents.

Community-based organizations should also be supported by the state in their work to provide mentoring, tutoring, and job-search support. The state could empower local organizations to support people returning from incarceration, helping them meet their needs for housing, mental health counseling, job placement, and other social services.
* Modernizing courts and sentencing reform…
Through thoughtful court and sentence reform, the state could move towards a system that reserves incarceration primarily for those who commit very serious offenses. The reform could focus on treatment and rehabilitation, while diverting individuals to alternative treatment centers (e.g., over 40 percent of admissions to Cook County jails were for drug offenses, many of whom could have been diverted to community drug treatment resources) and ensuring fairness and equity before and after trial.

To start, the state can increase felony thresholds for drug (e.g., Class 3 and 4 drug offenses diverted to drug treatment) and retail-theft offenses (e.g., raise retail theft threshold from $300 to a higher level), which can mitigate the punitive nature of current sentencing guidelines and decrease the number of incarcerated individuals. For those already incarcerated, the state can re-evaluate early-release eligibility to focus on rehabilitation. Potential initiatives could include bypassing parole and auto-expunging criminal cases for eligible cases (e.g., certain Class 4 felonies), using clemency power to commute certain sentences (e.g., incarcerated people in need of hospice care), and expanding eligibility for discretionary and reduced parole.

Prison population reduction strategies may be more effective when partnered with treatment through supportive transition programs that include housing and job placements. The state could mandate restorative justice as a holistic rehabilitative substitute for incarceration (e.g., pre-trial referrals to community centers for certain offense types). State agencies can support transformational alternatives to incarcerations by engaging community-based resources such as mental health and substance abuse treatment centers. As part of this transformation, key actors (e.g., judges, community residents, law enforcement, social workers) could be convened in working groups to recommend actions to protect and heal communities.

To ensure fairness and equity before and during trials, the state should facilitate equitable access to and adequate funding for resources such as public defenders. In addition, Illinois should reexamine current juvenile detention practices through trauma-informed ways (e.g., end detention for children under the age of 15) and end trial tax incentivizing pleas. The state could also examine current monetary bond practices and reduce or eliminate the use of fines and fees for offenses such as driving infractions. Finally, the state could eliminate automatic driver's license suspensions for court debt and make probation and parole less punitive and more rehabilitative by eliminating reincarceration for technical parole violations. These changes would significantly reduce the burden on affected individuals.
The report also has a section on "evidence-based rehabilitation," plus one on cannabis legalization and the new Office of Justice, Equity and Opportunity.
* Conclusion…
There is a path forward to move criminal justice in Illinois from one of retribution to one of economic and community restoration. These efforts can enhance resource allocation, lower recidivism, and improve outcomes for incarcerated individuals. The state could consider launching a few initiatives in the near-term which could serve as important first steps:

• Increased regulation on gun dealers and establishing a multi-state task force to reduce illegal weapons

• Medicaid access to ensure continuity of care and targeted employment and housing support provided to all individuals pre-release from IDOC

• Creating a workforce development and vocational training programs to support rehabilitation at IDOC

• Mandating training courses (e.g., social emotional learning) for stakeholders (e.g., law enforcement, correctional staff) dealing with high risk population

• Increasing certain felony thresholds (e.g., for drug offenses, retail theft)

• Evaluate and recommend changes to monetary bond policies

• Create a data repository to be used across all state and local agencies
- Posted by Rich Miller 6 Comments


[The following is a paid advertisement.]
North Carolina ditched its progressive income tax in 2013 and replaced it with a flat income tax. Since then, the state's economic growth has zoomed past the national average.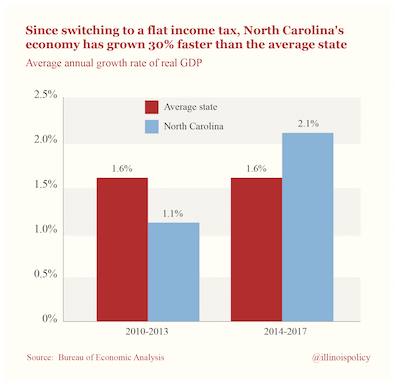 All that growth means more money in the pockets of working families. After switching to a flat income tax, average annual wage growth in North Carolina accelerated more than 30 percent faster than the national average.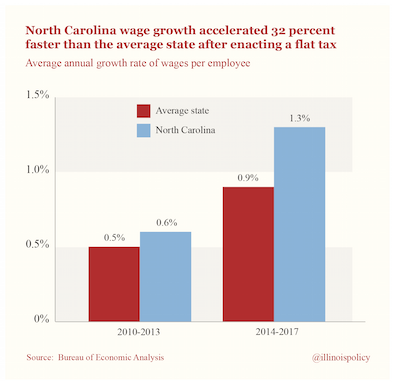 North Carolina's rebound is no surprise. States without a progressive income tax see faster jobs growth, wage growth and GDP growth than states with a progressive income tax. At the same time, progressive income tax states see higher inequality that's rising faster than states without a progressive income tax.
With Illinois already close to the back of the pack nationally for jobs growth and income growth, Illinois families seeking opportunity can't afford a progressive income tax hike.
- Posted by Advertising Department Comments Off


* Tribune…
Billionaire hedge fund CEO Ken Griffin, who has given tens of millions to former Republican Gov. Bruce Rauner and supported Chicago Mayor Rahm Emanuel, is donating $1 million to Bill Daley's mayoral campaign.

In a statement about the contribution, Griffin called Daley "a proven leader who understands the critical importance of working for all Chicagoans regardless of politics, race or background."

"He will bring together a diversity of views across the city on our most pressing challenges of creating jobs, reducing violent crime, and improving our schools so we all can be proud to live and work in this world-class city that we call our home," Griffin said. […]

"His investments in Chicago, in its cultural institutions, in its healthcare organizations, and in improvements that benefit all residents are a model of giving back to the community," Daley said in a statement. "While we may not agree on every political issue, Ken's commitment to Chicago is unquestionable and unwavering."
* Susana Mendoza…
As co-chair of Bruce Rauner's transition team, Bill Daley wrote the blueprint for the failed governor's four years of crisis and destruction. It's no surprise he's earned the endorsement of Rauner's biggest funder and enabler too. Chicago's families can't afford four years of a mayor who stood by silently while his friend Bruce Rauner launched attack after attack on our workers, cut critical social services, and assaulted women's reproductive healthcare rights. I wasn't afraid to take on Bruce Rauner on behalf of Illinoisans, and I'm not afraid to take on Bill Daley on behalf of Chicagoans. The last thing Chicago needs is Bruce Rauner's mayor.
* Meanwhile…
Hardworking Chicago window washers are once again in the spotlight after NBC Chicago and Telemundo Chicago ran in-depth stories last night on the dangerous work they do every single day. Now, in the closing weeks of the mayoral election, SEIU Local 1 is running an ad on Spanish-language television detailing how mayoral candidate Susana Mendoza sold out our city's brave window washers, their families and their communities when they went on strike in July of 2018.

"When we were on strike for a better future, Susana Mendoza sold us out," said SEIU Local 1 window washer Francisco Guzman. "Voters need to know that Mendoza sides with her business owner donors over hardworking Chicago families and our communities."

Instead of standing with our city's brave window washers, who put their lives on the line every day to support their families, Mendoza sided with her buddy and major campaign donor Neal Zucker, CEO of window washing company Corporate Cleaning Services and employer of window washers. Zucker is a major Mendoza campaign donor who has contributed more than $30,000 to her political fund since 2014, including $10,000 immediately following the strike and $3,000 on Christmas Eve. CBS Chicago rated the claims in the ad, which ran for weeks on digital platforms, to be true.

The ad represents a significant five-figure buy on Univision Chicago and Telemundo Chicago and will run from Thursday until the runoff election on February 26. In the closing weeks of the mayor's race, Local 1 window washers are letting voters know that Susana Mendoza cannot be trusted to stand with Chicago's working families.
The ad is here.
…Adding… The Tribune endorsed Daley today.
- Posted by Rich Miller 68 Comments