* I'm heading to Governor's Day and then the GOP events. Blogging will be light to perhaps non-existent. Monitor our live coverage post while I'm away. As always, please keep your conversations Illinois-centric and be nice to each other. Thanks.
- Posted by Rich Miller 43 Comments


* Press release from yesterday…
Governor JB Pritzker signed two new laws expanding insurance coverage for children whose allergies require live-saving EpiPens and Illinoisans suffering from Lyme disease.

"This legislation takes a big step forward in protecting our children and families," said Governor JB Pritzker. "Both of these new laws fulfill a core principle of this administration: state government ought to be standing up for working families. Lowering the cost of prescription drugs and expanding health care coverage is one important way to help lower costs and build a higher standard of living for all Illinoisans."

House Bill 889

Gov. Pritzker signed House Bill 889 today, which requires insurance companies to cover office visits, testing and treatment for tick-borne diseases like Lyme disease. Taking effect immediately, the new law aims to support farmers throughout the state who have struggled to afford continuing treatments. From 2004 to 2016, tick-borne diseases have risen dramatically according to the Centers for Disease Control.

"The ability to receive treatment when you have previously been insufficiently treated is life changing," said Rep. Daniel Swanson (R-Woodhull). "By mandating insurance coverage of long-term antibiotic treatment needed for patients, we are putting another piece of the puzzle into place for some patients and removing one additional hassle on their path to recovery."

House Bill 3435

The governor also signed House Bill 3435 on Friday, which requires insurance companies to cover epinephrine injectors, most commonly prescribed as EpiPens, for children with severe allergies. The cost of an EpiPen has skyrocketed over the last decade, rising by more than 400% for the two-pen injector pack. Without insurance, these EpiPens can cost a family nearly $700 and typically have a shelf life of a little more than a year before the medicine needs to be restocked in stores. The law takes effect on January 1, 2020.

"With steady increases in food allergies and other serious allergic conditions, families are relying on EpiPens more than ever before," said Sen. Julie Morrison (D-Deerfield). "We should be doing everything we can to expand access to affordable lifesaving drugs and medicines. No child with a serious allergy should be without an epinephrine injector because they cannot afford one."

"I want to thank Governor Pritzker and members of the General Assembly for brining Illinois to the forefront on food allergy safety and prevention," said Rep. Jonathan Carroll (D-Northbrook). "Along with improving the labeling of foods, we will now ensure that children in this state have access to lifesaving medication. I am proud of what we've accomplished and look forward to continuing this important work."
- Posted by Rich Miller 4 Comments


* Hmm…
Uh, about seven minutes of a media availability after the Illinois Dem County Chair brunch. Gov. Pritzker, Sens. Durbin and Duckworth didn't take questions. Only Speaker Pelosi. Hmm… #twill

— Tina Sfondeles (@TinaSfon) August 14, 2019
I'm told Speaker Madigan left shortly after delivering a brief speech, so he wasn't around for the post-game show.
* The Question: If given an opportunity to ask Speaker Madigan a question, what would it be?
- Posted by Rich Miller 36 Comments


* Tribune…
Cresco Labs is renovating its 56 marijuana dispensaries around the country, including five in Illinois, and reopening them under a single brand name: Sunnyside.

The dispensaries will be welcoming and bright and will create room for customers to learn about the products, said Joe Caltabiano, president and co-founder of the Chicago-based cannabis company. There will be light wood tones and sunflower-colored accents.

The idea is to make the marijuana purchasing experience more inviting and warm — that's where the name Sunnyside came from, Caltabiano said. Marijuana retail locations often have opened in industrial areas instead of more highly trafficked retail corridors, he said.

"We want this store to fit in the retail corridors that exist within the city of Chicago and the surrounding areas," he said. "As you're walking down the street and seeing the new retail stores pop up and the new retail concepts that come, you can kind of figure out where those stores typically go. We don't want this to be different."
* Artist renderings…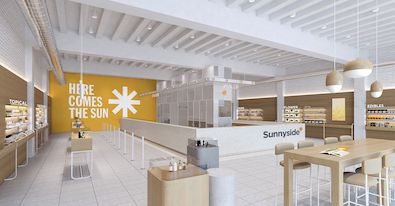 * Sun-Times…
"Sunnyside wants to feel more like a national wellness chain than a dispensary. Think of a Whole Foods or Sephora … but for cannabis. It's the new generation of cannabis shopping," the company said in a statement announcing the change.

"For far too long, I think cannabis has been relegated to the industrial corridors and the parts of cities where traditional commerce does not exist," Joe Caltabiano, Cresco's co-founder and president, told the Chicago Sun-Times. "So we're excited to have cannabis be in the center of the commerce parts of the city where consumers go to buy coffee and where consumers go to buy their retail products."

In addition to the makeup retailer Sephora, Caltabiano also cited the Apple Store as providing design inspiration, noting that both chains offer customers an inviting environment to learn about products. The first Sunnyside dispensary is slated to open in November in Philadelphia, and additional storefronts will follow in Illinois, Florida, Ohio, Arizona, Massachusetts and Michigan.
That's a really good idea and I hope other companies follow suit. It's past time to remove the stigma from this product. Get them off the back streets and out of the industrial corridors.
* More…
A public notice appeared recently in the window of John Barleycorn tavern in the Wrigleyville neighborhood — less than half a mile from MedMar Lakeview — noting that a Cresco-owned venture intended to "establish a medical cannabis dispensary" there. The move would require zoning approval.

Chicago-based Cresco has been looking to move the dispensary to a larger spot to accommodate growing patient count and demand for medical marijuana, said spokesman Jason Erkes.
* And…
A bill signed by Gov. J.B. Pritzker this summer makes recreational marijuana use legal in Illinois starting Jan. 1, and sets the stage for existing medical dispensaries to expand their physical presence. The 55 medical dispensaries currently operating in in Illinois can apply to sell recreational marijuana at their stores. They also can open a second dispensary.

One opportunity being eyed on the Mag Mile, according to real estate sources, is the former Apple store at 679 N. Michigan Ave.

The space is controlled by Chicago-based Water Tower Realty, a small, local real estate investor, through a long-term ground lease. The multi-level, 30,000-square-foot space has been vacant since Apple moved its Mag Mile flagship south to a new building along the Chicago River in October 2017. […]

Many property owners are rolling out the welcome mat, viewing cannabis as a fast-growing retail concept, said Dan Molnar, a broker at Baum Realty Group who is representing marijuana company Cresco Labs in retail leases in the Chicago area and other cities.
- Posted by Rich Miller 32 Comments


* Some folks asked for a photo with me yesterday, so I obliged…
- Posted by Rich Miller 40 Comments


* Earlier this week…
On Monday, Gov. J.B. Pritzker signed a bill crafted and championed by Republican state Rep. David McSweeney of Barrington Hills that enables residents in McHenry County to dissolve a township by referendum, allowing another unit of government to absorb its duties. In a state with 102 counties and nearly 7,000 units of government, this is clearly a baby step, but it's progress, and that alone is worth celebrating.

It's also worth emulating. Hopefully, the movement started in McHenry County will spread and taxpayers throughout Illinois can begin wringing more efficiency out of their local governments.
* Next up…
Now that his legislation making it easier to dissolve townships in McHenry County has been signed into law, state Rep. David McSweeney says he'll focus on consolidating other local governments, including school districts.

"It doesn't make any sense for there to be so many small school districts (in Illinois)," McSweeney, a Barrington Hills Republican, said Monday.

McSweeney said he prefers unit school districts, which educate students from preschool or kindergarten through high school.

"I favor reduction for all units of government," he said. "We have around 7,000 units of local government in Illinois, which is way too much."
- Posted by Rich Miller 42 Comments


* Greg Baise op-ed in the SJ-R about the proposed graduated income tax…
If we learned anything from the last eight months, it's that Governor Pritzker and Speaker Madigan's alliance is impenetrable. The speaker has passed the governor's increased spending and is promoting the Blank Check Amendment. In turn, the governor refuses to address multiple reports that some of those closest to the speaker are under federal scrutiny.

The fact is, despite this strong alliance and the speaker's grip on the General Assembly, that doesn't mean we have to accept higher taxes via the Blank Check Amendment.

Because at the end of the day it's up to you, the voter, to make your voice heard in November 2020 on whether you trust the Madigan/Pritzker Partnership with more of your hard-earned tax dollars.

Be on the lookout for more from The Vote No on Blank Check Committee. How do you know if what you are reading is from the committee? Just look for our logo: If you see a Speaker Madigan silhouette hovering over a blank check, you're in the right spot.
* The logo…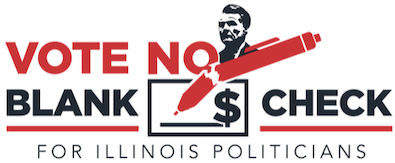 - Posted by Rich Miller 49 Comments


* Tribune editorial…
We've long contended that locating a casino in Chicago makes sense. Legal gambling tends to generate lots of tax revenue, which the city and state need. But the way Gov. J.B. Pritzker and the General Assembly have gone about structuring the expansion of casino gambling into Chicago is all wrong. They've set up this project to fail and likely have to rewrite their legislation.

A state-hired consultant from Las Vegas released a feasibility study Tuesday — one required by the gambling expansion law — that makes a very good case … for casino operators to avoid coming to Chicago. Taxes from gambling revenue and fees to be gobbled up by the city and state are so onerous, the study concludes, that the casino would generate very little profit, if any.

There's actually a scenario in which, under the current legislation, the combination of taxes, fees and operating expenses "could exceed casino revenue," the study warns.

Think about that. Illinois lawmakers, salivating over the prospect of easy money from gambling taxes, write and pass a law to allow a casino in Chicago. But they're so greedy that the entire enterprise becomes financially untenable before it starts. Lenders wouldn't want to finance it, and gambling companies wouldn't want to run it.
The Tribune isn't alone. There was plenty of hand-wringing in Chicago about the consultant's report.
And for good reason. The consultant submitted the only valid bid because the law mandated a too-quick process. The Illinois Gaming Board, which is already stretched to the limit with other casino expansions and sports betting implementation, has 90 days to evaluate the study and make recommendations to the General Assembly about what changes need to be made, but the fall veto session starts in just 75 days.
* Not to mention that one of the most influential Illinois legislators on this topic is not yet convinced any changes need to be made…
"Call me skeptical," said state Sen. Terry Link, D-Waukegan, the chief sponsor of the bill authorizing the Chicago casino, as well as new gambling outlets in his home Lake County and other locales around the state. "They'll have to do a lot more convincing to get me" to agree to cut the tax rates.

"All of us would like the largest profit margin we can," added Link. Whoever builds the casino "is still going to make a lot of money."
So now, we wait.
- Posted by Rich Miller 8 Comments


* Capitol News Illinois…
In a classic duel of Pritzker vs. Pritzker, the first lady won.

Gov. J.B. Pritzker and First Lady M.K. Pritzker engaged in a bidding war at the Illinois State Fair on Tuesday, with the governor's wife placing the winning bid of $75,000 for a grand champion steer named Lucius.

"I have to say, there's not a piece of that steer that doesn't entice me," the governor quipped with reporters after the sale. He later explained that much of the meat would be donated to the Central Illinois Food Bank.

Lucius, a 1,300-pound steer, was the prize animal of 13-year-old Cole Caldwell, of Elmwood. He had told fair officials earlier that whatever money he made from the sale would go toward his college education and future livestock projects. Still, he said afterwards, he was pleasantly surprised at how much Lucius fetched.

"I was surprised," he said after the sale. "It's a little bit of bragging rights for me. My sister won three years ago, and hers sold for less than mine did."
* Tribune..
"I thought I had this thing. I thought I had it cold," Pritzker said of the annual livestock auction at the Illinois State Fair that benefits 4-H clubs and the Future Farmers of America.

Pritzker joked to reporters after the auction that the steer, which weighs in at around 1,340 pounds, could live on the front lawn of the Governor's Mansion. Either that or "we're going to get cuts of meat like you wouldn't believe." […]

[Cole Caldwell] admitted he'll miss Lucius.

"I think I got just a little bit too attached, but that's just how it goes," he said. "I love him very much."
I also became too attached to a steer many years ago when I was in 4-H. They're almost like pets because you spend so much time feeding them, cleaning up after them, grooming them, training them to be led and to stand just right during the shows. I cried for days one year because I knew I had to sell my steer for slaughter.
* SJ-R…
The 13-year-old eighth-grader gets half of the $75,000, with 10 percent going to the 4H and FFA, and 15 percent going to the reserve grand champion steer and 25 percent going to all the other breed champions.

The win, said Cole, came through "a lot of hard work and spending a lot of time with my steer." […]

Cole Caldwell said at first he didn't realize the first lady and Governor were bidding against each other.

"That was very, very cool," he said.
Some video is here.
* Related…
* Illinois State Fair sets record for grandstand revenue: Just five days into festivities, the Illinois State Fair has set a record for grandstand revenue.
- Posted by Rich Miller 13 Comments


* Rick Pearson…
Democrats readied to celebrate their first Governor's Day at the Illinois State Fair in five years on Wednesday, rallying with hopes to build off victories by Gov. J.B. Pritzker and legislative candidates last fall that made Illinois a one-party state.

U.S. House Speaker Nancy Pelosi is scheduled to kick the day off as keynote speaker at the annual Democratic County Chairs' Association brunch, celebrating a state that flipped two Republican congressional seats in the mid-term elections. Democrats now hold a 13-5 advantage in the state's congressional delegation.

Though Pelosi is to appear before a friendly crowd of more than 2,000 at a hotel ballroom, the politically polarizing California Democrat will be in the heart of ruby-red rural Downstate Illinois, which voted decisively for President Donald Trump in 2016.

But Springfield is also the hometown of Betsy Dirksen Londrigan, a Democrat who could flip the central and southwestern Illinois congressional seat held by Republican Rodney Davis of Taylorville. Davis defeated Londrigan by 2,058 votes in 2018.

Londrigan, whose candidacy is strongly backed by House Democrats, was not listed on the speaking program for the brunch, perhaps because of fears an appearance with Pelosi could be used against her by Davis and Republicans in the 13th Congressional District.
You can watch the event live by clicking here.
* ILGOP…
Today the Illinois Democrats celebrate and talk about the "BIG" things they have accomplished - BIG spending, BIG tax hikes and BIG government. However, it's likely we won't hear them answering questions about their rampant corruption and unpopular policies.

"Illinois Democrats will try every which way to avoid answering questions Illinoisans deserve answers to. Their silence on the corruption ravaging their party further erodes what trust the public has left in state government. Will any Democrat address their colleagues corrupt activities, or will they choose to hide and not stand up for taxpayers?" -Joe Hackler, ILGOP Spokesman

Now that Governor's Day is bringing all Democratic leaders together in one place at one time, the media and interested citizens can hopefully get some answers to those pressing questions. The following are a few questions that voters deserve to hear answered:

Should Senator Tom Cullerton step down after being indicted on 41 counts of embezzlement, conspiracy, and making false statements?
Do any Democrats agree with Senate President John Cullerton that Sen. Tom Cullerton is a valuable member of the caucus and deserved a new chairmanship?
Did Speaker Madigan know about the payments from his allies and friends going to Kevin Quinn?
Did Speaker Madigan know the person he hired to investigate incidents like Kevin Quinn's harassment was the sister of two men sending to checks to Quinn after he was dismissed?
Do any Democrats agree with leading presidential candidates that all private healthcare insurance should be abolished?
Do any Democrats agree with leading presidential candidates that illegal border crossing should be decriminalized?
Do any Democrats agree with leading presidential candidates that illegal immigrants should be given free healthcare?
* Center Square…
Last week Senate President John Cullerton, D-Chicago, moved Sen. Tom Cullerton from leading the Senate Labor Committee to heading the Senate Veteran Affairs Committee, a move that allowed the Senator to keep a stipend for being a committee leader.

Pritzker said shifting Cullerton's committee chairmanship made sense.

"As you know I think he stepped aside or was asked to step aside from the chairmanship of the Labor Committee, which is the area the allegations were made in, and I think that is an appropriate first step," Pritzker said. […]

State Sen. Linda Holmes, D-Aurora, said if she had the ability, Cullerton wouldn't even have that.

"I probably would have stripped the committee chairmanship," Holmes said. "Left him on his committees, obviously left him voting until anything commenced from that point."
* Politico…
Gov. J.B. Pritzker held court at the governor's mansion. House Speaker Mike Madigan hosted dinner at Saputo's. And Chicago Mayor Lori Lightfoot got the applause.

"She was well-received," Madigan told Playbook about Lightfoot's visit to his dinner gathering for friends and lawmakers. Maybe an understatement as the crowded backroom broke out in applause for the mayor.

That's the way Tuesday evening went in Springfield. Cheers, celebratory toasts and lots of party-hopping as Democrats and Republicans converged on the state capitol for the annual Governor's Day (today) and Republican Day (Thursday) events tied to the state fair.

Given Democrats control both chambers of the Legislature and the governor's office, it's no surprise Dems dominated the party scene, too.
The tradition is the governor's party holds its receptions the evening before Governor's Day at the Illinois State Fair. The other party holds its receptions the evening before its state fair day. So, the Republicans will be partying tonight.
…Adding… NRCC…
Hey there –

The Chicago Corruption machine will welcome the Washington Corruption machine at the Democratic County Chairs' Association brunch today.

Notable socialist crooks include Illinois House Speaker Michael Madigan, socialist loser* Betsy Dirksen Londrigan (whose donors are still under federal investigation), fake nurse Lauren Underwood, the politically inept Cheri "Beltway" Bustos and House "Speaker" Nancy Pelosi.

What a crew.

These corrupt socialists insiders will clink champagne flutes as they discuss their plans to wipe out private insurance, provide on-demand late term abortion and tax Illinoisans into oblivion to pay for a socialist takeover the economy.

Cheers!
- Posted by Rich Miller 45 Comments


* Politico…
DOROTHY BROWN BOWS OUT. The longtime clerk of the Circuit Court of Cook County will not seek re-election, she told Playbook. "I've decided to look at the next chapter. It's time to do something new, and go to an even higher level."

Brown says that includes working as a community activist and applying her "financial, technology and legal skills in the for-profit arena."

After weeks of speculation about whether she was running, Brown said that stepping down from public office at the end of 2020 dovetails with logging 20 years with the county. That's when she'll be able to draw a full pension.

Brown, who ran for mayor of Chicago earlier this year before getting knocked off in a petition challenge, said she wasn't swayed by the crowd of candidates angling to unseat her, or her meager campaign war chest compared to those seeking to take her on. Brown also said the FBI probe into pay-to-play allegations in her office wouldn't hurt her chances of winning, either (No charges have ever been filed).

"I felt that I would have definitely won re-election," she said. "Nothing weighed me down. I have just as much confidence as I ever had."
Discuss.
*** UPDATE *** Press release…
Progressive reformer and Democratic candidate for Cook County Clerk of the Circuit Court, Jacob Meister has issued the following statement in response to Dorthy Brown's announcement that she will not be seeking re-election for Cook County Clerk of the Circuit Court:

"Four years ago I announced my candidacy to run against Dorothy Brown because the Clerk of the Circuit Court's office is a patronage den and bureaucratic disaster of lost paperwork and dinosaur age technology. It is tragic that the second largest court system in the country still relies on carbon paper and hastily handwritten documentation on a daily basis. Lost files and handwritten paperwork result in an unacceptable rate of errors, which often translates to people remaining in jail when they should be released, wrongful evictions and foreclosures. The office needs to be transformed, both operationally and ethically and I offer a clear vision to achieve the needed reform.

"The Democratic Party needs to seize this opportunity to offer the voters a candidate that is the most qualified to reform the office and is absolutely free from ethical questions and pay-to-play politics. Unfortunately, instead of heeding the clear message sent by voters who elected reformers Fritz Kaegi and Lori Lightfoot, many of the leaders of the Cook County Democratic Party are headed towards slating yet another ethically bankrupt candidate to head the Clerk's office."
- Posted by Rich Miller 25 Comments