* Jake Griffin at the Daily Herald…
Most people have to wait until they're out of a job to begin collecting retirement benefits they accrued while working there.

That's not the case for at least 13 part-time suburban county board members who are receiving as much as $82,124 in annual pension payouts from the Illinois Municipal Retirement Fund for jobs in which they're still getting salaries of $21,000 to $43,018.

Six Lake County Board members are receiving the pensions, as are three each in McHenry and Will counties and one in Kane County, a Daily Herald examination of IMRF beneficiaries shows. A fourth Will County board member just filed paperwork this month to begin collecting his pension while still on the board and receiving a $23,000 annual salary, IMRF officials noted in a response to a public records request to the agency.
So… wait. They're being paid pensions for their county board service while they're still serving on the same county boards?
* How the heck did this happen?…
They get the retirement benefit while still working as a result of a 2016 law aimed at pension reform, which eliminated their ability to keep working toward a pension if they don't provide documentation proving they worked at least 1,000 hours a year, or about 19 hours a week.

Many elected leaders chose not to submit timesheets and were kicked out of the retirement plan — but their previous participation in the plan allowed them to begin collecting their pensions even though they were still on the job.
*Sigh*
If county board members "chose" not to submit their timesheets, do you think that means they might not have been able to justify their previous claims of time they supposedly put in? Or, I suppose it's possible that they just don't like filling out paperwork to receive a pension.
Either way, never underestimate the determination of people to take full advantage of "reforms."
Go read the rest, particularly the bit about Will County board member James Moustis.
- Posted by Rich Miller 30 Comments


* Proft paper…
Republican state Rep. Allen Skillicorn (R-Crystal Lake) is taking his fight against Gov. J.B. Pritzker's graduated income tax proposal directly to the people.

The veteran lawmaker is scheduled to speak at a "graduated income tax rally" hosted by the Illinois Opportunity Project beginning at 7 p.m. on April 29 at the Huntley Park District. Skillicorn is slated to be joined by policy experts Adam Schuster of Illinois Policy Institute and Ted Dabrowski of Wirepoints.
* The Question: Your predictions for "best" rally chants?
- Posted by Rich Miller 63 Comments


[The following is a paid advertisement.]
On April 10th, the Illinois Power Agency held a lottery to award renewable energy credit contracts to community solar, large commercial and industrial projects. Community Solar is for the 75% of Illinoisans who can't put solar on their roofs. Demand was exceptionally strong, but due to the limited program size, approximately 90% of permitted community solar projects failed to receive contracts. Now those projects and the $222 million in tax revenue they would have generated for their communities over the next two decades is in jeopardy.
Without a fix to the state's renewable energy program, remaining projects may not be built.
Tim Nugent, president and CEO of the Economic Alliance of Kankakee County, said: "Rural communities need new sources of revenue right now, and solar is one way to do that. We're interested in seeing more community solar projects move forward, because at this point we're leaving money on the table."
Vote YES on HB 2966/SB 1781 to fix Illinois' clean energy cliff and let shovel ready projects move forward.
For more information, please visit pathto100.net
- Posted by Advertising Department Comments Off


* Sun-Times…
And the governor on Tuesday said he believed "pushback" about his pension plan is simply a "misunderstanding" — while trying to link that criticism to the graduated income tax, his top priority this legislative session.

"I think there's a misunderstanding about what it is, because there's an element of people, of opponents, to doing anything. The people who also don't want the 'fair tax,' who don't understand that we are in a dire situation in the state in terms of just addressing our fiscal challenges," Pritzker said. "You can't do nothing. That is not an option anymore. We are going to address this challenge in the state of Illinois and that is my job."
I agree that some the criticism is coming from professional opposers who are making bank off doing and say anything they can to stop his tax proposal. But I don't belong to that crowd.
* The governor also talked yesterday about how he wants to transfer state assets to the pension system, something he's never really fleshed out with specifics. And then he addressed the question about his plan to short the pension systems $1.1 billion a year over the next 7 years by lengthening the payment ramp…
It really is designed to bend the cost curve going forward so that we're not just in a straight line for a $9 billion payment to a $19 billion payment in… 2045 and then 2046 it's like a billion and a half dollars.
* From the governor's budget walk-down…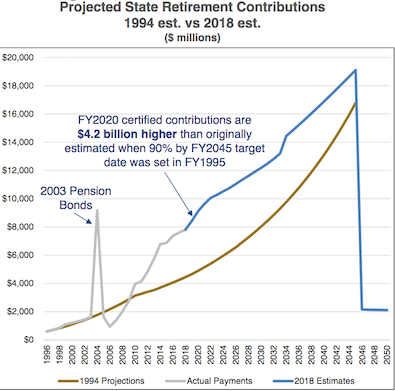 1) That isn't a "straight line" of projected state payments until 2045.
2) The real problem, as we've discussed before, is the ramp's last ten years or so. Pritzker can't "bend" that curve by lowering payments up front. That's a preposterous thing to say. He'll either make the curve worse or prolong the state's fiscal agony or both.
3) If the governor truly wants to "bend the curve," he'll abandon this irresponsible idea and work on a solution for twenty years from now. Put more money in up front via bonding, asset transfers, whatever. But do not reduce payments by over $7 billion to spend elsewhere and then pat yourself on the back for fixing a problem that you're only making worse.
- Posted by Rich Miller 65 Comments


* A member of the Eastern Bloc…
Even the people living there don't like the results of Chicago politics.

— Dan Caulkins (@dan_caulkins) April 17, 2019
The link is to an Illinois News Network article about an AARP poll taken months ago about seniors who want to move out of Chicago.
The freshman GOP Rep. Caulkins lives in Decatur, which lost the Archer Daniels Midland world headquarters to Chicago. The top execs just didn't want to live in Decatur any more. They preferred to live and work in the big city.
* And those execs aren't the only ones leaving town…
Numbers from the U.S. Census Bureau show Decatur's population declined by 3,400 residents from 2010 to 2016, or 4.5 percent. Among Illinois cities with populations over 50,000, Decatur's losses were the worst in the state on a percentage basis.
* Decatur has had this problem for a long time…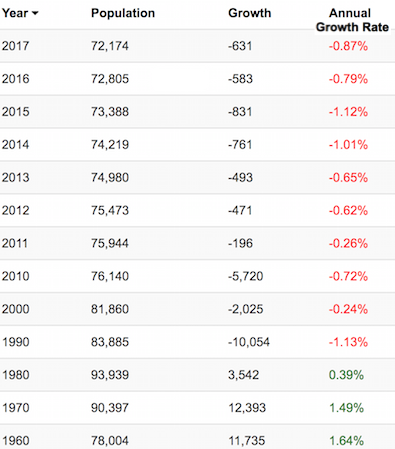 Legislators in this state should be working together to solve a problem that is hurting everyone rather than constantly trying to score cheap political points against other regions.
Putting down Chicago won't help Decatur one bit, Representative. And it might actually make your own town's problems worse.
- Posted by Rich Miller 66 Comments


* Edward McClelland on the Democratic primary rematch between Congressman Dan Lipinski and Marie Newman…
Newman didn't exactly lose with grace in 2018. She refused to concede to Lipinski on election night, saying, "I would like Mr. Lipinski to have a very painful evening."

She then said her family would never forgive Lipinski because, she claimed, his campaign had sent out texts accusing her of running an abortion clinic and trying to defund the Little Sisters of the Poor.

Despite that, Newman has a better chance this time than she did in 2018. Here in Illinois, the 2020 congressional primary will be held on the same day as the presidential primary, which means the supporters of Bernie Sanders, Elizabeth Warren, Kamala Harris, and Pete Buttigieg — candidates whose philosophies are inimical to Lipinski's — are going to show up at the polls.
Yes, she was a sore loser, but she had her reasons.
* Newman seems to understand her 2018 campaign didn't do nearly enough in the city…
"What we've done over the last year is we have really built out our ward structure much more significantly," Newman told me.

"And it's very evident when I go there now. I think that's one of the things that we needed to do at the end (of the 2018 race.) It was clear that I needed to do more, be in the wards more." Indeed, Newman worked for aldermanic candidates in the 2019 elections in the 14th, 15th and 22nd Wards.
The 14th Ward has a new state Representative tied to Chuy Garcia who could help a lot there. There aren't many votes in 15 and 22 within the 3rd CD, but every vote counts.
* However…
What may complicate the road ahead for Newman is the entry this week of another Democrat in the contest — a political unknown, Abe Matthew, who will compete with her for the progressive vote.

If Matthew, 32, a personal-injury lawyer who lives in Bridgeport, gets any kind of a campaign going — which he does not have now — it could guarantee a win for Lipinski.
The general rule for primary opponents is the more the merrier.
* Interesting…
[The Brookings Institution conducted an exit poll and] concluded nearly one in five Lipinski voters also cast ballots for Trump.
We'll see if they take Democratic ballots in a presidential year.
* Will this make any difference at all? Maybe if Gillibrand's campaign survives until next March…
Sen. Kirsten Gillibrand of New York is endorsing a Democratic challenger to Rep. Daniel Lipinski (D-Ill.), making her the first presidential contender to wade into a down-ballot Democratic primary.

At a Democratic Party event in Chicago, Gillibrand endorsed Marie Newman, a liberal activist who narrowly lost to Lipinski in 2018.
Your own thoughts?
- Posted by Rich Miller 50 Comments


* Jacksonville Journal-Courier…
West-central Illinois school officials are making plans in case one of two state bills passes to mandate a $40,000 minimum starting salary for teachers.

Two nearly identical bills have been passed — one in the House and one in the Senate — that would direct districts to increase their minimum teacher salary to $40,000 by the 2023-24 school year. […]

Increasing the North Greene school district's minimum salary to $40,000 is a huge pay increase for the district, Superintendent Mark Scott said.

The starting salary for North Greene teachers now is $29,850, Scott said, adding that he expects any increase in the starting salary to be met by a demand for an equal increase from teachers higher on the pay scale.

"It'll cost at least $3.5 million just to raise our teachers up $10,150," Scott said.
$3.5 million?
* From North Greene school district's website…
The district serves approximately 865 students. North Greene Elementary houses approximately 480 Pre-K-6 students while North Greene Junior-Senior High School houses approximately 130 students in grades 7-8 and 245 students in grades 9-12. The district is a member of the Four Rivers Special Education cooperative, with special education services provided within the district as well as facilities located outside the district. The district employs about 70 licensed educators, 61 support staff members and two building administrators as well as the district superintendent and a supervising principal. [Emphasis added.]
So, they have 70 educators. I seriously doubt that all of those 70 are making the starting salary of $29,850, but whatever. Seventy times $10,150 equals $710,500. And, again, that's only if all 70 teachers are making the starting salary, which seems highly unlikely. And that undoubtedly inflated number is still a far cry from the alleged $3.5 million cost, which would, in reality, give every one of those 70 teachers a $50,000 annual pay increase.
…Adding… Check out the school district's salaries by clicking here.
* Related…
* Teacher shortage 'is real, large, and growing'
- Posted by Rich Miller 77 Comments


* The Cook County State's Attorney and her employees ought to realize that these official communications are publicly accessible under the Freedom of Information Act. The fact that they are chatting like it's a private conversation says almost as much about them as the substance of the conversations…
Just after news broke that "Empire" actor Jussie Smollett had been indicted on 16 felony counts, Cook County State's Attorney Kim Foxx told her top deputy that Smollett was a "washed up celeb who lied to cops" and the number of felony counts he faced was excessive, communications obtained by the Chicago Tribune show.

"Sooo……I'm recused, but when people accuse us of overcharging cases…16 counts on a class 4 (felony) becomes exhibit A," Foxx said in a text message to Joseph Magats, her top assistant, on March 8.

Foxx went on in those texts to Magats to compare Smollett's case to the office's pending indictment of R&B singer R. Kelly on 10 charges of aggravated criminal sexual abuse.

"Pedophile with 4 victims 10 counts. Washed up celeb who lied to cops, 16 (counts)," she wrote. "… Just because we can charge something doesn't mean we should." […]

When asked why the state's attorney continued to communicate about the case after her withdrawal, a spokeswoman issued a statement Tuesday night on Foxx's behalf saying she reached out to Magats only "to discuss reviewing office policies to assure consistencies in our charging and our use of appropriate charging authority."
#FacePalm
There's no doubt in my own mind that Smollett was ridiculously over-charged. And the comparison to the number of charges against R. Kelly has some merit.
But, wow. If you have something to say that might not look so great splashed all over the front page of the Chicago Tribune, maybe just walk down the hall.
* Related…
* Black Caucus: We will continue to stand with State's Attorney Foxx
- Posted by Rich Miller 56 Comments


* Please keep it Illinois-centric and be nice to each other.
- Posted by Rich Miller 40 Comments


- Posted by Advertising Department Comments Off