*** UPDATE *** Click here for the second mailer, scanned in by a friend. It's about the Wall Street bailout.
[ *** End Of Update *** ]
* Some suburban [and, according to commenters, Downstate] residents received a curious looking direct mailer the other day. I apologize for the quality. It was scanned and e-mailed to me by a friend. Here's the front…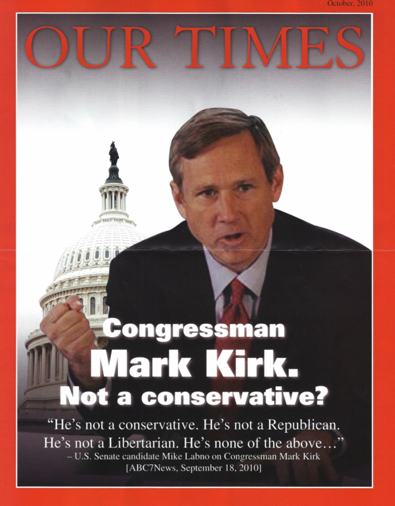 Venture inside and you'll see this…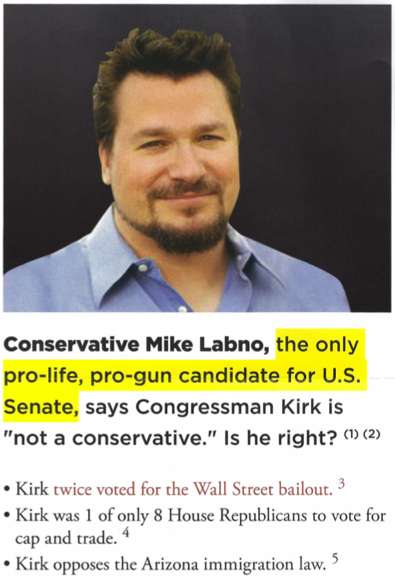 Libertarian Mike Labno has the money for mail? And he's using it to blast Mark Kirk?…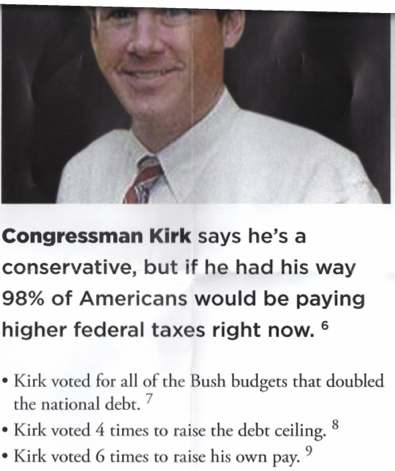 But it isn't from Labno. Check out the return address…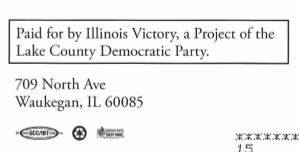 And there's a pro-Giannoulias message as well, which kinda defeats the whole purpose…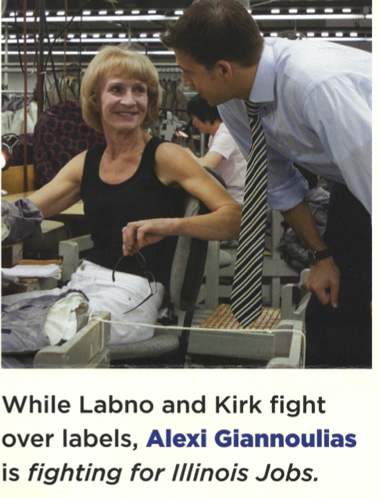 * The idea here, obviously, is to peel off a few conservative votes from Kirk and send them to Labno. But I just don't see this working since it's paid for by the Democrats and features a big pic of Giannoulias. Not many "true" conservatives will fall for that.
…Adding… A commenter rightly notes that the vast majority of people will only see the cover of this mailer. That's why I wasn't as harsh as I could've been about the piece. You get a few seconds between the time they see it and the time they pitch it in the garbage can. Also, from a trusted politico…
I seriously doubt they are sending only a single piece. That's not how mail guys work. They send waves. So, you're probably seeing the first of 2 or 3 which says Labano is pro life and pro gun and Kirk isn't
* Roundup…
* Clinton exhorts Democrats to turn back Republican tide: "They have relentlessly, in a uniform and unified way" played on people's anger, Clinton said. But he said that anger should be focused on Republicans. "We only get hired as Democrats, really, when things are messed up," he said. He urged Democrats to ensure that President Barack Obama, who returns to Chicago this weekend for his own rally, gets the continued support of a Democratic Congress.

* Sen. Scott Brown–Massachusetts miracle–at Kirk get out the vote rally Sunday

* US mid-term election spending nears $2bn mark

* Sweet: Illinois Senate race: What's with the undecides?

* Big names hit Ill. in campaign's last days

* Obama heading to Chicago for free rally on Saturday

* Huntley: Desperate Dems turn to dirty politics

* Illinois Senate candidates burn through $7.7 million in 13 days

* Critics: Giannoulias lacks the experience

* Giannoulias tweaks Kirk with one-man Senate 'debate'

* Giannoulias: We've Been Endorsed By Every African-American Official Except One

* Voters' trust in Kirk dashed after gaffes
66 Comments





































































































































































































Sorry, comments for this post are now closed.